Everyone loves French toast, right? Well, have we got something special for you.
This baked French toast casserole is one for the record books. It feeds a crowd, so it's perfect for a holiday brunch or any time of the year you are looking for something extra special for a breakfast treat. A wonderful savory side dish is our Restaurant-Quality Hash Browns!
HOW TO MAKE CARAMEL BANANA BAKED FRENCH TOAST
Some folks call this a stuffed banana French toast.
We just call it delicious. We recommend assembling the casserole the night before baking.
Watch us show you how to make this amazing baked French toast casserole!
MAKING THE CARAMEL SAUCE IS EASY
Making caramel sauce from scratch is really a snap.
Simply heat the butter in a medium-sized pan over medium heat. Add the brown sugar and vanilla, and stir constantly until slightly thickened. About 4 minutes.
While the sauce is still warm, pour it into the bottom of a 9″x13″ baking dish.
This banana French toast casserole can easily be an apple French toast casserole if desired.
You really can't go wrong with whatever fruit you choose.
EXPERT TIP: Freshly sliced apples, peaches, and even fresh blueberries are wonderful in this dish. But, after many years of trying different versions, we both agree that banana is our favorite. The texture and taste is the perfect match against the caramel sauce as it all bakes together. But, again, that's a matter of taste.
CHOOSING BREAD FOR FRENCH TOAST CASSEROLE
We always go with a nice French loaf that we cut into 1-inch slices.
Brioche, Challah, or even sandwich bread is great for skillet French toast, but for this casserole, we love our French loaf (but not a baguette, it's a little too dense).
Place the bread slices over the bananas, and if needed, tear some of the slices as you go to fill in any open gaps.
Alright, folks, we're not stopping here.
We find that adding pieces of cream cheese to the casserole adds a layer of deliciousness that is heavenly.
EXPERT TIP: No need to be really precise when adding the cream cheese cubes. We use our fingers to smash the cubes a little, even spreading them onto the bread as we place them.
LETTING SOAK OVERNIGHT IS BEST
We love double-stacking this baked French toast.
It's not 100% necessary, but we think it's so good.
What is necessary is allowing the bread enough time to soak up the delicious egg mixture. Two or three hours would work, but overnight is best. Cover with foil, then go and relax and just wait for happiness to ensue.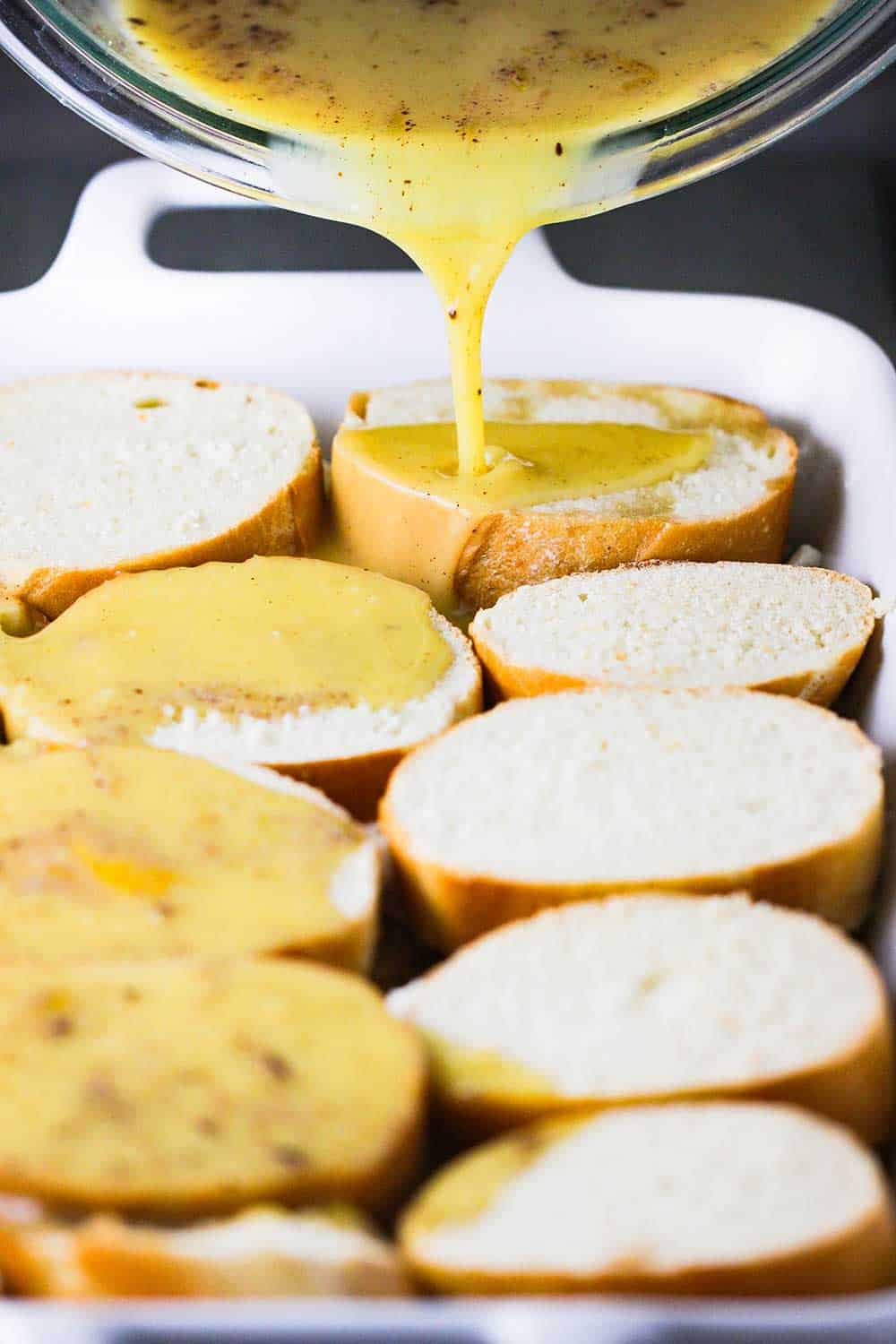 Fast forward to the following morning.
Pour a cup of coffee. Preheat the oven to 350°F.
Bake to perfection (and watch everyone rise to the amazing smell).
CARAMEL BANANA BAKED FRENCH TOAST FEEDS A GATHERING
This casserole easily feeds up to 10 hungry people.
But here's the great thing, it's equally amazing the next day, heated up.
And don't forget the pure maple syrup drizzled over the top!
There is just something magical as you lift that first helping out of this incredible casserole.
Be sure to carefully flip the serving over onto each plate so the incredible caramelized bananas are on top.
Folks, this is the breakfast sensation you've been waiting for!
Ready to make the best baked French toast in town? Go for it!
And when you do, be sure to take a picture, post it to Instagram, and tag @howtofeedaloon and hashtag #howtofeedaloon!
Caramel Banana Baked French Toast
This Caramel Banana Baked French Toast is very close to a recipe that my mom was able to sweet-talk from a chef at one of their favorite bed and breakfasts in Vermont. Once she made it for us...we understood why she simply had no choice but to get that recipe! Perfect for the holidays! Assemble the night before, let rest in the fridge, and then pop in the oven the next morning. Amazing results!!
Print
Pin
Rate
Servings: 10 people
Calories: 373kcal
Ingredients
FOR THE CARAMEL SAUCE
6 tbsp unsalted butter
1 cup light brown sugar
2 tbsp light corn syrup
1 tsp vanilla
¼ tsp cinnamon
FOR THE BANANA FRENCH TOAST
3 bananas sliced
2 loaves French bread sliced, you may not use all the slices
8 oz cream cheese cubed
8 eggs
1 cup milk
⅔ cup sugar
1 tsp vanilla extract
1 tsp cinnamon ground
¼ tsp nutmeg ground
¼ tsp Kosher
cup maple syrup for pouring, once served
Instructions
MAKE THE CARAMEL SAUCE
Melt the butter in a medium-sized skillet over medium heat.

Add the brown sugar, corn syrup, vanilla, and cinnamon. Stir continuously until completely combined and slightly thickened, about 4 minutes. Remove from heat.
ASSEMBLE THE DISH
Grease a 9x13 baking dish.

Pour the caramel sauce into the dish, and distribute evenly.

Place the banana slices over the caramel sauce.

Layer enough bread slices over the bananas to form a single layer of bread.

Add all the cream cheese cubes onto the bread slices.

Add another layer of bread slices over the cream cheese.

In a medium bowl, add the eggs, milk, sugar, vanilla, cinnamon, nutmeg, and salt. Whisk together until well combined.

Pour the egg bath over the assembled dish.

Gently press the bread slices with your hands to help soak up some of the egg bath.

Cover with foil and place in the fridge for at least 2 hours, or overnight (preferred).

Preheat the oven to 375°F.

Remove the dish from the fridge.

Bake uncovered for about 35 minutes...or until bubbly and lightly browned on the edges of the bread slices.

Let cool for about 10 minutes.

Serve with warmed maple syrup.
Notes
We highly recommend assembling the casserole the night before serving. Be sure to press on the bread with either clean hands or the backs of large wooden spoons to help all the bread soak the egg mixture. It's normal for the top layer to not be completely submerged. The casserole is still wonderful the following few days after preparing. Re-heat in the oven, or simply heat in the microwave for a couple of minutes until heated. Warmed pure maple syrup is a very nice addition when serving the casserole. The casserole can be assembled up to 2 days in advance of baking. Two hours would be the bare minimum before baking. Overnight is best.
Nutrition
Calories: 373kcal | Carbohydrates: 46g | Protein: 7g | Fat: 19g | Saturated Fat: 10g | Cholesterol: 176mg | Sodium: 200mg | Potassium: 268mg | Fiber: 1g | Sugar: 41g | Vitamin A: 767IU | Vitamin C: 3mg | Calcium: 94mg | Iron: 1mg
POST UPDATE: This recipe was originally published in December 2014, but was updated with improved tweaks and tips to the recipe, new photography, and a fabulous new video in February 2020!