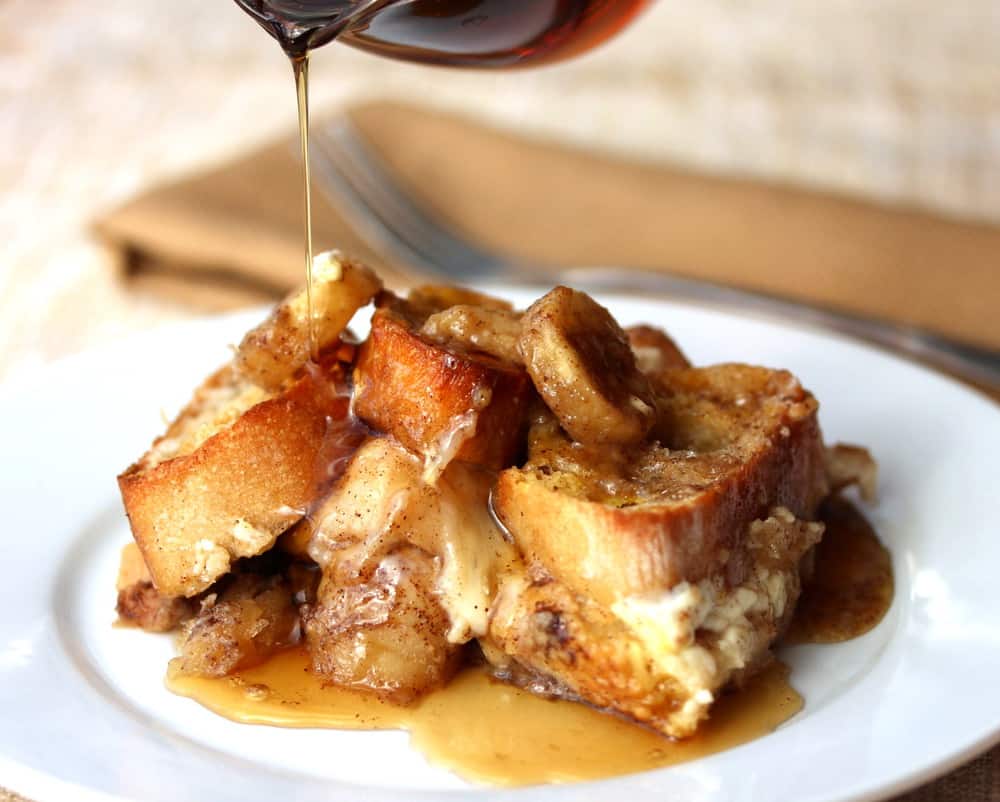 Wow…nothing spells the holidays more than waking up to Caramel Banana Baked French Toast…well, at least that's how it is in our house.  And trust me, make this dish and your loved ones will be thrilled.  Assemble the night before, pop in the fridge to chill for the night, then easily stick in the oven the next morning while everyone is waking up, and then get ready for the best French toast you'll have ever had.   Delish!
Click here to watch Kris & Wesley make Caramel Banana Baked French Toast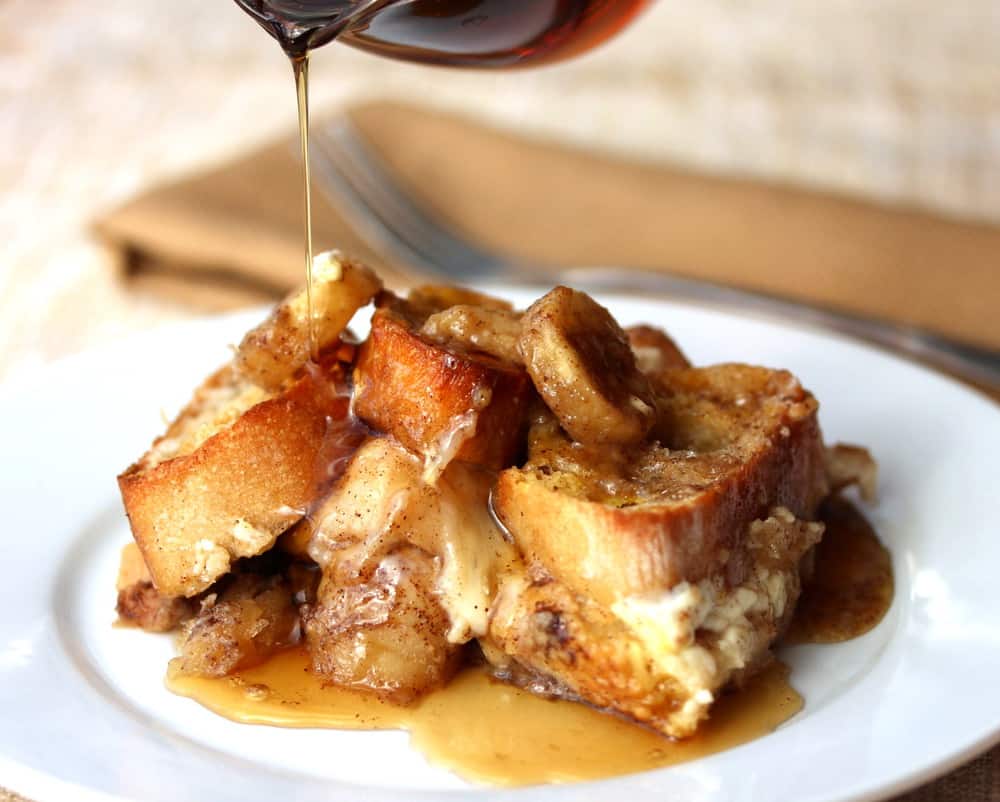 Caramel Banana Baked French Toast
This caramel banana baked French toast is very close to a recipe that my mom was able to sweet-talk from a chef at one of their favorite bed and breakfasts in Vermont. Once she made it for us...we understood why she simply had no choice but to get that recipe! Perfect for the holidays! Assemble the night before, let rest in the fridge, and the pop in the oven the next morning. Amazing results!!
Print
Pin
Rate
Prep Time: 15 minutes
Cook Time: 35 minutes
Total Time: 50 minutes
Servings: 8 people
Calories: 368kcal
Ingredients
FOR THE CARAMEL SAUCE
6 tbsp unsalted butter
1 cup light brown sugar
2 tbsp light corn syrup
1 tsp vanilla
1/4 tsp cinnamon
FOR THE BANANA FRENCH TOAST
3 ripe bananas sliced
1 to 2 loaves French bread sliced
6 oz cream cheese cubed
8 eggs I've used 5 before, but in making this many times...8 works best
1 cup milk
2/3 cup sugar
1 tsp vanilla extract
1/2 to 3/4 tbsp cinnamon depends on your taste
1/4 tsp nutmeg
Couple pinches salt
Warm maple syrup for drizzling once served
Instructions
Melt the butter in a medium-sized skillet over medium heat.

Add the brown sugar and corn syrup and mix until completely melted and incorporated...about 4 - 5 minutes.

Remove from heat and add the vanilla and cinnamon. Stir to incorporate.

Grease a 9x13 baking dish.

Pour the caramel sauce into the dish, and distribute evenly.

Place the banana slices over the caramel sauce.

Layer enough bread slices over the bananas to form a single layer of bread.

Add all the cream cheese cubes onto the bread slices.

Add another layer of bread slices over the cream cheese.

In a medium bowl, add the eggs, milk, sugar, vanilla, cinnamon, nutmeg, and salt. Whisk together until well combined.

Pour the egg bath over the assembled dish.

Gently press the bread slices with your hands to help soak up some of the egg bath.

Cover with foil and place in the fridge for overnight.

The next morning, pre-heat the oven to 375 F

Remove the dish from the fridge.

Bake uncovered for about 35 minutes...or until bubbly and lightly browned on the edges of the bread slices.

Let cool for about 10 minutes.

Serve with warmed maple syrup.
Nutrition
Calories: 368kcal