This breakfast side dish is classic in every way. And now, you can make them with ease in your own kitchen.
A trip to your favorite breakfast nook just wouldn't be the same without a delicious helping of these flavorful spuds. These are terrific next to a plate of scrambled eggs, crispy bacon, toast, or even classic eggs benedict. There are a few simple tricks to making them diner-style and irresistibly delicious.
How To Make Crispy Hash Browns
The simple trick of quickly parboiling the russet potatoes ensures perfectly cooked, crispy hash browns every single time.
A food processor with a shredding attachment makes shredding a snap, but a standard box cutter does the trick, too.
NOTE: If you liked this video, please subscribe to our YouTube channel. Remember to click the little 'bell' icon so you'll never miss a new video. Thank you!
The Ingredients You Will Need
There are very few ingredients needed to make this iconic side dish. But, choosing the right ingredients and how you prepare them is crucial.
Here's What You'll Need to Have on Hand
Potatoes – Russet potatoes are classic and the way to go.
Onion – White or yellow, finely chopped. They provide the classic taste and practically melt into the potatoes.
Seasonings – Salt and pepper is all you need.
Oil – For the classic taste, save some bacon grease. If you don't have bacon grease, vegetable oil and butter will work, too.
Ketchup – For dipping. In our house, this is a must. But, of course, it's optional.
EXPERT TIP: You don't want to overcook the potatoes when parboiling. If you do this, they result in mushy, gummy potatoes. Place the potatoes in a large pot, cover with water, bring to a boil, and immediately turn off the heat. After exactly 10 minutes, remove and let cool. Peel and shred. They will be a little sticky, but easy to separate.
Tips for Making Perfect Crispy Hash Browns
Use a Non-Stick Skillet and Plenty of Bacon Grease – You may need to cook them in batches if your non-stick skillet is small. Non-stick ensures the hash browns cook evenly and don't stick to the pan.
Cook On Medium-High Heat – For a nice crispy exterior, the pan should be quite hot. You'll flip them only a couple of times. They will take anywhere from 15 to 20 minutes per side.
Resist the Urge to Stir of Flip Too Often – This can prevent them from developing a crispy crust. Instead, let them cook undisturbed for a few minutes on each side before flipping. Using your spatula to cut the cooking potatoes into 4 triangle makes flipping them easier.
EXPERT TIP: After you tossed the shredded potatoes with onion, salt, and pepper, you'll want to add them to your hot skillet with melted grease (or oil). Use the back of a spatula or wooden spoon to compact the potatoes in the skillet.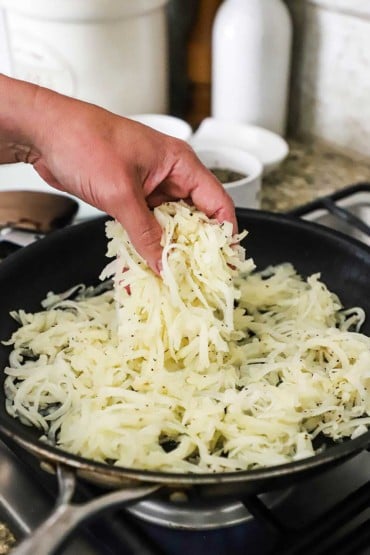 How To Serve
These are definitely best served piping hot right from the skillet.
We like to stack the quartered browns on a plate or platter and serve the family-style.
If serving more than four people, use your spatula or wooden spoon to break the hash browns apart. Don't worry if they look a bit messy, they're suppose to. They're homemade and diner-style!
Other Classic Diner-Style Breakfast Recipes To Try
For many of us, breakfast is our favorite meal of the day. These tried and true breakfast classics are fun to make and always a huge hit with the family.
Classic Huevos Rancheros
Southern Biscuits and Gravy
Best-Ever Breakfast Quiche
Buttermilk Waffles with Blueberry Sauce
Lemon Ricotta Pancakes with Vanilla Sauce
Breakfast Potatoes
Italian-Style Skillet Scramble
Steak and Eggs
Grandma's Homemade Cinnamon Rolls
These are amazingly wonderful in their own way. But aren't these incredible hash browns calling your name? Talk about the perfect breakfast!
There is just something addictively delicious about these potatoes.
Even if there any left over (which there usually isn't), you and your loved ones will have a hard time not making trips back to the dish for more nibbles.
These truly are classic and we hope you enjoy them as much as we do! Every bite is a true taste sensation!
Ready to make the best breakfast side dish that will rival any diner in town? Go for it!
And when you do, be sure to take a photo of them, post it on Instagram, and tag @HowToFeedaLoon and hashtag #HowToFeedaLoon!
Crispy Hash Browns (Diner-Style)
If you want to make hash browns at home that are as good as your favorite diner, follow these easy steps, and you will not be disappointed. These are the real deal.
Print
Pin
Rate
Servings: 4 people
Calories: 240kcal
Equipment
Food processor with shredding attachment Or box grater

Non-stick skillet Preferably 12-inch
Ingredients
4 medium russet potatoes
½ cup onion finely chopped
1 tsp Kosher salt
½ tsp black pepper freshly ground
2 to 3 tbsp bacon grease or vegetable oil
Instructions
Place the unpeeled potatoes in a pot of water, covering them by about an inch. Bring the water to s boil over high heat, and then immediately remove them from the heat. Let rest in the hot water for 10 minutes, and then, using tongs, remove from the hot water and rest until completely cooled. (This can be done up to 48 hours before cooking).

4 medium russet potatoes

Peel the potatoes.

Using the shredding attachment of your food processor, or the large holes of a box grater, shred each of the potatoes.

Place the shredded potatoes in a large bowl and toss with the onion, salt, and pepper.

½ cup onion, 1 tsp Kosher salt, ½ tsp black pepper

Heat the grease (or oil) in a large non-stick skillet over medium-high heat.

2 to 3 tbsp bacon grease

Add the potatoes and move them around in the skillet with a wooden spoon, enough to coat them with the grease/oil. Then, flatten with a spatula.

Let cook for 15 to 20 minutes, nudging the potatoes from time to time with the spoon to prevent sticking to the skillet (it's okay if they stick a little, this helps to form a crispy crust).

Use your spatula to cut the hash browns into 4 quarters, then, flip them, adding a little more grease as you do (about another teaspoon).

Flatten again and let cook until nicely browned on both sides, about another 15 minutes.

Transfer to individual plates or a platter and serve at once.
Notes
See the video near the top of the blog post for visual guidance. If you liked the video, please subscribe to our YouTube channel.
If you choose to not parboil the potatoes, it is critical to squeeze as much of the liquid (water) from the shredded potatoes as possible. This can be done by squeezing/ringing them in a kitchen towel or using a potato ricer. If you parboil, no need to do this.
The hash browns are done when they are nicely browned and crispy on the exterior. This may take longer than 15 minutes. The heat should be medium-high. Hot, but not so hot it burns the potatoes. You can use a spatula to lift a portion up to see the underside. It's okay to flip them over multiple times, if necessary.
Leftovers will keep covered in the fridge for up to 3 days. We don't recommend freezing them once cooked.
Nutrition
Calories: 240kcal | Carbohydrates: 41g | Protein: 5g | Fat: 7g | Saturated Fat: 3g | Polyunsaturated Fat: 1g | Monounsaturated Fat: 3g | Cholesterol: 7mg | Sodium: 603mg | Potassium: 921mg | Fiber: 3g | Sugar: 2g | Vitamin A: 4IU | Vitamin C: 14mg | Calcium: 34mg | Iron: 2mg
POST UPDATE: This recipe was originally published in June 2018, but was updated with improved tweaks to the recipe with new tips and photography and a fabulous new video in August 2023!