Restaurant-Quality Hash Browns are not impossible to make at home and are actually pretty simple to produce the best tasting breakfast side dish in the world. In your own kitchen!
I don't think I've ever met anyone who didn't love hash browns when they are done right.
Ready to make the best crispy-on-the-outside and soft-and-delicious-on-the-inside hash browns in the world? Here we go!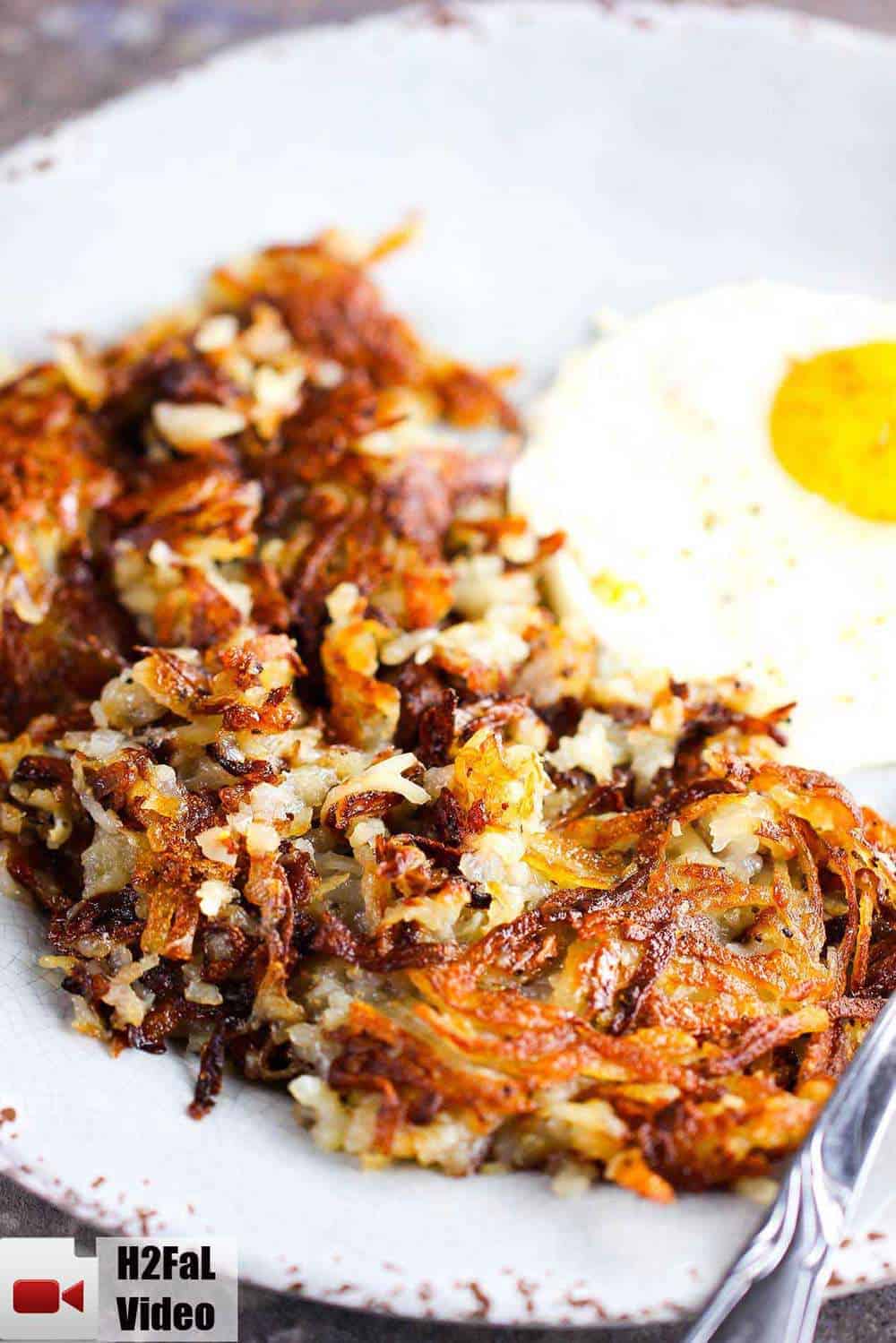 HOW TO MAKE THE WORLD'S BEST HASH BROWNS
There are two schools of thought when making hash browns, starting with par-cooked potatoes, and starting with raw.
We love the par-cooked variety. Watch us show you how easy it is to make these Restaurant-Quality Hash Browns!
If you decide to cook the shredded potatoes raw, that's fine, just make sure you get all the excess water from the spuds. A rice press or just a good solid squeeze with a kitchen towel will work.
THE SECRET TO CRISPY ON THE OUTSIDE
We are a little nuts when it comes to eating perfectly prepared hash browns and I worked on this recipe until it was absolutely perfect.
Cooking them in a little bacon grease produces the best taste, we think, but you could always go with good ole butter or vegetable oil.
Oh, are these ever so comforting and delicious.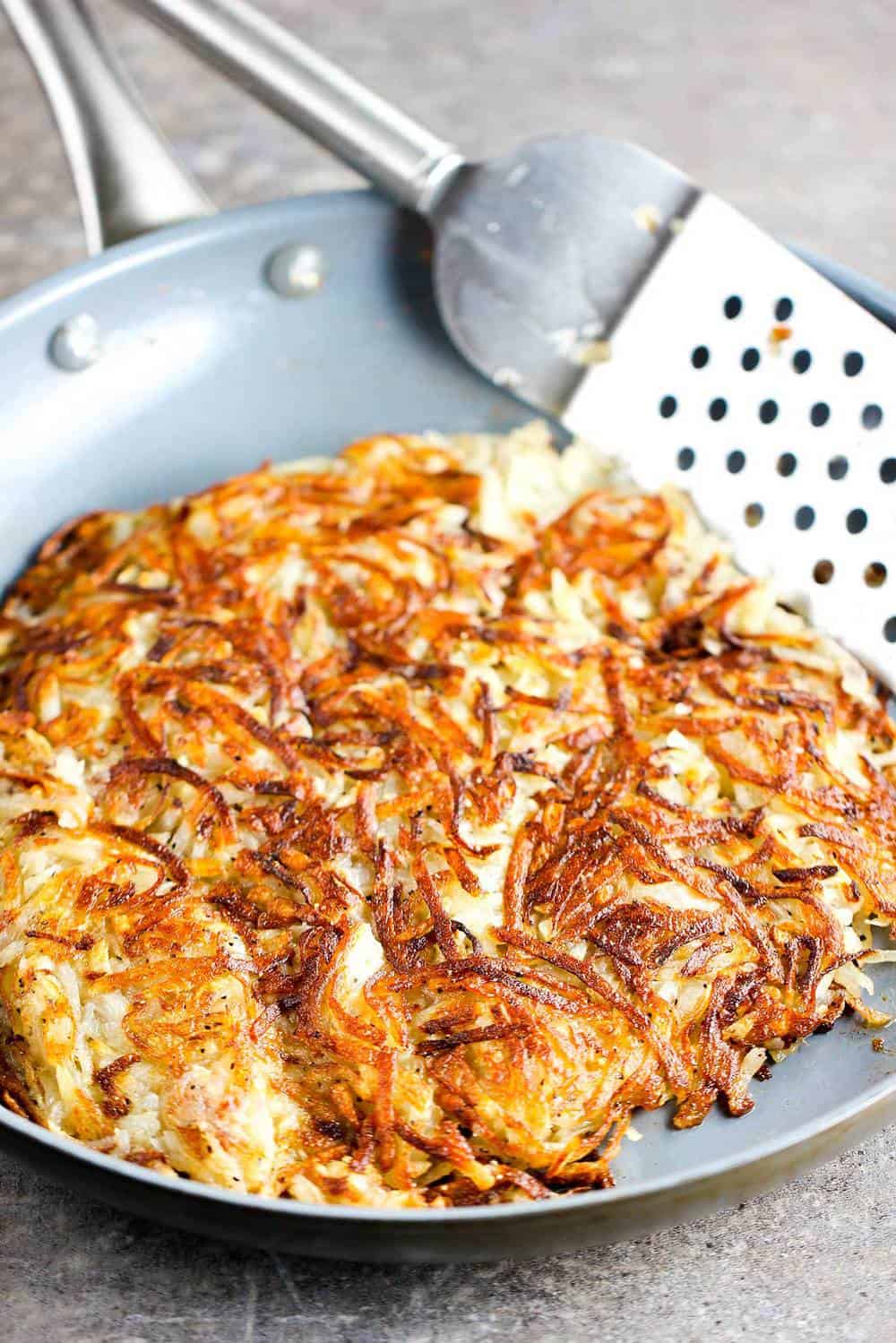 Seasoning is simple. We find about a 1/2 cup of finely chopped onion gives them the perfect flavor of your hometown diner.
Then all you need is a nice pinch of salt and pepper.
Oh, yeah, and a little bacon grease. No bacon grease? No problem! Just cook some bacon, and now you've got bacon grease! We save ours in a small container in the fridge…just be sure to strain it first.
RUSSET POTATOES ARE THE PERFECT SPUD
Grab some good ole russet potatoes and you are well on your way!
Don't worry as you flip them, if they don't stay perfectly in tact. They're not suppose to…it's a hash, remember!
Hashtag: Delicious.
These take a little patience and they typically cook about 15 minutes per side. Remember, if you are cooking them raw, you should cover the skillet for the first 15 minutes to ensure fully cooked potatoes.
PAR-COOKING THE POTATOES MAKES PERFECT HASH BROWNS
But again, we love par-cooking them first. Simply place the potatoes in a pot of water, crank up the heat, bring to a boil, turn off the heat, and let them sit in the hot water for 10 minutes and then remove and let cool. This can be done 24 to 48 hours in advance. Just keep the potatoes in the fridge until you're ready for them.
You'll be so happy when you make these Restaurant-Quality Hash Browns, you'll want to make them time and time again.
You know what would go great with these hash browns? How about our Heavenly Huevos Rancheros? YES!
Or, just a beautiful egg. Breakfast perfection. Another one of our favorite breakfast potato recipe is our Breakfast Potatoes with Peppers and Cheese!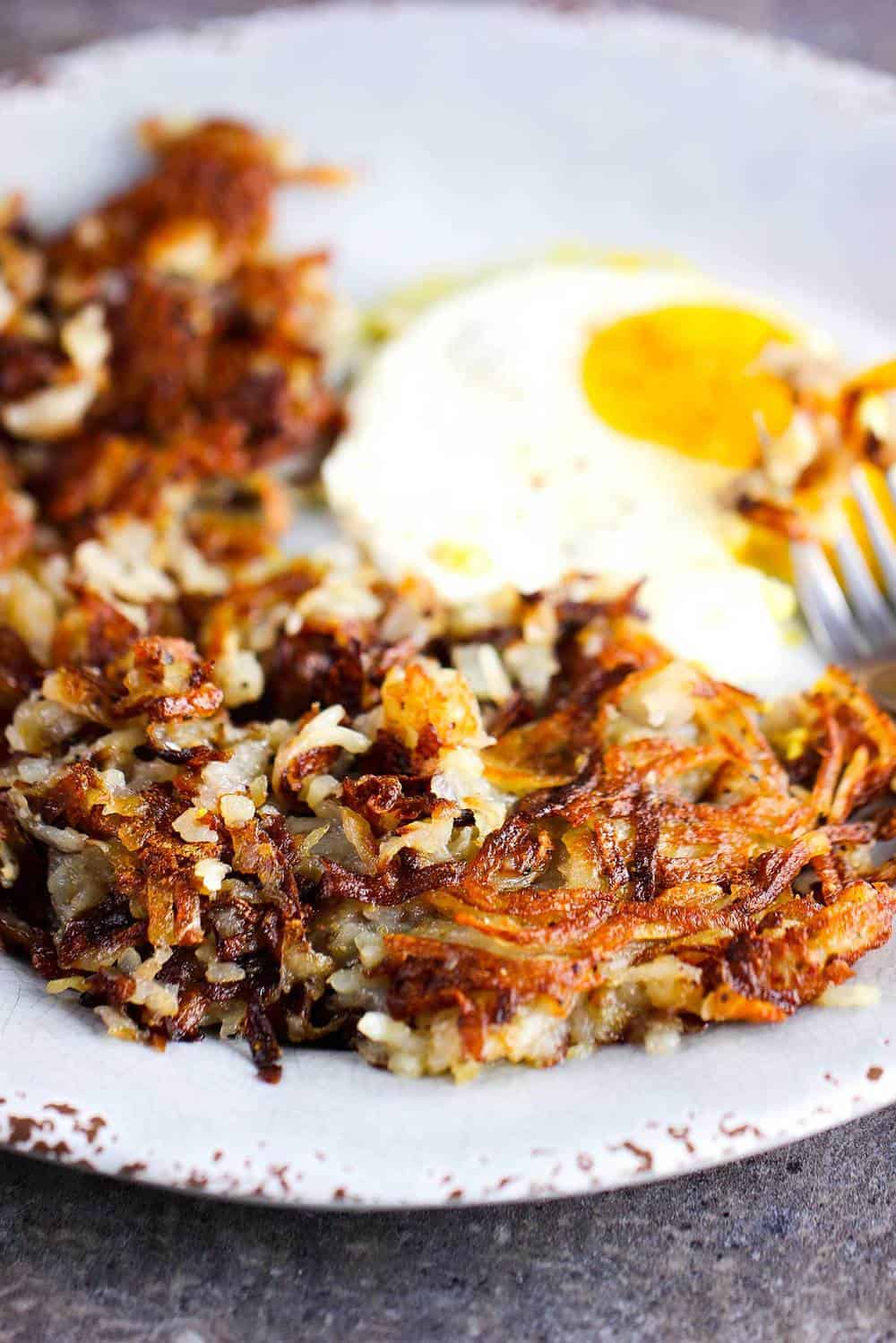 Restaurant-Quality Hash Browns
If you want to make hash browns at home that are as good as your favorite diner, follow these easy steps, and you will not be disappointed. These are the real deal.
Print
Pin
Rate
Servings: 2 people
Calories: 470kcal
Ingredients
4 medium russet potatoes
1/2 cup onion, finely chopped
1/2 tsp Kosher salt
1/2 tsp freshly ground black pepper
2 to 3 tbsp bacon grease, or vegetable oil
Instructions
Place the unpeeled potatoes in a pot of water, covering them by about an inch. Bring the water to boil over high heat, and then immediately remove from the heat. Let rest in the hot water for 10 minutes, and then, using tongs, remove from the hot water and rest until completely cooled. (This can be done up to 48 hours before cooking).

Peel the potatoes.

Using the shredding attachment of your food processor, or the large holes of a box grater, shred each of the potatoes.

Use a ricer or kitchen towel to squeeze out any excess water in the potatoes.

Place the shredded potatoes in a large bowl and toss with the onion, salt, and pepper.

Heat the grease (or oil) in a large non-stick skillet over medium-high heat.

Add the potatoes and move them around in the skillet with a wooden spoon, enough to coat them with the grease/oil. Then, flatten with a spatula.

Let cook for 15 minutes, nudging the potatoes from time to time with the spoon to prevent sticking to the skillet (it's okay if they stick a little, this helps to form a crispy crust).

Use your spatula to cut the hash browns down the middle of the skillet, then, flip them, adding a little more grease as you do (about another teaspoon).

Flatten again and let cook until nicely browned on both sides, about another 15 minutes.

Transfer to individual plates or a platter and serve at once.
Nutrition
Calories: 470kcal