Biscuits and Gravy pretty much says it all.
Talk about the ultimate in breakfast comfort food. Make the biscuits from scratch and then whip up a batch of this sausage gravy, and you will have one of the most delicious plates of food you ever created.
Let's say it again: Biscuits and Gravy.
HOW TO MAKE SOUTHERN BISCUITS AND SAUSAGE GRAVY
If you want to make the ultimate breakfast comfort food, you've come to the right place.
Watch us show you the secrets to making the perfect Biscuits and Gravy!
This dish is truly something magical.
There are few tricks that we share with you here to ensure you get the flakiest, most moist, delicious biscuits that are perfect for Biscuits and Gravy.
Wow. You had me at "biscuits."
SAUSAGE GRAVY IS EASY TO MAKE AT HOME
Start of with a little fat (we love reserved bacon grease) and then add some flour to create a roux for the base of the gravy.
Then simply add some cream and a few seasonings and you've got perfect gravy.
This is truly one of our all-time favorite dishes of all time.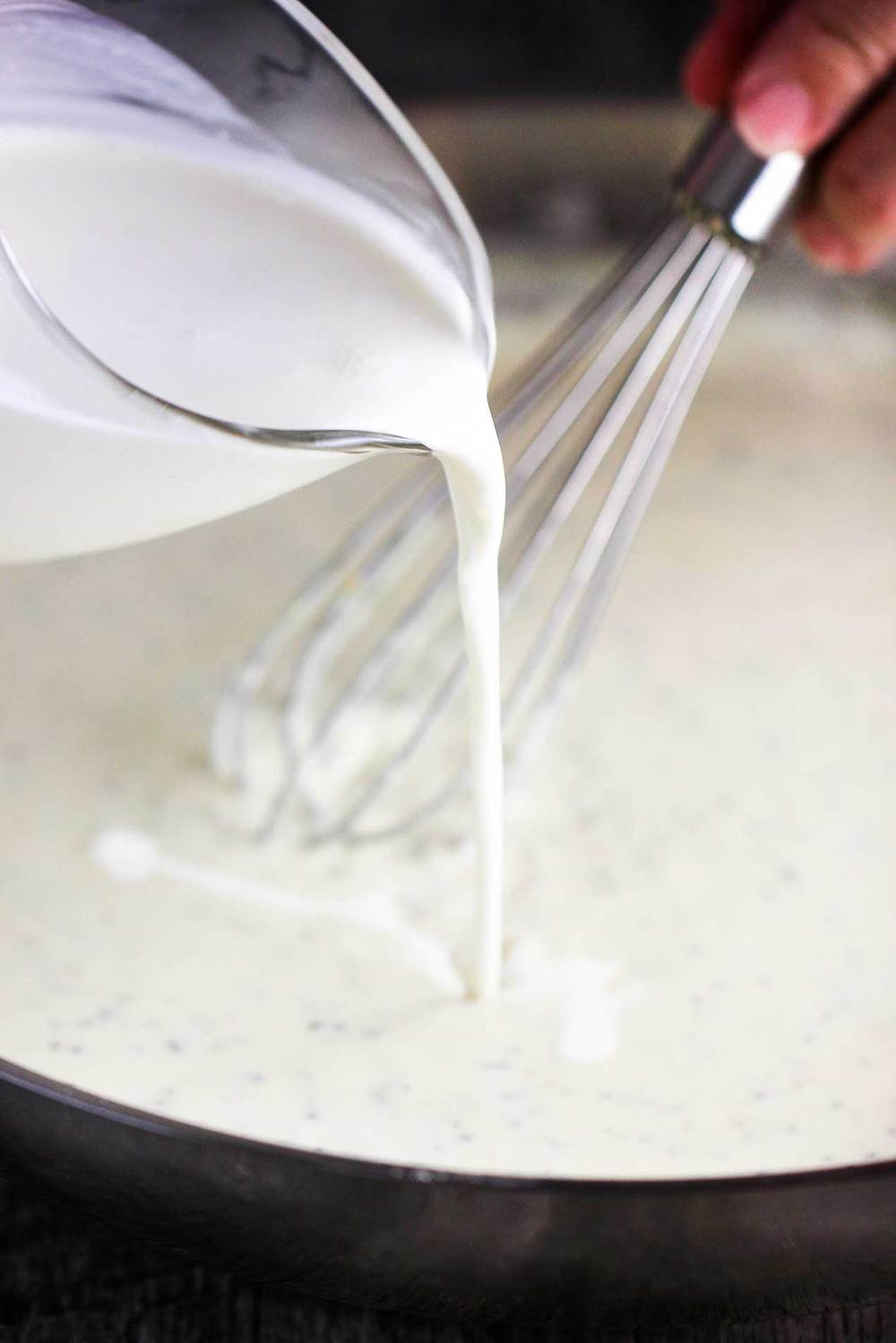 Now, sausage is optional for this gravy, it's still absolutely delicious without it. But we think it adds such a depth of flavor that is truly amazing.
Cook the sausage up well in advance and then add it in after the gravy thickens.
And the rest is just gravy, folks.
BORN IN THE SOUTHERN U.S.
Southern Biscuits and Sausage Gravy have their roots deep into the Southern states of the United States. But you'd be hard pressed these days to find a truck stop across this great country that doesn't have this amazing dish in it's breakfast arsenal.
You can even make the sausage gravy a day before serving, and then heat up when ready to eat.
Pouring this gravy over these warm biscuits is a pretty mouth-watering task.
What else is there to say, make these Biscuits and Gravy , and there is not a truck-stop in the world that wouldn't be jealous of you.
To say "This is one of the Loon's favorites" would be considered one of the greatest understatements of all time.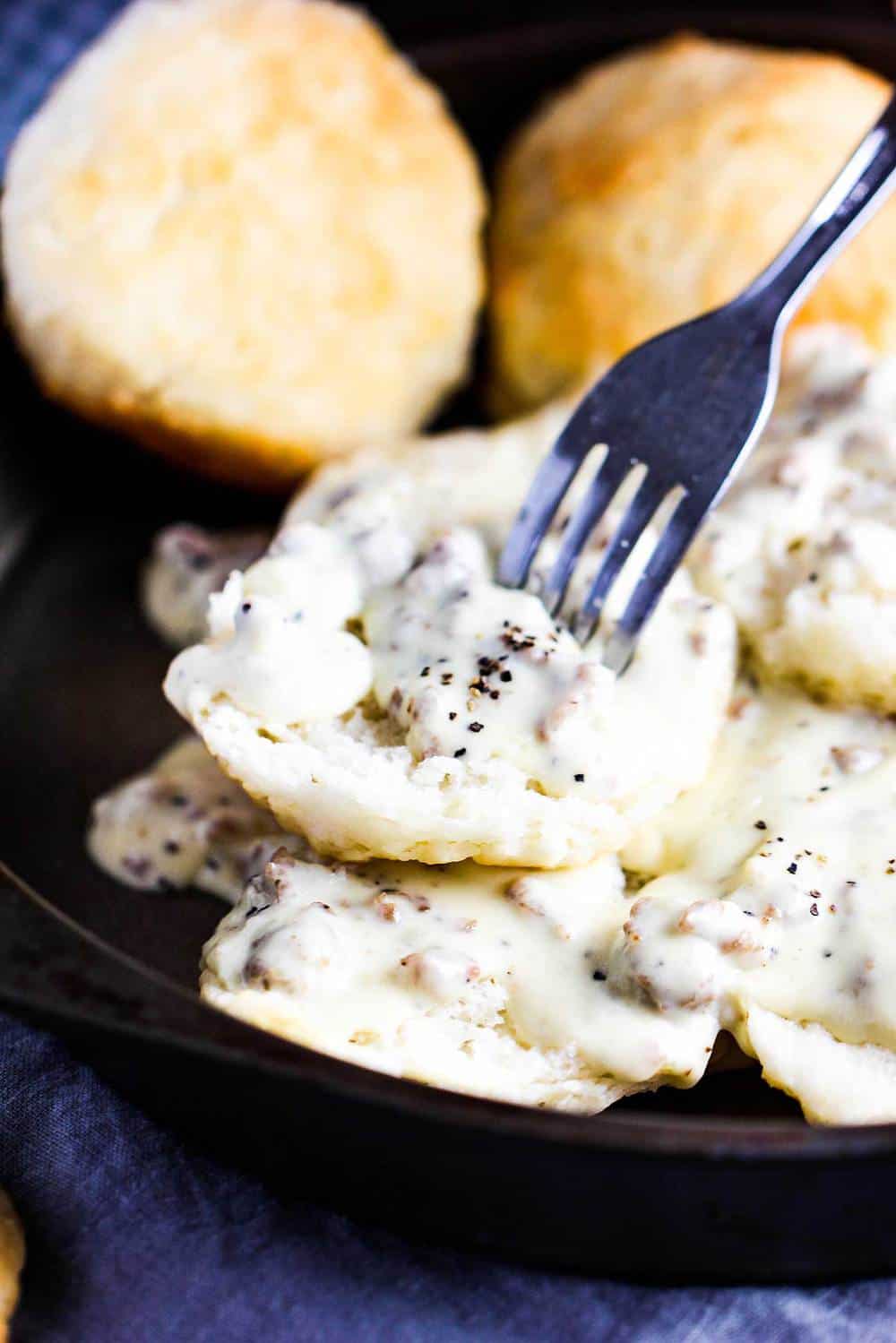 OTHER AMAZING BREAKFAST RECIPES TO TRY
Steak and Eggs with Roasted Cherry Tomatoes
Ricotta and Lemon Pancakes with Vanilla Sauce
Grandma's Homemade Kolaches
Best-Ever Skillet Breakfast
Egg Scramble with Fontina, Basil and Tomatoes
In the meantime, go and make these amazing Southern Biscuits and Gravy!
Southern Biscuits and Sausage Gravy
Southern Biscuits and Sausage Gravy is probably the most quintessential breakfast comfort food of all time. Making the biscuits from scratch is the secret to biscuits and gravy perfection. And then the rest of just gravy. Dang good gravy.
Print
Pin
Rate
Servings: 6 people
Calories: 556kcal
Ingredients
8 Southern biscuits link to recipe below
2 tbsp bacon grease or vegetable oil, or butter
2 tbsp flour
1 cup whole milk
1 cup heavy cream
1/2 tsp Kosher salt
1/2 tsp adobo seasoning
1 tsp freshly ground black pepper or more, to taste
16 oz ground breakfast sausage
Instructions
Add the grease to a large skillet over medium-high heat

Once hot, add the flour and stir until incorporated. (Should resemble wet sand). Cook, stirring frequently, for 2 minutes.

Carefully add the milk and the cream and stir with a wooden spoon until starting to thicken, about 4 to 6 minutes.

Add the salt, seasoning and pepper and then the cooked sausage.

Taste and add more salt, if desired.

Pour the sausage over the warm biscuits and serve at once.
Nutrition
Calories: 556kcal