Talk about the ultimate in breakfast comfort food.
This classic Southern breakfast dish will truly put you on the culinary map when you make it for friends and family. Make the biscuits from scratch and then whip up a batch of this sausage gravy, and you will have one of the most delicious plates of food you ever created.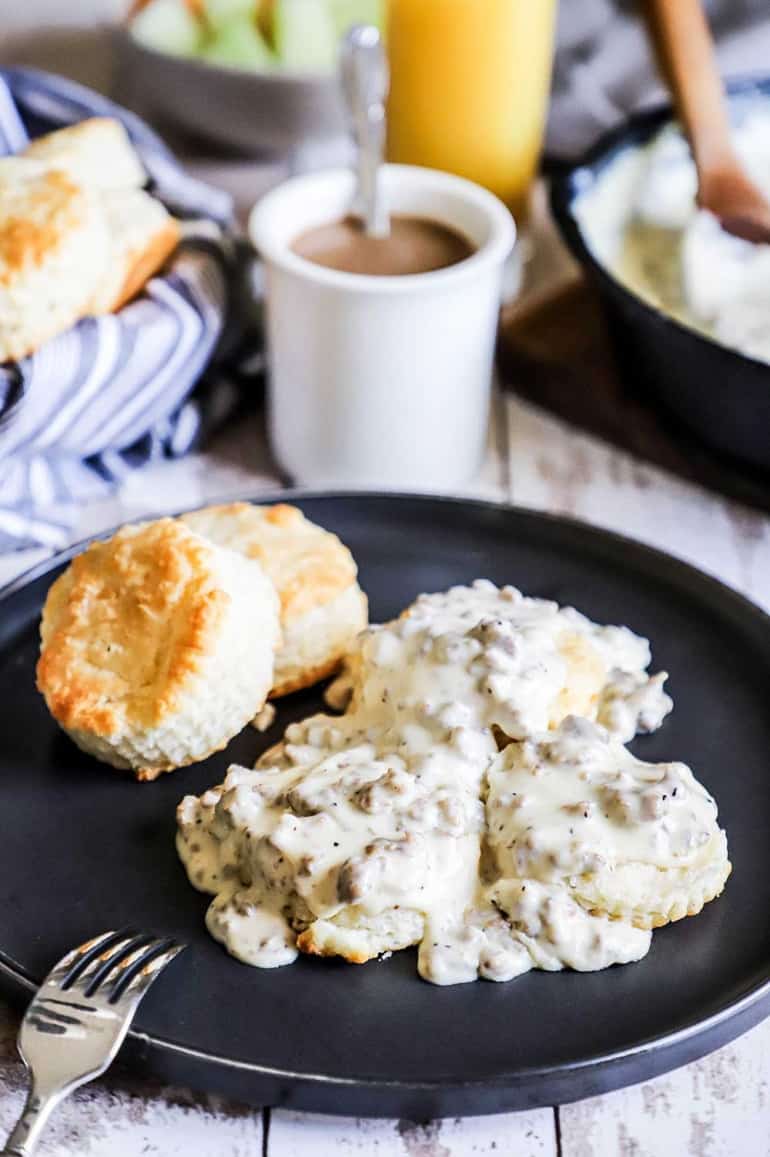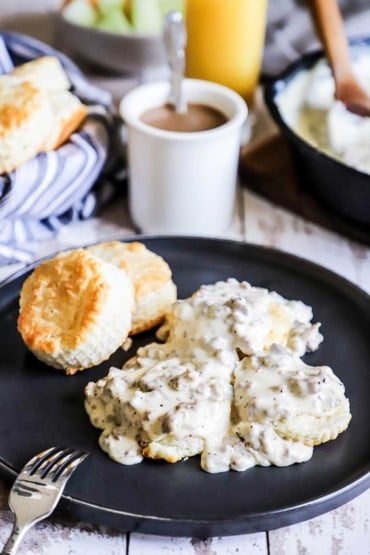 How To Make Southern Biscuits and Gravy
This iconic dish is actually much easier than you might think.
More on this in a bit, but honestly, what put these in a league all of their own is the homemade biscuits. But the gravy has to be perfect, too.
NOTE: If you liked this video, please subscribe to our YouTube channel. Remember to click the little 'bell' icon so you'll never miss a new video! Thank you!
The Ingredients You Will Need
There are just a handful of ingredients that are required to make this dish from scratch.
Here's What You'll Need
For the Southern Biscuits:
Unsalted butter – Frozen, grated with a box cutter, plus extra for brushing the tops of the biscuits
Flour – Lily Self-Rising is authentic and so good!
Buttermilk – Cold
For the Gravy:
Breakfast Sausage – Cooked and set aside, we usually use about 2/3 of a package (save the extra for other use)
Grease – Saved bacon is perfect. Butter can also be used.
Flour – All-purpose
Milk – Whole
Cream – Heavy, or half and half
Seasonings – Salt, pepper, and adobo
EXPERT TIP: The recipe for the biscuits will yield 7 to 9 biscuits (depending on how big you make them). The recipe can easily be doubled to make more biscuits. You want decent-sized biscuits for the gravy. Don't roll the dough out too thin before cutting the biscuits. 3/4 to 1-inch thick is ideal before baking. Topping them with melted butter adds an incredible taste.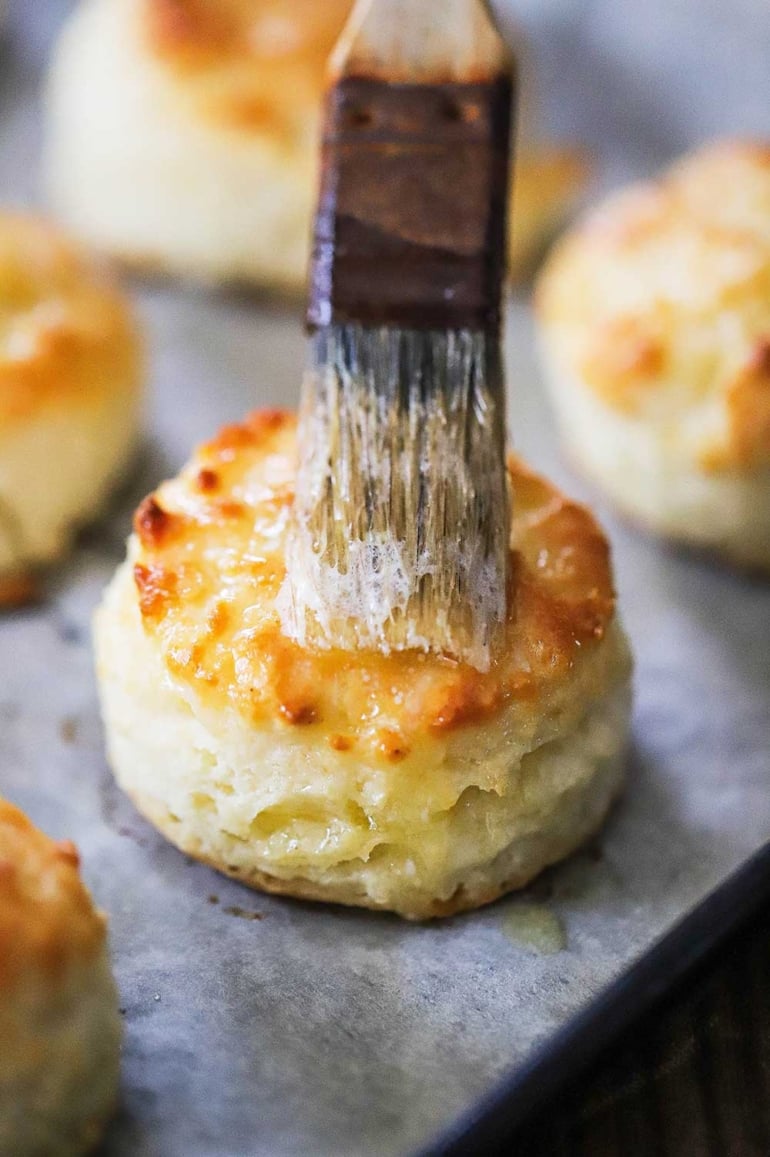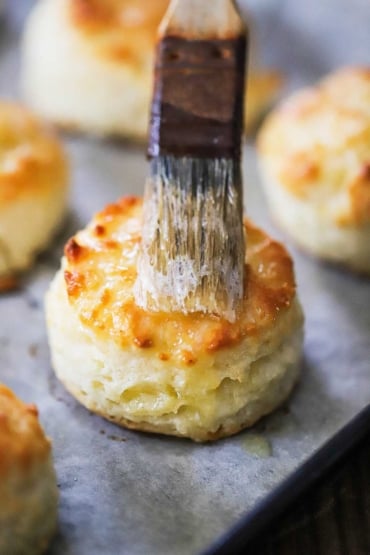 Tips for Perfect Biscuits and Gravy
Make the Biscuits from Scratch – We have to admit, the gravy is so flavorful, that if you pour it over purchased biscuits, they'll still be yummy. But when you make them from scratch, they honestly take the entire experience to another culinary level. And they can even be made the day ahead, just reheat them in the microwave!
Get the Right Gravy Consistency – Your roux (grease with flour) should resemble wet sand. Three tablespoons of each should give you a nice gravy consistency once the milk and cream is added. However, if the gravy gets too thick, simply thin it with milk. Remember, the sausage will thicken the gravy, too, once added.
Provide Options – Some folks may not care for sausage in their gravy. When serving guests, we make two batches, one with sausage and one without sausage. Be careful when adding the sausage. You probably won't want to add a full pound of cooked sausage. We use about 10 to 12 ounces for the right gravy-to-sausage ratio.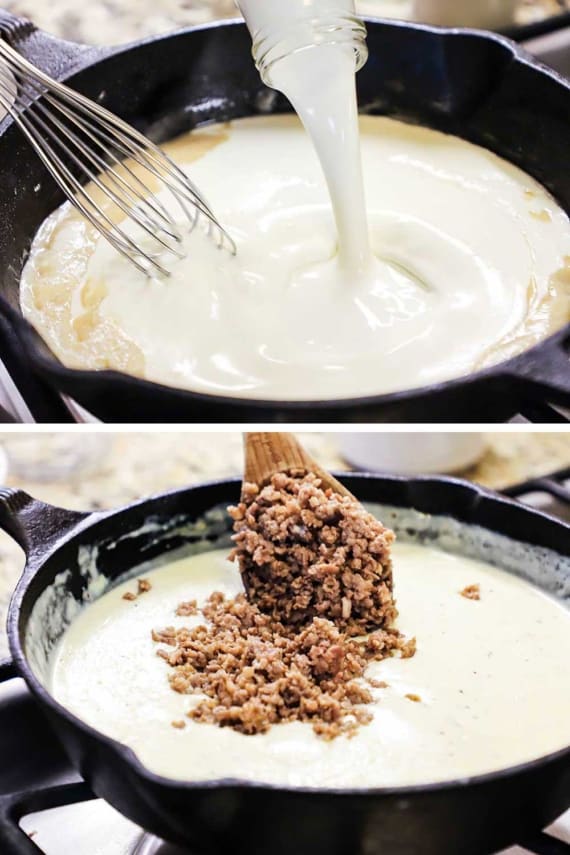 How To Serve
Most people enjoy homemade Southern biscuits and gravy, but opinions on how to plate them (or serve them) vary greatly.
Some prefer their biscuits completely buried in the gravy. Some like a little gravy, and on the side.
We find that the best way to serve them is to let guests/family plate them up themselves. You can transfer the gravy (or gravies, if doing two versions – one with sausage and one without) to gravy boats, but we find leaving it in the skillet and providing a ladle or large spoon is best.
Other Classic Breakfast Recipes To Try
Biscuits and gravy are always a hit when served to hungry family and friends. But here are a few more that are sure to get rave reviews, too:
Steak and Eggs with Roasted Cherry Tomatoes
Ricotta and Lemon Pancakes with Vanilla Sauce
Grandma's Homemade Kolaches
Best-Ever Skillet Breakfast
Egg Scramble with Fontina, Basil and Tomatoes
Classic Shakshuka
Grandma's Homemade Cinnamon Rolls
Authentic Huevos Rancheros
Stuffed Savory Crepes
In the meantime, isn't this plate of deliciousness calling your name?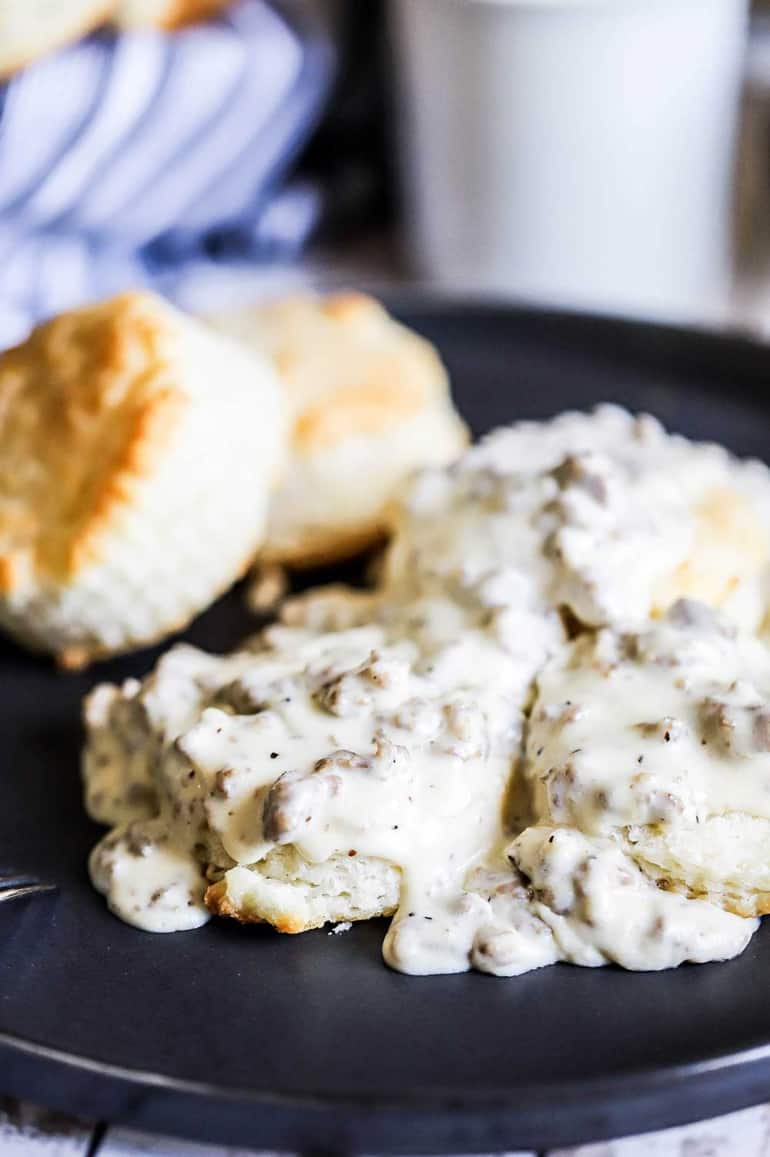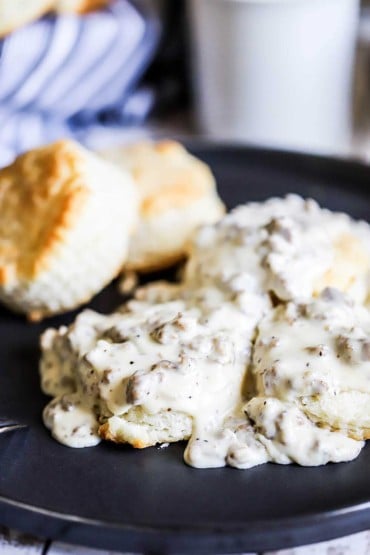 We honestly have family members who request this dish on a regular basis.
This is a popular dish in the Southern states of the United States, but over the years, it has become a staple at breakfast and brunch establishments all over North America.
Once you take your first bite, especially when everything is made from scratch, you will be a believer. This truly is epic.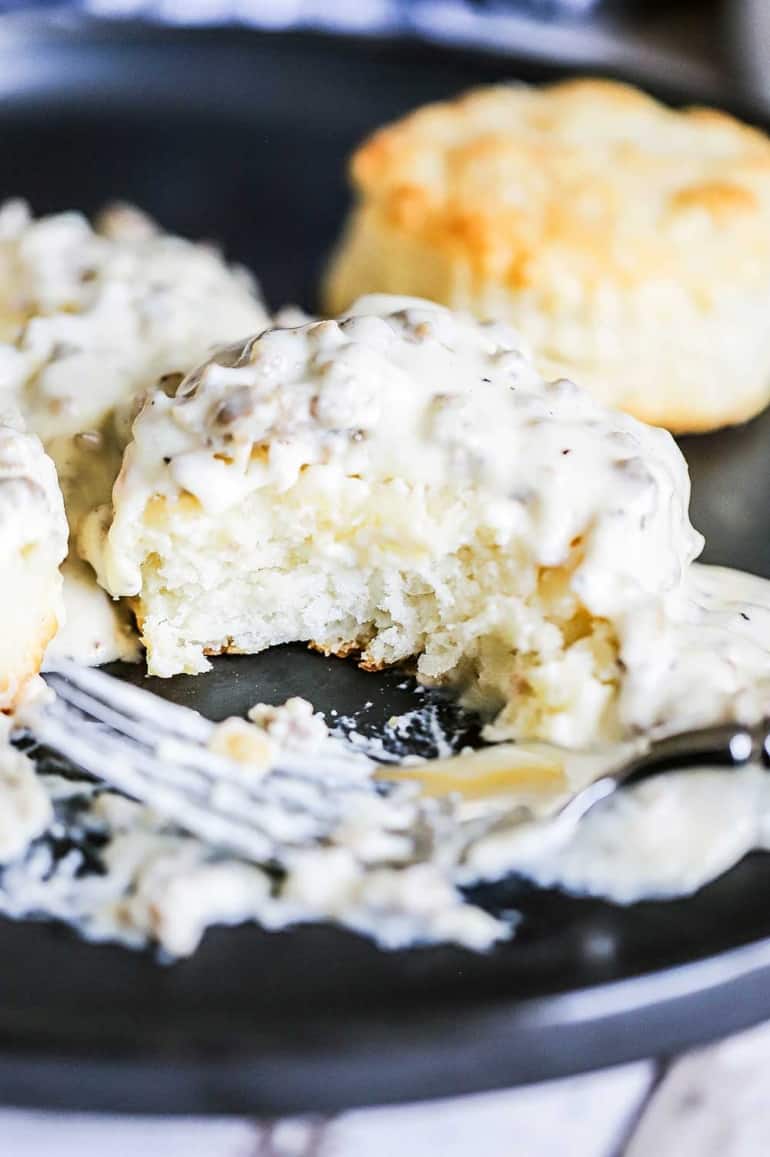 Ready to make the ultimate breakfast comfort dish that folks will be raving about for weeks to come? Go for it!
And when you do, be sure to take a photo of it, post it on Instagram, and tag @HowToFeedaLoon and hashtag #HowToFeedaLoon!
Southern Biscuits and Sausage Gravy
Southern Biscuits and Sausage Gravy is probably the most quintessential breakfast comfort food of all time. Making the biscuits from scratch is the secret to biscuits and gravy perfection. And then the rest of just gravy. Dang good gravy.
Print
Pin
Rate
Servings: 6 people
Calories: 308kcal
Ingredients
6 Southern biscuits Click link for recipe
16 oz breakfast sausage
3 tbsp bacon grease or vegetable oil, or butter
3 tbsp all-purpose flour
1 cup whole milk
1 cup heavy cream
½ tsp Kosher salt
½ tsp adobo seasoning
1 tsp freshly ground black pepper or more, to taste
Instructions
Do Ahead
6 Southern biscuits

In a large skillet, cook the sausage. Transfer to a heatproof bowl and set aside. Wipe out the skillet.

16 oz breakfast sausage

Add the grease (or butter) to the skillet over medium heat. Once hot, stir in the flour and cook for 1 to 2 minutes, stirring often.

3 tbsp bacon grease, 3 tbsp all-purpose flour

Whisk in the milk and the cream, whisking continuously until no lumps appear. Stir with a wooden spoon until starting to thicken, about 4 to 6 minutes.

1 cup whole milk, 1 cup heavy cream

Add the salt, seasoning, and pepper, and then the cooked sausage (See NOTES).

½ tsp Kosher salt, ½ tsp adobo seasoning, 1 tsp freshly ground black pepper

Taste and add more salt, if desired.

Pour the sausage gravy over the warm biscuits and serve at once.
Notes
See the video near the top of the blog post for visual guidance. If you liked the video, please subscribe to our YouTube channel.
If you don't have self-rising flour, use this formula: For every cup of self-rising flour, substitute one cup of all-purpose flour, 1 teaspoon baking powder, ½ teaspoon salt, and ¼ teaspoon baking soda.
We usually add about 3/4 (12 ounces) of the cooked sausage to the gravy and save the rest for another use. We like that ratio of cream to sausage. However, if you prefer more sausage, then add all of it to the gravy.
The biscuits can be made 1 to 2 days in advance. Gently reheat in the microwave when ready to serve. Store in a covered container.
Leftover gravy will keep covered in the fridge for up to 5 days and can be frozen for up to 2 months.
Nutrition
Calories: 308kcal | Carbohydrates: 3g | Protein: 12g | Fat: 24g | Saturated Fat: 9g | Polyunsaturated Fat: 3g | Monounsaturated Fat: 8g | Trans Fat: 0.2g | Cholesterol: 61mg | Sodium: 685mg | Potassium: 195mg | Fiber: 0.1g | Sugar: 0.03g | Vitamin A: 59IU | Vitamin C: 1mg | Calcium: 8mg | Iron: 1mg
POST UPDATE: This recipe was originally published in July 2018, but was updated with improved tweaks to the recipe with new tips and photography, and a fabulous new video in March 2023!