This breakfast sausage recipe delivers patties that are so moist, so flavorful, and so easy to prepare.
The Loon and I just love a good breakfast or brunch dish, and these breakfast patties are great by themselves or with our classic Egg, Cheese, and Sausage Breakfast Sandwich! And they come together in less than 30 minutes!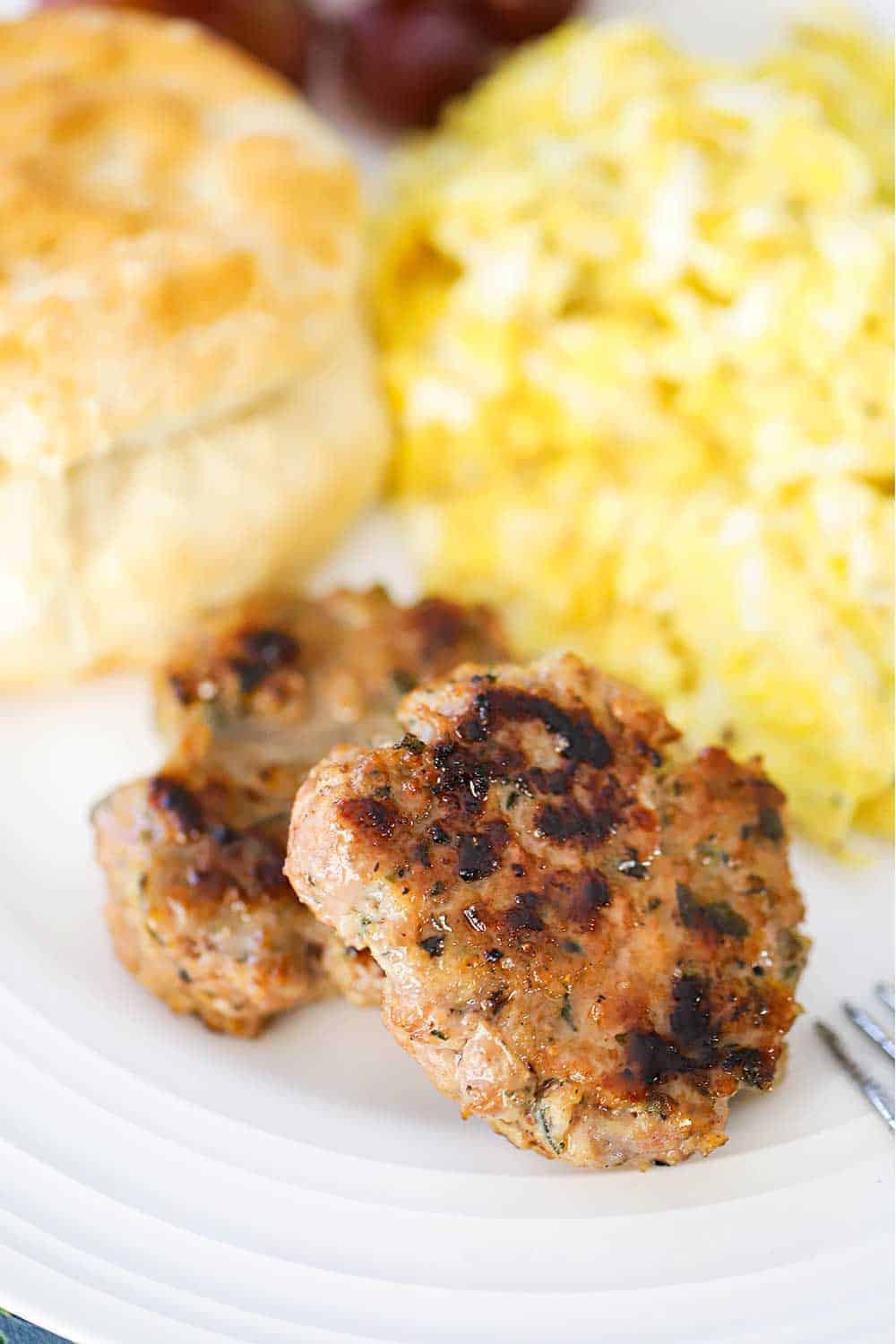 How To Make Breakfast Sausage
You will be amazed at how simple is to prepare these fresh and delicious patties at home.
All you need are a handful of ingredients including ground pork, bread crumbs, fresh herbs, and of course, maple syrup.
We love everything about these patties of pure deliciousness!
The Ingredients You Will Need
We love adding a couple of tablespoons of plain bread crumbs to the sausage. This helps hold in those delicious juices as the sausage is cooking.
And fresh herbs and a dash of red pepper flakes provide that classic breakfast sausage seasoning.
EXPERT TIP: If using dried herbs in place of fresh, go with teaspoons rather than tablespoons. For example, if using dried, then go with 2 teaspoons of dried sage, as opposed to 2 tablespoons of fresh. We think the fresh herbs work wonderfully for the dish, but, of course, dried, will work, too.
Mix together the bread crumbs, herbs, and seasonings in a large bowl before adding the sausage and syrup.
For that classic breakfast taste, you'll want to make sure you go with pure maple syrup.
Pancake syrup just doesn't deliver the kind of taste you're going to get with pure maple.
A little goes a long way, so all you need is 2 tbsp, but that's great, it leaves you plenty left over for pancakes!
How To Form Sausage Patties
You only need the patties to be about ½-inch in thickness. If you go much thicker, they could over-cook on the exterior and not cook enough on the interior.
We use a 2½-inch ring to shape the patties, but you can certainly use the lid of a Mason jar, or even just form them with your hands.
This recipe will give you 10 to 12 patties.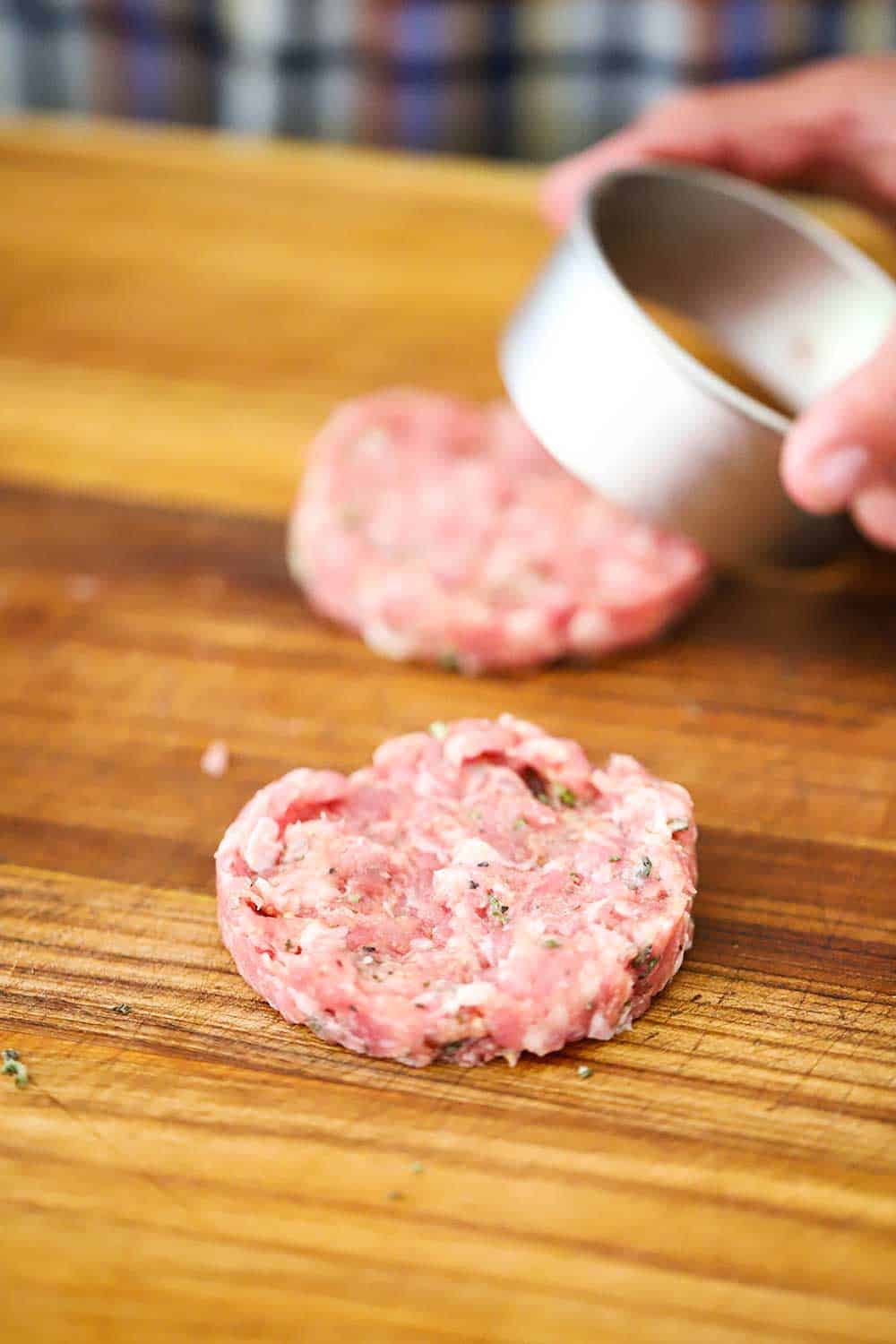 Once the patties are formed, it's time to cook them up!
Grab a non-stick skillet, or get a regular skillet and spray it with cooking spray, or a little vegetable oil, or olive oil.
EXPERT TIP: You'll want to cook the sausage patties for about 5 minutes per side. The outside will be a nice darkish brown, with some char spots. The juices should run clear and you'll want an internal temperature of 145°F. You can also cook the sausage without forming them into patties. The sausage is amazing in a breakfast casserole or a sausage breakfast burrito recipe!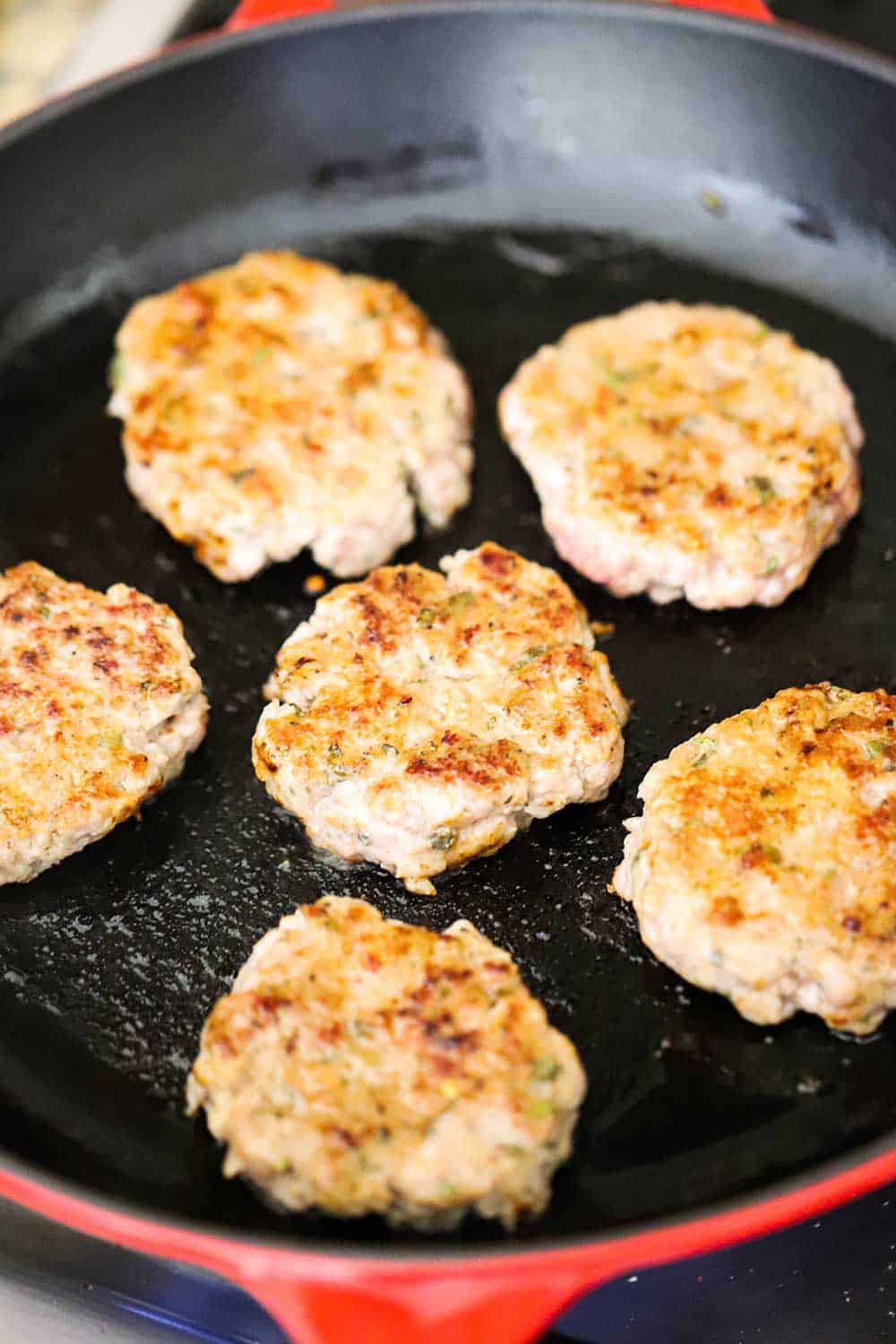 Ready to make the most delicious maple breakfast sausage in town? Go for it!
And when you do, be sure to take a photo of it, post it on Instagram, and tag @HowToFeedaLoon and hashtag #HowToFeedaLoon!
Maple Sausage Patties
These Maple Sausage Patties are the bomb. The sage and the maple blend together so beautifully and the flavor is incredible. Awesome on a homemade egg and sausage breakfast sandwich!
Print
Pin
Rate
Servings: 8 people
Calories: 242kcal
Equipment
Non-stick skillet/saucepan
Ingredients
2 tbsp bread crumbs dried
2 tbsp sage fresh, chopped (or 1 teaspoon dried)
1 tbsp rosemary fresh, chopped (or 1/2 teaspoon dried)
1 tbsp thyme fresh, chopped (or 1/2 teaspoon dried)
¼ tsp red pepper flakes or more, to taste
1 tbsp Kosher salt
½ tsp black pepper freshly ground
1½ lb ground pork
2 tbsp pure maple syrup
¼ tsp nutmeg ground
Instructions
In a large bowl, stir together the bread crumbs, sage, rosemary, thyme, red pepper flakes, nutmeg, salt, and pepper.

Add the ground pork and maple syrup and then use a wooden spoon, or your clean hands, to fold the bread crumbs and herbs into the pork. Gently mix until just combined. Wash your hands and then cover the bowl with plastic wrap and place in the refrigerator for at least 30 minutes, or up to overnight.

Shape the pork mixture into 10 to 12 patties, about 3 inches in diameter a ½-inch in thickness.

Heat a large saucepan/skillet (nonstick works best), over medium heat. Spray with cooking spray, if needed.

Add the patties and cook until the bottoms are browned, about 5 minutes (shake them periodically to prevent any sticking).

Flip and cook the other sides until browned and the centers feel firm to the touch when pressed with your finger, about another 5 minutes.
Notes
If using dried herbs, then go 1 tsp wherever the recipe indicates tbsp. Example: If using dried sage, go with 2 tsp rather than 2 tbsp, as written in the recipe. Be sure to use pure maple syrup. We don't recommend using pancake syrup for these patties. The uncooked patties can be made and refrigerated up to 24 hours in advance and frozen for up to 1 month. Completely thaw frozen patties before cooking. If desired, you can use the seasoned sausage for cooking before making them into patties. Cook the pork in the skillet and use it in casseroles or breakfast burritos or tacos!
Nutrition
Calories: 242kcal | Carbohydrates: 4g | Protein: 15g | Fat: 12g | Saturated Fat: 5g | Cholesterol: 61mg | Sodium: 939mg | Potassium: 255mg | Fiber: 1g | Sugar: 2g | Vitamin A: 19IU | Vitamin C: 1mg | Calcium: 24mg | Iron: 1mg
POST UPDATE: This recipe was originally published in April 2015, but was updated with improved tweaks to the recipe with new tips and photography, and a fabulous new video in September 2020! The recipe is adapted from Williams Sonoma.