Maple-Sage Sausage Patties are so flavorful and so easy to prepare.
The Loon and I just love a good breakfast or brunch dish, and these breakfast patties are great by themselves or with our classic Egg, Cheese and Sausage Breakfast Sandwich! And they come together in less than 30 minutes!
MAPLE-SAGE SAUSAGE PATTIES ARE EASY TO MAKE
You will be amazed at how simple is to prepare these fresh and delicious patties at home.
All you need are a handful of ingredients including ground pork, bread crumbs, fresh herbs and of course, maple syrup.
We love everything about these patties of pure deliciousness!
USE PURE MAPLE SYRUP
For that classic breakfast taste, you'll want to make sure you go with pure maple syrup.
Pancake syrup just doesn't deliver the kind of taste you're going to get with pure maple.
A little goes a long ways, so all you need is 1 tbsp, but that's great, it leaves you plenty left over for pancakes!
Trust me on this one, make these Maple-Sage Sausage Patties, and you'll never order the fast food variety again.  Well, you might, I mean, I probably will at some point, too, but these are so packed with flavor, and amazing by themselves, or even better when you use them in an Egg, Cheese and Sausage Breakfast Sandwich!
FORM THE PATTIES INTO MEDIUM DISCS
How thick you want your Maple-Sage Sausage Patties is a matter of taste.
But we think 3-inch patties that are about ¼-inch thick are perfect.
You should get about 6 patties from this recipe.
Next, it's time to cook them up!
Pull out your trusty skillet, add a little oil, and fry them until perfectly browned on both sides.
About 5 minutes per side. Breakfast sausage perfection!
EXPERT TIP: You can also skip forming them into patties and cook the flavored pork and then sprinkle in omelettes, or your favorite savory breakfast casserole!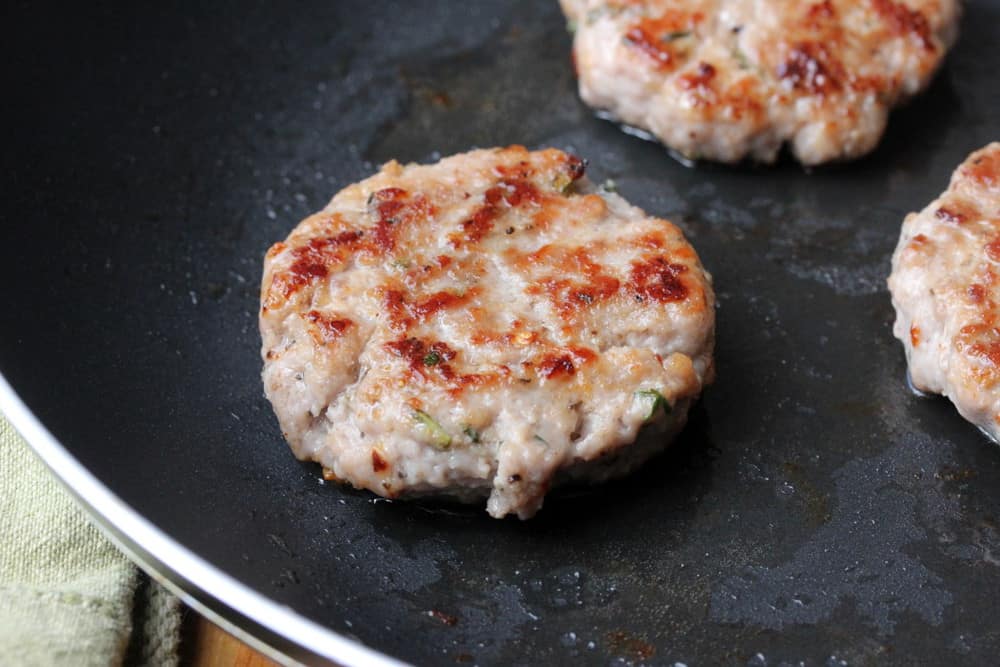 Maple-Sage Sausage Patties
These maple-sage sausage patties are the bomb. The sage and the maple blend together so beautifully and the flavor is incredible. Awesome on a homemade egg and sausage breakfast sandwich!
Print
Pin
Rate
Prep Time: 10 minutes
Cook Time: 10 minutes
Total Time: 20 minutes
Servings: 4 people
Calories: 310kcal
Ingredients
2 tbsp dried bread crumbs
2 tsp fresh sage minced (or 1 teaspoon dried)
1 tsp fresh rosemary minced (or 1/2 teaspoon dried)
1 tsp fresh thyme minced (or 1/2 teaspoon dried)
1/4 tsp red pepper flakes
Pinch ground cloves I ground whole cloves in a spice/coffee grinder
Pinch ground nutmeg I scrape whole nutmeg against small holes on box grater
Kosher salt and freshly ground black pepper
1 & 1/2 lb ground pork
1 tbsp pure maple syrup
Instructions
In a large bowl, stir together the bread crumbs, sage, rosemary, thyme, red pepper flakes, cloves, nutmeg, 1 & 3/4 teaspoon salt, and 1/2 teaspoon black pepper.

Add the ground pork and maple syrup.

Mix gently with your hands until just combined.

Cover and refrigerate for 30 minutes.

Shape the pork mixture into 8 patties, about 3 inches in diameter.

Heat a large fry pan (nonstick works best), over medium heat.

Add the patties and cook until the bottoms are browned, about 5 minutes (shake the periodically to prevent any sticking).

Flip and cook the other sides until browned and the centers feel firm to the touch when pressed with your finger, about another 5 minutes.
Nutrition
Calories: 310kcal