Jalapeño Poppers have been one of our favorite appetizers for about as long as we can remember.
We love ordering these when we eat out at one of our favorite Texan, or Mexican, or Tex-Mex restaurants. Heck, we love these poppers so much, we even like the frozen version.
But these Hoppin' Jalapeño Poppers made at home beat 'em all! Just look at these babies!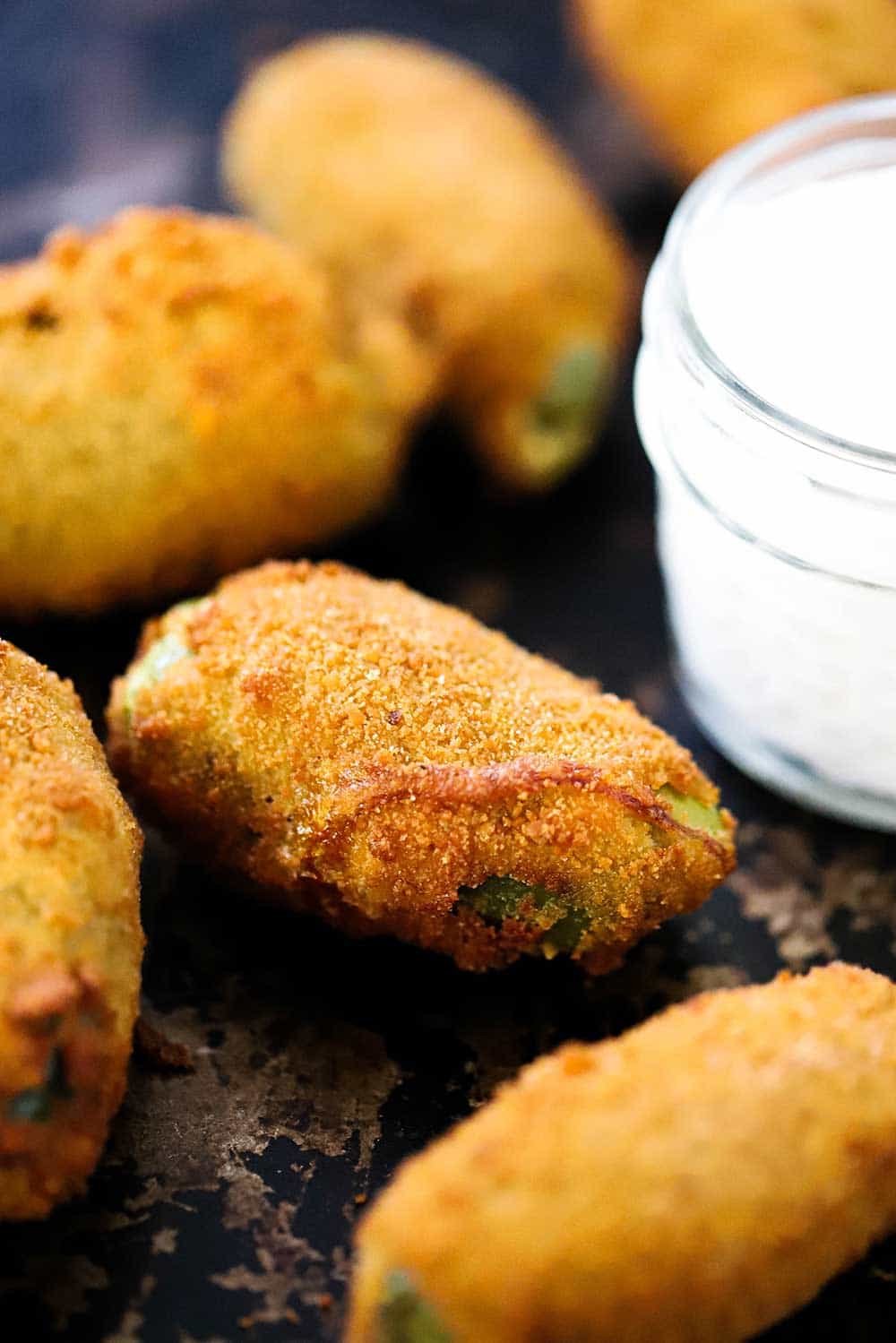 STUFFED JALAPEÑO POPPERS ARE EASY TO MAKE
You can control the heat by how many seeds and the ribs from the inside of the pepper you do (or don't) remove.
Get yourself some nice fresh jalapeños from the supermarket and then grab a nice sharp knife (be careful!).
Make a slit down one side of the pepper.
As we said, most of the heat in a fresh jalapeño comes from the seeds and the ribs on the interior of the pepper. Learn more here.
REMOVE THE SEEDS AND RIBS FOR MILDER TASTER
If you like you're Jalapeño Poppers to be extra hot (spicy), then leave the ribs and some of the seeds in.
If you're like most of us, and you like them with a little kick, but not too much. Use your knife and a spoon to remove all of the seeds and ribs.
Of course, cheese is a typical filling for jalapeño poppers. We love cream cheese or cheddar.
But why not even go a little further and add some smoked bacon to the filling.
Yes!! BACON!
THE PERFECT JALAPEÑO POPPER HAS A FLAVORFUL FILLING
Cheese and bacon is the perfect filling for the incredible stuffed peppers.
Just use a small spoon to carefully fill the insides.
Mmmm…cheese and bacon!
Now it's time for the breading.
And then a quick fry.
Don't worry if not all of the breading stays attached to the pepper, there's plenty of flavor to go around!
USE FRESH OR PICKLED WHOLE JALAPEÑOS
We just love the freshness of these Stuffed Hoppin' Jalapeño Poppers.  You can also use canned whole pickled jalapeños, if you prefer that flavor.  The one's we use are super fresh, and have just a nice bite to them (not too soft and mushy). They might have a touch more spice, but we kind of like that.
These are great served with a nice side of cold sour cream for dipping.
An all-time classic  that you can easily make right at home.  So good!!  125% Loon Approved!!
OTHER AWESOME APPETIZERS TO TRY
Sausage and Cheddar Fritters
Cheesy Skillet Rolls
Garlic Parmesan Wings
Sausage Stuffed Mushrooms
In the meantime, go and make these awesome Hoppin' Jalapeño Poppers!
Hoppin' Jalapeno Poppers
These Hoppin' Jalapeno Poppers are a take on the classic appetizer. Use fresh peppers, and remove the seeds and ribs to eliminate the heat. Or, use pickled whole peppers, and stuff. So good!! NOTE: Wearing protective gloves is a good idea when working with peppers. If you don't, be sure to wash your hands thoroughly, since the heat can easily be transferred to another part of your body (i.e., eyes, when rubbing eyes).
Print
Pin
Rate
Servings: 6 people
Calories: 525kcal
Ingredients
12 fresh jalapenos
3 strips of bacon
1 cup grated Cheddar cheese
1 cup grated Monterey Jack cheese
1 tsp hot sauce
1/4 tsp Kosher salt
1/4 tsp ground black pepper
3 large eggs
1/4 cup whole milk
1 cup all-purpose flour
1 cup plain dry-bread crumbs
1 tsp Adobo seasoning
4 cups vegetable oil
Instructions
Pre-heat oil in a large sturdy pan (or Dutch oven, or deep fryer) to 325 F (use a deep-fry/candy thermometer to gauge temperature)

Cook the bacon over medium heat in a skillet, set aside until cool. Crumble, and set aside.

Take each jalapeno and cut a slit along the top of the pepper.

Next, cut a long slit from stem to bottom, forming a 'T.'

Pry open each pepper enough to expose the seeds.

Using a sharp paring knife, remove the seeds and as much of the ribs as you can get to.

Mix together the bacon, cheeses, hot sauce, salt and pepper in a medium bowl.

Fill peppers with bacon/cheese mixture, pressing seams closed after filling, so that the cheese is compacted and pepper holds its shape.

Lightly beat eggs in a small bowl and stir in the milk.

Place the flour on a plate.

Place the bread crumbs and Adobo seasoning on a separate plate, and mix together.

Dip pepper in egg/milk mixture, letting excess drip off.

Roll in flour.

Dip again in egg mixture and let excess drip off, and the roll in breadcrumbs. Repeat with egg /breadcrumbs. You may need to use your fingers to help the breadcrumbs adhere to the peppers.

Fry peppers in batches, stirring occasionally, until golden brown all over, about 6 minutes per batch.

Transfer to paper-towel lined plate to drain.

Let oil temperature get back to 325 F before frying next batch.

Serve with cool sour cream for dipping.
Nutrition
Calories: 525kcal