Jalapeño Poppers have been one of our favorite appetizers for about as long as we can remember.
We love ordering these when we eat out at one of our favorite Mexican or Tex-Mex restaurants. Heck, we love these poppers so much, we even like the frozen version. But these homemade Jalapeño Poppers made at home beat 'em all! And they are a snap to prepare!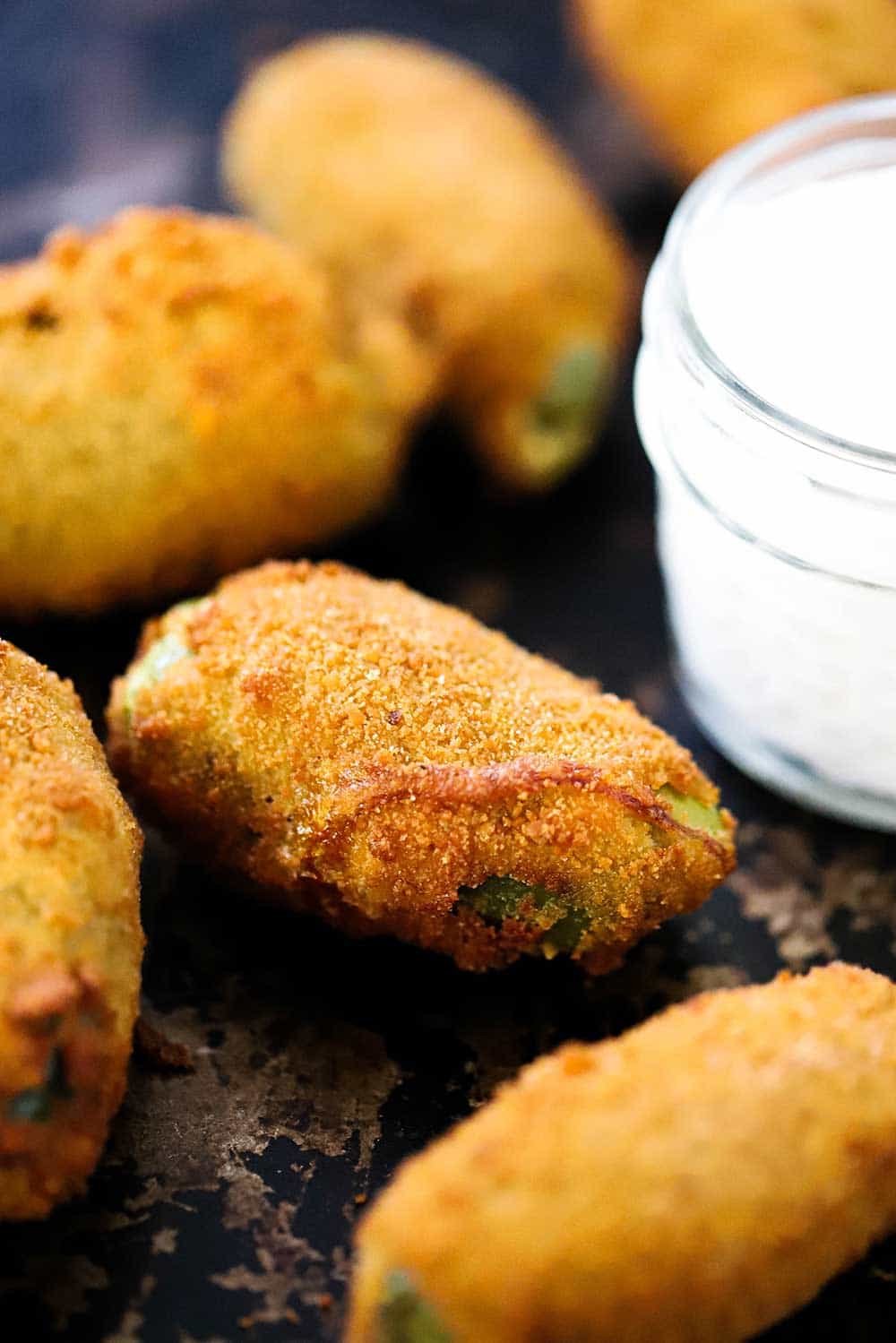 How To Make Jalapeño Poppers
This really is an authentic and easy jalapeño poppers recipe.
You can use fresh jalapeños or pickled whole jalapeños. We prefer the pickled variety.
The filling for this amazing appetizer is nothing more than your favorite melting cheese(s) and cooked smoked bacon.
We use a combination of mild cheddar and Monterey Jack. For easy clean-up, we just cook 3 strips of thick-cut smoked bacon on a baking sheet lined with foil.
EXPERT TIP: It will be easier to stuff the peppers if the cheese and bacon are finely chopped. We use a large knife to achieve this. We also add a few splashes of hot sauce to help bring it all together.
How To Prep Whole Stuffed Jalapenos
Regardless if you are using pickled whole jalapeños or fresh jalapeños, you are going to want to remove the seeds and the inner ribs of the pepper to reduce the spice level.
Most of the heat in a jalapeño comes from the seeds and the ribs on the interior of the pepper. Learn more here.
EXPERT TIP: To remove the seeds and ribs, we HIGHly recommend using protective gloves. You do not want to expose your eyes or skin to the spice from the pepper. With gloves on, simply take a small sharp knife and cut a slit, lengthwise, down the pepper. If using fresh, also cut a perpendicular slit at the top, making a 'T.' Now, use your fingers to scrape out the seeds and ribs. It's okay if the pepper tears a bit, the breading will hold it all together during the frying process. Stuff with the cheese/bacon filling.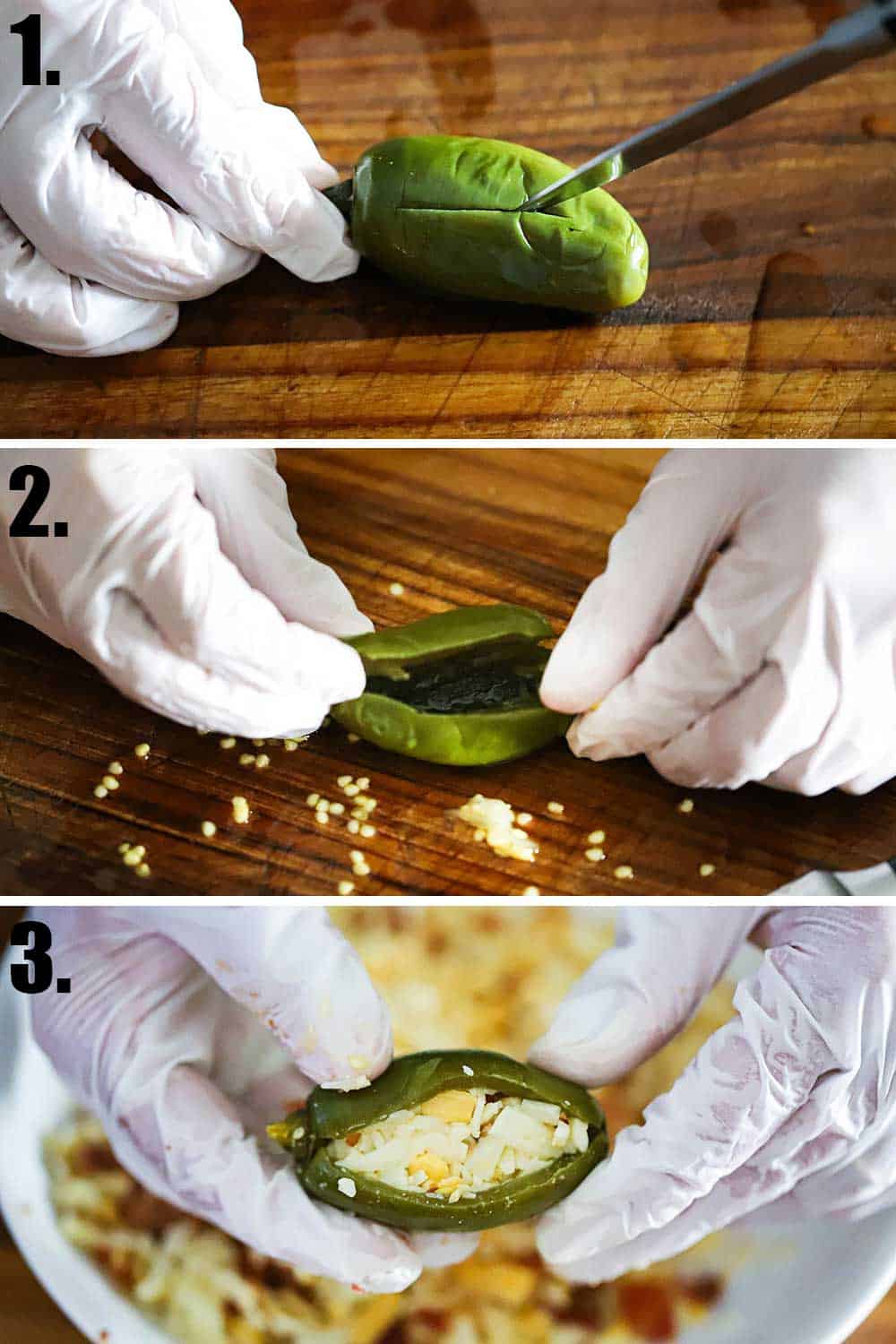 Now, it's time to bread the poppers.
Simply set up a dredging station with 3 bowls or pans. Add flour to the first pan, egg & milk to the second, and bread crumbs with seasoned salt to the third.
EXPERT TIP: Peppers have a fairly slippery skin on them, even the pickled ones. To help the flour to adhere to the stuffed peppers, dip them first in water and then immediately transfer to the flour. Dredge through the egg/milk mixture and then the bread crumbs. For a fully covered pepper, repeat the process again (expect dipping in water).
To Fry or to Bake?
The classic way to cook these gems is to give them a quick deep-fry. After they have all been breaded, then carefully add them to your deep-fryer or a sturdy skillet (i.e., cast-iron) with about 1 inch of vegetable oil. Use a thermometer to ensure the oil reaches 345°F.
When frying, they only take about 4 to 5 minutes to reach the perfect golden color.
EXPERT TIP: You can certainly make baked jalapeño poppers, too. You won't get the super crispy exterior, but they will still be wonderful. Preheat your oven to 375°F and place the stuffed peppers on a baking sheet. Bake for about 45 minutes to 1 hour, or until the breading is crisp and the cheese is good and melty when it's split in half.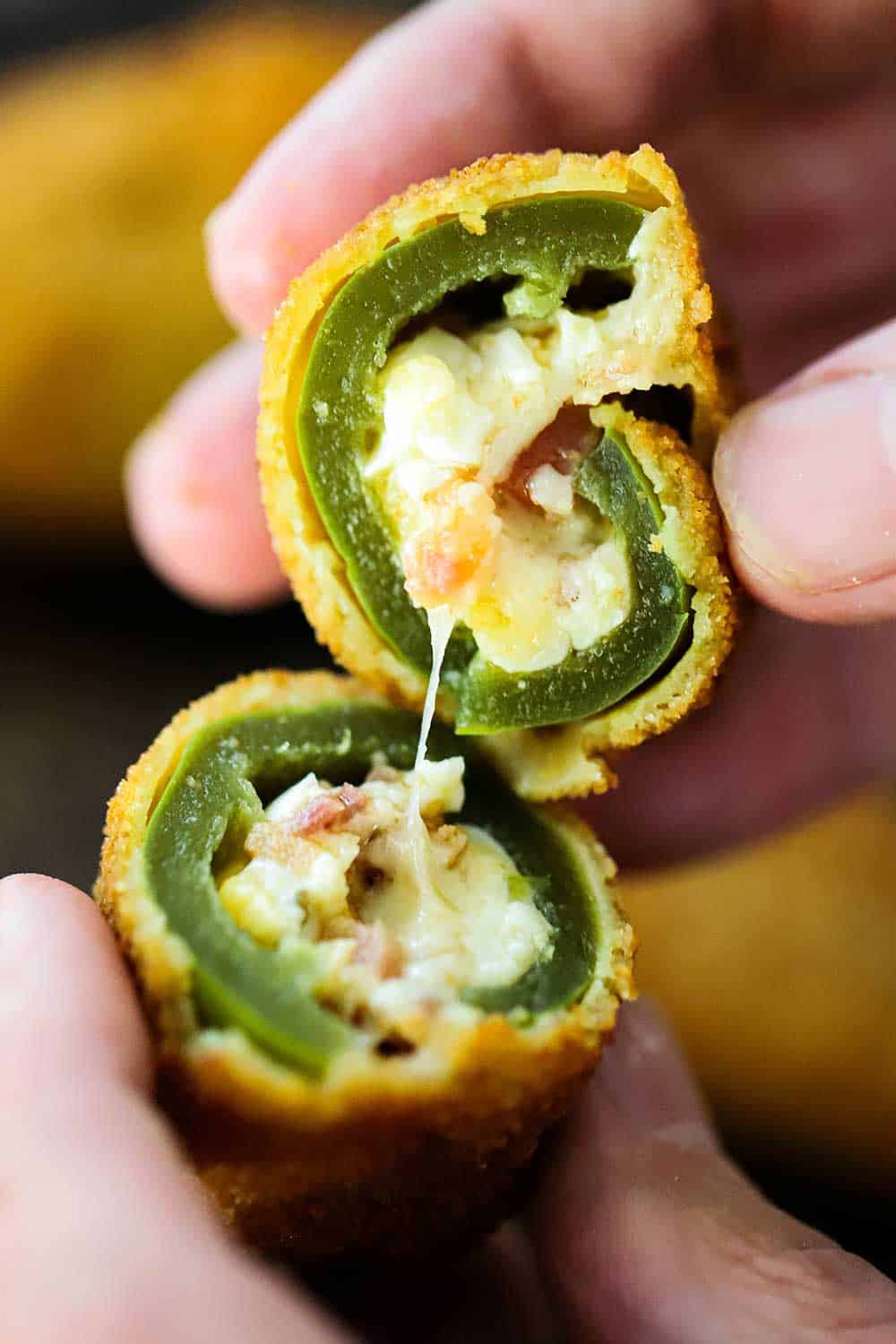 How and When To Serve
This classic appetizer is perfect for game-day celebrations, parties, or just a fun afternoon at home with the kids.
We love serving them with a bowl of cool sour cream, or even Homemade Ranch.
These are always the first to go when we serve to family and friends.
As you might expect, these jalapeños will carry some heat. Even when you remove the seeds and ribs.
However, if you do truly remove all the seeds and ribs, the spice level is low to medium.
EXPERT TIP: We do think these are best served right from the fryer (or oven), but you can certainly reheat them in a 350°F oven for about 30 to 40 minutes until crisp and heated through. We recommend flipping them half-way through the reheating process.
Other Amazing Party Appetizers to Try
Loaded Potato Skins
Tex-Mex Queso
Sausage and Cheddar Fritters
Ham and Swiss Sliders
Garlic Parmesan Wings
Sausage Stuffed Mushrooms
In the meantime, you just gotta go and make these awesome homemade Jalapeño Poppers!
Ready to make the best Tex-Mex appetizer this side of the Alamo? Go for it!
And when you do, be sure to take a photo, post it on Instagram, and tag @HowToFeedaLoon and hashtag #HowToFeedaLoon
Jalapeno Poppers
These Jalapeno Poppers are our take on the classic appetizer. We love using pickled whole peppers, but fresh are good, too! NOTE: Wearing protective gloves is a good idea when working with peppers. If you don't, be sure to wash your hands thoroughly, since the heat can easily be transferred to another part of your body (i.e., eyes, when rubbing eyes).
Print
Pin
Rate
Servings: 6 people
Calories: 422kcal
Equipment
Deep fryer, or sturdy skillet filled with 1-inch of vegetable oil. Or, baking sheet, if baking.
Ingredients
12 jalapenos pickled or fresh
3 strips bacon thick-cut, smoked, cooked and finely chopped
1 cup Cheddar cheese grated
1 cup Monterey Jack cheese grated
3 dashes hot sauce optional
1 cup all-purpose flour
2 large eggs
½ cup whole milk
1 cup bread crumbs plain, dry
1 tsp Adobo seasoning
vegetable oil for frying
½ cup sour cream for dipping
Instructions
Preheat oil to 345°F in deep-fryer or sturdy skillet. use a deep-fry/candy thermometer to gauge temperature)

In a medium-sized bowl, mix together the crumbled cooked bacon, both kinds of cheese, and the hot sauce (if using).

Use a small sharp knife to cut a slit, lengthwise, down one side of each jalapeño. If using fresh, cut another slit perpendicular to the lengthwise slite, forming a 'T' on the side of the pepper. Use your fingers (with protective gloves) to dig out the seeds and ribs. You may need to use your knife to help you get it all with the fresh pepper. Stuff each pepper solidly with the cheese/bacon mixture. Set aside.

Set up your dredging station by placing the flour in a dish or on a plate. Lightly beat eggs in a small bowl and stir in the milk. Place the bread crumbs and Adobo seasoning in a dish or a separate plate, and mix together. Line the 3 up next to each other.

Fill a small bowl of water and place it next to your dredging station. Start by dipping one pepper into the water to moisten. Quickly add to the flour and roll around, shaking off excess flour. Add to the egg/milk mixture, and turn to coat, shaking off excess egg. Dredge all over through the bread crumb mixture. Repeat the process, except dipping in the water. Set aside and repeat with remaining peppers.

Fry peppers in batches, stirring occasionally, until golden brown all over, about 6 minutes per batch. Transfer to a paper-towel-lined plate to drain. If baking, place on a baking sheet pan and place in a preheated oven at 375°F for 30 to 45 minutes, until golden.

Serve with cool sour cream for dipping.
Notes
We love using fresh jalapeños for this recipe, but we find pickled whole peppers give more of an authentic restaurant-quality taste and texture. We feel they also give the perfect match of briny tartness against the slight heat of the pepper. Pickled whole jalapeños can be found in the Mexican section of many well-stocked supermarkets, or at Mexican food markets, or online. Once the pepper has been filled with the cheese mixture, don't worry if it doesn't completely seal back up. The breading will cover the opening and seal nicely. Very little, if any, cheese should leak out. You can also substitute softened cream cheese in place of the cheddar/bacon filling. The poppers are best served right out of the fryer (or oven), but they will reheat just fine in a preheated oven at 375°F for about 30 to 40 minutes, flipping half-way through the baking.
Nutrition
Calories: 422kcal | Carbohydrates: 33g | Protein: 19g | Fat: 18g | Saturated Fat: 10g | Cholesterol: 118mg | Sodium: 473mg | Potassium: 265mg | Fiber: 2g | Sugar: 4g | Vitamin A: 878IU | Vitamin C: 33mg | Calcium: 369mg | Iron: 3mg
POST UPDATE: This recipe was originally published in August 2018, but was updated with improved tweaks to the recipe, new tips and photography, and a fabulous new video in September 2020!