If there ever was a grand champion of sliders, this quite possibly would be the one.
If you're looking for something delicious to do with that leftover baked ham, or if you're craving something that is through-the-roof delicious, these babies fit the bill for both. And they come together in about half an hour! Other amazing slider recipes are our Bratwurst Sliders, Gourmet Beef Sliders, Pot Roast Sliders!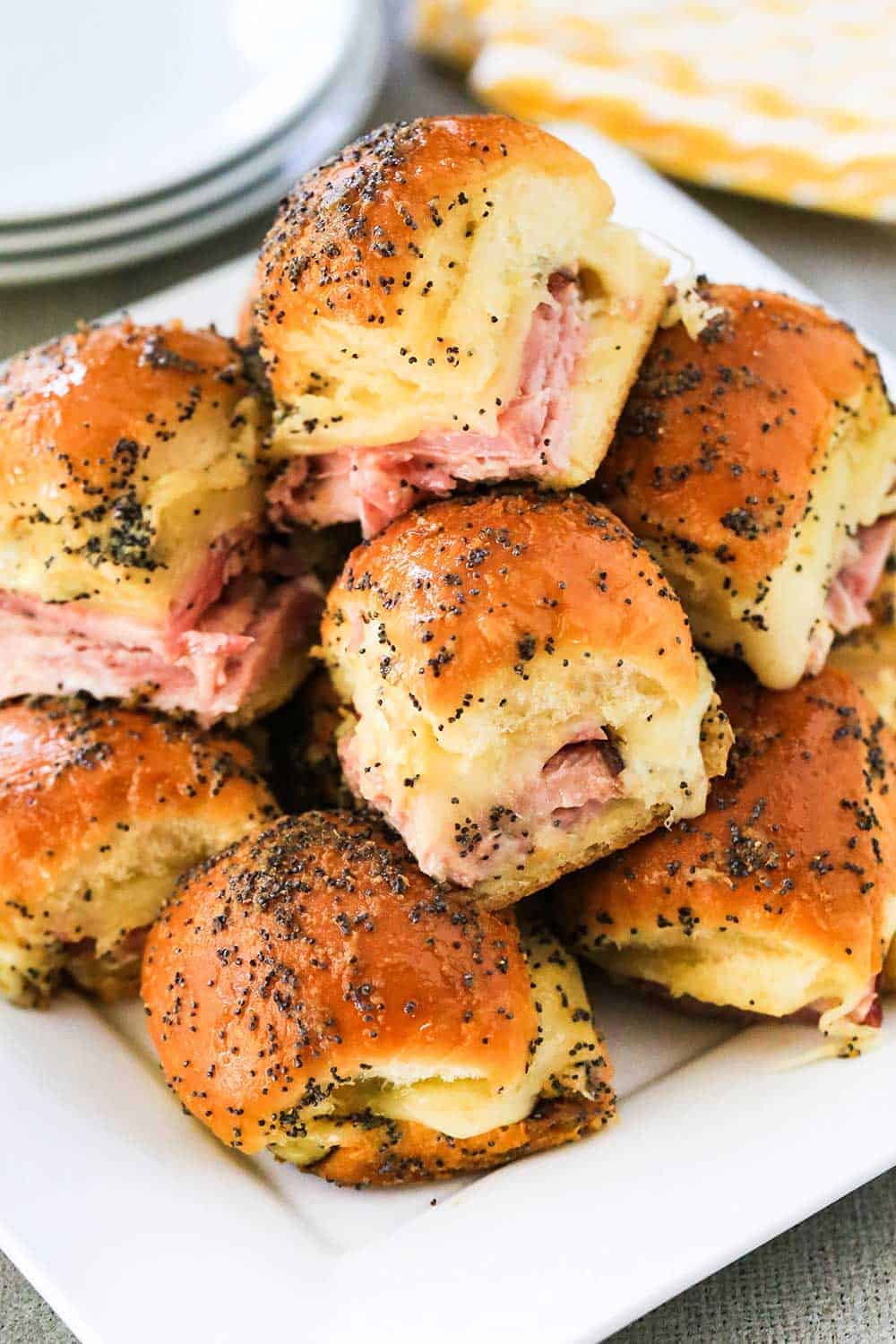 HOW TO MAKE HAM AND SWISS SLIDERS
We absolutely love everything about sliders. Their smallness in size is the perfect excuse to eat a bunch of them!
As mentioned, we love making these incredible sandwiches whenever we have leftover ham, such as our Honey Bourbon Glazed Ham.
But these things are so incredibly flavorful, using thinly sliced ham from your local deli is fantastic, too!
BUILDING THE PERFECT SLIDER
It all starts with the perfect bun. We highly recommend using Hawaiian buns.
Simply use a serrated knife to slice a set of 12 buns in half, from top to bottom.
Next, add a layer of mayonnaise, then ham, cheese, and then add the top layer of the buns.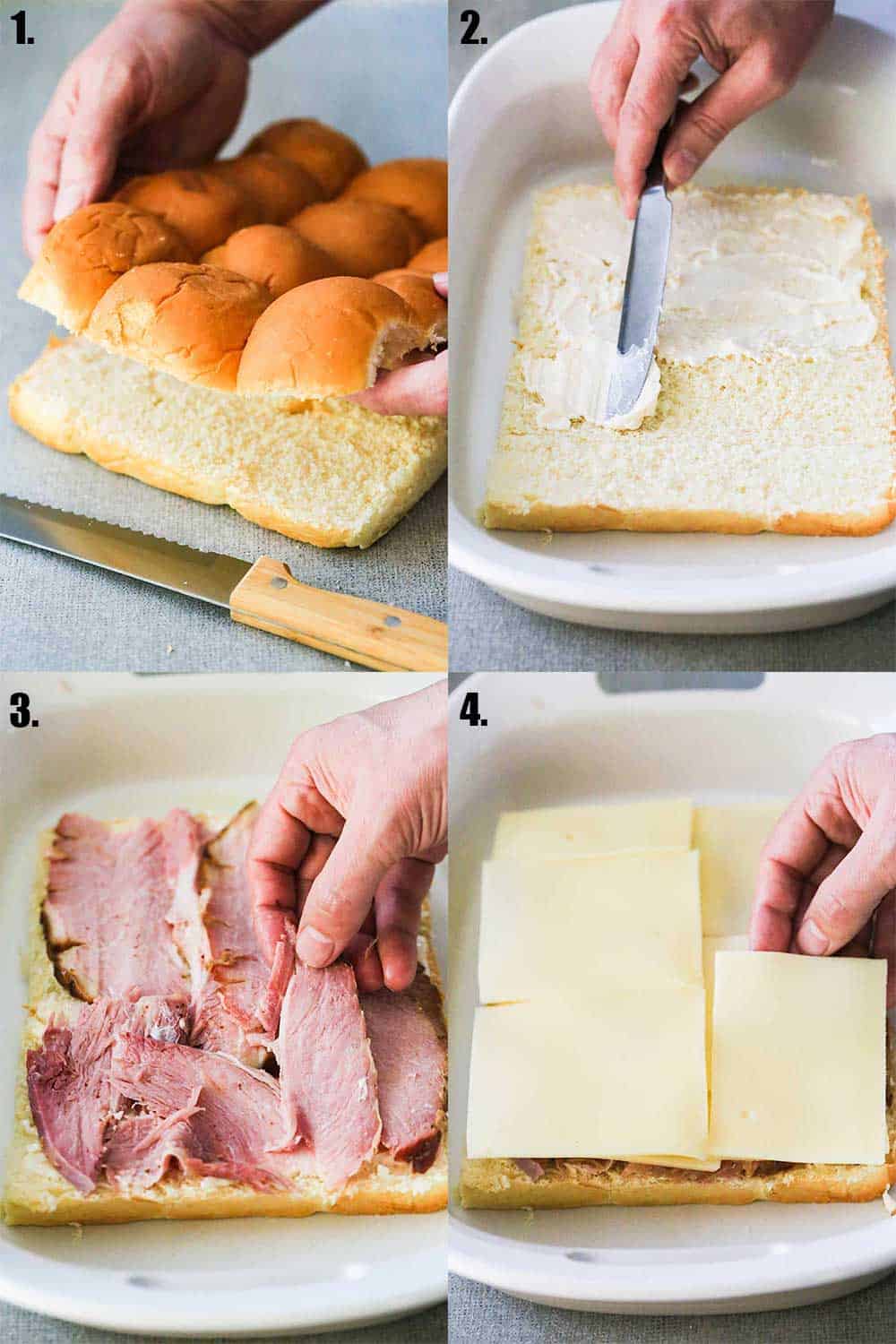 We have to say that what really puts these Ham and Swiss Sliders over the top is the buttery poppyseed sauce.
Melt the butter and then simply whisk in the other ingredients.
EXPERT TIP: We think 8 tablespoons (1 stick) of butter is perfect for the sliders, however, this can easily be reduced to 4 tablespoons, and it will still be incredibly delicious.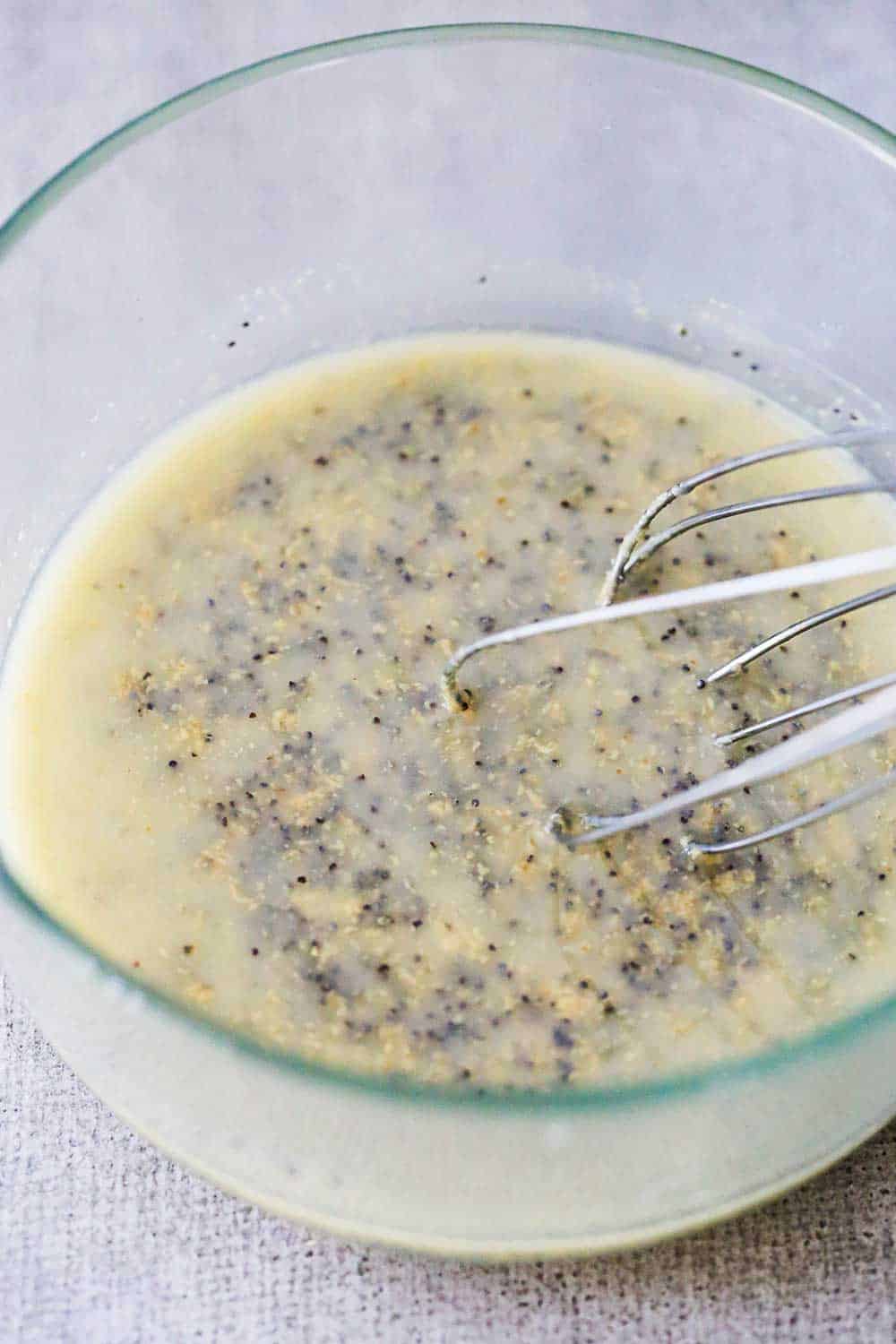 POUR THE SAUCE DIRECTLY OVER THE SLIDERS
Now it's time to take these sliders to the next level. Place the prepared sliders into a 9″x13″ baking dish.
Simply pour the butter sauce all over the tops of the buns.
EXPERT TIP: We use a spoon to scoop up some of the sauce that has pooled in the dish and re-distribute it all over the tops of the buns. As the sliders bake, the butter sauce will absorb into the buns and make them incredibly flavorful. Be sure to allow the butter sauce to rest for 10 minutes on the top buns before baking.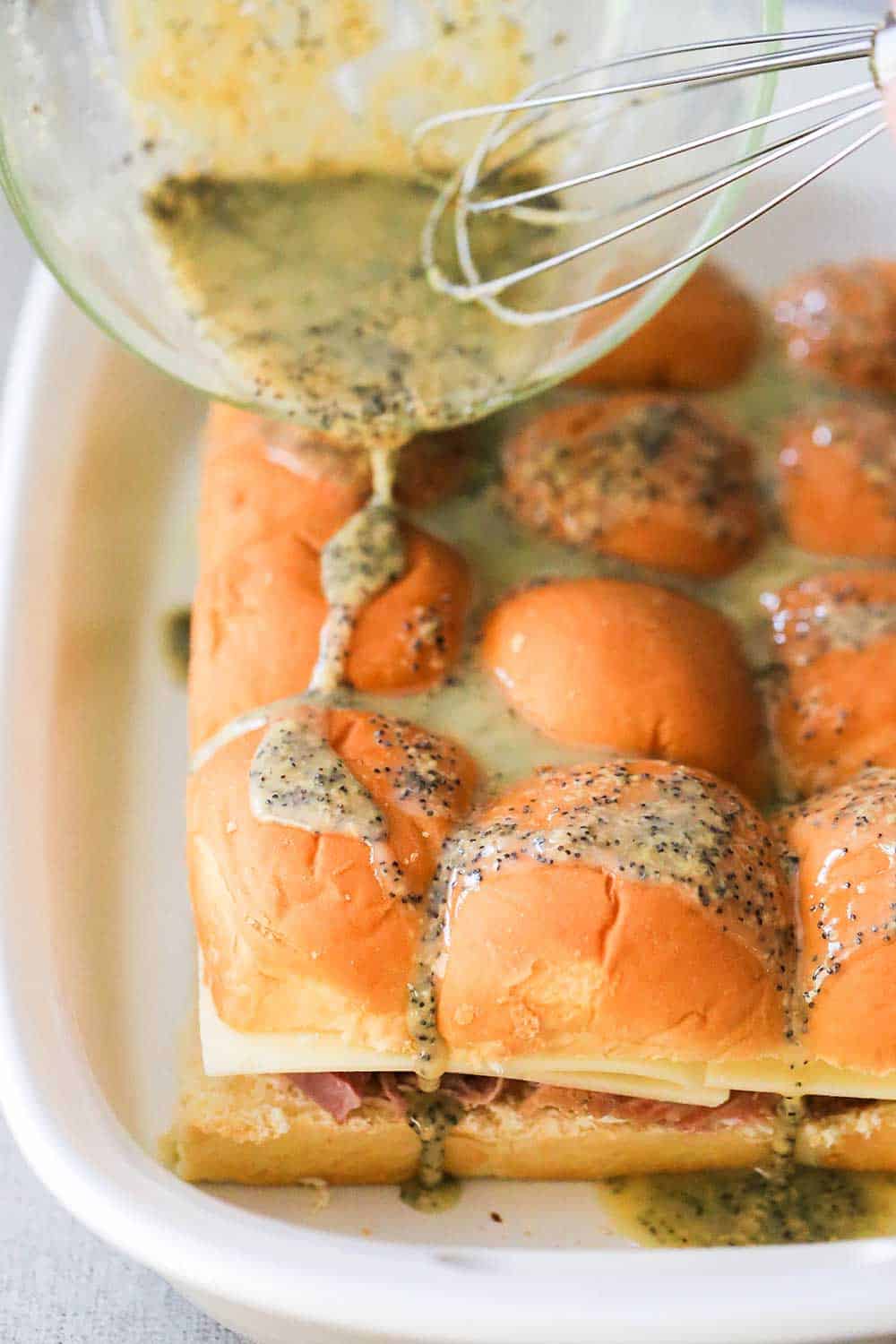 After the sliders have had about 10 minutes to soak up some of the amazing butter sauce, it's time to bake them!
Place them in a 375°F preheated oven.
After 17 minutes, remove the foil and then let them bake for another 4 to 5 minutes, until the tops are golden brown.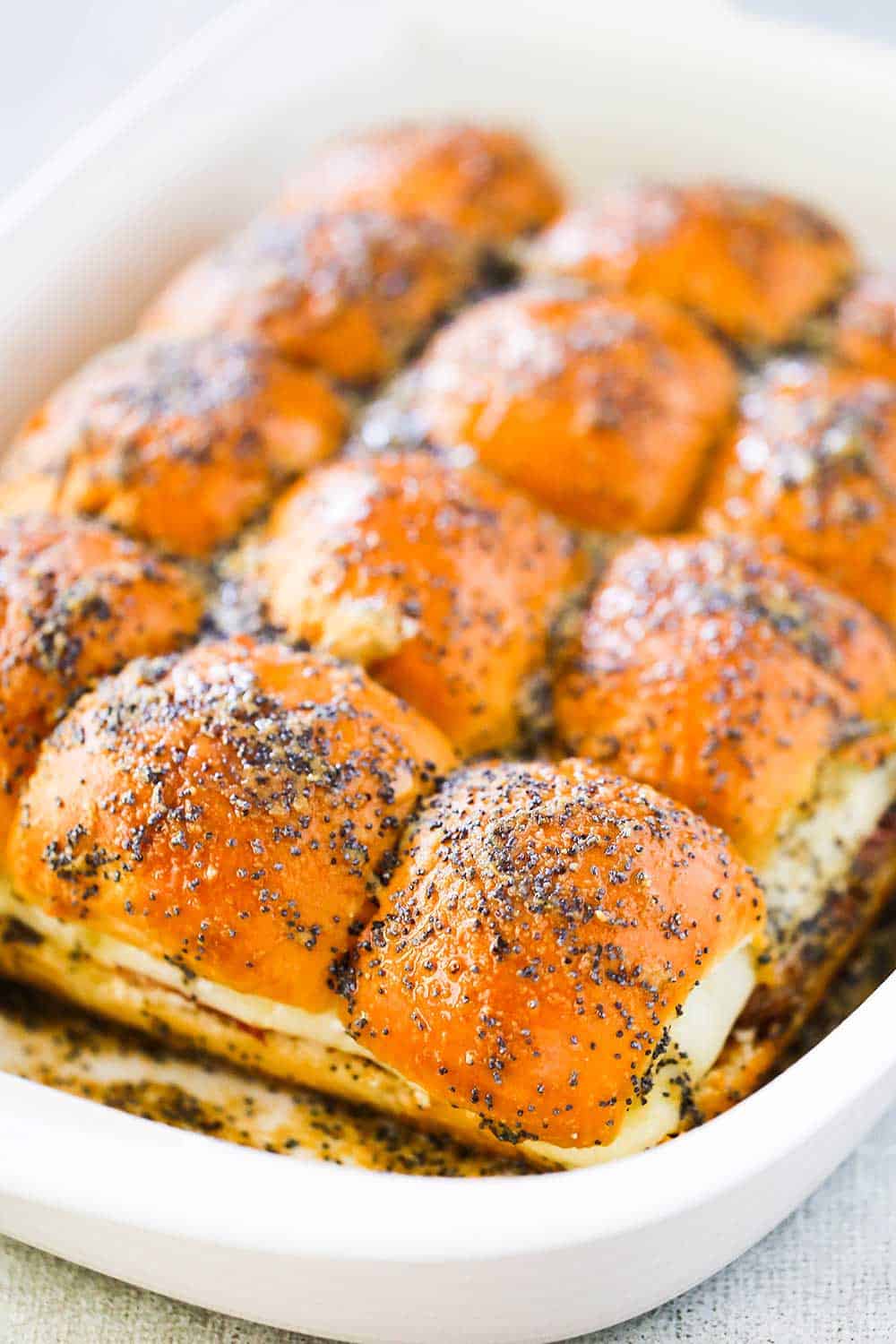 HAM AND SWISS SLIDERS ARE IDEAL FOR ENTERTAINING
Once they are finished baking, simply slice the sliders and serve on a platter.
Whenever we serve these for guests, people literally flip for them.
But, they are so delicious, we often whip up a batch just for ourselves. They're a bit decadent but insanely good.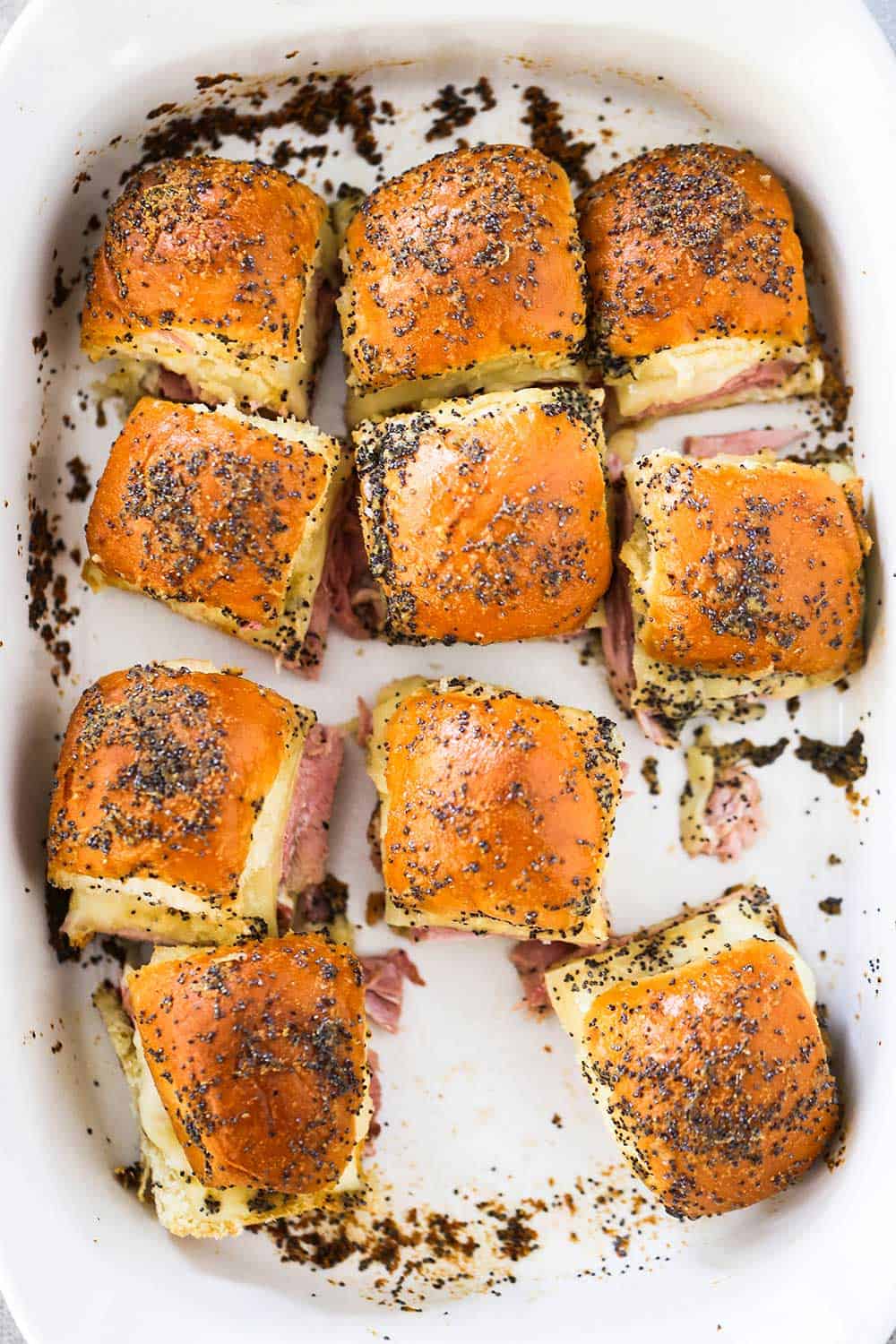 Talk about easy yet amazingly delicious!
And you can easily assemble these gems several in advance of serving, just wait to pour the butter sauce over the buns until you are ready to bake!
Once you set these incredible Ham and Swiss Slider out, just watch how fast they go!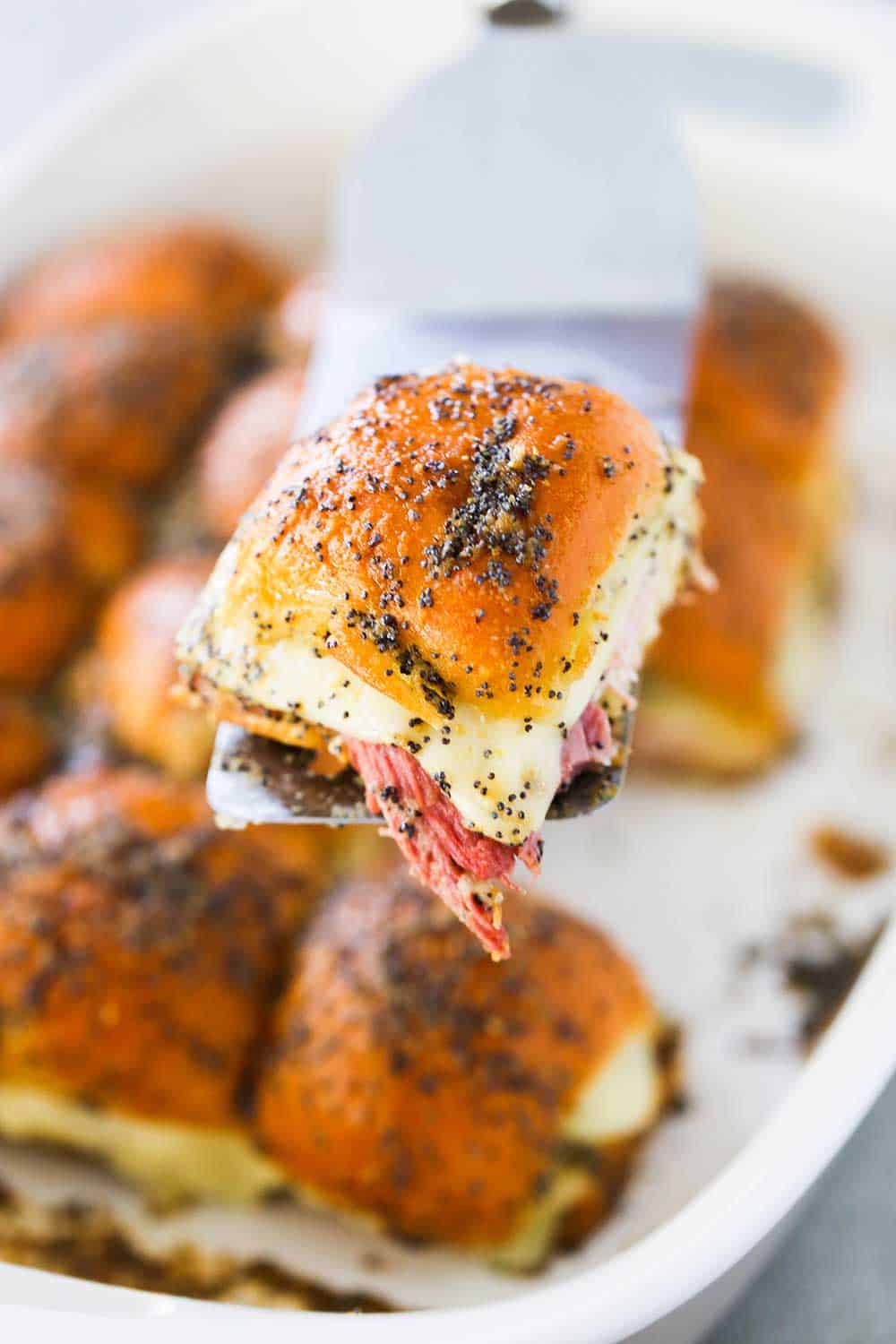 Ready to make the best slider in the world? Go for it!
And when you do, be sure to take a picture of them, post it on Instagram, and tag @howtofeedaloon and hashtag #howtofeedaloon!
Ham and Swiss Sliders
These Ham and Swiss Sliders and a bit decadent, but so insanely delicious. Perfect for entertaining or a yummy lunch for the family. Use leftover ham or sliced deli ham.
Print
Pin
Rate
Servings: 6
Calories: 569kcal
Ingredients
baking spray
12 Hawaiian dinner rolls unattached
24 slices deli ham or 12 thicker slices slices of baked ham
8 slices Swiss cheese
¼ cup mayonnaise
8 tbsp unsalted butter melted (1 stick)
1 tbsp poppy seeds
1 tbsp Dijon mustard
1 tsp onion powder
1 tsp Worcestershire sauce
¼ tsp Kosher salt
¼ tsp black pepper ground
Instructions
Preheat oven to 375°F and spray the baking dish with cooking spray.

Place the lower layer of the buns in the baking dish, and add a layer of mayonnaise, then a layer of ham, and then a layer of cheese. Top with the top layer of the buns.

In a medium bowl, mix together the melted butter, poppy seeds, Dijon, onion powder, Worcestershire sauce, salt, and pepper.

Pour the butter mixture all over the tops of the buns and then cover with foil and let sit for 10 minutes.

Place the covered dish in the oven and bake for 17 minutes. Remove the foil and bake for another 3 to 5 minutes, until the tops of the buns are golden brown.

Let the sliders sit for a few minutes before removing from the dish. Place on a cutting board and use a sharp knife to separate the sliders from each other. Serve at once!
Notes
This recipe can easily be doubled if serving a large group. We love using 1 stick of butter, but if desired, you can reduce the butter amount to 4 tablespoons and it will still be delicious. The sliders can be assembled up to 3 hours before baking. Wait to pour the butter sauce over the buns until 10 minutes before baking. Other types of cheese that would be delicious are provolone, Gruyere, fontina, and Monterey Jack. Thinly sliced honey ham from the deli is great for this recipe, but so is thinly sliced left over baked ham.
Nutrition
Calories: 569kcal | Carbohydrates: 2g | Protein: 31g | Fat: 31g | Saturated Fat: 7g | Cholesterol: 135mg | Sodium: 1570mg | Potassium: 357mg | Fiber: 1g | Sugar: 1g | Vitamin A: 661IU | Calcium: 213mg | Iron: 1mg