If there ever was a show-stopper of a roast, this is it.
Absolutely perfect for Easter, or any other special dinner you want to share with loved ones. It's so easy to prepare and the results are truly memorable. Serve with French Gratin Potatoes, Maple Glazed Carrots, and Homemade Dinner Rolls. Incredible!
HOW TO MAKE HONEY BOURBON GLAZED HAM
The beauty of this roast, besides its incredible taste, is how simple is to prepare.
If your ham is frozen, be sure to allow it to thaw for several days, or even better, 1 week in the refrigerator.
The glaze can be made up to 2 days in advance.
WHAT IS BERKSHIRE HAM?
A Berkshire ham comes from a breed of pigs that originated in England. They are known for their marbling, which delivers deeply flavorful ham, and is extremely tender and juicy.
A Berkshire ham is not cheap, we're not going to mislead you on that. But it is superior in taste and is ideal for special meals such as Easter.
You can order them for expedited delivery from D'Artagnan or Gourmet Food Store.
Scoring the ham is essential for allowing the glaze to melt down into the meat.
Simply take a large, sharp knife, and cut slits across the ham. Then turn the ham 45 degrees, and cut another set of slits, forming diamond shapes in a cross-hatch formation.
EXPERT TIP: You'll want to score the side of the ham that has the layer of fat. This is called the fat cap and is loaded with flavor. As the ham roasts, the slits will begin to spread open, allowing you to baste the meat with more of the glaze. Don't cut the slits more than ½-inch deep, otherwise, the slits will spread too much during the roasting process.
THE PERFECT GLAZE
Since this ham is bone-in and smoked, it arrives loaded with incredible flavor.
But you're going to want to elevate the taste even more with a wonderful glaze. Trust us on this.
We find the combination of a good-quality bourbon mixed with molasses, spicy brown mustard, apple cider vinegar, and honey put this ham over-the-top.
After preheating your oven to 350 F, it's time to add the first round of glaze.
This glaze is not real thick, which is great. The honey in the glaze will create an incredible crust as it cooks into the top of the ham.
EXPERT TIP: We recommend adding another layer of the glaze to the roast every 20 minutes. You'll want the internal temperature to reach 135 F. This usually takes a couple hours for a 18 lb, bone-in ham.
The smell in your house, while the ham is baking, is nothing short of incredible.
Once cooked, allow the ham to sit for at least 10 minutes to allow the juices to settle.
This is ham perfection.
HONEY BOURBON GLAZED HAM SERVES A CROWD
As mentioned, this ham is a bit pricey.
But when you consider how many meals you can make out it, it's really a good deal after all!
And it's so easy to prepare, it allows you to focus on those wonderful side dishes!
This honey bourbon-glazed ham is the perfect centerpiece for that special occasion meal.
As you slice into the roast, you'll immediately see how juicy and tender the meat is.
Just look at that ham! This is a wonderful ham for an Easter feast. Check out other recipes on our Perfect Easter Table!
Ready to make the most amazing baked ham in the entire world? Go for it!
And when you do, be sure to take a picture of it, post it on Instagram, and tag @howtofeedaloon and hashtag #howtofeedaloon!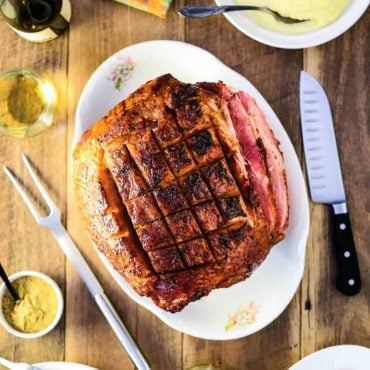 Honey Bourbon Glazed Ham
This Honey Bourbon Glazed Ham is just amazing and the perfect dish for Easter Sunday, or any other special occasion. So simple, yet so incredible in flavor. And you'll love the leftovers! Yum!
Print
Pin
Rate
Servings: 15 people
Calories: 398kcal
Equipment
Large roasting pan with rack
Ingredients
1 cup bourbon
¼ cup apple cider vinegar
¾ cup honey
¼ cup molasses or maple syrup
¼ cup brown sugar
¼ cup spicy brown mustard
1 15 lb ham smoked, bone-in, preferably Berkshire or Heritage
Instructions
Preheat oven to 350°F.

Whisk bourbon, cider vinegar, honey, molasses, brown sugar, and mustard in a medium bowl. Set aside.

Score fat in a crosshatch pattern, not cutting more than approx. ½-inch deep.

Set the ham on a rack in a large roasting pan and add enough water to fill to 1/4" inch, about 2 cups.

Brush ham with glaze and roast, basting every 20 minutes with extra glaze. (Tent with foil if browning too quickly, until insta-read thermometer registers 135 F, about 2 hours).

Transfer ham to cutting board and let rest 10 minutes before slicing. Serve with additional brown mustard, if desire.
Notes
If your ham is frozen, let it thaw in the refrigerator for 3 to 4 days before cooking. A bone-in, smoked Heritage ham is another great option for ham. Look in the body of the post for links to distributors of excellent Berkshire or Heritage hams. If you don't want alcohol in the glaze, then substitute the bourbon with chicken or beef broth, however, the taste will be different. It will be delicious, but a different profile than with the bourbon. 99% of the alcohol cooks out during the roasting process. Though the smoked ham is already cooked, we recommend roasting the ham until an internal temperature of 135°F is reached. An instant-read thermometer helps with this. Leftovers will keep in the refrigerator for up to 1 week and freezes beautifully for up to 2 months.
Nutrition
Calories: 398kcal | Carbohydrates: 22g | Protein: 1g | Fat: 6g | Saturated Fat: 1g | Cholesterol: 1mg | Sodium: 52mg | Potassium: 106mg | Fiber: 1g | Sugar: 22g | Vitamin C: 1mg | Calcium: 18mg | Iron: 1mg
POST UPDATE: This recipe was originally published in March 2016, but was updated with improved tweaks to the recipe, new tips, photography, and a fabulous new video in April, 2020!