This really is the perfect side dish. Even fussy kids who don't love carrots will flip for these!
These come together in less than 30 minutes and require not a lot of attention. Perfect for Easter dinner alongside our Honey Bourbon Glazed Ham and French Gratin Potatoes!
HOW TO MAKE MAPLE BRAISED CARROTS
This dish really is a snap to prepare. The carrots can be prepped well in advance.
Make sure to use a saucepan or skillet with a tight-fitting lid.
And just watch how quickly they come together.
HOW TO CUT THE CARROTS
We love to cut the carrots into matchstick shapes.
It really doesn't matter how you cut or slice the carrots, just make sure they are all uniform in size. This ensures they all cook evenly.
EXPERT TIP: Fresh carrots are always best for this dish. You go with canned, but they will become extremely soft. If possible, go with fresh. Four large carrots are perfect for a family of four.
After sauteing 1 chopped shallot for about 4 minutes, or until soft, it's time to quickly saute the carrots.
After that, it's time to add the pure maple syrup and the stock.
EXPERT TIP: We highly recommend going with pure maple syrup and not pancake syrup. The difference in taste is noticeable and it helps to create the final glaze. Vegetable stock/broth can be used in place of the chicken stock to make the dish 100% vegetarian.
BRAISING COOKS THE CARROTS PERFECTLY
The process of braising is a combination of dry cooking and wet cooking.
A quick sauté locks in wonderful flavor and then cooking in the stock finishes off the cooking.
After steaming (braising) the carrots in the skillet with the lid on, you'll want to cook them for about another 10 minutes with the lid off until the carrots are very tender and most of the liquid is reduced.
Finishing the dish off with chopped fresh parsley adds a nice taste, but is beautiful in presentation, too.
Stir the parsley in once the cooking is finished. Maple Braised Carrots are as beautiful as they are delicious!
EXPERT TIP: If using dried parsley, only go with 2 teaspoons. For this dish, we recommend fresh parsley, but dried will work in a pinch. Other herbs that would work are chopped sage, rosemary, thyme, marjoram, or a combination of them.
MAPLE BRAISED CARROTS ARE THE PERFECT SIDE DISH
We've said it before, but it bears repeating, this dish is always such a huge hit whenever we serve it.
The carrots are mildly sweet, but the ground black pepper and fresh parsley are a perfect match to the maple.
EXPERT TIP: This recipe serves four. If you are serving more folks, then the recipe doubles easily. You can prepare the dish in advance and then reheat before serving, but it's so easy to make, we recommend serving them fresh from the skillet.
MAPLE BRAISED CARROTS FAQS
Can I slice the carrots instead of cutting them into matchsticks? Absolutely! We like the matchstick version mostly because they are so attractive, but you can certainly slice them into small circular medallions. Since carrots vary in size, the cooking time may be less. Test for tenderness once or twice until you reach the desired texture.
Are canned carrots just as good? Just as good? No. Definitely not. However, if you do go with canned carrots, drain them and then follow the recipe as written. The carrots will be extremely soft (maybe mushy), but still yummy.
Can I make these in advance? You can absolutely prep the carrots, shallots, and parsley in advance. You can prepare the dish a few hours in advance, and then reheat on the stove until hot, but, we do recommend serving these fresh. But as mentioned, re-heated will still work just fine.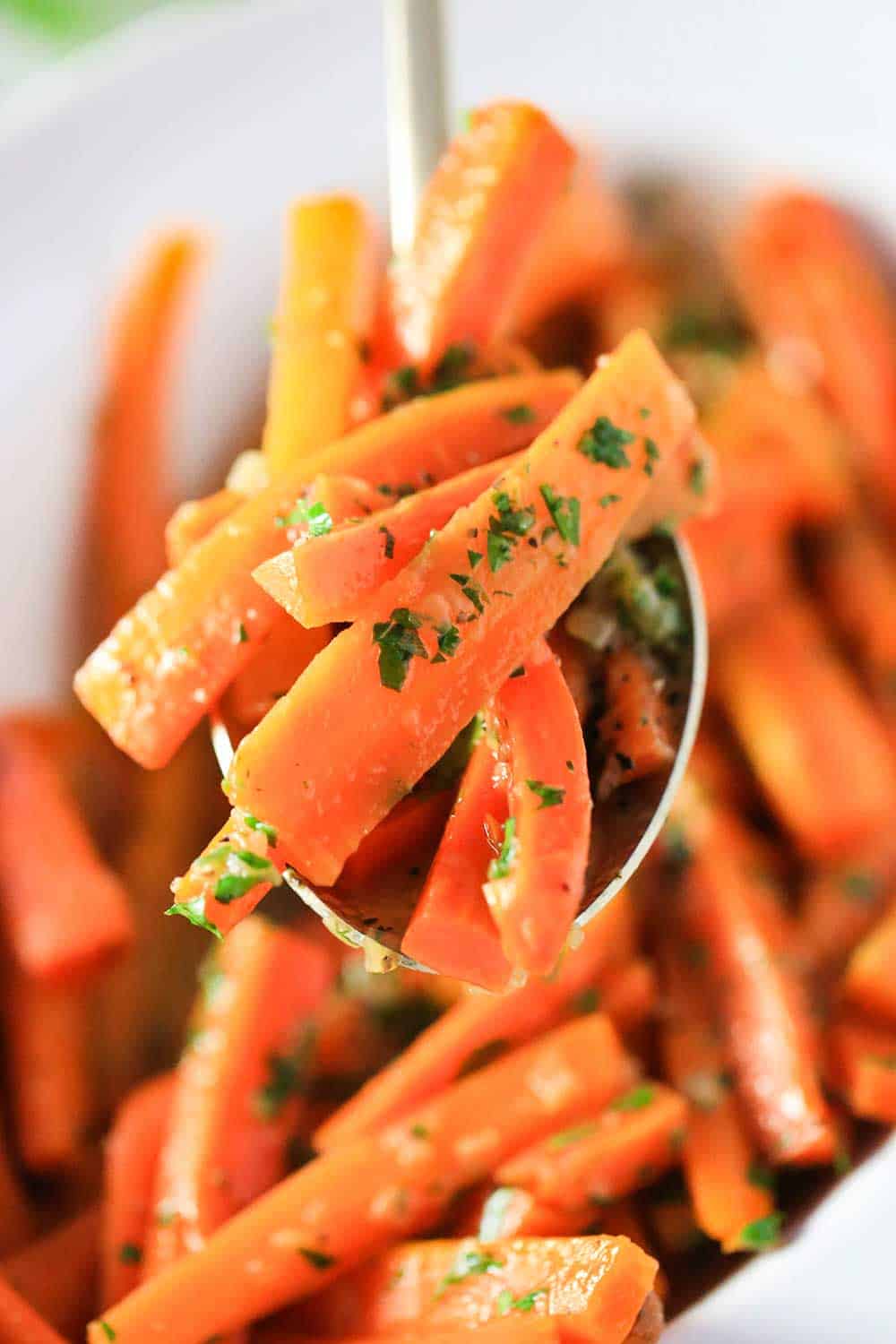 Ready to make the best carrots side dish town? Go for it!
And when you do, be sure to take a photo, put it on Instagram, and tag @howtofeedaloon and hashtag #howtofeedaloon!
Maple Braised Carrots
These carrots are amazing. Peel carrots, and then cut into equal-sized 'sticks.' Saute shallots in butter, throw in the carrots with salt, pepper, maple syrup, and stock (chicken or vegetable)...and finish with fresh-cut parsley...and they are an incredible side dish to a very special meal.
Print
Pin
Rate
Servings: 2 people
Calories: 243kcal
Equipment
Large saucepan or skillet with a tight-fitting lid
Ingredients
2 tbsp unsalted butter
1 shallot finely chopped
4 large carrots peeled, cut into 1/4" match sticks
½ tsp Kosher salt
¼ tsp black pepper freshly ground
3 tsp pure maple syrup
1 cup chicken stock or vegetable stock
1 tbsp flat-leaf parsley finely chopped
Instructions
Heat the butter over medium heat in a large skillet with a tight-fitting lid.

Add the shallots and cook, stirring often, until soft, about 4 minutes.

Add the carrots to the pan and season with salt and pepper. Raise the heat to high and add the pure maple syrup and broth.

Bring to a boil, then reduce the heat to medium-high, cover, and cook for 8 minutes.

Uncover and continue to cook until the liquid has reduced to a glaze and the carrots are very tender, .about 10 minutes longer.

Stir in the parsley and serve at once.
Notes
If desired, you can slice the carrots into circular medallions. Fresh carrots are far superior to canned carrots, but in a pinch, they'll still be good. Drain the carrots before proceeding with the recipe. Be sure to go with Pure Maple Syrup, not imitation syrup, or pancake syrup. To make the dish 100% vegetarian, use vegetable stock in place of chicken stock. You can make the dish a few hours in advance of serving, if necessary. RE-heat in the skillet before serving. We do recommend serving this, however, fresh off the stove. This recipe can easily be doubled, or even tripled, to serve a large group.
Nutrition
Calories: 243kcal | Carbohydrates: 27g | Protein: 5g | Fat: 8g | Saturated Fat: -2g | Cholesterol: 34mg | Sodium: 857mg | Potassium: 652mg | Fiber: 4g | Sugar: 16g | Vitamin A: 24572IU | Vitamin C: 12mg | Calcium: 59mg | Iron: 1mg
POST UPDATE: This recipe was originally published in November 2016, but was updated with improved tweaks to the recipe, new tips, photography, and a fabulous new video!