It's hard to explain how much we love Latkes. And this Classic Latkes (Potato Pancakes) recipe is the real deal.
Of course, these are a staple during Chanukah, but we think they are delicious any time of the year!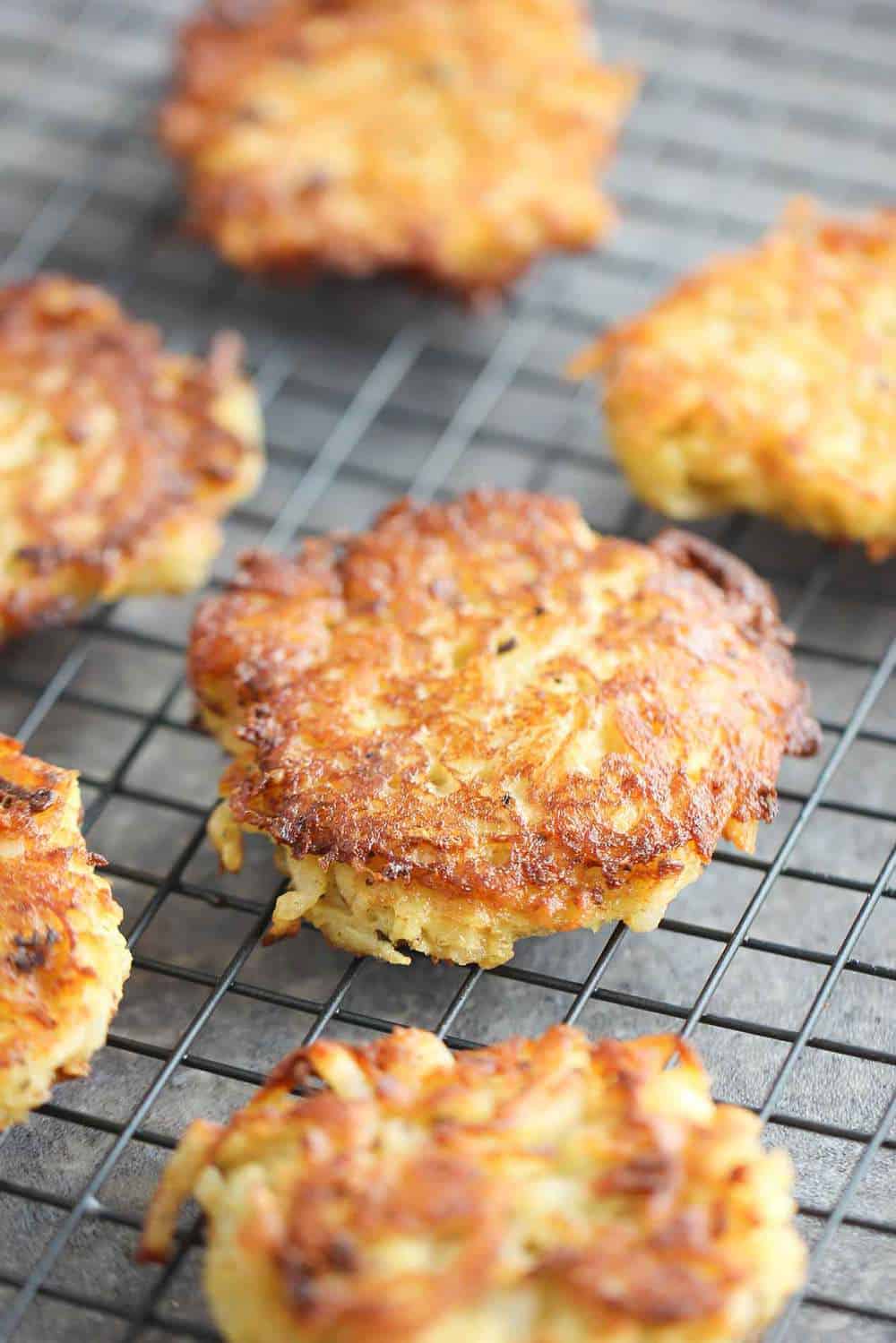 The ingredients are nice and simple, but they come together to bring about a flavor that conjures a taste sensation that has been cherished generation after generation after generation.
Crispy on the outside and soft and chewy on the inside.
Mmmmmm.
Of course, if you want to go truly authentic, then you need to include schmaltz in the cooking oil.
Schmaltz is nothing more than rendered chicken fat. Some cooks save the skin from their poultry dishes throughout the year, and then when they have enough (about a pound), they cook it down and then strain it, and use it. Every time I make a batch of homemade chicken stock, after it has chilled, I save the fat that has risen to the top and slightly hardened.
Perfect for schmaltz! Using schmaltz is not 100% necessary, but it does impart a delicious flavor to the latkes as they fry, and, again, it's steeped in tradition.
These Classic Latkes (Potato Pancakes) are just divine.
They are traditionally served with sour cream and applesauce, which really is the perfect complement to the incredible little savory fried potato cakes.
Here's another classic dish that we just love! It's Classic Matzo Ball Soup (click for the full recipe).
Happy Chanukah for everyone that celebrates the holiday! And to everyone else…you gotta try this Classic Latkes (Potato Pancakes) recipe!. Looking for more Chanukah inspiration? Check out The Perfect Chanukah Table!
Classic Latkes (Potato Pancakes)
This Classic Latkes (Potato Pancakes) is amazing! Perfect for Chanukah, but also anytime of the year. We love these incredible potato pancakes!
Print
Pin
Rate
Servings: 6 people
Calories: 344kcal
Ingredients
3 lbs russet potatoes about 5 - 7
2 large yellow onions finely diced
2 large eggs
2 tbsp bread crumbs plain
2 tbsp all-purpose flour
1 tsp milk
3½ tsp Kosher salt
2 tsp baking powder
¼ tsp fresh ground black pepper
2 tbsp schmaltz rendered chicken fat, optional
3 tbsp vegetable oil
Applesauce for serving
Sour cream for serving
Instructions
Pre-heat oven to 350°F.

Peel potatoes and shred with box grater or food processor.

Transfer to a kitchen towel and squeeze to remove excess liquid.

In a large bowl, whisk eggs, bread crumbs, flour, milk, salt, baking powder and pepper.

Add potatoes and onions and mix until well coated.

Heat the schmaltz and oil in a large sturdy skillet (if not using schmaltz, use 5 tablespoons oil) over medium-hight heat.

Once the oil is hot, add spoonfuls of the latke mixture and gently flatten with your finger or back of a spoon.

Cook until golden on the bottom, about 3 minutes.

Gently flip with a spatula, and cook the other side until golden.

Remove to paper towel-lined plate and finish the remaining latkes, cooking in batches, if necessary.

Keep cooked latkes in warmed oven.

Serve with applesauce and sour cream.
Nutrition
Calories: 344kcal | Carbohydrates: 51g | Protein: 8g | Fat: 13g | Saturated Fat: 7g | Cholesterol: 66mg | Sodium: 1420mg | Potassium: 1217mg | Fiber: 4g | Sugar: 4g | Vitamin A: 90IU | Vitamin C: 17mg | Calcium: 129mg | Iron: 3mg