It's hard to explain how much we love Latkes. After one bite, you'll understand why.
Of course, these are a staple during Hanukkah, but we think they are delicious any time of the year! They have a similar appearance to homemade hashbrowns, but there truly is something magical about these gems.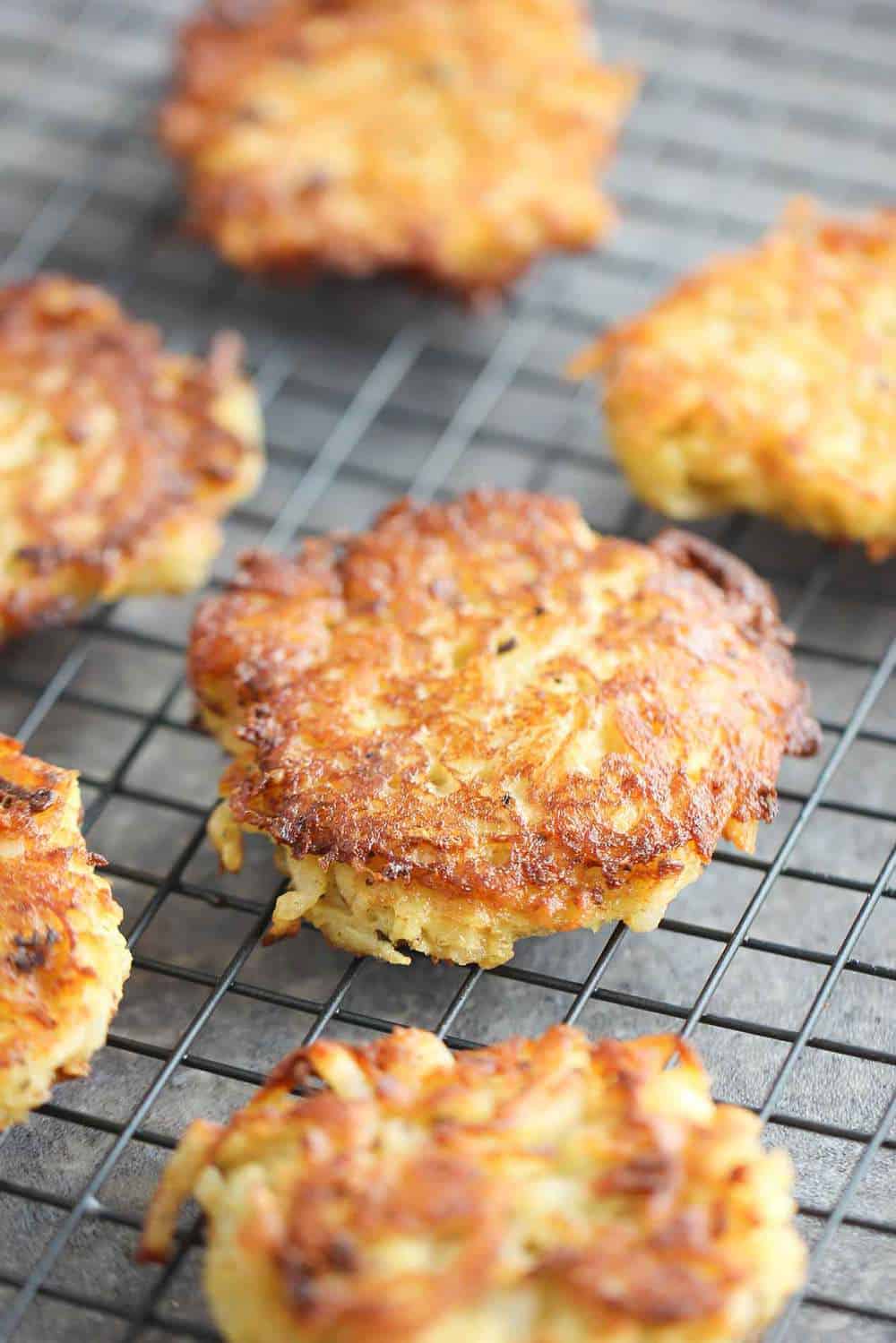 How To Make Classic Latkes
These are not complicated to make at all.
You can even make them in advance and keep them warm in a low-temperature (225°F) oven.
NOTE: If you liked this video, please subscribe to our YouTube channel. Remember to click the little 'bell' icon so you'll never miss a new video. Thank you!
The Ingredients You Will Need
The ingredients are nice and simple, but they come together to bring about a flavor that conjures a taste sensation that has been cherished generation after generation after generation.
Here's What You'll Need:
Potatoes – Russet work perfectly, peeled
Onion – Shredded on a box cutter, or very finely chopped
Eggs – Large
Breadcrumbs – Plain
Milk – Whole
Salt – Kosher
Baking powder
Pepper – Black
Schmaltz – See below
Oil – Vegetable
Applesauce – for serving
Sour cream – for serving
EXPERT TIP: To get the perfect latke, we recommend shredding the potatoes and the onions through the medium-sized holes on a box cutter. It takes a little elbow grease, but the texture you'll get when they fry is perfection. You could use the shredding disc in a food processor for the potatoes, but we don't recommend this for the onion.
How To Make Schmaltz
Of course, if you want to go truly authentic, then you need to include schmaltz in the cooking oil.
Schmaltz is nothing more than rendered chicken fat. Some cooks save the bones from their poultry dishes throughout the year, and then when they have enough (about a pound), they cook it down and then strain it, and use it. Every time I make a batch of homemade chicken stock, after it has chilled, we save the fat that has congealed on the surface.
Perfect for schmaltz! Using schmaltz is not 100% necessary, but it does impart a delicious flavor to the latkes as they fry, and, again, it's steeped in tradition.
How To Serve
They are traditionally served with sour cream and applesauce, which really is the perfect complement to the incredible little savory fried potato cakes. The flavors work so perfectly together.
For a wonderful Hanukkah feast, you might consider latkes served with beef brisket, fried cauliflower with lemon, and jelly and custard doughnuts.
EXPERT TIP: Classic latkes are best served warm but are still delicious at room temperature. You can make them in advance and then reheat them in a 300°F oven for about 15 to 20 minutes.
Ready to make one of the tastiest potato dishes of all time? Go for it!
And when you do, be sure to take a photo of them, post them on Instagram, and tag @HowToFeedaLoon and hashtag #HowToFeedaLoon!
Classic Latkes (Potato Pancakes)
Classic Latkes (Potato Pancakes) are amazing! Perfect for Hanukkah, but also any time of the year. We love these incredible potato pancakes!
Print
Pin
Rate
Servings: 6 people
Calories: 344kcal
Equipment
Large skillet (12-inch) preferably non-stick
Ingredients
3 lbs russet potatoes about 5 - 7
1 cup onion shredded, or finely chopped
2 large eggs
2 tbsp bread crumbs plain
2 tbsp all-purpose flour
1 tsp milk
2 tsp Kosher salt
2 tsp baking powder
¼ tsp fresh ground black pepper plus more for additional frying
2 tbsp schmaltz rendered chicken fat, optional, plus more
3 tbsp vegetable oil
Applesauce for serving
Sour cream for serving
Instructions
Preheat oven to 350°F.

Peel potatoes and shred them with a box grater or food processor. Place in a bowl of water while prepping the onions.

Transfer the shredded potatoes to a kitchen towel and squeeze to remove excess liquid.

In a large bowl, whisk eggs, bread crumbs, flour, milk, salt, baking powder and pepper.

Add potatoes and onions and mix until well coated.

Heat the schmaltz and oil in a large sturdy skillet (if not using schmaltz, use 5 tablespoons oil) over medium-hight heat.

Once the oil is hot, add spoonfuls of the latke mixture and gently flatten with your finger or back of a spoon.

Cook until golden on the bottom, about 3 minutes.

Gently flip with a spatula, and cook the other side until golden.

Remove to paper towel-lined plate and finish the remaining latkes, cooking in batches, if necessary.

Keep cooked latkes in warmed oven.

Serve with applesauce and sour cream.
Notes
See the video near the top of the blog post for visual guidance. If you liked the video, please subscribe to our YouTube channel.
Shredding the onions with a box grater delivers wonderful results. You'll need about 1 cup, which is typically one large onion, or a couple of smaller ones. You could finely chop the onion with a knife, too.
You'll most likely need to fry the latkes in batches, which means you'll need to add more oil and schmaltz for each batch. Remember, if you don't have schmaltz, just use all vegetable oil. See the blog post on how to get schmaltz from homemade chicken broth.
The latkes will keep covered in the fridge for up to 5 days. Reheat in the microwave on HIGH for a few seconds at a time, or reheat in a 350°F oven for about 15 to 20 minutes. Latkes can be frozen for up to 2 months. Thaw completely before frying or reheating.
Nutrition
Calories: 344kcal | Carbohydrates: 51g | Protein: 8g | Fat: 13g | Saturated Fat: 7g | Cholesterol: 66mg | Sodium: 1420mg | Potassium: 1217mg | Fiber: 4g | Sugar: 4g | Vitamin A: 90IU | Vitamin C: 17mg | Calcium: 129mg | Iron: 3mg
POST UPDATE: This recipe was originally published in December 2017, but was updated with improved tweaks to the recipe with new tips and a fabulous new video in December 2022!