There is nothing much better than French cuisine. And homemade French food? Très Magnifique!
Slow cooking the beef in red wine is incredible. No need to splurge on an expensive piece of beef…the slow-cooking ensures a cut such as beef chuck will be fork tender. It's just so classic French cuisine, and so very good. Go for it. Tres bon!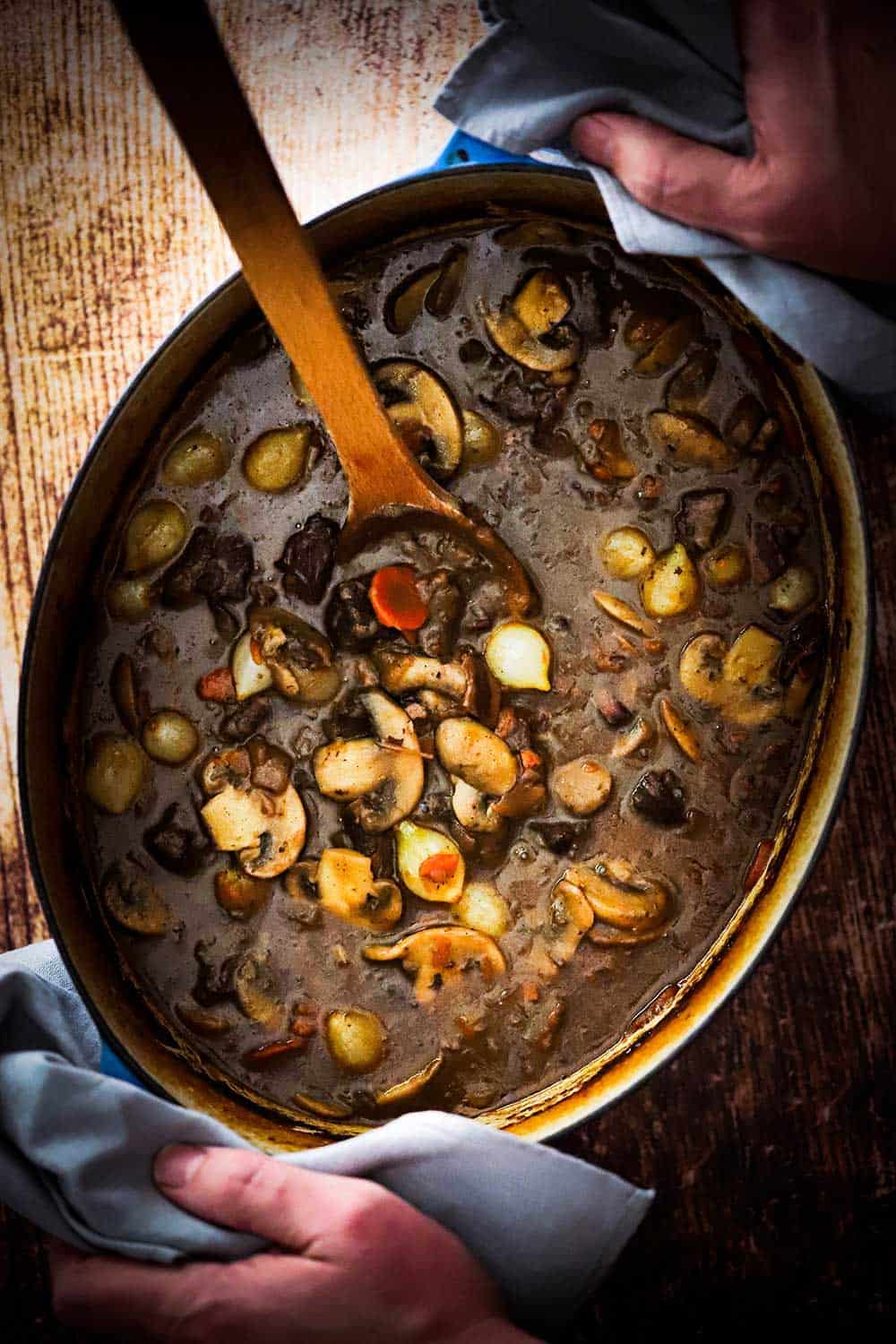 How To Make Authentic Beef Bourguignon
It may seem daunting to try and make such a classic French dish at home.
But trust us, this recipe is foolproof and the results are spectacular!
Choosing the Right Beef
After you've cooked up your bacon, it's time to sear the beef.
You DO NOT need to buy an expensive cut of beef for this dish. We recommend going with a chuck roast. Cut away the fat and cut into 1-inch pieces.
EXPERT TIP: After you've cooked the bacon, just toss the beef pieces that have been seasoned with salt and pepper into the pot with the grease from the bacon that has rendered. Building the flavor profile has begun!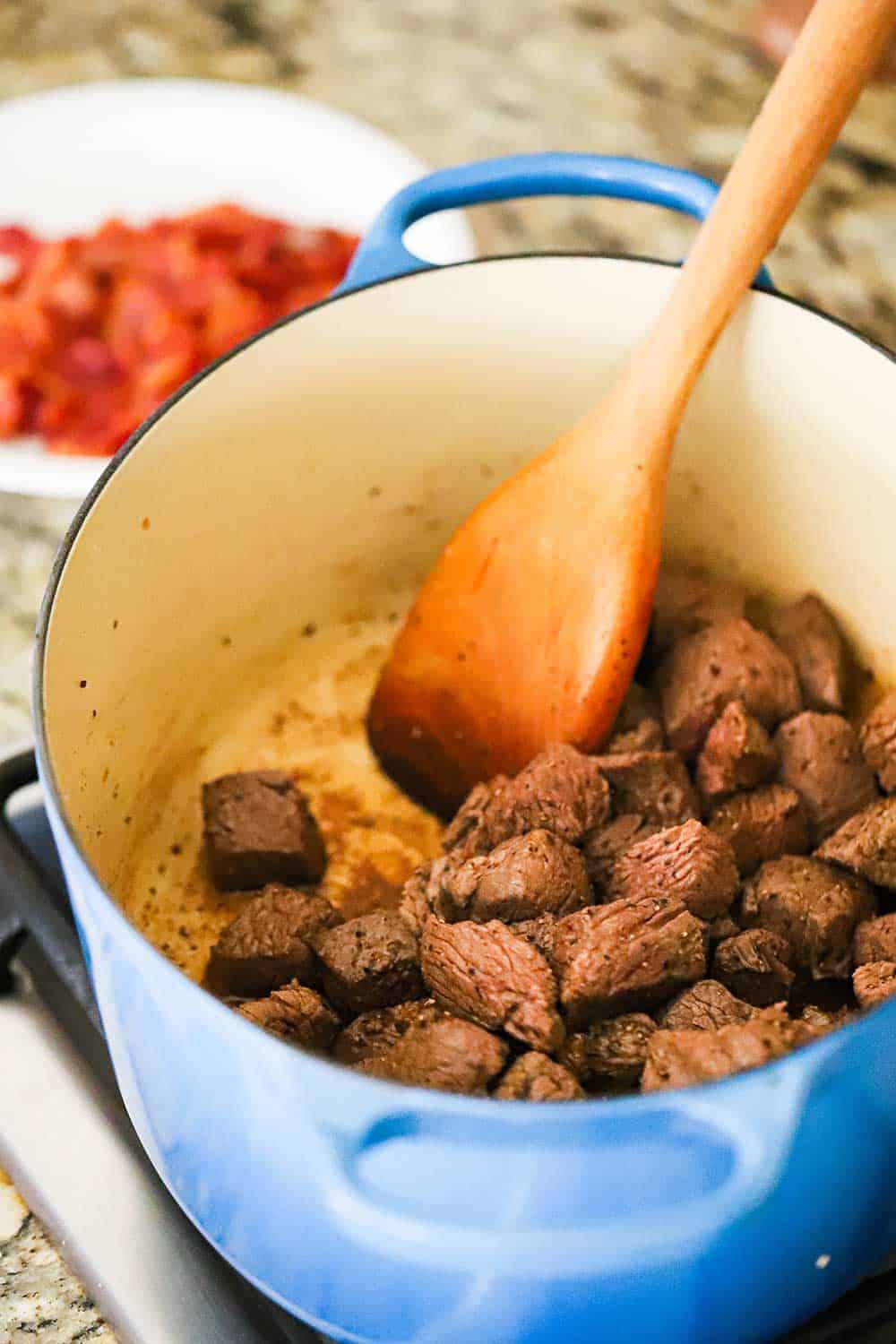 Now, it's time to cook the vegetables.
Carrots and onions are classic veggies in authentic beef bourguignon.
Gently simmer them until they are nice and tender.
How To Flambé
This next step is not 100% necessary, but the depth of flavor that it adds is wonderful.
EXPERT TIP: When you add the cognac to the pot, be sure to stand back because it may ignite. If it doesn't, you'll need to very carefully light the liquid, preferably with a long match stick. This technique is called flambé and cooks off the alcohol, but flavor the sauce deeply.
Remember…stand back when lighting the Cognac!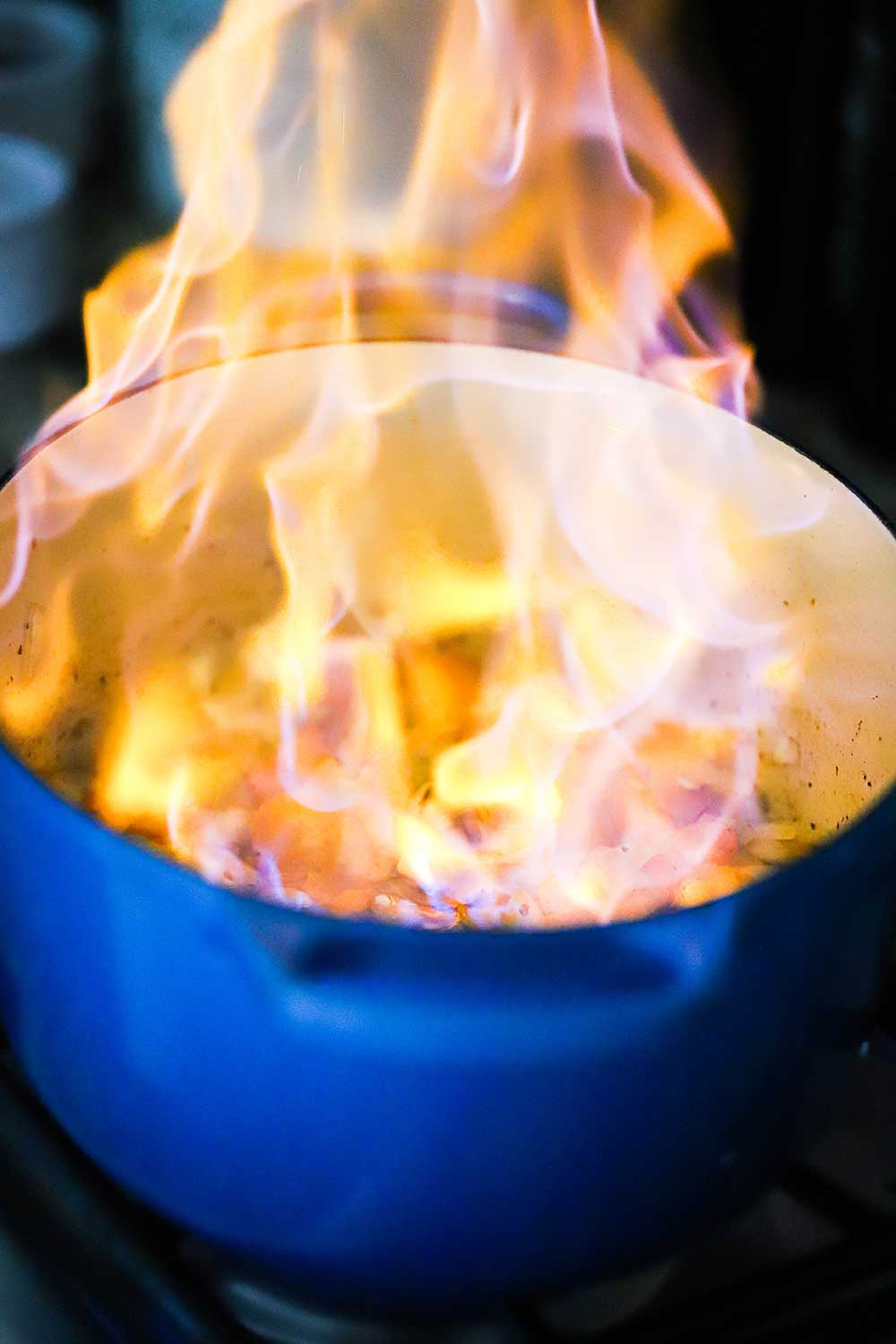 Choosing the Right Wine
You really can't go wrong when choosing a wine for beef bourguignon.
However, we highly recommend going with a beautiful French wine.
Our favorite if a French Burgendy, or Bourdeaux, or Cotes du Rhone.
At this point, it's time to cover the pot with a tight-fitting lid and place it in your oven that has been preheated to 300°F.
Slow-cooking for 3 hours will make the beef melt-in-your-mouth tender and allow the ingredients to meld into pure French culinary perfection.
EXPERT TIP: We use good ole white button mushrooms for the dish. All the components of this dish are best when they are kind of chunky. For the mushrooms, you can slice them, quarter them, or leave them whole before sautéing them.
A French Technique For Thickening
So, now it's time to slightly thicken the sauce.
We love using a tried and true French technique which is called Buerre Manié.
EXPERT TIP: In a small bowl, add 2 tablespoons of softened butter and then 3 tablespoons of all-purpose flour. Use a fork to work the flour into the butter. Keep working it, and eventually, a large spoon may help, too. Once it's fully mixed, add it to the beef bourguignon.
Beef bourguignon is wonderful by itself, but we love it served with buttered egg noodles.
To make buttered noodles, simply boil extra-wide egg noodles in a pot of salted water.
Toss in a bowl with 3 tbsp of butter and a good pinch of salt.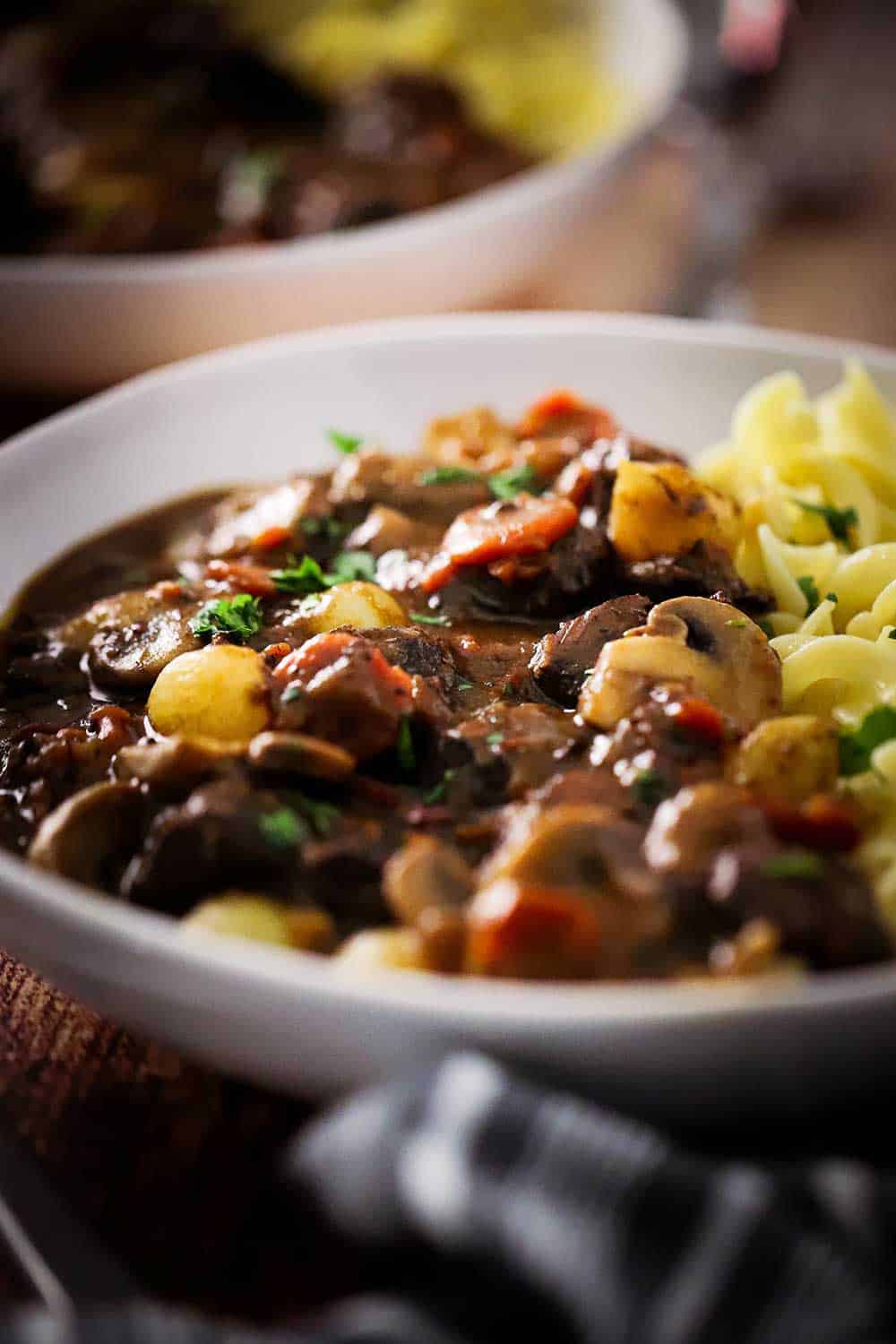 When to Serve Beef Bourguignon
This dish is truly a show-stopper.
It makes enough to feed at least 8 to 10 hungry folks.
Make it and freeze some for future meals, or have an incredible French dinner party with friends and family.
Another amazing French classic is our Coq au Vin.
But in the meantime, you've just got to make this beef French classic dish.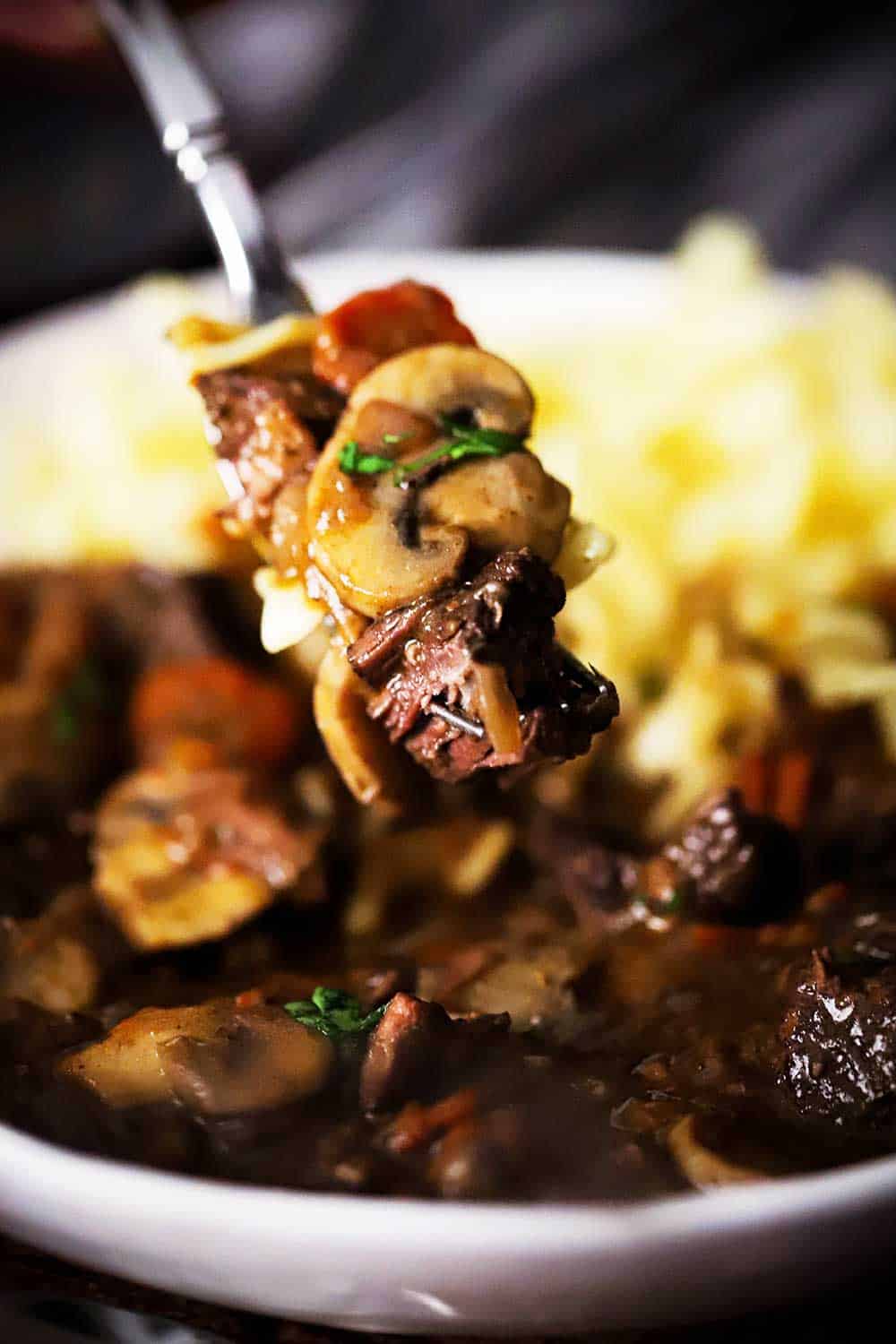 There are few dishes that we have shared with our friends on the blog that comes this close to being transcendent.
The depth of flavor is phenomenal.
The beef is so tender it literally melts in your mouth.
And it's classic French cuisine. In our books, just the best.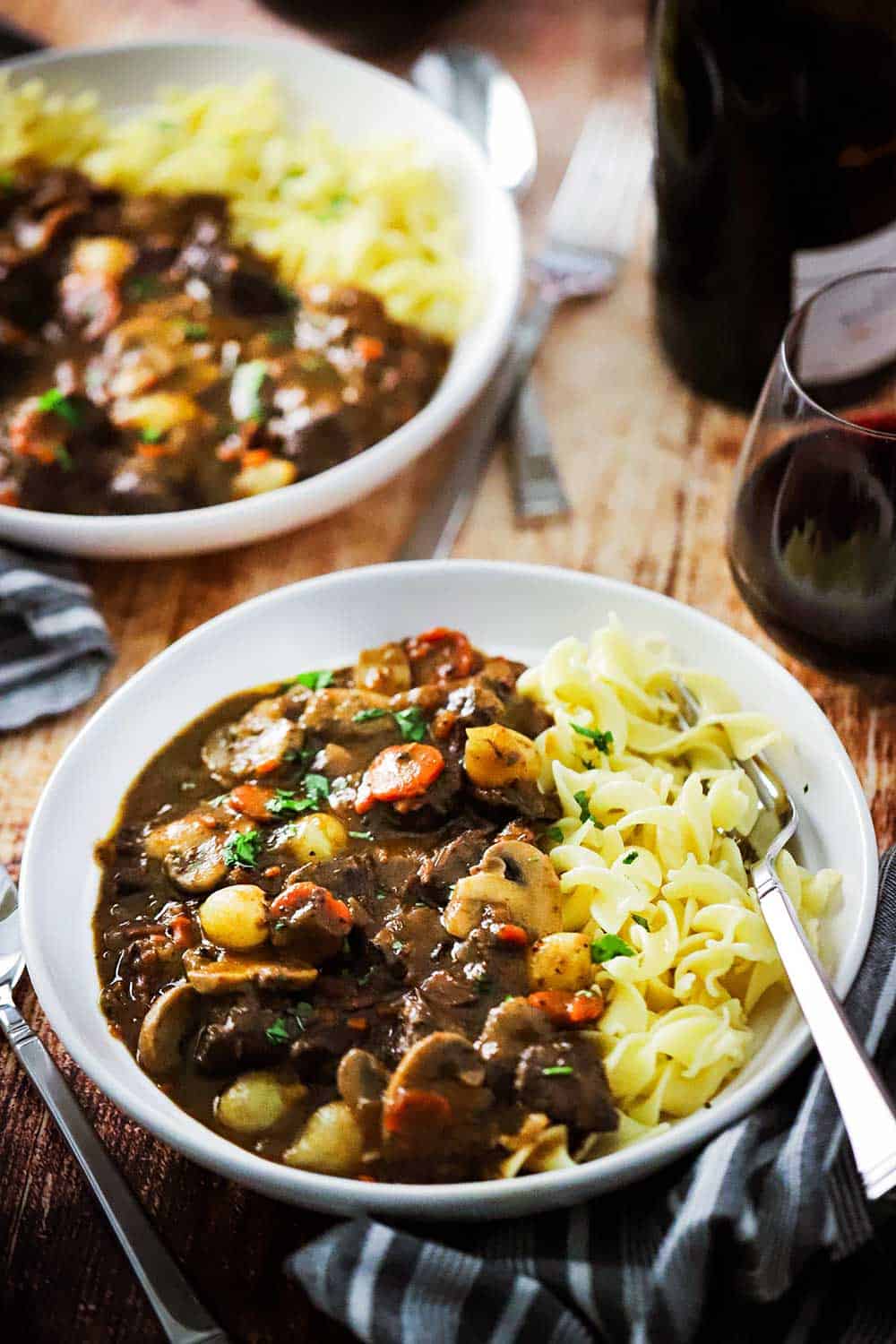 Ready to make one of the most comforting and satisfying French dishes this side of Paris? Go for it!
And when you do, be sure to take a picture, post it on Instagram, and tag @howtofeedaloon and hashtag #howtofeedaloon!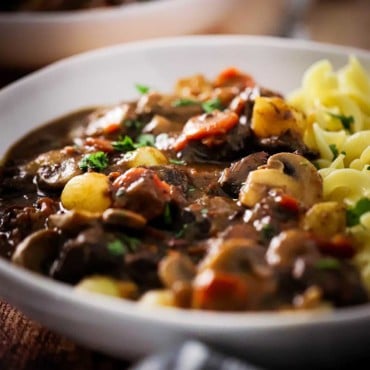 Beef Bourguignon
This beef bourguignon is the real deal. Brings beef stew to heights you can only imagine. Make this and you will be so happy. So incredibly delicious. Tres bon!
Print
Pin
Rate
Servings: 8 people
Calories: 749kcal
Equipment
Dutch oven, or large sturdy pot or skillet.
Ingredients
1 tbsp olive oil
8 oz applewood smoked bacon or salt pork, diced
2½ lbs beef chuck or sirloin, cut into 1-inch pieces
Kosher salt and ground black pepper
3 large carrots about 3 large carrots, cut into 1-inch pieces
2 yellow onions sliced, and roughly chopped
2 cloves garlic minced
½ cup Cognac
1 bottle red wine dry, such as Cote du Rhone or Pinot Noir
2 cups beef stock
1 tbsp tomato paste
1 tsp thyme fresh
4 tbsp unsalted butter room temp, divided
3 tbsp all-purpose flour
1 cup pearl onions
1 lb mushrooms fresh, sliced
Instructions
Preheat oven to 300F.

Heat the olive oil in a Dutch oven over medium-high heat.

Add the bacon and cook for about 12 minutes, stirring often, until bacon becomes browned. Remove the bacon with a slotted spoon to a large plate.

Dry the beef with paper towels (this helps the beef brown in the skillet). Sprinkle the beef with salt and pepper.

In batches, in single layers, sear the beef in the hot oil for about 4 to 5 minutes, turning and browning on all sides. Remove the seared cubes to the plate with the bacon and continue searing until all the beef is browned. Set aside.

Add the carrots and onions to the pot and cook for about 12 minutes, stirring often, until the onions have caramelized a bit. Add the garlic and cook for another minute.

Add the Cognac, stand back, and ignite with a match to burn off the alcohol (be careful!).

Place the meat and the bacon back into the pot with the juices.

Add the bottle of wine plus enough beef stock to cover the meat. Add the tomato paste, thyme, 2 tsps salt, and 1 tsp pepper. Bring to a simmer, cover the pot with a tight-fitting lid, and place in the oven for about 3 hours.

Meanwhile, sauté the mushrooms in 2 tablespoons of butter for 10 minutes until nice and browned.

Make a beurre manie by combining 2 tablespoons of the butter and the flour with a fork and then stir into the stew.

Add the onions and cooked mushrooms to the stew. Simmer the stew for 15 minutes

Serve with egg noodles, rice, or mashed potatoes...garnished with a little parsley.
Notes
No need to buy an expensive piece of beef. We go with a 2 to 3 lb chuck roast and it becomes extremely tender. Cut away in excess fat before searing. We recommed a nice French wine such as a Burgendy, Bourdeaux, or Cotes du Rhone. The stew will keep in the fridge in an air-tight container with lid for up to 1 week and freezes beautifully for up to 2 months.
Nutrition
Calories: 749kcal | Carbohydrates: 21g | Protein: 33g | Fat: 28g | Saturated Fat: 8g | Cholesterol: 135mg | Sodium: 467mg | Potassium: 1174mg | Fiber: 4g | Sugar: 9g | Vitamin A: 9691IU | Vitamin C: 12mg | Calcium: 82mg | Iron: 4mg
POST UPDATE: This recipe was originally published in October 2014, but was updated with improved tweaks to the recipe with new tips and photography, and a fabulous new video in January 2021!