Is there anything more delicious than Crème brûlée? We think not.
You really need to pick up a kitchen blow torch to make these to perfection. And you'll be surprised at how easy it is to make this seemingly sophisticated dessert…at home!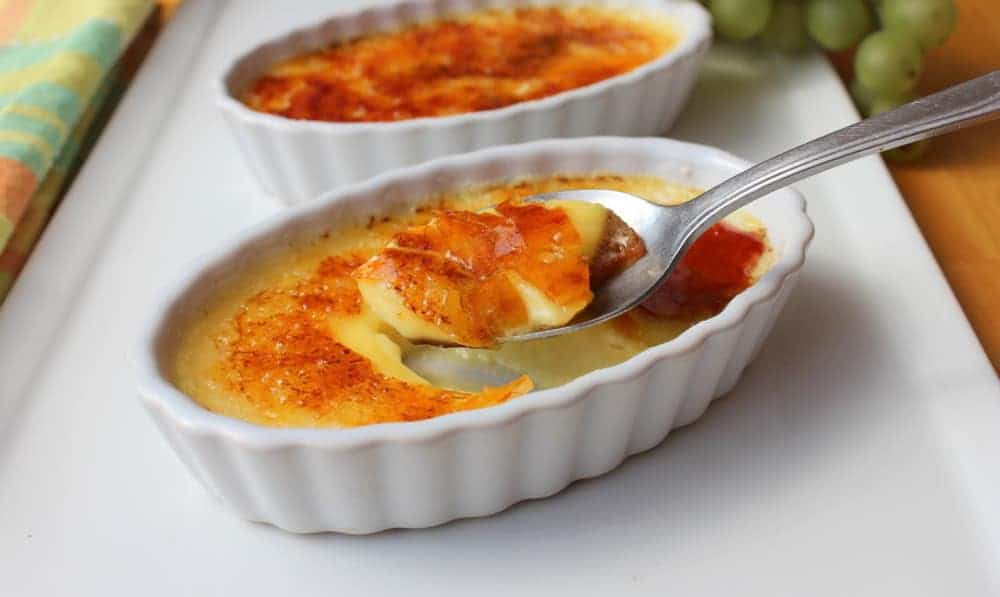 HOW TO MAKE CRÈME BRÛLÉE FROM SCRATCH
As mentioned, this amazing French dessert is not that hard to make at home.
You'll need to start off with some vanilla beans, not vanilla extract.
Vanilla beans can be found in most well-stock supermarkets in the spice section.
WHAT'S THE DIFFERENCE BETWEEN VANILLA BEANS AND EXTRACT
They are actually very similar, and in a pinch, you could use vanilla extract in this recipe.
A vanilla bean starts as a small growth from the orchid plant. Once ripe, the bean changes into a dark brown pod that's filled with thousands of tiny little specks. These specks hold the immense flavor we love so much. Read more about vanilla beans vs. extract herehere
Split the bean open with a small knife, and then use the tip of the spoon to scoop out all those amazing vanilla 'specks.'
Next, it's time to temper the eggs.
Simply pour the warm cream into the eggs.
This heats the eggs, but not so much that it causes the eggs to scramble.
USE A KITCHEN TORCH FOR PERFECT CRÈME BRÛLÉE
A kitchen torch allows you to easily crystalize the superfine sugar.
If you like Crème Brûlée, you'll probably also love our Wild Berry Parfait with Mascarpone and Vanilla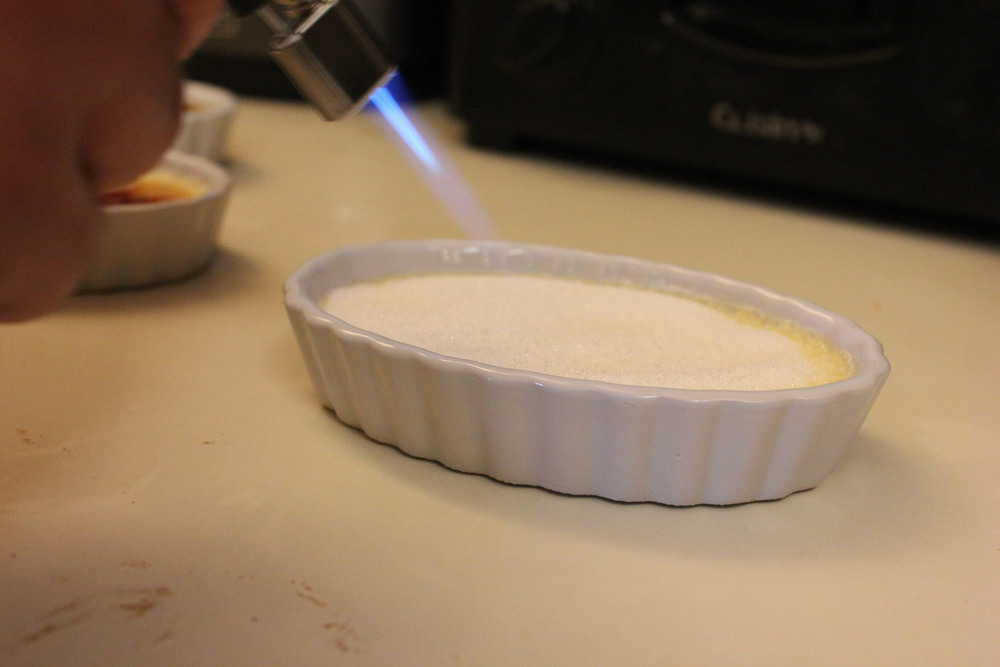 Now, are you ready to make this classic French dessert? You love ordering at fancy restaurants, now you can make it at home. No problem!
And when you make it, be sure to take a picture, post it to Instagram, and tag @howtofeedaloon and #howtofeedaloon!
Crème Brûlée
Crème Brûlée is about as delicious as they come when you're talking about desserts. The Loon and I always order this when it's on the menu! You'll need a nice kitchen torch, and they are easy to order in my store. Crack the delicious caramelized topping to get to the incredible custard underneath. Amazing!
Print
Pin
Rate
Servings: 8 people
Calories: 487kcal
Ingredients
4 cups heavy cream
1 whole vanilla bean or in a pinch, you can use 1 tablespoon vanilla extract
10 whole egg yolks
¾ cup sugar plus about 8 tablespoons of extra-fine sugar
5 tbsp superfine sugar it's important to use this kind of sugar...it melts more quickly, and won't burn as you torch it)
Instructions
Preheat the oven to 325 F.

Pour the cream into a saucepan.

Use about 1 inch of the vanilla bean, and cut down the middle. Scrape the insides out and add to the cream, along with the skin of the bean. Or, add the vanilla extract.

Heat the cream until just comes to a boil, then turn off heat.

Strain cream using a fine mesh strainer, or a double-layer of cheese cloth in a colander.

Whip yolks and the 3/4 cup sugar with a mixer on medium-low until they are pale yellow.

Temper the eggs with 1 cup of the warm cream. Go slowly! You don't want to cook the eggs.

Add the rest of the cream slowly.

Place 8 ramekins onto a rimmed (1 inch) baking dish, or use a roasting pan.

Pour custard mixture into ramekins.

Pour hot water into pan until it comes halfway up the ramekins.

Bake for 30 minutes, or until just set. Don't let the custard turn brown as it bakes.

Remove the pan from the oven, and then gently remove each ramekin with a metal spatula to a wire rack.

Once they are cool enough to handle, cover them with plastic wrap, and then place in the fridge for 3 hours (up to 24 hours).

Remove from the fridge and take off the wrap.

Sprinkle about 1 tablespoon of the fine sugar over each ramekin of custard.

Use a kitchen torch to quickly (carefully) brown the sugar.

Torch until there is a thin, crisp surface of the burned sugar on top.
Nutrition
Calories: 487kcal | Carbohydrates: 22g | Protein: 3g | Fat: 32g | Saturated Fat: -11g | Cholesterol: 177mg | Sodium: 46mg | Potassium: 89mg | Sugar: 19g | Vitamin A: 1767IU | Vitamin C: 1mg | Calcium: 79mg | Iron: 1mg