Triple Chocolate Mousse Cake is a chocolate-lovers dream dessert.
It is stunning in presentation and just so incredibly delicious.
We love the lightness of the chocolate mousse matched with the crunch of the shortbread crust and the richness of the chocolate ganache topping.
The chocolate shortbread crust is so simple to prepare.
Don't worry if it seems to 'sandy' before you place it in the oven, as it bakes, the butter melts, and makes the perfect crust.
A springform pan lined with parchment paper makes the recipe so easy to prepare.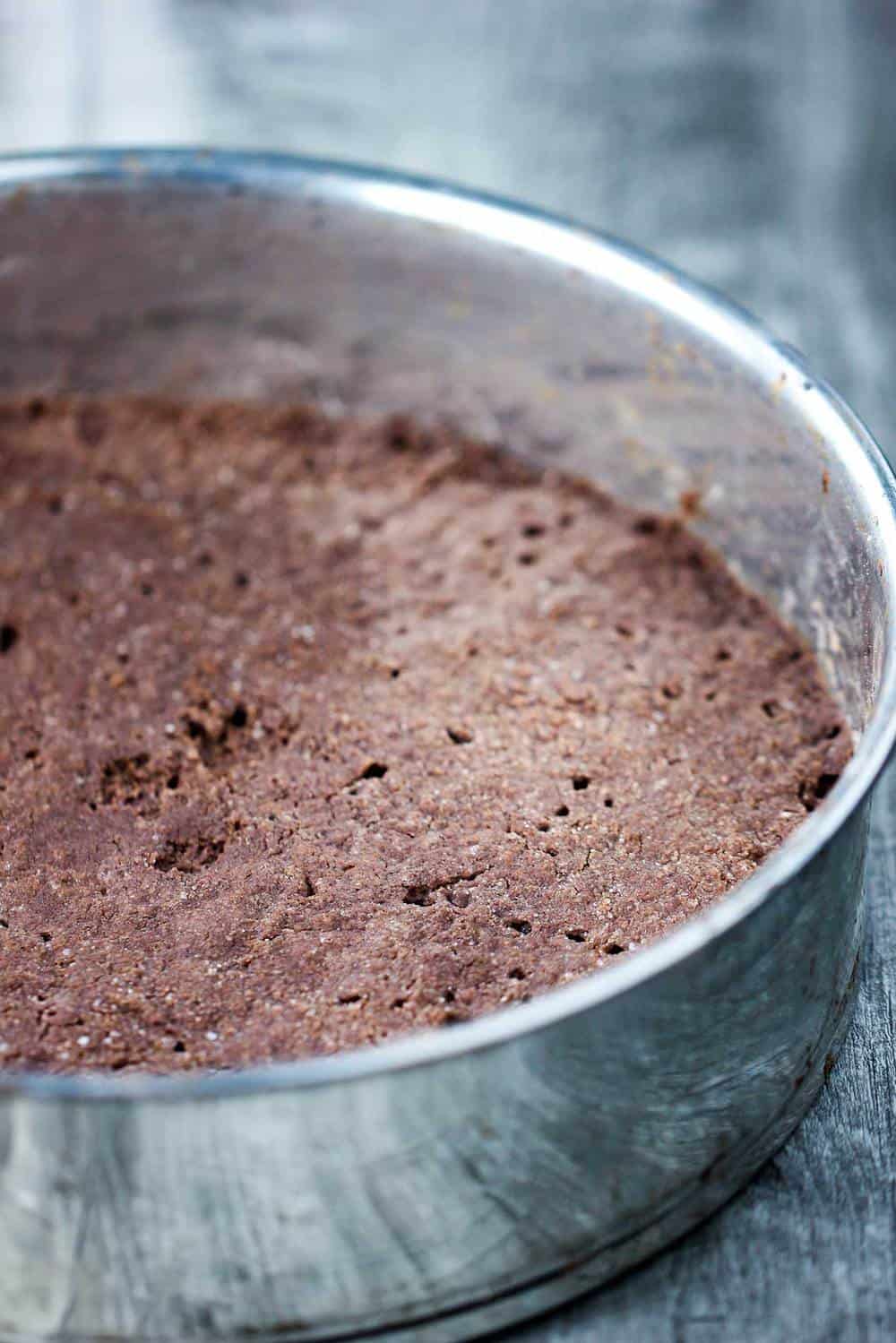 TRIPLE CHOCOLATE MOUSSE CAKE IS LIGHT AND NOT DENSE
The mousse is so flavorful and yet so light and airy.
It was hard for the Loon to not eat the entire bowl of mousse before we added it to the cake, but he was able to resist.
It is the perfect filling for this incredible Triple Chocolate Mousse Cake.
This triple chocolate mousse cake is not a huge cake, it almost resembles a tart.
But, boy oh boy, is it packed with flavor.
This cake immediately went to the top tier of favorite desserts for us. It's that yummy. Speaking of yummy and chocolate, you should try our Chocolate Yummy dessert!
Use a knife, or a pastry knife, to carefully spread the mouse over the shortbread.
Make sure to let the shortbread cool completely before adding the mousse.
Isn't chocolate mousse so wonderful to eat? We think so.
CHOCOLATE GANACHE IS THE PERFECT TOPPING
Now, let's be real here, the mousse is absolutely wonderful…but the ganache?
With one bite, you'll be saying: Oh my ganache, is that good.
It really is. And super easy to make!
This Triple Chocolate Mousse Cake is perfect for entertaining.
We made this for a holiday dinner party, and our guests could not stop raving about it.
Again, it's not a dense cake, which after a hefty meal, is often the perfect sweet ending.
We just can't say enough about this Triple Chocolate Mousse Cake, it's so good.
If you are looking for a more traditional chocolate cake, which is nice and dense, and exploding with chocolate flavor, you should try our Extreme Chocolate Layer Cake…it should fit the bill.
But in the meantime, give this mousse cake a go, we're pretty sure you'll be glad you did.
Triple Chocolate Mousse Cake.
Triple the chocolate. Triple the taste. Triple the fun.
Triple is better.
Triple Chocolate Mousse Cake
This Triple Chocolate Mousse Cake is so chocolatey, but not heavy at all. The mousse is creamy and light and so delicious. And the shortbread crust and chocolate ganache are the perfect matches for the mousse. This is beautiful in presentation, too. Perfect for dinner parties, or just any reason for a yummy dessert.
Print
Pin
Rate
Servings: 8 people
Calories: 398kcal
Ingredients
FOR THE CHOCOLATE SHORTBREAD CRUST
1 1/2 cup all-purpose flour
3 tbsp unsweetened cocoa powder
1/4 cup granulated sugar
1/4 tsp Kosher salt
1 1/2 stick unsalted butter, chilled 12 tbsp
1 egg
3/4 tsp vanilla extract
FOR THE CHOCOLATE MOUSSE
1 tsp unflavored gelatin
1/2 cup chocolate hazelnut spread We love Nutella
1/2 cup mascarpone cheese
1 1/2 cups heavy cream
2 tbsp unsweetened cocoa powder
3 tbsp granulated sugar
FOR THE GANACHE
1/5 cup heavy cream, plus 1 tbsp
7 oz quality bittersweet chocolate (not unsweetened) chopped
Instructions
MAKE THE CHOCOLATE SHORTBREAD CRUST
Pre-heat oven to 350 F.

In a food processor (or using a pastry cutter, or two forks), process the flour, cocoa powder, sugar, and salt until combined.

Add butter and pulse (or cut) until crumbly, and the butter resembles small peas.

Add egg and vanilla extract and pulse (or mix) until just incorporated. It will still be a little crumbly, don't process until a ball forms.

Line the bottom of an 8-inch springform pan with parchment paper and lock the side into place.

Transfer the dough into the pan and press it evenly across the base of the pan, on top of the parchment paper. Prick the dough all over with a fork.

Bake the crust for 20 minutes and then transfer to a rack until completely cooled, about 30 minutes.

Removed side of pan and remove the parchment paper from under the crust, and then reattach the side of pan.
MAKE THE CHOCOLATE MOUSSE
Sprinkle gelatin over 3 tbps of cold water in 1 qt. saucepan and let stand for 5 minutes.

Heat gelatin mixture over low heat, stirring, just until gelatin is melted, about 2 minutes.

Whisk in chocolate hazelnut spread until combined and then remove from heat.

Whisk mascarpone and chocolate hazelnut mixture in a large bowl.

In a different large bowl, beat cream, cocoa powder, and sugar at low speed until just combined, and then increase speed to high and beat until cream just holds soft peaks.

Whisk 1/3 of whipped cream into the mascarpone mixture to lighten, then fold in remaining whipped cream until well combined.

Spoon filling onto shortbread crust in pan, smoothing top with a knife, or pastry knife.

Chill, covered, for at least 3 hours.
MAKE THE GANACHE AND FINISH OFF THE CAKE
Bring cream to a simmer in a small saucepan and then remove from heat.

Add chocolate and let stand 1 minute, then gently whisk until smooth.

Transfer to a bowl and cool, stirring occasionally, until thickened, but pourable, about 20 minutes.

Run a warm thin knife around inside of springform pan, then remove side.

Slide cake off the bottom of pan and transfer to a serving plate.

Pour ganache on top and spread, allowing excess to drip down the sides.
Nutrition
Calories: 398kcal