If you're looking for a crowd-pleasing dessert to serve after a fun-filled feast, this is the one!
There are just so many things to love about this yummy dessert. Layers of cool delicious chocolate pudding, cream cheese, and homemade whipped topping. All on a delicious pecan shortbread crust. This is perfect after a BBQ party with Grilled Beer-Can Chicken with BBQ Sauce, Southern Baked Beans, Slow-Cooker Corn on the Cob, and Homemade Coleslaw.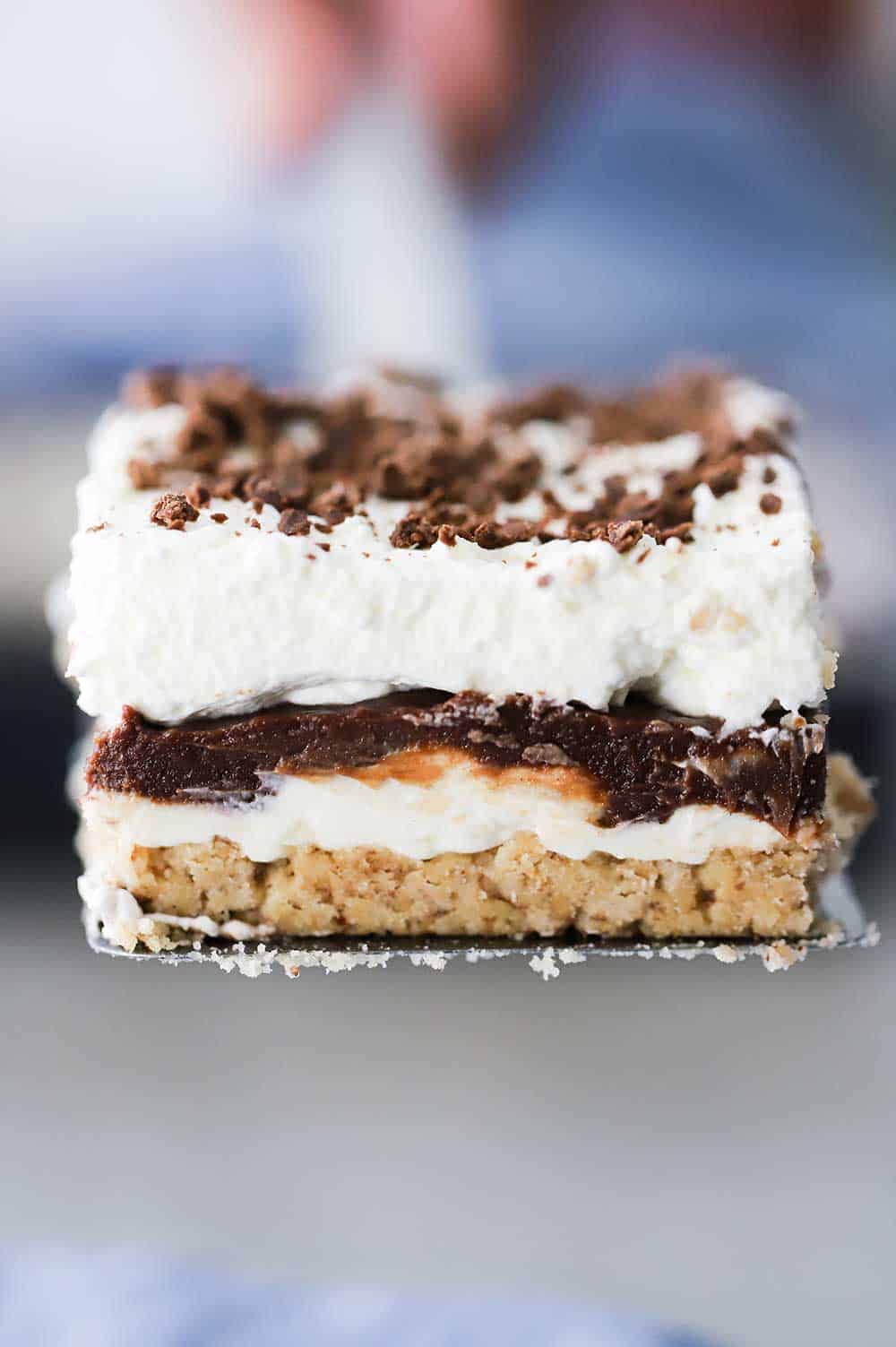 How To Make Chocolate Delight
There is truly something magical and unique about that culinary mainstay: chocolate. We love it prepared in so many different ways. But more on that later.
Because there are several layers to this amazing dessert, you can easily make them in stages.
NOTE: If you like this video, please subscribe to our YouTube channel. Remember to click the little 'bell' icon so you'll never miss a new video. Thank you!
The Ingredients You Will Need
You could go the really easy route and make the pudding from a box and purchase pre-made whipped cream. It would still be delicious, and so many home cooks have made this dish through the generations.
But, there is really something special when you make it all from scratch. Here's what you'll need:
For the Pecan Shortbread:
Pecans – Lightly toasted and cooled
Sugar
Unsalted butter – Room temperature
Vanilla extract – Go with good quality, if possible
Flour – All purpose
Salt – For a nice match to the sweetness
For the Pudding:
Heavy cream – It gives it a luxurious texture and taste
Sugar
Egg yolks – Room temperature, if possible
Dark and milk chocolate – We use morsels found in the baking section
Unsalted butter
Vanilla extract – You know what we're going to say: Good-quality matters!
Salt
For the Cream Cheese Filling and the Whipped Cream Topping
Cream cheese – Room temperature
Heavy cream – We never said this dessert was super low-calorie! (Moderation!)
Powdered sugar – Also known as Confectioners'
Chocolate shavings – for a beautiful garnish
EXPERT TIP: Be sure to cool the shortbread crust before adding the layers. Just place the pan in the fridge while you make the other components.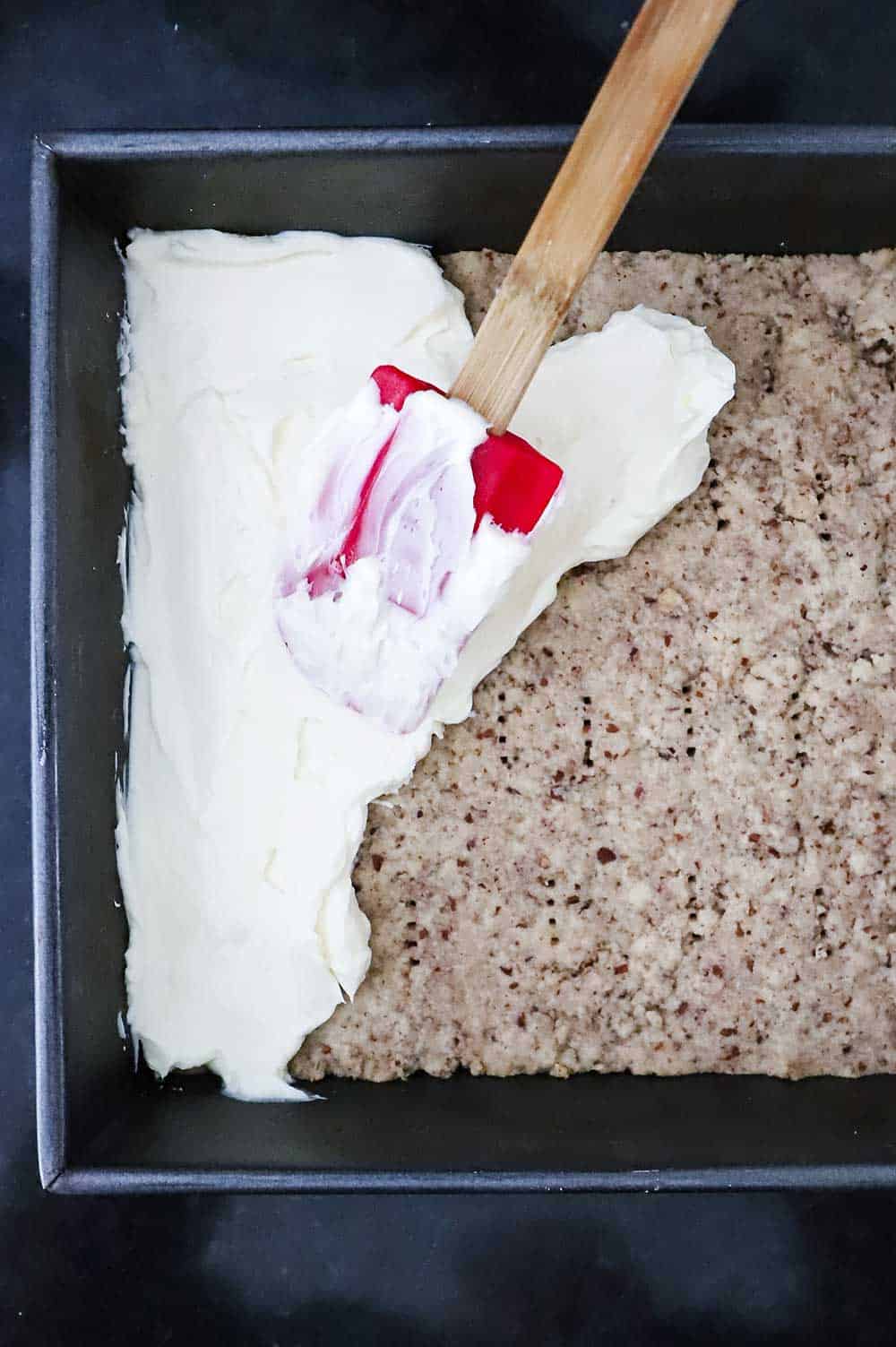 Tips For Perfect Chocolate Delight
Make In Stages – All four layers of this dessert can be made in stages and up to 24 hours in advance. Keep everything covered in the fridge until ready to assemble. Gently press a square piece of plastic wrap directly onto the prepared chocolate pudding while it chills. This will prevent a film from forming on the surface.
Choose Your Chocolate Taste – We like the ratio of more dark chocolate to milk chocolate in this recipe. However, if you prefer a slightly lighter dessert, flip the amounts for the two types of chocolate. If you absolutely love milk chocolate, or dark chocolate, you could go with 100% of either. Morsels work perfectly.
Chilling Is Best – This dessert needs at least an hour to fully chill and become firm. Overnight is even better. It tastes better and is much easier to slice.
EXPERT TIP: Take care when spreading each layer. Go slow and steady. If you're not careful, you'll mix together the layers and won't have as pretty of a layered dessert.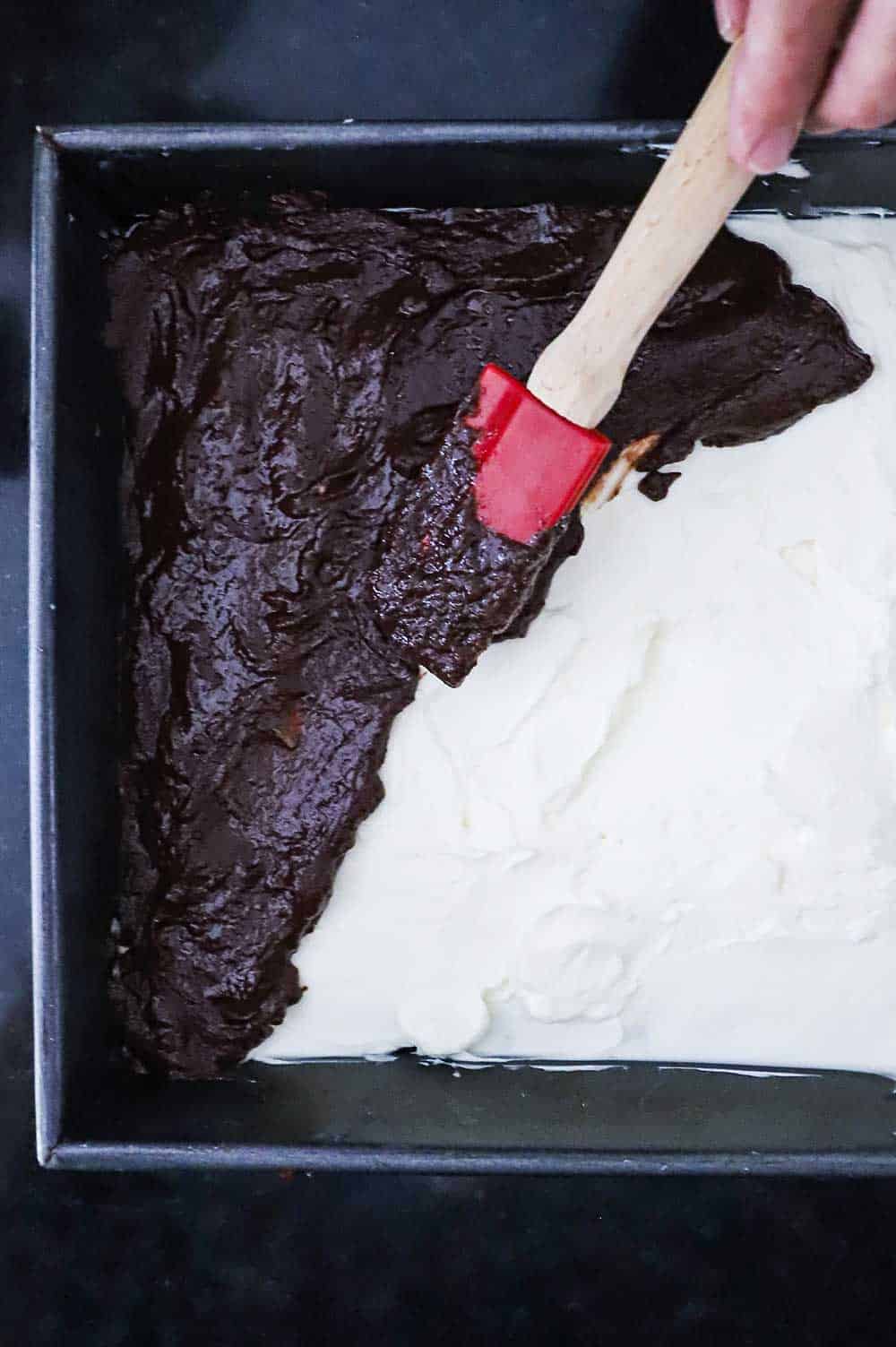 How To Serve
This dessert is refreshing, but it's somewhat rich. In other words, it's excellent on its own.
We like to cut the fully chilled chocolate delight into 3″x3″ squares and serve them on a platter.
After a BBQ feast, folks are usually stuffed and think they're not in the mood for dessert. Bring this out, and watch how fast it gets devoured.
EXPERT TIP: It may feel like there is not enough cream cheese filling or chocolate pudding as you are spreading it out. There is. There is more of the whipped cream topping because it is a nice counter to the heavier cream cheese and deeply flavored chocolate pudding.
Other Amazing Chocolate Desserts
We, like so many of us, just flip for anything chocolate. Here are a few of our favorite recipes starring chocolate:
German Chocolate Cake
Triple Chocolate Mousse Cake
Classic Chocolate Eclairs
Chocolate Fudge Cupcakes with Marshmallow Filling
Ultimate Fudge Brownies
Best-Ever Chocolate Chip Cookies
But in the meantime, just check out the pure delight!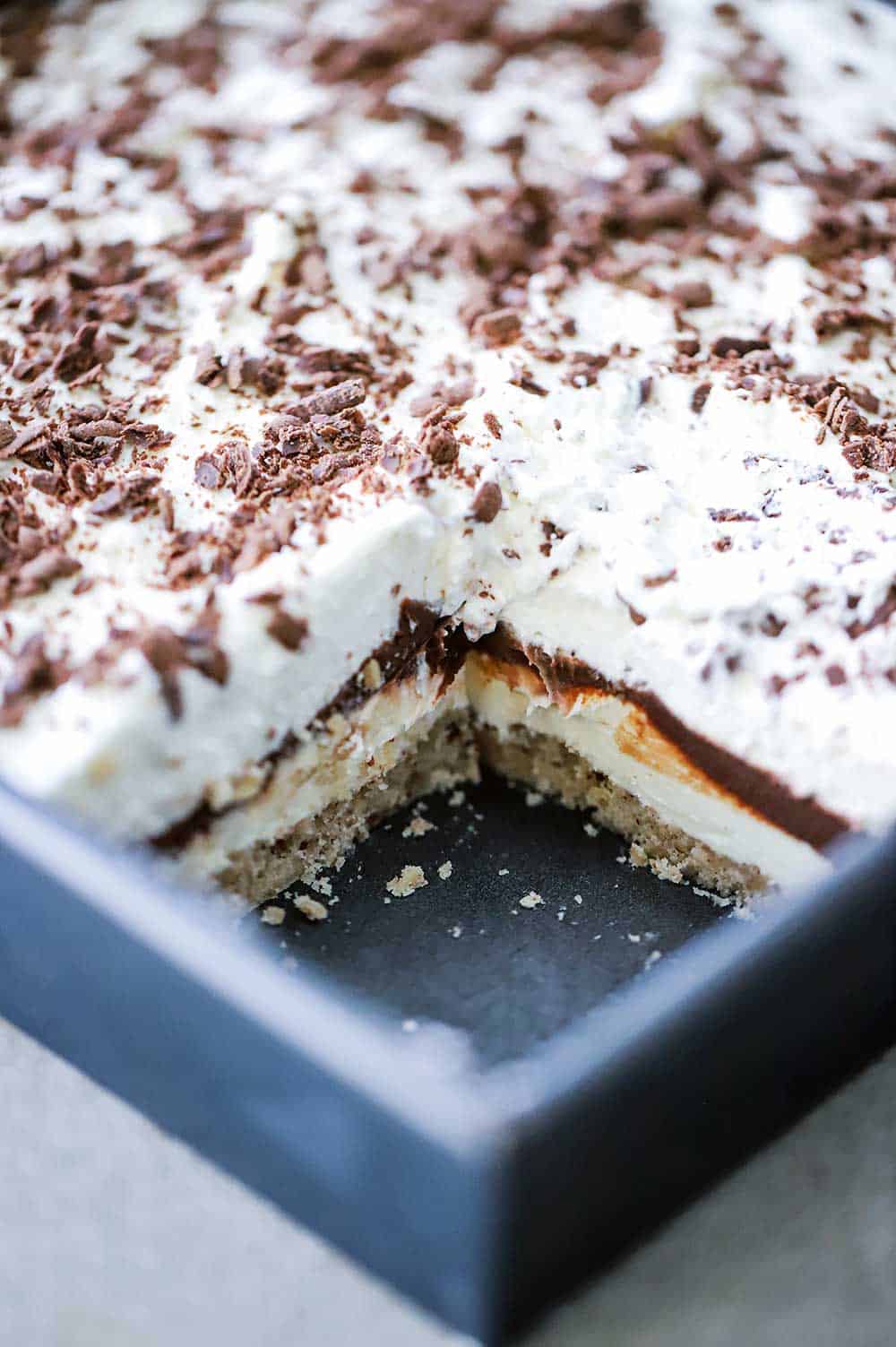 This is one of the most requested desserts, especially during the warm summer months.
Kids and adults alike just flip for it.
And it can easily be made 1 to 2 days in advance. Serving a crowd? Double the recipe!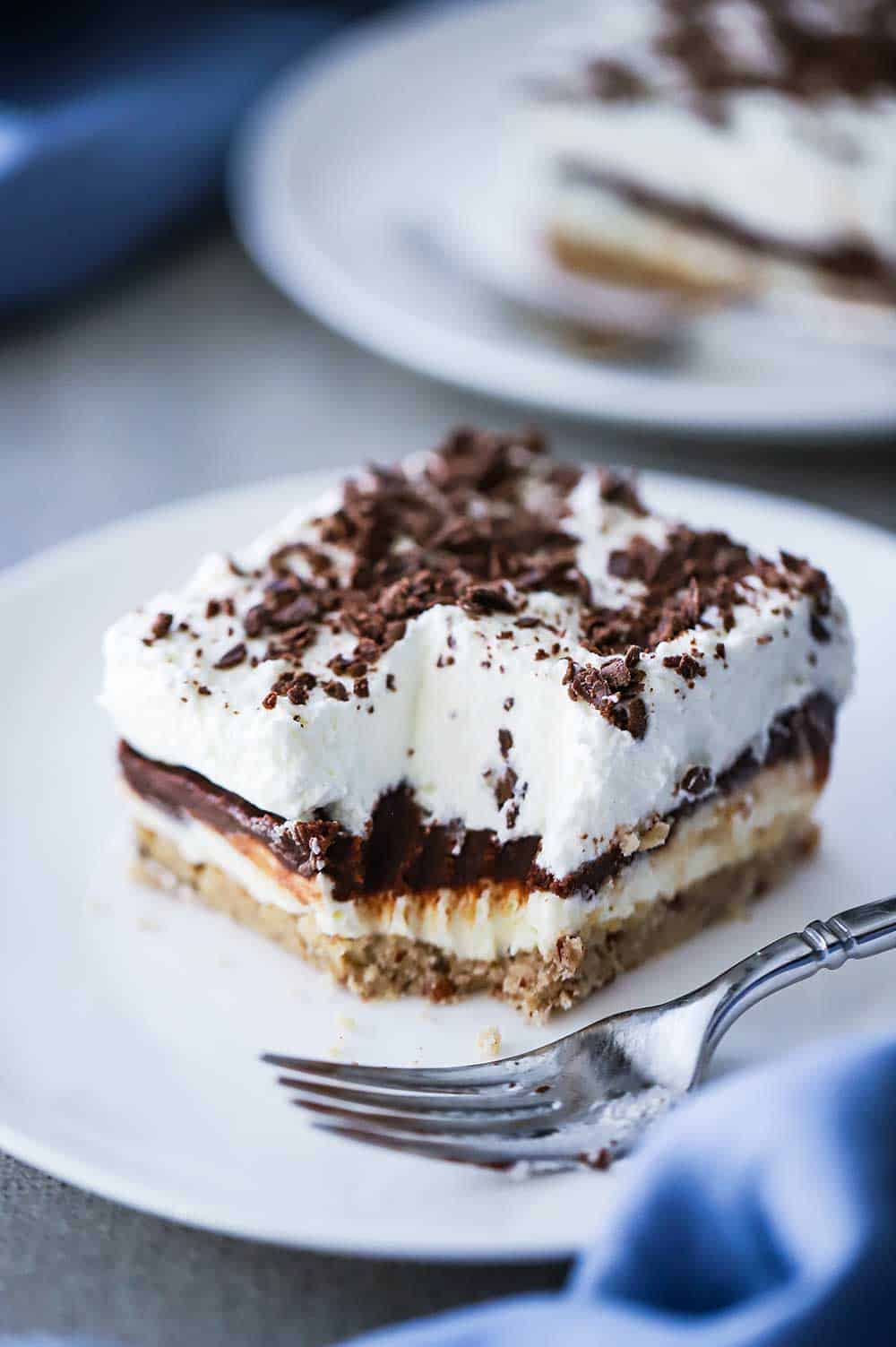 Ready to make the best Southern chocolate dessert this side of the Mississippi? Go for it!
And when you do, be sure to take a photo of it, post it on Instagram, and tag @HowToFeedaLoon and hashtag#HowToFeedaLoon!
Chocolate Delight From Scratch
Chocolate Delight is rich and deeply flavorful. Layers upon layers of yumminess make for the perfect ending to a fun-filled feast. And it can easily be made 1 to 2 days in advance.
Print
Pin
Rate
Servings: 9 people
Calories: 692kcal
Ingredients
For the Pecan Shortbread Crust
3 oz pecans toasted
3 tbsp granulated sugar
1 stick unsalted butter softened, room temp
1 tsp vanilla extract
1 cup all-purpose flour
½ tsp salt
For the Chocolate Pudding
1 cup heavy cream
¼ cup granulated sugar
3 egg yolks
⅔ cup dark chocolate morsels work well
¼ cup milk chocolate morsels work well
1 tbsp unsalted butter
1 tsp vanilla extract
For the Cream Cheese Filling
1 lb cream cheese room temperature
½ cup confectioners' sugar aka: powdered sugar
For the Whipped Cream Topping
2 cups heavy cream
2 tbsp confectioners' sugar aka: powdered sugar
Chocolate shavings for garnish on top
Instructions
Make the Pecan Shortbread Crust
Place the pecans and sugar in a food processor and pulse together for 30 seconds.

In the bowl of an electric mixer, cream (mix) together the butter, vanilla, and pecan sugar mixture, then stir in the flour and salt until just mixed.

Chill the dough for 30 minutes.

Preheat the oven to 325°F.

Use your fingers to press the chilled dough into a 9"x9" baking dish.

Prick the dough with a fork and bake for 10 to 12 minutes, until slightly puffed and tender. Place in the fridge while you prepare the remaining layers.
Make the Chocolate Pudding
Stir together the sugar and egg yolks in a mixing bowl.

Heat the cream for the pudding in a medium-sized saucepan over medium heat. Don't bring it to a boil, but until it is just starting to shimmer.

Slowly pour half of the hot cream into the egg mixture, whisking continuously. Once fully combined, carefully pour the mixture back into the pan with the remaining hot cream, stirring constantly. Continue to cook and stir until thickened, and the cream will coat the back of the spoon, about 4 to 6 minutes. Remove from heat.

Place the dark chocolate, milk chocolate, butter (1 tbsp), and vanilla in a large mixing bowl. Pour the hot custard into the bowl and use a wooden spoon to stir until the chocolate has completely melted and everything is mixed and smooth. Place plastic wrap directly onto the chocolate and place it in the refrigerator to cool.
Make the Cream Cheese Filling
In a small mixing bowl, use an electric mixer (or hand-held), and beat the cream cheese with the ½ cup of confectioners' sugar until smooth. Set aside.
Make the Whipped Cream Topping
In the bowl of an electric mixer, or with an electric hand mixer, whip the cream to soft peaks. Don't over-mix! Just as the peaks are starting to form, add the 2 tbsp of confectioners' sugar. Beat for a minute or two longer until thick enough to spread.
Assemble the Dish
Spread the cream cheese over the cooled shortbread crust. Next, spread the cream cheese filling over the crust. Next, carefully spread the chocolate pudding over the cream cheese. Spread on the whipped cream topping. Chill for at least 1 hour.

Garnish with chocolate shavings. Cut into 9 squares, and serve chilled.
Notes
See the video near the top of the blog post for visual guidance. If you liked the video, please subscribe to our YouTube channel.
When toasting the pecans, be sure to let them completely cool before adding them to the softened butter to make the crust (if they are still warm, they will melt the butter completely).
Try not to let the cream boil when heating it. When it starts to shimmer is when it's ready. Be sure to whisk vigorously when adding the hot cream to the eggs, you don't want them to scramble.
The dessert can be made up to 2 days in advance. Leftovers will keep covered in the fridge for up to 1 week.
Nutrition
Calories: 692kcal | Carbohydrates: 42g | Protein: 10g | Fat: 48g | Saturated Fat: 15g | Polyunsaturated Fat: 5g | Monounsaturated Fat: 11g | Trans Fat: 0.5g | Cholesterol: 237mg | Sodium: 321mg | Potassium: 311mg | Fiber: 3g | Sugar: 26g | Vitamin A: 2299IU | Vitamin C: 1mg | Calcium: 139mg | Iron: 3mg
POST UPDATE: This recipe was originally published in May 2014, but was updated with improved tweaks to the recipe with new tips and photography and a fabulous new video in July 2022!