Classic Chocolate Chunk Cookies are the things dreams are made of. At least the dreams in our house.
And we're guessing, maybe your house, too.
Ooey, gooey, chocolatey, and just so yummy. Cookie perfection.
YOU CAN'T GO WRONG WITH THE CLASSIC CHOCOLATE CHUNK COOKIE
This recipe is the classic version that just can't be beat.
The ingredients are simple: flour, butter, sugar, eggs, vanilla…and of course: chocolate.
Make sure your butter is softened to room temperature to get the perfect cookie dough.
For a more chocolatey experience, we love to get bittersweet chocolate bars, and then just give them a good rough chop.
Of course, chocolate morsels are great, too.
But what we could be more satisfying than digging into nice, big chunks of chocolate. I mean, it is called a Chocolate Chunk Cookie, for goodness sake!
CHUNKS OF BITTERSWEET CHOCOLATE ADD MORE CHOCOLATE TASTE
We know there are great pre-packaged cookie doughs out there that are so easy to pop in the oven and have them ready within minutes.
But there is almost something magical that comes from a made-from-scratch cookie.
And, these Classic Chocolate Chunk Cookies are really simple to make!
These cookies will immediately conjure childhood memories with each delicious bite.
They are almost transcendent fresh out of the oven.
And if you like these, you'll most likely love these, too: Classic Snickerdoodle Cookies and Caramel-Frosted Brown Sugar Cookies and Red Velvet Sandwich Cookies!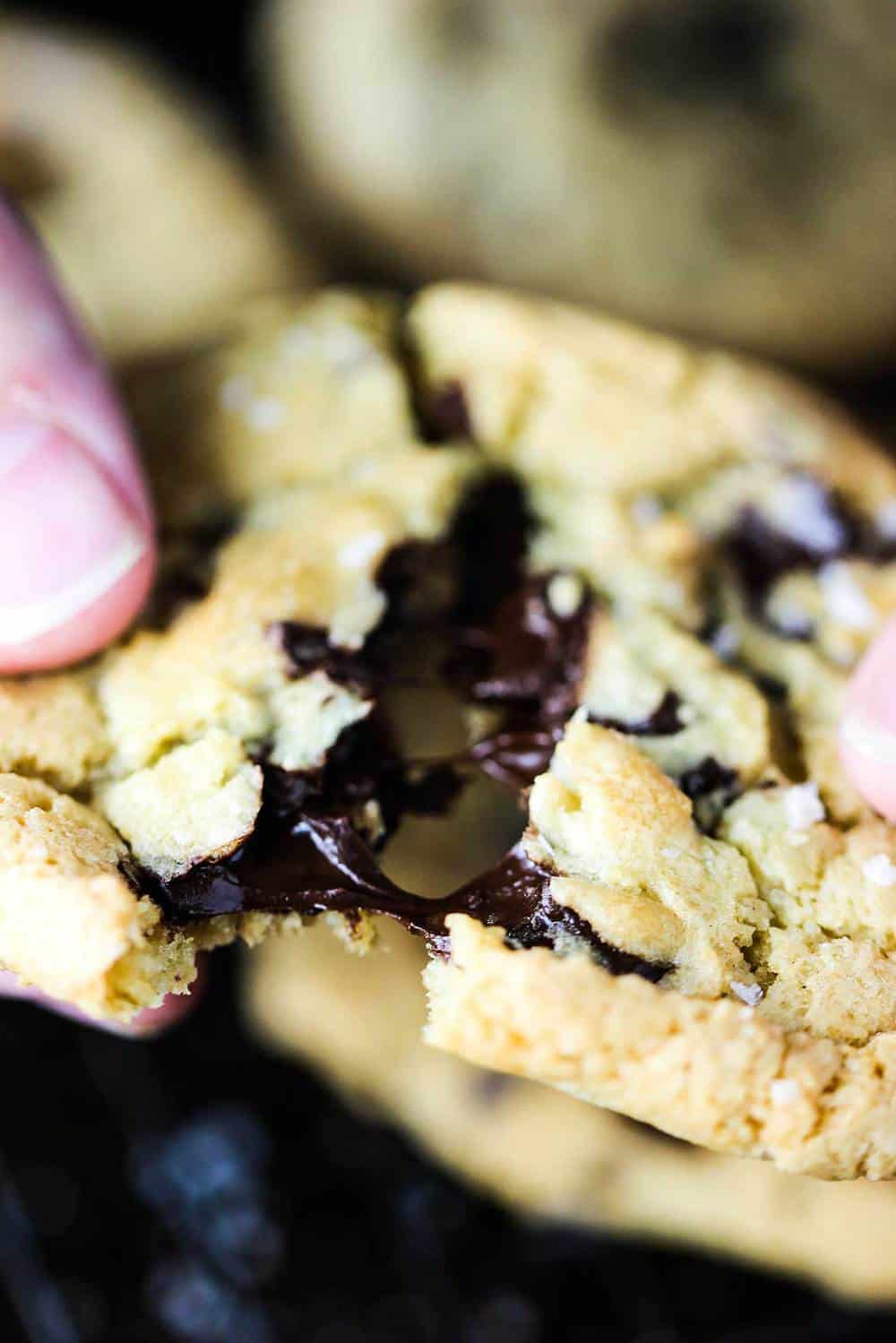 COARSE SEA SALT IS A NICE ADDITION TO CHOCOLATE CHUNK COOKIES
To amp up the flavor, we think sprinkling some finishing salt flakes, such as Maldon's, is a spectacular touch.
Add the salt before or after baking. You will be surprised how a touch a crunchy salt works so beautifully with the creamy richness of the cookie.
Mmmm…Chocolate Chunk Cookies! Where have you been all our lives!! GET IN OUR BELLIES!
Classic Chocolate Chunk Cookies
These Classic Chocolate Chunk Cookies are everything you think they should be: ooey, gooey, chewy, chocolatey, and simply delicious. Kids and adults will be running back for more of these classic cookies.
Print
Pin
Rate
Servings: 8 people
Calories: 200kcal
Ingredients
1 & 1/2 cups all-purpose flour
1 tsp baking soda
1 tsp baking powder
1 tsp Kosher salt
1/2 cup unsalted butter 1 stick, room temp
1/2 cup sugar
1 cup light brown sugar packed
2 large egg yolks
1 large egg
1 tbsp vanilla extract
8 oz semisweet chocolate roughly chopped
Finishing salt, or coarse sea salt for garnish (optional)
Instructions
Pre-heat oven to 375°F.

Whisk flour, baking soda, baking powder, and salt in a medium bowl. Set aside.

Using a stand mixer, or hand-held mixer, on medium speed, beat butter, sugar and brown sugar until fluffy, about 3 minutes.

Add egg yolks, egg and vanilla and beat until mixture is pale and fluffy, about 4 minutes. You may need to occasionally scrape down the sides of the batter.

Slowly add the flour mixture until just blended.

Fold in the chocolate with a wooden spoon or spatula.

Spoon the batter by heaping tablespoon onto 2 baking sheets lined with parchment paper, keeping them separated by about 1 inch.

Bake cookies, rotating the sheets halfway through, for about 12 minutes, or until just turning golden brown on the edges.

Let cool slightly on sheets and then transfer to wire racks. Sprinkle with coarse salt, if desired. Enjoy!
Nutrition
Calories: 200kcal