Slow-Cooker Corn on the Cob is such an easy way to prepare everyone's favorite side dish.
Of course there are different methods for cooking corn on the cob, but steaming them in your slow-cooker retains the sweet delicious flavor, yet gives you the freedom to tend to other tasks while the corn gently cooks.
Try this recipe once, and we feel certain you'll probably never want to prepare corn on the cob any other way! It's that good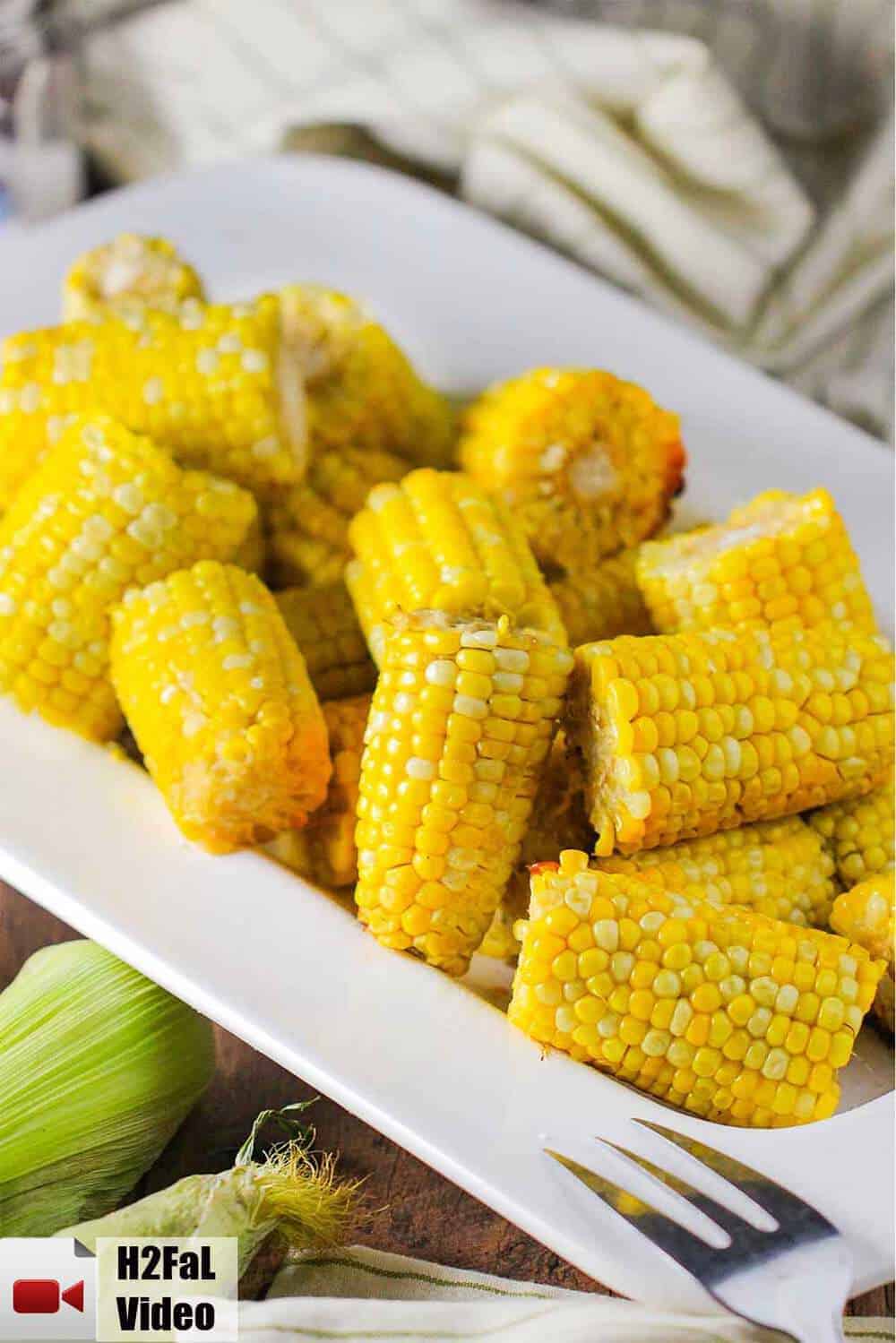 SLOW-COOKER CORN ON THE COB IS EASY TO PREPARE
You can cook the corn on high for just a couple of hours, or on low (our favorite) for up to 6 or 7 hours.
Once they are cooked, just adjust the setting to "warm" and you're good to go!
Watch us show you how easy it is to make Slow-Cooker Corn on the Cob!
There is just something magically delicious about fresh corn on the cob.
Now days, fresh corn is available at well-stock supermarkets almost year round.
Resist going with frozen corn niblets. They will just not produce the kind of taste and texture that you get with fresh corn.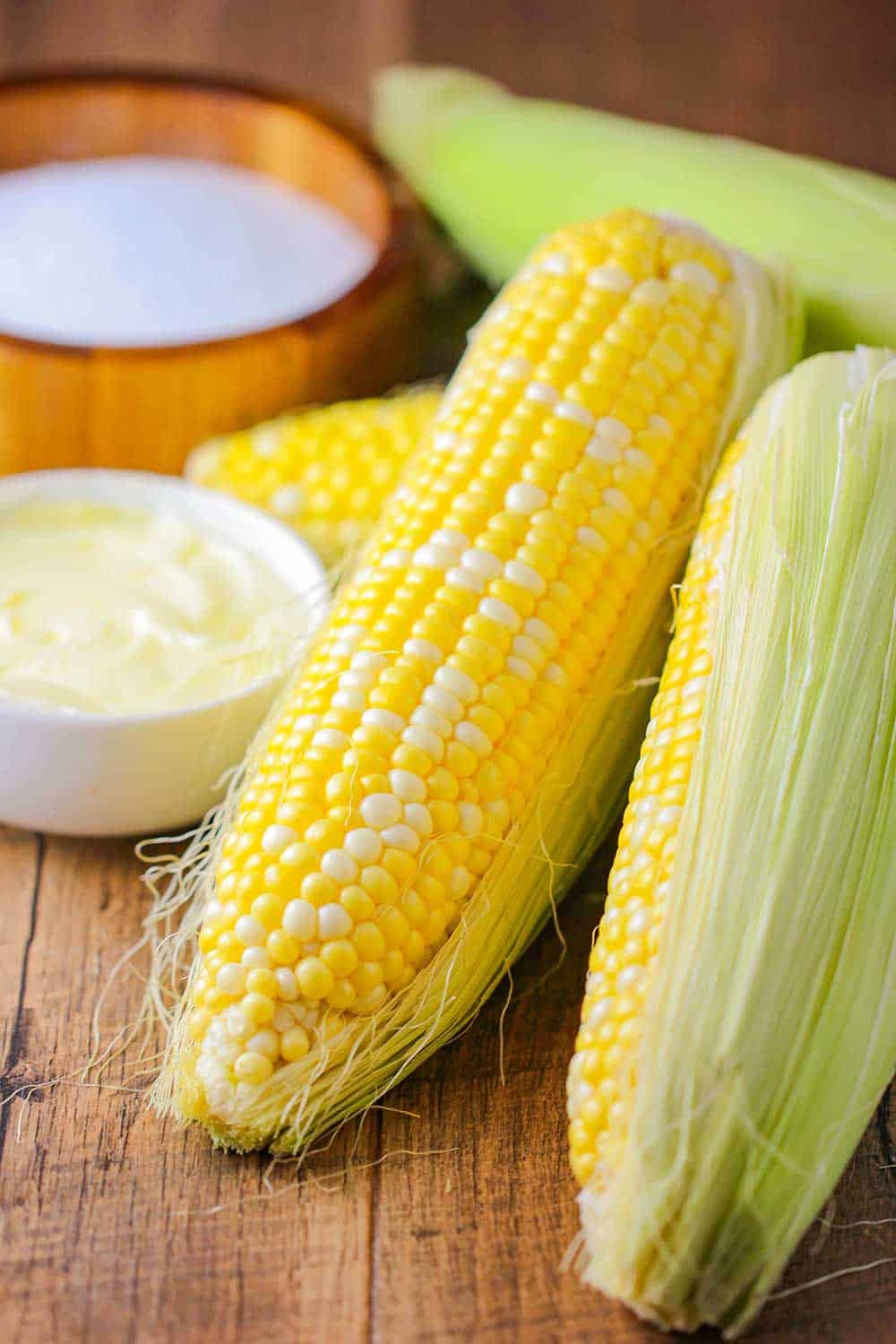 We love cutting the fresh corn into easy-to-handle niblets.
Of course, you can certainly leave the corn as is and prepare in the same manner.
When we make the niblets, we cut off the tips of the corn as well as the ends. Be sure to use a large, sharp knife…but be very careful! Some cobs can be tougher than others!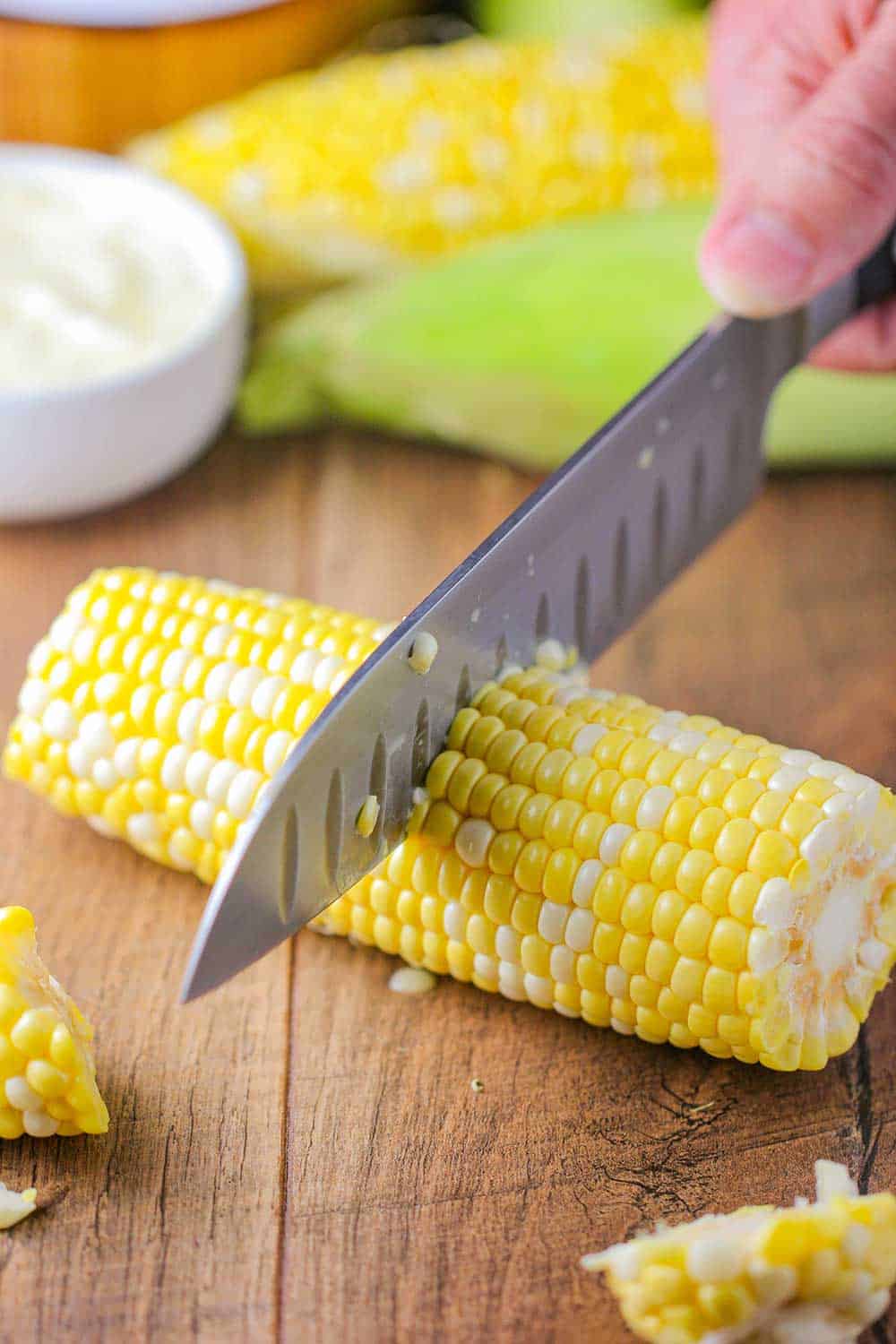 MELTED BUTTER KEEPS THE CORN MOIST
What would corn on the cob be without melted butter? We can't even bear the thought.
After adding about 1/2 to 3/4 cup of water to the bottom of the slow cooker, we melt about 1/2 stick of butter and then brush each corn with the butter.
A sprinkling of salt is a good idea here, too. And also black pepper, if desired. And into the slow cooker they go!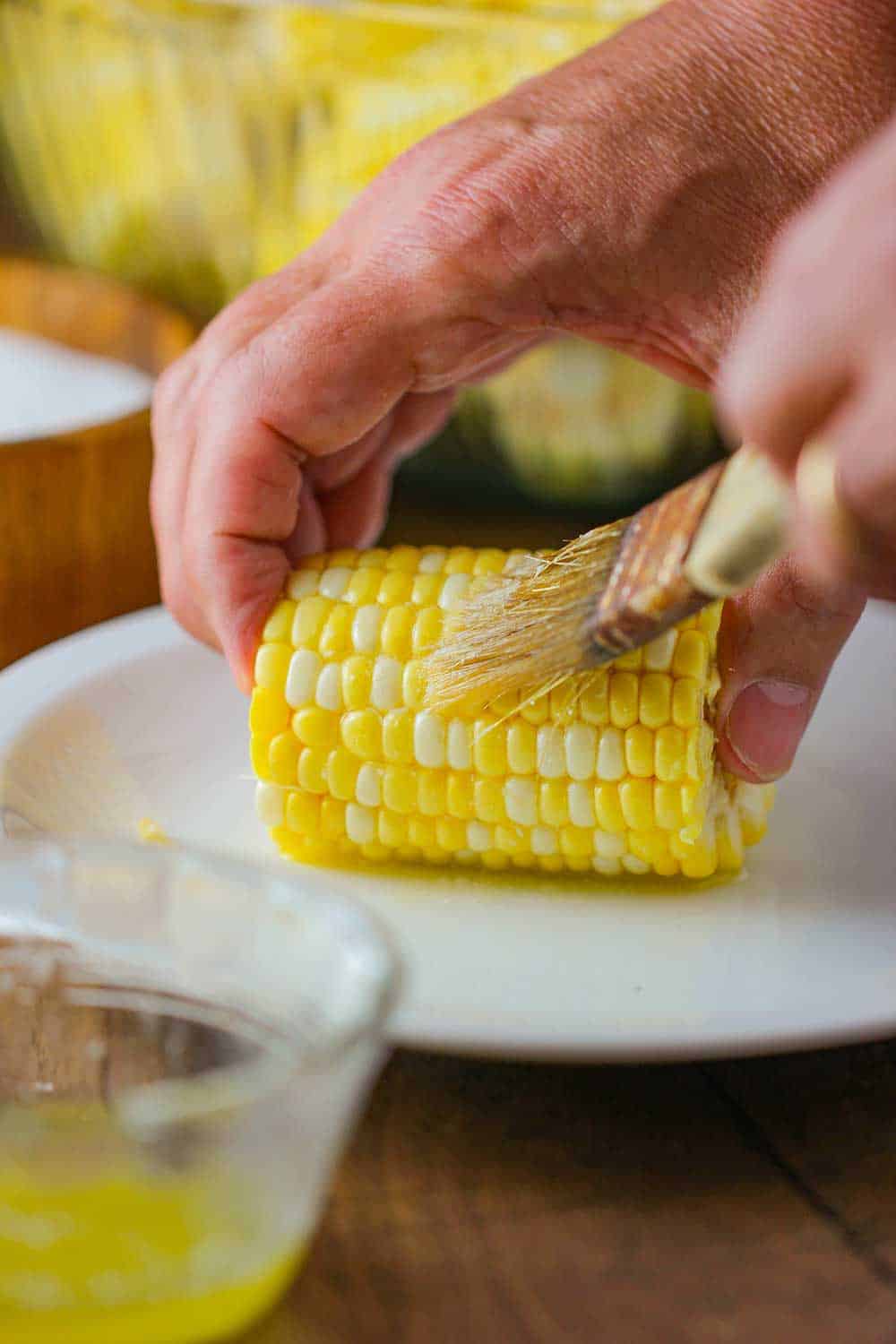 SLOW-COOKER CORN ON THE COB IS IDEAL FOR SERVING A CROWD
We love making slow-cooker corn on the cob when we have a gathering of friends and family coming over.
You can even prep the corn the night before, just keep the shucked and cut corn in a covered container.
Start the slow-cooking early, and then go about your other business. Once guests arrive, the corn will be perfectly cooked and will stay nice and warm until ready to be eaten.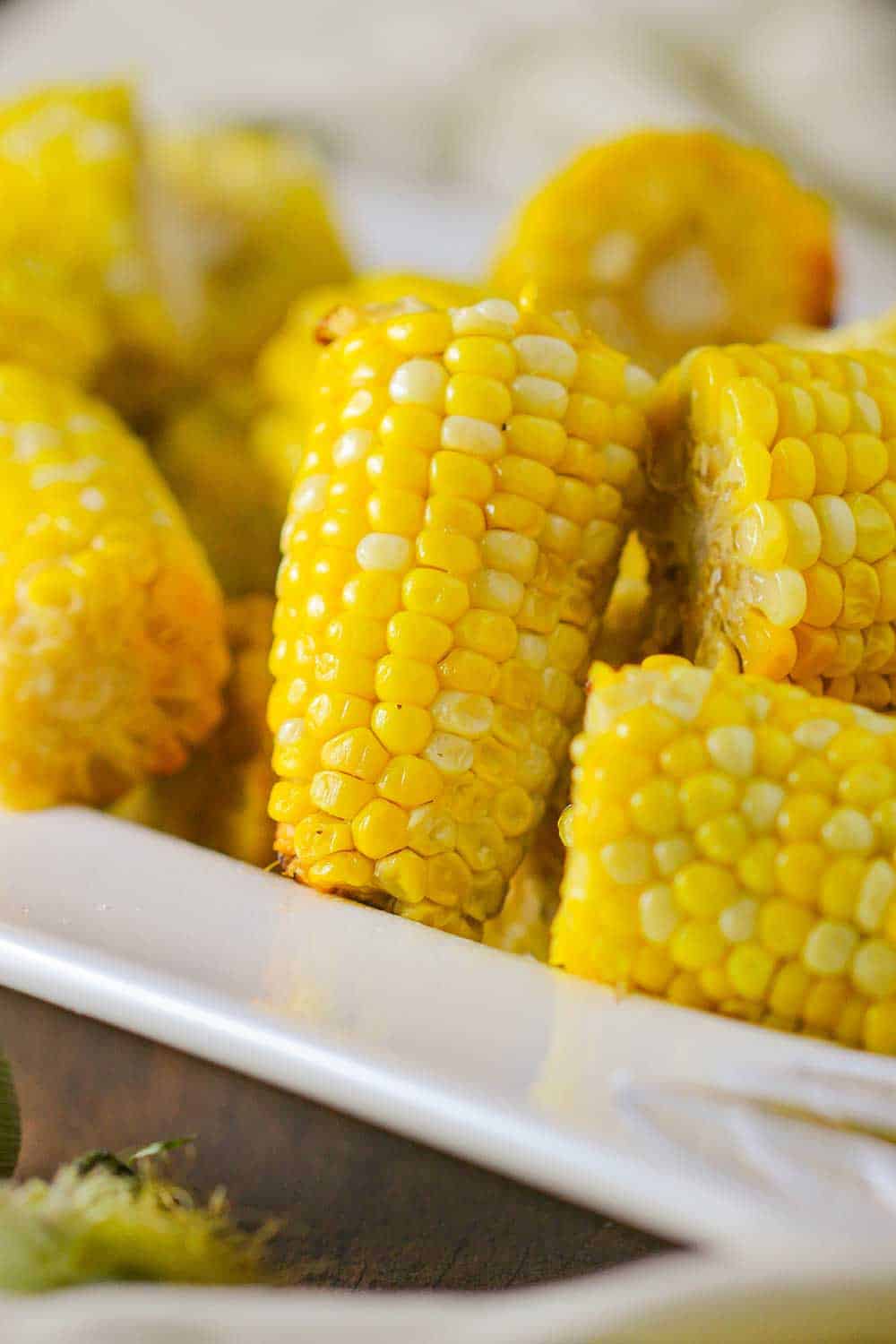 Corn on the cob is so delicious with just a smattering of butter and a sprinkling of salt. Perfectly simple and incredibly flavorful.
Another amazing way to prepare corn is our scrumptious Mexican-Style Grilled Corn. It's grilled with an amazing cream sauce cooked right into the corn. This is known as Elote in Spanish. So good!
But we have to tell you, you just can't beat the incredible taste and amazing ease of this Slow-Cooker Corn on the Cob. The best!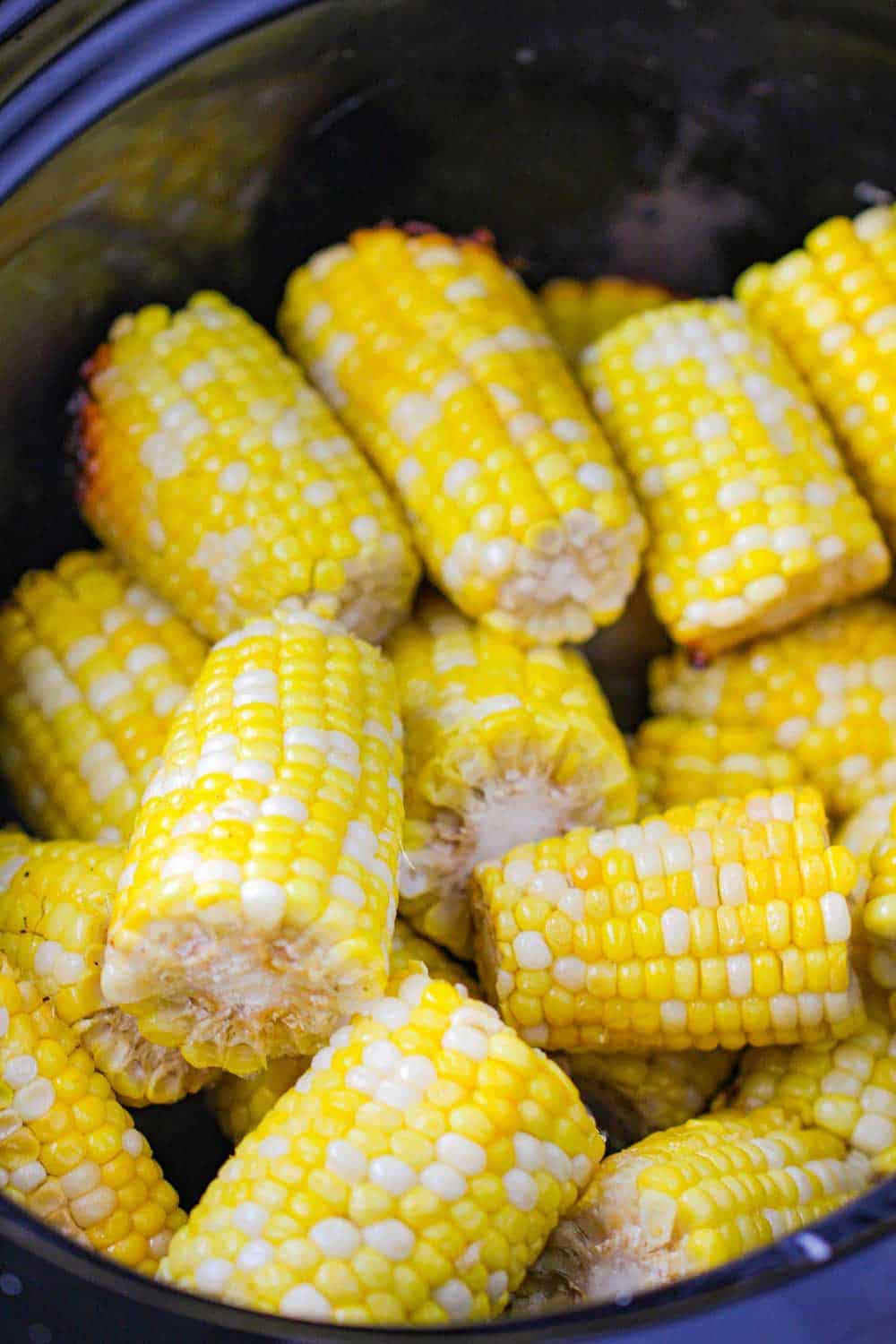 Slow-Cooker Corn on the Cob
Slow-Cooker Corn on the Cob is just amazing. The corn is steamed perfectly and isn't overcooked but juicy, plump and bright yellow. And so easy! Cook low and slow, while you are able to tend to other tasks! Like jumping in the pool! Get ready for lots of 'oohs' and 'ahs' with this incredible corn!
Print
Pin
Rate
Servings: 8 people
Calories: 179kcal
Ingredients
3/4 cup water
1 stick unsalted butter divided
Salt to taste
8 ears fresh corn shucked and cut into halves
Freshly ground black pepper to taste (optional)
Instructions
Pour the water into the slow-cooker pot.

Melt half of the butter (4 tbsp) and then brush each piece of corn with the butter.

Salt and each piece of corn and place into the slow-cooker. Pepper them, too, if desired.

Cook on high for 2 to 3 hours or low for 6 to 8 hours. If necesssary, keep the corn warm with the 'warm' setting on the slow-cooker.

Just before serving, cut the remaing 4 tbps of butter into chunks and add to the corn. Gently stir with a wooden spoon.
Nutrition
Serving: 4g | Calories: 179kcal