Chocolate Fudge Cupcakes with Marshmallow Filling.
There are a lot of things the Loon and I love about these Chocolate Fudge Cupcakes with Marshmallow Filling. First, we just love anything where chocolate is the star. But what if you throw in a surprise marshmallow filling? Well, now you're really talking.
But, can I tell you the coolest thing about these incredible cupcakes? I used the NEW Pillsbury™ Filled Pastry Bag to pipe on perfect Chocolate Fudge Frosting!
I am literally giddy with excitement. Don't judge me until you hear me out.
Okay, before I continue, I need to clarify something here. I didn't pipe on the incredibly delicious chocolate fudge frosting using a Pillsbury Pastry Bag as previously mentioned. Wesley (the Loon) did! I am telling the absolute truth when I say these pre-filled bags are so simple to use. In fact, I barely got one cupcake iced, before Wesley came over and grabbed the pastry bag out my hands and started piping away!
They come with a star tip already built in, so decorating is simple. Pillsbury even offers a vanilla-filled pastry bag, as well as a cream cheese version. Yes!
I knew the filling was going to be delicious, because everything we use from Pillsbury always is, so I wasn't worried about that. But, I have to admit, I was still a little concerned. I mean, was the pre-filled bag really going to allow me to skip filling my own pastry bag, fitting it with the perfect tip, and still give me superior gorgeous results? I wasn't sure.
Well, you be the judge, what do you think?
I was so happy to hear that these little packages of delicious delight were available at my local supermarket, Stop and Shop. In fact, they are available at Ahold stores everywhere including Giant Landover, Martins, and Giant Carlisle! They were right there in the baking section alongside other Pillsbury products and were super easy to spot. They were practically calling my name as I excitedly made my way down the aisle.
I truly love baking these marshmallow-stuffed cupcakes. And of course, chocolate cupcakes are awesome, but stuff 'em with marshmallow cream filling, and they become spectacular. These cupcakes bring me back to my youth.
Kids love them, of course, but I've never met an adult who could eat just one, or two, or more!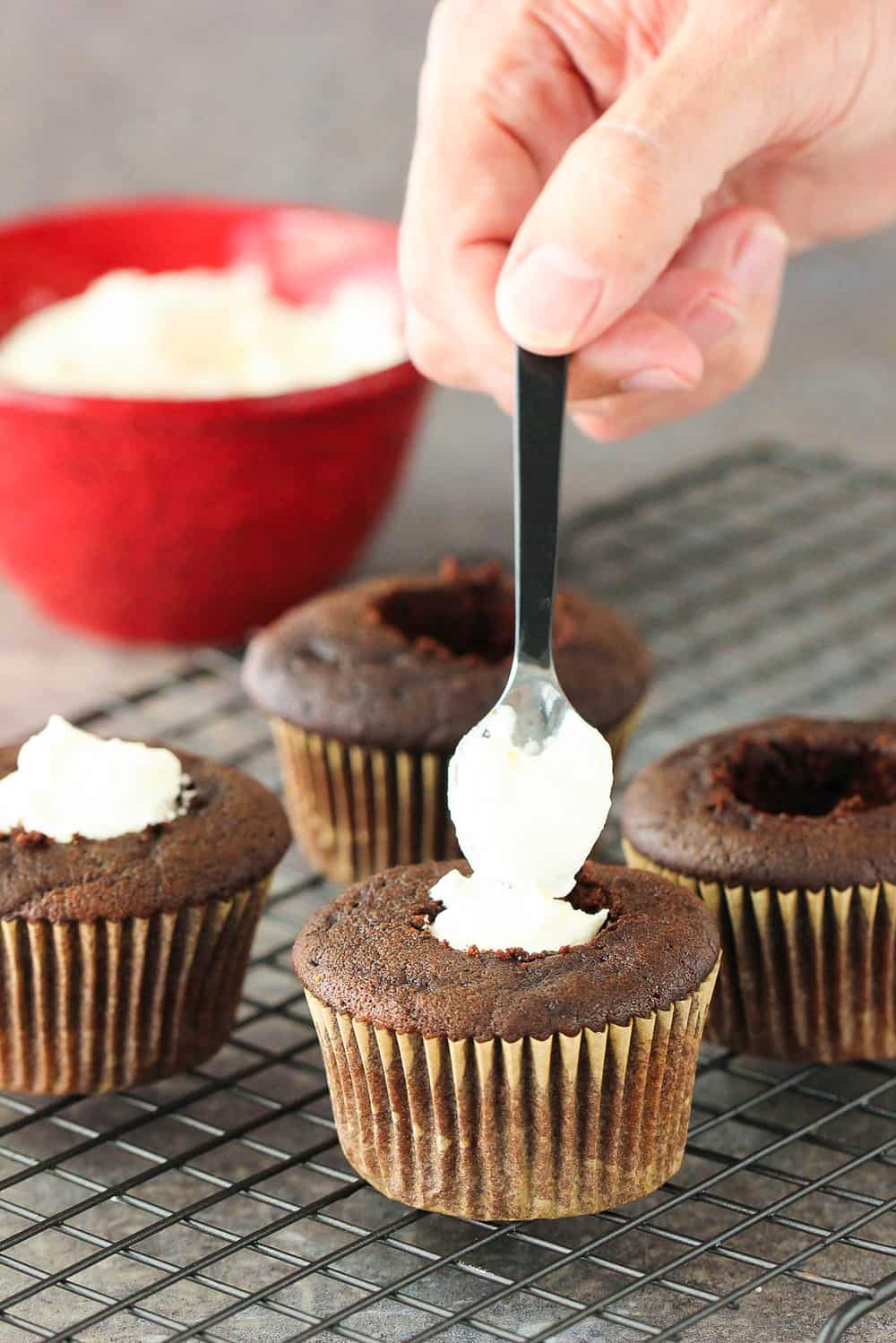 Both Wesley and I were so impressed how easy the Pastry Bag was to use. All we had to do is remove the pre-filled Pastry Bag from the box, then remove the plastic that covered the star tip. A simple perforation made this task a breeze. Then, we just squeezed, and out came amazingly delicious frosting in a beautiful pattern.
The really cool star tip that's built right in allows you to create three different types of designs: stars, rosettes or waves. Wesley decided to go with rosettes, and I must say, they came out fantastic.
It was such fun to watch Wesley go to town with this pastry bag. I never thought I'd see the day, but that just goes to show you how easy these bags of joy really are! I'm not kidding when I say: "If The Loon can do it, and do it beautifully at that, then anyone can do it, including kids!"
Talk about fun in the kitchen!
These cupcakes have the perfect flavor combination. The cake is moist and over-the-top chocolaty. The marshmallow cream is sweet and the perfect filling. And the top-notch Pillsbury taste with the chocolate fudge frosting just brings it all together in a cupcake that simply cannot be beat.
Not having to make the frosting and then figure out the best way to top the cupcakes saved me a lot of time. And let's face it, when it's cupcake time, we want to be able to dig into these amazing chocolate fudge cupcakes with marshmallow filling definitely sooner rather than later. Thanks to the Pillsbury Filled Pastry Bag, we had through-the-roof yummy cupcakes in hardly anytime at all!
Next time you're in Shop & Stop, swing by the baking section and pick up the all-NEW Pillsbury Filled Pastry Bag and then go home and make these amazing cupcakes. Click here for a special offer!
Chocolate Fudge Cupcakes with Marshmallow Filling
These Chocolate Fudge Cupcakes with Marshmallow Filling are so delicious and they'll take you back to your fondest childhood memories. And using the NEW Pillsbury Pre-Filled Pastry Bags makes them come together in no time! Total yum!!
Print
Pin
Rate
Servings: 12 people
Calories: 334kcal
Ingredients
FOR THE CUPCAKE BATTER
3/4 cup natural cocoa powder
2/3 cup boiling water
1 cup buttermilk
1 3/4 cups all-purpose flour
1 1/2 tsp baking soda
1/2 tsp Kosher salt
3/4 cup unsalted butter 1 & 1/2 sticks, room temp
1 cup sugar
1/2 cup light brown sugar packed
3 large eggs
2 tsp pure vanilla extract
FOR THE FILLING AND ICING
3/4 cup confectioners' sugar
3 tbsp unsalted butter room temp.
1/2 cup store-bought marshmallow creme fluff
1/2 tsp pure vanilla extract
1 tbsp heavy cream
1 16 oz Pillsbury Filled Pastry Bag in Chocolate Fudge
Instructions
Pre-heat oven to 350°F.

Line standard muffin cups with paper liners, or grease with butter and dust with flour (you'll have enough batter for 18 cupcakes).
MAKE THE CUPCAKE BATTER AND BAKE THEM
Place the cocoa powder in a bowl and slowly whisk in the boiling water until fully incorporated.

Let cool slightly, then whisk in the buttermilk.

In a different bowl, sift together the flour, baking soda and salt.

In the bowl of a mixer fitted with the paddle attachment, beat the butter and sugars on medium until combined and fluffy.

One at a time, add the eggs, beating well after each addition. Add the vanilla with the final egg.

Reduce the speed to low and add the flour mixture in 3 additions, alternating with the cocoa-buttermilk mixture in 2 additions, starting and ending with the dry ingredients. Beat until just combined.

Divide the batter among the prepared muffin cups, filling them to almost full.

Bake the cupcakes until they are puffed and slightly springy to the touch and an inserted toothpick come out clean. About 20 minutes.

Let cool slightly, then remove the cupcakes from the pan and cool completely on wire racks.
MAKE THE FILLING, THEN FILL THE CUPCAKES
Place the butter in the bowl of a mixer and add the sugar on top.

Using the paddle attachment, beat on medium speed until lightened.

Add the marshmallow fluff, vanilla and cream, beating until light and fluffy. Set aside.

Using a small sharp knife, create a hole in the top of each cupcake about 1 1/2 inches round and 1 inch deep.

Fill each cavity with marshmallow filling.

Pipe the Pillsbury Chocolate Fudge frosting onto the top of each cupcake.
Nutrition
Calories: 334kcal