There are so many wonderful things to enjoy about summer. We think garden vegetables are one the greatest.
This is truly the quintessential summertime treat. Absolutely delicious warm or at room temperature. We strongly recommend making our Easy Pie Crust in advance and then bring it all together in a tart pan or pie dish baked for about 50 minutes. Truly a spectacular dish!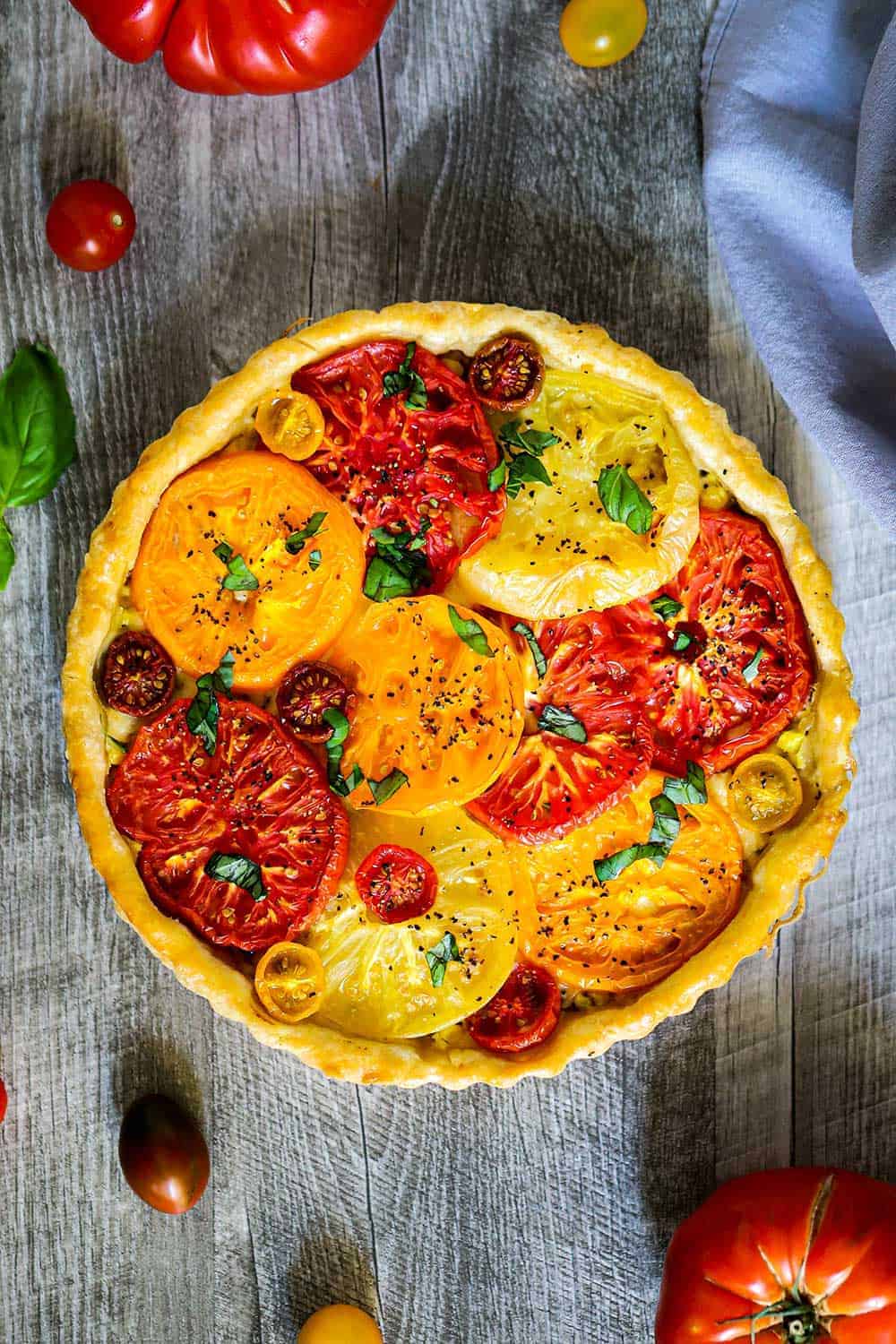 This tart, from the crust to the filling, is really quite easy to prepare.
You can make the dough days in advance as well as the corn and herbs filling, too.
The Difference Between a Tart and a Quiche
You may be thinking this seems a lot like a quiche or even our delicious Southern Tomato Pie.
In many respects, they are quite similar. The main difference is a quiche typically includes egg and cream. Tarts, whether savory or sweet, don't have eggs, and usually not cream. We do include Gruyere cheese.
EXPERT TIP: A tomato tart with puff pastry is a wonderful option you might want to consider. But, we really love our buttery, flakey pie crust. Simply roll it out to a 12-inch diameter, carefully transfer it into the tart pan/dish, and then press the bottoms and sides into the pan. Use a knife or kitchen scissors to trim away all but about a ¼-inch overhang of dough. Use your fingers to fold the overlay back over the dough to reinforce the top lip of the crust. Don't double-up too much dough, otherwise, the sides will be too heavy and break when slicing the tart.
How to Remove Water from Tomato Slices
There are many types of tomatoes that will work for this tomato tart. Our favorite, without doubt, is an heirloom tomato tart.
If you can't find heirloom tomatoes, then go with regular vine-ripe tomatoes. Sliced Roma tomatoes make a nice choice, and mix it up with a variety, including halved cherry or grape tomatoes!
EXPERT TIP: All tomatoes have high water content. This can sometimes be problematic when you are baking the tart and the liquid makes the crust soggy. An easy solution is to place the sliced tomatoes on paper towels and then sprinkle salt on both sides. (We salt first on a baking rack and then transfer to the paper towels). The salt will not only season the tomatoes, but it will draw out excess water. Let them sit for 20 to 60 minutes. You may need to replace the paper towels with a new batch during the process.
To add another layer of flavor to this tart, we love to add fresh corn.
Simply grab a couple of fresh ears of corn, shuck them, and then use a knife to cut away the kernels. You'll need about ½-cup of fresh corn.
NOTE: In a pinch, you can go with canned sweet corn that is drained. We don't recommend using frozen corn as the texture is a bit mushy and holds quite a lot of water that can cause a soggy crust.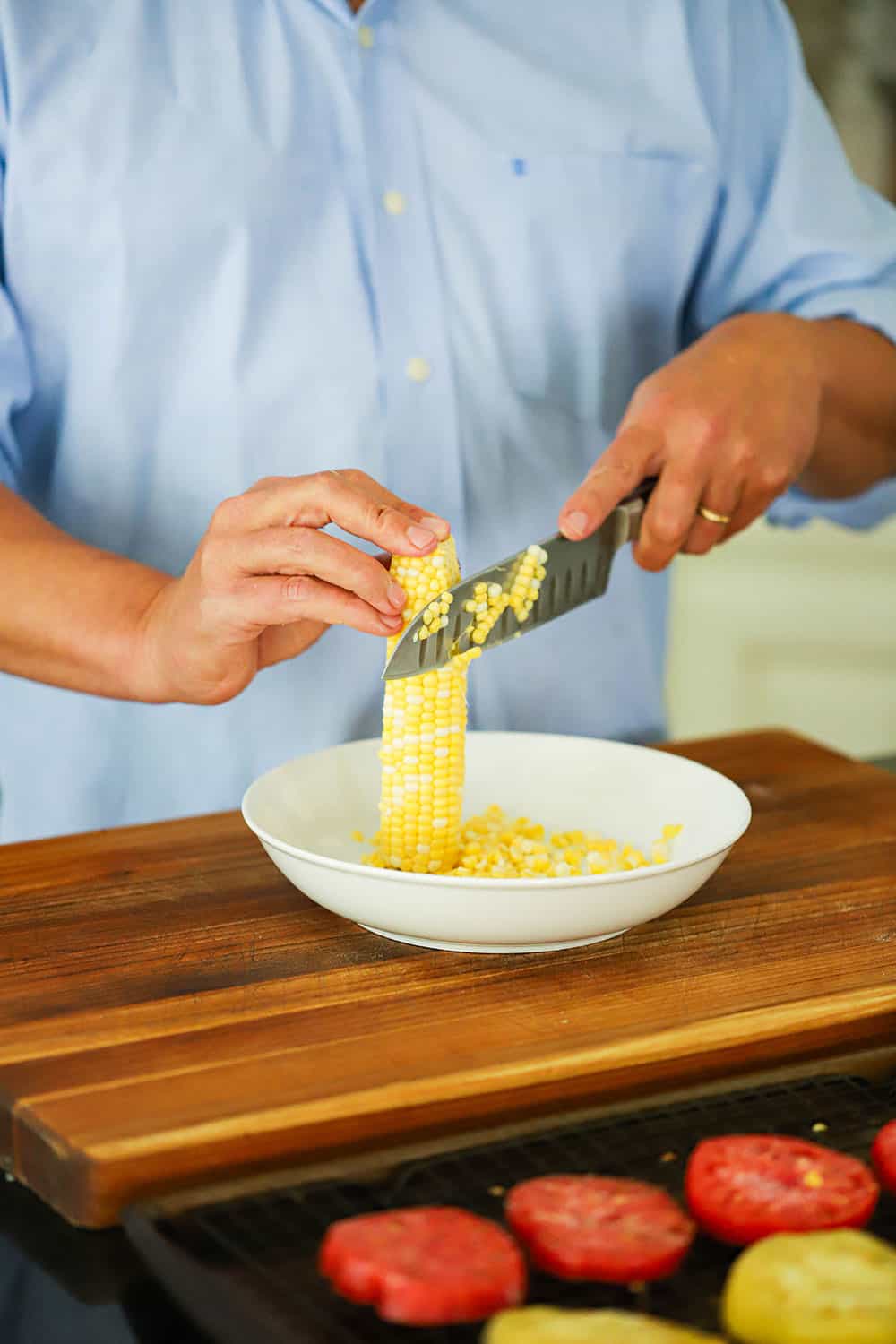 Adding Depth of Fresh Flavor
Fresh herbs will always brighten up a savory dish such as this wonderful tart.
We simply heat a couple of tablespoons of olive oil in a medium saucepan and then sauté sliced scallions and garlic until soft, about 2 minutes.
Add the fresh corn kernels and cook for another minute.
Turn off the heat and stir in fresh basil and thyme. Season with salt and pepper.
EXPERT TIP: We think basil and thyme work perfectly in this recipe, but you could go with your favorite herbs, or whatever is available to you. Oregano, sage, marjoram, tarragon, and parsley are all wonderful substitutions. If using dried herbs, cut the quantity in half. The corn and herb mixture can be made up to 1 day in advance.
After adding the corn mixture and then the sliced gruyere cheese into the bottom of the pastry-lined tart pan, it's time to layer the tomatoes.
Obviously, tomatoes vary in size. You're going to use about 1 lb of tomatoes for this tart.
Arrange the slices over the top of the filling, and use sliced cherry (or grape) tomatoes to fill in open gaps.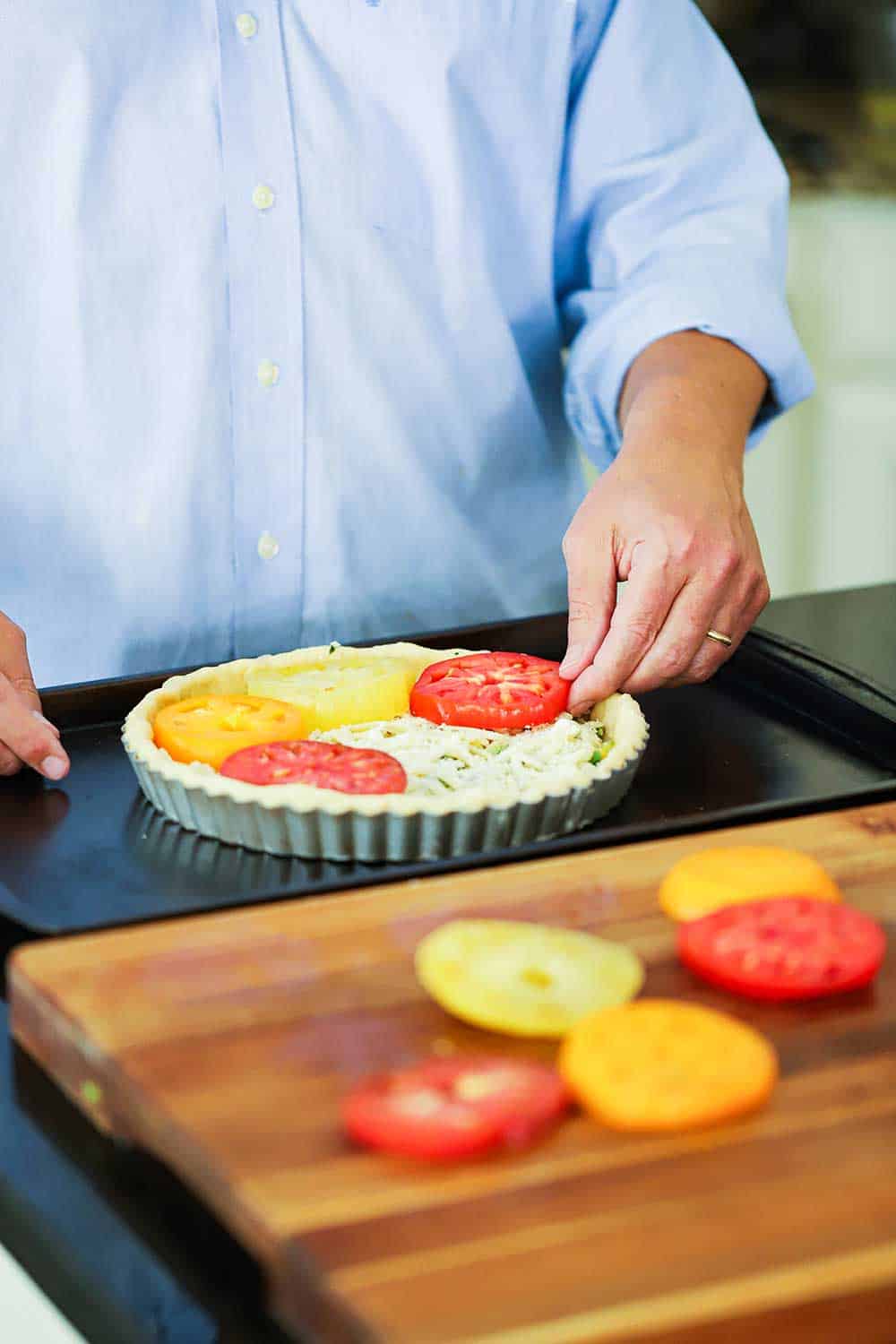 When to Serve the Tart
As mentioned, this tart is wonderful when served warm, but it is also really spectacular served at room temperature.
It's ideal for brunch, or special occasions such as a baby or wedding shower. Another amazing tomato recipe is Cucumber Tomato Salad and Caprese Salad!
Slice and serve! It's wonderful served with our Classic Gazpacho and Best-Ever Chicken Salad!
Besides being absolutely loaded with flavor, this tomato tart with corn and herbs is beautiful in presentation, too.
Be sure to let the tart cool for about 10 minutes before serving, if serving warm.
Refer to the video for the best way to remove the tart from the pan.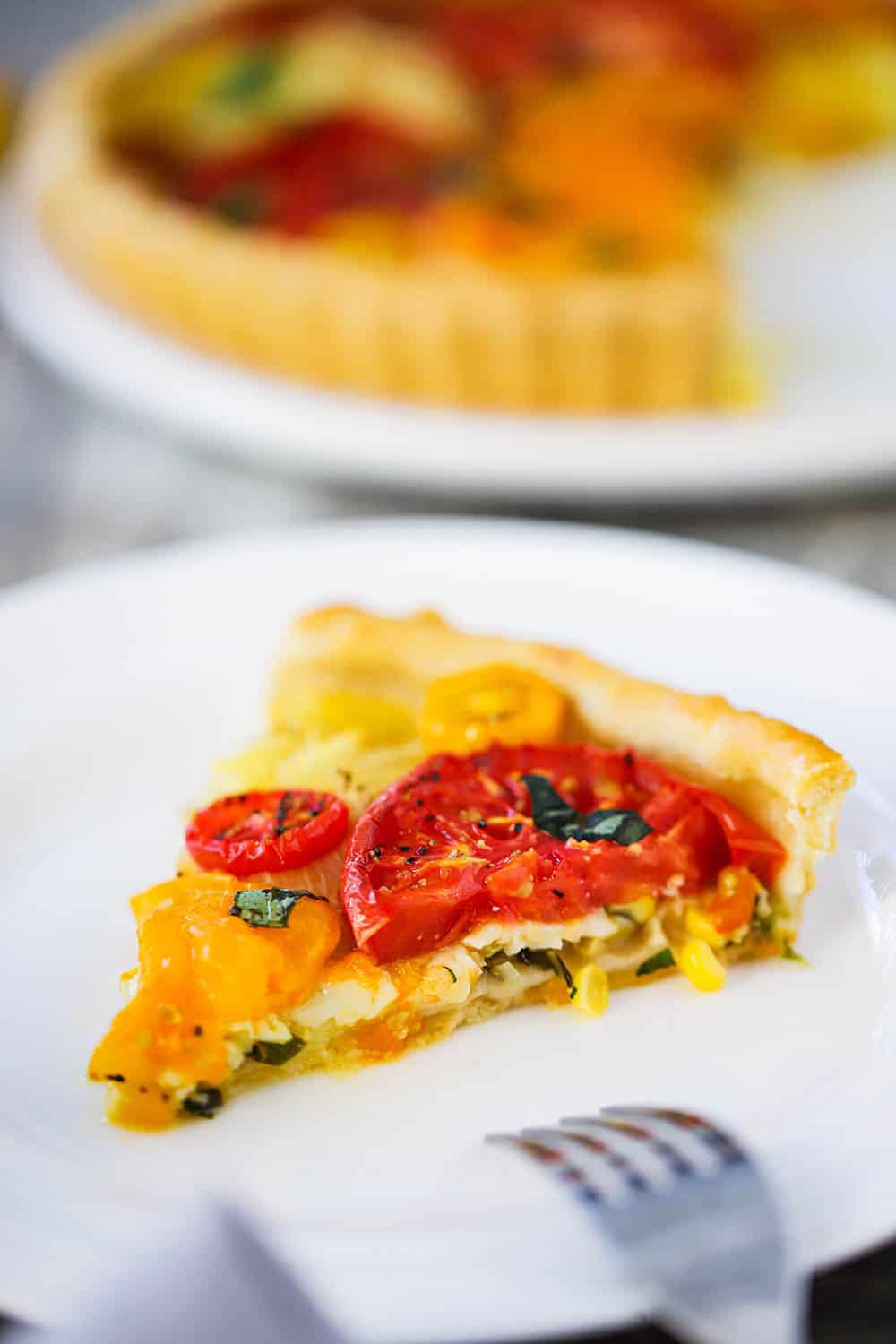 This dish can be made year-round if you can get your hands on fresh vegetables, which most of us can.
But when it's summertime and tomatoes, corn, and herbs are at their peak, it is absolutely the best.
As always, be prepared for lots of "oohs" and "ahhs" when you serve this. And have the recipe handy! It will be requested!
Ready to make the best summertime dish in town? Go for it!
And when you do, be sure to take a photo, post it on Instagram, and tag @HowToFeedaLoon and #HowToFeedaLoon!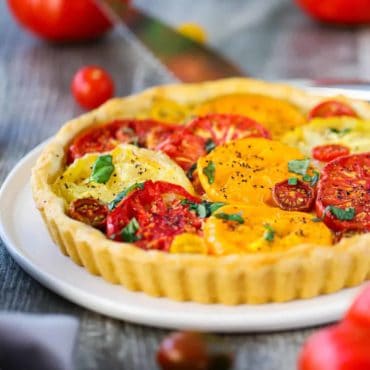 Tomato Tart with Corn and Herbs
This is a summertime delight. We love using fresh heirloom tomatoes, but whatever variety you can get will work wonderfully. Make the easy pie dough ahead of time, and the corn and herb filling, too. Assembly and baking is a snap! Great served warm or at room temp.
Print
Pin
Rate
Servings: 6
Calories: 160kcal
Equipment
9.5-inch tart pan/dish, or pie dish
Ingredients
1 pie dough chilled
all-purpose flour for dusting work surface
1 lb fresh tomatoes large and small tomatoes, cored and sliced
1½ tsp Kosher salt divided
2 tbsp extra-virgin olive oil
3 stalks scallions chopped, green and white parts
4 cloves garlic minced
2 ears corn kernels removed, about ½ cup
¼ cup basil fresh, chopped, plus a little more for garnish
1 tbsp thyme fresh, chopped
½ tbsp black pepper freshly ground
¼ cup Gruyere cheese shredded
Instructions
Roll the chilled pie dough out on a floured work surface to a diameter of about 12 inches. Fold in half, and gently transfer to a tart pan or dish, or a pie dish. Press into the pan along the bottom and sides. Use a knife or scissors to trim away all but about ¼-inch of the dough overhang. Fold the dough back over the edge and press with fingers to cause a double-thick layer of dough along the upper edge of the pan. Place back in the refrigerator.

Place the sliced tomatoes on a baking sheet and sprinkle both sides of the slices with salt. Transfer the slices to a cutting board covered with paper towels. Let sit for 20 to 60 minutes. If paper towels become completely saturated with liquid, transfer the slices to a new set of paper towels.

Preheat oven to 375°F.

In a medium saucepan over medium heat, add the olive oil. Once shimmering add the scallions and garlic and cook until soft and aromatic, about 2 minutes. Add the corn and cook for another 1 minute. Turn off the heat and stir in the basil, thyme, ½ teaspoon salt, and ½ teaspoon black pepper. Transfer the mixture to a bowl and let cool.

Remove the tart pan with dough in it from the refrigerator and place it on a baking sheet. Add the corn/herb mixture, spreading to cover the dough. Next, sprinkle on the cheese, and finally place the sliced tomatoes over the top, overlapping some is okay. Use the halved cherry tomatoes to fill in any gaps.

Place the baking sheet with the tart in the oven and bake for 50 to 55 minutes, until the crust has just started to brown slightly on the edges. Remove from oven and allow to rest for at least 10 minutes. Garnish with additional chopped fresh basil.

If using a tart pan with a removable side and bottom, use oven mitts to lift the sides of the tart pan, allowing the side edge of the pan to fall away. Very carefully slide a metal spatula under the tart and remove the metal base below. Or, simply leave the metal base in place and slice the tart as desired. Serve warm or at room temperature.
Notes
Our Easy Perfect Pie Crust works really well for this tart, but you can certainly go with store-bought pie dough or puff pastry, and still achieve wonderful results. We love using sliced heirloom tomatoes for this dish, but sliced vine-ripened tomatoes, such as Roma, work well, too. We go with large slices and then small cherry or grape tomatoes that we slice in half. Gruyere cheese matches the flavors in this tart wonderfully, but you could also go with shredded mozzarella, Monterey Jack, cheddar, or Fontina, and still have great results. We love using our tart pan with removable sides and bottom, but make sure to place it on a baking sheet before putting it in the oven. Use your oven mitts to lift the baked tart and allow the sides to fall away. Be careful when removing the base from the tart. The more the tart cools the easier it is to remove the base of the pan. We often just add the tart (with the base still in place) on a plate and serve as is. Just be careful when slicing. This tart is great served warm or at room temperature. Although, we do recommend serving it within a couple of hours of baking.
Nutrition
Calories: 160kcal | Carbohydrates: 16g | Protein: 4g | Fat: 9g | Saturated Fat: 3g | Cholesterol: 6mg | Sodium: 717mg | Potassium: 66mg | Fiber: 1g | Sugar: 1g | Vitamin A: 220IU | Vitamin C: 4mg | Calcium: 78mg | Iron: 1mg