This gorgeous quiche is loaded with all of our favorite morning-time ingredients and can be enjoyed at any time of the day!
We love this quiche because it is so perfect for feeding hungry loved ones during the holiday season. Or, for that matter, a quiet weekend at home with just two or three. No matter, the combination of flavors makes this our most favorite quiches of all quiches. It's really that good.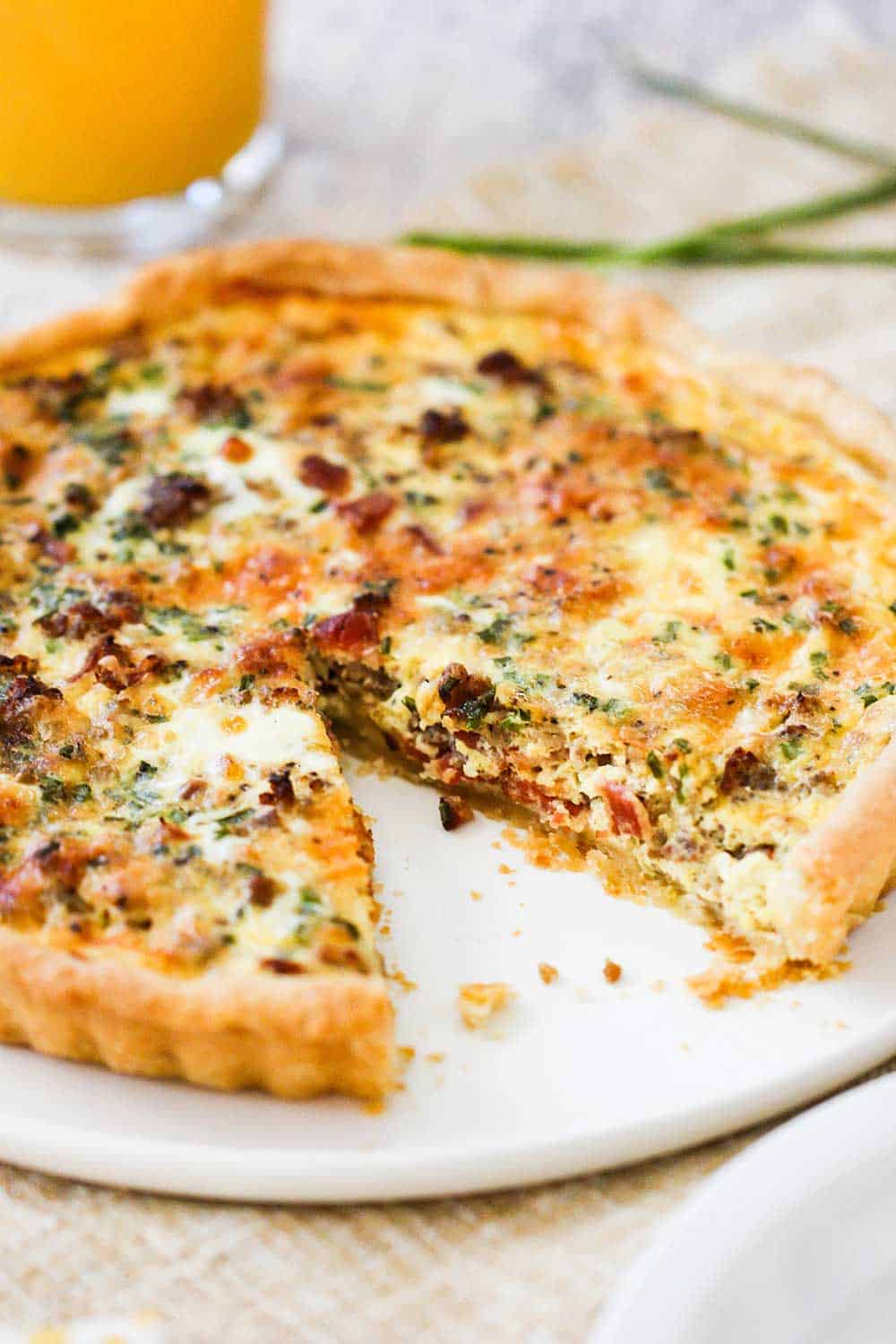 BREAKFAST QUICHE IS EASY TO MAKE
There are several components of this quiche that make it so special.
First is the homemade crust. It's buttery, flakey, and amazingly delicious. Next are the beloved ingredients including Jimmy Dean Applewood Bacon, Jimmy Dean Premium Pork Regular Sausage, white cheddar cheese, and herbs. Yum.
Watch us show you how to make this amazing Breakfast Quiche in your very own kitchen!
THE HOMEMADE CRUST CAN BE MADE IN ADVANCE
We just can't stress enough about how wonderful it is to serve this breakfast quiche with homemade crust.
You can easily make the dough ahead of time, and then blind bake the crust up to a day before assembling the quiche.
For this recipe, you'll need a 9-inch tart pan with removable bottom, or just a regular 9″ or 10″ ceramic tart pan, or in a pinch, a 9-inch pie dish.
EXPERT TIP: This crust needs to be blind-baked first, which means after forming it into your tart pan, you'll need to add a piece of aluminum foil to cover the bottom of the pie and up the sides. Next, add pie weights (or dried beans) and bake at 375°F for 20 minutes. Before you blind bake, poke holes throughout the dough with the prongs of a fork.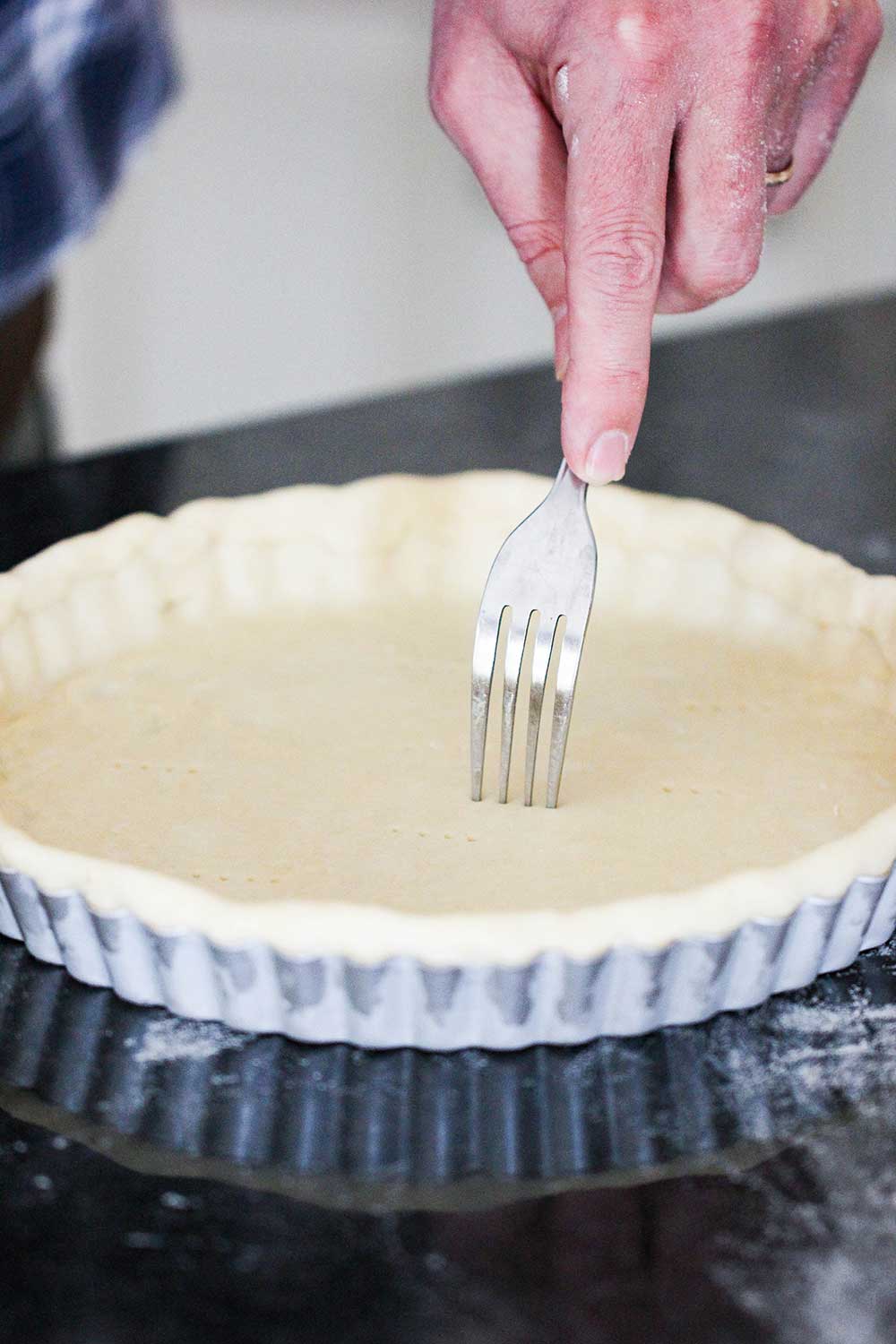 CLASSIC BREAKFAST INGREDIENTS
We can't decide which we like better for a breakfast feast: Crispy applewood bacon or delicious breakfast sausage.
Well, for this Best-Ever Breakfast Quiche, we decided more is better than less. And of course, we had to go with the best of the best, Jimmy Dean!
Jimmy Dean is a brand we all know and trust, so it's no surprise that Jimmy Dean Applewood Smoked Bacon is about as good as you'll ever find. And Jimmy Dean Premium Pork Regular Sausage, with its signature seasonings, is so good, we have it all the time, for breakfast or dinner!
We start by crumbling the bacon right into the pre-baked dough. Then a layer of sausage, then a layer of shredded cheese. Our favorite here is white cheddar, but you can certainly go your favorite type of cheese, just make sure it's a good melting cheese, such as cheddar, jack, Gruyere or fontina.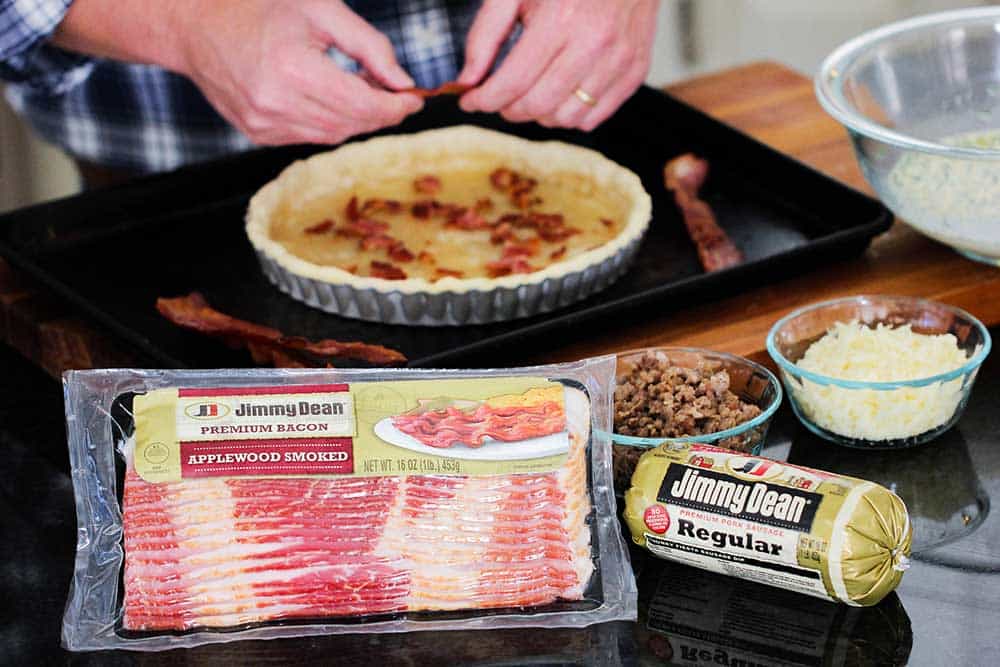 PREPARING THE BREAKFAST QUICHE EGG FILLING
The egg filling is really simple to prepare.
In a medium-sized bowl, you simply add together a couple of large eggs, half and half, Dijon mustard, salt, pepper, and snipped chives.
EXPERT TIP: We like the lightness of half and half cream, however, heavy creamy will produce a luxurious dense custard that is wonderful, too. If you're not a fan of chives, fresh sage is a wonderful alternative. Actually, any of your favorite fresh herbs would work, or, a combination of them!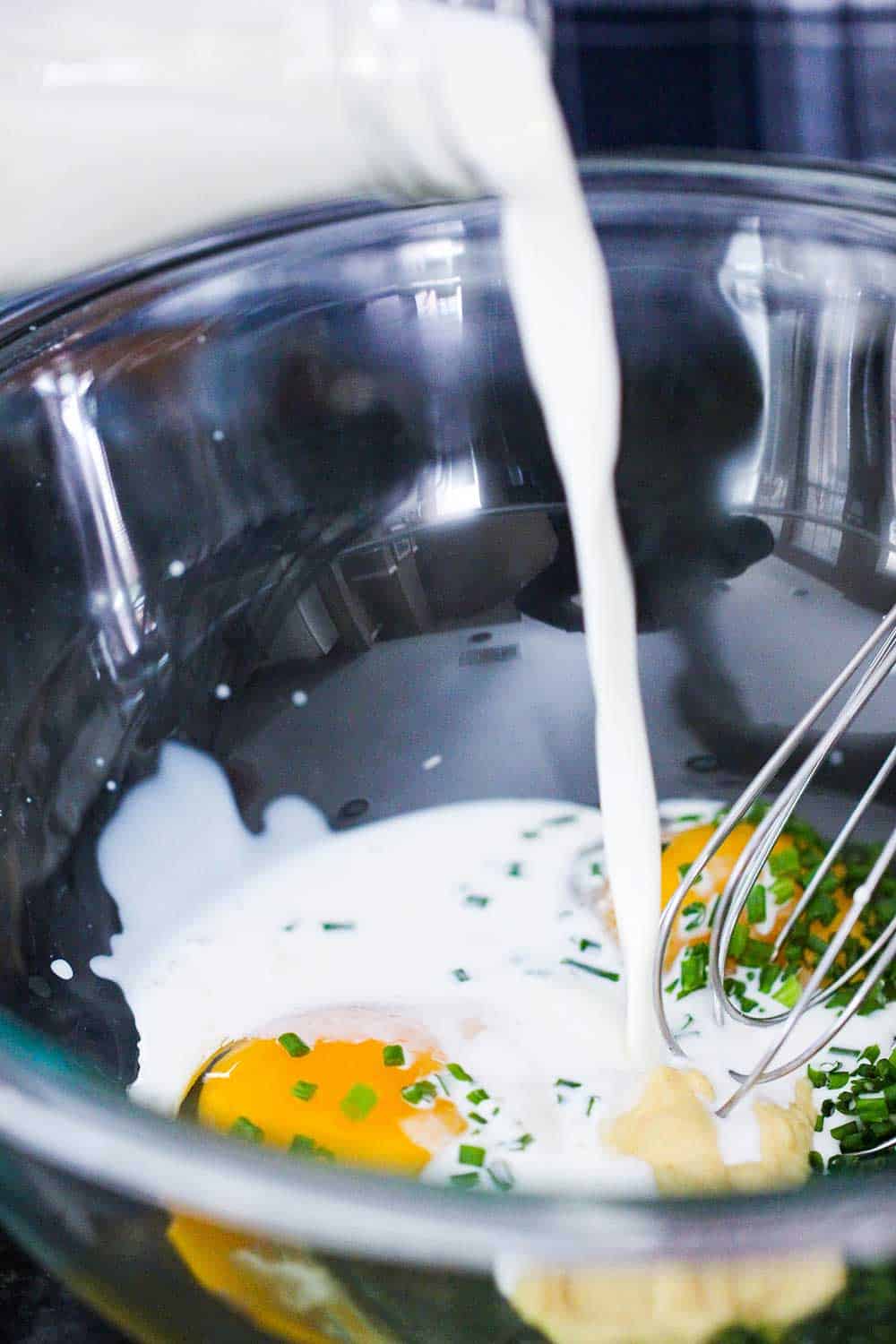 Now, all you need to do is pour the egg and cream mixture over the filling.
You should have just enough of the custard mixture to fill around the bacon, sausage, and cheese.
Oh, this amazing Breakfast Casserole is taking shape, folks!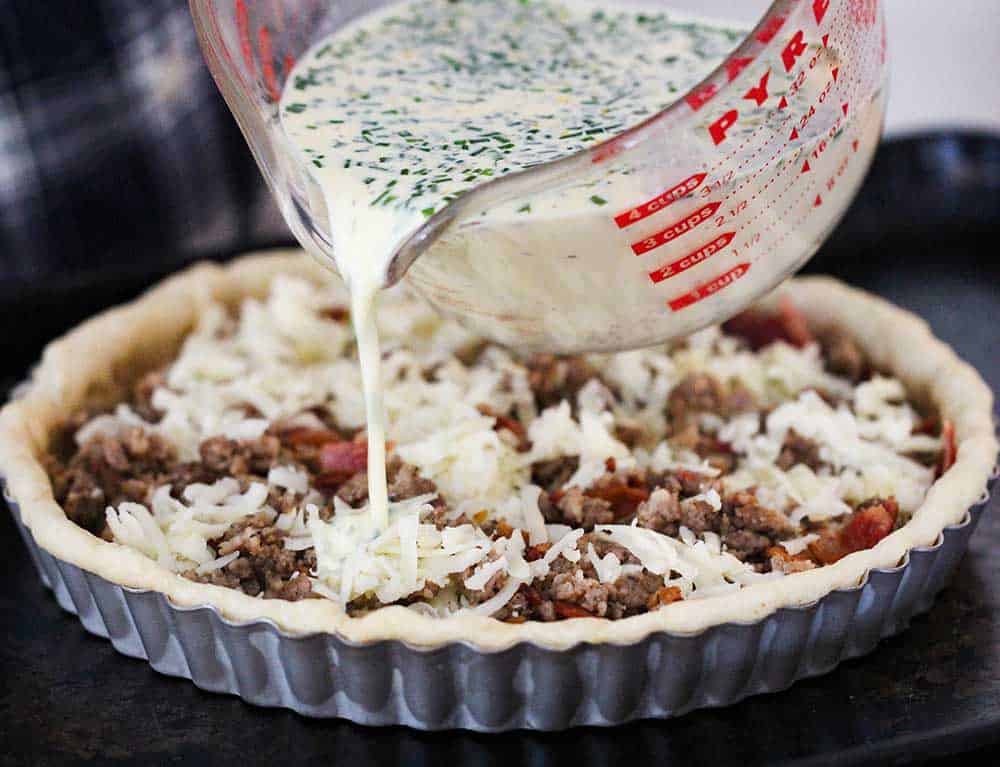 BREAKFAST QUICHE IS PERFECT FOR ENTERTAINING
Quiche has been around for many generations and has been a favorite in our house for years.
This Best-Ever Breakfast Quiche is always a crowd-pleaser.
And here's the great thing, during the holidays, it can easily be prepared a day in advance of serving. Which relieves stress on us and helps up enjoy the lasting memories with loved ones during such a special time.
EXPERT TIP: If using a tart pan with a removable bottom, use a spatula to transfer the cooked quiche (still in the pan) on top of a jar with a lid. The sides of the tart pan will simply fall away. Remove the quiche from the base, if desired, and place on a serving dish. If not serving immediately, wrap in plastic wrap in keep in the fridge. Bring back to room temperature before a serving (a couple of hours on the counter).
JIMMY DEAN'S COMMITMENT TO QUALITY
We have enjoyed Jimmy Dean since we were kids. From the breakfast sausage to delicious applewood smoked bacon, the taste and quality just can't be beat. And of course, we always get them at our favorite place in the world to shop for classic ingredients such as these: Kroger!
The holidays would not be the same without Jimmy Dean. We even use their breakfast sausage in our Cornbread Dressing with Sausage and Cranberries.
And this Best-Ever Breakfast Quiche is just the perfect solution for when you're looking for a satisfying, heart-warming and scrumptious dish to serve to loved ones.
Ready to make the best Breakfast Quiche in the world? Go for it! And if you're looking for another great quiche recipe, try our Brocolli Cheddar Quiche! You might also love our Sheet-Pan Mexican Frittata!
And when you do, be sure to take a picture, post it on Instagram and tag @howtofeedaloon and @krogerco and @jimmydean!
Best-Ever Breakfast Quiche
This Best-Ever Breakfast Quiche is loaded with everyone's favorite breakfast ingredients, from smoked applewood bacon, breakfast sausage, cheddar cheese, herbs, and a perfect custard that cooks and sets to quiche perfection!
Print
Pin
Rate
Servings: 8
Calories: 278kcal
Equipment
9-inch tart pan with removable bottom, or 9 to 10-inch ceramic tart pan, or pie dish
Ingredients
1 tbsp all-purpose flour for rolling out the pie dough
6 strips applewood smoked bacon
8 oz pork sausage breakfast sausage roll, regular
1 cup white cheddar cheese shredded
1 cup half and half or milk, or cream
2 large eggs
2 tbsp Dijon mustard
2 tbsp chives finely snipped, or chopped
½ tsp Kosher salt
¼ tsp black pepper
Instructions
PREPARING THE DOUGH
Roll the dough out on a lightly floured surface to approximately 12 inches in diameter. Fold in half, and then fold over one more time into a fourth.

Transfer the folded dough onto the tart pan. Unfold all the way, and allow the edges to hang over the edge. Gently use your fingers to press the dough against the bottom and the sides of the pan.

Use a pair of scissors, or a sharp knife, to cut away the edges, leaving about a half-inch of dough still hanging over the edge of the pan. Fold the overhanging dough back over into the pan and press it against the dough on the sides of the pan. (It doesn't need to completely reach the base). Use your fingers to adhere the dough together and help to squeeze the dough upward so it rises just about a ⅛-inch around the edges of the pan.

Use a fork to pierce holes all over the dough. Line the dough with aluminum foil, or parchment paper, and place in the freezer for 15 minutes.

Meanwhile, pre-heat your oven to 375°F.

Place the pan on a baking sheet (this is important!) and add a layer of pie weights, or dried beans, over the foil or parchment paper.

Bake until the dough is set and just beginning to brown on the edges, around 20 minutes. Take out of the oven and carefully remove foil and weights (or beans).
PREPARING THE QUICHE
In a large skillet, cook the bacon over medium-high heat until crisp, about 5 to 6 minutes. Place on paper towels to drain.

Meanwhile in a separate pan, or in the same pan that you cooked the bacon, cook the sausage until no longer pink, about 8 minutes. Set aside.

Working in layers, crumble a couple of slices of the bacon into the dough-lined pan. Next, add a layer of the cooked sausage and then a layer of cheese. Repeat with remaining bacon, sausage, and cheese.

In a medium bowl, whisk together the half and half, eggs, mustard, chives, salt, and pepper until fully combined.

Carefully pour the egg/cream mixture over the bacon/sausage/cheese mixture until the pan is full.

Return the pan (still on the baking sheet) to the oven and bake until the quiche is puffed and slightly golden on top, about 35 minutes. Let cool before removing from the pan. (See Notes). Serve warm or at room temperature.
Notes
If using a tart pan with a removable bottom, be sure to place the pan on a baking sheet before blind baking the dough, as well as when baking the quiche. If you don't, the bottom may pull away from the sides when removing from the oven. Once the quiche has finished baking, let cool on the baking sheet until cool enough to handle (around 30 minutes). Use a spatula to lift the tart pan by inserting it underneath. Carefully place the tart pan onto a jar with a lid, allowing the sides of the pan to fall away. Use the spatula to carefully remove the quiche from the base and place on a serving dish, if desired. (See video for how we do this, it's recommended to have an extra pair of hands to assist in removing the quiche from the tart pan) The dough can be blind baked up to 8 hours before baking, or, overnight. Fresh herbs, such as sage, can be substituted for the fresh chives. Fresh thyme, rosemary, and parsley are delicious additions, as well. The quiche will keep for up to 1 week in the refrigerator and will freeze nicely for up to 1 month. It can be served warm or at room temperature.
Nutrition
Calories: 278kcal | Carbohydrates: 3g | Protein: 13g | Fat: 18g | Saturated Fat: 8g | Cholesterol: 110mg | Sodium: 598mg | Potassium: 181mg | Fiber: 1g | Sugar: 1g | Vitamin A: 379IU | Vitamin C: 1mg | Calcium: 146mg | Iron: 1mg