This post is kindly sponsored by OZO Foods, but the recipe, photography, video, and opinions are 100% ours.
We just love a good Mexican breakfast casserole, and one that's not too difficult to prepare, especially during the festive holiday season, is even better!
Creating a deeply flavorful Mexican frittata in a sheet pan is an amazing way to please a large hungry family and keep everyone happy. And we're thrilled to have partnered with our friends at OZO Foods to create a recipe that's not only delicious but also naturally nutritious!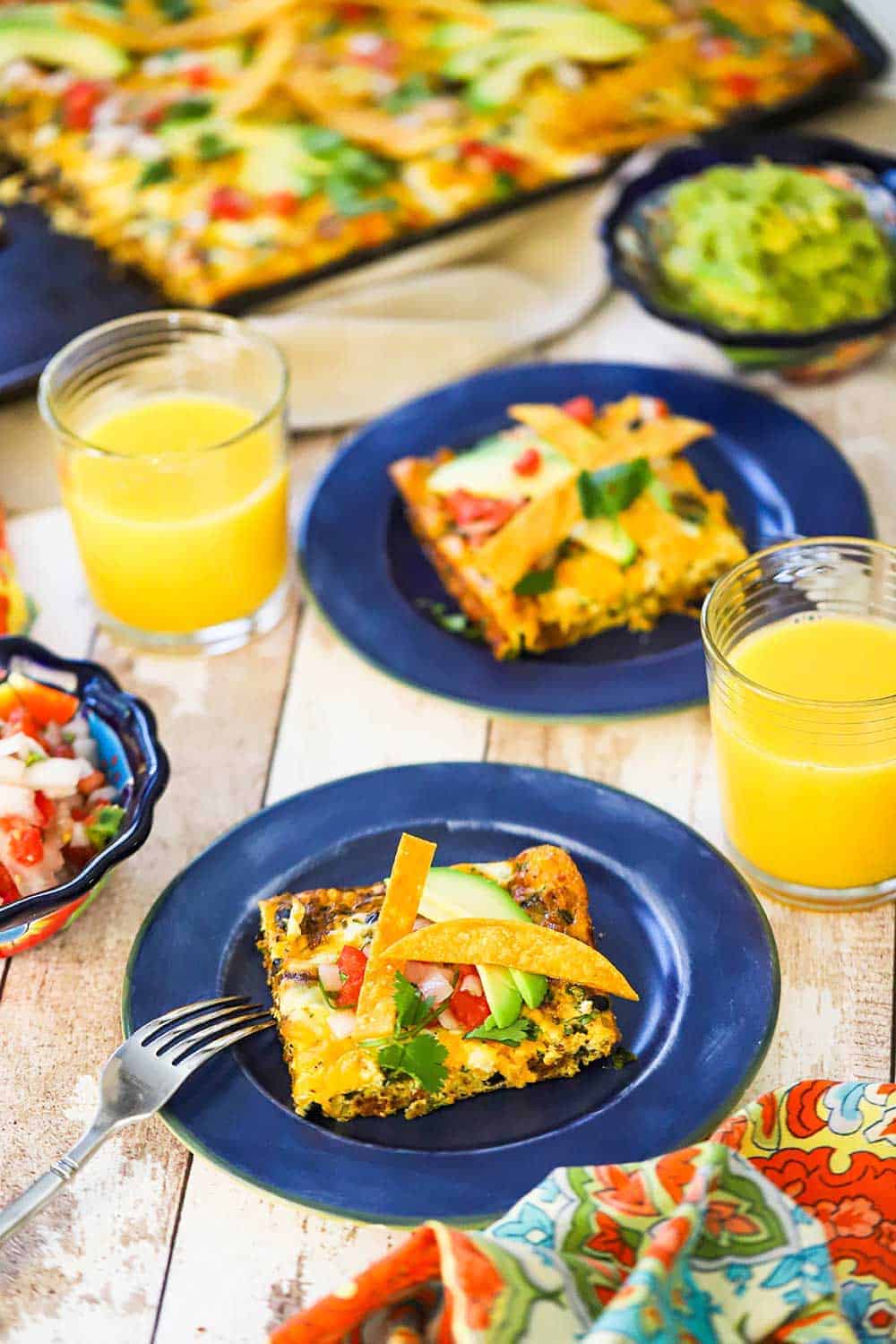 How To Make Sheet-Pan Mexican Frittata
This incredible frittata recipe is wonderful any time of the year or even any time of the day for that matter.
But we especially love to serve this during the holiday season. It's fun, festive, easy to prepare, and feeds a big hungry family ready to enjoy in the holiday spirit.
Adding Nutritional Value Without Losing Flavor
Of course, you could prepare this Mexican frittata with a protein such as chorizo, breakfast sausage, seasoned beef or pork.
But the brilliant folks at OZO Foods have a philosophy called "flexitarian" that we try to incorporate into our daily meal planning. Skip the meat, but not the eggs and cheese! And with OZO Plant-Based Mexican Seasoned Ground, you honestly will not even realize it's not perfectly seasoned meat! It's that good!
EXPERT TIP: OZO Plant-Based Mexican Seasoned Ground packs big, bold taste in delicious ground crumbles. Additional seasoning is not needed in order to get that classic delicious Mexican/Tex-Mex flavor. We start off by sautéing some onion and chopped poblano pepper. Add in the OZO Plant-Based Mexican Seasoned Ground, then finish it off with sweet corn and savory black beans!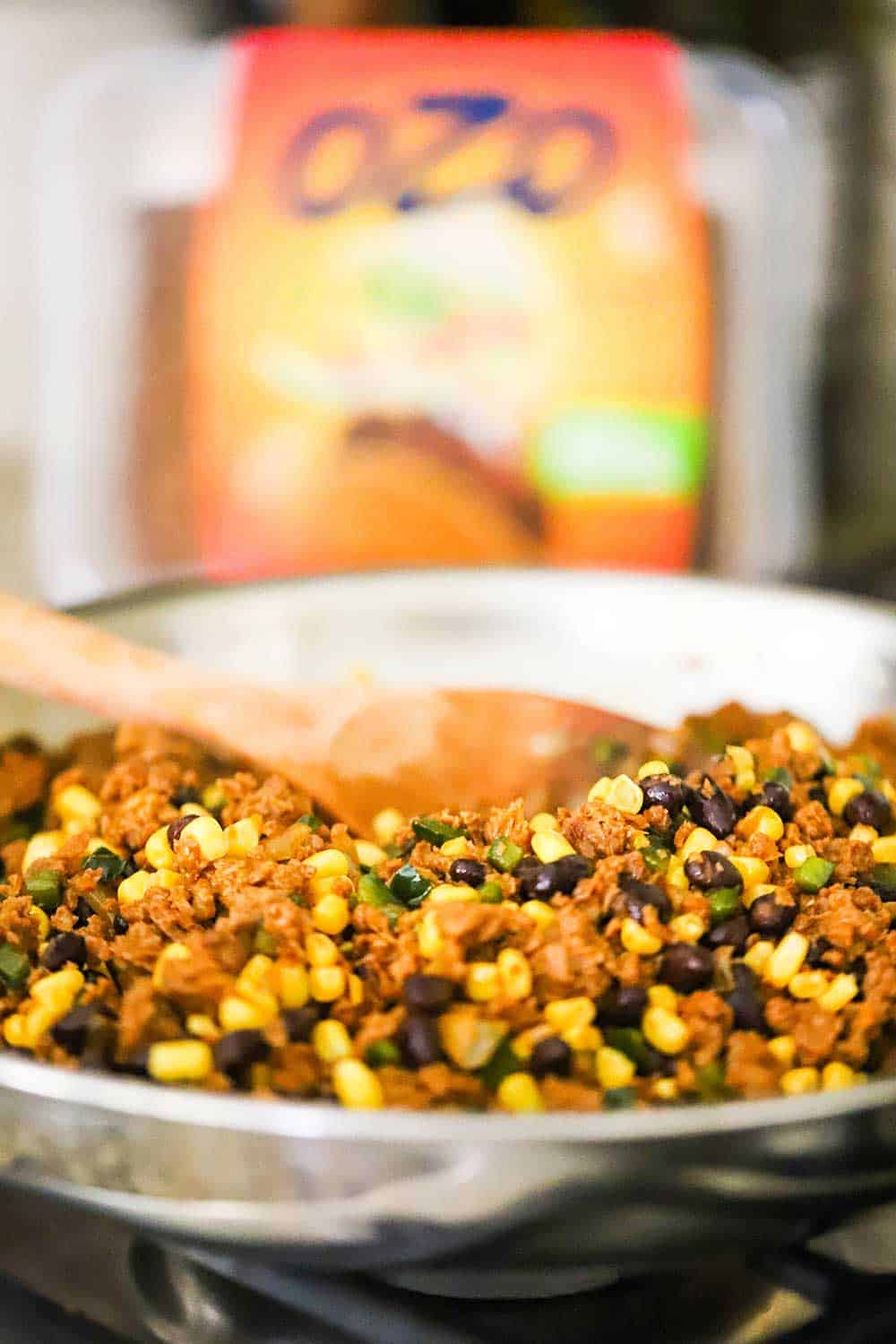 Now, it's time to start having some fun.
Get out your sheet pan, we find that a standard 11″ x17″ works perfectly. Grease it with a little butter or cooking spray.
And simply spread the mixture all across the bottom of the pan.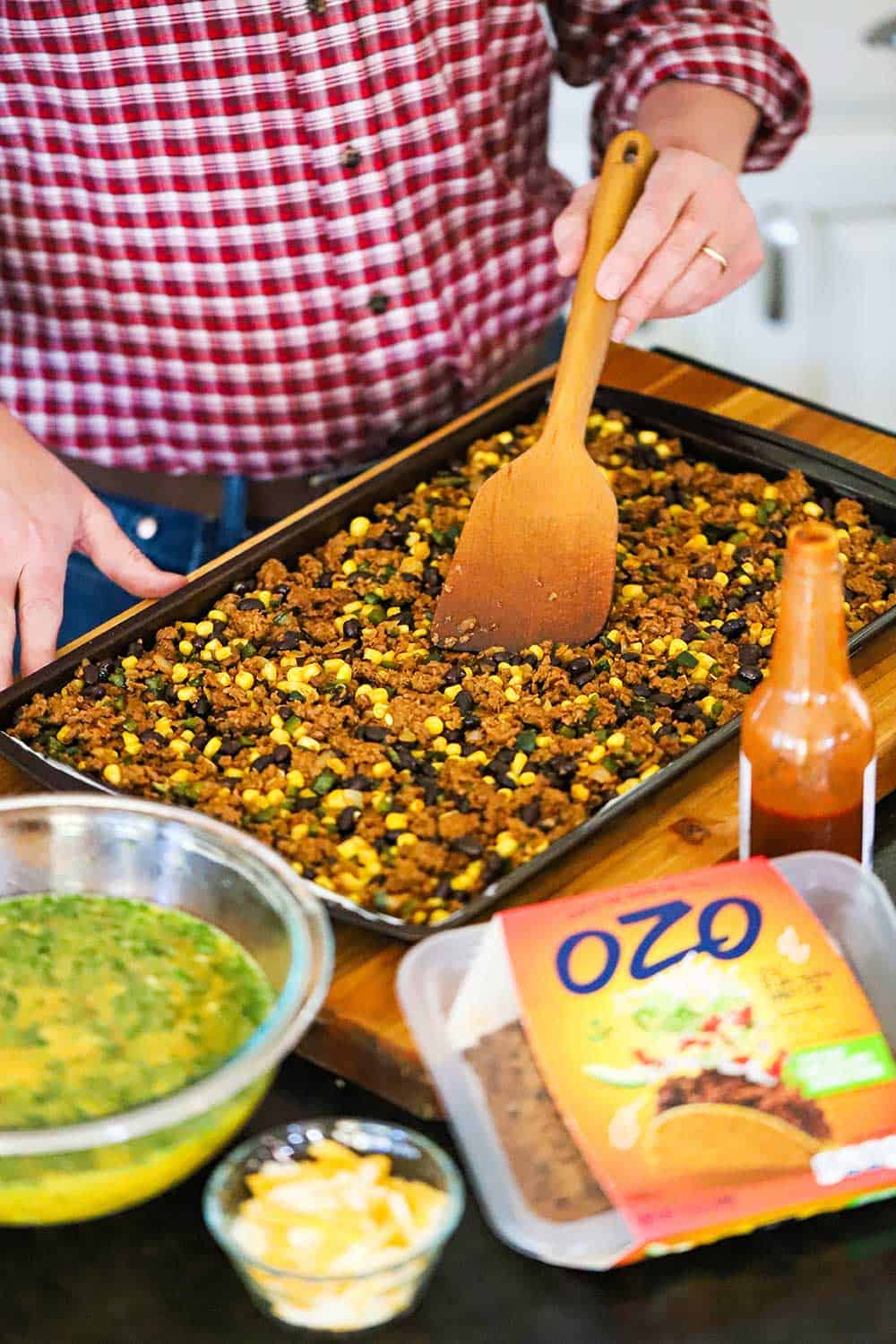 What Is a Frittata?
You may be wondering what exactly a frittata is, and how is it different from, say, an omelet.
It's actually an Italian dish that is loaded with lots of eggs and wonderful fillings ranging from protein to vegetables. It's usually baked.
EXPERT TIP: Did we say loaded with eggs? Yes, we did. It may seem like an awful lot, but this Mexican frittata calls for 18 eggs. Don't worry, if you're going with an 11″x17″ baking pan, it will fill in over the protein mixture perfectly. Cilantro, shredded cheddar and Monterey Jack, and little hot sauce add incredible flavor to the eggs.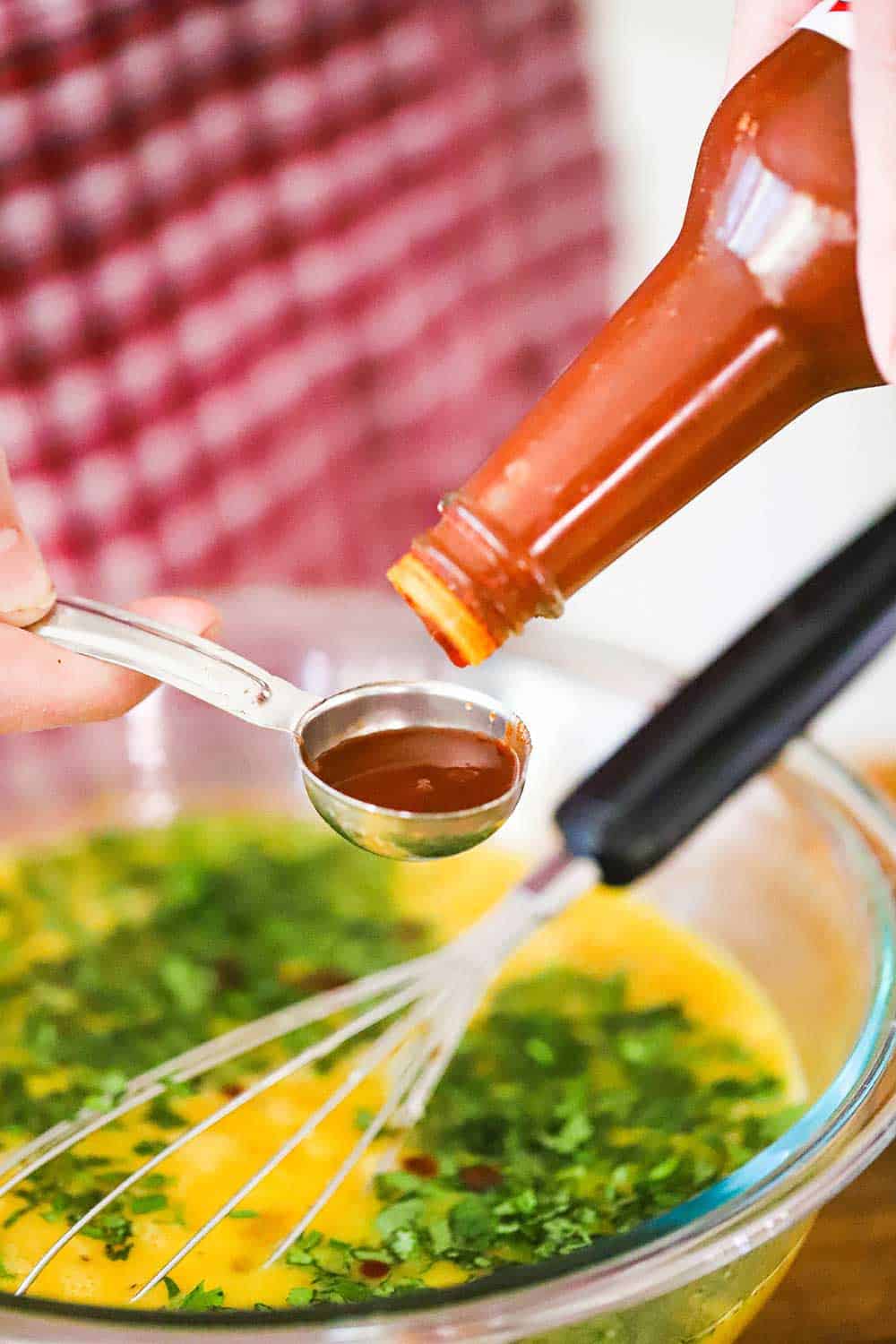 Now, it's time to transfer all those eggs to the pan.
Don't worry, it may seem like it won't all fit, but trust us…you'll be just fine.
EXPERT TIP: We recommend placing the egg mixture in a 10 cup measuring cup to pour over the protein mixture or use a ladle to spread it evenly over the top.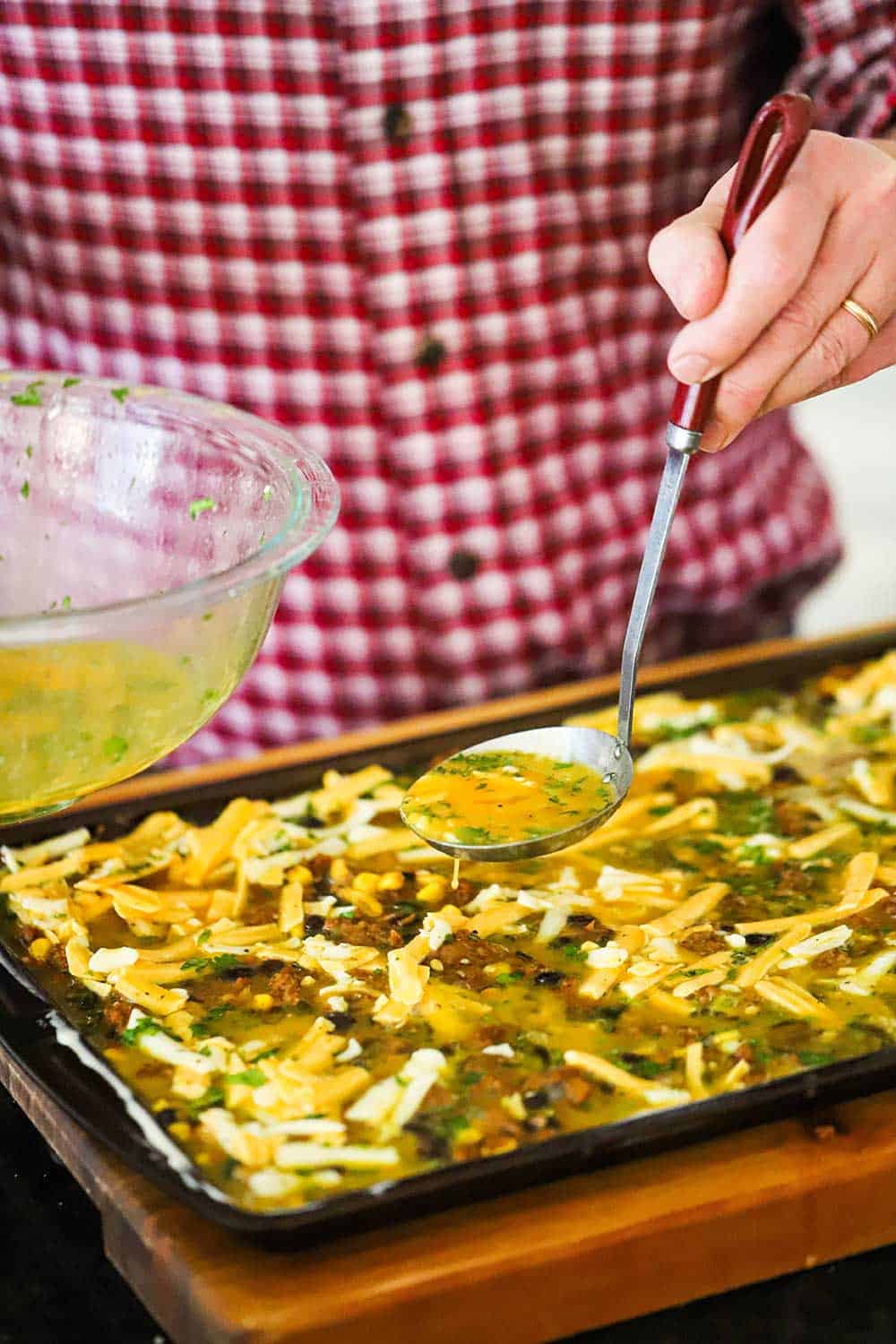 What to Serve with Sheet-Pan Mexican Frittata
As with so many Tex-Mex or Mexican dishes, the items you serve along with the main dish elevates the taste and overall joyful experience even more.
We love serving this breakfast frittata recipe with our homemade pico de gallo, restaurant-quality salsa, and avocado slices (or guacamole).
EXPERT TIP: Fried corn tortillas strips add a little crunch to the dish as well as that classic Mexican look and feel. Making them is a snap and can be done up to a day in advance. Simply grab 4 or 5 yellow corn tortillas and cut them into ½-inch strips. Pour enough oil into a medium-sized sturdy pot and heat over medium-high heat. Toss the strips in and cook for about 1 minute. Drain on paper towels and lightly salt!
And did we mention how quickly the frittata bakes and is ready to serve?
Crank your oven up to 450°F and then place in the oven for only 13 to 15 minutes.
The eggs will puff up a little bit, which is completely normal. After letting the frittata rest for about 5 minutes, it will have settled and will be ready to serve. We slice it into 12 large pieces and remove each slice from the pan with a spatula.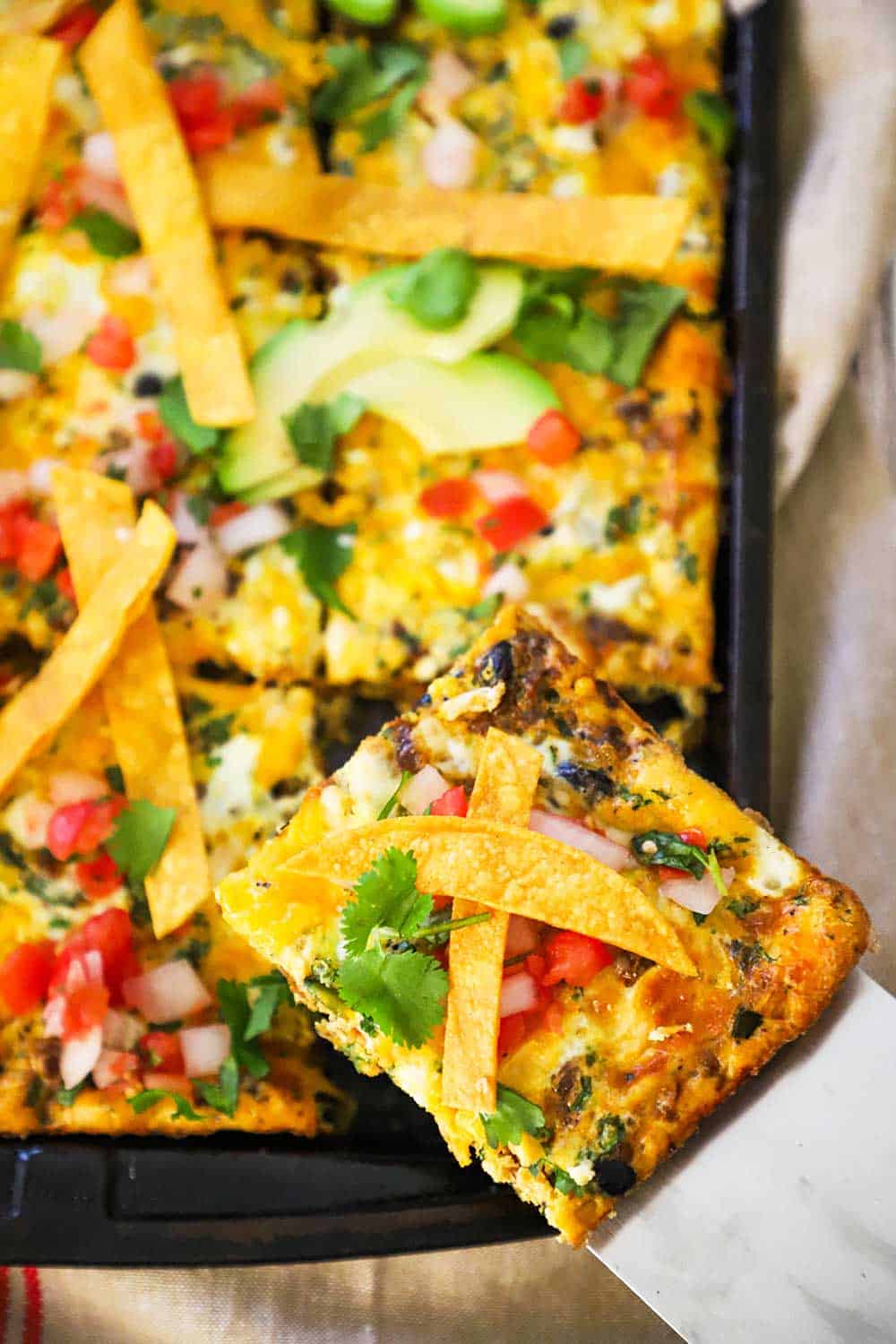 Quality Ingredients Make the Perfect Frittata
There is a reason this Mexican frittata is so incredibly flavorful: The simplicity and freshness of clean ingredients, including fresh peppers, sweet corn, black beans, and of course, those classic Mexican flavors. It all adds up to a family-friendly breakfast that is so satisfying and delicious in so many ways.
We can say without one hesitation of doubt that OZO Foods has completely raised the bar on plant-based protein offerings. In addition to this incredible Protein-Based Mexican Seasoned Gound, OZO also offers Plant-Based Burgers and Plant-Based Ground. The sky is the limit with these delicious products! Check out our Plant-Based California Burgers, and then also our Vegetarian Pasta Bake and our Stuffed Acorn Squash, both featuring Protein-Based Ground. They are the bomb!
As you all know, we think eating delicious food is one of the greatest joys in life – and OZO meets us at the culinary intersection of superior taste, nutrition, and convenience.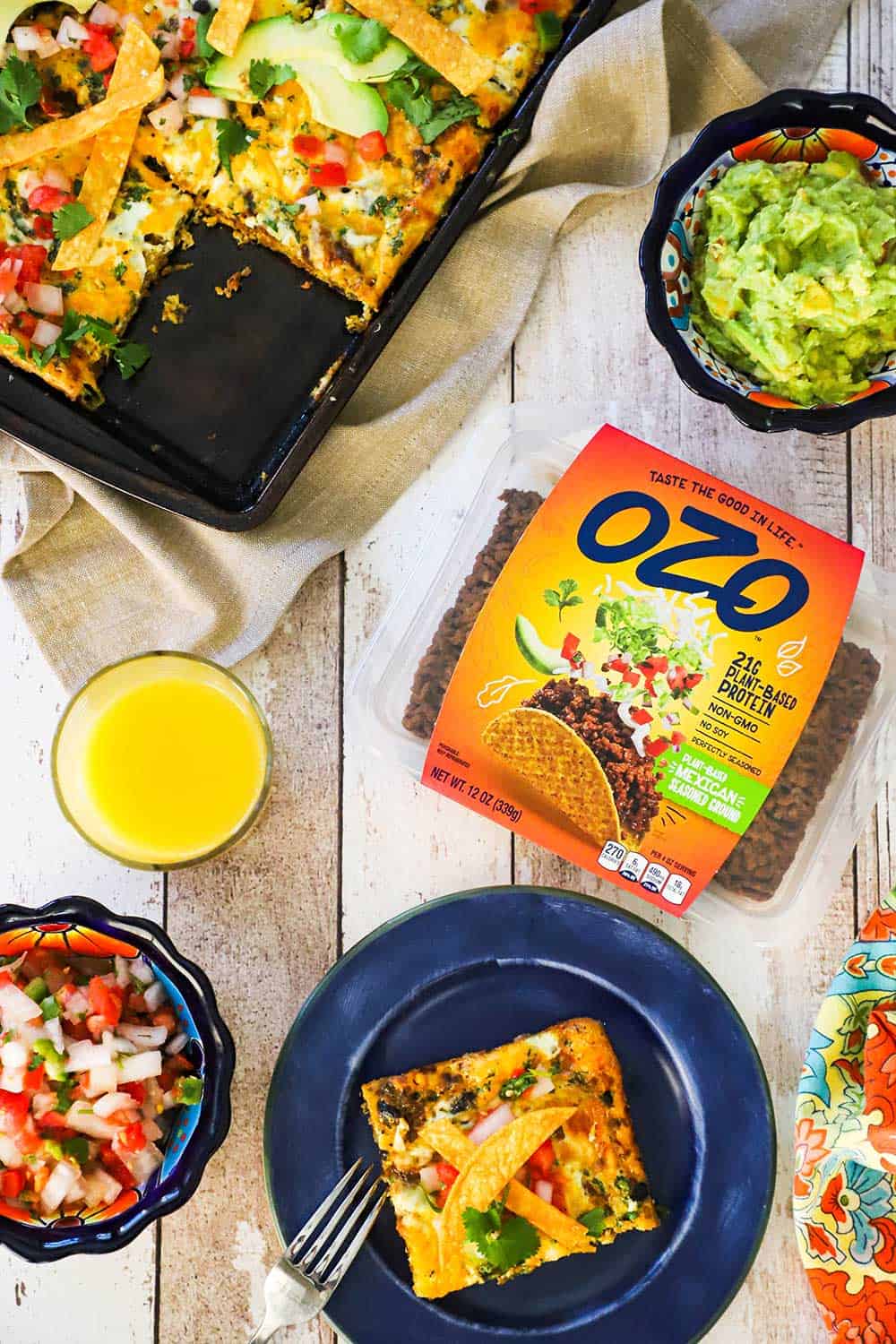 If you're looking for a breakfast dish that will not only excite your family and friends, especially during the holiday season, but also fills them with superior Tex-Mex taste, then look no further.
And what's even better, you can feel good about increasing nutritional value in the dish without sacrificing taste or texture. It's a win/win situation, and what could be better than that?
And preparing the dish in a standard sheet-pan will ensure that no one will be leaving breakfast hungry!
A Mexican Frittata with all the classic fixings is the perfect holiday breakfast!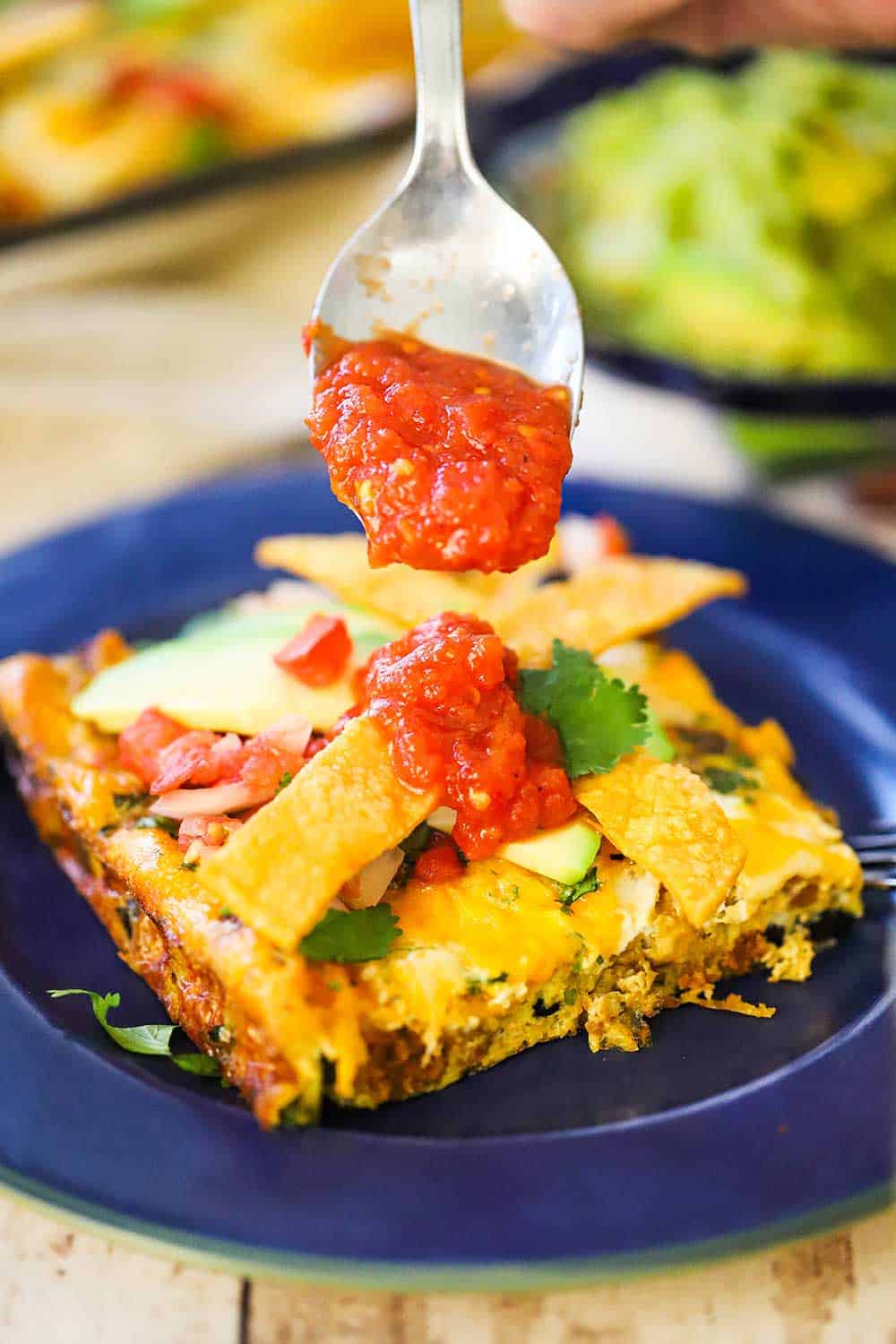 Ready to make a breakfast that your family will be asking for time and time again? Go for it!
And when you do, be sure to take a photo of it, post it on Instagram, and tag @HowToFeedaLoon and @OZOFoods!
Sheet-Pan Mexican Frittata
This Sheet-Pan Mexican Frittata is loaded with those classic Mexican/Tex-Mex flavors that we all love so much. And it makes enough to serve a large hungry family. Especially wonderful on a holiday morning, but also incredible any time of the year!
Print
Pin
Rate
Servings: 12
Calories: 298kcal
Equipment
11"x17" rimmed baking sheet
Ingredients
4 tbsp unsalted butter divided
1 cup onion chopped
1 poblano pepper seeded and chopped
12 oz OZO Plant-Based Mexican Seasoned Ground thawed
1 cup corn fresh or frozen
1 cup black beans canned, drained and rinsed
18 large eggs
¼ cup cilantro chopped, plus more for garnish
2 cups cheese shredded, combo of cheddar and Monterey Jack, divided
1 tsp Kosher salt
½ tsp black pepper freshly ground
1 tbsp hot sauce optional
1 cup Pico de gallo for garnish
1 Avocado sliced, for garnish
corn tortilla strips
1 cup salsa for serving
Instructions
Preheat oven to 450°F and use 2 tbsp of softened butter to grease the baking pan (or use cooking spray).

Heat the remaining 2 tbsp butter in a large skillet over medium-high heat.

Add the chopped onion and poblano pepper and cook, stirring frequently, until soft and translucent.

Mix in the OZO Plant-Based Mexican Seasoned Ground. Stir until fully cooked and the sautéed vegetables are mixed into the mixture, 4 to 5 minutes total. Turn off the heat.

Stir in the corn and beans. Transfer the mixture to the prepared baking dish and spread out evenly with a spatula.

In a 10-cup measuring cup, or a large bowl, add the eggs, cilantro, 1½ cups of the cheese, salt, pepper, and hot sauce. Use a whisk to lightly beat the eggs and mix everything together. Carefully pour the egg mixture all over the protein/corn/bean mixture. Top with the remaining ½ cup of cheese.

Bake for 12 to 15 minutes, until lightly browned on top and the eggs have set. Remove from oven and let rest for 5 minutes. Slice into 12 pieces.

Serve at once with pico de gallo, freshly chopped cilantro, avocado slices, and salsa.
Notes
Allow the protein-based Mexican seasoned ground to thaw for 24 hours in the refrigerator. Fresh poblano peppers can be found in the produce section of most well-stocked markets. You can substitute canned green chilis, too. These can be found in 4 oz. cans, whole or chopped, in the Mexican aisle. These peppers are mild and carry very little heat. A green bell pepper can be substituted. Jalapeno peppers can also be substituted, but you will increase the heat level. One for mild heat, 2 for medium heat. The frittata can also be made in a 12-inch cast-iron skillet or 9"x13" casserole dish. If you want to cut the recipe in half, then use an 8-inch or a 9-inch square baking pan, or an 8-inch cast-iron skillet, or any baking dish that is close to any of these vessles. If you prefer to use meat protein in place of plant-based protein, you can use Mexican chorizo, seasoned beef, breakfast sausage, or seasoned pork. Left-over frittata can be gently reheated in a 250°F oven for 15 to 20 minutes, or heated in a microwave in 30-second intervals until the desired temperature is reached. The protein/corn/bean mixture can be made up to 24 hours in advance. The entire frittata can be made up to 12 hours in advance (before baking). Loosely cover with foil and refrigerate. Remove the foil and bake for 15 to 17 minutes (if still chilled from the fridge).
Nutrition
Calories: 298kcal | Carbohydrates: 14g | Protein: 17g | Fat: 12g | Saturated Fat: 4g | Cholesterol: 309mg | Sodium: 734mg | Potassium: 381mg | Fiber: 3g | Sugar: 5g | Vitamin A: 1022IU | Vitamin C: 14mg | Calcium: 195mg | Iron: 2mg