This post is kindly sponsored by OZO™, but the recipe, photographs, video, and opinions are 100% ours.
If you're looking for a healthy pasta dish that does not compromise on flavor, you've come to the right place.
If you know much much about us, you know that we are just crazy for a delicious bowl of homemade pasta. And, that includes a delicious meat sauce. But folks, when you take your first bite of this robust sauce, bursting with those classic Italian layers of flavor that we all know and love so well, you'll be sold.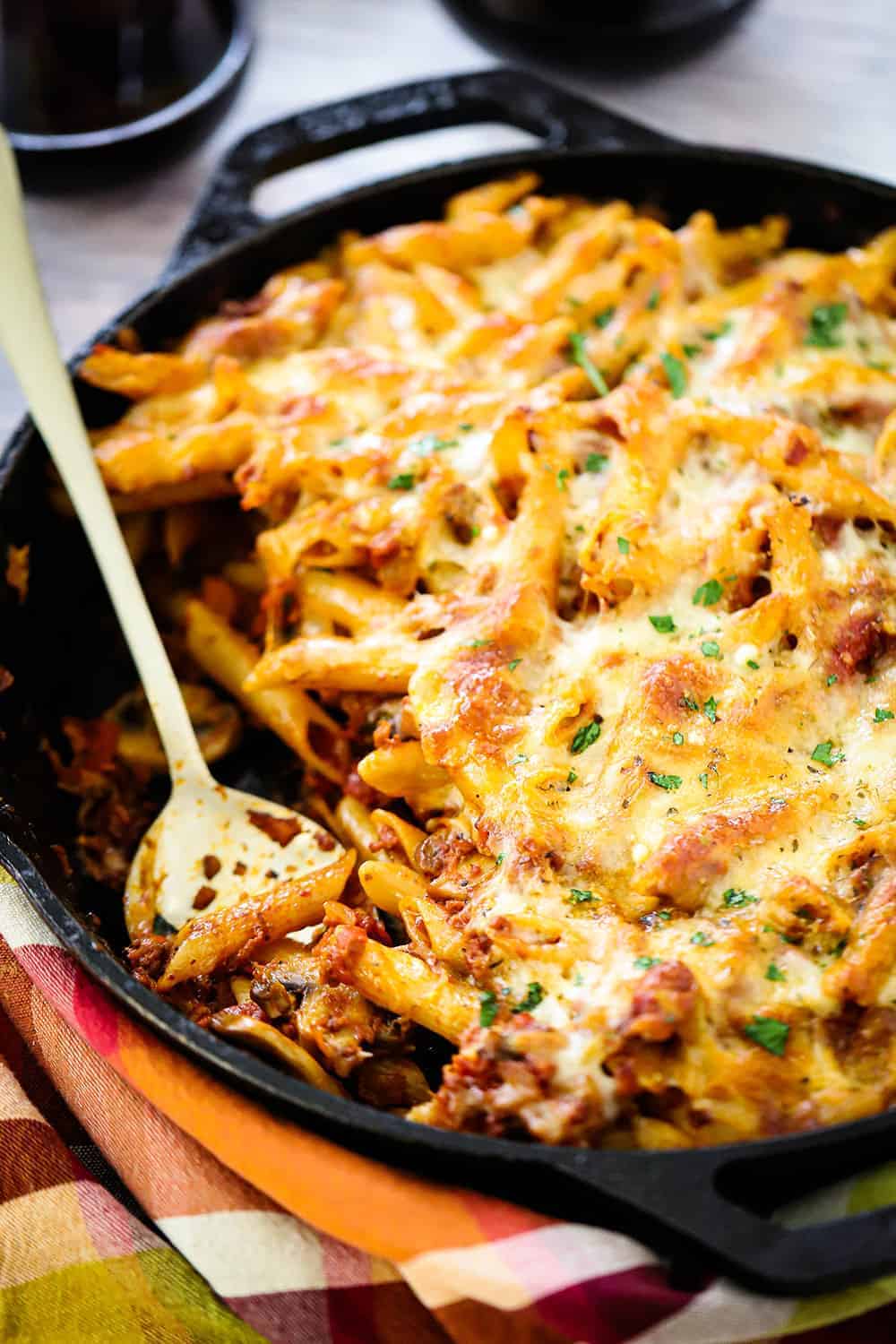 How To Make Vegetarian Pasta Bake
This recipe has become one of our go-to pasta recipes, especially on a busy weeknight.
The sauce can be made in advance and assembly is a snap!
You can really adapt this recipe with your favorite ingredients.
We absolutely love the addition of sautéed mushrooms and the holy trinity of vegetables – onions, carrots, celery (mirepoix).
EXPERT TIP: For the mushrooms, we go with sliced button (white) mushrooms. Shiitake, baby bella, and porcini are all wonderful options or a combination of them. If using dried mushrooms, always follow package instructions for rehydrating them before cooking with them. Sauté them with olive oil, and simply season them with salt and pepper. Cook the mirepoix in the same skillet (with mushrooms removed) until just tender.
OZO Plant-Based Protein is Naturally Delicious
We are so thrilled to have partnered with OZO™ for this incredible vegetarian pasta dish.
The OZO Plant-Based Proteins are straightforward and include no artificial ingredients. Even though they are certified vegan, they are also perfect to use in a "flexitarian" diet. In other words, skip the beef, but not the cheese! This Protein-Based Ground features a high-quality pea protein that is a great source of iron and has been known to aid in muscle growth, weight loss, and heart health.
A little red wine, along with the vegetables, San Marzano tomatoes, and herbs make this a sauce that honestly tastes as good as the sauce at your favorite Italian restaurant. It's really that good.
EXPERT TIP: Keep the OZO Plant Base Ground frozen until about 24 hours before you're ready to cook with it. Just transfer it to the refrigerator and it will thaw perfectly.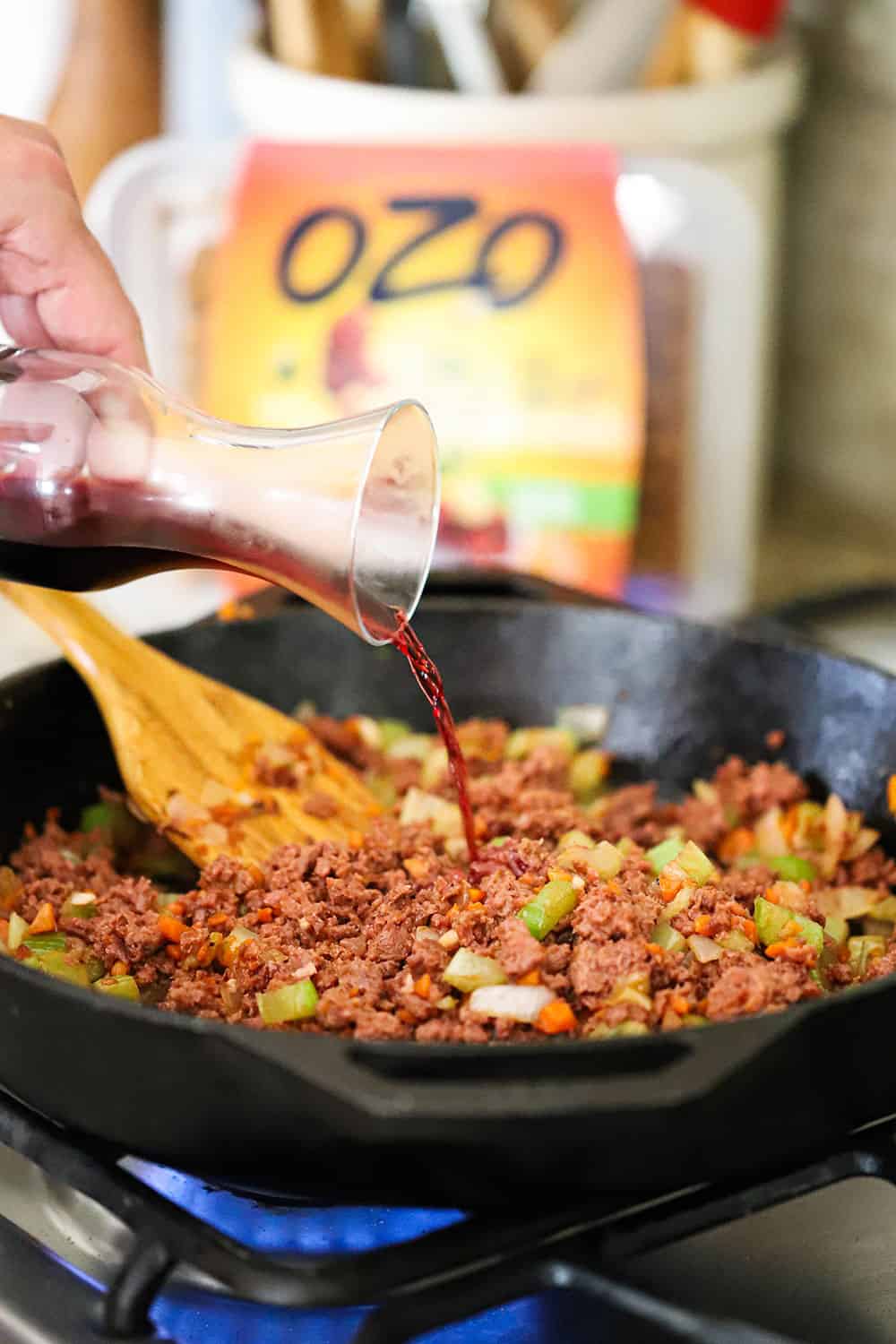 Choosing the Best Pasta
Now it's time to add the pasta to the party.
We love using a medium-sized pasta for our Vegetarian Pasta Bake, but you really can't go wrong with whatever you have on hand.
Here are the types of pasta we recommend:
Penne
Rigatoni
Ziti
Farfalle
Campanelle
Fusilli
Conchiglie
Calamarata
Mmmmmm…we're getting close folks!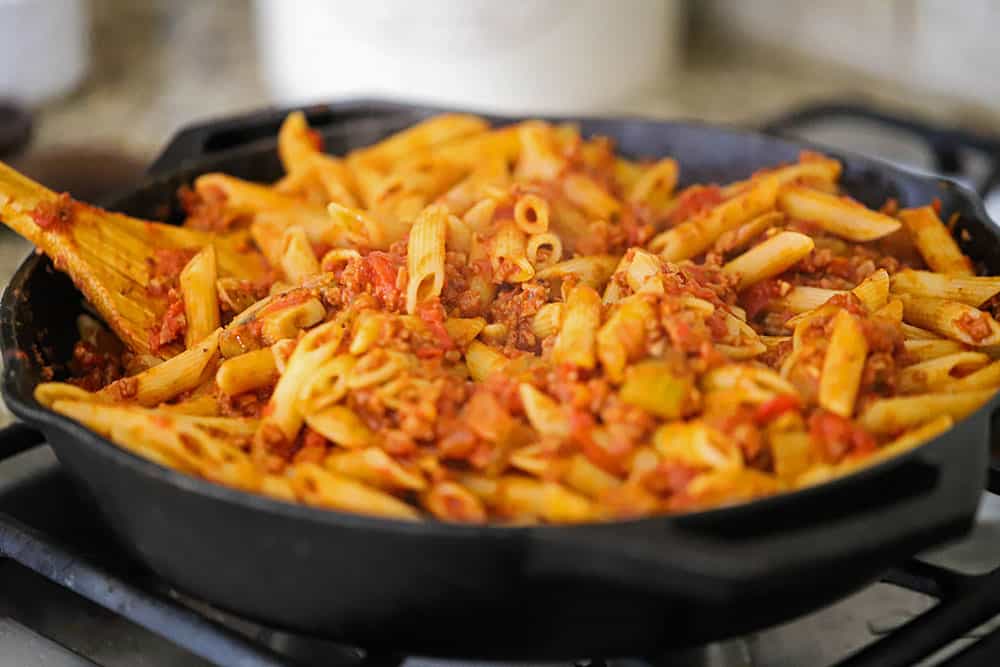 Of course, a good pasta bake recipe has to include cheese.
Whole milk mozzarella and grated Parmesan cheese are our favorite types of cheese for this dish.
EXPERT TIP: We love to make this pasta bake in our 12-inch cast-iron skillet. You can make everything right in the skillet, top it with the cheese, and then bake to perfection. If you don't have a cast-iron skillet, no worries. Simply transfer the pasta mixture to a baking dish and then top with cheese.
What to Serve with Vegetarian Pasta Bake
This is one of those one-pot wonder dishes that will feed a hungry family.
It's so robust and filling (yet healthy), that all you really need is some crusty Italian bread and maybe a nice green leaf salad topped with our balsamic vinaigrette!
A hearty red wine, such as cabernet, Zinfandel, or Pinto Noir all pair beautifully with the dish.
EXPERT TIP: The entire dish can be prepared up to 2 days before baking. Simply cover with foil and keep in the fridge until ready to bake. Add another 15 minutes to the baking time if the pasta is chilled. If frozen, allow to thaw in the refrigerator overnight, or add another 40 minutes of baking, but be sure to cover with foil once the top is starting to brown.
Quality Ingredients Make the Best Sauce
There is a reason this sauce is so incredibly flavorful: The simplicity and freshness of clean ingredients.
We can say without one hesitation of doubt that OZO has completely raised the bar on plant-based protein offerings. In addition to this incredible protein-based ground, OZO also offers Plant-Based Burgers and Plant-Based Mexican Seasoned Ground. The sky is the limit with these delicious products! Check out our Plant-Based California Burgers! They are the bomb!
As you all know, we think eating delicious food is one of the greatest joys in life – and OZO meets us at the culinary intersection of superior taste, nutrition, and convenience.
Don't you want some of this?
This Vegetarian Pasta Bake hits all the perfect notes that you want from a classic Italian pasta dish.
Taste. Texture. Comfort.
And you can take even further comfort in knowing you're eating a healthier version than one loaded with red meat, but not compromising on flavor at all. Major win!
Ready to make the most satisfying vegetarian dishes in town? Go for it!
And when you do, be sure to take a photo and post it on Instagram and hashtag #HowToFeedaLoon and #OZOFoods.
Vegetarian Pasta Bake
This vegetarian pasta bake is a healthy alternative to a bolognese sauce, but honestly, does not compromise on taste or texture at all. You will be amazed at how delicious this sauce and dish is!
Print
Pin
Rate
Servings: 8
Calories: 390kcal
Equipment
12-inch cast iron skillet, or 9"x13" baking dish
Ingredients
1 lb pasta
Kosher salt
3 tbsp olive oil divided
8 oz mushrooms white button, sliced
black pepper freshly ground
1 cup onion chopped, 1 medium-sized onion
1 cup celery chopped, about 2 stalks
1 cup carrots chopped, about 2 small carrots
3 cloves garlic minced
1 lb OZO Plant-Based Ground thawed
¼ cup red wine
2 tbsp tomato paste
1 28 oz. can whole tomatoes drained, San Marzano are best
1 15 oz. can tomato sauce
1 tbsp oregano dried
8 oz Mozzarella shredded
¼ cup Parmesan cheese grated
2 tbsp parsley fresh, chopped, optional
Instructions
Preheat oven to 350°F. Bring a pot of salted water to a boil.

Add the pasta to the boiling water and follow package instructions to cook until al dente.

Heat 2 tbsp of oil over medium heat in a large cast-iron skillet (or large skillet if baking the pasta in a baking dish). Add the mushrooms and sauté until soft and starting to slightly brown on the edges. Sprinkle with a little salt and pepper. Transfer the mushrooms to a bowl and set aside.

In the same pan, still over medium heat, add another tbsp of oil. Add the onion, celery, and carrot and sauté until soft, about 5 minutes. Add the garlic and sauté for another minute.

Add the OZO Plant-Based Ground and cook for 5 minutes, stirring occasionally. Season with ¾ tsp salt and ½ tsp pepper.

Add the wine into the pan and simmer until reduced, about 4 minutes.

Stir in the tomato paste and continue stirring until fully incorporated.

Use your hands to squeeze the whole tomatoes into the pan. Stir in the sautéd mushrooms, tomato sauce, and oregano. Simmer for another 5 minutes. Taste and add more salt, if needed.

Drain the pasta and mix it into the pan with the sauce. If using a baking dish, transfer the pasta with sauce into it.

Sprinkle the mozzarella over the pasta and then top with the grated Parmesan.

Bake for 25 to 30 minutes, or until lightly browned on top and the sides are bubbling. Remove from the oven and let rest for 5 minutes. Garnish with chopped parsley and additional grated Parmesan, if desired. Serve at once.
Notes
The sauce can be made up to 3 days in advance and stored in an air-tight container in the refrigerator. The sauce can be frozen for up to 2 months. We recommend using a medium-sized tubular pasta such as penne, ziti, or rigatoni. The dish can be reheated in a 350°F oven, covered with foil, for 20 minutes, or until heated through. It reheats just fine in the microwave, too. The finished dish can be frozen but is best when served fresh.
Nutrition
Calories: 390kcal | Carbohydrates: 50g | Protein: 16g | Fat: 10g | Saturated Fat: 3g | Cholesterol: 25mg | Sodium: 288mg | Potassium: 419mg | Fiber: 4g | Sugar: 5g | Vitamin A: 3097IU | Vitamin C: 6mg | Calcium: 222mg | Iron: 2mg