This post is kindly sponsored by OZO Foods, but the recipe, photography, video, and opinions are 100% ours.
We love trying new dishes to serve, especially during the holidays, and this dish has become one of our new all-time favorites.
Here is a recipe that is wonderful on so many levels. We are thrilled to have partnered with OZO Foods to present this deeply delicious vegetarian recipe. It's loaded with amazing holiday flavors and is also a beautiful addition to your Thanksgiving and holiday table. And it's easy to make!
How To Make Stuffed Acorn Squash
Stuffed acorn squash is so much fun to make and bring to the table.
The stuffing can be prepared in advance and then assembled and baked right before serving!
How To Roast Acorn Squash
As you would expect, acorn squash is part of the squash family. It's considered a winter squash, similar to butternut squash, but is also related to the wonderful summer yellow squash and zucchini, too.
Butternut squash has a very tough core to cut through, and though acorn squash isn't as soft as yellow squash, it's still much easier to cut than butternut squash.
EXPERT TIP: For this dish, you'll need to cut the squash in half, between the two ends. But first, start by cutting a small slice off each end. Don't cut too much off, or you'll cut into the center. Next, take a large knife, preferably a chef's knife, and use a little force to push the knife through the center of the squash, cutting it in half. Now, use an ice cream scooper, or spoon, to remove the seeds and stringy flesh in the center of each half.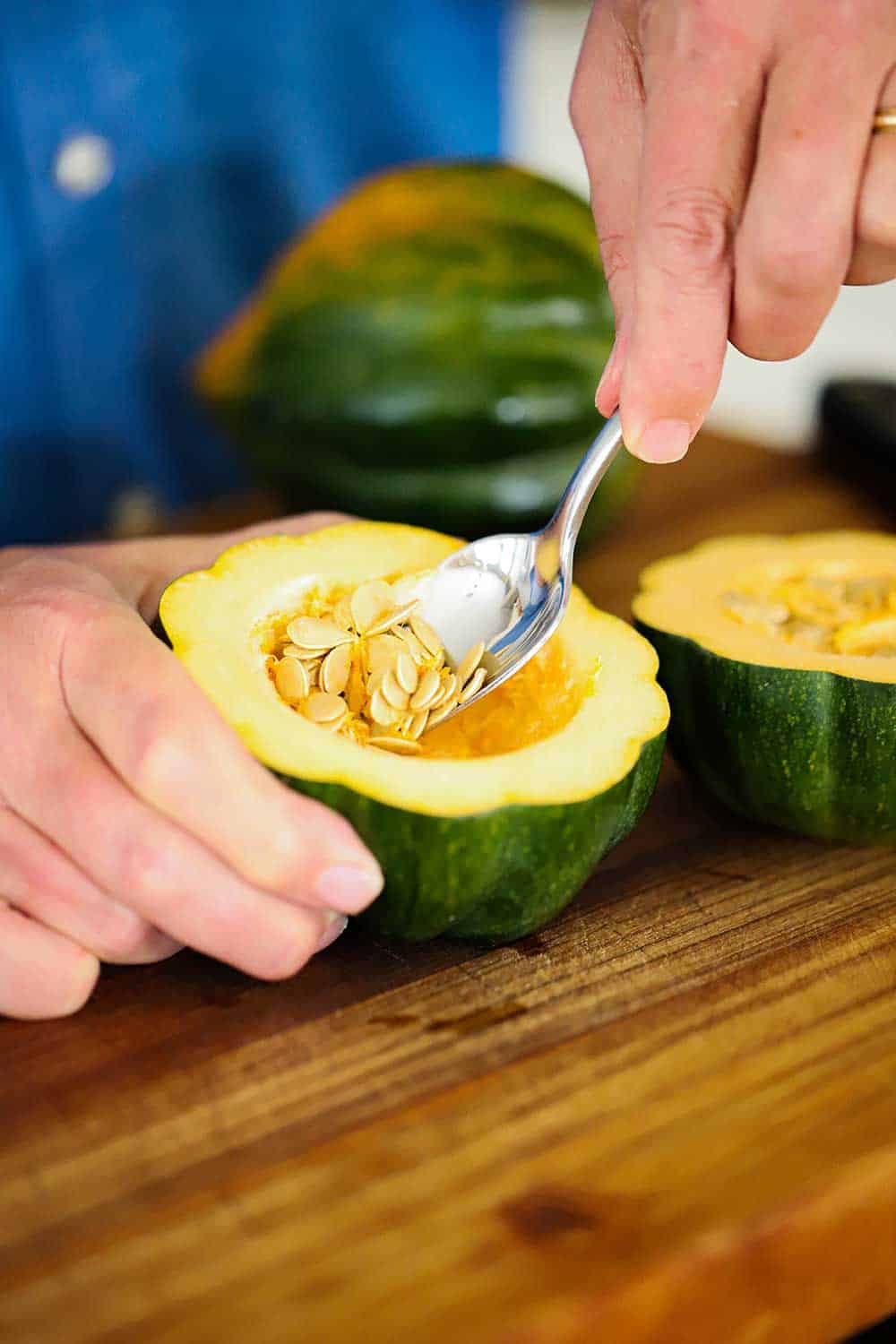 Next, place the squash halves, cut-side up, in a large baking dish.
Brush the flesh all over with olive oil.
Sprinkle with salt and pepper, and then bake for 40 minutes in an oven preheated to 400°F. After roasting, you should be able to easily pierce the inner flesh with a knife.
A Wonderful Vegetarian Dish
For the stuffing, we turn to one of our favorite ingredients in the world, OZO Foods' Protein-Based Ground!
Of course, you could make this stuffing with ground pork, or even Italian sausage, but this protein-based ground is so deeply flavorful, you honestly will be amazed that it's not meat.
EXPERT TIP: The OZO Plant-Based Ground is naturally flavored and packs big flavors into the ground crumbles, so it doesn't require a lot of seasoning. We simply add a little salt, pepper, and 1 tsp of dried oregano. Then we sauté chopped onions, celery, and garlic, and add it all back together in the saucepan. It's the perfect base for the flavorful filling.
In addition to the wonderful OZO Plant-Based Ground protein and sautéed vegetables, we add classic holiday ingredients, including:
Dried cranberries
Chopped pecans
Fresh chopped sage
Parmesan cheese
Bread crumbs
Simply stir all the ingredients together in a large glass bowl. The smell is classic holiday fare.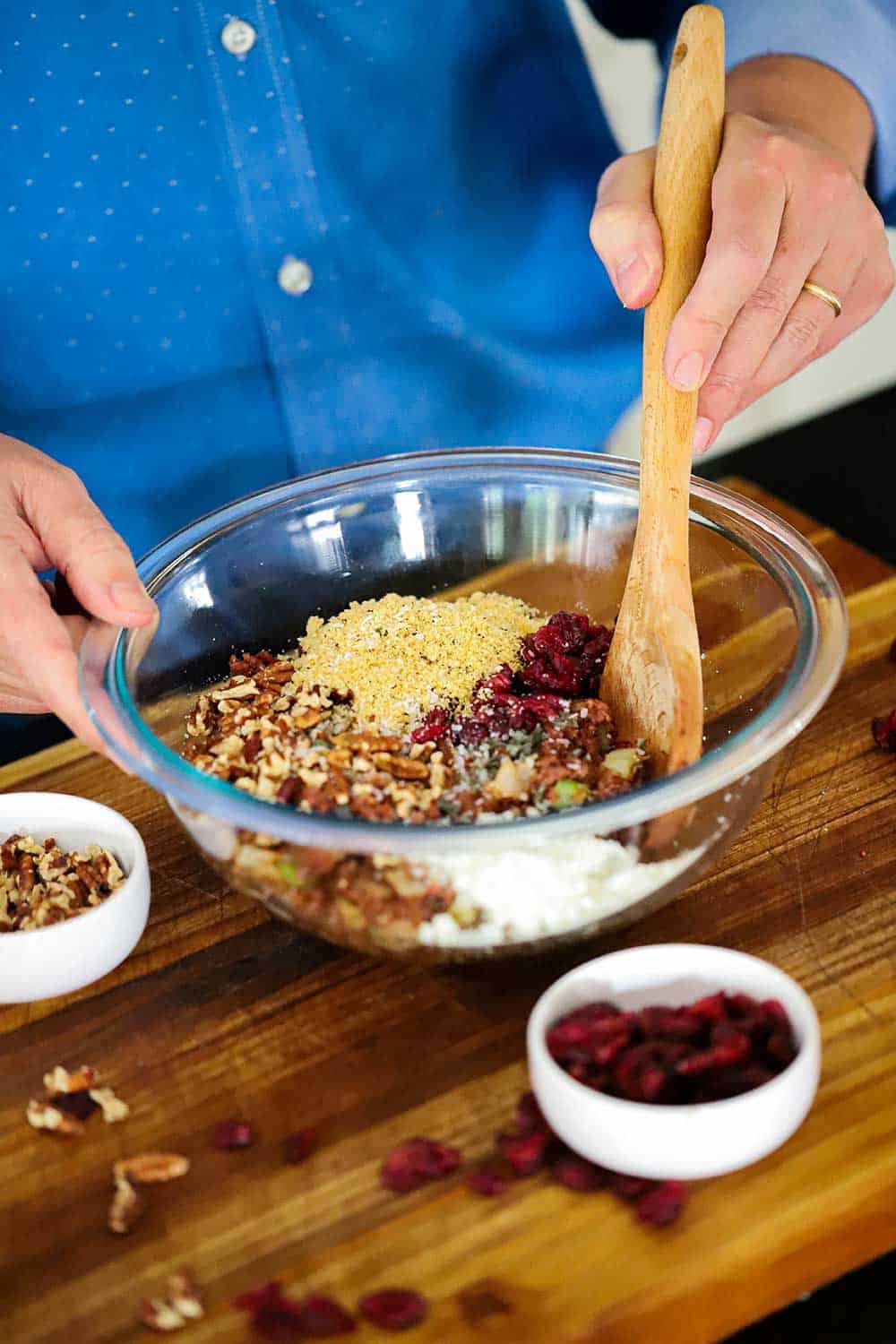 Simply use a spoon to fill the cavity of each roasted acorn squash.
We love to mound enough of the filling so it extends upwards from the squash.
EXPERT TIP: You can find acorn squash in the produce section of most well-stocked supermarkets. You'll notice they come in different sizes, ranging from small to medium-sized. If you want to serve these as a side dish, then go with the small. This recipe will fill 8 small halves (4 squash). If you're serving as an entree, this recipe will fill 4 halves (2 squashes).
A topping of bread crumbs mixed with Parmesan cheese will add a little crunch to the top after it bakes.
We love using Italian Panko bread crumbs in this recipe, but any type of bread crumb will work just fine.
After topping, all you'll need to do is return the stuffed acorn squash to the oven for another 15 to 20 minutes.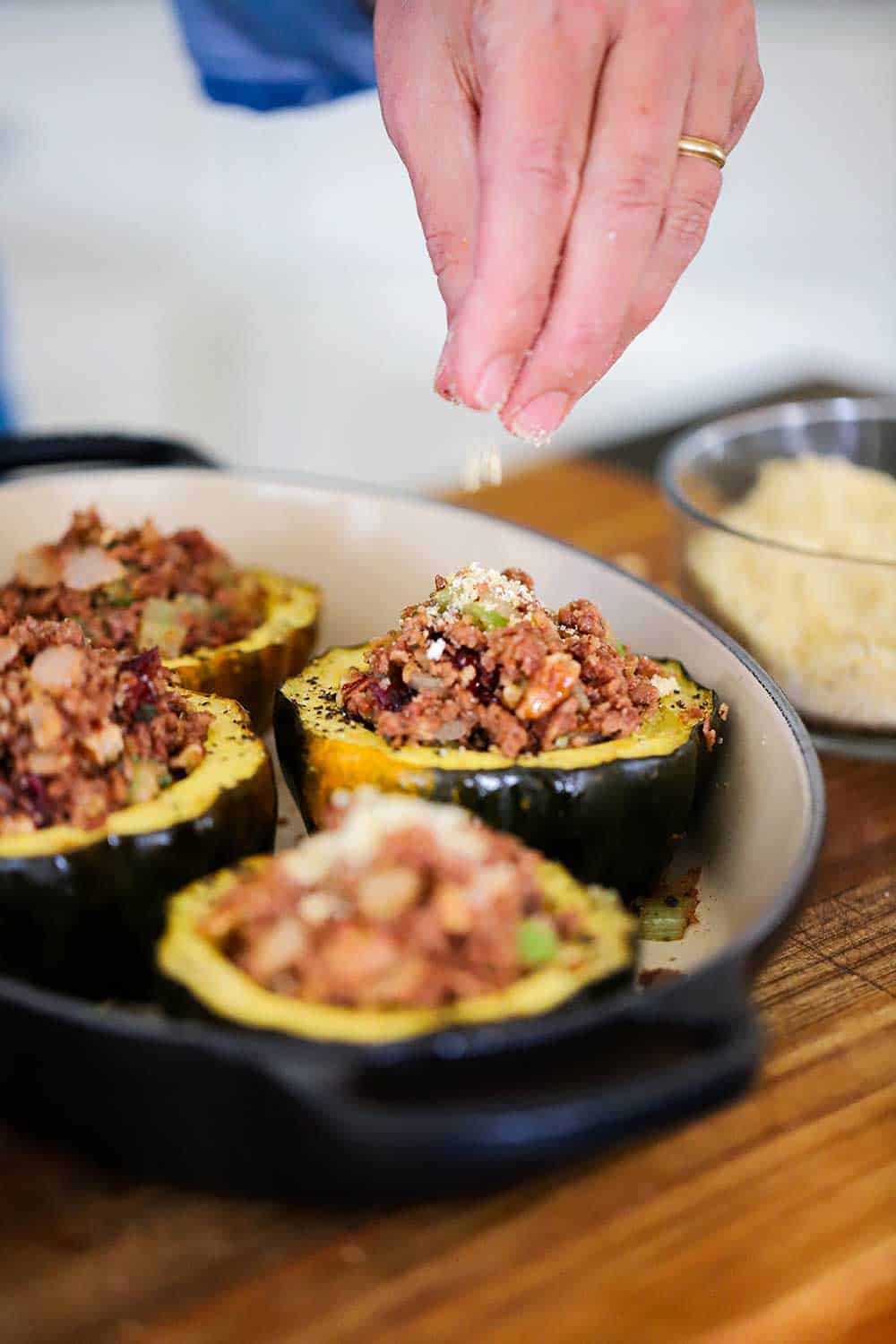 Quality Ingredients Make the Perfect Filling
There is a reason the stuffing for this acorn squash is so incredibly flavorful: The simplicity and freshness of clean ingredients. And of course, those Thanksgiving flavors are pretty unbeatable
We can say without one hesitation of doubt that OZO has completely raised the bar on plant-based protein offerings. In addition to this incredible protein-based ground, OZO also offers Plant-Based Burgers and Plant-Based Mexican Seasoned Ground. The sky is the limit with these delicious products! Check out our Plant-Based California Burgers and our Vegetarian Pasta Bake featuring Protein-Based Ground! They are the bomb!
As you all know, we think eating delicious food is one of the greatest joys in life – and OZO meets us at the culinary intersection of superior taste, nutrition, and convenience.
The holidays are a time to celebrate all the beautiful things in life.
And delicious and nutritious food is hopefully on this list of things to be thankful for you and your family.
Make this dish, and we feel certain it will become a family favorite for years to come.
Ready to make an amazing holiday dish that will thrill both the carnivores and herbivores in your family? Go for it!
And when you do, be sure to take a photo of it, post it on Instagram, and tag @HowToFeedaLoon and @OZOFoods!
Stuffed Acorn Squash
This Stuffed Acorn Squash is loaded with all those amazing holiday flavors. And this particular version includes protein-based ground, for a completely vegetarian dish. You won't believe it doesn't include meat! Ground pork or Italian sausage are great options if you do prefer meat protein.
Print
Pin
Rate
Servings: 8
Calories: 116kcal
Equipment
9"x13" baking dish (or similar size)
Ingredients
4 small acorn squashes
4 tbsp olive oil divided
Kosher salt and freshly ground black pepper
12 oz OZO Protein-based Ground
1 tsp oregano dried
1 cup onion chopped
1 cup celery chopped
2 cloves garlic minced
1 tsp sage fresh, chopped
¼ cup cranberries dried
¼ cup pecans chopped
¼ cup Parmesan grated, plus 1 tbsp for topping
¼ cup Panko bread crumbs Italian, plus 2 tbsp for topping
1 tbsp Parsley chopped, for garnish, optional
Instructions
Preheat oven to 400°F.

Snip the top and bottom off of each acorn squash. Don't cut too deeply, just enough so it can stand without being wobbly. Use a chef's knife, or a large knife, to carefully cut the squash in half, through the mid-section of the squash. Use a spoon to remove the seeds and stringy flesh on the inside of each half.

Brush olive oil (approximately 2 tbsp) all over the inside (and top edges) of the acorn squash halves. Liberally sprinkle all over with salt and pepper. Place in a baking dish and roast in the oven for 40 minutes.

Meanwhile, heat the plant-based ground in a large skillet over medium heat for 4 minutes, breaking it up as it cooks. Season with ½ tsp salt, ¼ tsp pepper, and the dried oregano. Transfer to a bowl and set aside.

In the same skillet, heat the remaining 2 tbsp of olive oil over medium heat. Add the chopped onion and celery and cook until soft and translucent, about 5 minutes. Add the minced garlic and cook for another 30 seconds.

Add the cooked protein-based ground to the cooked vegetables and stir until fully mixed. Let cool slightly and then transfer to a large bowl.

To the bowl, add the sage, cranberries, pecans, ¼ cup Parmesan, ¼ cup Panko, ¼ tsp salt, and pepper. Stir until fully mixed together.

Use a spoon to fill the cavities of the acorn squash. Mound enough so they are heaping.

In a small bowl, mix together 2 tbsp Panko Italian bread crumbs with 1 tbsp Parmesan cheese. Sprinkle about 1 tsp of the mixture over each of the stuffed acorn squashes.

Place back into the oven (still at 400°F) for 15 to 20 minutes, or until the tops are lightly browned. Remove from the oven and serve at once!
Notes
If you are serving these as a side dish, go with the smaller acorn squash that you find at your market. If serving as an entree, go with the larger ones. The filling can be made up to 2 days in advance. Keep in an air-tight container in the refrigerator until ready to use. Ground pork or Italian sausage can be substituted for the plant-based protein, if desired.
Nutrition
Calories: 116kcal | Carbohydrates: 5g | Protein: 2g | Fat: 10g | Saturated Fat: 2g | Cholesterol: 2mg | Sodium: 75mg | Potassium: 75mg | Fiber: 1g | Sugar: 1g | Vitamin A: 121IU | Vitamin C: 3mg | Calcium: 57mg | Iron: 1mg