We love a good ham for our Easter Sunday feast. But, what's the best (and easiest way to prepare it)?
Once you get your hands on a nice fully-cooked (preferably smoked) ham, you are already almost to the finish line for making an amazing holiday centerpiece roast. But, folks, let's take it a step further and amp up the flavors even more, make a great sauce, and do it effortlessly. Sound good? Let's do it!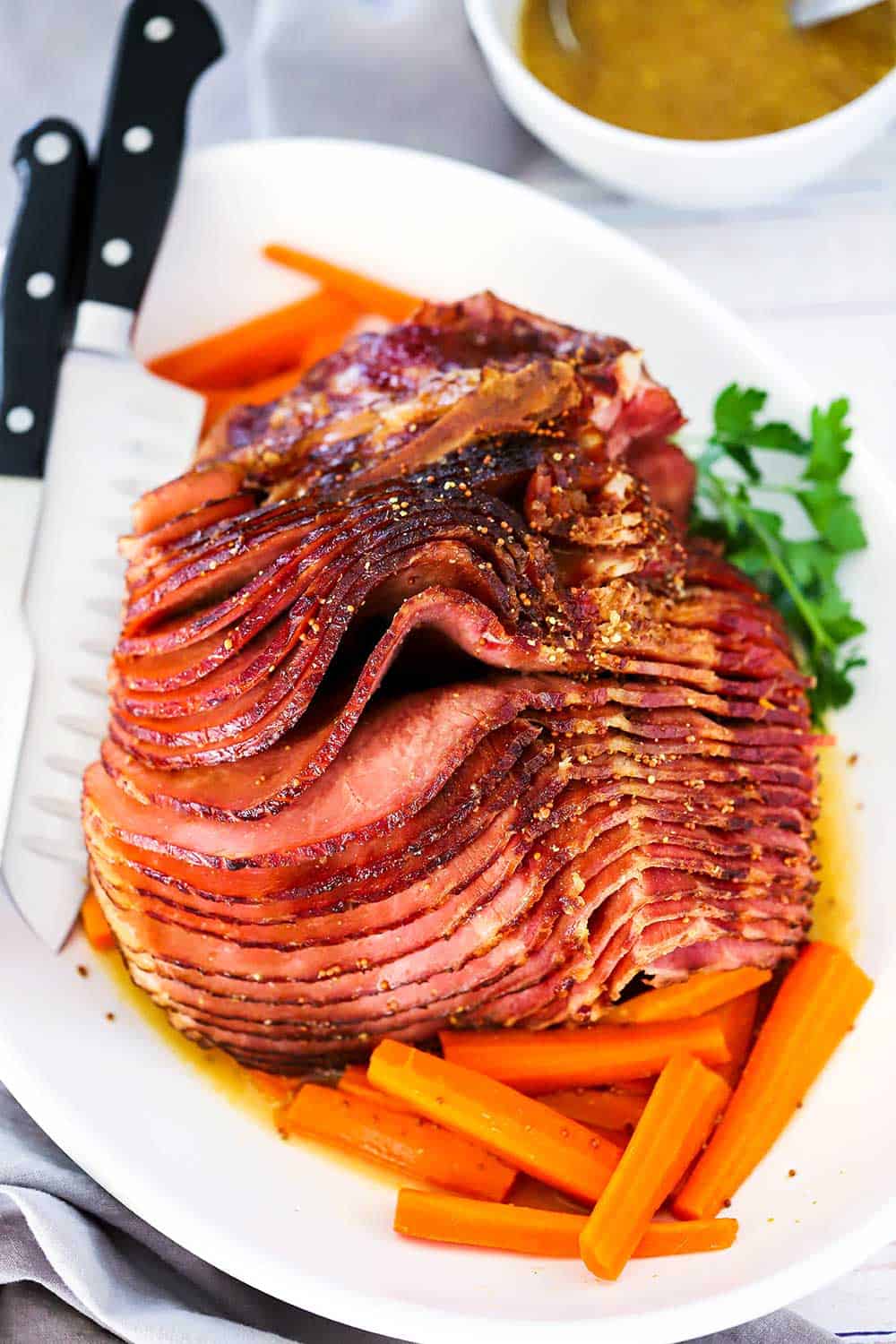 How To Make Slow-Cooker Spiral Ham
The slow-cooker makes preparing your favorite meals so fast and easy.
This is truly a "set it and forget it" meal. Perfect for a busy holiday meal preparation.
Choosing the Right Spiral Ham
There are lots of good hams on the market nowadays. If you can't find one at your local supermarket, check with your butcher. We also love to order from D'Artagnan. But, search around, you'll find a good ham that is perfect for your special feast.
EXPERT TIP: We recommend going with a 6 to 7-pound bone-in, smoked, uncured, fully cooked ham. We love a spiral sliced ham, but that's up to you. We find that as the ham is slow-cooking, the juices seep in between the slices and make them even more flavorful.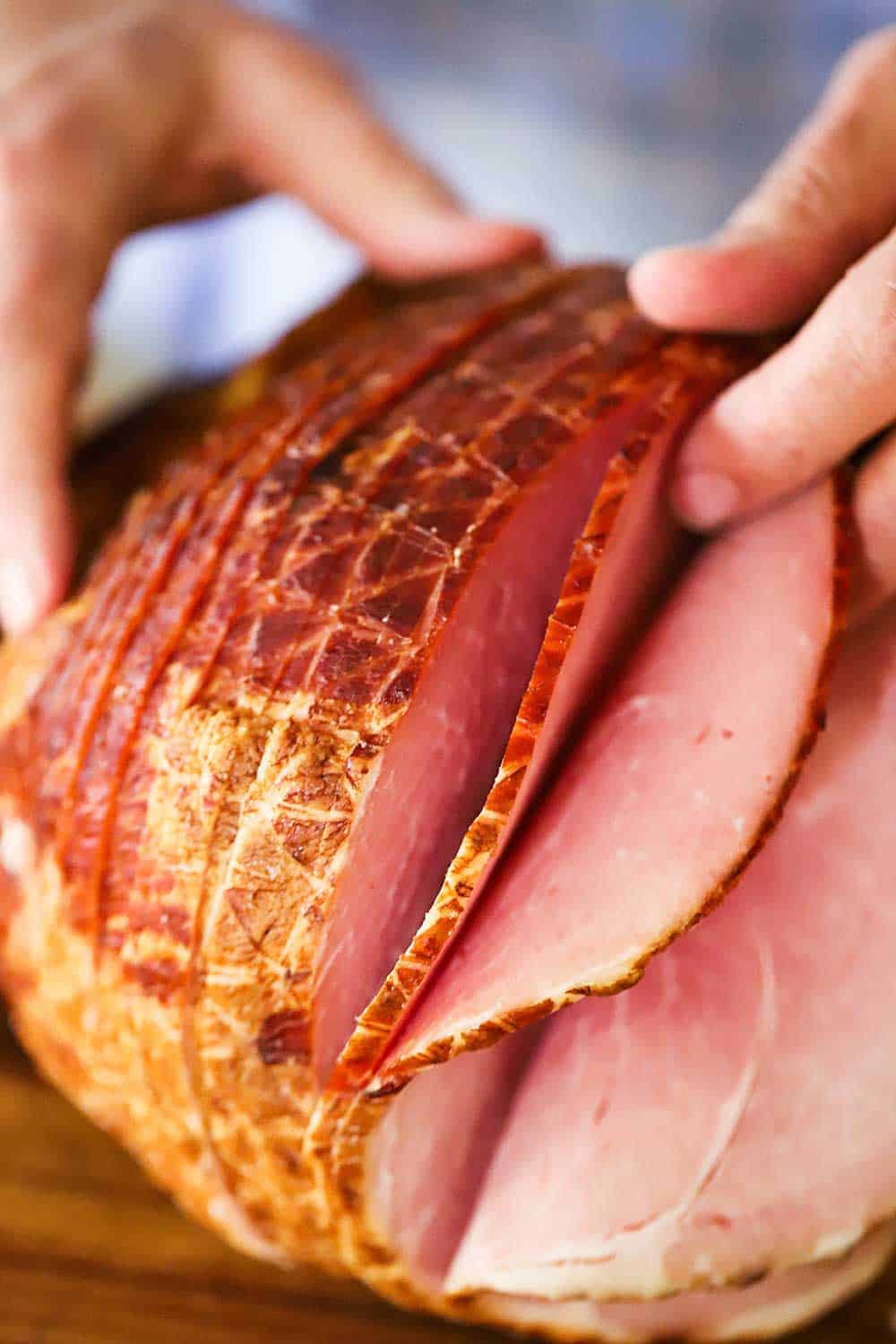 The Simple Ingredients You Will Need
Brown sugar is a classic ingredient to amp up your smoked ham.
We sprinkle a good 1½ cups all over the top.
EXPERT TIP: If you go with a 5, 6, or 7 lb ham, you should have no problem fitting into a 6, 7, 8, or 10-quart slow-cooker. It's okay if you have to stuff the ham in a bit. Be sure to place the ham in the slow-cooker flat-side down.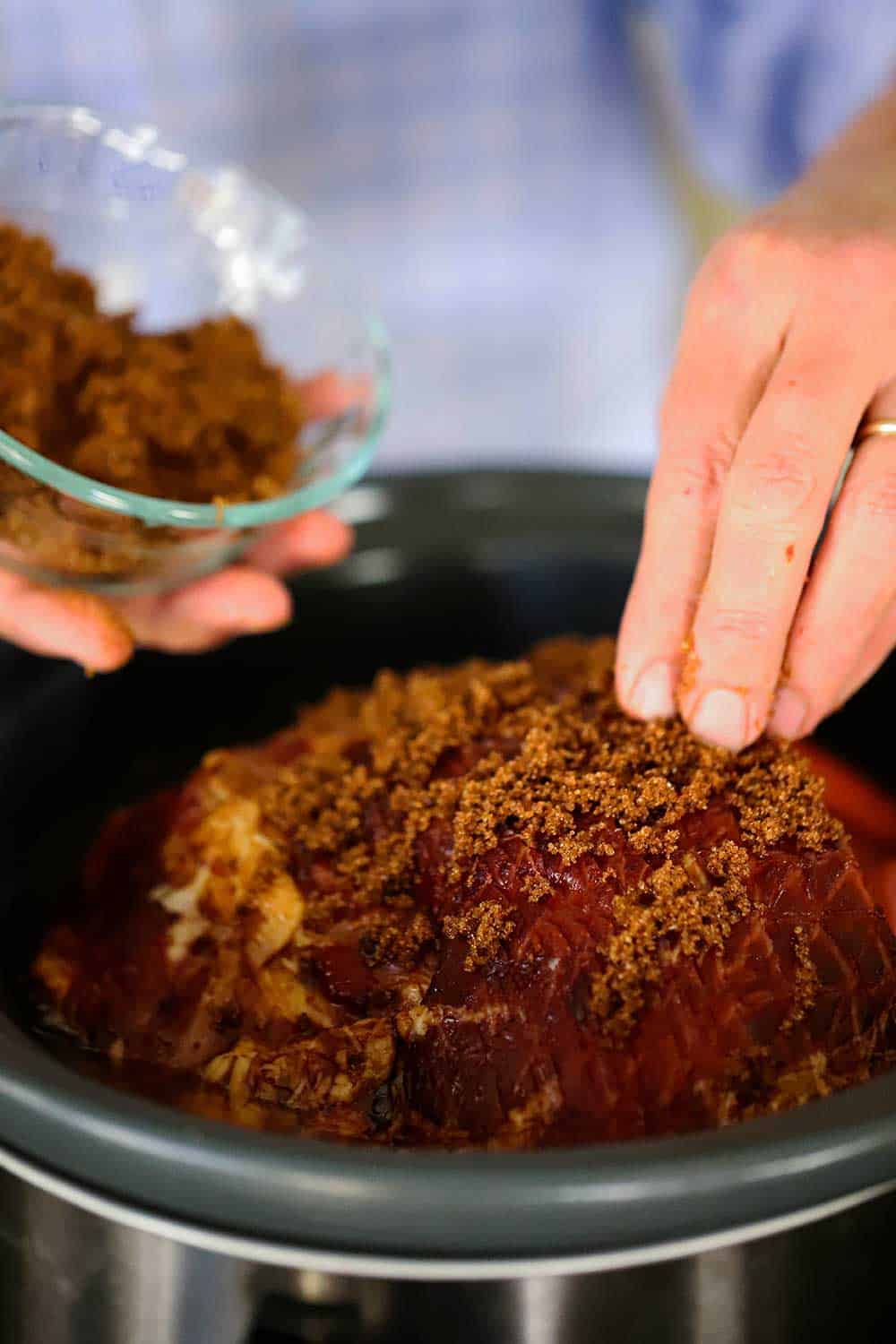 Next, we add even more flavor: 1 cup of pure maple syrup and 1 cup of apple cider.
NOTE: If you can't find apple cider, then you can just go with regular apple juice, just make sure it's 100% juice.
Other great substitutes for apple juice include orange juice or pineapple juice.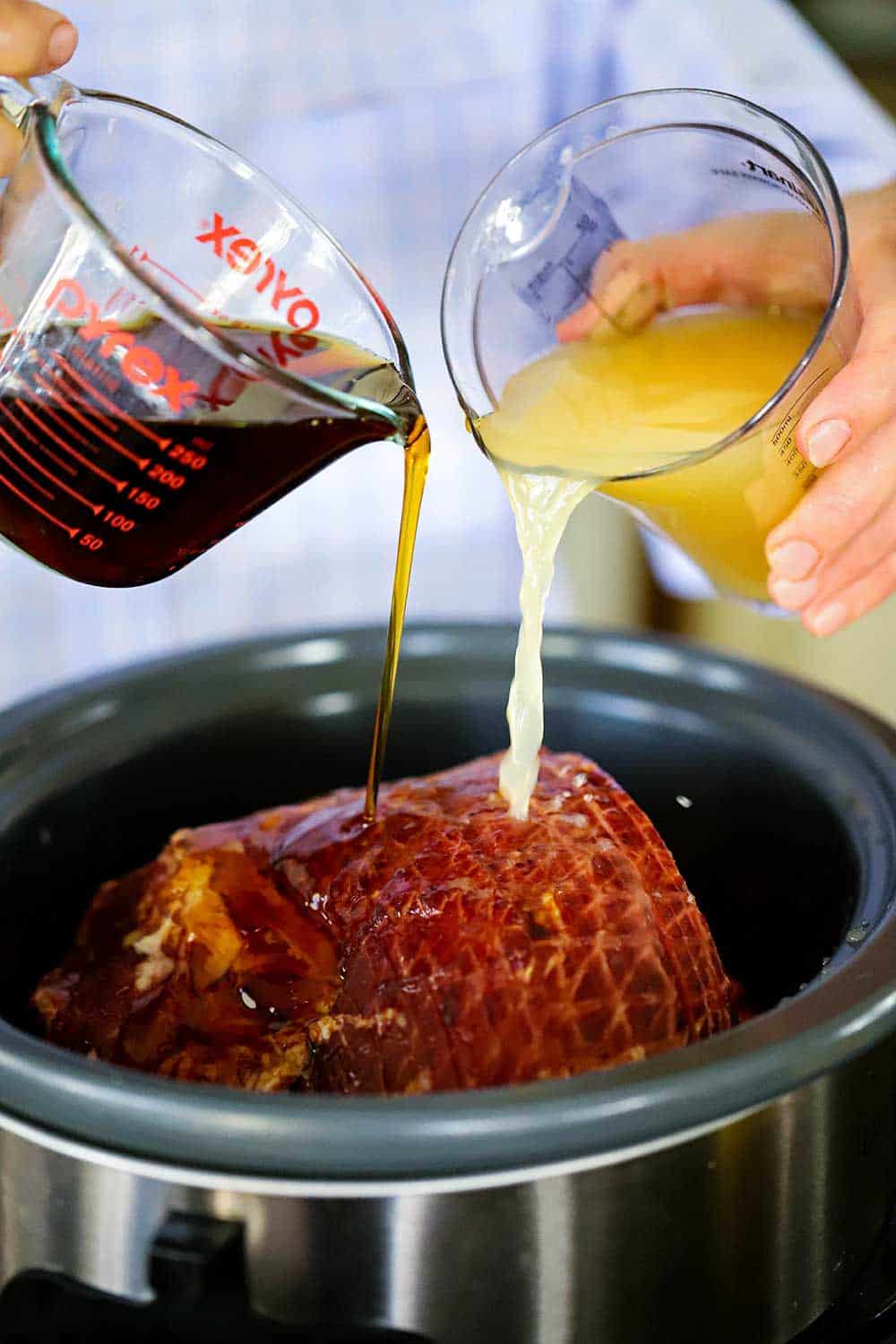 When to Serve Slow-Cooker Spiral Ham
Well, that's a bit of a no-brainer. Easter Sunday certainly comes to mind.
However, this ham is so easy to prepare, you can throw this in the slow-cooker right after work and be ready to eat within a couple of hours.
Baked ham leftovers are legendary for making incredible sandwiches, especially our Monte Cristo!
Just take a look at this ham!
What To Serve with Baked Ham
Folks, if you're going to have a fabulous baked ham for your holiday feast, you've got to have some stellar sides.
Here are our favorites:
Who's hungry?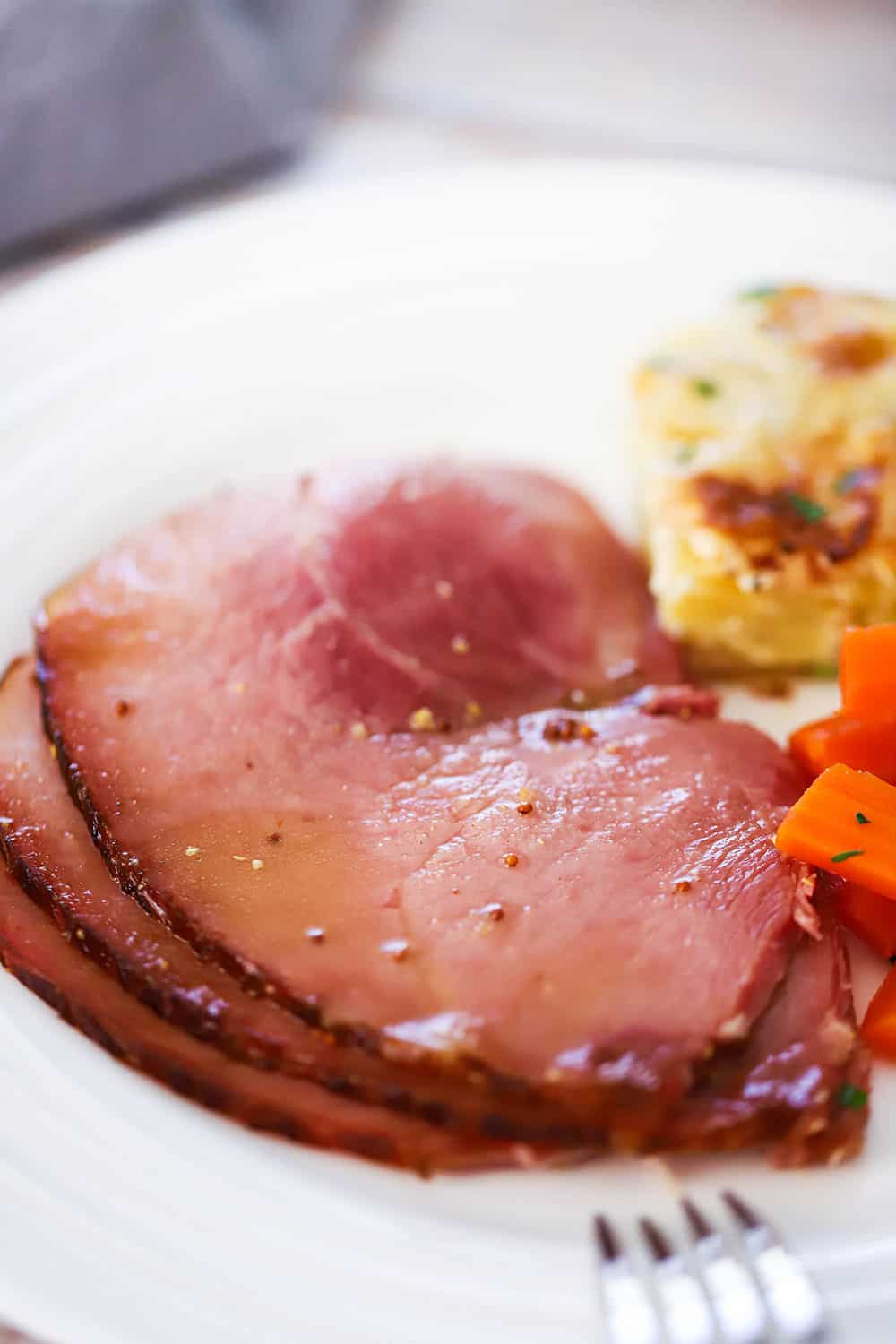 To make a wonderful sauce to accompany the Slow-Cooker Ham, simply scoop a couple of cups of the cooking liquid after you've removed the hame and set is aside.
In a small bowl, mix together 1/4 cup of stone ground mustard with 1/4 cup of Dijon mustard and then 1 tablespoon of apple cider mixture.
Mix in the reserved cooking liquid. Add to a gravy bowl and pass at the table. Amazing!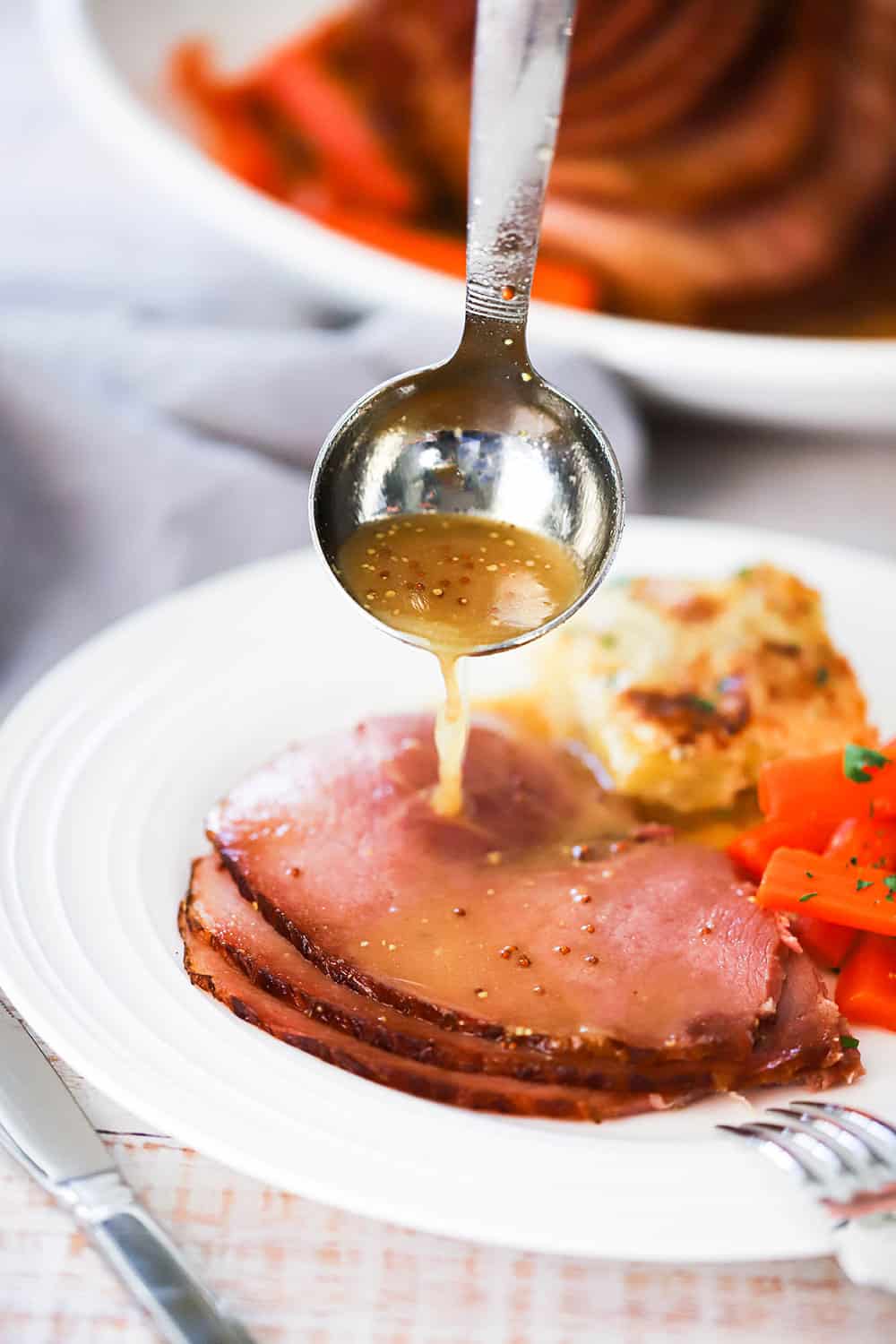 Ready to make the best (and easiest) baked ham this holiday season? Go for it!
And when you do, be sure to take a photo of it, post it on Instagram, and tag @HowToFeedaLoon and hashtag #HowToFeedaLoon
Slow-Cooker Spiral Ham
This Slow-Cooker Spiral Ham is exploding with flavor and could not be easier to prepare. The mustard-maple sauce puts it over the top. Perfect for holiday entertaining or a special Sunday meal!
Print
Pin
Rate
Servings: 15
Calories: 448kcal
Equipment
6, 7, or 8 QT Slow-Cooker
Ingredients
7 lb ham bone-in (or boneless), smoked, uncured, fully cooked, spiral-cut
1½ cups brown sugar preferably dark
1 cup maple syrup pure
1 cup apple cider or 100% apple juice
FOR THE SAUCE
¼ cup Dijon mustard
¼ cup stone-ground mustard aka: Old Style
1 tbsp apple cider vinegar
Salt to taste
Instructions
Place the ham in your slow-cooker, flat-side down.

Sprinkle the brown sugar all over the ham and use your clean hands to work the sugar into the ham. Pour the maple syrup and apple cider over the top of the ham.

Place the lid on the slow-cooker and turn on LOW and cook for 2 to 3 hours. (no less than 2, no more than 3).

Take the lid off and use a large spoon to pour the cooking liquid all over the top of the ham. Put the lid back on and slow-cook for another 30 minutes.

Use a couple of large spoons or spatulas to carefully remove the ham from the slow cooker and place it on a cutting board or serving platter. Cover with foil if not serving within 15 minutes.

To make the sauce, use a measuring cup to remove 2 cups of the cooking liquid from the slow-cooker. In another medium-sized bowl, mix together the two mustards and the apple cider vinegar. Stir in the reserved liquid. Whisk until fully combined. Taste, it may need a little more salt, if so, sprinkle some in. Transfer to a gravy boat and serve with sliced ham.
Notes
Go with boneless or bone-in, but we prefer bone-in. Be sure to not let the ham cook for too long. 3 hours is about the max you want to go. To keep the ham warm, turn the setting to WARM after the braising period is done. We like to pull the slices aways from the bone and arrange them on a platter to make it easy for guests to serve themselves. We also pour a little of the sauce over the ham. You can also cook cut carrots and/or parsnips in with the ham, but you'll need to increase the time to about 3 to 3 1/2 hours. Be careful not to overcook!
Nutrition
Calories: 448kcal | Carbohydrates: 38g | Protein: 46g | Fat: 24g | Saturated Fat: 9g | Trans Fat: 1g | Cholesterol: 131mg | Sodium: 875mg | Potassium: 711mg | Fiber: 1g | Sugar: 14g | Vitamin A: 6IU | Vitamin C: 1mg | Calcium: 63mg | Iron: 2mg