This Amazing Potatoes Gratin (Dauphinoise) recipe really is just that: Amazing.  The French take such simple ingredients: potatoes, cream, cheese, and a little garlic, and transform the dish into some transcendent.
It's just incredible.  Follow these steps, and you'll have the most wonderful side dish for your holiday table or any time you want a delicious potato gratin dish.
Watch us show you how easy, and how much fun it is to make one of the most delicious side dishes you'll ever have.
Thinly sliced potatoes submerged in a cream sauce that has been infused with garlic and thyme is the basis of this incredible dish.
I like to use the back of a large wooden spoon to press the potatoes into the cream, just to help them get nice and friendly with the incredible cream sauce.
Oh, yes.
Gruyere is the perfect cheese for the topping. Rich and melts beautifully.
And as it bakes, the cheese turns into a beautiful crust or gratin.
Heavenly.
Just a few herbs are all that is needed to add another depth of flavor to this sublime dish.
Thyme infused in the cream, and then a little fresh chopped parsley sprinkled on top.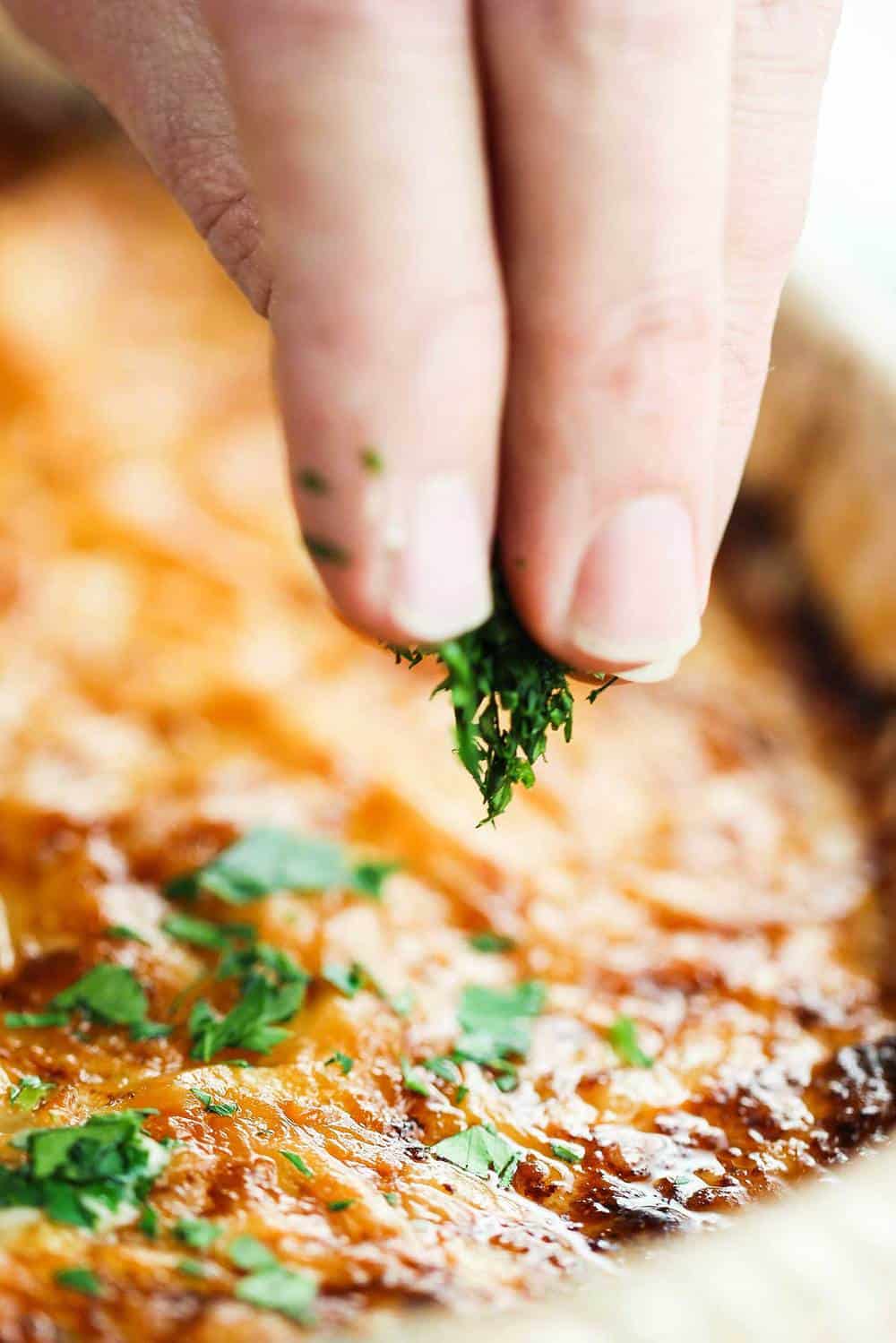 When you need a special dish for a special occasion, look no further.
This dish will warm you up and just make you smile. Slow-cooked potatoes, cream, cheese with a little garlic, and herbs.
That's just good.
One more look? . Just look at this amazing Potato Gratin (Dauphinoise)!
Are you tempted?
Go for it.
Okay! Now, let's make this amazing Gratin Potatoes (Dauphinoise) recipe!
Amazing Potatoes Gratin (Dauphinoise)
This Amazing Potatoes Gratin (Dauphinoise) recipe is a keeper. So simple, yet so elegant, rich and perfectly balanced. It is just an amazing combination of flavor and texture. Can be made a day ahead up to the baking. If refrigerated, add another 15 minutes to the bake time.
Print
Pin
Rate
Servings: 8
Calories: 355kcal
Ingredients
1 tbsp unsalted butter room temp
2 cloves garlic cut in half
3 lbs potatoes Yukon gold, about 10 or 11, peeled and thinly sliced. If using a mandolin, cut to 1/8" thickness (a mandolin works perfectly).
8 oz gruyere cheese grated
2 cups heavy cream
1 cup whole milk
Kosher salt
Freshly ground black pepper
3 sprigs fresh thyme
Flat-leaf parsley chopped, for garnish on top
Instructions
Preheat the oven to 350°F.

Take a large (2½ quarts will work) heavy-bottomed dish or an ovenproof gratin dish (a Le Creuset is ideal), and grease it well with the butter, then rub the ½ sliced garlic on the bottom and sides.

Put the cream, milk, and a pinch of salt and pepper and sprigs of thyme in a saucepan. Using a garlic press, press 1 clove of garlic into the sauce (or mince finely, and add to the sauce).

Bring gently to a boil. Lower heat and simmer for a couple of minutes. Remove from heat, then strain into a bowl, and discard the thyme and garlic. Set aside briefly.

Layer the potato slices in the dish, slightly overlapping each other, seasoning each layer with the salt and pepper. Once one layer is added, ladle enough of the strained cream sauce to coat the potatoes. Repeat with the process until out of potatoes.

Add a little more cream, if necessary. The cream should just barely be peaking around the edges of the potatoes (resist the temptation to add too much cream!).

Sprinkle the cheese on the top of the last layer.

Gently press the potatoes down with the back of a large wooden spoon to submerge them in the cream. It's okay if they're not 100% covered by the cream.

Bake for 45 minutes, check the potatoes with a sharp knife…if they feel very soft, they are done. If not, place foil over the dish (if browning too much on top) and cook for another 30 minutes, checking periodically for doneness.

Remove from oven and let rest for 5 to 10 minutes.

Garnish with chopped parsley sprinkled on top.

Serve nice and hot.
Nutrition
Calories: 355kcal | Carbohydrates: 3g | Protein: 11g | Fat: 30g | Saturated Fat: 17g | Cholesterol: 120mg | Sodium: 131mg | Potassium: 108mg | Sugar: 2g | Vitamin A: 1237IU | Vitamin C: 1mg | Calcium: 361mg | Iron: 1mg