Everyone loves a stellar side dish, right? Well, this classic recipe does not disappoint and is always a crowd favorite.
We love this casserole because it complements so many dishes on your holiday table or even an outdoor BBQ. The made-from-scratch creamed corn puts it over the top. But, you'll also be amazed out easy it is to prepare. For Thanksgiving, serve it with other classic sides such as Best Mashed Potatoes, Green Bean Casserole, and Mom's Dressing!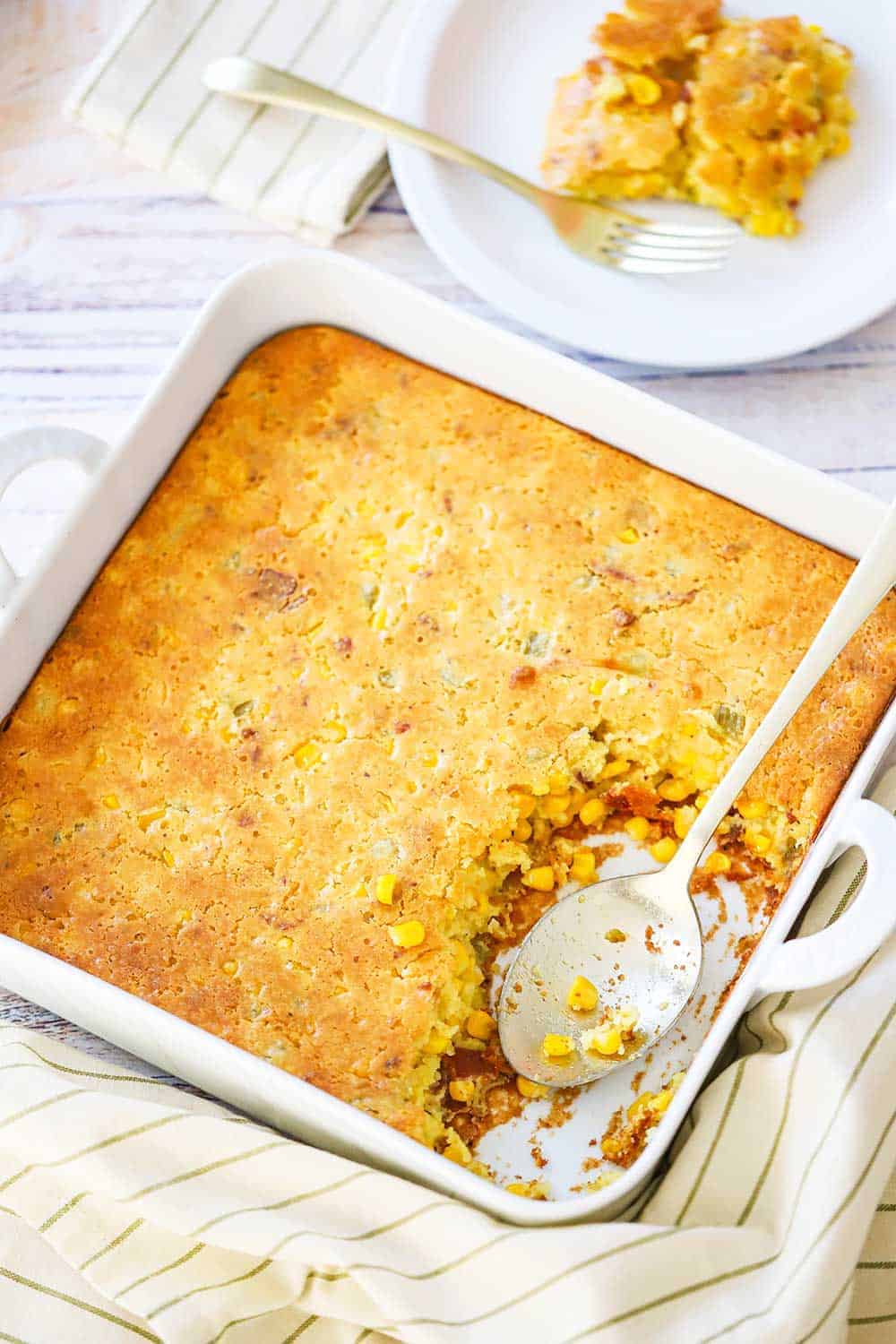 How to Make Classic Corn Casserole
You know us, we couldn't just leave well enough alone. We had to kick this recipe up a few notches.
But trust, us, it's still super easy to prepare. And the taste and presentation speak for themselves!
How To Make Creamed Corn
When lots of folks make this corn casserole, they use canned cream of corn, and sometimes regular canned corn.
Of course, that's perfectly fine. But why not make the creamed corn from scratch?
It's easier than you might think and can even be made a day in advance.
EXPERT TIP: To make the creamed corn, simply add half-and-half (1 cup), cream cheese (4 oz.), and 5 tbsp butter to a skillet. Stir until melted. Stir in sugar, salt, and pepper, and then 3 cups of corn. If fresh isn't available, we recommend frozen (that's been thawed). Stir over medium heat until slightly thickened, about 10 minutes. This is so good, you could serve the creamed corn as is, but you might want to only go with ½-cup of half-and-half.
The Ingredients You Will Need
After the creamed corn has cooled, it's time to mix together all the ingredients in a large bowl.
Here are the ingredients that we think put this casserole over the top:
Homemade creamed corn
5 strips of smoked bacon, cooked and chopped
Green chilies, chopped (found in the Mexican section of your market)
1 stick unsalted butter, melted
Sour cream, 8 oz.
2 eggs
1 box corn muffin mix (we love Jiffy)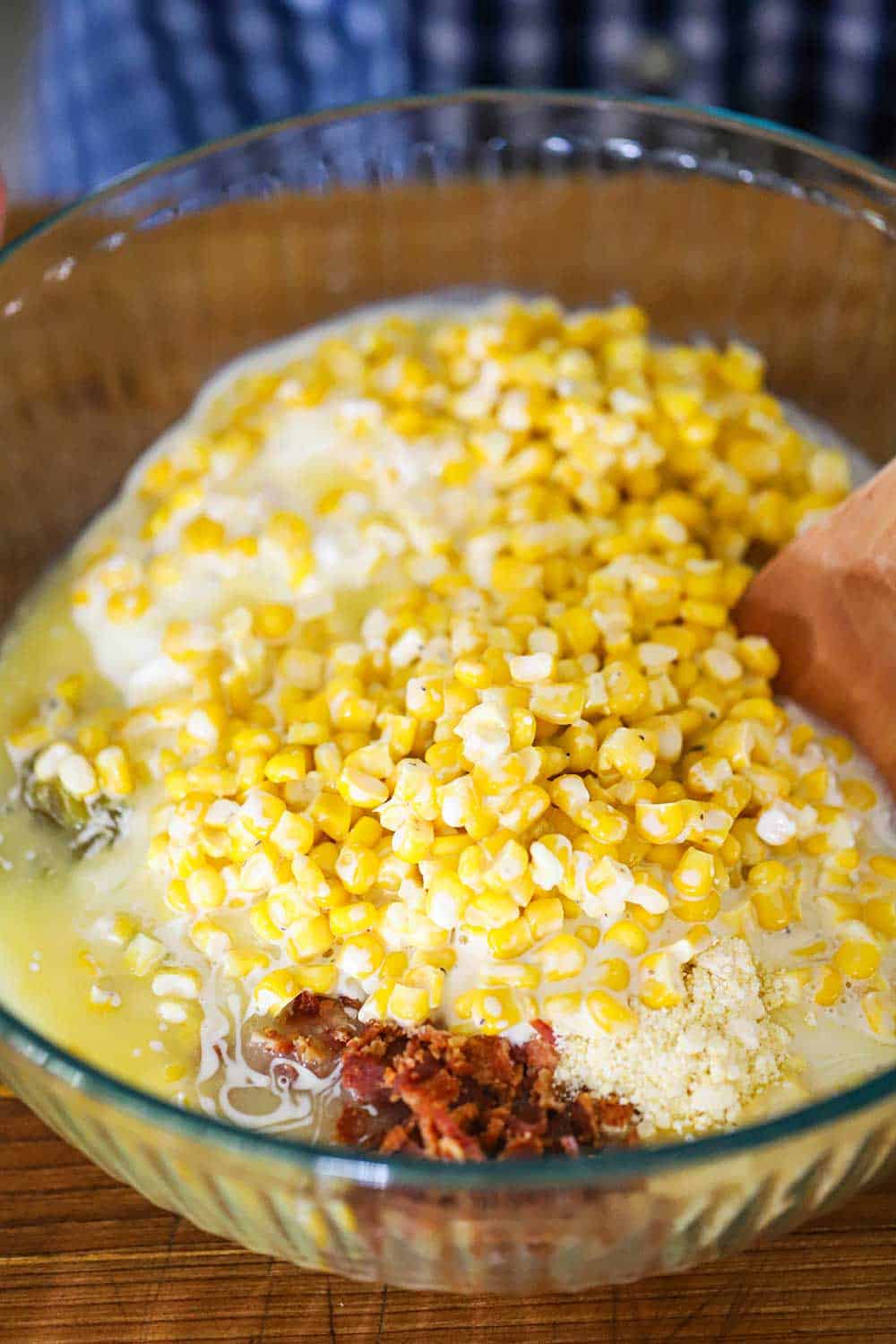 Now, it's time to bake the corn casserole to perfection.
The mixture will be somewhat liquidy, but as it bakes, the muffin mix will rise and create a wonderful texture.
Preheat your oven to 350°F and then transfer the mixture to a 9″x13″ baking dish, or as shown here, a 10″x10″ dish.
The smell as the casserole is baking is just sublime.
And the finished baked dish is a beautiful addition to your holiday (or any occasion) meal.
EXPERT TIP: Keep an eye on the casserole, we find that's it's perfectly baked after about 50 minutes. Oven temperatures do vary, however, so if it's browning too much on top, go ahead and remove from the oven and cover with foil to keep it warm.
Corn Casserole is the Perfect Side Dish
We love this corn casserole because it's just so versatile.
If you want to keep it vegetarian, simply omit the bacon. Although the green chiles are mild, if you want no heat at all, just leave them out.
So many folks love corn, and this is really a great way to showcase those yummy ubiquitous kernels!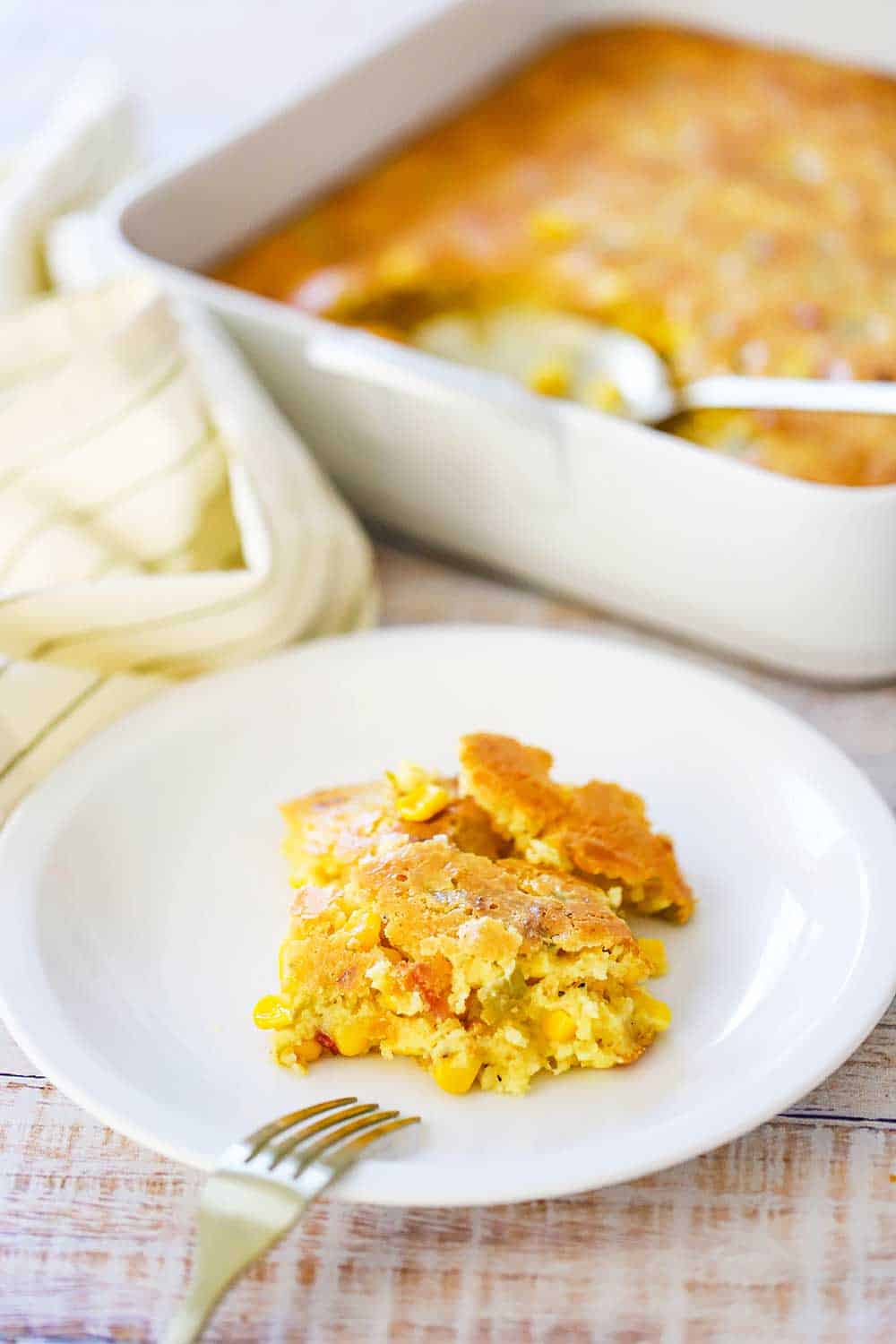 This dish is always a big hit whenever we serve it.
We have found that even the picky eaters in our family enjoy it a lot!
If making during the summertime, be sure to cut the kernels from delicious fresh corn. This makes a great side dish for a busy weeknight, too. And, of course, it's fantastic on your special holiday table!
Ready to make one of the most crowd-pleasing side dishes in town? Go for it!
And when you do, be sure to take a photo of it, post it on Instagram, and tag @HowToFeedaLoon and hashtag #HowToFeedaLoon!
Corn Casserole
This is a classic corn side dish. We give you a few tricks to make it even better and yet is still so easy to prepare! The creamed corn puts it over the top and can be made up to 1 day in advance.
Print
Pin
Rate
Servings: 8
Calories: 574kcal
Equipment
Large skillet

9"x13" or 10"x10" baking dish
Ingredients
For the Creamed Corn
1 cup half and half
4 oz. cream cheese cubed
5 tbsp unsalted butter cut into pieces
1 tbsp sugar
1 tsp Kosher salt
½ tsp black pepper freshly ground
3 cups corn fresh, or frozen (thawed)
For the Casserole
Cooking spray
prepared cream corn cooled
8 tbsp unsalted butter melted
5 strips bacon cooked and chopped
4 oz green chilies chopped
8 oz sour cream
2 large eggs lightly beaten
1 box corn muffin mix 8.5 oz.
Instructions
Make the Creamed Corn (Can be done in advance)
Heat a large saucepan/skillet over medium heat. Add the half and half, cream cheese, and butter. Stir until cheese and butter have melted and all is mixed together.

Stir in the sugar, salt, and pepper. Stir in the corn and cook until slightly thickened, about 8 to 10 minutes. Set aside and let cool.
Make the Casserole
Preheat oven to 350°F. Spray your baking dish liberally with cooking spray (or smear with softened butter).

In a large bowl, mix together the prepared creamed corn, melted butter, cooked bacon pieces, green chilies, sour cream, eggs, and corn muffin mix. Stir with a wooden spoon until fully mixed. The consistency will be fairly wet.

Transfer mixture to prepared dish and bake until lightly browned on top and the casserole has set, about 50 minutes. Serve warm.
Notes
We highly recommend making the creamed corn for this casserole. However, in a pinch, 3 cans of creamed corn will work as a substitution. The creamed corn can be made up to 1 day in advance. Canned green chiles can be found in the Mexican/Hispanic aisle of most well-stocked supermarkets. Some brands offer both hot and mild versions. Most green chiles are mild, but if you want no heat at all in the casserole, then they can easily be omitted. We cook our bacon on a baking sheet lined with foil in a 375°F oven for about 15 to 20 minutes, or until nice and crisp. The bacon can also be prepared a day in advance. Though the casserole is delicious as leftovers, we find it's best served right from the oven. You can cover the casserole with foil and it will stay warm for up to 30 minutes after baking. If you can't find corn muffin mix, substitute it with 3/4 cup of cornmeal and 3/4 cup of flour, and add 4 tsp baking powder, and an extra tbsp of sugar.
Nutrition
Calories: 574kcal | Carbohydrates: 39g | Protein: 10g | Fat: 36g | Saturated Fat: 12g | Cholesterol: 147mg | Sodium: 558mg | Potassium: 303mg | Fiber: 4g | Sugar: 12g | Vitamin A: 1305IU | Vitamin C: 5mg | Calcium: 108mg | Iron: 1mg