Have a lot of roast turkey and a lot of stuffing (or dressing) leftover?
Boy, have we got plans for you! We love everything about Thanksgiving and any holiday feast that includes turkey and stuffing. But, man, sometimes you can only have so many turkey sandwiches before it starts to get a little repetitive. This casserole is one you'll want to have year-round, it's so good!
How To Make Turkey and Stuffing Casserole
This casserole is so easy to prepare because most of your ingredients are already made and chilled in the fridge.
We use our big ole cast-iron skillet to make it a one-pot wonder, but you can certainly bake it any baking dish.
We start by sautéing sliced mushrooms in a little butter.
A dash of Worcestershire sauce, salt, and pepper are all that's needed to make these 'shroooms deeply flavorful.
EXPERT TIP: If you don't like mushrooms, just omit them! No big deal at all!
A Quick Bechamel Holds It All Together
Bechamel is one of the mother French sauces, but it's one that is easy to prepare.
After the mushrooms are nice and soft and have released their liquid, it's time to add some flour (1/4 cup).
Cook for about 2 minutes, and then add the stock and heavy cream. Stir until nicely thickened, about 5 minutes.
Now, that's really all the work that's involved in this amazing Turkey and Stuffing Casserole.
Just add in 3 cups of cubed roast turkey, 3 cups of leftover stuffing/dressing, and a couple of cups of shredded cheddar cheese.
EXPERT TIP: This recipe will work really with any amount of turkey and dressing you have leftover. Anywhere from 2 to 4 cups of turkey and dressing will still yield similar, and delicious results.
After mixing it all together, preheat your oven to 350°F.
Place in the oven, and bake until heated through and bubbly, about 20 minutes.
This, folks, is truly something to be thankful for!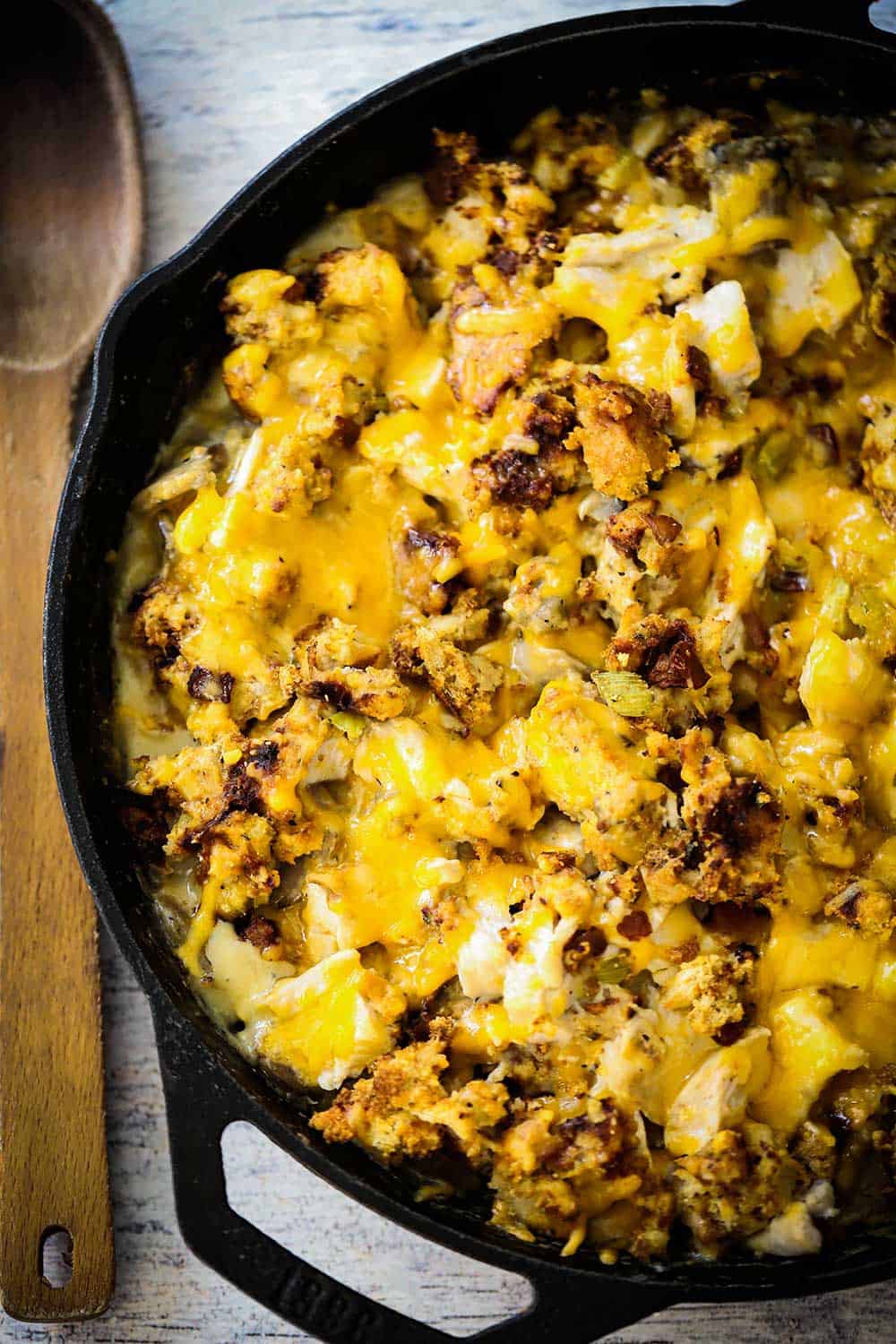 What To Do With Thanksgiving Leftovers
We love making a Day After Thanksgiving Panini with all of our Turkey Day leftovers.
But this casserole is also the bomb.
And easily feeds a hungry family on a chilly evening. Just look at all the ooey-gooey yumminess!
And if you've got any of your Turkey Gravy left over, it's the perfect addition to the casserole.
Serve with some warm rolls and a side of gravy, and you'll be in Thanksgiving heaven all over again.
Don't you want some of this???
Ready to make the best post-Thanksgiving casserole EVER? Go for it!
And when you do, be sure to take a photo of it, post it on Instagram, and tag @HowToFeedaLoon and hashtag #HowToFeedaLoon!
Turkey and Stuffing Casserole
This Turkey and Stuffing (Dressing) Casserole is the perfect way to use up all those Thanksgiving leftovers. An easy bechamel sauce is a perfect replacement for a can of condensed goop. And the ooey-gooey cheesy casserole will have your family going back for seconds all over again!
Print
Pin
Rate
Servings: 6
Calories: 563kcal
Equipment
12-inch cast iron skillet, or 9"x13" baking dish
Ingredients
3 tbsp unsalted butter
8 oz mushrooms button, sliced
1 tsp Worcestershire sauce
Salt and pepper
¼ cup all-purpose flour
1½ cups chicken stock or turkey stock
¼ cup heavy cream or half and half
3 cups roast turkey cubed
3 cups stuffing (dressing)
2 cups cheddar cheese shredded, divided
1 cup turkey gravy optional
Instructions
Preheat oven to 350°F.

Heat a large cast-iron skillet, or large sturdy skillet, over medium heat. Add the butter and stir until melted.

Add the mushrooms. Stir and cook until soft and beginning to release their liquid. Add the Worcestershire sauce, and a healthy pinch of salt and pepper. Cook a few more minutes.

Add the flour and stir to coat the mushrooms. Cook for 2 minutes, stirring frequently.

Carefully whisk in the stock and cream. Stir until lumps are gone and the sauce has thickened, about 4 to 5 minutes.

Remove from heat and stir in the turkey, dressing, and 1½ cups of the cheese. Stir until well mixed. Top with the remaining ½ cup of cheese.

Place in the oven and bake until bubbly and the cheese has completely melted, about 20 minutes. Serve at once with gravy on the side (if you have any left over!).
Notes
If you don't like mushrooms, just make the bechamel sauce without them. It's still really delicious. We like the luxurious taste of the heavy cream, but you can also use half and half, or just whole milk, or a combination of any of these. Any kind of good shredded melting cheese will work. Cheddar is great, but Monterey Jack, Gruyere, or Fontina are wonderful choices, too. The casserole will keep in the fridge for up to 5 days. It will freeze for up to 1 month.
Nutrition
Calories: 563kcal | Carbohydrates: 35g | Protein: 34g | Fat: 28g | Saturated Fat: 10g | Cholesterol: 108mg | Sodium: 2225mg | Potassium: 552mg | Fiber: 3g | Sugar: 6g | Vitamin A: 1014IU | Vitamin C: 1mg | Calcium: 327mg | Iron: 3mg