This sandwich has a special place in our hearts.
In the early 1990s, when we were living in the West Village in New York City, we didn't have much money, but we were living the dream of making it big in the Big Apple. One of our favorite places to eat was a bistro called the Pot Belly Café on Christopher Street in the heart of the Village. They had the most incredible Monte Cristo sandwich. And Wesley would order it every single time we dined there, which was at least once a week. It was the highlight of our week. This is our re-creation of the amazing sandwich.
How To Make Monte Cristo Sandwich
This sammy is so delicious and really impressive to serve.
By the way, the sandwich has no known link to the fictional character. Learn more about it's humble beginnings here.
Choosing the Best Ingredients
The key proteins in the sandwich are ham and turkey. We love using leftover ham from our Spiral Baked Ham and our Roast Turkey Breast.
If you don't have leftovers, no need to worry, pick up some good-quality deli ham and smoked turkey, and you'll be just fine.
Before you start building the sandwich, we like to amp the flavors up by slathering on a combination of mayonnaise and Dijon mustard.
Each sandwich will have a top and bottom slice of bread. We love going with sliced sourdough bread, but whatever is your favorite will work perfectly.
EXPERT TIP: Simply lay the slices on a cutting board in front of you and then add a generous layer of the mayo/Dijon mixture on only one side of the bread. This will be the inside of the sandwich. The outside portions of the bread will soak up all that egg yumminess soon!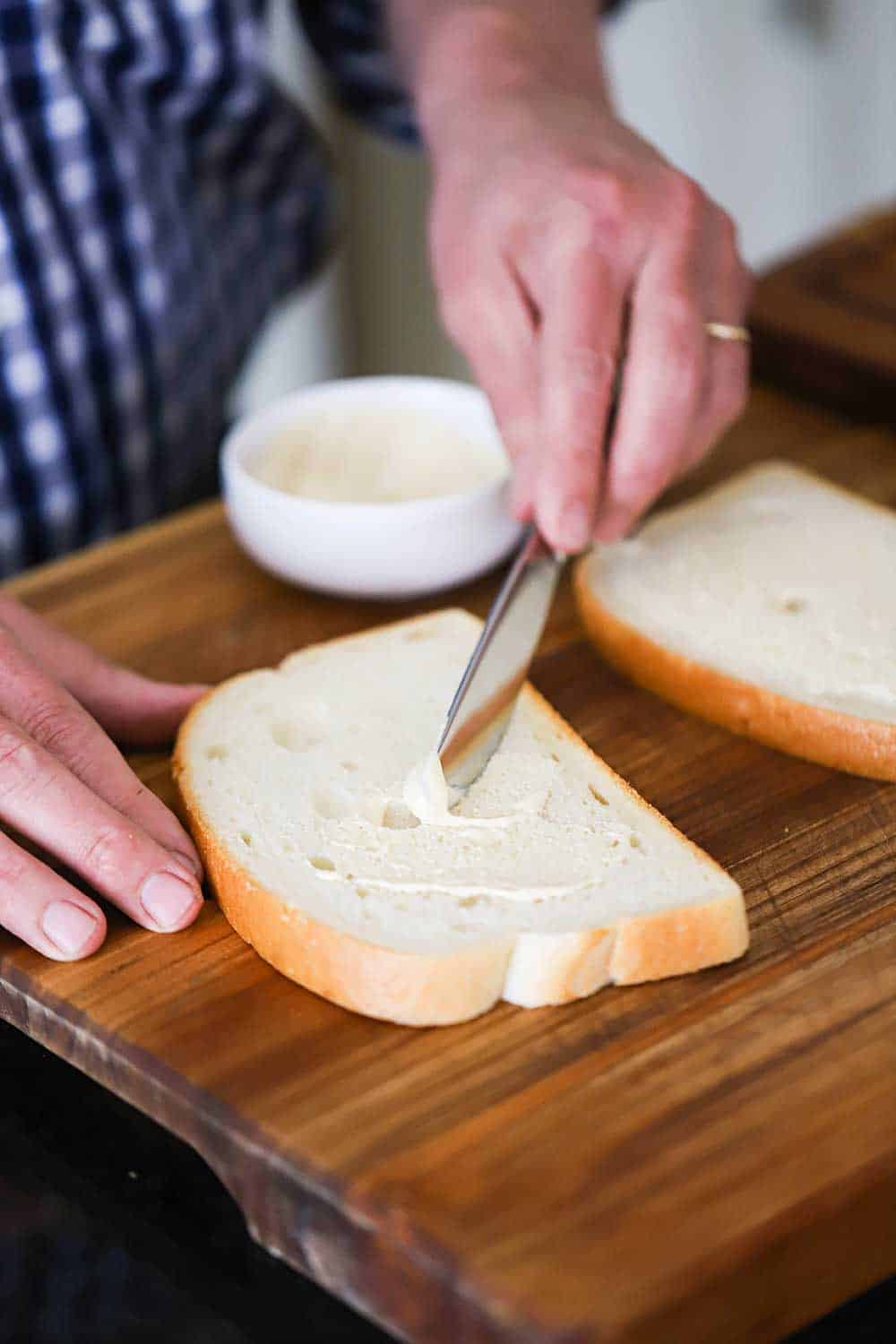 How To Layer a Monte Cristo Sandwich
Now, the fun part…building the sandwich.
Add a layer of the shredded Gruyere cheese, about 1/2 cup, on top of the mayo/Dijon-smeared bread.
Next, comes a layer of ham, then turkey, then more cheese (1/2 cup), and topped with the other slice of bread, mayo/Dijon side facing down.
How To Cook The Sandwich
Essentially, the outer slices of bread on the sandwich are very much liked French toast.
Carefully place the sandwich in lightly beaten eggs mixed with cinnamon, vanilla extra, and milk. After a minute or so, carefully flip the sandwich in the egg mixture and continue to let it soak up.
EXPERT TIP: Let each side of the sandwich soak long enough to absorb a good amount of the egg mixture, usually about 1 minute per side. Once you place the sandwich in the skillet with hot melted butter, you may need to use the edge of your spatula to remove any excess egg that is cooking on the edges of the bread (or, leave it, if you prefer!).
How and When To Serve a Monte Cristo
We absolutely love serving this sandwich with freshly made Mornay sauce.
This is a lush béchamel sauce with melted Gruyere and Parmesan cheese stirred in. Mmmm: Mornay.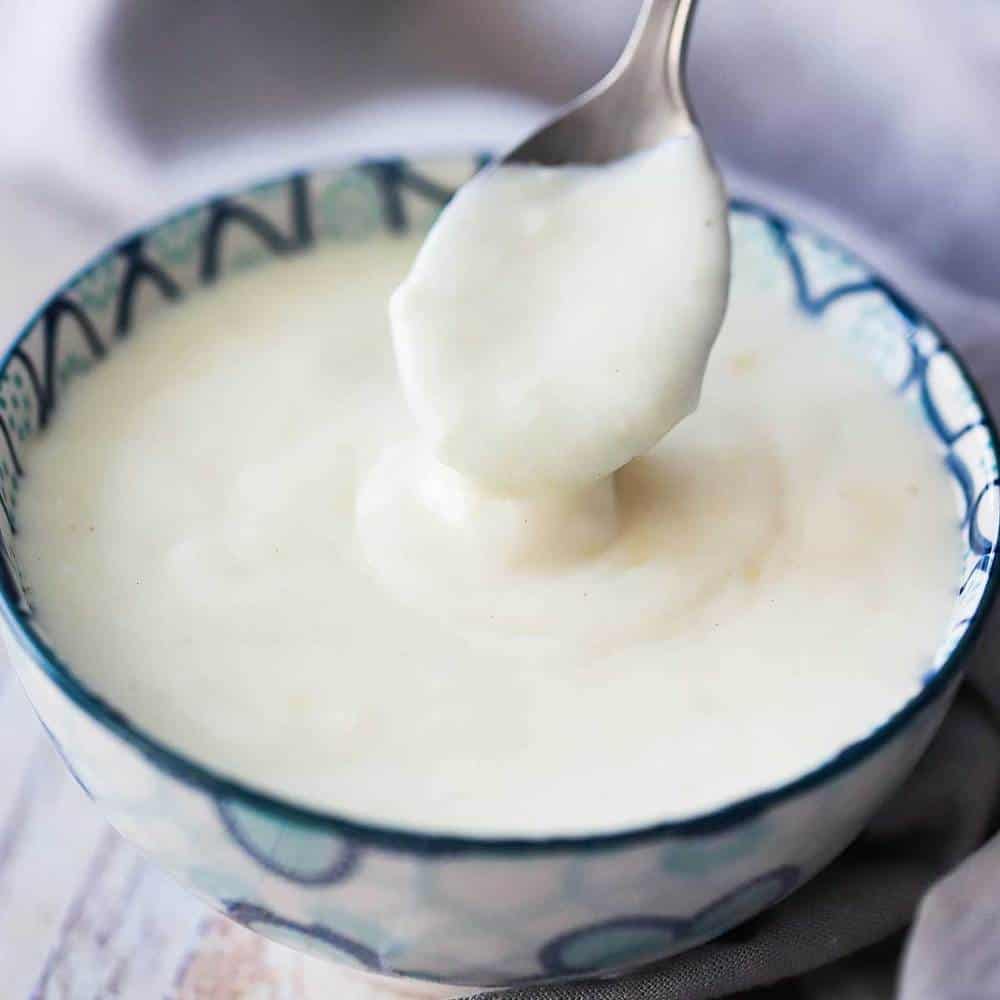 Finish the sandwich off with a dusting of powdered sugar.
And then serve with warm Mornay sauce and a bowl of your favorite preserves or jam.
Oh, boy…this is truly a change-changer of a sandwich.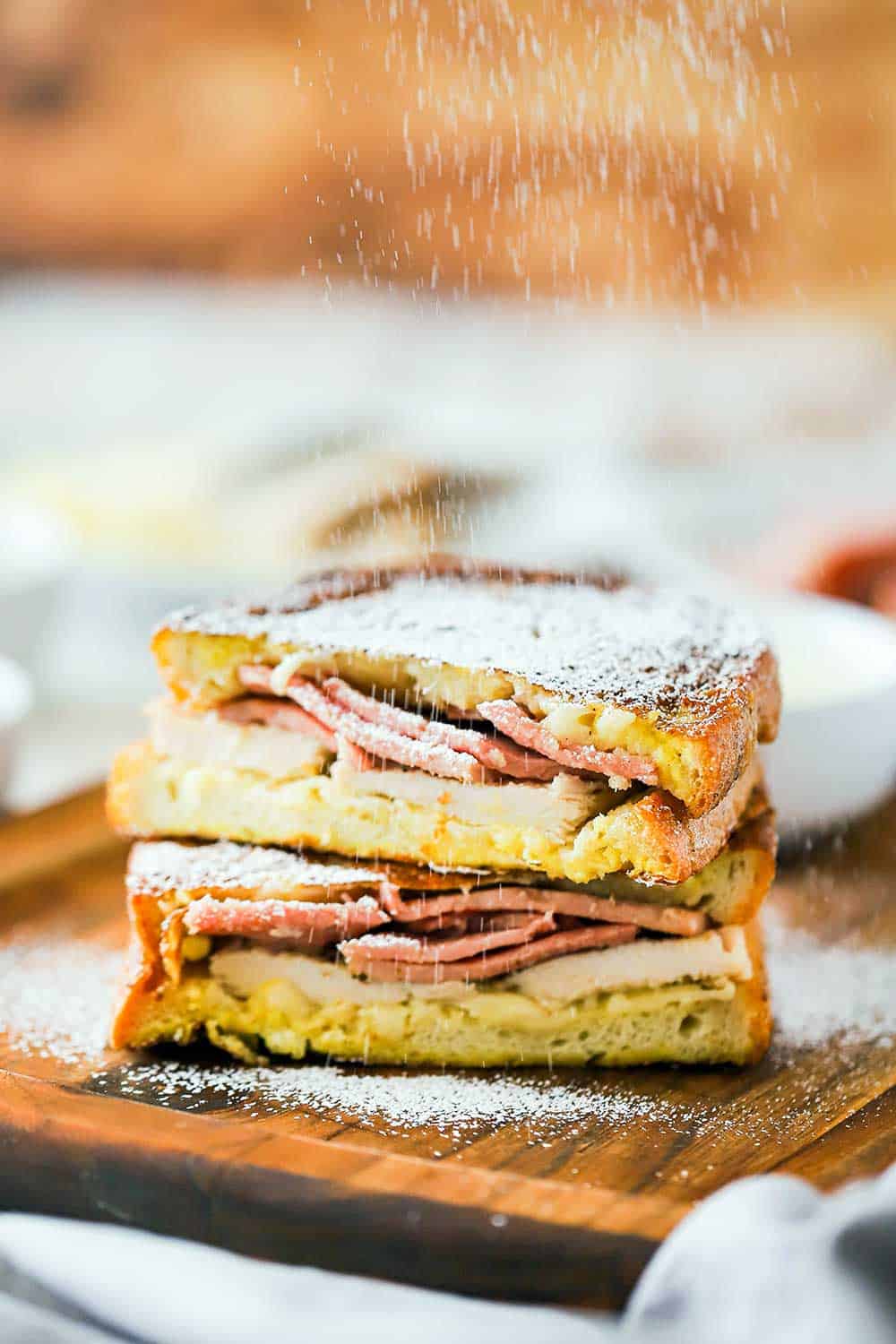 Serve this at your next brunch, and you will be a rock star. Brunch will never be the same. And after one bite, your guests might not be either. It's that good.
This iconic sandwich is such a wonderful memory for us and we will always cherish it, and every time we see it on a menu, or even better, when we make it for ourselves and loved ones, we are instantly transported back to such a glorious time in our lives.
Now, you just gotta drop everything and go make this incredible sandwich. It very well may change your life!!
And when you do, be sure to take a photo of it, post it on Instagram and tag @HowToFeedaLoon and hashtag #HowToFeedaLoon!
The Best-Ever Monte Cristo Sandwich with Mornay
This Monte Cristo Sandwich with Mornay is a sandwich you'll want to prepare time and time again. Of course you can you use ham and turkey from your deli, and it will be delish. But leftover ham and/or turkey is amazing. And don't forget to make the homemade Mornay sauce...it's easy and so good!
Print
Pin
Rate
Servings: 2 people
Calories: 512kcal
Equipment
A skillet (preferably non-stick), large enough to hold at least 1 sandwich.
Ingredients
6 slices bread thickly sliced, white or sourdough are excellent
¼ cup mayonnaise
2 tsp Dijon mustard
4 slices ham thick-cut, or 8 thin slices
4 slices roasted turkey thick-cut, or 8 thin slices
2 cups Gruyere cheese shredded
4 eggs
¼ cup whole milk
1 tsp cinnamon
½ tsp vanilla extract
4 tbsp unsalted butter plus more, if needed
Powder sugar for dusting
Instructions
There will be 2 slices of bread for each sandwich. Place all 4 on a cutting board.

Heat the ham and turkey in a large skillet until warmed through.

Mix together the mayonnaise and Dijon in a small bowl. Use a butter knife to smear the mayo/mustard mixture onto the top-facing side of each slice of bread.

For both sandwiches, follow these steps. Add ½ cup of cheese on top of the mayo/mustard mixture. Add a layer of ham, then turkey, and then another ½ cup on top. Place the other slice on top of the cheese, mayo/mixture facing down.

In a medium-sized bowl, mix together the eggs, milk, cinnamon, and vanilla. Gently mix until the eggs are just beaten.

Place the sandwich in the egg mixture...let sit for a couple of minutes...and press with your hands. Then, flip the sandwich, and let sit, soak up the egg mixture, and apply a little pressure to compact.

Melt the butter in a skillet (preferably non-stick) large enough to hold 1 of the sandwiches.

Gently remove the sandwich from the egg mixture, allowing excess egg to fall off. Carefully add the sandwich to the melted butter and cook until browned on the bottom, about 2 to 3 minutes. Carefully flip the sandwich with the help of a couple of spatulas and cook for another 2 to 3 minutes.

Sprinkle with a little powdered sugar. Serve with preserves and Mornay sauce.
Notes
We heat the turkey and ham prior to cooking the sandwiches in order to help make sure the cheese melts and gets nice and gooey. This can also be done in the oven, or even the microwave. Cold turkey and ham will make it harder for the cheese to melt simply from the heat of the skillet. Be sure to cook the sandwich on medium-low heat. This will prevent the bread from browning quickly and will allow the heat to penetrate into the sandwich. We shred our Gruyere with the shredding attachment of our food processor, or just throw it in and pulse until crumbled. A box grater works just fine, too. Swiss cheese can be used in place of the Gruyere and still be delicious. The Mornay is best served right off the stove. If making ahead of time, reheat with a few more splashe of milk or cream until the desired consistency is reached.
Nutrition
Calories: 512kcal | Carbohydrates: 2g | Protein: 30g | Fat: 32g | Saturated Fat: 12g | Cholesterol: 442mg | Sodium: 1416mg | Potassium: 443mg | Sugar: 2g | Vitamin A: 1234IU | Calcium: 101mg | Iron: 3mg
POST UPDATE: This recipe was originally published in October 2015, but was updated with improved tweaks to the recipe with new tips and photography and a fabulous new video in April 2021!