You can't get much more iconic than this classic fast-food breakfast sandwich.
Most of us love this beloved breakfast item from the perennial fast-food favorite, McDonald's. You may think it's impossible to improve upon it, and why would you? Let's start with homemade English muffins. Throw in thick-cut Canadian bacon, perfectly cooked eggs, and melty American cheese. Through-the-roof delicious!
How To Make Egg McMuffin Recipe (Copycat)
This amazing breakfast sandwich is actually so much easier to make in your very own kitchen than you might think.
What's put our version over the top? Homemade English muffins and extra-thick slices of wonderfully smoked Canadian bacon.
NOTE: If you liked this video, please subscribe to our YouTube channel. Remember to click the little 'bell' icon so you'll never miss a new video! Thank you!
The Ingredients You Will Need
None of the ingredients for our copycat version are exotic at all, but you will need to plan in advance when ordering the incredible smoked Canadian bacon.
Here's What You'll Need to Have on Hand
English muffins – We've said it before, and we'll say it again. Making these from scratch sets this sandwich apart. They can even be made 1 to 2 days in advance!
Canadian bacon – Store-bought is just fine, but it's so thinly sliced. Order from Amana's Meat Shop, and then you can slice it as thick as you like!
Eggs – Whole eggs cooked in your English muffin rings or a Mason jar lid to replicate the original McMuffin eggs!
Seasonings – All you need is a little salt and pepper
Cheese – Two layers of American cheese per sandwich is perfection!
EXPERT TIP: As mentioned, use muffin rings, or even the top of Mason jar lid to hold the eggs while you cook and steam them. Melt butter in large skillet, then crack the eggs into the rings. Use a fork to break open the yolks. Add a little water to the pan, and then set another heavy flat object (such as a cast-iron skillet) to keep the egg whites from leaking.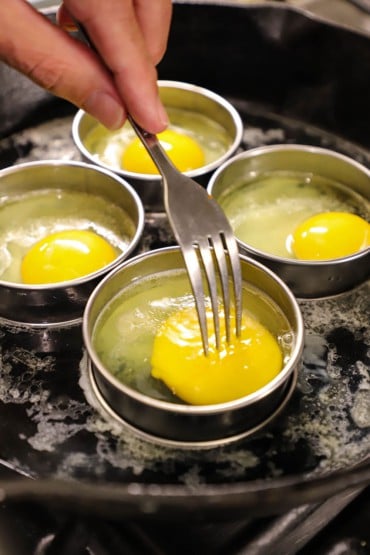 Tips for Perfect Egg McMuffin Recipe
Toast the English muffins: The classic Egg McMuffin is made with English muffins, which have a soft texture and a slightly crispy exterior. Toast the muffins lightly before assembling the sandwich to give them a crispy texture.
Cook the eggs perfectly: The key to a great Egg McMuffin is a perfectly cooked egg. You can use a round egg ring or a cookie cutter to shape the eggs into a round shape. Cook them over medium heat for about 8 minutes on medium-low heat. Don't have the heat too high, or you'll burn the underside. No need to flip the eggs.
Add the right kind of cheese: The classic Egg McMuffin is made with American cheese, which has a mild and creamy flavor. Add a slice of cheese (or better yet, two slices) on top of the egg while it's still hot to allow it to melt.
Pick up quality Canadian bacon: We get ours from Amana Meat Shop and we slice our own. But, check your local deli, they can probably slice smoked Canadian bacon for you.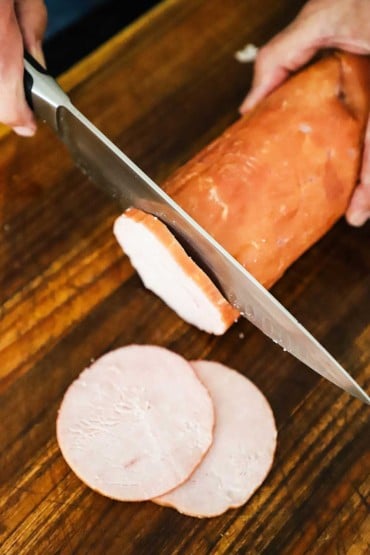 How To Serve
Besides being absolutely delicious, these homemade breakfast sandwiches are just so much fun to serve.
Make the English muffins in advance, and then bring it all together just before serving.
We love to wrap individual sandwiches in white wax paper, although, standard parchment paper works, too.
Serve them alongside Restaurant-Quality Hash Browns or Breakfast Potatoes for the perfect breakfast or brunch!
Other Classic "Copycat" Recipes to Try
Recreating your favorite restaurant and fast-food dishes is not only fun, but a chance for you to kind of 'show off' in the kitchen! These recipes take these well-known dishes and make the better, way better!
McDonald's Big Mac
Taco Bell's Cheesy Gordita Crunch
Dairy Queen's DQ Dude (Chicken Fried Steak Sandwich)
TGI Friday's Potato Skins
Panda Express' Orange Chicken
Chipotle's Chicken Burrito Bowl
Olive Garden's Chicken Marsala
These are classic and unbelievably good. But, at the moment, isn't this classic breakfast calling your name?
We're not here to bad-mouth the classic Micky D breakfast sandwich. In fact, we're craving them right now!
But, when you can go that extra distance and make it in the comfort of your own kitchen. You and your family will not believe how amazingly delicious it is!
It's just as good as the original, even better!
Ready to make the best breakfast sandwich this of…well, McDonald's? Go for it!
And when you do, be sure to take a photo of it, post it on Instagram, and tag @HowToFeedaLoon and hashtag #HowToFeedaLoon!
Egg McMuffin Recipe (Copycat)
Making this classic sandwich at home is actually easier than you might think. Get everything you need to make the English muffins, and the rest comes together in a snap. The English muffin rings can also be used to cook the eggs!
Print
Pin
Rate
Servings: 8
Calories: 392kcal
Equipment
1 Large skillet such as a cast-iron

1 medium skillet cast-iron works well, this will weigh down the egg holders
Ingredients
3 tbsp unsalted butter
8 ¼-inch sliced Canadian bacon
8 whole eggs
salt and pepper
16 slices American cheese
Instructions
Do Ahead
Prepare the English muffins (click the link in Ingredients for the recipe)

8 English muffins
Make the Egg McMuffins
Heat one tbsp of butter in a large skillet over medium heat. Working in batches, add the Canadian bacon and cook, flipping occasionally, until lightly browned on both sides. Set aside.

3 tbsp unsalted butter, 8 ¼-inch sliced Canadian bacon

In the same large skillet, add the rest of the butter and melt over medium-low heat. Place the rings in the skillet. Pour in about 1/2 cup of water around the rings. Crack one egg into each ring. Use a fork to break open the yolks. Add a pinch of salt and pepper over each egg. Cover with a large flat object, such as a medium-sized cast-iron skillet. Cook until yolks are fully set, about 8 minutes. Remove from the pan and gently press the cooked eggs from the rings.

8 whole eggs, salt and pepper

Use a fork and then your fingers to split open each English muffin.

Toast the muffins, cut-side up, until just toasted. Remove and add two slices of cheese to each bottom muffin. If desired, return to the toaster oven (or low-temperature oven) and heat a minute or two longer until the cheese is melty.

16 slices American cheese

Remove the muffins and place the cooked egg on top of the cheese, and then the seared Canadian bacon. Top with the top muffin and serve at once.
Notes
See the video near the top of the blog post for visual guidance. If you liked the video, please subscribe to our YouTube channel.
While store-bought English muffins are perfectly fine, making them from scratch is fun, and delicious, and can be done 1 to 3 days in advance. Store in an air-tight container or large zipper baggie.
If you don't want to order the Canadian bacon, check with your local deli counter. They often have bulk Canadian bacon. Ask for 1/4-inch slices (or thicker, if you prefer!).
Nutrition
Calories: 392kcal | Carbohydrates: 28g | Protein: 18g | Fat: 23g | Saturated Fat: 12g | Polyunsaturated Fat: 2g | Monounsaturated Fat: 6g | Trans Fat: 1g | Cholesterol: 217mg | Sodium: 1038mg | Potassium: 196mg | Fiber: 2g | Sugar: 1g | Vitamin A: 766IU | Vitamin C: 0.1mg | Calcium: 495mg | Iron: 2mg