If you love a yummy chicken fried steak dinner, just wait until you have it in a sandwich.

We're taking this Southern classic fried steak and turning it into an unbelievable sandwich with homemade buns, savory cream gravy, and a chicken fried steak like none other.


If you liked this video, please subscribe to our YouTube Channel. And remember to click the 'Bell' icon so you'll never miss a new video!
How To Make a Chicken Fried Steak Sandwich
This may seem like a daunting sandwich to take on.
But you'll be surprised at how easy it actually is to make from scratch.
And the results will speak for themselves.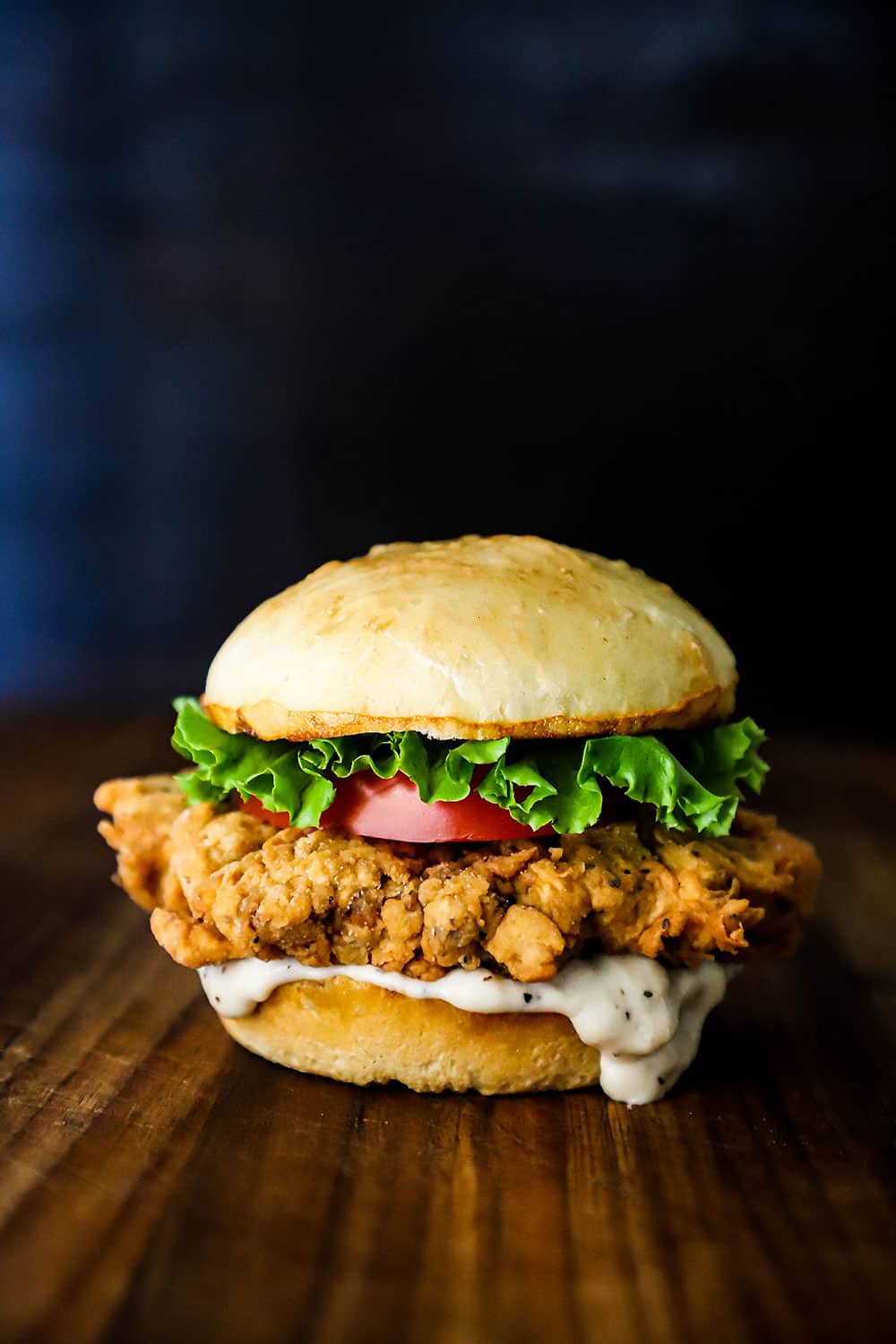 If you liked this video, please subscribe to our YouTube Channel. And remember to click the 'Bell' icon so you'll never miss a new video!
How To Make It Extra Crispy
We have a few tricks up our sleeve for making the cutlet extra crunchy.
First, we dredge tenderized cube steaks in corn starch.
EXPERT TIP: Corn starch helps to create a crispy breading and is often used in Asian fried food.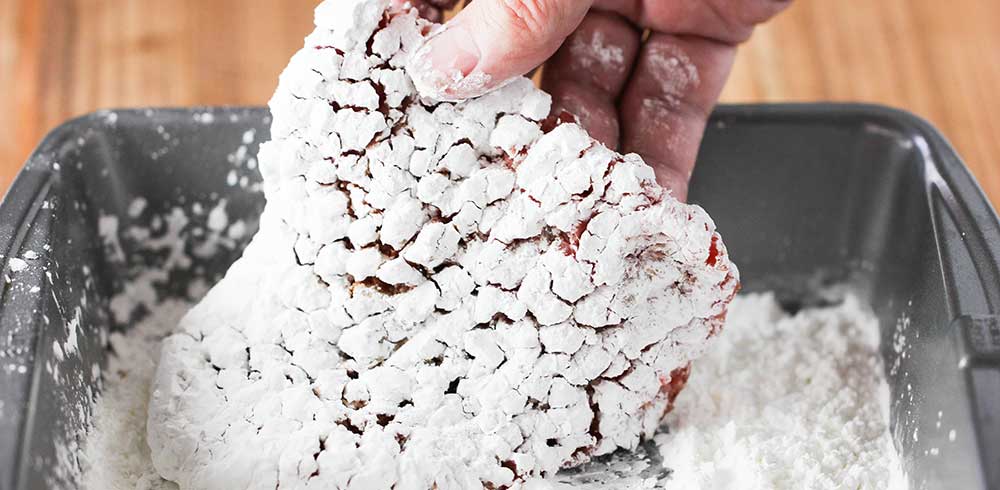 Next, we're going to make a thick wet mixture consisting of the following ingredients:
Flour
Beer
Milk
Egg
Chili powder
Smoked paprika
Salt and pepper
Mix until fully incorporated. The mixture will be thick. Plunge the steak into it and let the excess drip off.
Now, dredge through flour seasoned with adobo seasoning and pepper.
EXPERT TIP: Now, to make it super crispy, plunge it once again in the wet mixture and then in the seasoned flour.
The Best Method for Frying
We recommend frying the breaded steaks in a sturdy skillet with an inch or two of hot vegetable oil.
The weight of the steak will ensure that the breading adheres to the meat as is fries.
EXPERT TIP: Make sure your oil is at 350°F. These steaks only take a few minutes per side. Because they are so thin, they cook quickly.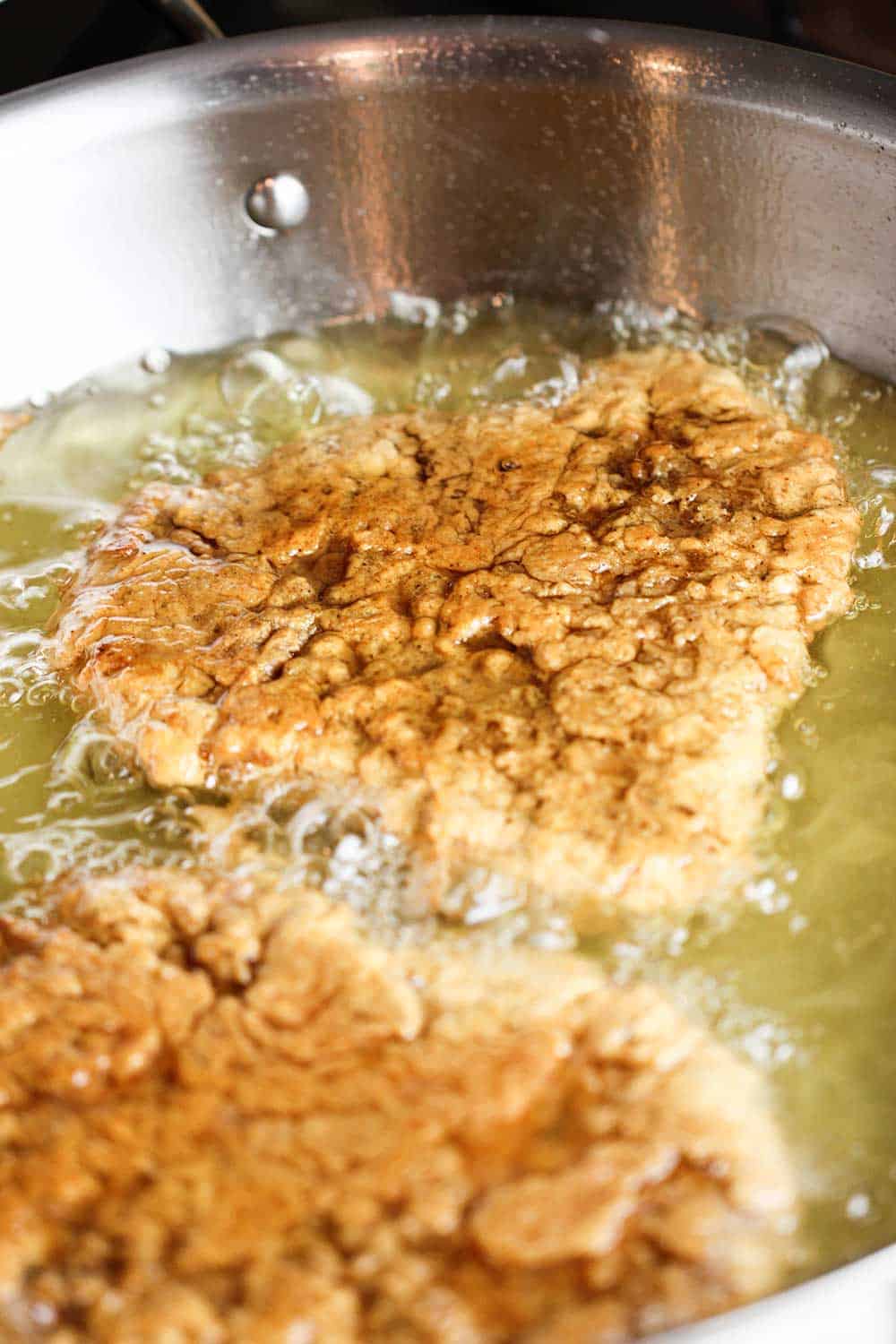 A Dairy Queen Classic Sandwich
Dairy Queen is an iconic fast food restaurant that has been popular in the Southern U.S. since the 1940s.
Their DQ Dude is what we are modeling our chicken fried steak sandwich after.
To make it even better, we're making our buns from scratch. They are so much easier to make than you might think!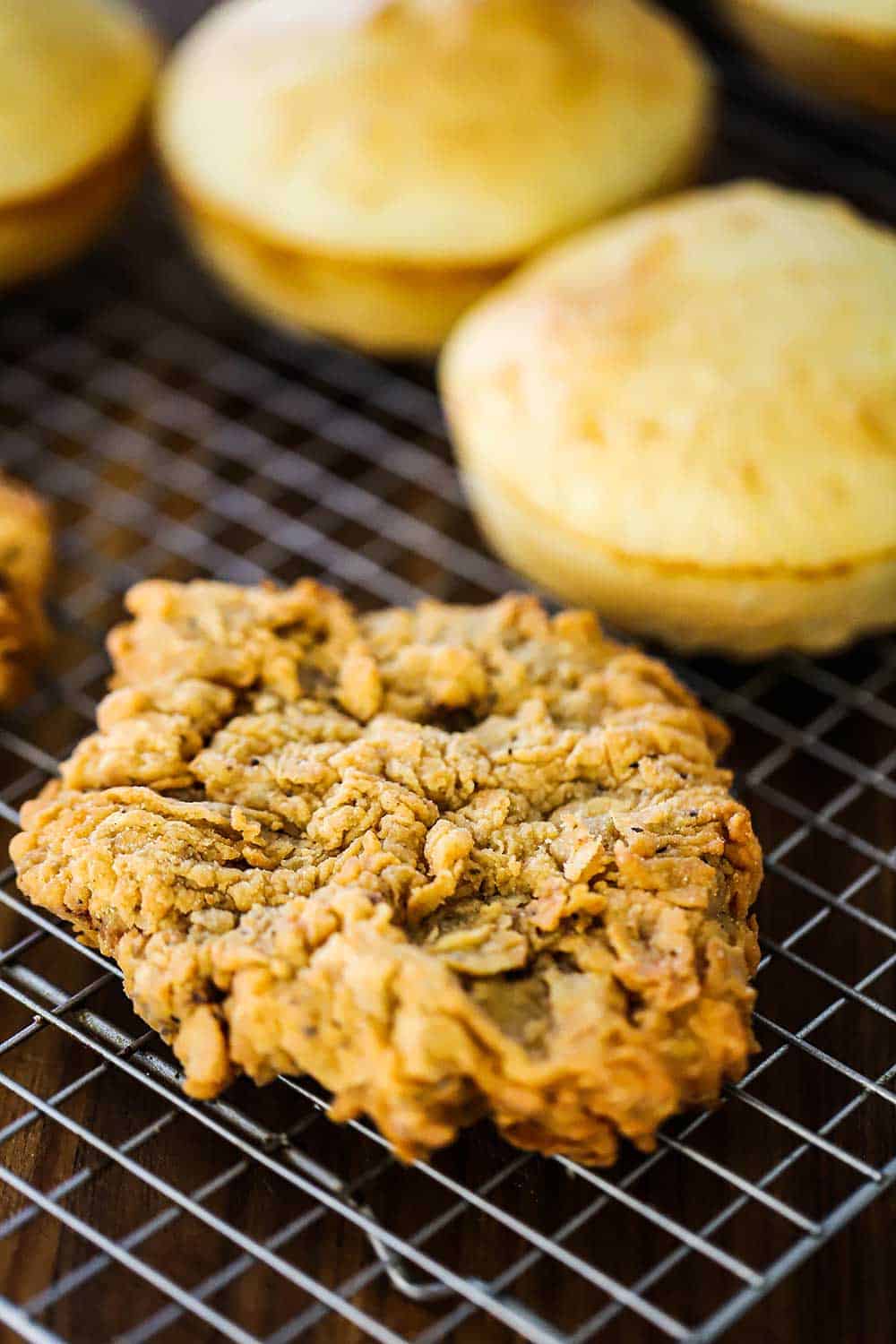 Dairy Queen adds salad dressing to the bun for their sandwich.
No disrespect, but we just can't do that.
This sandwich is begging for homemade cream gravy.
When To Serve
This sandwich is just so much fun to serve. It's great for a festive lunch or feeding a crowd to watch the big game.
We love to invite guests over and let them create their own monster sandwiches.
EXPERT TIP: The fried cutlets can be made a couple of hours in advance and then kept in a low-temp oven. The gravy can easily be reheated on the stove. If necessary, add a little more cream to the gravy.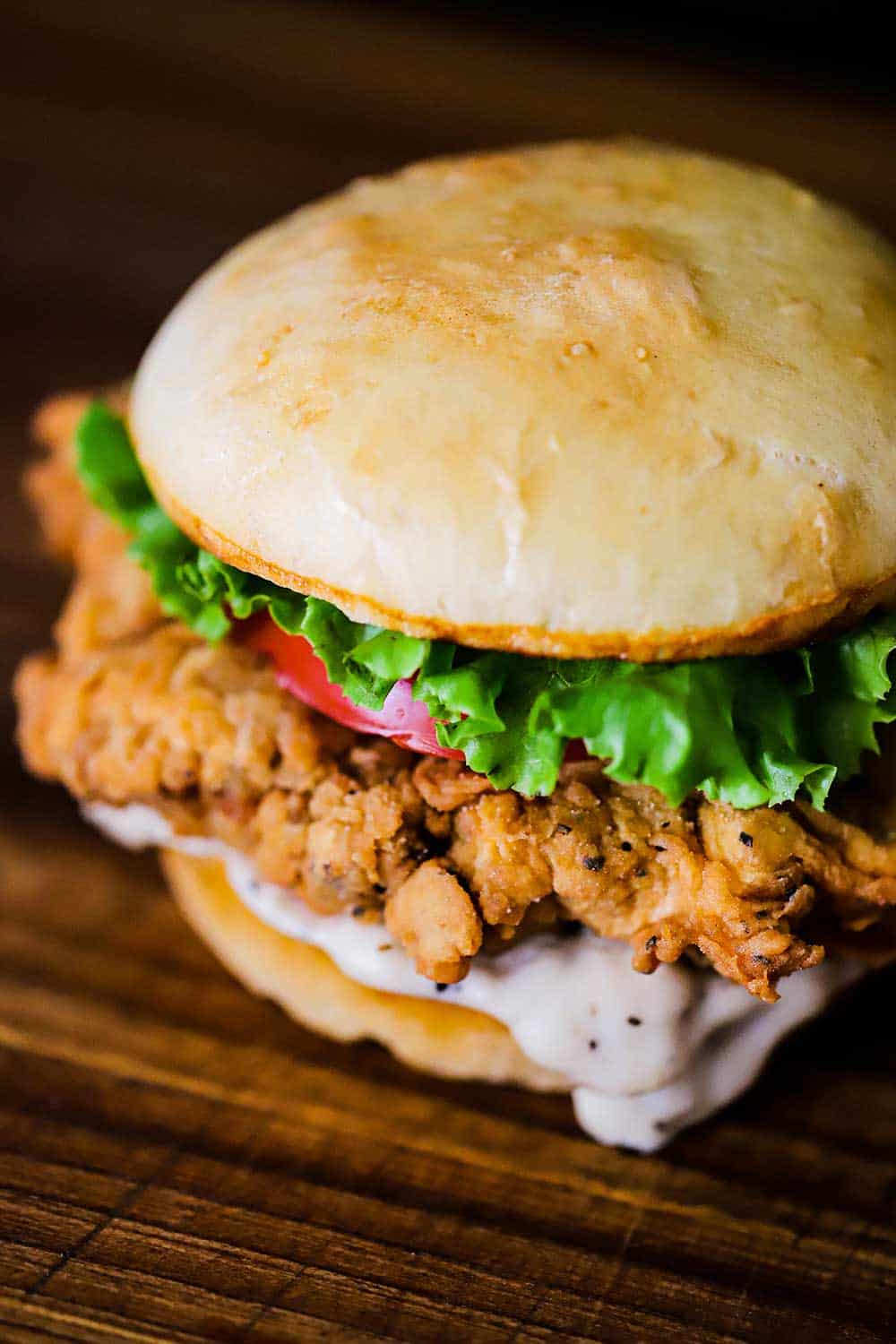 We are big fans of Dairy Queen, and would never disparage this trail-blazing institution.
Seriously, we wouldn't.
But, if you want the best chicken fried steak sandwich in the world, you can now do it in your very own kitchen!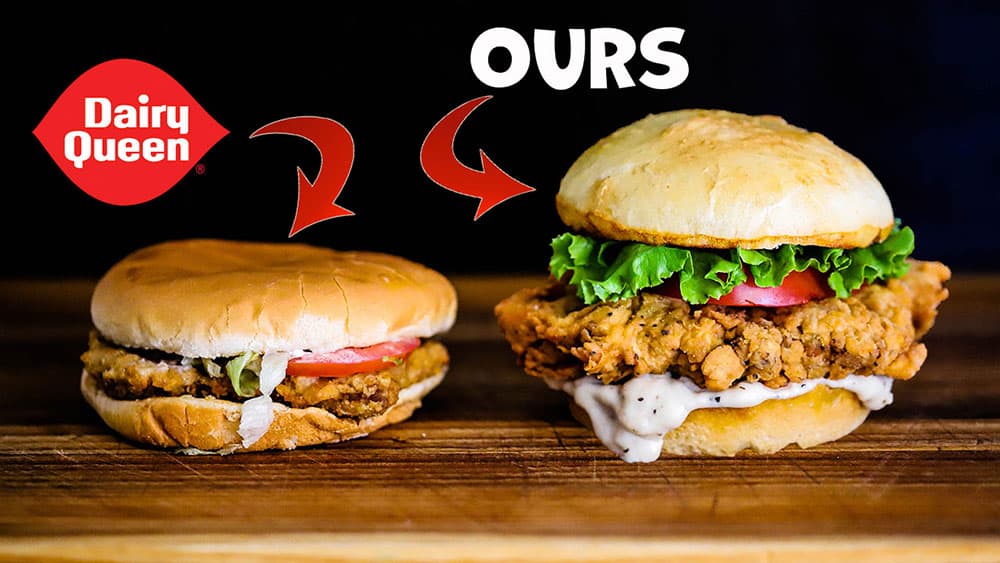 Ready to make an epic sandwich that folks will be talking about for weeks? Go for it!
And when you do, be sure to take a photo of it, post it on Instagram, and tag @HowToFeedaLoon and hashtag #HowToFeedaLoon!
Chicken Fried Steak Sandwich
Our Chicken Fried Steak Sandwich is our version of Dairy Queen's DQ Dude. We show you how to make buns from scratch, as well as a delicious savory cream gravy. And, of course, the crunchiest fried steak cutlet of all time. Classic and unforgettable.
Print
Pin
Rate
Calories: 758kcal
Equipment
Sturdy skillet for frying
Ingredients
For the Steaks
4 3 oz cube steaks tenderized
2 tbsp Worcestershire sauce
2 tbsp adobo seasoning or seasoned salt
2 tbsp black pepper divided
2 tbsp hot sauce such as Tobasco
1 cup corn starch
3 cups all-purpose flour divided
½ cup beer or beef stock
1 cup whole milk
1 large egg
1 tbsp chili powder
1 tsp onion salt
1 tsp smoked paprika
Vegetable oil for frying
For the Cream Gravy
2 tbsp bacon grease or butter
3 tbsp all-purpose flour
2 cups whole milk
1 cup heavy cream
1 tsp adobo seasoning or seasoned salt
1 tsp black pepper
For the Sandwiches
2 tomatoes sliced
green leaf lettuce cut into pieces
Instructions
Do Ahead
Make the homemade hamburger buns
Make the Chicken Fried Steak Cutlets
Pour enough oil into a large skillet so it reaches about 1 inch up the side. Heat the oil to 350°F, or until a pinch of bread tossed in turns golden brown after about 1 to 2 minutes.

Season one side of the steaks with Worcestershire sauce, adobo seasoning, and pepper. Turn the steaks over and season with hot sauce, adobo seasoning, and pepper.

Set up a dredging station with three pans or bowls. In the first pan, add the corn starch. In the next pan mix together 1½ cups flour, beer, milk, egg, chili powder, onion salt, paprika, and ½ tsp pepper. In the third pan, mix together the remaining 1½ cups flour with 1 tbsp of adobo seasoning.

Dredge each steak through the corn starch, shaking off excess. Then plunge into the wet mixture, holding the steak upright to allow excess batter to drip off. Dredge through the seasoned flour. For extra crispy cutlets, dredge through the wet and the flour mixture a second time.

Working in batches, carefully add the cutlets to the hot oil. Cook for 2 to 3 minutes until turning golden brown. Use a pair of tongs to gently flip the steaks over and cook for another few minutes, until completely golden brown and crispy all over. Place on a plate lined with paper towels to drain. Repeat with remaining cutlets. Keep warm in a low-temp oven if not serving immediately.
Make the Cream Gravy
In a separate large skillet, heat the bacon grease (or butter) over medium heat. Add the flour and stir to combine. The mixture should resemble wet sand. Add more flour if necessary. Cook, stirring often, for about 1 to 2 minutes.

Carefully whisk in the milk and heavy cream. Continue whisking to remove lumps. Stir frequently with a wooden spoon until thickened, about 4 minutes. Season with 1 tsp of adobo seasoning (or seasoned salt) and 1 tsp black pepper. Taste and add more salt, if desired.
Assemble the Sandwiches
Butter and toast the buns, if desired.

Smear about 1 to 2 tbsp of the gravy on the bottom bun. Place 1 fried cutlet over the gravy. Top with sliced tomato and green leaf lettuce. Cover with the top bun and serve at once, passing more gravy on the side for dunking.
Notes
See the video near the top of the post for a visual guide. If you like the video, please subscribe to our YouTube channel.
The buns and the gravy can be made 24 hours in advance. Simply reheat the gravy on the stove over medium heat until bubbly. Add a little more milk if too thick.
3 oz. may seem like small steaks, but after being breaded and fried, they get much larger.
If you can't find tenderized cube steaks, go with any inexpensive cut of meat, and pound with a meat tenderizer until thin.
Nutrition
Calories: 758kcal | Carbohydrates: 310g | Protein: 102g | Fat: 21g | Saturated Fat: 12g | Polyunsaturated Fat: 2g | Monounsaturated Fat: 2g | Trans Fat: 1g | Cholesterol: 615mg | Sodium: 759mg | Potassium: 2124mg | Fiber: 27g | Sugar: 21g | Vitamin A: 10508IU | Vitamin C: 62mg | Calcium: 1548mg | Iron: 33mg