We're taking this iconic burger and simply making it better. Much, much better.

If you're like us, you have a love/hate relationship with this sandwich. It's tasty, but not really satisfying. Especially an hour or so after you at it. Well, just wait until you try this version.


NOTE: If you liked this video, be sure to subscribe to our YouTube Channel!
How To Make a Homemade Big Mac
McDonald's is truly a legendary American phenomenon with an incredible history.
We're not here to disparage this thriving institution.
We're just going to take their most popular food item and make it even better. Way better.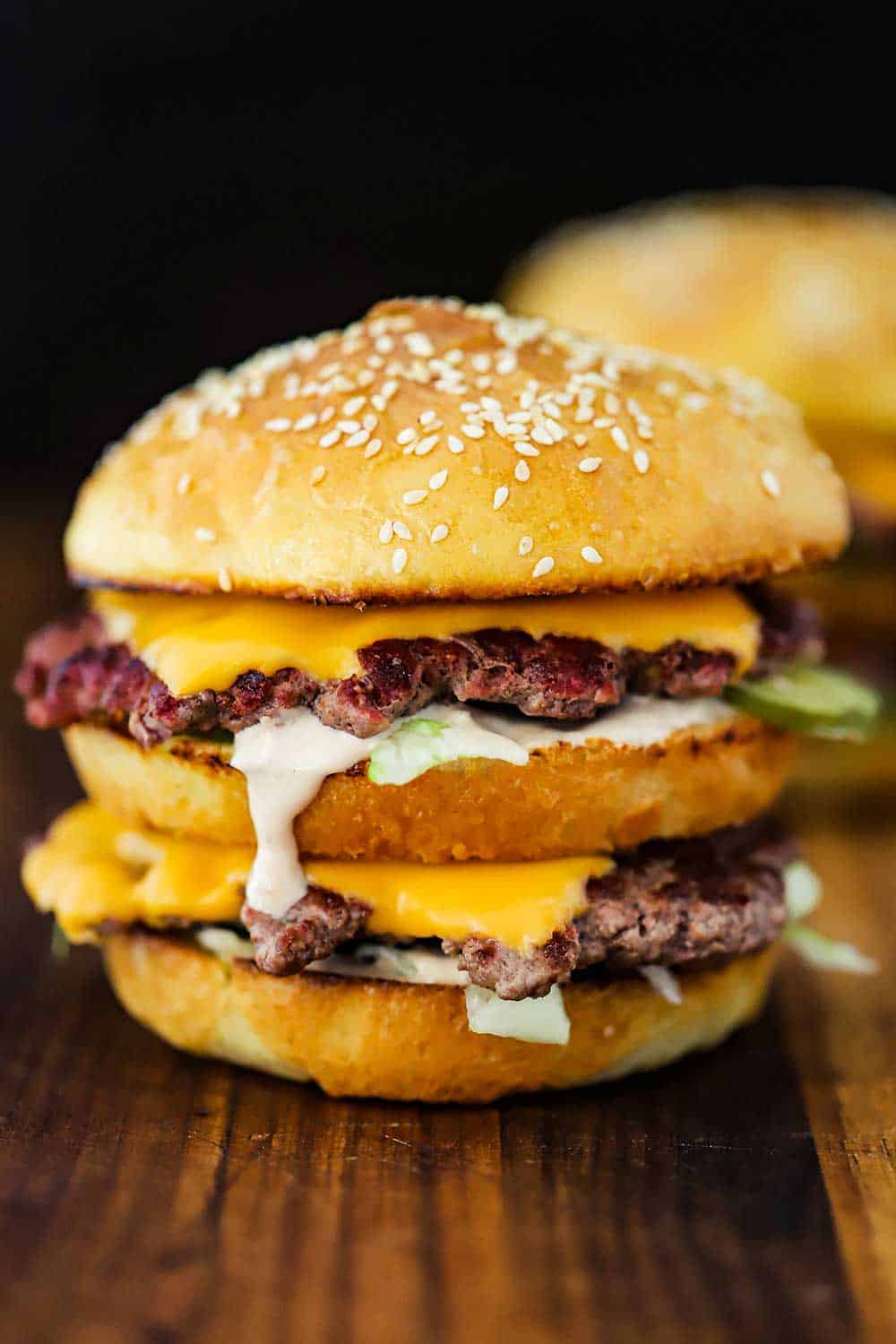 Making the Perfect Hamburger Bun
One of the most important components of making the best Big Mac in the history of the world is the hamburger bun.
Homemade is the way to go. We simply MUST make our Perfect Hamburger Buns.
EXPERT TIP: Our homemade buns are light and fluffy and really are ideal for making a Big Mac at home. They are tall enough to easily cut them into three buns. Use a sharp knife to carefully cut the top off the bun, then cut the remainder of the bun in half. Be sure to butter all cuts sides of the buns and toast them in a hot skillet, or ideally, a griddle.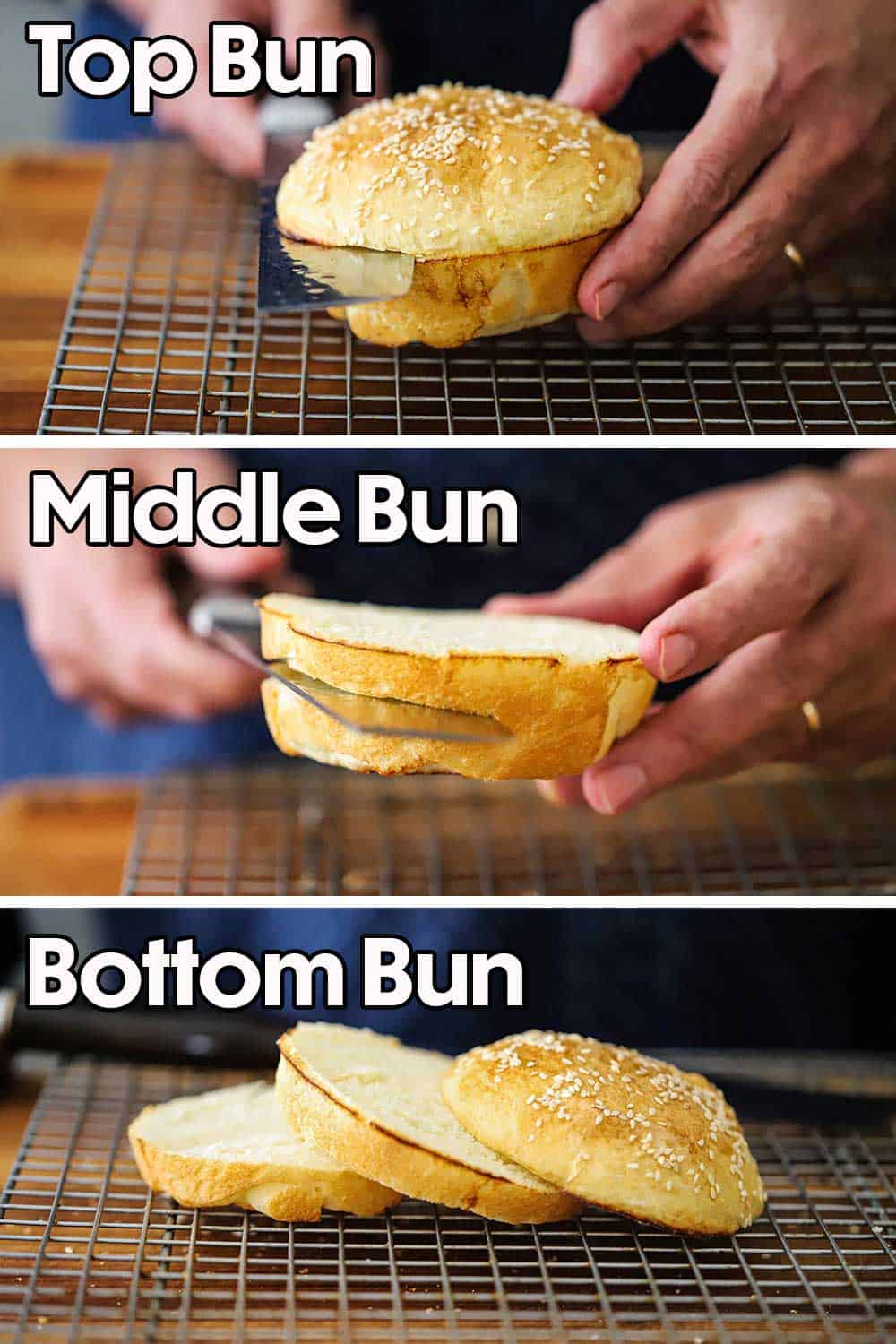 Elevating the Flavor of the Beef
If we're going to do this right, we need to make the beef patty one that is of the highest flavor.
That's right. We're going to grind our own meat with our trusty meat grinder.
We use a combination of top sirloin and brisket, about ½ pound of each.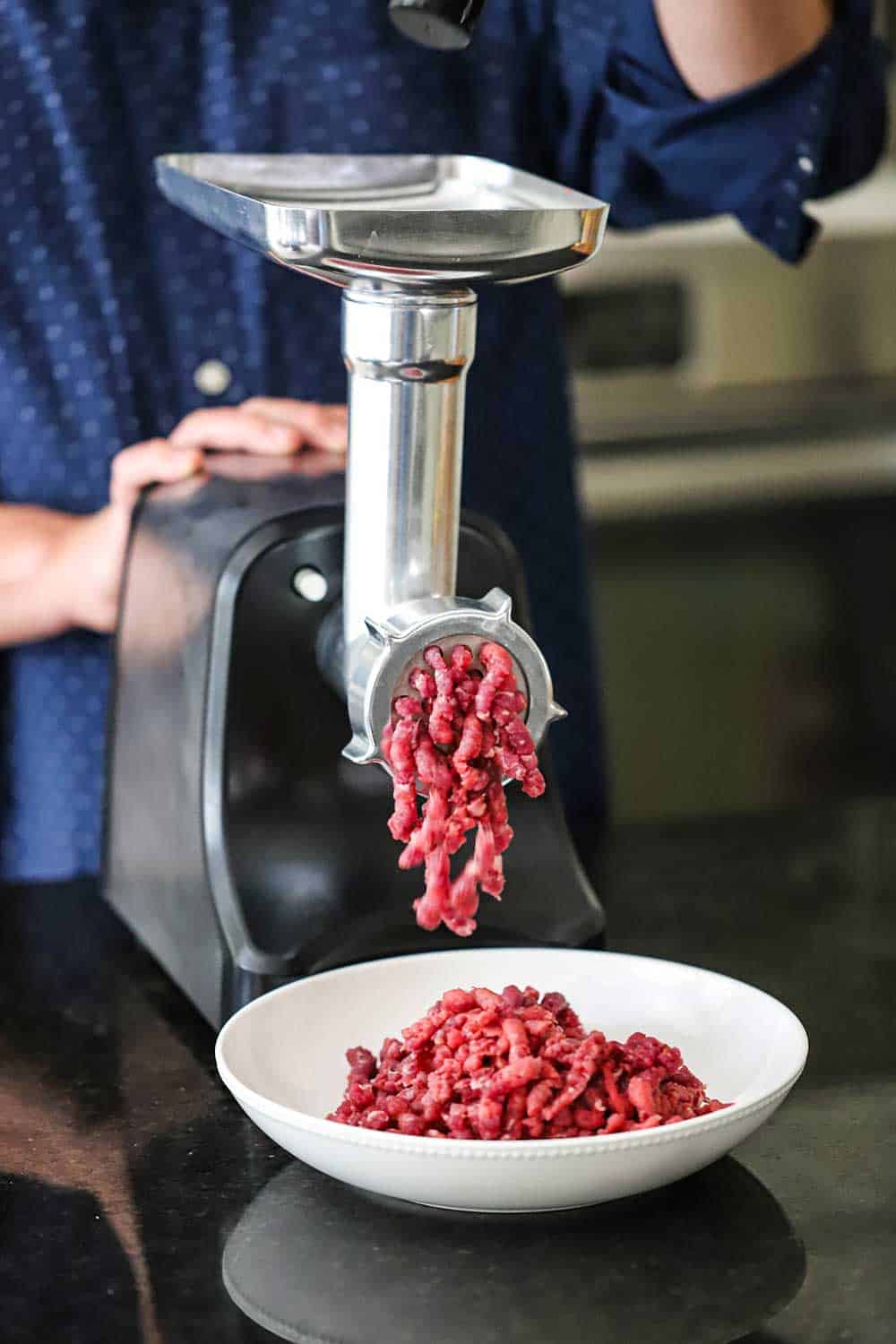 How To Make a Smash Burger
Big Mac hamburger patties are notoriously thin. Practically see-through.
We're going to make a thin patty, but we're going to make sure it's still big on flavor and texture.
To make the perfect smash burger:
Pull together 3 ounces of the ground meat and gently form it into a ball.
Add vegetable oil to your griddle (or skillet) over medium-high heat, and flatten the ball of meat with the palm of your hand.
Salt and pepper and smash with a spatula and something heavy such as a hamburger press.
Cook for about 3 minutes, pressing down on the patty frequently.
Flip and salt and pepper on the other side.
Place cheese on the patty and cook for another 1 minute.
Remove from the griddle.
Making the burger smash-style locks in that amazing sirloin and brisket flavor and creates an amazing crusty on the exterior of the patty.
The original Big Mac has only one slice of American cheese.
That won't do. We highly recommend adding one slice on both patties.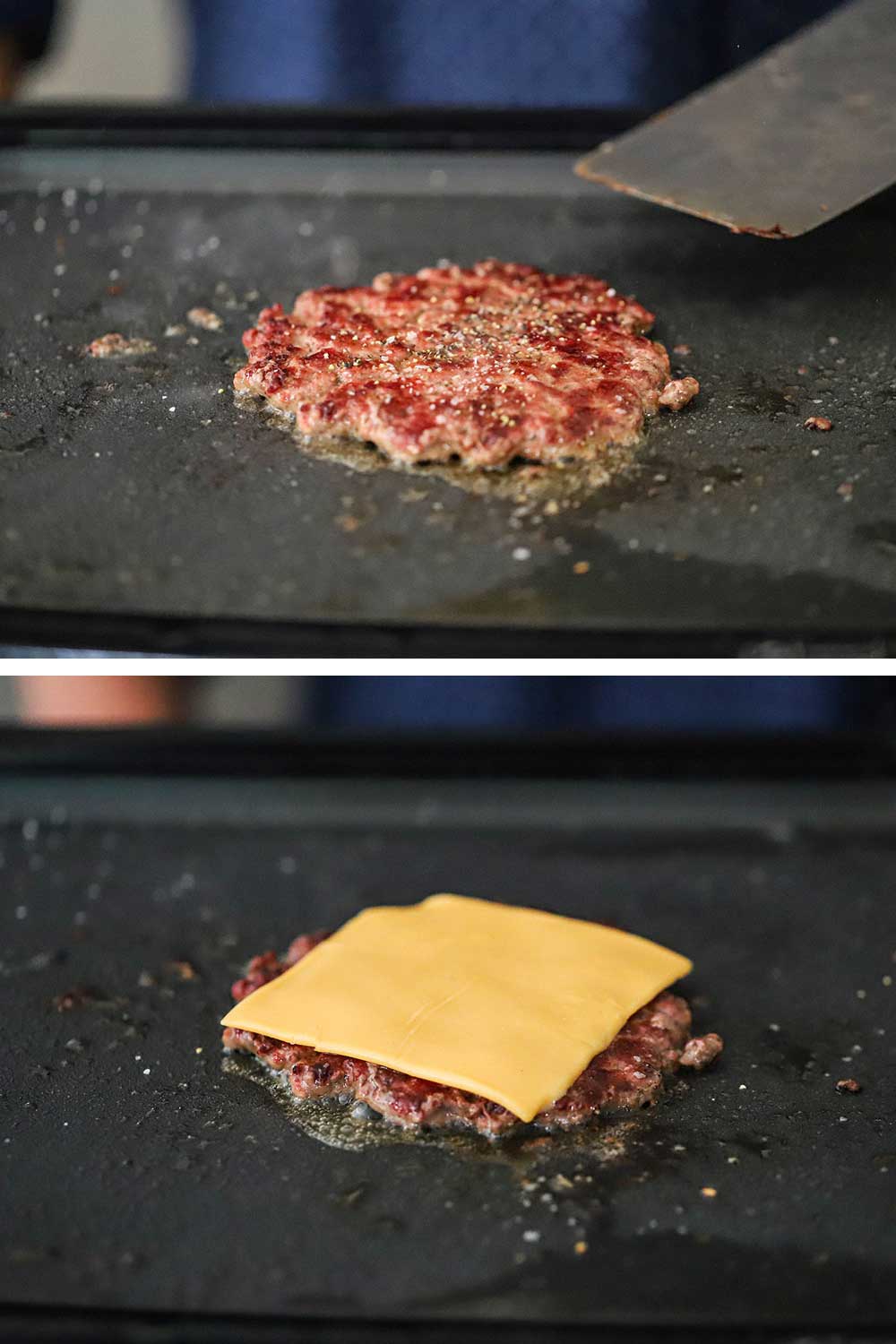 Building the Perfect Homemade Big Mac
When you make the Perfect Hamburger Buns, you might as well make our Homemade Russian Dressing.
Now, it's time to build the burger!
On the bottom and middle buns, add a nice thick layer of the homemade Russian dressing, then a layer of chopped iceberg lettuce, and then a nice layer of sliced hamburger dill pickles.
And then, top all this off with the smash burgers with cheese.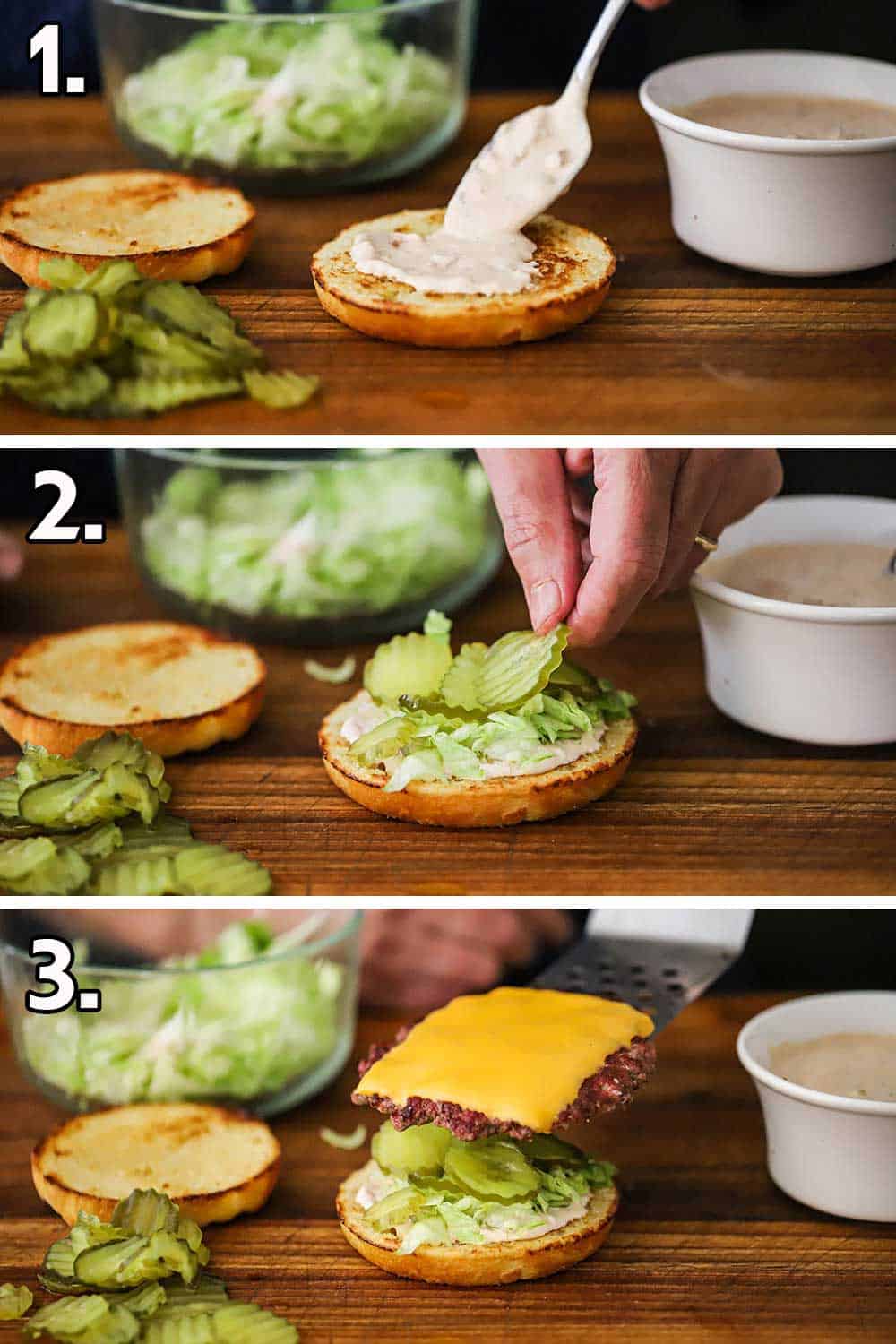 When To Serve
When we decided to re-create a Big Mac at home, we really weren't 100% sure how it would turn out.
We can honestly say, without hesitation, this is one of the best, if not THE BEST, burgers we've ever made or eaten.
You'll want to make these for friends and family as soon as possible. It's really that good.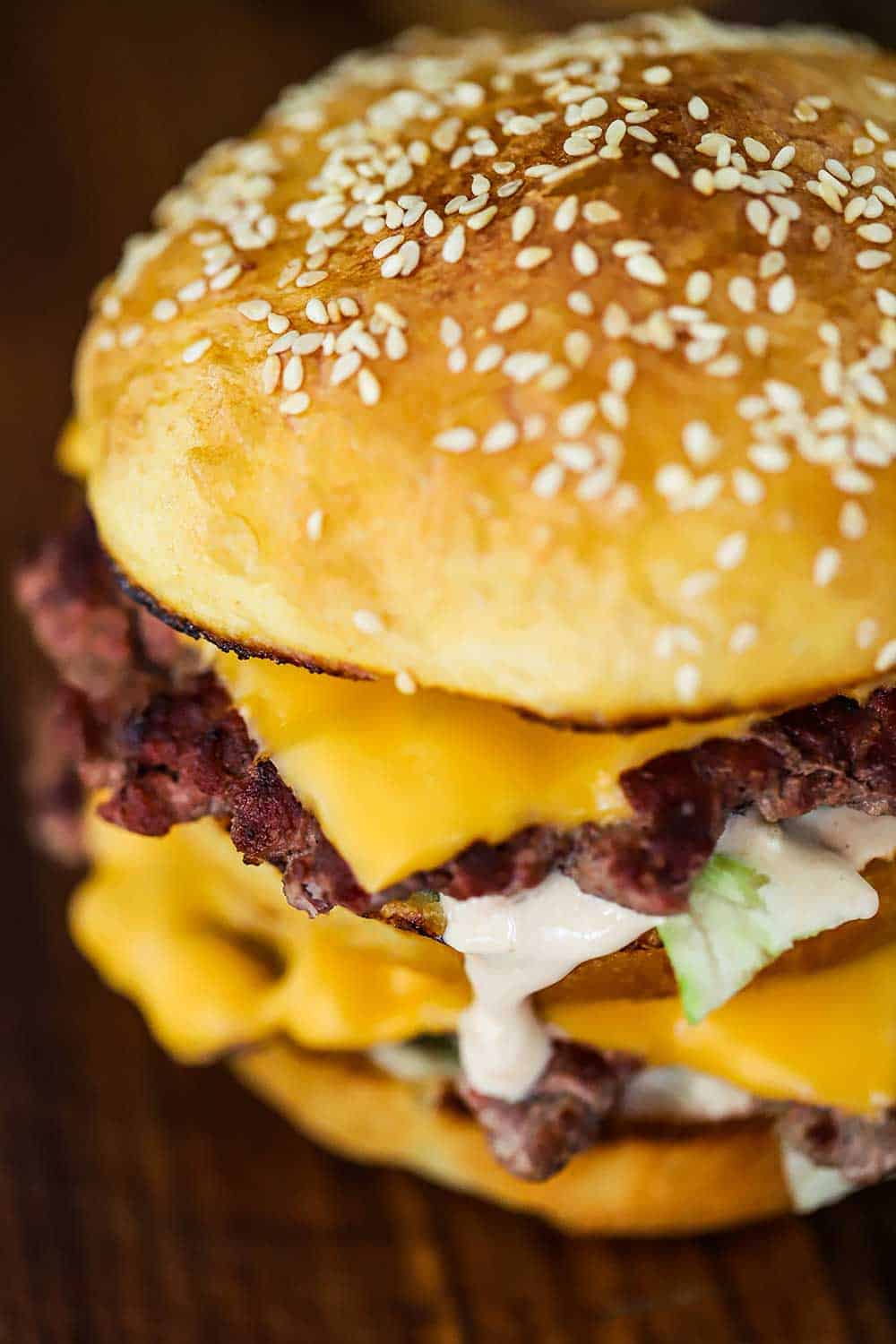 We are so excited to share this amazing burger with you!
And the amazing thing is, once you make the buns and Russian dressing (which can easily be made in advance), the burgers come together very quickly!
It's a big bite…but you will not believe how good it is after that first bite.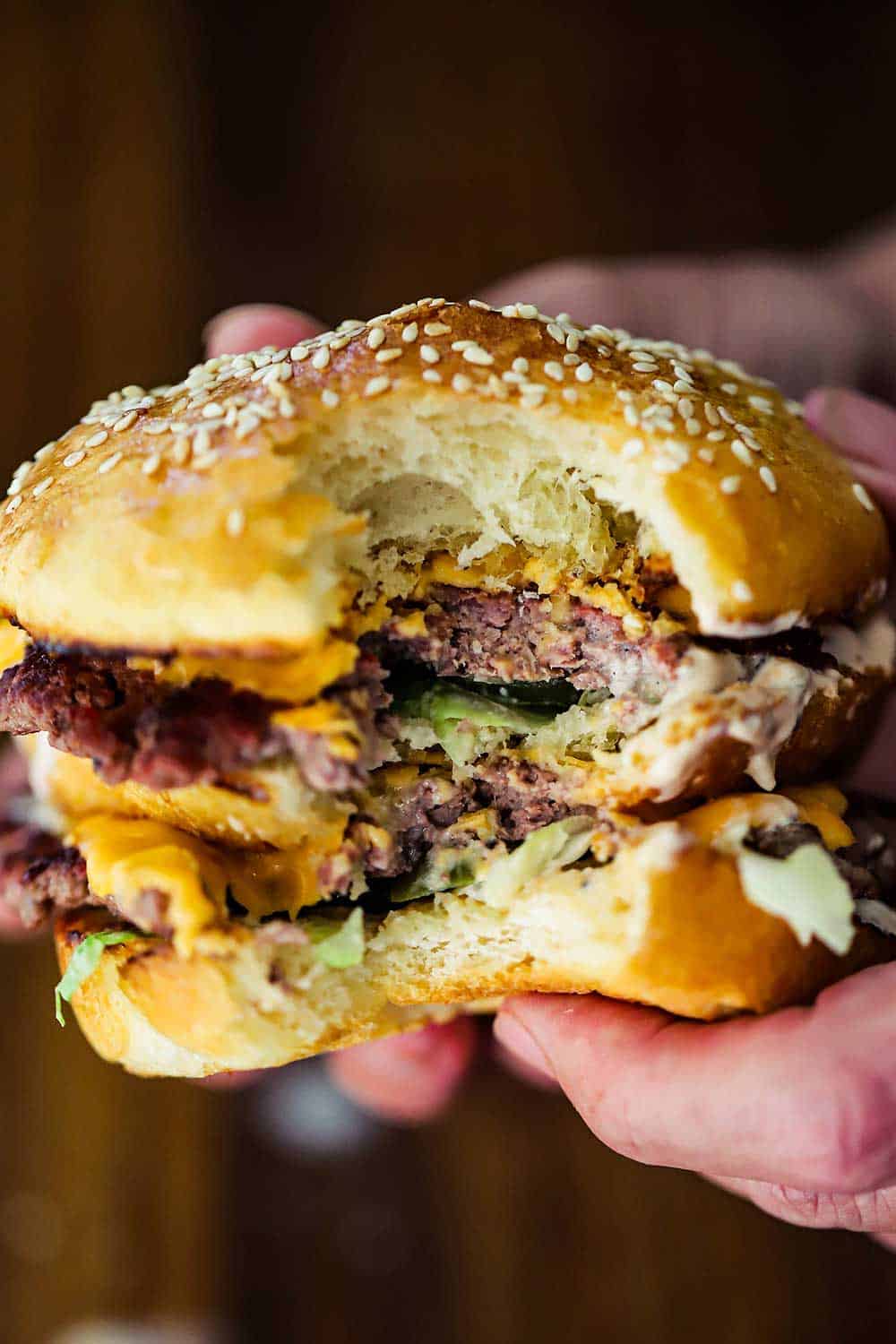 We're not trying to say anything negative about McDonald's.
We're really not.
But folks…take a look at this: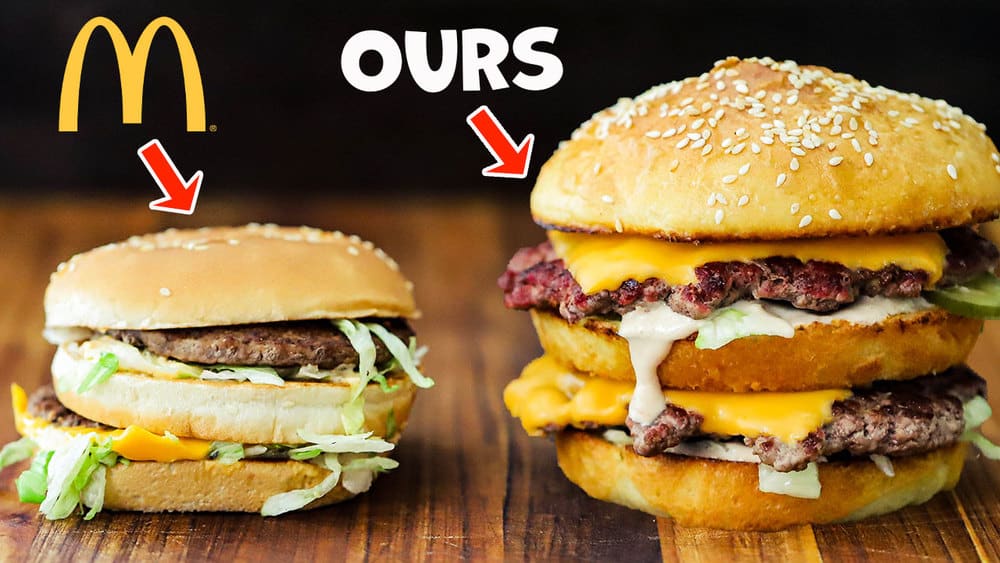 Ready to make the best double-decker burger that every fast-food food joint in the world will be jealous of? Go for it!
And when you do, be sure to take a photo of it, post it on Instagram, and tag @HowToFeedaLoon and hashtag #HowToFeedaLoon!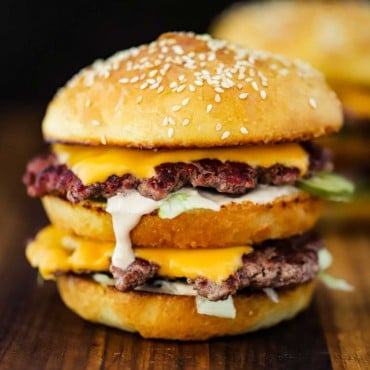 Homemade Big Mac
When we decided to re-create this iconic burger at home, we had no idea how amazingly delicious it would turn out. Make this burger and you will be in awe. The hamburger buns and Russian dressing can be made 24 hours in advance. The burgers come together very quickly.
Print
Pin
Rate
Servings: 2
Calories: 758kcal
Equipment
Meat grinder

Griddle (or skillet, such as cast-iron)

One or two large spatulas, and preferably a meat press
Ingredients
2 hamburger buns Cut into thirds (click link for recipe)
2 tbsp unsalted butter
½ lb top sirloin cut into 1 to 2-inch pieces
½ lb brisket cut into 1 to 2-inch pieces
1 tbsp vegetable oil
Salt and pepper
4 slices American cheese
¼ cup Russian dressing click link for recipe
½ cup Iceberg lettuce shredded
¼ cup hamburger pickles
Instructions
Heat your griddle to medium-high heat (or if using a skillet, heat over medium-high heat)

Butter the cut side of all buns.

Toast the cut sides of all the buns until lightly browned. Set aside.

Run the sirloin and brisket through the meat grinder with the large hole disc. After the meat has been completely ground, run it through again.

Use a spatula to spread the oil around on the griddle. Make the bottom of the spatula is oiled (this will help to keep the meat from sticking to it).

Form four 3 oz. balls of meat in your hand. Carefully flatten one ball on the hot griddle. Use a spatula and meat press to completely flatten the meat. Repeat with the remaining balls of meat. Cook for 3 to 4 minutes, continuing to press down with the spatula and press.

Use the spatula to gently separate the patties from the griddle or skillet. Flip each patty and top with each one with a slice of cheese. Let cook for 1 minute and then remove the patties from the griddle or skillet.

Build the Big Mac by adding a thick layer of Russian dressing on the bottom bun and middle bun. Add a layer of shredded lettuce and then pickles. Top with each prepared bun with a cheese smash burger. Top with the top bun and serve at once.
Notes
Be sure to check out the video of us making this amazing hamburger. You will find it near the top of the blog post. And, if you liked the video, be sure to subscribe to our YouTube Channel!
See the blog post for links to all the tools we used to create this burger.
The buns and Russian dressing can be made up to 24 hours in advance. Gently wrap the buns in foil when making in advance. If you place them in a storage container with a tight lid, it will cause the buns to get a little soggy.
Nutrition
Calories: 758kcal | Carbohydrates: 24g | Protein: 61g | Fat: 38g | Saturated Fat: 12g | Polyunsaturated Fat: 2g | Monounsaturated Fat: 13g | Trans Fat: 1g | Cholesterol: 209mg | Sodium: 1073mg | Potassium: 918mg | Fiber: 1g | Sugar: 4g | Vitamin A: 838IU | Vitamin C: 1mg | Calcium: 551mg | Iron: 6mg