We love taking an iconic food item…and making it better. Way better.

We're not here to disparage Taco Bell. Heavens knows it filled our bellies many, many times over the course of our lives. Though our palettes have matured from those fast-food days, the concept of this particular taco has us excited to make one in our own kitchen…all from scratch. Let's have some fun!


If you enjoyed this video, please subscribe to our YouTube Channel!
How To Make Homemade Cheesy Gordita Crunch
To truly up the game (in a big way) for this soft, crunchy, and cheesy taco, we're going to need to make almost every component from scratch.
It's not hard to do, honestly, it just takes a little time.
And, wow…are the results truly astounding.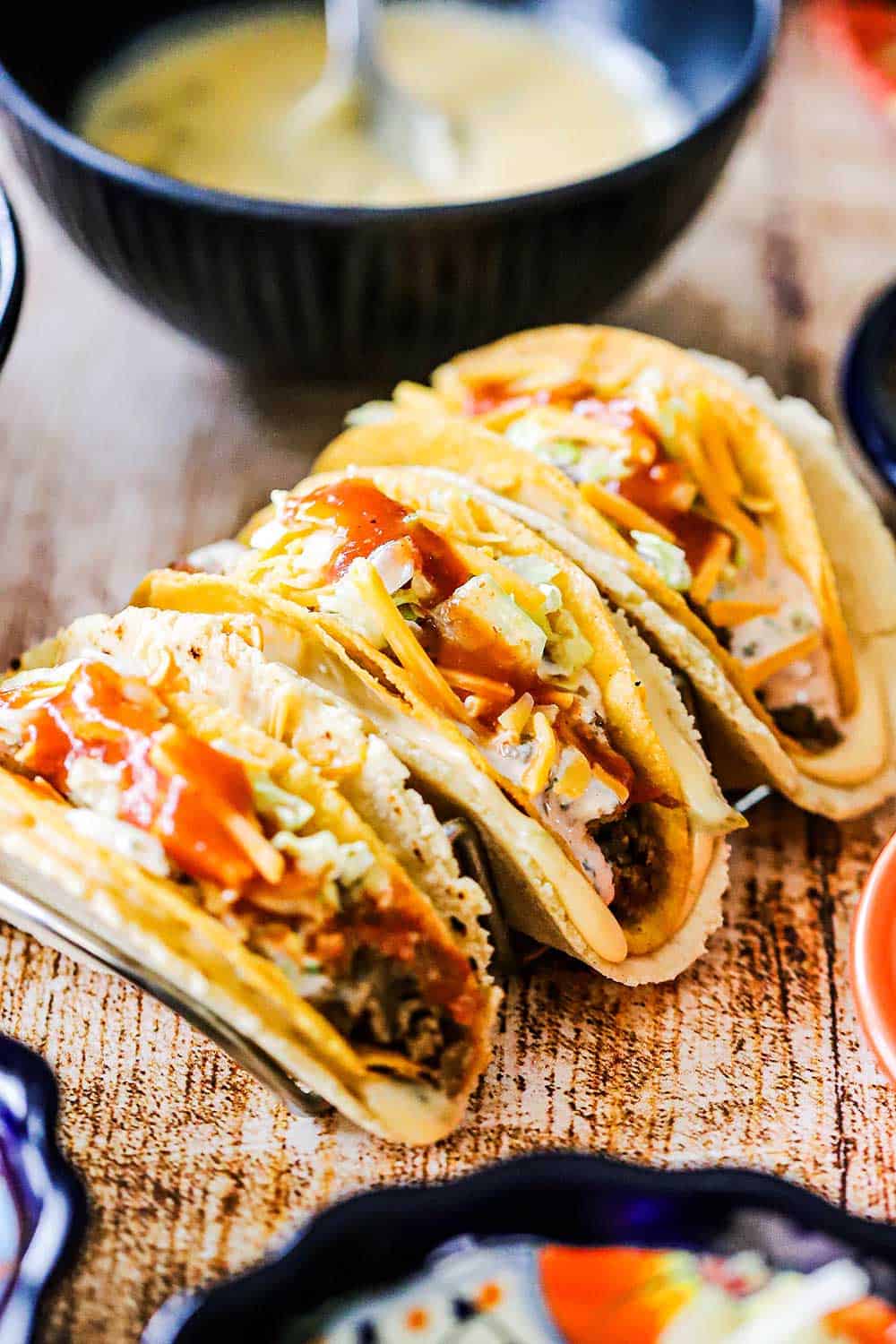 The Ingredients You Will Need
Here's what you'll need to make the most epic Homemade Cheesy Gordita Crunch:
Extra-Thick Homemade Corn Tortillas
Homemade Cheese Sauce (with Pickled Jalapenos / Optional)
Crunchy Corn Taco Shells (Preferably deep-fried at home)
Restaurant-Quality Beef Taco Meat Filling
Homemade Ranch Dressing, Spiced Up
Shredded Iceberg Lettuce
Shredded Cheddar Cheese
Homemade "Taco Bell-Style" Taco Sauce
That's doable? Right? Yes!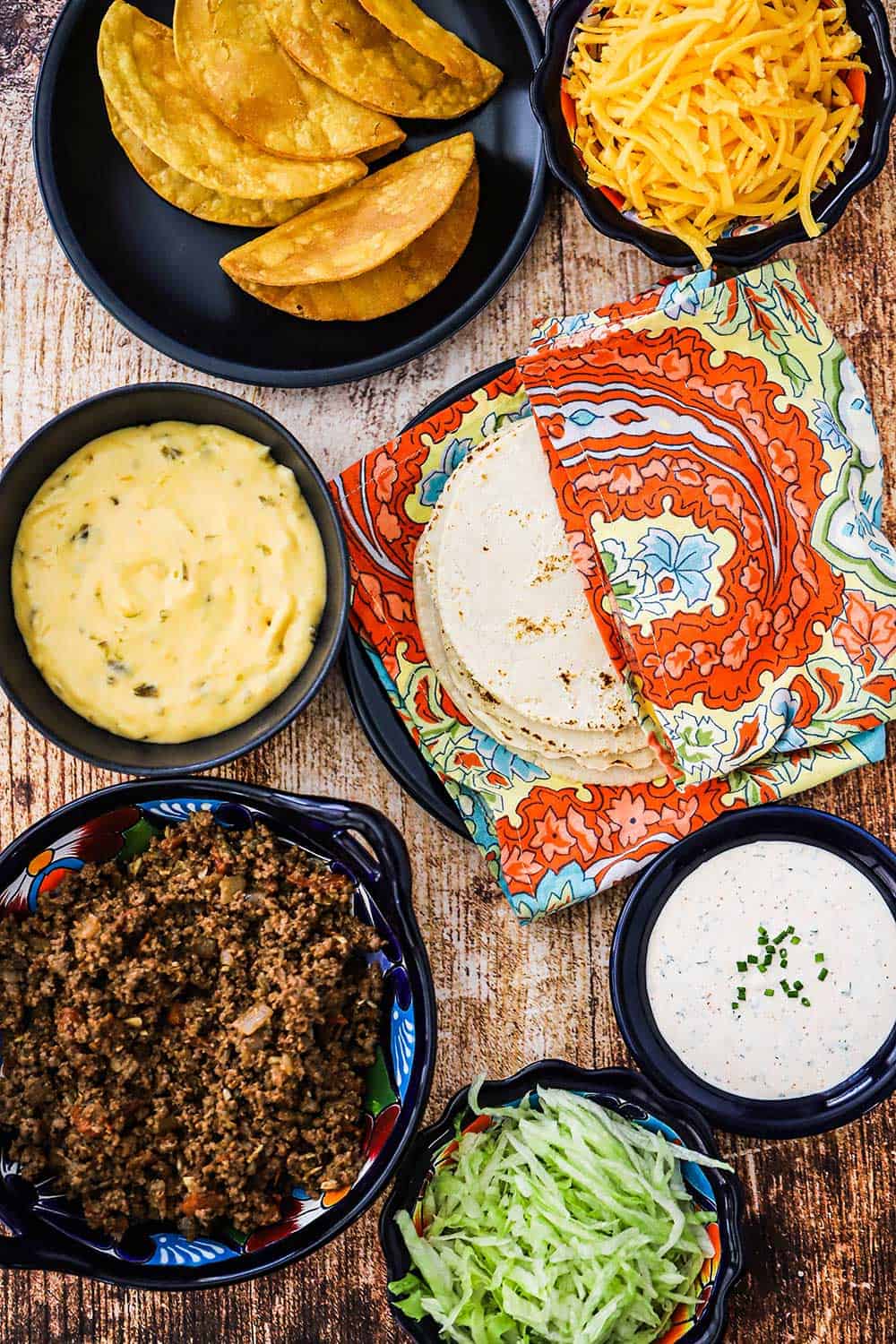 Building the Ultimate Gordita
One of the most elements of our homemade gordita is the outer tortilla. Taco Bell refers to it as a flatbread.
In Mexico, an authentic gordita is a thick tortilla made from masa, and then quickly fried, and then stuffed, usually with some type of meat mixture.
Masa harina is a quick way of making corn tortillas. See us make them in the video!
A quick, but deeply delicious, cheese sauce mixed with chopped pickled jalapeños acts as the 'glue' that will hold together the soft tortilla with the crunchy taco.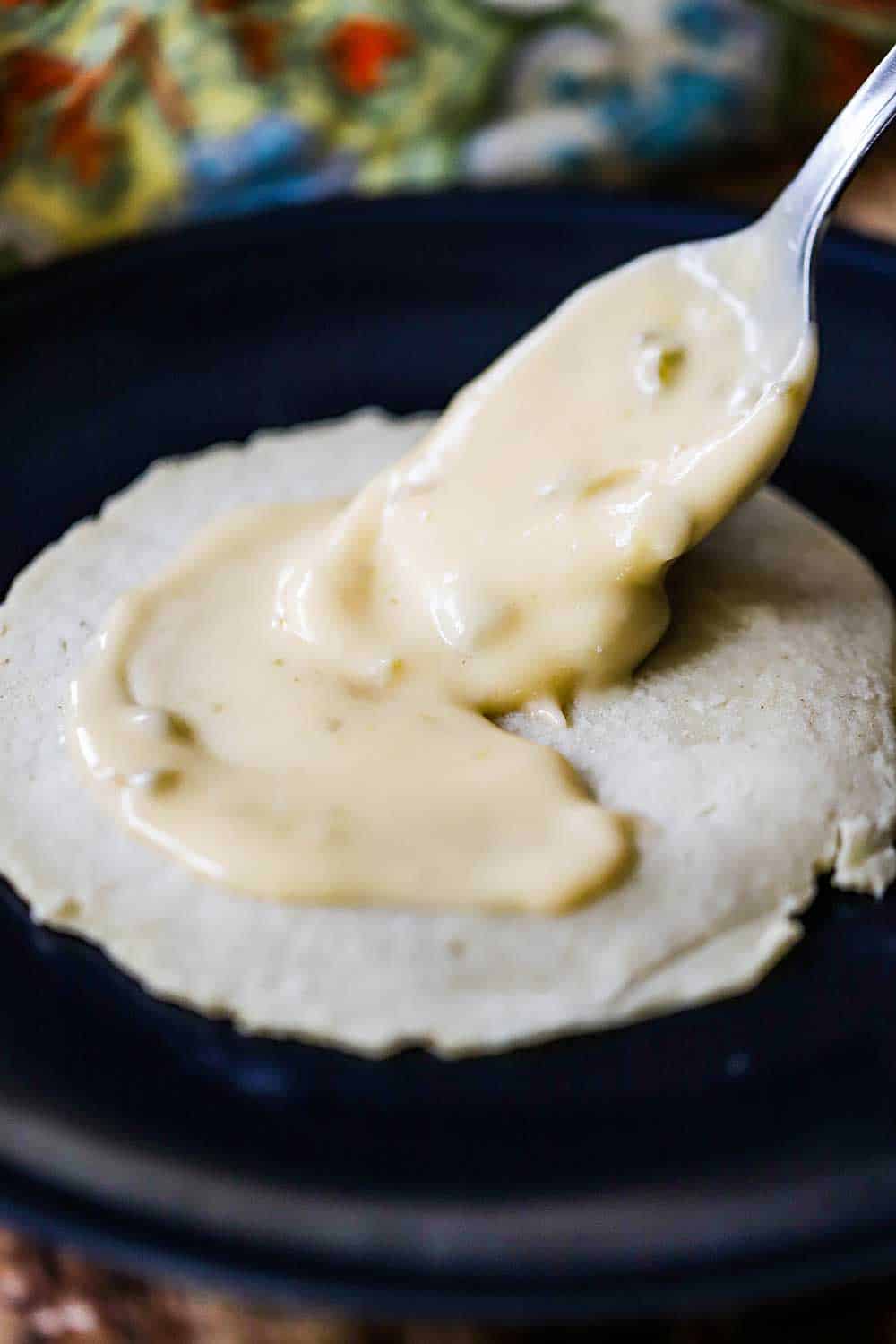 Replicating the Taco Bell taco sauce took quite a bit of experimenting, but we finally got it right.
And trust us, this sauce is the real deal.
EXPERT TIP: Our version is mild, if you want spicier, increase the amount of cayenne pepper and hot sauce. For medium spice, double the amount. For extra hot, triple it.
When To Serve Homemade Cheesy Gordita Crunch
Half the fun of serving these amazing tacos is putting them together.
We love to place all of the ingredients out buffet style, and let guests build their own gordita.
Your guests will be blown away at how delicious these are.
Wow. Just wow.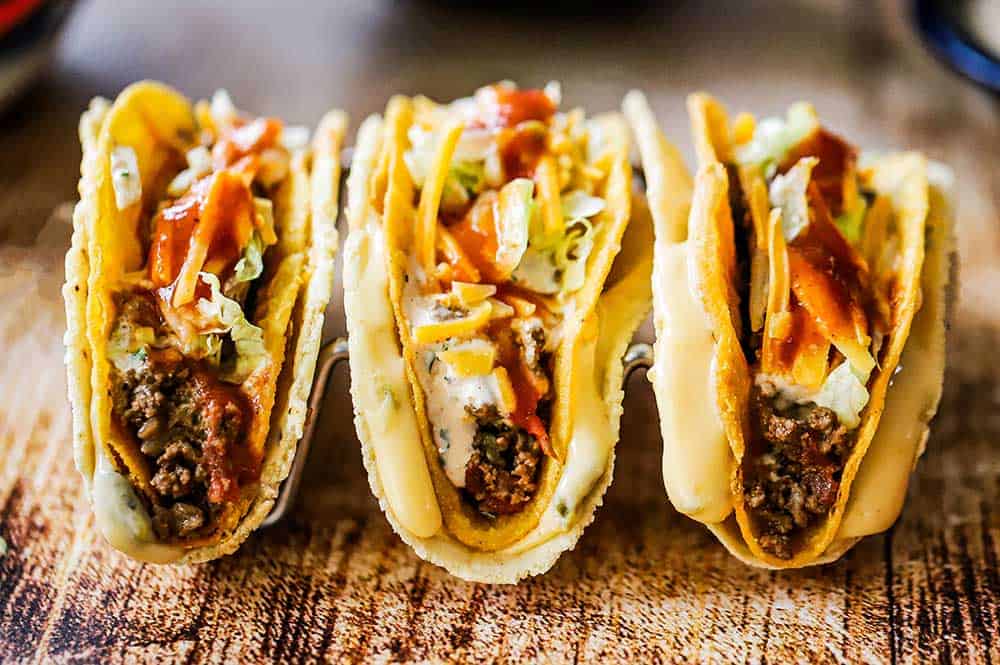 We love taking iconic food items, and making them better…way better.
Which reminds us: Did you see our Homemade Big Mac? Oh, you must check it out.
In the meantime, aren't you excited to make this masterpiece? And then eat it!
Ready to make the best gordita in the world? Go for it!
And when you do, be sure to take a photo, post it on Instagram, and tag @HowToFeedaLoon and hashtag #HowToFeedaLoon!
Homemade Cheesy Gordita Crunch
This homemade version of the Taco Bell classic a taste sensation. These are so much fun to serve buffet-style for an unforgettable taco party! The meat sauce, queso, and spicy Ranch can all be made well in advance.
Print
Pin
Rate
Servings: 8
Equipment
Tortilla press

Comal, or griddle for cooking the thick tortillas

Deep-fryer for crunch tortillas

Taco press for frying tacos
Ingredients
For the Outer Thick Corn Tortilla
2 cups masa harina
1 tsp Kosher salt
1½ cups water warm
For the Cheese Sauce
2 tbsp unsalted butter
2 tbsp all-purpose flour
1½ cups whole milk
½ lb American cheese cut into chunks
¼ cup cheddar cheese shredded
½ tsp Kosher salt
1 tbsp jalapenos pickled, chopped, optional
For the Crispy Taco Shell
8 corn tortillas
Vegetable oil for frying
For the Taco Meat
2 tbsp olive oil
1 medium onion chopped
1 jalapeno seeded and finely chopped
2 cloves garlic minced
1 lb ground beef
2 Roma tomatoes chopped
1 tbsp chili powder
1 tbsp cumin ground
1 tsp Kosher salt
1 cup dark beer
Spicy Ranch Dressing
1 cup Ranch dressing
2 tbsp Hot sauce such as Tobasco
½ tsp cayenne pepper
For the Taco Sauce
3 cups water
3 tsp corn starch
6 oz tomato paste
¼ cup white wine vinegar
¼ cup jalapeno pickle juice
4 tsp chili powder
1 tsp garlic powder
2 tsp Kosher salt
½ tsp cayenne pepper
For Garnish
1 cup iceberg lettuce shredded
1 cup cheddar cheese shredded
Instructions
Make the Thick Outer Corn Tortillas
In a large bowl, combine the masa and salt. Add the warm water, using your hands to work the water into the dough. Continue kneading for about 2 minutes. Form the dough into a ball and cover with a damp kitchen cloth.

Pinch off 2 oz of dough and form into a ball. Place the ball onto a tortilla press that is lined with strong plastic wrap, such as a cut-open freezer baggie.

Press to form a tortilla. Gently peel the plastic away from the tortilla.

Heat your comal, or griddle over medium-high heat. Gently place the tortilla on the hot surface and cook for 30 seconds. Use a spatula to flip the tortilla and cook for another 30 seconds. Flip once again and cook for another 30 seconds. Transfer to a plate and cover with a kitchen towel to keep warm. Repeat with remaining dough.
Make the Cheese Sauce
Melt the butter in a medium-sized saucepan over medium heat. Add the flour and stir to form a roux, about 2 minutes.

Whisk in the milk and stir until slightly thickened, another couple of minutes.

Add the American and cheddar cheeses and salt. Stir melted and combined. Stir in jalapeños, if using.
Make the Crunch Taco Shells
Heat oil in a deep-fryer or sturdy skillet to 350°F.

Place a corn tortilla in a taco press and lower into the hot oil and cook until golden and crispy, about 1 to 2 minutes. Drain on paper towels. Repeat with remaining tortillas.
Make the Taco Meat Filling
Heat the oil in a large saucepan over medium-high heat. Add the onion and pepper and cook until soft, about 4 minutes. Add the garlic and cook for another 30 seconds.

Add the ground beef and cook until no longer pink. Drain, if too much grease has rendered.

Add the chopped tomatoes, chili powder, cumin, and salt. Cook for 5 minutes.

Add the beer and cook for another 20 minutes. The meat should be wet, but not soupy. Cover and keep warm.
Make the Spicy Ranch Sauce
Stir in the hot sauce and cayenne pepper into the prepared Ranch. Cover and chill until ready to use.
Make the Taco Sauce
Add the water to a medium-sized saucepan. Whisk in the corn starch and stir until dissolved.

Turn the heat on high and stir in the remaining ingredients. Bring to a boil and then lower the heat to low. Simmer for 5 minutes. Transfer to a heat-resistant bowl and let cool to room temperature.
Assemble the Cheesy Gordita Crunch Tacos
Fill the crunch taco shells with taco meat, add a layer of spicy Ranch, and then top with shredded lettuce and cheddar cheese.

Smear the cheese sauce over one side of the thick corn tortilla. Fold the cheesy tortilla around the crunchy taco.

Spoon hot sauce over the taco. Repeat and serve.
Notes
See the video near the top of the post for a fun visual guide. If you enjoyed the video, please subscribe to our YouTube Channel.
All elements of these gorditas can be made in advance. Reheat the soft tortillas in a cloth in the microwave. Gently reheat the cheese sauce and meat filling on the stove over low heat. The crunchy tacos can be reheated in the oven at 350°F for about 10 minutes. Store the Ranch and taco sauce in a jar with a lid in the fridge until ready to use.