If you're looking for a dish that will not only satisfy the kids, but the adults, too, this is your casserole!

This dish makes quite a bit. But, it also freezes beautifully. Whenever we make it, we put it into two 8″x8″ pans and bake one and freeze the other. This is cheesy, yummy goodness. Serve it with green beans and crescent rolls for the perfect weeknight dinner!


NOTE: If you liked this video, please subscribe to our YouTube Channel! And don't forget to click the little 'bell' icon so you won't miss a single video!

As mentioned, this chicken spaghetti recipe is easy to prepare and can also be adapted to individual tastes.

If you don't have time to sauté the onions and celery, just leave them out!

This is a perfect weeknight meal!
Preparing the Chicken
We love simmering 2 lbs of boneless skinless chicken breast in water to cook the chicken.
Simply bring about 8 cups of water to a boil, and then place the chicken into the water. Cover and reduce the heat to medium-low for another 25 minutes. Drain, and once cool enough to handle, cube the meat.
EXPERT TIP: We save the water that we cooked the chicken in to boil our pasta. Be sure to save about 1 cup of the pasta water. You'll need to thin the sauce a bit a little later on. NOTE: To make life even easier, pick up a rotisserie chicken from the grocery store and cut away the meat!
The Ingredients You Will Need
After cooking the chicken and pasta, it's time to bring together the amazing sauce.
Here are what we like to use, but you can go with whatever you have on hand:
For the sauce:
Butter
Chopped onion
Chopped celery
Cream of mushroom soup
Cream of chicken soup
Ro-tel (canned chopped tomatoes with green chiles)
Velveeta
Cream cheese
Salt and pepper
EXPERT TIP: Ro-tel is a Southern staple. It carries a bit of heat with it. If you prefer no spice whatsoever, then just go with chopped tomatoes, either canned (drained) or fresh. Ro-tel can be found in the canned tomatoes sections of most well-stocked supermarkets. If you can't find Ro-tel, other brands carry a similar product.
Add all of the ingredients to your large pot, and cook over medium-low heat until the cheese has completely melted. We added anywhere from ½ to 1 cup of the reserved liquid to the sauce. If you like an extra thick sauce, don't add any additional liquid.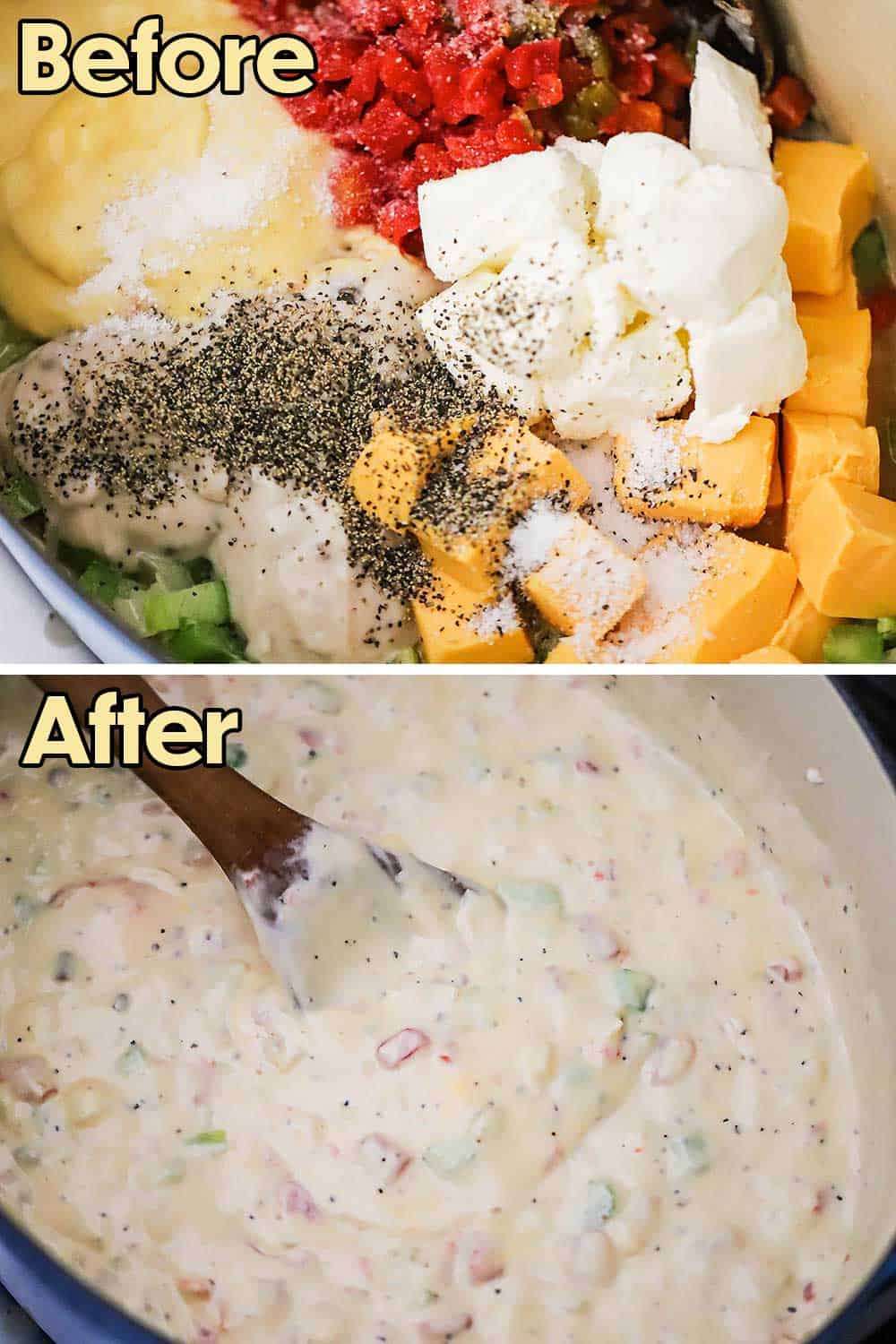 Once the sauce comes together, it's time to dump in the cooked pasta and chicken.
If your pot isn't big enough, you may need to transfer everything to a large bowl.
Stir until completely mixed together.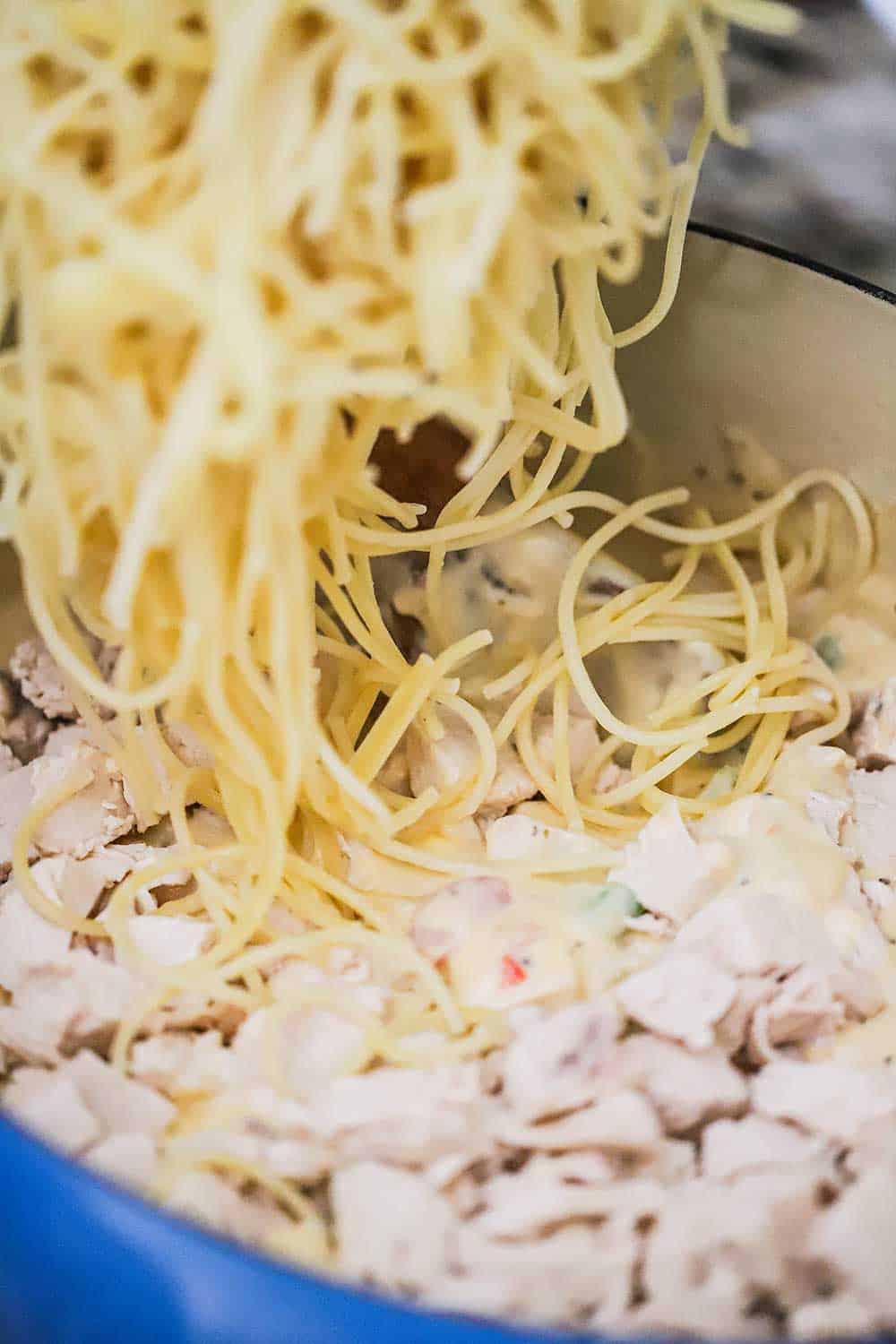 FAQs Chicken Spaghetti
Can it be made ahead? – Absolutely! This is an amazing dish that can 100% be made in advance. Assemble the casserole but don't bake it. It can stay, covered, in the fridge for 3 or 4 days. If freezes perfectly, too, for up to 2 months. Let thaw before baking. Leftovers can be reheated in a 350°F oven for about 20 minutes, covered. NOTE: The casserole isn't as creamy when reheated because the spaghetti will absorb some of the liquid.
I don't like onions, can they be left out? Of course! So can the celery. If you're in a pinch for time and don't have time to sauté the veggies, just add a little onion powder and celery salt to the sauce. If adding celery salt, be sure to cut back on regular salt, too, otherwise, the casserole will be too salty.
Could ground beef replace the chicken? You bet! Brown the beef, drain the grease, and then season with a healthy pinch of salt and pepper. If you want a vegetarian version, stir in steamed veggies in place of the protein. Yum!
We love using a lasagna pan for baking the chicken spaghetti, but a 9″x13″ dish will work, too.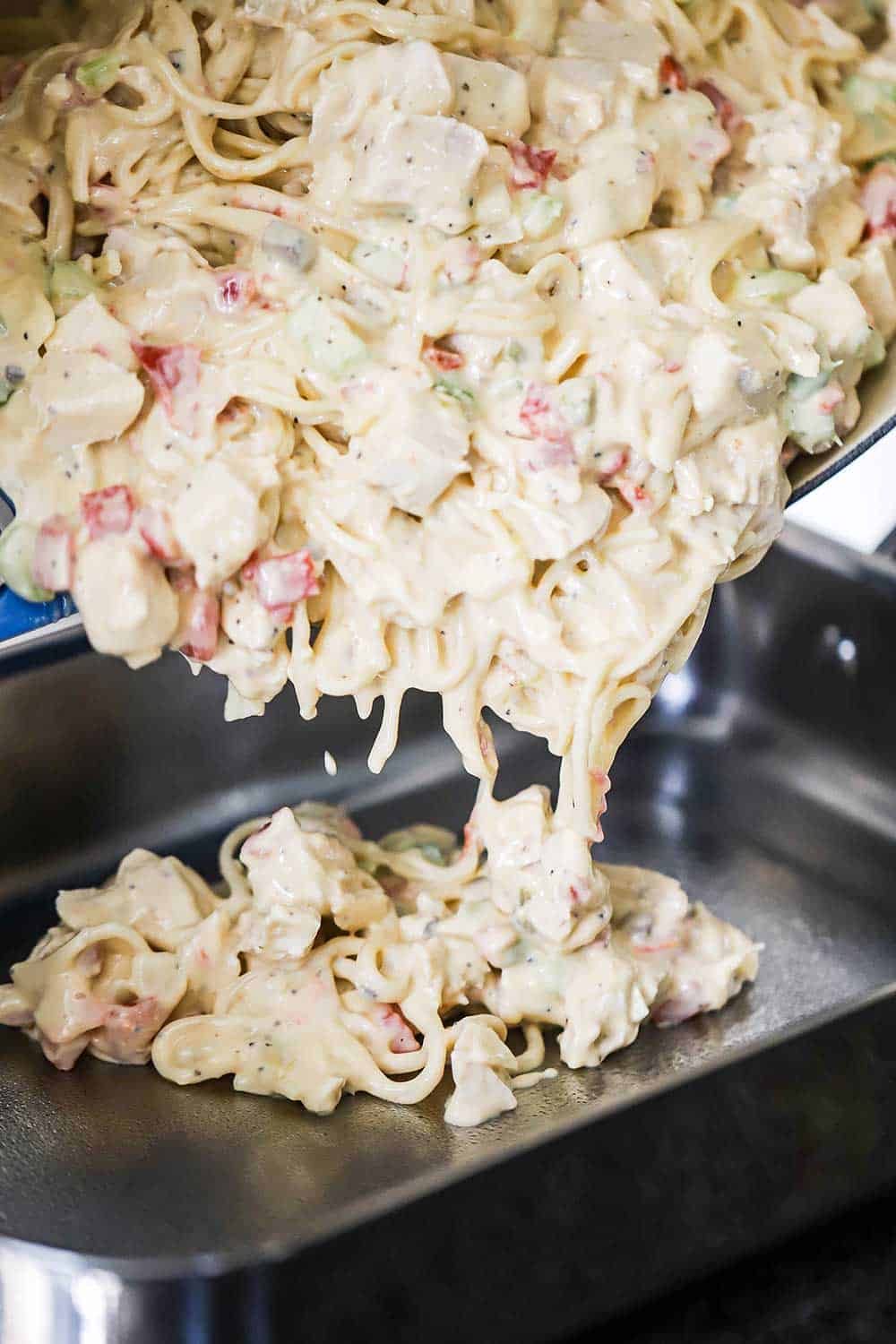 The addition of cheese on the top of the casserole isn't completely necessary.
But why not.
Spaghetti Chicken is cheesy. Which is one of the reasons it's so delicious!
When To Serve
This dish is such a family favorite, and is so easy to put together, it's really the perfect weeknight meal.
It's also an ideal dish to bring to a potluck dinner or as a gift to anyone wants a good home-cooked meal, but isn't in the mood to cook.
Remember, you can easily freeze half of the dish and then simply bake later on when you're really crunched for time.
Wow, is this good!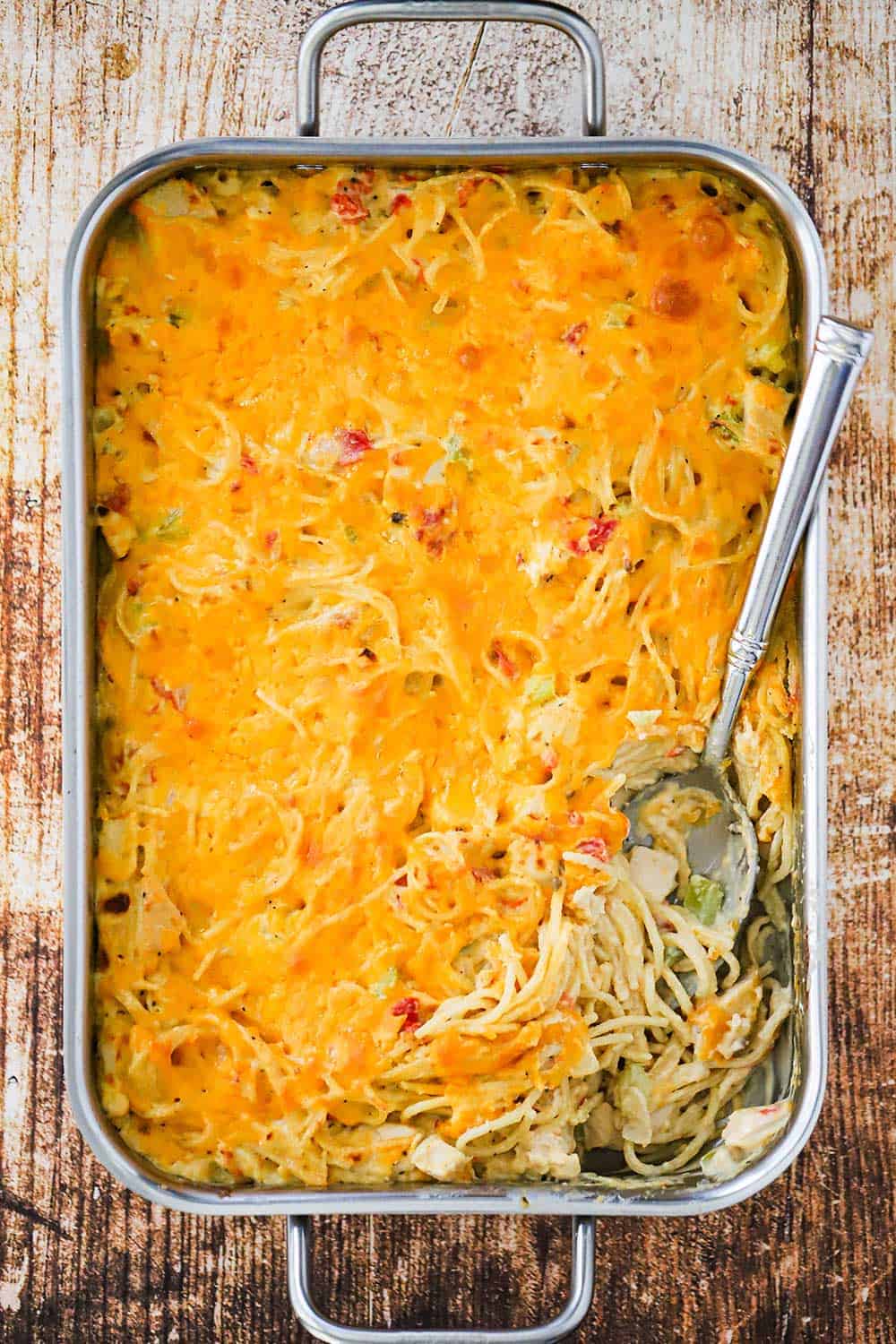 Other Popular Casserole Recipes
We love casseroles because they are so comforting, can often be made in advance, and are almost always such a hit with the entire family.
Here some of our other favorites:
King Ranch Casserole
Broccoli Cheddar Casserole
Chicken and Dressing Casserole
Best Tuna Casserole
Slow-Cooker Ham and Potatoes Casserole
Vegetarian Pasta Bake
In the meantime, aren't you craving a plateful of this yumminess?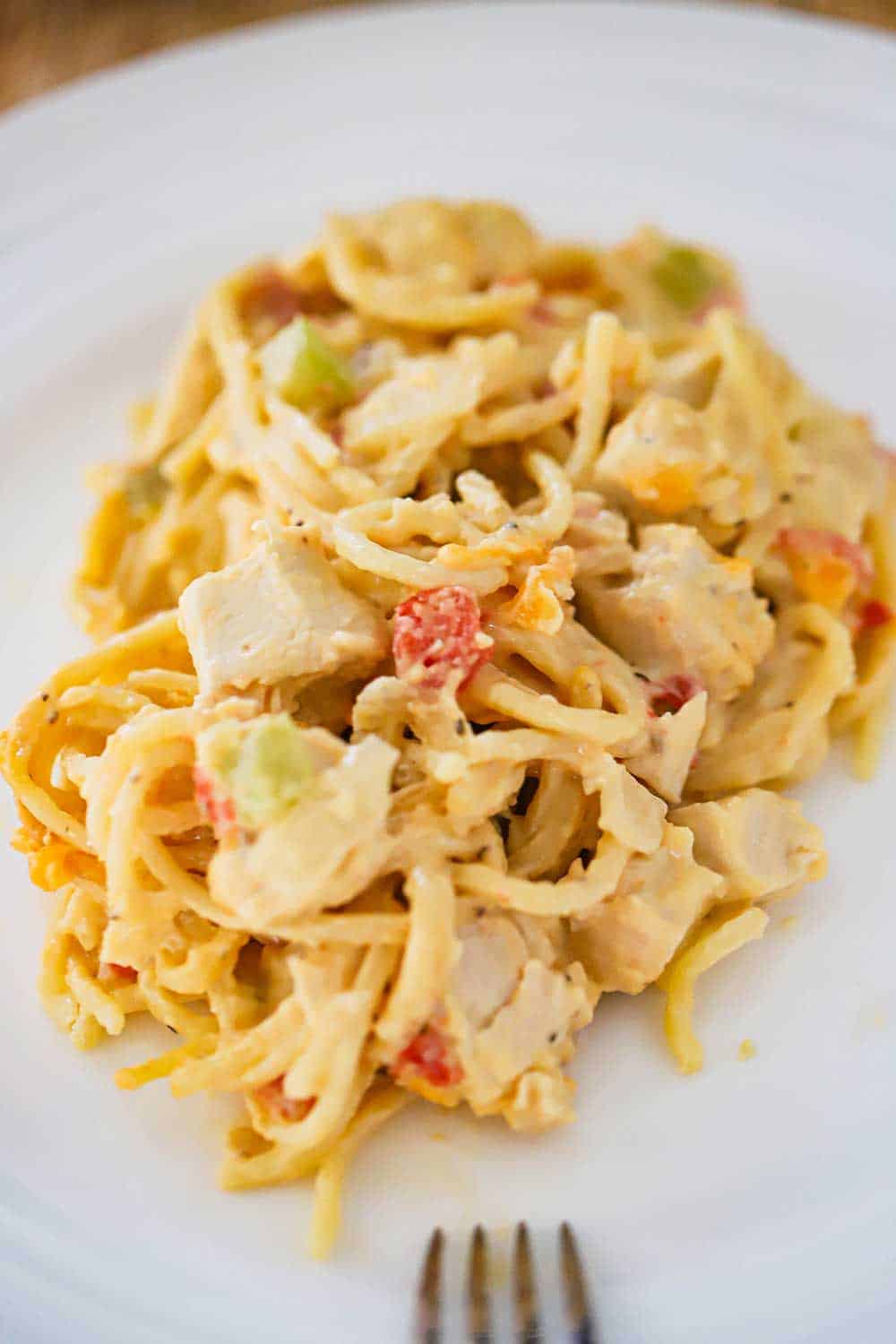 Ready to make a casserole your family will be requesting time and time again? Go for it!
And when you do, be sure to take a photo of it, post it on Instagram, and tag @HowToFeedLoon and hashtag #HowToFeedaLoon!
Chicken Spaghetti
Chicken Spaghetti is an ideal weeknight meal. It can be made in advance (up to baking) and it's always such a big hit with the kids and adults, alike! We often split the recipe into two 8"x8" pans and bake one and then freeze the other for another time!
Print
Pin
Rate
Servings: 10
Calories: 567kcal
Equipment
Lasagna pan, or 9"x13" dish, or two 8"x8" pans
Ingredients
2 lbs chicken boneless, skinless
1 lb spaghetti dried
2 tbsp unsalted butter or olive oil
1 cup onion chopped
1 cup celery chopped
1 can Ro-tel don't drain
1 10.75 oz cream of mushroom soup canned
1 10.75 oz cream of chicken soup canned
16 oz Velveeta cubed
8 oz cream cheese cubed
2 tsp Kosher salt
1 tsp black pepper freshly ground
1 cup cheddar cheese shredded
Instructions
Bring a large pot of water to a boil (about 8 cups of water). Add the chicken breasts, cover the pot, and lower the heat to medium-low. Cook for 25 minutes.

Carefully remove the chicken from the water and let it cool on a rack or cutting board. When cool enough to handle, cut the chicken into bite-sized pieces. Set aside. Leave the water in the pot.

Preheat oven to 375°F.

Bring the chicken broth to a boil again and add the spaghetti. Cook until al dente, usually about 9 minutes. Drain and set aside. Remove about 1 cup of the chicken/pasta water and keep for making the sauce.

Pour out the liquid and place the pot over medium-high heat. Melt the butter and then add the onions and celery and cook, stirring often, until soft, about 4 to 5 minutes.

To the pot, add the Ro-tel, both soups, Velveeta, cream cheese, salt, and pepper. Stir frequently until the cheese has melted and everything is combined. Add about ¾ of the reserved pasta water. Stir to incorporate. Stir in the cooked chicken and spaghetti. Stir until fully mixed.

Transfer to lasagna, or baking, dish. Top with the grated cheese and then bake for 25 minutes, until the cheese has completely melted and the casserole is bubbly. Remove from oven and let rest for 5 to 10 minutes.
Notes
See our "How To Prepare Chicken Spaghetti Recipe" near the top of the blog post. If you like the video, please subscribe to our YouTube Channel.
You can use chicken from a rotisserie chicken for this dish. 1 chicken is usually enough, but you can certainly go with 2.
Substitute any kind of cream soup, if desired.
We often split this recipe into 2 batches. Each batch goes into an 8"x8" pan. We bake one a freeze the other. When we're ready to bake the frozen batch, we let it thaw completely, and then bake for 25 to 30 minutes.
Nutrition
Calories: 567kcal | Carbohydrates: 48g | Protein: 30g | Fat: 18g | Saturated Fat: 7g | Polyunsaturated Fat: 3g | Monounsaturated Fat: 7g | Trans Fat: 1g | Cholesterol: 99mg | Sodium: 1804mg | Potassium: 566mg | Fiber: 2g | Sugar: 8g | Vitamin A: 1145IU | Vitamin C: 6mg | Calcium: 406mg | Iron: 2mg