This dish right here is a Southern Texas staple dish. And with one bite, you'll understand why.

You'd be hard-pressed to find a church potluck, or bridal shower, or even a tailgating party in the Lone Star State that didn't include this amazing dish.

We love this version because we don't include the typical canned condensed cream of chicken soups or processed cheese. This is the real deal. Texas-style.


If you liked the video, subscribe to our YouTube Channel!
King Ranch Casserole is a Texas Tradition
We start off by sautéing some of our favorite veggies in the world: Onion, red and green bell peppers, jalapeño, and garlic.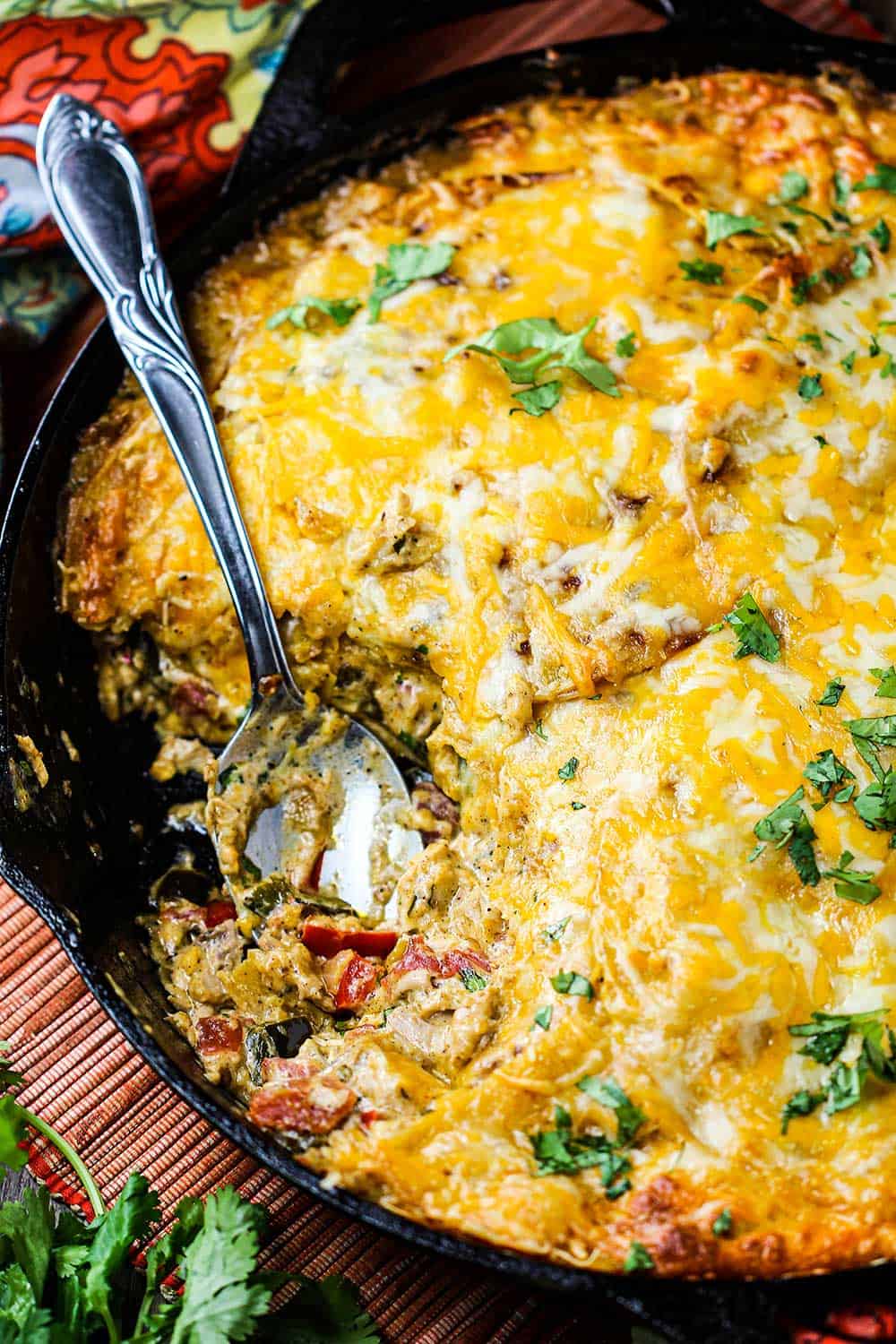 The dish is colorful and exploding with flavor.
You'll notice this just right away.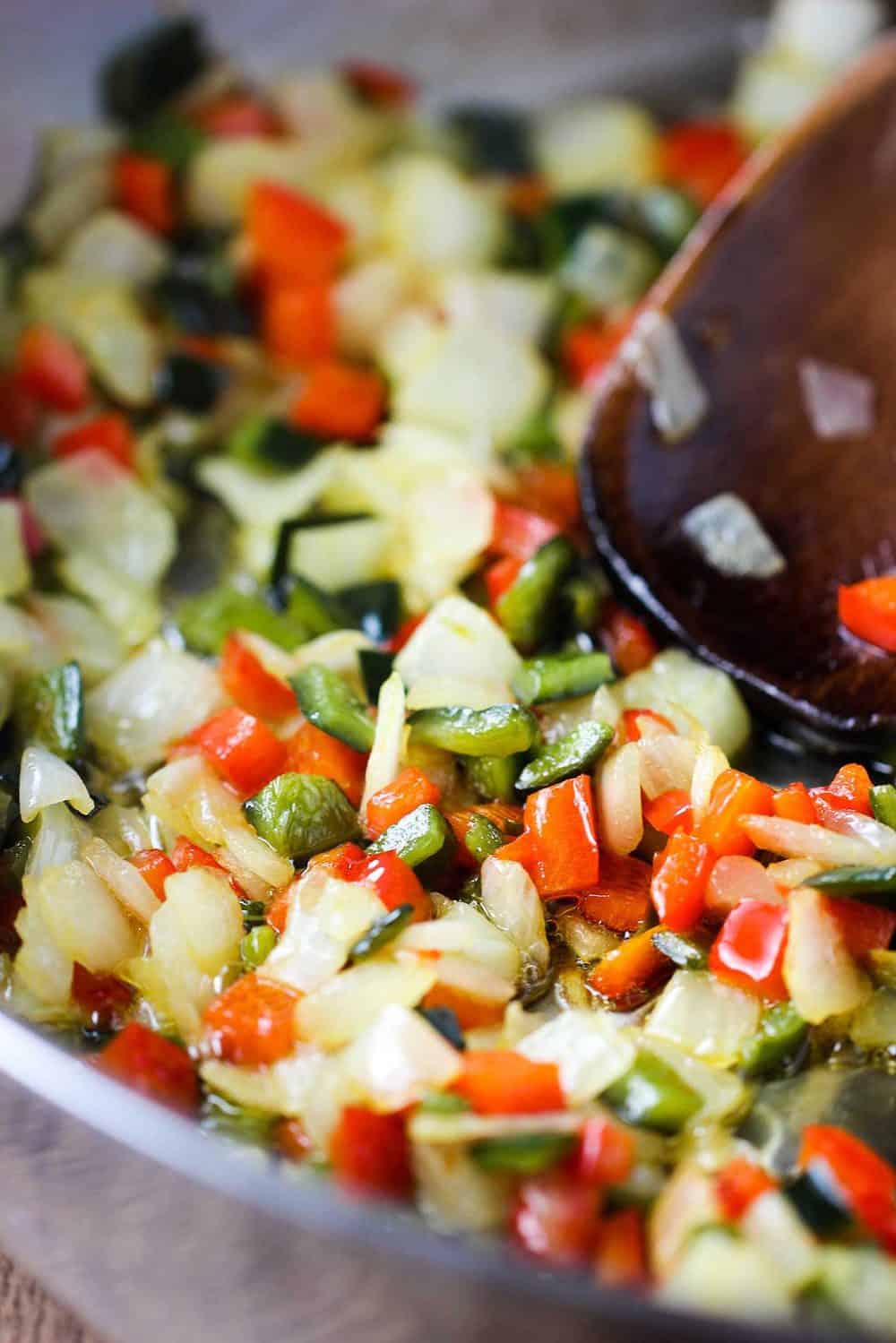 Ro-tel is another Texas tradition. It's a combination of tomatoes and green chiles and it's hard to explain why, but there is just some extra special about a can of Ro-tel tomatoes.
If you can't find Ro-Tel, which is now widely available, you can use another brand of tomatoes and chilies, or order Ro-tel online.
We LOVE Ro-tel!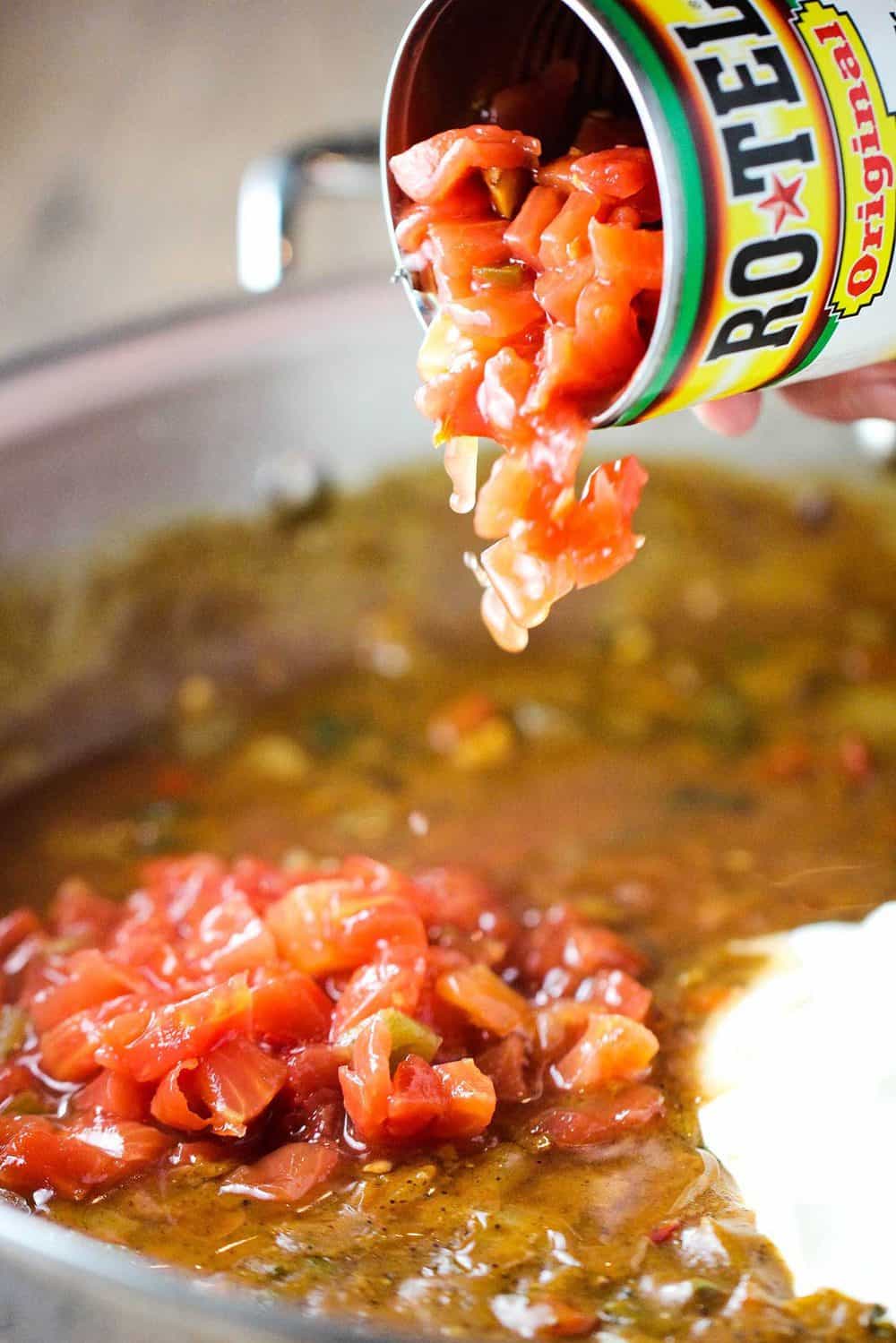 For the chicken, we love to roast chicken breasts, skin-on, and then shred the meat.
You'll need about 5 cups of cooked chicken. If you are pressed for time, 2 rotisserie chickens from the supermarket work very nicely, too.
Mix the cooked chicken with the fresh cilantro.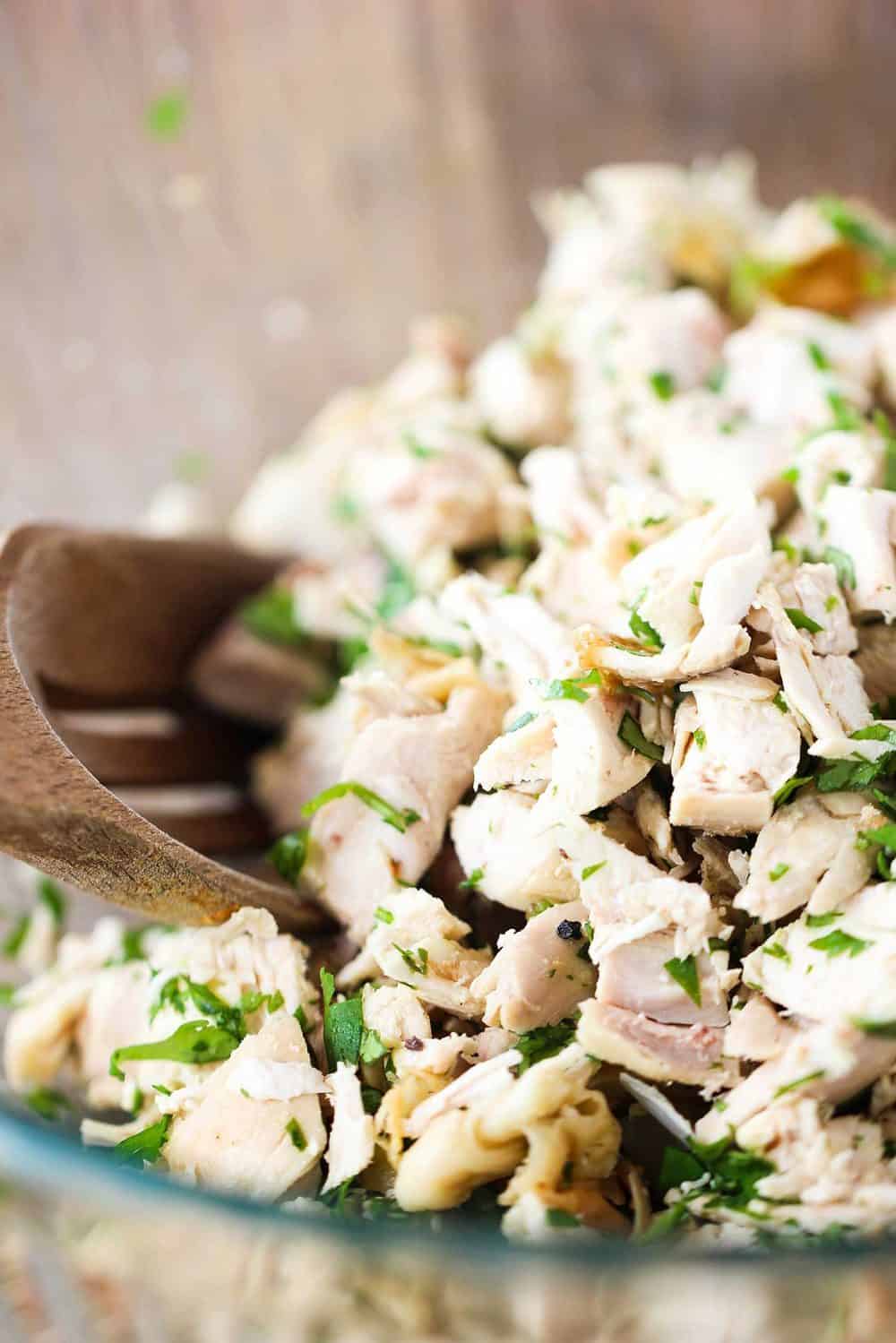 The Filling is Creamy With a Touch of Heat
As you build the filling for this amazing King Ranch Chicken Casserole, you'll be tempted to pull out a spoon and eat a bowl-full as is.
But try and wait.
The best is yet to come.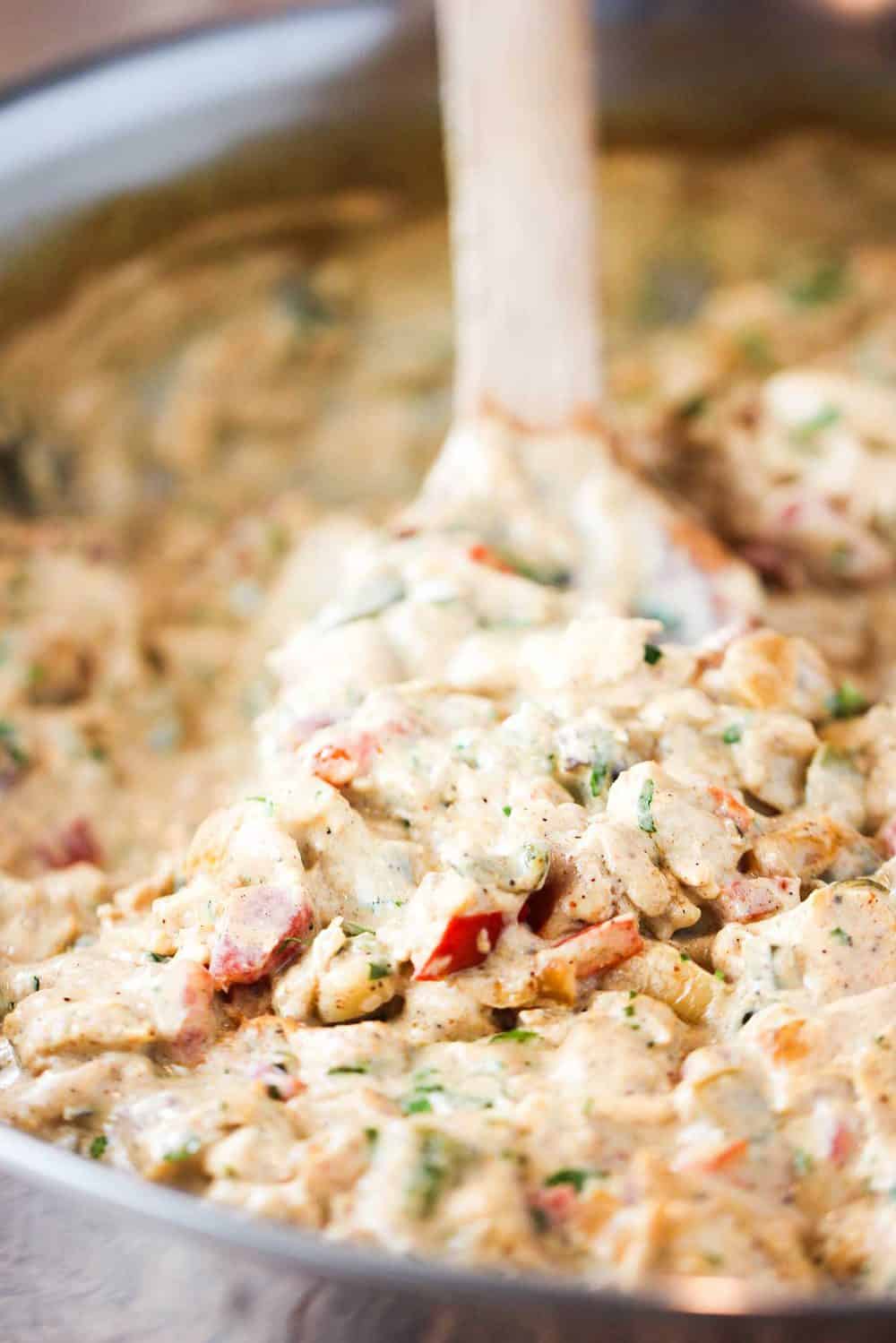 Once again, we're all about making the best dish possible, but sometimes you might be looking for a shortcut.
We think quickly crisping up yellow corn tortillas in a non-stick skillet with a little oil is perfect for this King Ranch Chicken Casserole.
But, we have also found that roughly broken-up corn tortilla chips work great, too! Corn tortillas are so good!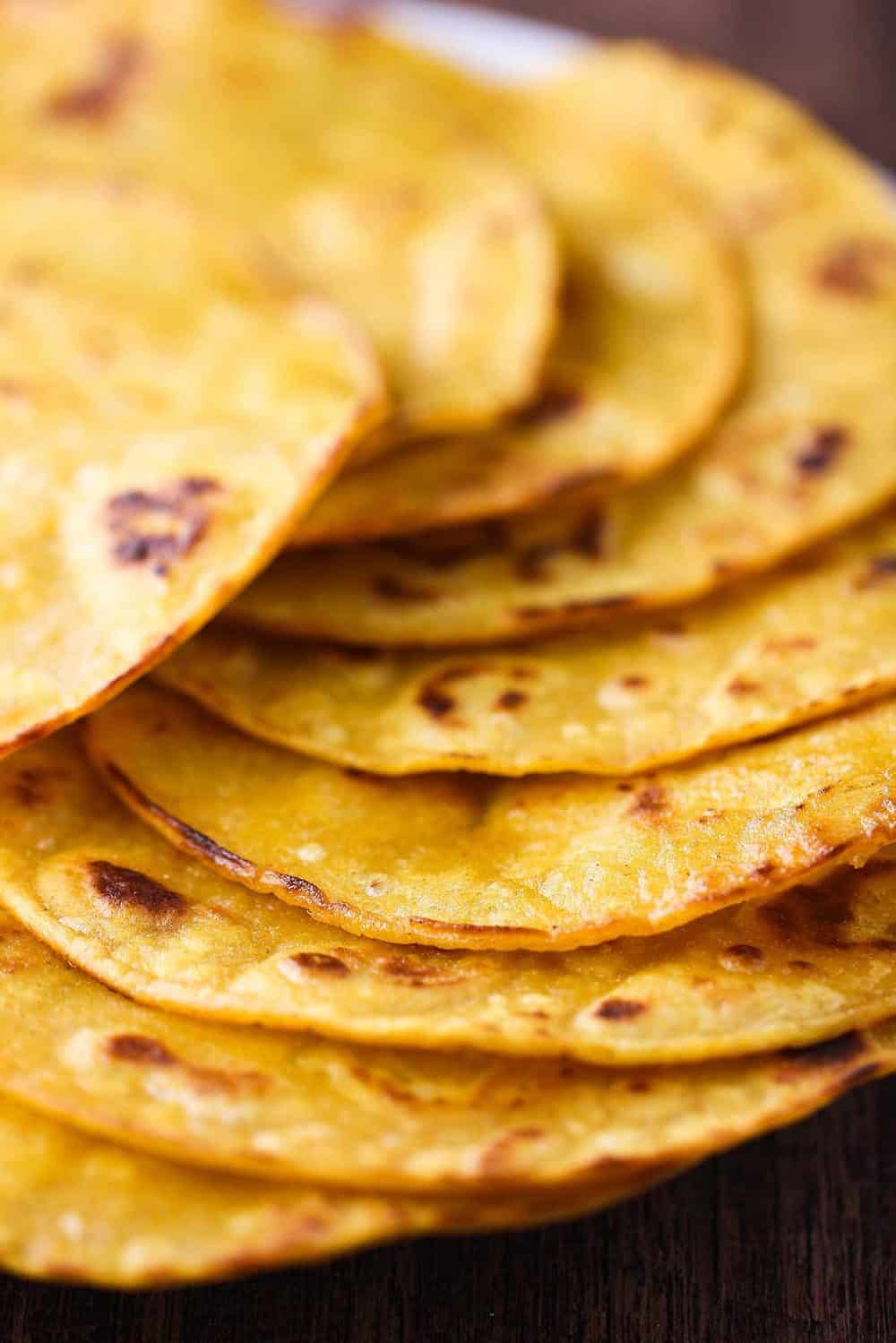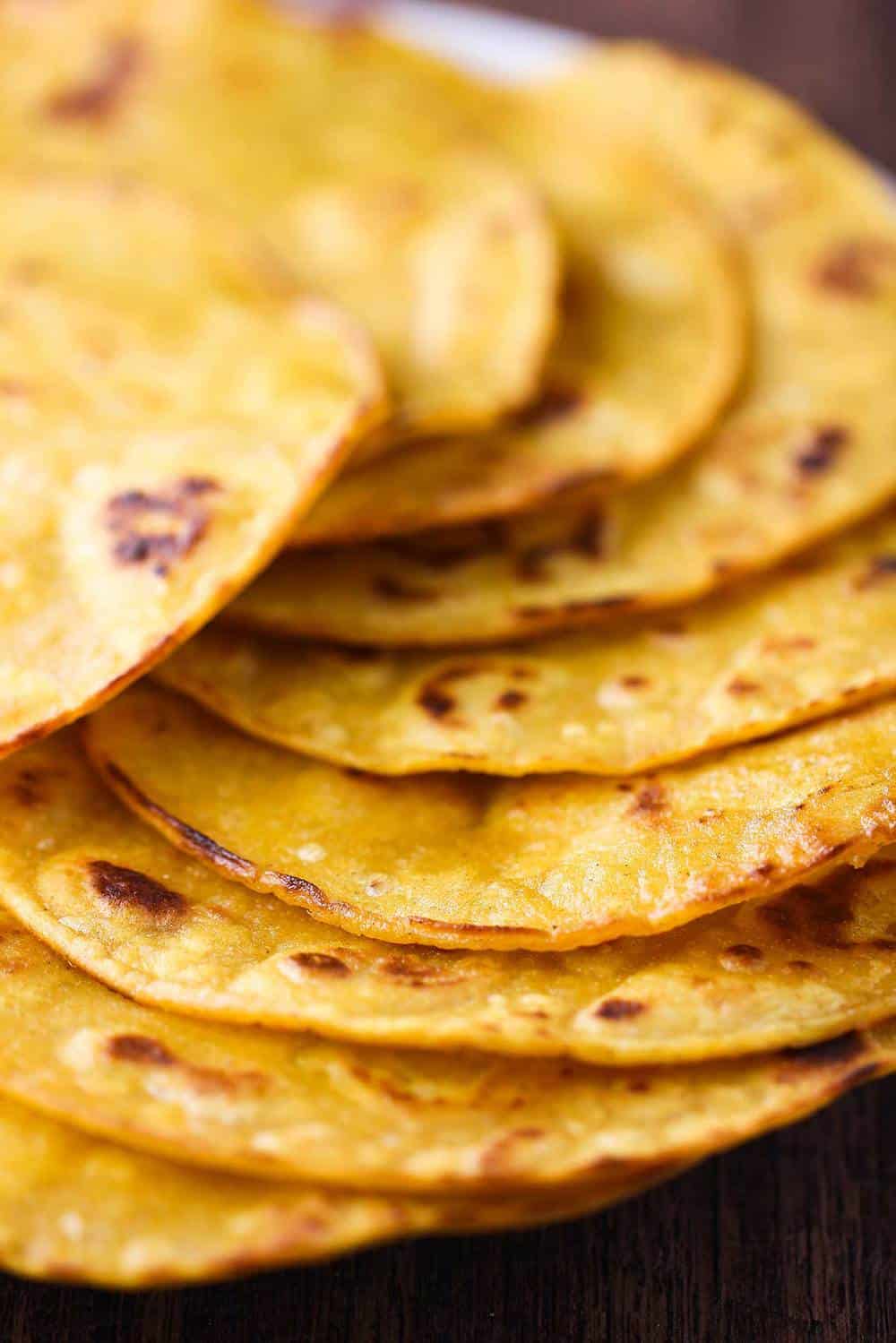 Where Did King Ranch Casserole Originate?
There is a very famous and massive ranch in Southern Texas called The King Ranch. Most folks, understandably so, think the King Ranch casserole originated at the famed King Ranch.
It didn't. Martin Clement, who manages the main house at the King Ranch is quoted: "You can be sure if we had invented it, it would include beef, not chicken!"
So, the mysterious origins of this iconic King Ranch Chicken Casserole remain a mystery. But, who really cares. All you need to know is it's a huge crowd-pleasin' casserole that just tastes incredible.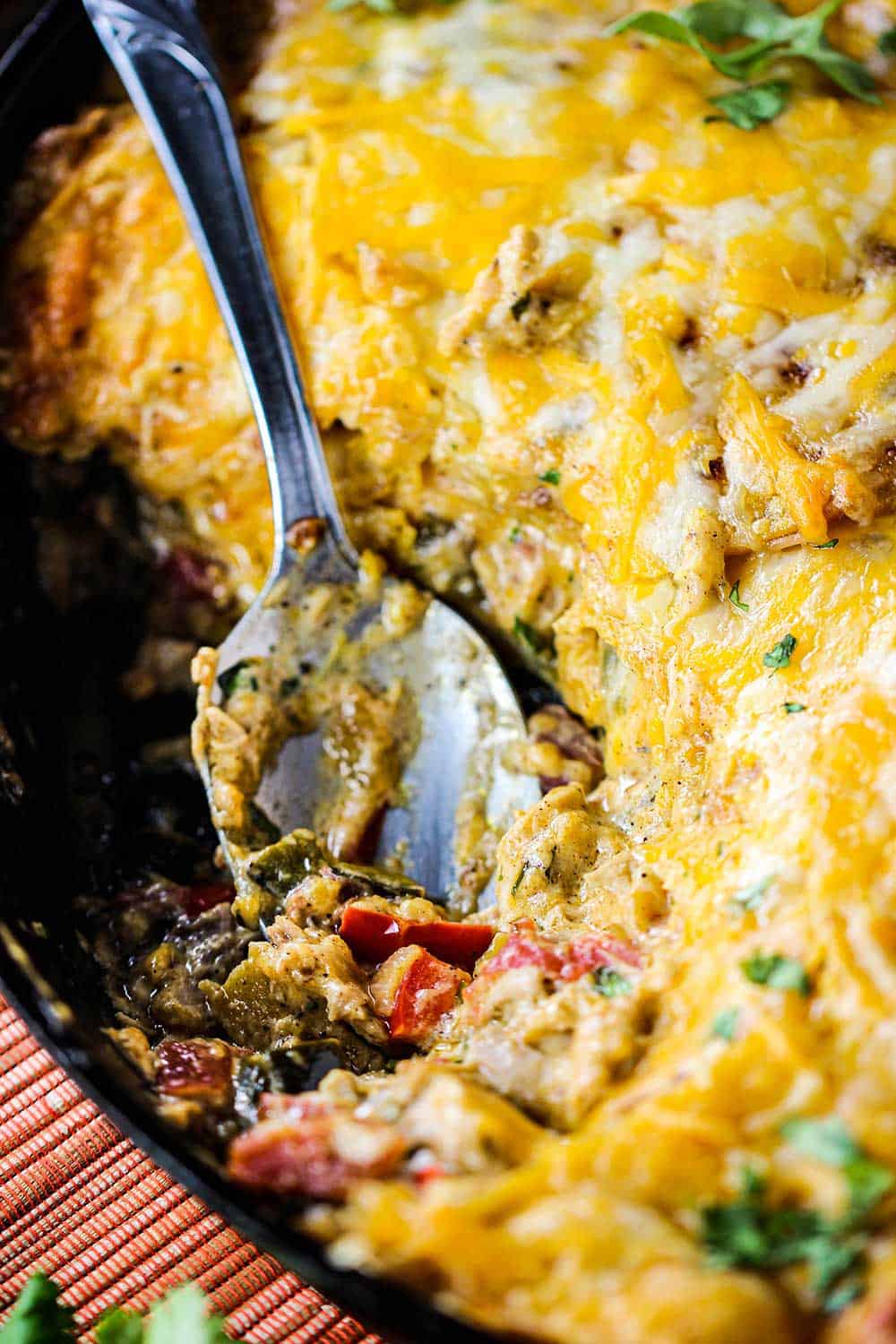 We absolutely love making this casserole in our large (12-inch) cast-iron skillet, but you can absolutely prepare it in a standard 9″x13″ baking dish.
This King Ranch Chicken Casserole feeds a hungry family, no problem. Usually leaving leftovers for lunch and/or dinner the following day or two.
King Ranch Feeds a Hungry Family (and More!)
The King Ranch Casserole also freezes wonderfully. Simply prepare as instructed, freeze, and then let thaw and cook as directed. Or, bake frozen for an additional 45 minutes.
Obviously, we wouldn't advise freezing this in your cast iron skillet. But you probably figured that out.
Trust us when we tell you, King Ranch Chicken Casserole is Texas comfort food at its best. You and your loved ones will be "yee-hawing" after each scrumptious bite!
Other Favorite Chicken Recipes
Braised Chicken and Savory Peaches
Chicken and Sage Casserole
Instant Pot Dijon Chicken
Chicken Gyro
Roasted Lemon Chicken with Vegetables
Cajun Chicken and Rice
These are fantastic! In the meantime, hurry and make this incredible King Ranch Casserole. You will NOT be disappointed!
Ready to make the best King Ranch Casserole this side of the Rio Grande River? Go for it!
And when you do, be sure to take a photo, post it on Instagram, and tag @howtofeedaloon and hashtag #howtofeedaloon!
King Ranch Chicken Casserole
This King Ranch Chicken Casserole is a Southern Texas favorite. This version skips the canned soup mixes and process cheese, and is deep in flavor. This can easily be made in advance. Keep in the fridge for 24 to 48 hours, or freeze for up to 1 month. This is always a huge crowd-pleasing casserole.
Print
Pin
Rate
Servings: 12 people
Calories: 459kcal
Ingredients
5 lbs chicken breasts skin-on, bone-in, or, 2 rotisserie chickens
Olive oil for chicken breasts
Kosher salt and freshly ground black pepper divided
6 tbsp unsalted butter
1 large yellow onion chopped
1 green bell pepper chopped
1 red bell pepper chopped
1 jalapeño seeded and chopped
2 garlic cloves minced
1 tbsp chili powder
1 tbsp ground cumin
1 tsp smoked paprika
¼ cup all-purpose flour
1¾ cup chicken stock
1 10 oz can Ro-tel or tomatoes with chiles
1 7.5 oz can green chiles
1½ cup sour cream
¾ cup cilantro chopped, plus more for garnish
4 cups cheese shredded, a combo of cheddar and Monterrey Jack is perfect
15 corn tortillas or, 1 large bag of corn tortilla chips, roughly chopped
½ cup vegetable oil for quick-frying tortillas
Cooking spray
Instructions
PREPARE THE CHICKEN
Pre-heat oven to 375°F.

Rub olive oil all over chicken breasts and then liberally sprinkle with salt and pepper. Bake for 50 to 60 minutes, or until internal temp is 165°F. Using an instant-read thermometer ensures proper doneness. Let cool, then remove skin and then cut meat from the bone and roughly chop. Set aside.

Alternatively, remove the skin from 2 rotisserie chickens, then remove meat and roughly chop, set aside.
MAKE THE FILLING
Melt the butter over medium-high heat in a large skillet.

Add onion, bell peppers, jalapeño and cook for 10 minutes, or until soft and starting to brown.

Add the garlic, chili powder, cumin, paprika, and 1½ tsp of salt, and ½ tsp of black pepper. Cook for 2 minutes, until fragrant.

Sprinkle the flour over the vegetables and cook, stirring often, for 1 minute.

Using a whisk, incorporate the stock into the vegetables. Whisking to remove any lumps from the flour. Bring to a boil and cook for about 2 minutes, or until thickened. Mix in the tomatoes, green chilies and sour cream. Remove from the heat.

In a separate bowl, stir together the shredded chicken with the cilantro and then add to the vegetable mixture.
PREPARE THE TORTILLAS
Heat a non-stick skillet over medium-high heat.

Add about a tsp of vegetable oil to the skillet and then add a tortilla, and swirl around. Cook until lightly browned on the bottom and starting to crisp. About 1 minute. Flip, and repeat with the other side. Repeat with each tortilla, adding more oil as needed.

Alternatively, use roughly chopped corn tortilla chips instead of the skillet-fried tortillas.
ASSEMBLE THE DISH
Spray the bottoms and sides of either a large cast-iron skillet, or a 9x13 baking dish with cooking spray.

Line the bottom of the skillet (or baking dish) with tortillas, slightly overlapping. You can quarter another tortilla to fill the open spaces between the tortillas. Or, if using chopped tortilla chips, line the bottom with a layer of them.

Add half of the chicken/veggie mixture and then a third of the cheese. Repeat this process once. Top with remaining tortillas (or chips) and cheese.

Cover with foil and bake for 20 minutes. (375°F)

Remove foil and bake for another 20 minutes, until bubbly and lightly browned on top. Let stand for 10 minutes before slicing.
Notes
The casserole can be made a day in advance. Cover and place in the fridge. Add an additional 10 minutes to the initial bake-time before removing the foil.
Leftovers will keep in an air-tight container with a lid in the fridge for up to 5 days. The casserole freezes just fine for up to 2 months.
Be sure to check out the "How To Prepare King Ranch Casserole" video in the recipe card. If you like the video, please subscribe to our YouTube Channel!
Nutrition
Calories: 459kcal | Carbohydrates: 25g | Protein: 14g | Fat: 24g | Saturated Fat: 14g | Cholesterol: 71mg | Sodium: 339mg | Potassium: 274mg | Fiber: 4g | Sugar: 3g | Vitamin A: 1447IU | Vitamin C: 24mg | Calcium: 349mg | Iron: 2mg