Chicken and Sage Casserole is so deeply satisfying.
The flavors work together beautifully in this heart-warming dish. With sautéed mushrooms and a wild and long grain rice mix in the casserole, it's perfect for a weeknight meal, or for serving guests. And it comes together in about an hour!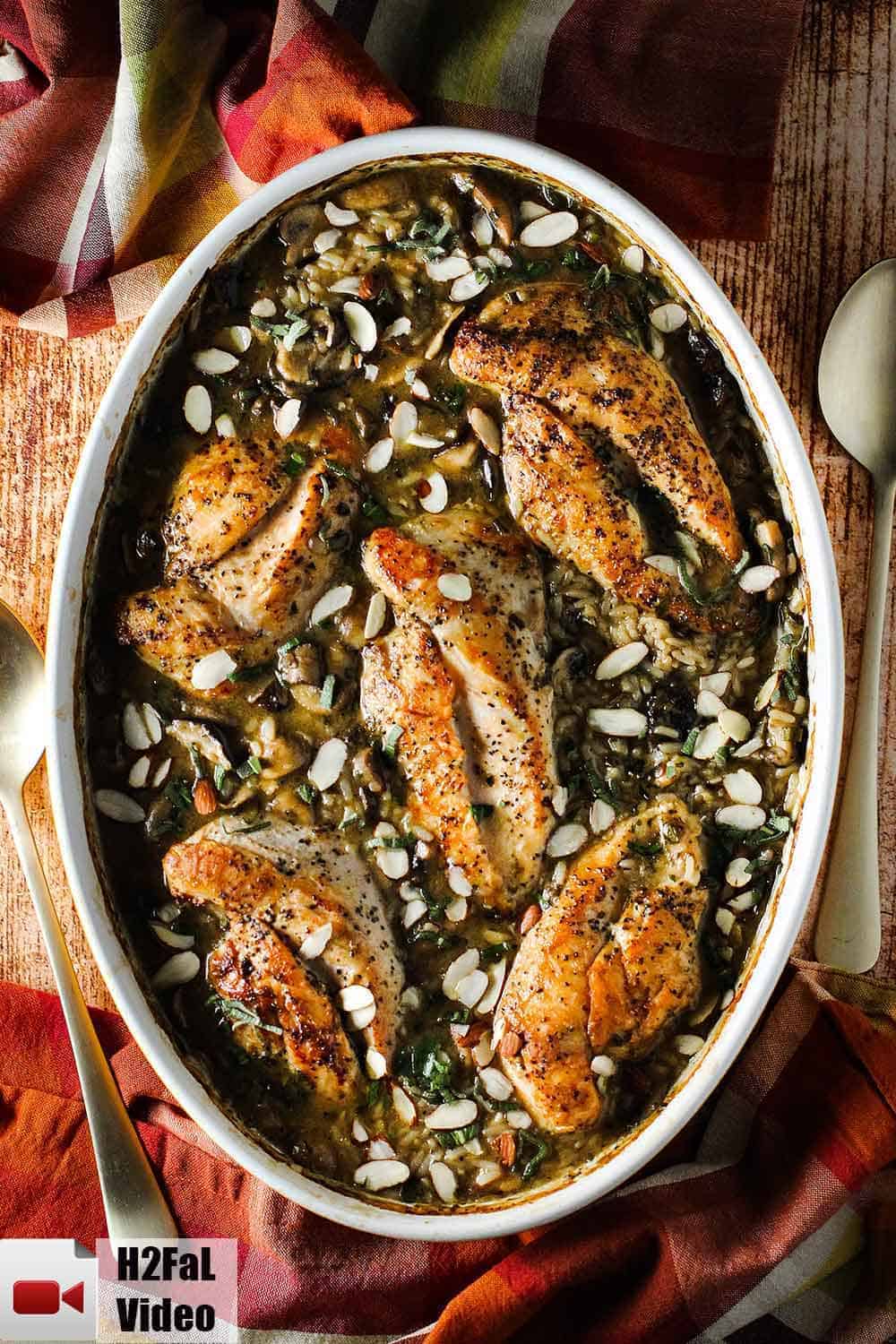 HOW TO MAKE CHICKEN AND SAGE CASSEROLE
Preparing this dish is really not hard at all. If you prep most of the ingredients ahead of time, then assembly is a snap.
The meal is hearty and feeds a hungry family or gathering of friends.
Watch us show you how to make this amazing chicken casserole!
HOW TO SEAR THE CHICKEN BREASTS
Searing the chicken breasts before baking the casserole is one of the keys to getting super, juicy chicken that isn't dry.
First, season the boneless and skinless breasts generously with salt and pepper, then heat the butter in a large skillet over medium-high heat.
Sear the breasts (in batches) until the outside is nice and brown. Set aside and continue preparing the casserole. NOTE: The chicken will not be cooked through at this point, but the searing will add flavor to the casserole and helps to lock in the juiciness we want with each bite. The breasts will finish cooking while baking in the oven.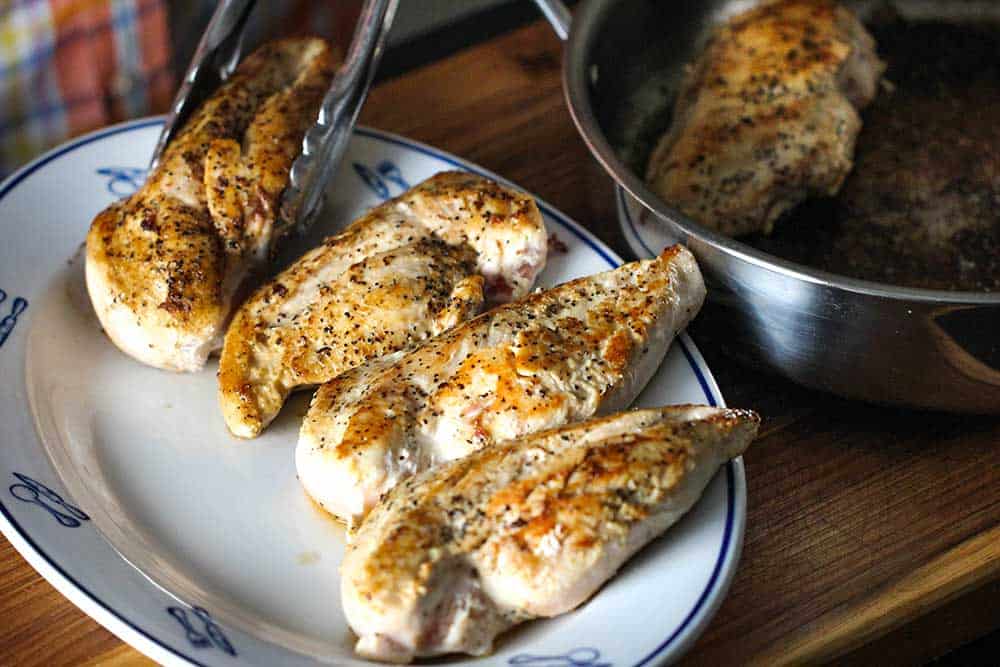 THE BEST MUSHROOMS FOR CHICKEN AND SAGE CASSEROLE
Sautéed mushrooms provide such a deep, comforting taste and texture to this chicken and rice casserole. Have we mentioned how much we love everything mushrooms? We do!
You'll need a total of 1 lb. of sliced mushrooms, we love using a variety of any of the following:
White button
Baby bella
Shiitake
Oyster
Porcini
Cremini
Some of our favorite dishes starring our favorite fungi include: Soppressatta, Mushroom, Black Olive Pizza, German Schnitzel with Mushroom Gravy, Best-Ever Meatloaf with Mushroom Gravy, and Sausage-Stuffed Mushrooms!
EXPERT TIP: As the mushrooms cook down, they will be come much smaller in size. Slicing the mushrooms into large slices (or quarters), allows for an even better texture for the chicken and sage casserole. They will still be soft and delicious, but a bit more robust in the finished dish.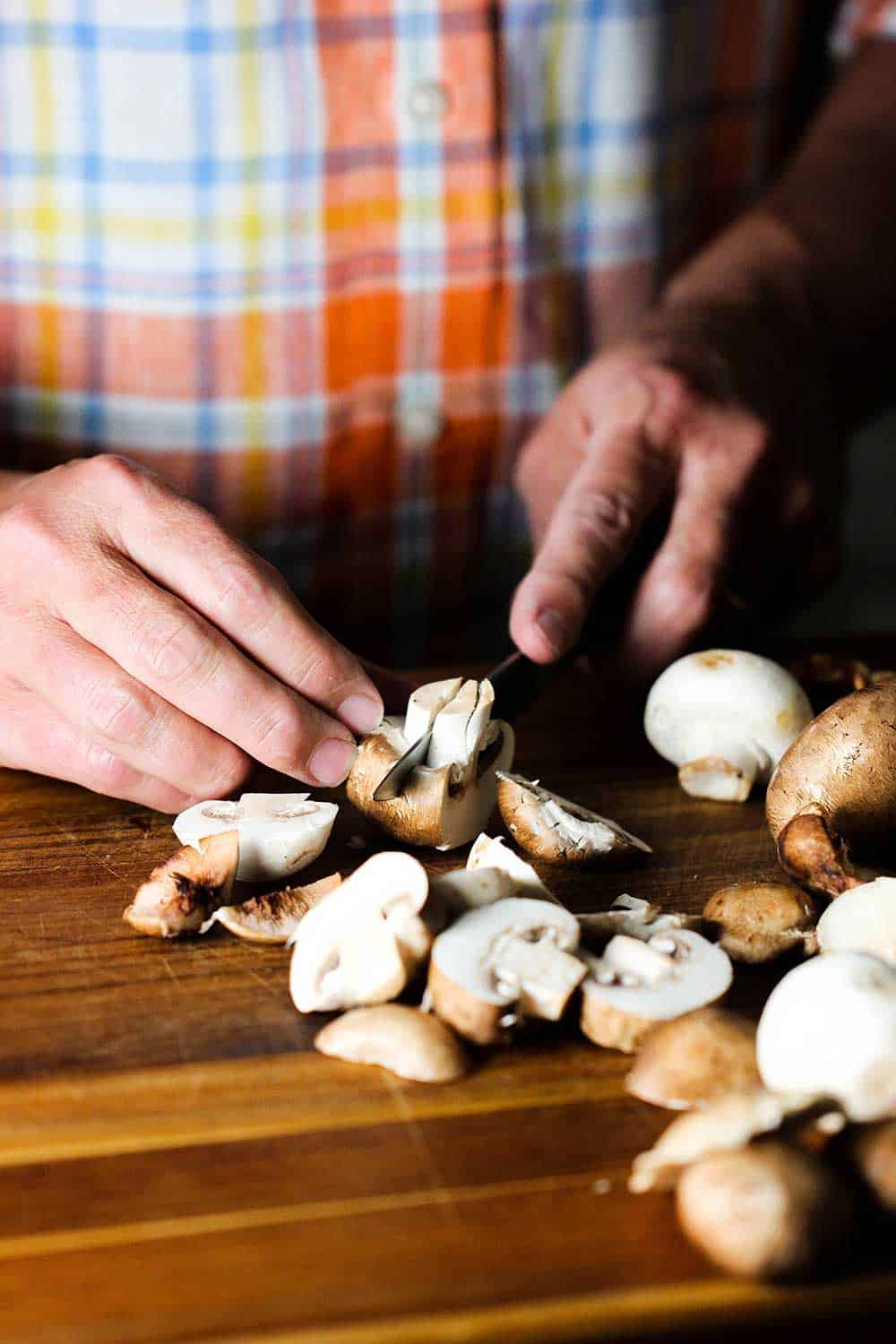 Sautéing the mushrooms in a large skillet, before baking the casserole, will ensure the deepest flavor.
Shallots and garlic round out the perfect taste for the mushrooms. We add a couple splashes of Worcestershire sauce for even more flavor.
And the Sherry truly compliments the mushroom so much.
ASSEMBLING THE CHICKEN AND SAGE CASSEROLE
Next, in a separate pan (or skillet), melt the butter and then add the flour to make a roux. Add the chicken stock and whisk in the flour. After simmering for 3 minutes, remove from the heat and add the rice, cheese, fresh herbs, the mushroom mixture, and salt and pepper.
Now, it's time to put the casserole together.
Use a large baking dish that will comfortably hold 5 to 6 chicken breasts. A 13×9″dish will work just fine. Grease it first with softened cooking spray, butter, or oil. Pour in the stock with the rice and mushrooms and then nestle the seared breasts evenly in the dish.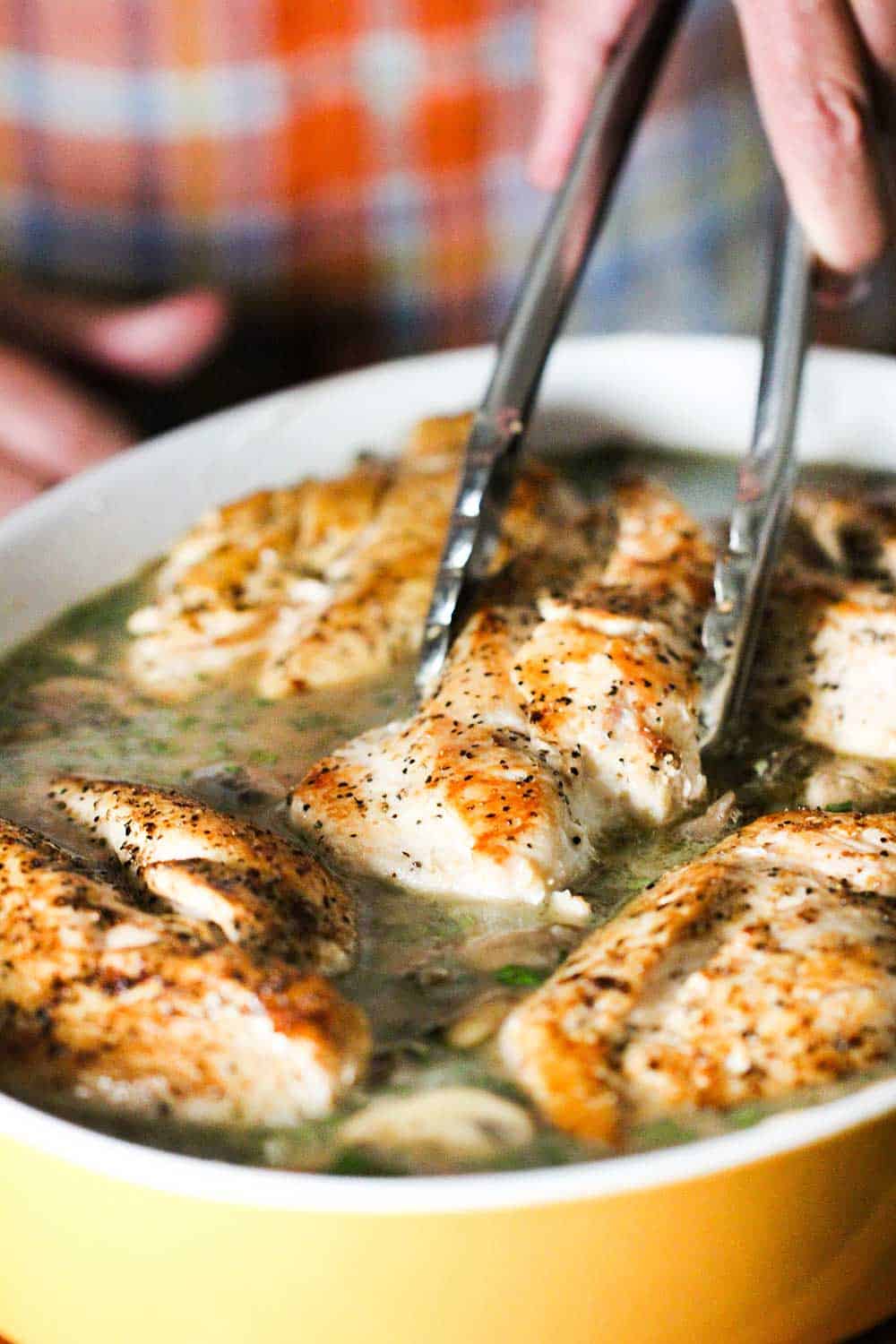 CHICKEN AND SAGE CASSEROLE IS A ONE-DISH MEAL
As the casserole bakes, the liquid will cook the rice perfectly.
We love adding thinly sliced almonds to the top of the casserole. It adds a wonderful texture and taste that we think is just perfect.
Another sprinkling of fresh sage over the top after the casserole comes out of the oven adds even more flavor.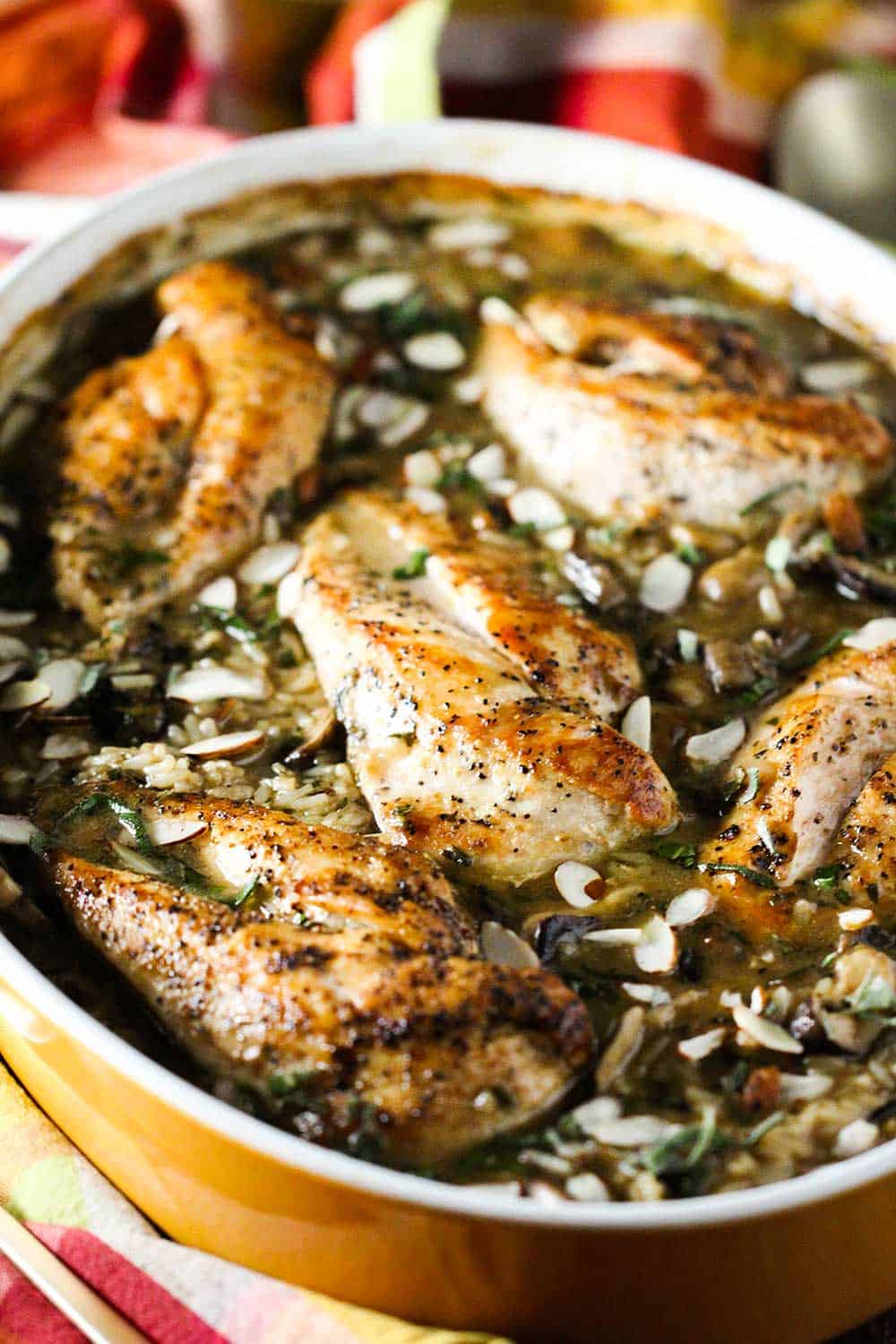 OTHER FAVORITE CHICKEN DISHES
In the meantime, you are going to love this incredible Chicken and Sage Casserole!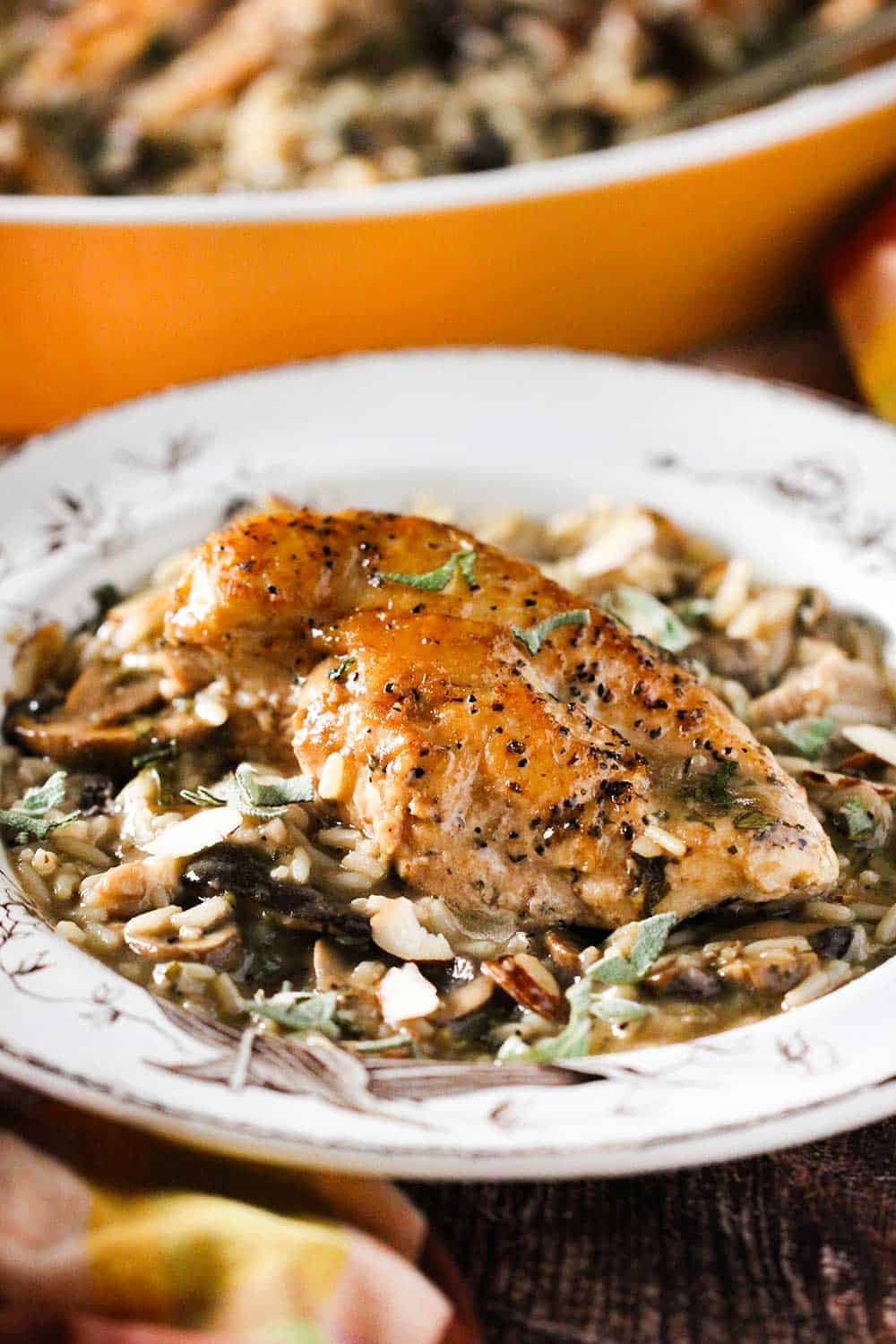 Ready to make one of the most comforting chicken and rice casseroles in the world? Go for it!
And when you make the dish, be sure to take a picture of it, post it to Instagram, and tag @howtofeedaloon and #howtofeedaloon!
Chicken and Sage Casserole
This Chicken and Sage Casserole blends so many amazing flavors. Perfect for a weeknight, or serving to guests on a special occasion. It's that good!
Print
Pin
Rate
Servings: 6 people
Calories: 587kcal
Ingredients
½ cup butter unsalted
6 chicken breasts boneless, skinless
2 shallots chopped
2 cloves garlic minced
1 lb mushrooms sliced
1 tsp Worcestershire sauce
¼ cup sherry
3 tbsp all-purpose flour
3 cups chicken stock
1 6 oz. long-grain and wild rice package, save seasoning pack for another use
½ cup Parmesan cheese grated
2 tbsp flat-leaf parsley chopped
1 tbsp sage fresh, chopped, plus 1 more tsp for garnish
½ tsp Kosher salt
½ tsp black pepper
Vegetable cooking spray
½ cup almonds sliced
Instructions
Pre-heat oven to 375°F.

Sprinkle salt and pepper over the chicken breasts

Melt 1 to 2 tablespoons butter in a large skillet over medium-high heat.

Add half of the chicken, and cook 5 minutes, or until browned, turn and cook for another 3 minutes.

Transfer to a plate (chicken will not be cooked completely at this point).

Repeat procedure with 1 tablespoon butter and remaining chicken. Wipe the skillet clean.

Melt 2 tablespoons butter in skillet over medium-high heat.

Add shallots, and saute 3 minutes or until translucent.

Add garlic, and saute for 1 minute.

Add mushrooms and cook, stirring, 8 minutes, or until tender.

Stir in sherry and cook, stirring often, 2 minutes.

Melt remaining 3 tbsp butter in a different large saucepan over medium-high heat.

Whisk in flour; cook, whisking constantly, about 2 minutes.

Gradually whisk in stock and bring to a boil. Cook and whisk until slightly thickened, about 3 minutes.

Remove from heat and add rice (reserve the flavor packet for another use) and the cheese, parsley, sage, salt, pepper, and shallot/mushroom mixture.

Lightly grease a 13/9-inch baking dish with cooking spray.

Spoon mixture into dish and then top with chicken.

Bake for 45 minutes, or until chicken reaches 165 F on an meat thermometer.

Remove from oven, and let stand 10 minutes.

Sprinkle with almonds and sage.
Notes
You can sear the chicken and make the shallot/mushroom mixture up to 1 day in advance. Simply refrigerate and then pick up where you left off with the recipe once ready. Depending on the size of the chicken breasts, you may only be able to fit 5 breasts into the baking dish. Try not to overcrowd the dish too much with the chicken, as this may cause the chicken to bake unevenly. The entire casserole can be assemble before baking up to a day in advance. The chicken will finish cooking in the oven. If chilled, bake for an additional 10 to 15 minutes. The internal temperature of the baked chicken should be 165°F. The casserole can be frozen for up to 1 month.
Nutrition
Calories: 587kcal | Carbohydrates: 15g | Protein: 60g | Fat: 18g | Saturated Fat: 6g | Cholesterol: 195mg | Sodium: 912mg | Potassium: 1344mg | Fiber: 3g | Sugar: 5g | Vitamin A: 712IU | Vitamin C: 7mg | Calcium: 165mg | Iron: 2mg
Note: This recipe was adapted from Southern Living.
Post Update Note: This recipe was originally posted in January, 2017, but recipe was improved, new photos were taken, and an awesome video was added in September, 2019!