This Soppressata, Mushroom and Black Olive Pizza recipe is so good and as good as you'd find at any pizza joint in town!
Making homemade pizza at home is easy and such a huge crowd pleaser.
Just look at this pizza!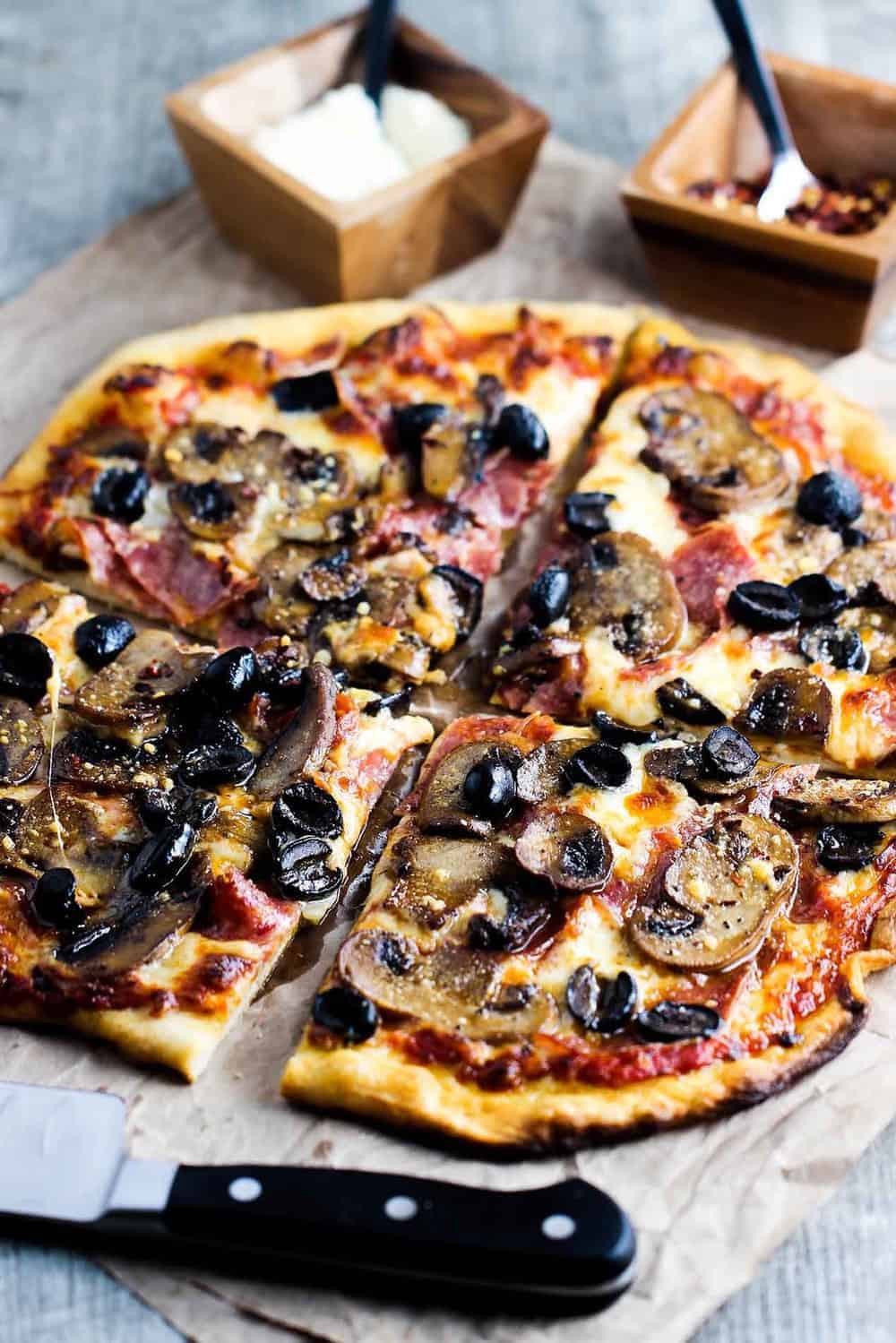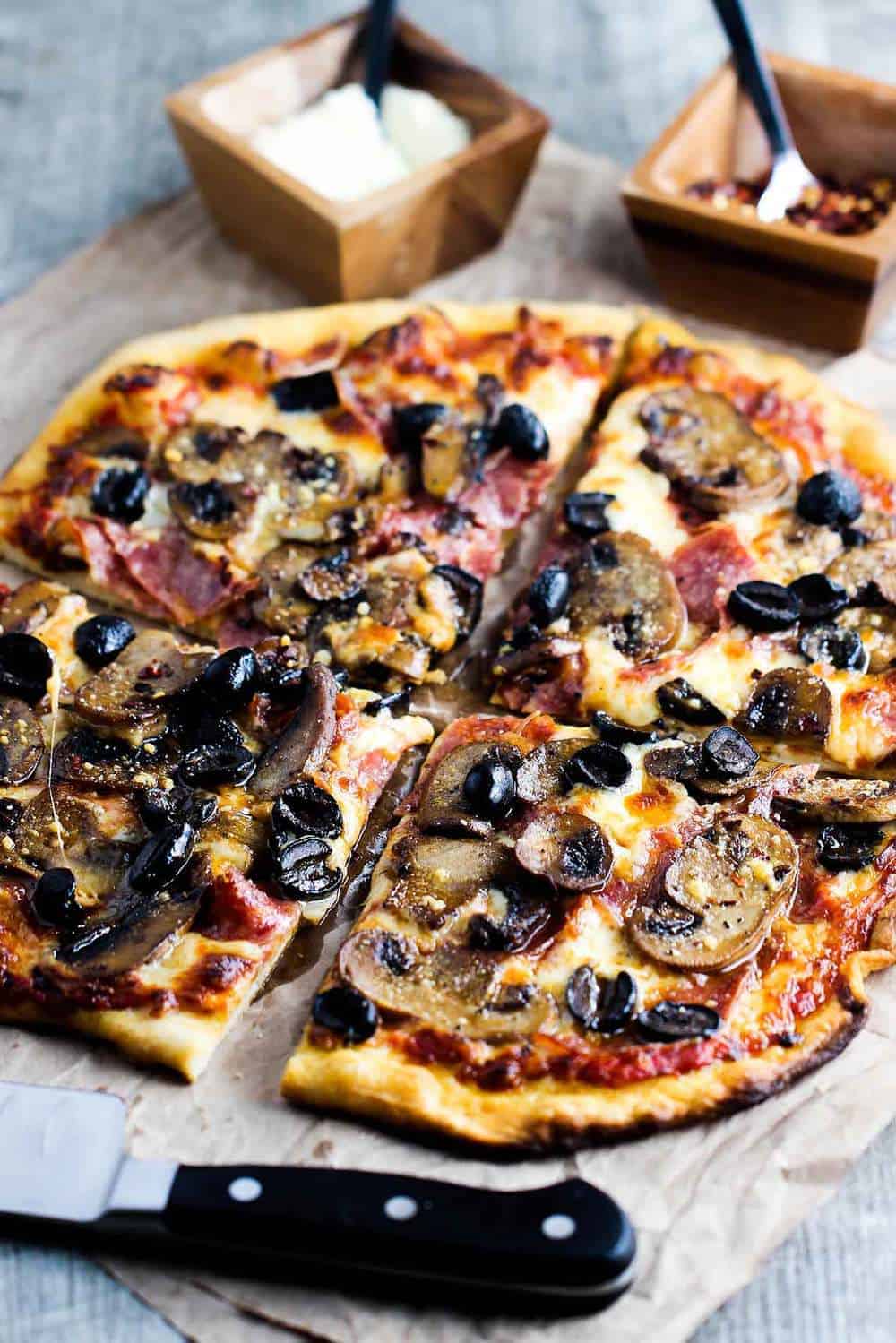 HOW TO MAKE SOPPRESSATA, MUSHROOM AND BLACK OLIVE PIZZA
Of course a great pizza requires a great crust.
We think our Semolina Pizza Dough recipe fulfills that requirement just perfectly!
Homemade pizza dough, is there anything much better? Well, maybe the finished pizza, but we're getting ahead of ourselves!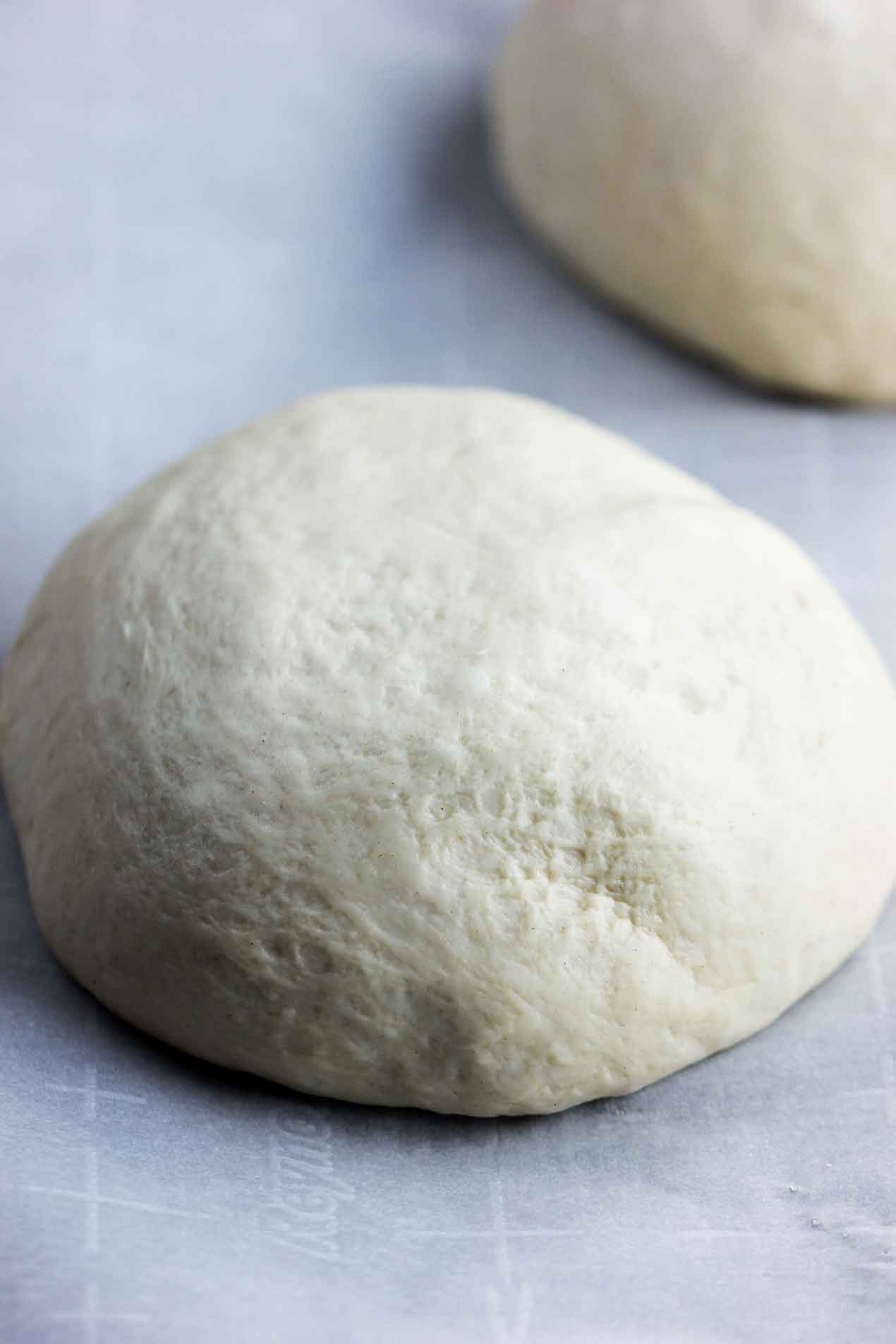 Of course, to build the perfect pizza, you need a great sauce.
A good pizza sauce doesn't need to be overly complicated. You could even put this sauce together without cooking it on the stove and let it just rest in the fridge for a few hours, but I think simmering it for about 20 minutes really enhances the flavor and gives your pizza even more of a flavor boost.
Just be sure to let the sauce cool completely before assembling the pizza.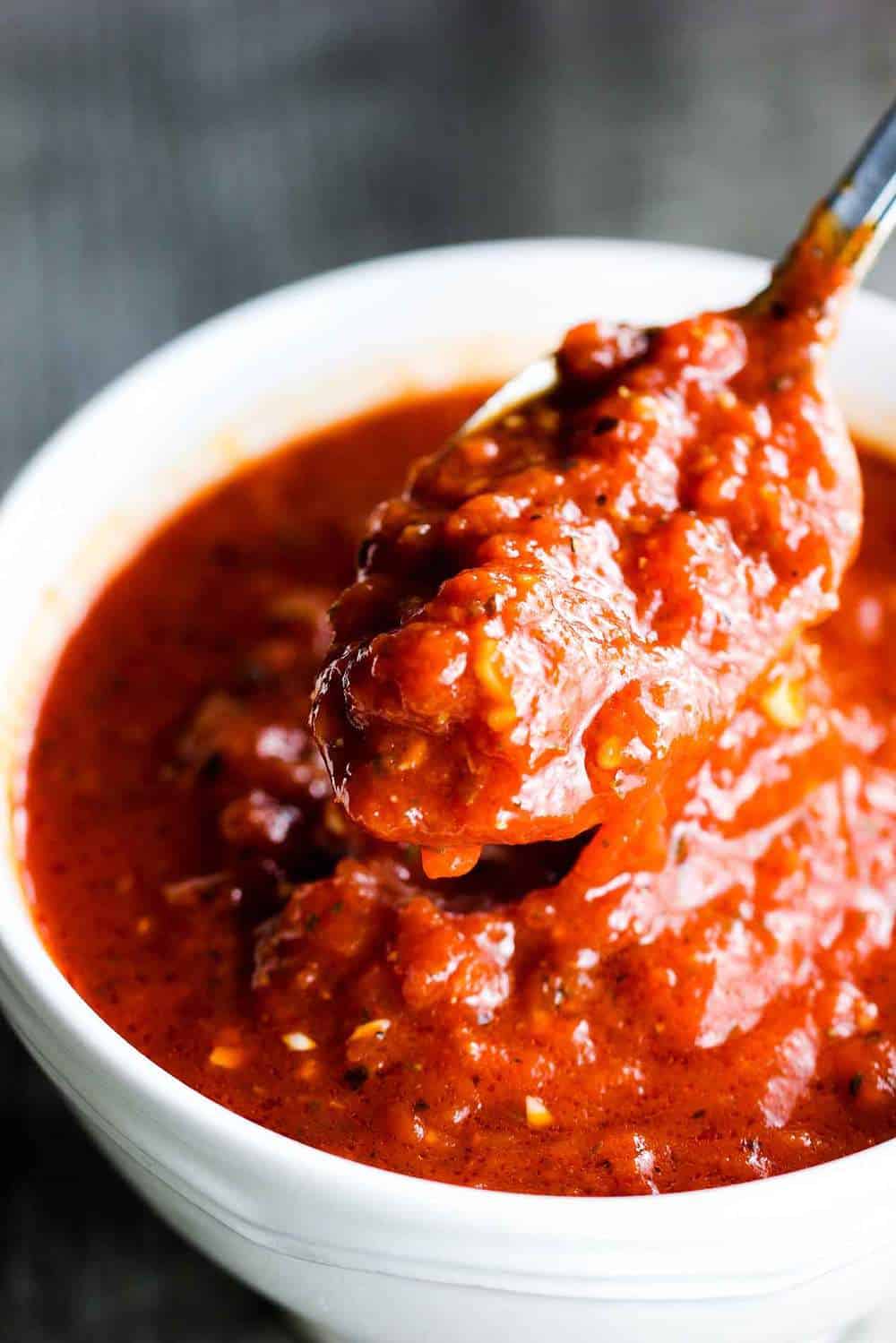 And then the cheese. Oh, the cheese. The Loon (as expected) loves cheese, and lots of it.
Whole milk low moisture mozzarella topped with freshly grated Parmesan cheese is the perfect cheese combo for this pizza.
Say cheese, please.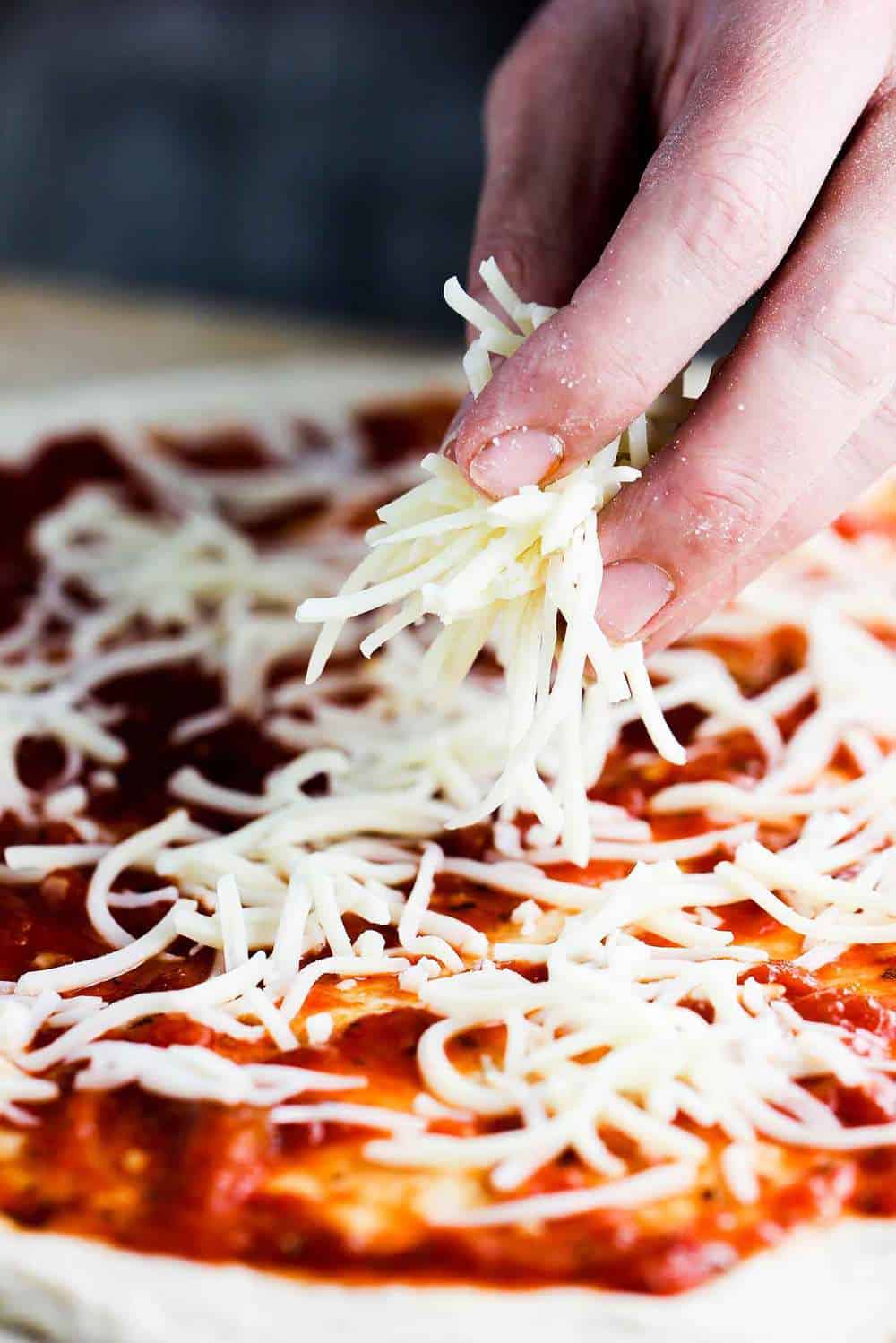 We love to finish the topping off with a sprinkle of red pepper flakes and dried basil and oregano.
Brushing the edges of the pizza with good-quality olive oil is a wonderful touch to allow the edges to crisp and become a beautiful golden brown.
Delish!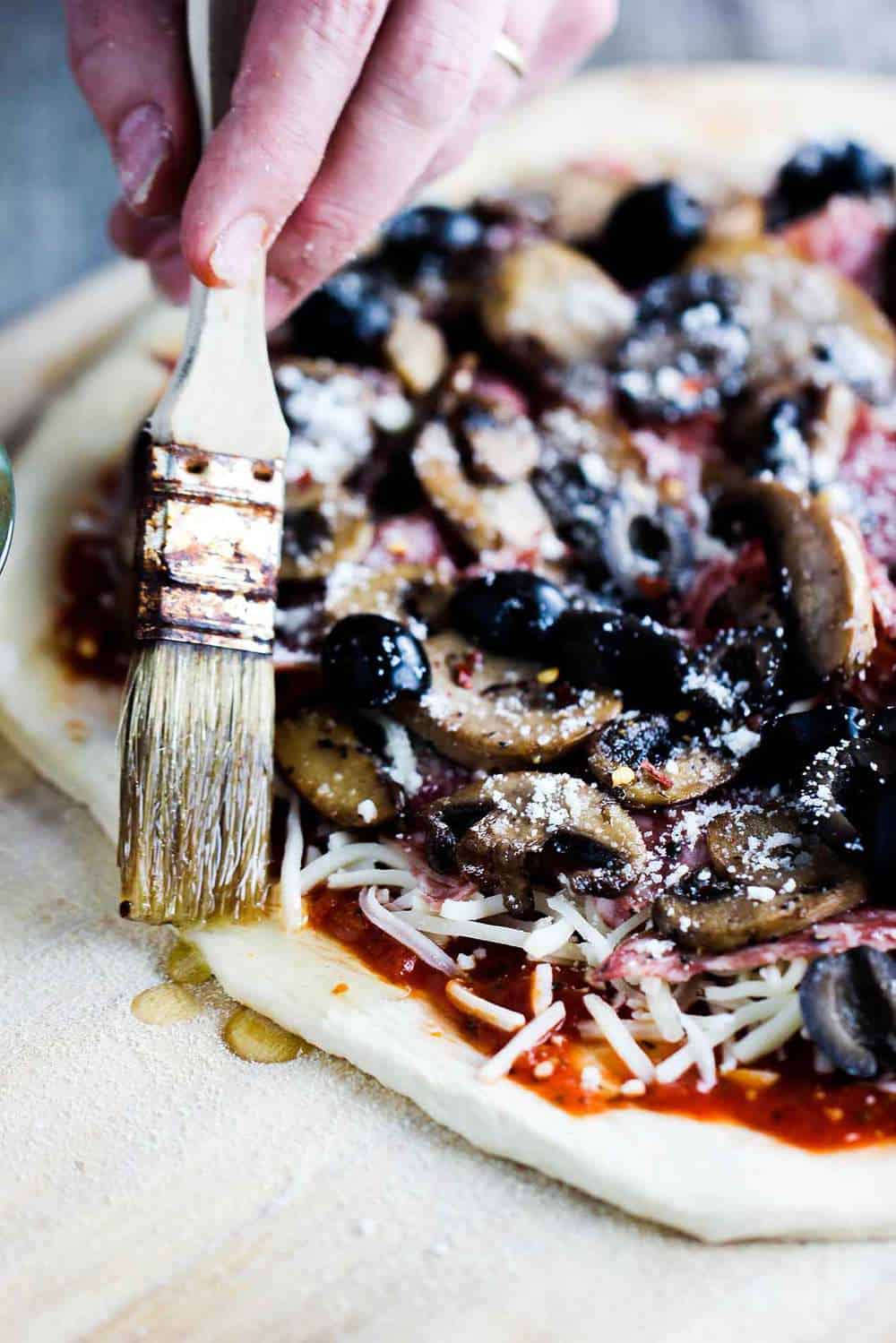 Other amazing pizza recipes to try
Deep Dish Italian Sausage and Broccoli Rabe Pizza
BLT Pizza with Pesto Sauce
Deep-Dish Chicago-Style Pizza
Mediterranean Pizza
In the meantime, go and make this amazing Soppressata, Mushroom and Black Olive Pizza!
Well, don't wait any longer!
Go ahead and make this amazing Soppressata, Mushroom and Black Olive Pizza recipe!
Soppressata, Mushroom and Black Olive Pizza
This Soppressata, Mushroom and Black Olive Pizza recipe is ridiculously delicious. The soppressata is an Italian salami that is so flavorful. Sautéing the mushrooms will caramelize them just a bit and bring out even more flavor. Add the black olives, homemade pizza dough and sauce, along with top-notch mozzarella, and get ready...you're about to have one of the best pizzas you will have ever encountered!
Print
Pin
Rate
Servings: 4 people
Calories: 314kcal
Ingredients
FOR THE PIZZA SAUCE
1/4 cup olive oil
5 garlic cloves minced
1 15 oz can crushed tomatoes
3 tbsp tomato paste
1 tsp dried basil
3/4 tsp dried oregano
1/4 tsp dried thyme
1 tbsp red wine vinegar
1/2 tsp Kosher salt
FOR THE PIZZA
3 tbsp quality olive oil plus more for brushing
8 oz button or shiitake mushrooms brushed clean and sliced
Kosher salt and freshly ground black pepper
1 13 oz ball pizza dough click for make-ahead recipe
1 cup pizza sauce recipe below
2 cups whole milk low-moisture mozzarella cheese shredded
4 oz soppressata cut into 1/2 inch strips
3/4 cup pitted black olives halved lengthwise
Dried basil oregano and red pepper flakes, for sprinkling over the pizza before baking
1/4 cup Parmesan cheese grated
Instructions
MAKE THE SAUCE
In a medium-sized pan, heat the olive over medium heat.

Add the garlic and cook until softened, about 2 minutes. (Don't burn or will become bitter tasting).

Add the remaining ingredients, plus 1 tablespoon of water.

Simmer for 15 minutes. Taste and add more salt, if necessary. If too thin, cook for another 10 minutes, and add a little more tomato paste. Set aside and let cool completely.
MAKE THE PIZZA
Pre-heat oven to 550 F° (or as hot as your oven will go).

Place a pizza stone on the middle rack and let the stone heat for at least 20 to 30 minutes.

In a large skillet, heat the olive oil over medium-high heat.

Add the mushrooms and season with salt and pepper and sauté them until softened and slightly browned around the edges, about 5 minutes. Remove from heat and set aside.

On a pizza wheel, dusted with semolina (or corn meal), stretch or roll out the pizza into a large round.

Spread the sauce over the dough, leaving about a 1-inch space from the edge of the dough.

Top with the mozzarella cheese and then distribute the soppressata, cooked mushrooms and olives evenly around the pizza.

Brush the outside edge of the dough with olive oil and sprinkle about a 1/2 teaspoon each of the dried basil, oregano and red pepper flakes over the top.

Top with the parmesan cheese.

Carefully slide the pizza from the peel onto the hot stone in the oven and bake for 10 - 15 minutes (depending on the temperature of your oven) until crust is golden brown.

Carefully transfer the pizza to a cutting board and let cool for a few minutes, then slice and serve right away.
Nutrition
Calories: 314kcal