I just love this Semolina Pizza Dough recipe.
It makes such a nice, crunchy crust that has incredible flavor.
It's perfect when you want an incredibly flavorful and thin crust.
Make sure you are starting with good active yeast and then you need to wake the yeast up by adding it to lukewarm water (approx. 120°F) and gently whisking it.
If the granules don't dissolve and you see some floating to the surface, your yeast is dead. Discard the mixture and start over with fresh yeast.
Once the dough is ready, you'll want to shape the dough into a ball.
Press the top of the ball firmly with the heel of your hand, pushing downward and slightly away from you.
Use your other hand to turn the dough 45 degrees, gathering it and shaping it back into a ball as you do. Repeat this pushing-turning-gathering motion for 2 to 3 minutes, until the dough is smooth.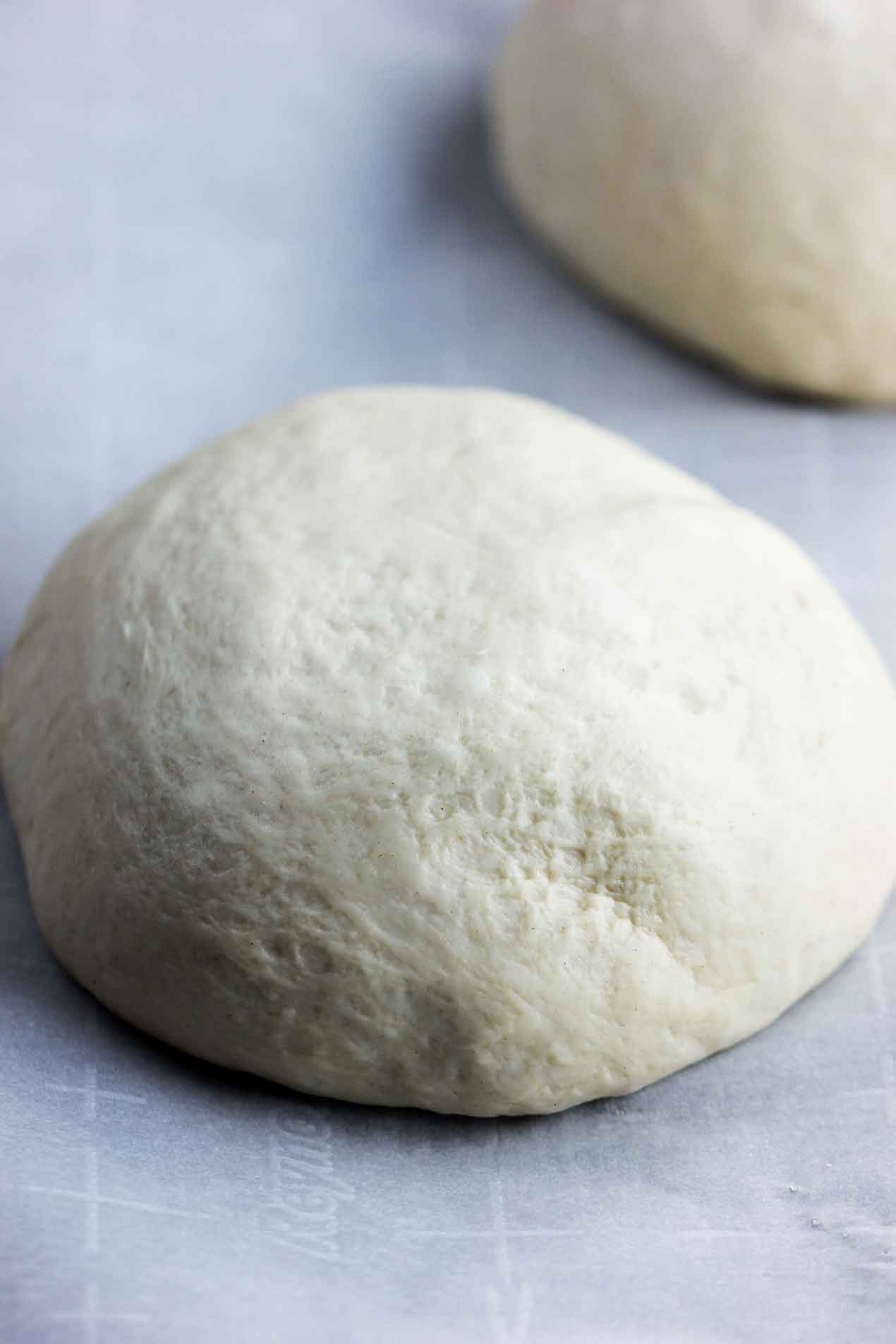 This dough is even better when you use a combination of semolina and durum wheat (and of course, all-purpose flour). Hodgson Mill sells a nice mix of semolina and extra fancy durum wheat, which can be found in many supermarkets. If you find the combo version, just substitute it for the amount called for the semolina in this recipe.
But trust me, the wonderful addition of just semolina is wonderful in this recipe!
A wonderful pizza to make with this dough is our Soppressata, Mushroom and Black Olive Pizza. It's to die for!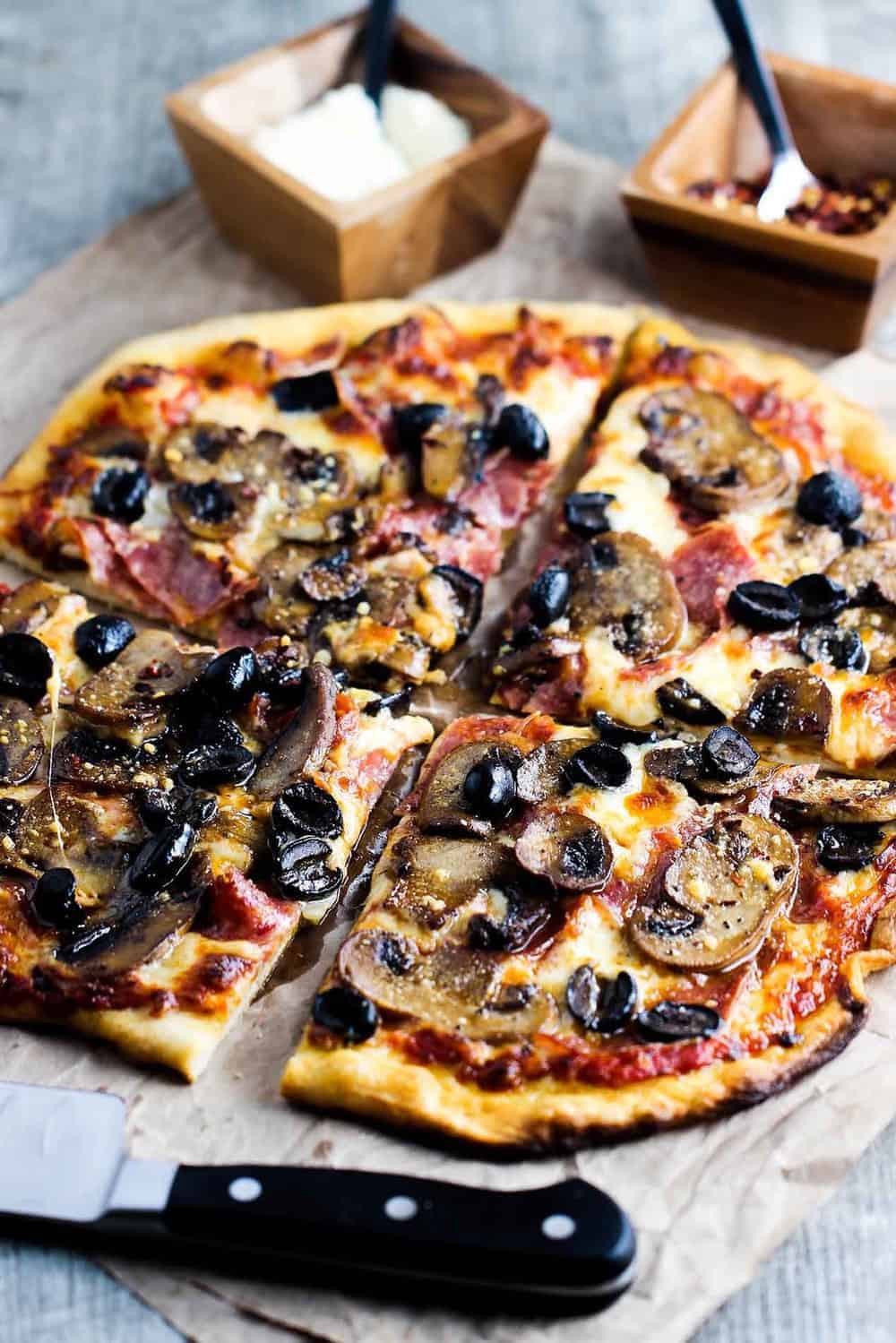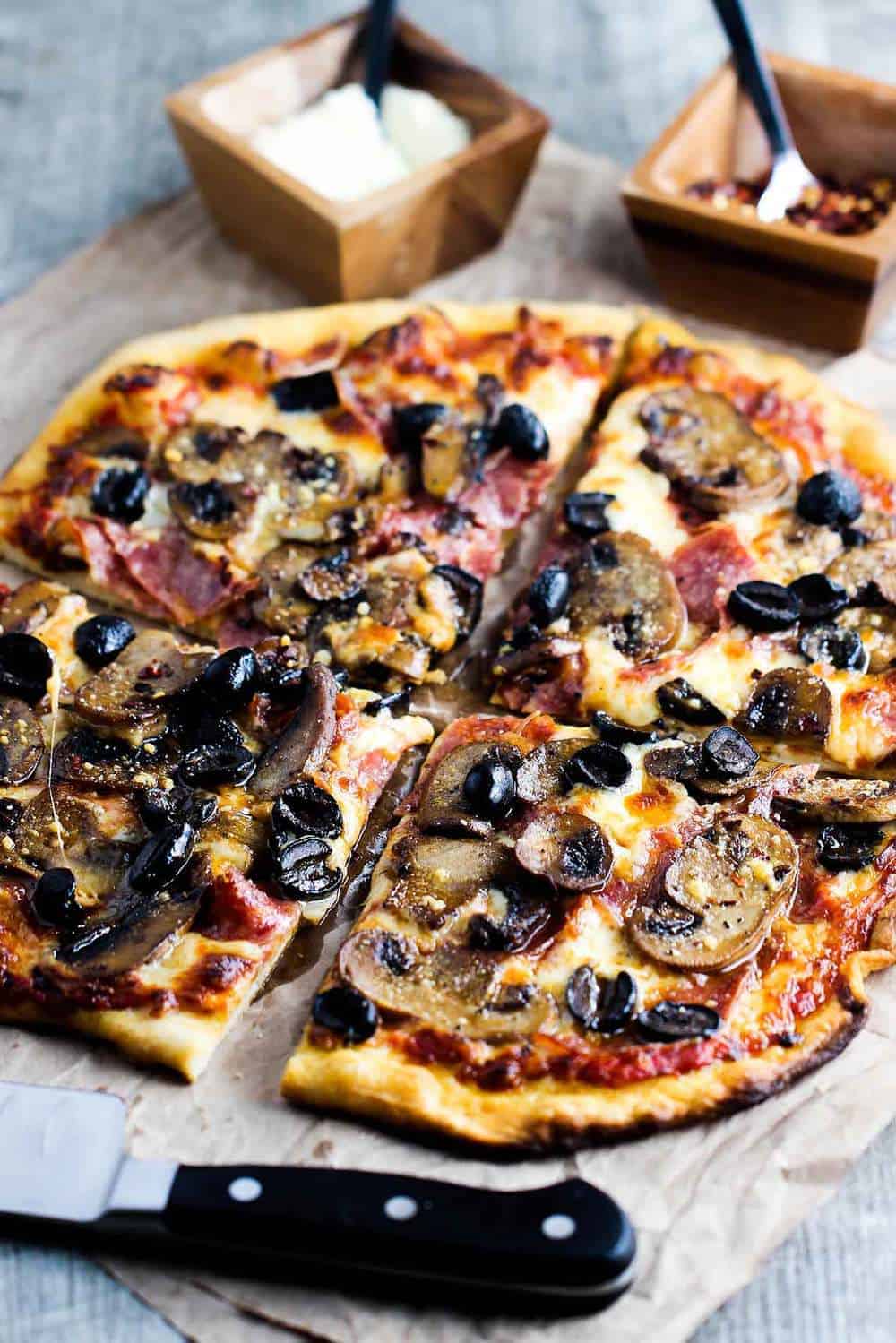 Now, go ahead and make this amazing Semolina Pizza Dough recipe!
You can easily freeze the dough for up to 3 weeks!
Yes!
Semolina Pizza Dough
This Semolina Pizza Dough really makes a wonderful pizza dough texture and flavor. One of our favorite pizza doughs!
Print
Pin
Rate
Servings: 8
Calories: 237kcal
Ingredients
¼ cup warm water 120°F
1 tsp sugar
2¼ tsp active dry yeast 1 package
1 cup room-temperature water plus more as needed
1 tbsp olive oil plus more for the bowl
2 cups semolina flour plus 2 tbsp
1 cup all-purpose flour plus 7 tbsp, plus more for your work surface
1 tbsp salt
Instructions
In a medium bowl or measuring cup, stir together the warm water and the sugar, until the sugar dissolves.

Whisk in the yeast and then let stand until it starts to foam, about 5 to 8 minutes. (if the yeast doesn't foam and the yeast granules, float, the yeast is dead. You'll need to discard and begin again with a fresh amount of yeast and water).

Add the room-temperature water and the olive oil to the foaming yeast concoction. Set aside.

In a food processor, combine the semolina and all-purpose flours and the salt.

With the motor running, add the yeast mixture in a steady stream and then pulse until the dough comes together in a rough mass, about 12 seconds (if the dough does not form a ball, sprinkle with 1 to 2 teaspoons of cold water and pulse again until a rough mass forms).

Let the dough rest in the processor bowl for 10 minutes.

Process the dough again for 30 seconds (you may need to hold the top of the food processor with one hand to hold it steady).

The dough should be tacky to the touch, but not sticky.

Transfer the dough to a lightly floured work surface and form it into a smooth ball.

Place the dough in a large oiled bowl, turn the dough to coat with oil, and cover the bowl with plastic wrap.

Let the dough rise in a warm place until doubled in size and looks spongy, about 2 hours.

Turn the dough out onto a lightly floured work surface, gently punch it down, and shape it into a smooth cylinder.

Divide the dough into 2 equal portions.

Shape each portion into a smooth ball, dusting with flour only if the dough becomes sticky.

Cover both balls of dough with a clean kitchen towel and let rest for 15 minutes before proceeding with your pizza recipe.

(You can freeze the balls of dough in gallon-size zipper lock bag, being sure to squeeze as much of the air as possible out of the bag, for up to 2 months. Thaw the frozen dough for 3 to 4 hours at room temp.).
Nutrition
Calories: 237kcal | Carbohydrates: 44g | Protein: 8g | Fat: 3g | Saturated Fat: 1g | Sodium: 875mg | Potassium: 127mg | Fiber: 3g | Sugar: 1g | Calcium: 9mg | Iron: 3mg