This post is kindly sponsored by Village Farms®, but the recipe, photography, and opinions are 100% ours.
Grilled Portobello BLT Pizzas are nothing short of amazing.
We absolutely love grilling pizza. The flavor that the grill imparts into the pizza is amazing. But, we decided to shake things up a bit, and forgo your standard pizza crust, and instead, use the large caps of a portobello mushroom.
We also have the extreme pleasure to be teaming up with the incomparable Village Farms®, providers of some the best produce we've even encountered, to present you with this dish. In these mushroom "pizzas", we'll be featuring Village Farms' Heavenly Villagio Marzano tomatoes. And boy, oh boy, are they aptly named!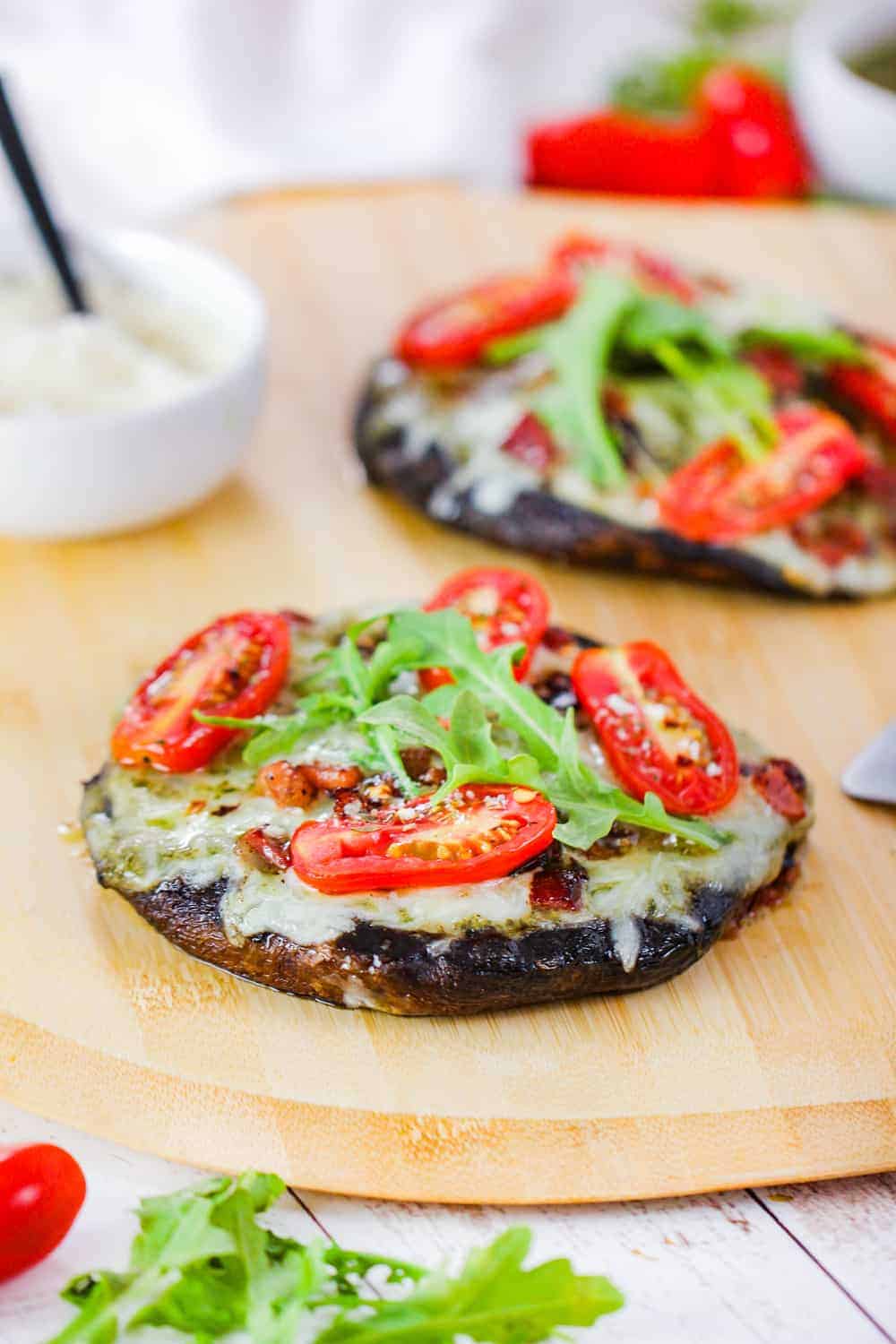 REMOVE THE GILLS FOR PORTOBELLO BLT PIZZAS
We love everything about portobello mushrooms, except sometimes they can be a little "Earthy" in taste. This comes from the gills on the underside of the cap.
Some folks like this taste, but we feel for the best tasting portobello pizza, we'd get rid of them.
All you need is a spoon to just scrape them right out. Be careful in doing so, though, you don't want to tear through the cap. Also, it's perfectly okay to leave some of them in tact.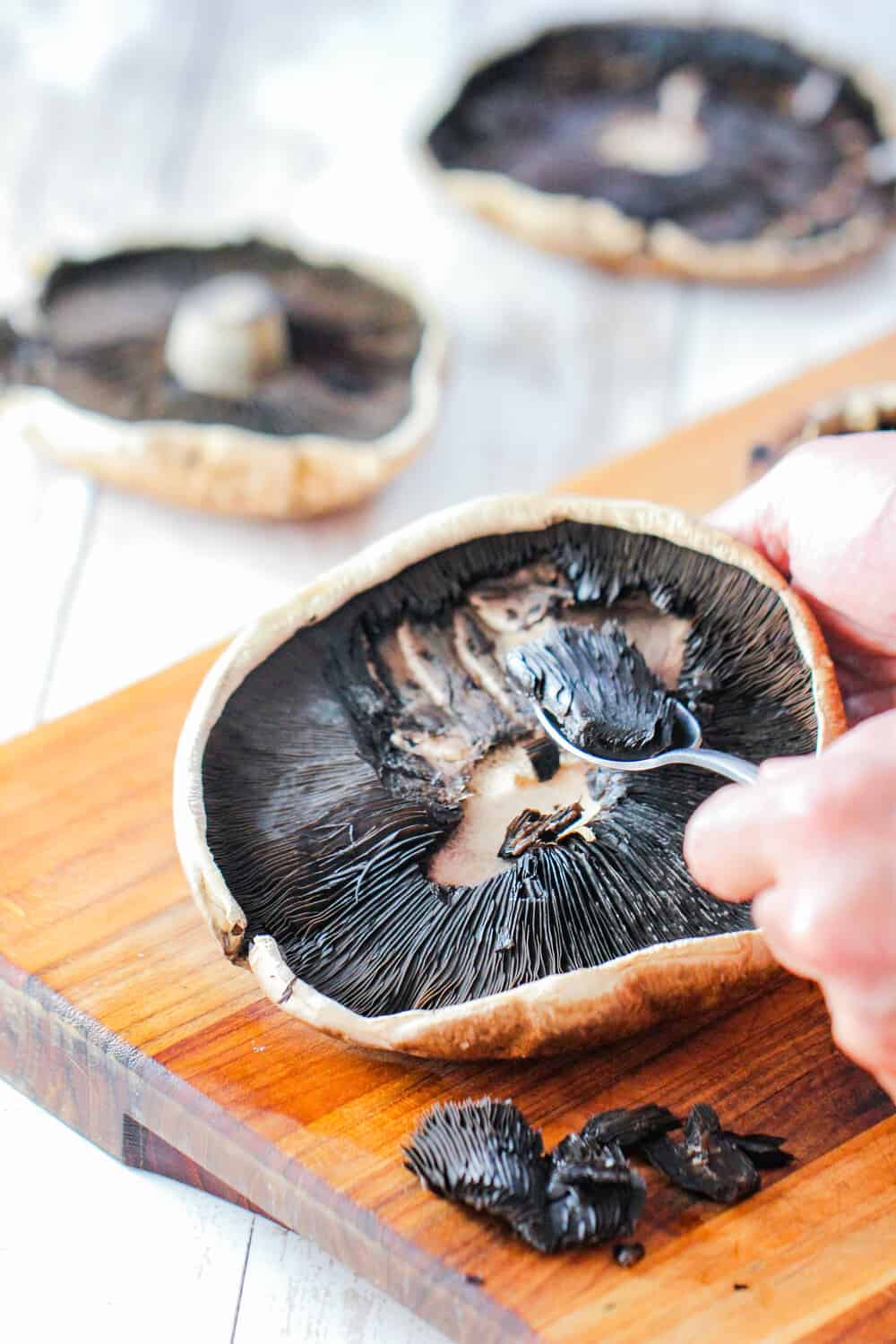 So when we were thinking of what kind of pizza we wanted to make, we decided to go with an elevated BLT version.
Since we were really thinking out of the pizza box with this recipe, we decided to change things up even more.
How about fresh pesto as the sauce? Yes. Yes. Yes! Homemade is best, but good quality store-bought will work, too.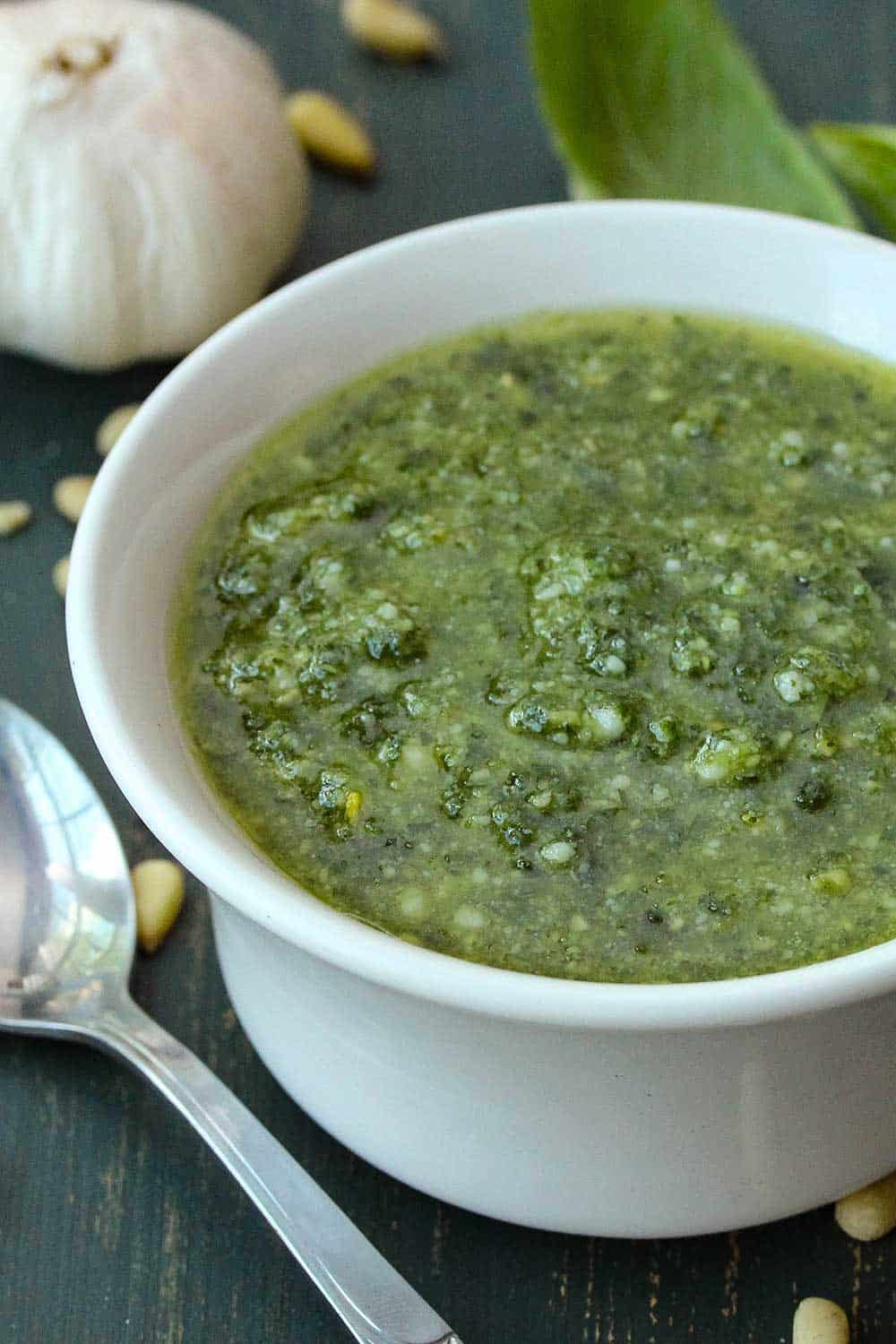 HOW TO BUILD THE B-L-T
Okay, as mentioned, we've got the base of our pizza – a portobello cap with stem and gills removed.
Next, our sauce, as you know, is amazing pesto. And again, for the tomato, we're going with Village Farms Heavenly Villagio Marzano tomatoes. For the lettuce, we'll top the cooked pizza with some leafy, peppery baby arugula. For the cheese, we're using extra creamy and extra flavorful fontina cheese. Hungry yet?
Hold on…what about the "B" in BLT: You know, bacon? Well, that's an easy one…let's cook up some incredible cubed pancetta. Wow, oh wow, this is getting exciting.

It's time to start bringing these Portobello BLT Pizzas together!
PORTOBELLO BLT PIZZAS ARE BEST GRILLED
First, we need to fire up the grill to medium hot. Then we brush olive oil all over the caps and sprinkle on a little Kosher salt.
Place them, cap-side down, onto a grill pan or rack, or in a large cast iron skillet. Place the rack or skillet directly onto the grill over direct heat. Close the lid and wait 6 minutes.
We love Village Farms® for many reasons. Mostly, they consistently deliver fresh, delicious produce. Thankfully, their produce can be found throughout the USA and Canada. They truly bring that local farmer's market feel with their beautiful tomatoes, cucumbers and peppers.
VILLAGE FARMS® DELIVERS UNMATCHED FRESHNESS
Heavenly Villagio Marzano tomatoes are the perfect choice for our Portobello BLT Pizzas. Why? They have an incredible sweet flavor like none other. They are a renowned cooking tomato and are perfect for roasting. And it gets better, they are even rich in vitamins A and K – this juicy bite-size morsel benefits eyesight and strengthens bones. Perfect!
After the mushrooms have cooked for 6 minutes on the grill, it's time to carefully flip the caps over and layer the pizza. We start by slathering a good helping of the pesto sauce on the inside of the cap. Then a layer of gorgeous shredded fontina cheese. Next the cooked pancetta. And now…on to the Heavenly Villagio Marzano tomatoes that we halved.
Ladies and gentlemen, these Portobello BLT Pizzas blew us away. After another 6 or 7 minutes on the grill, the cheese melted and was bubbly, and the tomatoes were slightly blistered to perfection.
I mean, how could they not incredible? Think about it: Grilled portobello mushroom caps, homemade pesto sauce, creamy fontina cheese, salty and delicious pancetta, peppery arugula, and the most heavenly tomatoes on the planet.
We were in mushroom BLT bliss. For a vegetarian version, simply omit the pancetta!
PAIR THE PIZZAS WITH CAPRESE SALAD WITH GRILLED PEACHES
While you've got the grilled fired up, you should also make our incredible Caprese Salad with Grilled Peaches!
For that recipe, we feature Village Farms Sinfully Sweet Campari tomatoes. We take the classic caprese salad and elevate it even further with amazingly grilled peaches and a balsamic reduction!
These pair beautifully with the Grilled Portobello BLT Pizzas. And talk about a gorgeous presentation!
We just can't say enough about how much we adore using produce from Village Farms®. Their produce is 100% natural and the freshest of fresh.
They are just one of those companies that make you feel good when you cook with their products and then even more so when you take that first bite.
And folks…let us just say you need to run, not walk, to the supermarket and fill your basket with what you need to make these incredible Portobello BLT Pizzas. They are truly one of the most delicious things to come out of the How To Feed a Loon kitchen in some time.
Ready to impress? Go for it!
And when you make these babies, be sure to take a picture and post on Instagram and tag @howtofeedaloon and @villagefarms!
Grilled Portobello BLT "Pizzas"
Talk about a taste sensation! Using a portobello cap in place of traditional pizza crust and then topping with classic BLT topping puts this appetizer over the top in delicious taste and texture!
Print
Pin
Rate
Servings: 4
Calories: 488kcal
Equipment
Gas or charcoal grill

Grill rack or large cast iron skillet
Ingredients
4 large portobello mushrooms
2 tbsp olive oil
1 tsp Kosher salt
1 cup pesto homemade or store-bought
2 cups fontina cheese shredded
1 cup pancetta cubed and cooked until crisp
1 cup Heavenly Village Marzano® tomatoes Sliced in half, lengthwise
1 cup fresh baby arugula
1/2 cup Parmesan cheese grated, for garnish (optional)
Instructions
Turn your grill onto medium high.

Brush the oil all over the prepared mushroom caps and then sprinkle salt all over.

Place the mushrooms, cap side down, onto a large grill rack or cast iron skillet.

Place the mushrooms (on the rack or skillet) directly over the heat and cover the grill. Let cook for 6 minutes. Carefully remove the rack or skillet from the grill.

Using a spatula, carefully turn the mushroom cap over, so the underside is facing up, still on the rack or skillet.

Spread each cap with 1/4 cup of the pesto sauce. Next, to each mushroom cap, add a layer of cheese, then a small handful of cooked pancetta, topped with the sliced tomatoes.

Place back on the grill and cover. Cook for about 6 to 7 minutes, unitl cheese has melted and is bubly.

Remove from the rack or skillet onto a plate and top with a small handful of arugula. Top with a sprinkle of grated Parmesan, if desired. Serve at once!
Nutrition
Calories: 488kcal | Carbohydrates: 10g | Protein: 27g | Fat: 32g | Saturated Fat: 8g | Cholesterol: 92mg | Sodium: 1920mg | Potassium: 360mg | Fiber: 2g | Sugar: 5g | Vitamin A: 1950IU | Calcium: 613mg | Iron: 1mg