Grilling pizza is not only fun, it's easy and incredibly delicious.
We love all kinds of pizza including Chicago-style Deep Dish, Thin Crust Soppressata and Mushroom, and BLT Pizza with Pesto. But there is something unbelievably delicious about grilled pizza. Make it easy yourself and pick up some pulled pork from your favorite BBQ joint and grab some good-quality pizza dough. It all comes together in no time at all! Epic!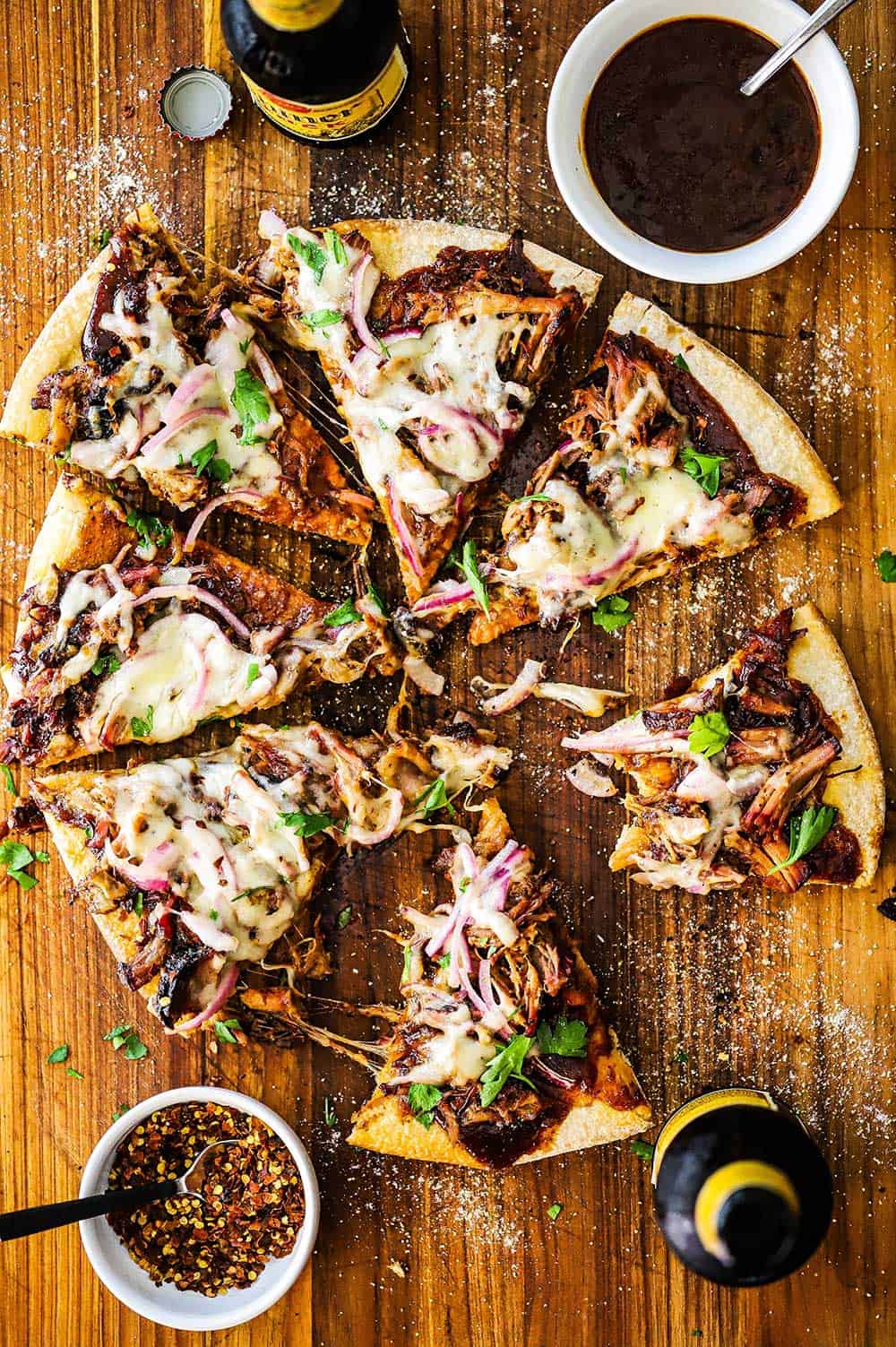 How To Make Grilled Pulled Pork Pizza with BBQ Sauce
If you have the time and want to make everything from scratch, then go for it!
Making the homemade pizza dough and slow-cooker pulled pork is delicious and can be done in advance. Our homemade BBQ sauce is to die for and easy to prepare.
NOTE: If you liked this video, please subscribe to our YouTube channel. Remember to click the little 'bell' icon so you'll never miss a new video! Thank you!
The Ingredients You Will Need
There are just a handful of ingredients that you'll need to make a grilled pizza that everyone will be raving about for days to come.
Here's what you need:
Pizza dough – enough for a 9-inch pizza, about 1 lb.
Cornmeal – for dusting your stone
BBQ Sauce – you'll need about 1 cup
Pulled pork – you want to pile it on, about 1 lb.
Red onion – thinly sliced, as much (or little) as you like
Shredded cheese – we do a combination of Gruyere and mozzarella
Fresh parsley – for a little color at the end
EXPERT TIP: We love to use a pizza stone for grilling pizza. You'll need to roll out the pizza and add a little cornmeal to a pizza paddle or the back of a large baking sheet. Place the dough over the cornmeal and then slip the dough onto the stone that has been sitting in your heated covered grill. You can also apply oil to your grill grates and grill the dough directly on the grates. Either way, let the dough cook for about 2 minutes, and then flip.
After flipping the dough, you'll start to build the pizza, starting with the BBQ sauce.
Tips for Making Grilled Pizza
Par Bake the Dough – After you've rolled the dough out to a 9-inch circle, you'll want to par-bake the dough on the hot stone for just about 2 to 3 minutes, depending on how hot you get your grill to. Don't let it cook too long, otherwise, the dough will over-inflate and char. It should be lightly browned on the bottom before you flip it.
Mise en Place – You'll want to have all of your ingredients prepped and ready to go before you place the dough on the grill. Bring a ladle or large spoon with you to the grill to make spreading the BBQ sauce easier. It only takes about 4 to 8 minutes to cook the pizza once you close the grill lid.
Grilling Without a Stone – You can grill the pizza directly on the grill grates, if you desire. This takes a steady hand and you'll need to be careful when you transfer the dough to the hot grates. Make sure the grates are well oiled before transferring the dough. It's not a bad idea to remove the par-baked dough from the grill and apply more oil before flipping the dough and returning it to the grill.
Removing the Cooked Pizza – Have your cutting board with you and use a sturdy pair of tongs to pull the pizza from the grill onto your cutting board. You may need a helper to make this easier.
EXPERT TIP: 1 lb of pulled pork may seem like a lot, but you want to pile it nice and high. For the cheese, go with your favorite white melting cheese. Mozzarella, Gruyere, Fontina, Chihuahua, and Monterrey Jack are all great choices.
How To Serve
This pizza is spectacular served piping hot. We do recommend letting sit for about 5 minutes because that BBQ sauce gets blazing hot.
Offer some grated Parmesan cheese, red pepper flakes, and pickled jalapeno slices on the side for guests to add themselves. You'll definitely want to have extra BBQ sauce available for dunking!
And plenty of cold beverages. Grilled pulled pork pizza pairs beautifully with an ice-cold beer or Southern-style iced tea.
Other Crowd-Pleasing Grilled Recipes
You can really grill any type of pizza you like and get amazing results.
Here are some other recipes that are fantastic on the grill:
Grilled BLT Portabello Pizzas
Grilled Steak Sandwiches
Marinated Grilled Chicken
BBQ Shrimp
Grilled Oysters with Roasted Tomato Butter
Rockin' Black and Bleu Burgers
Jamaican-Curry Turkey Burgers with Grilled Pineapple
In the meantime, who's in the mood for pizza!
Folks, it just doesn't get much better than this.
Whether you make everything from scratch or pick up items for your local pizza joint and BBQ joint, this pizza is sure to cause a sensation at your next outdoor BBQ.
And don't forget the extra BBQ sauce for dipping! It is amazing!
Ready to make the best grilled pizza in the world? Go for it!
And when you do, be sure to take a photo of it, post it on Instagram, and tag @HowToFeedaLoon and hashtag #HowToFeedaLoon!
Grilled Pulled Pork Pizza with BBQ Sauce
Grilled Pulled Pork Pizza is a pizza like none other. Make it easy on yourself and pick up some pizza dough from your local pizza or Italian joint and some pulled pork from your favorite BBQ place. Or, make it yourself!
Print
Pin
Rate
Servings: 4
Calories: 678kcal
Equipment
Pizza stone

Grill Gas, charcoal, or electric
Ingredients
1 cup BBQ sauce
all-purpose flour for dusting your counter
1 lb pizza dough
cornmeal for dusting pizza wheel
1 lb pulled pork
½ cup red onion thinly sliced
½ cup mozzarella shredded
½ cup Gruyere cheese
1 tbsp parsley fresh, for garnish, optional
Instructions
Do Ahead
Prepare the BBQ Sauce and keep it in the fridge until ready to use.
Make the Pizza!
On a lightly floured surface, roll out the pizza dough to about 10 to 12 inches. Gently fold it in half. Sprinkle your pizza wheel or the back of a large baking sheet with cornmeal. Place the folded dough onto the wheel or baking sheet and unfold the pizza.

Meanwhile, place your pizza stone on the grill and crank the heat to medium-high and close the lid. The internal temp should be around 400°F, but it's okay if it's hotter.

Carefully slide the dough off of the wheel or baking sheet onto the hot stone. Close the lid and cook for about 2 to 3 minutes. Use a pair of tongs to flip the dough over.

Working quickly, use a ladle to spread the BBQ sauce over the dough, then add the pulled pork, sliced onions, and then both types of cheese. Close the lid and let cook until cheese has melted and lightly browned on top, about 5 minutes.

Use a pair of tongs (or two large spatulas) to transfer the pizza to a large cutting board. Slice the pizza into 8 slices. Garnish with chopped parsley, if desired and extra BBQ sauce on the side for dipping.
Notes
See the video near the top of the blog post for visual guidance. If you liked the video, please subscribe to our YouTube channel.
Some grills are hotter than others. Be sure to keep an eye on the dough before you flip it. 2 minutes should long enough to allow it to become stiff enough to flip. It should be lightly browned on the bottom. However, it may need to go longer, depending on your grill. If it goes too long, the dough will inflate and burn.
We definitely recommend making the BBQ sauce. It's easy and so delicious.
Wrap leftovers in foil and keep in the fridge for up to 3 days or on the counter for 1 to 2 days. Reheat in the microwave on HIGH for about 30 seconds.
Nutrition
Calories: 678kcal | Carbohydrates: 106g | Protein: 32g | Fat: 18g | Saturated Fat: 9g | Polyunsaturated Fat: 1g | Monounsaturated Fat: 3g | Cholesterol: 78mg | Sodium: 2439mg | Potassium: 225mg | Fiber: 3g | Sugar: 48g | Vitamin A: 666IU | Vitamin C: 5mg | Calcium: 324mg | Iron: 5mg