Rockin' Black and Bleu Burger is worthy of a celebration.
The flavors are off-the-charts good.
Blackened sirloin burger. Cajun mayonnaise. Melted Bleu cheese. YES.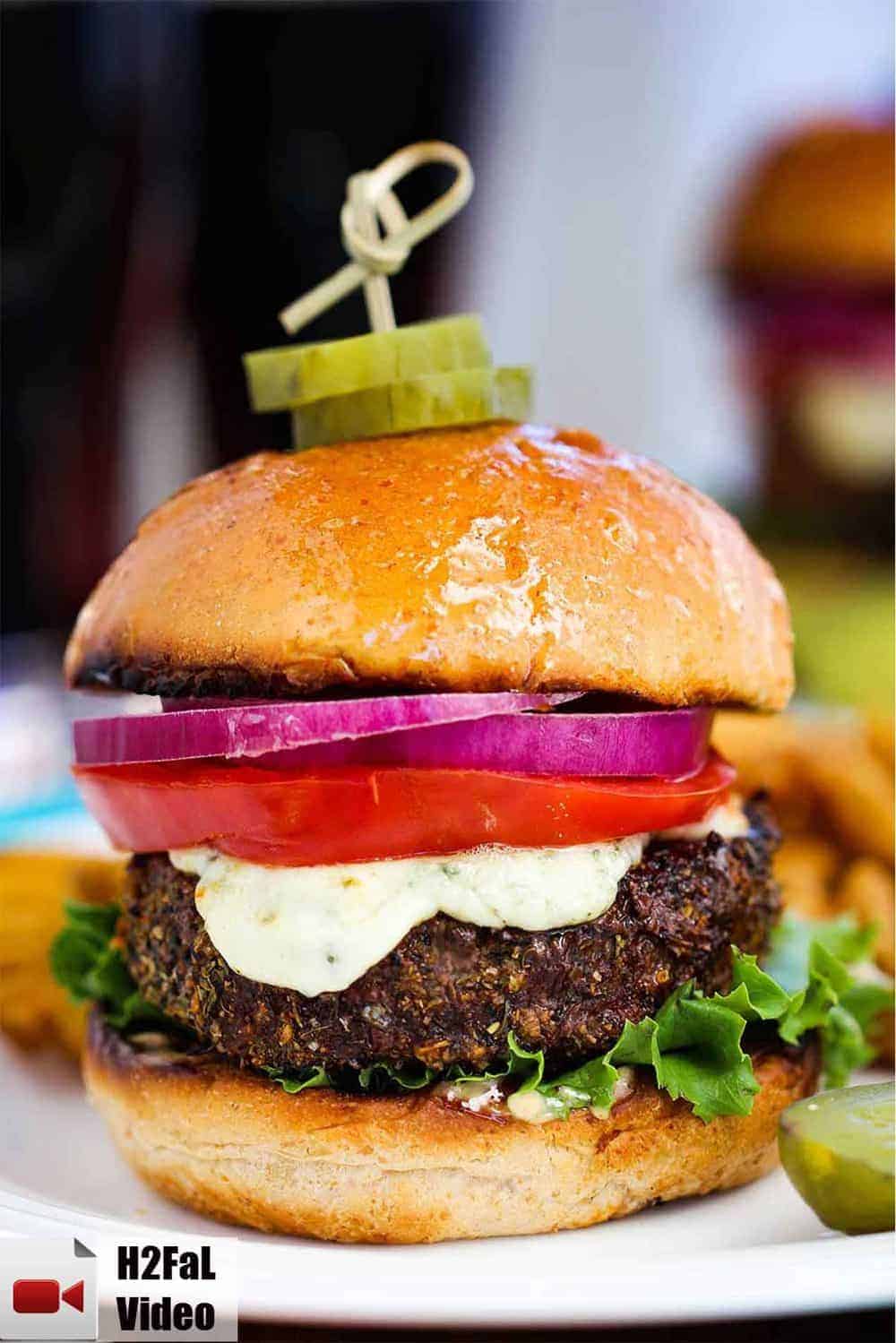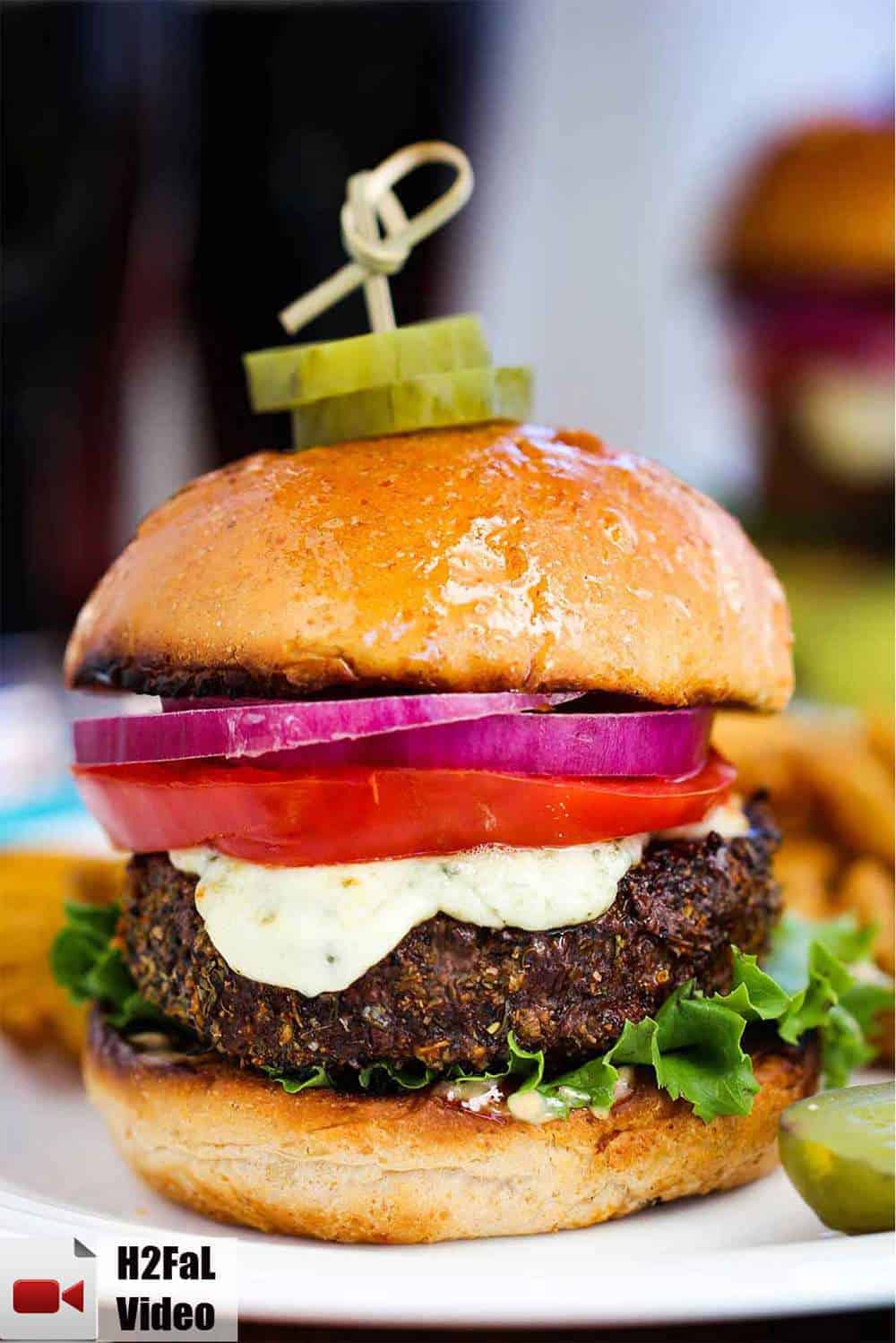 BLACK AND BLEU BURGER IS EASY TO PREPARE AT HOME
The main components of this amazing burger come together very quickly.
Watch us show you how easy it is to make our Rockin' Black and Bleu Burger!
The blackening seasoning has just a hint of heat and is so flavorful.
Dried oregano and thyme, smoked paprika, onion and garlic powder, salt and pepper, with a touch of cayenne is all you need.
These spices work perfectly together for blackening the burgers!
CAJUN MAYO IS THE PERFECT CONDIMENT
This cajun mayonnaise is essential for rounding out the flavor profile for these burgers.
The lemon adds the needed acidity and brightness to really make the flavors meld.
Save what you don't use for other sandwiches and burgers!
85% FAT SIRLOIN IS IDEAL
For this Black and Bleu Burger, you'll want sirloin that's not too lean. The fat will drip out as the burgers cook on the grill, but it will also make the burgers taste better.
Coat the patties all over with the seasoning.
Spray the patties and the grill with cooking oil before grilling. This helps to blacken the burgers and even make them caramelize a bit.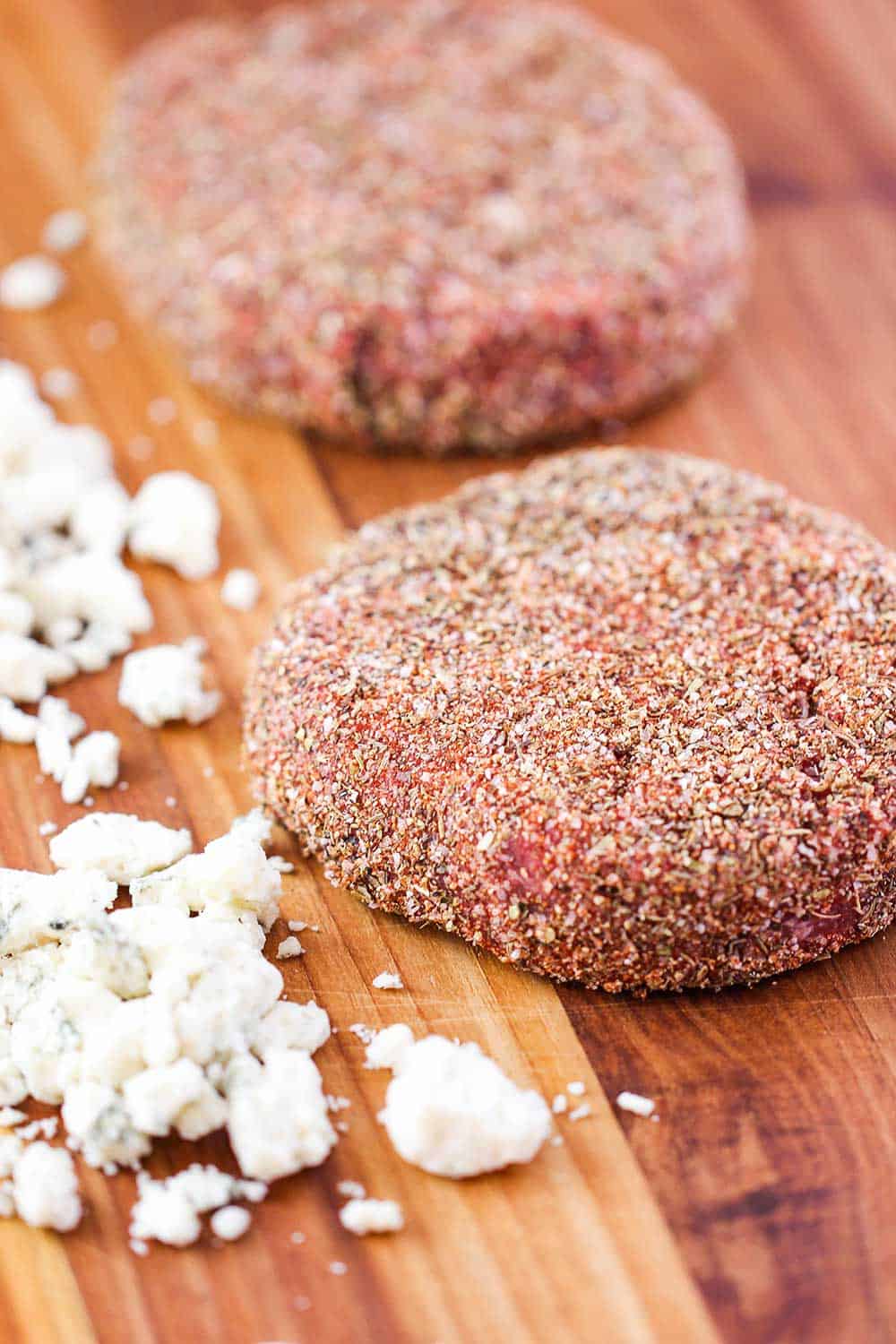 Get your grill to a medium-hight heat.
Cook the burgers to your liking. We love ours medium-rare, which is just about 4 minutes per side.
They blacken as they cook!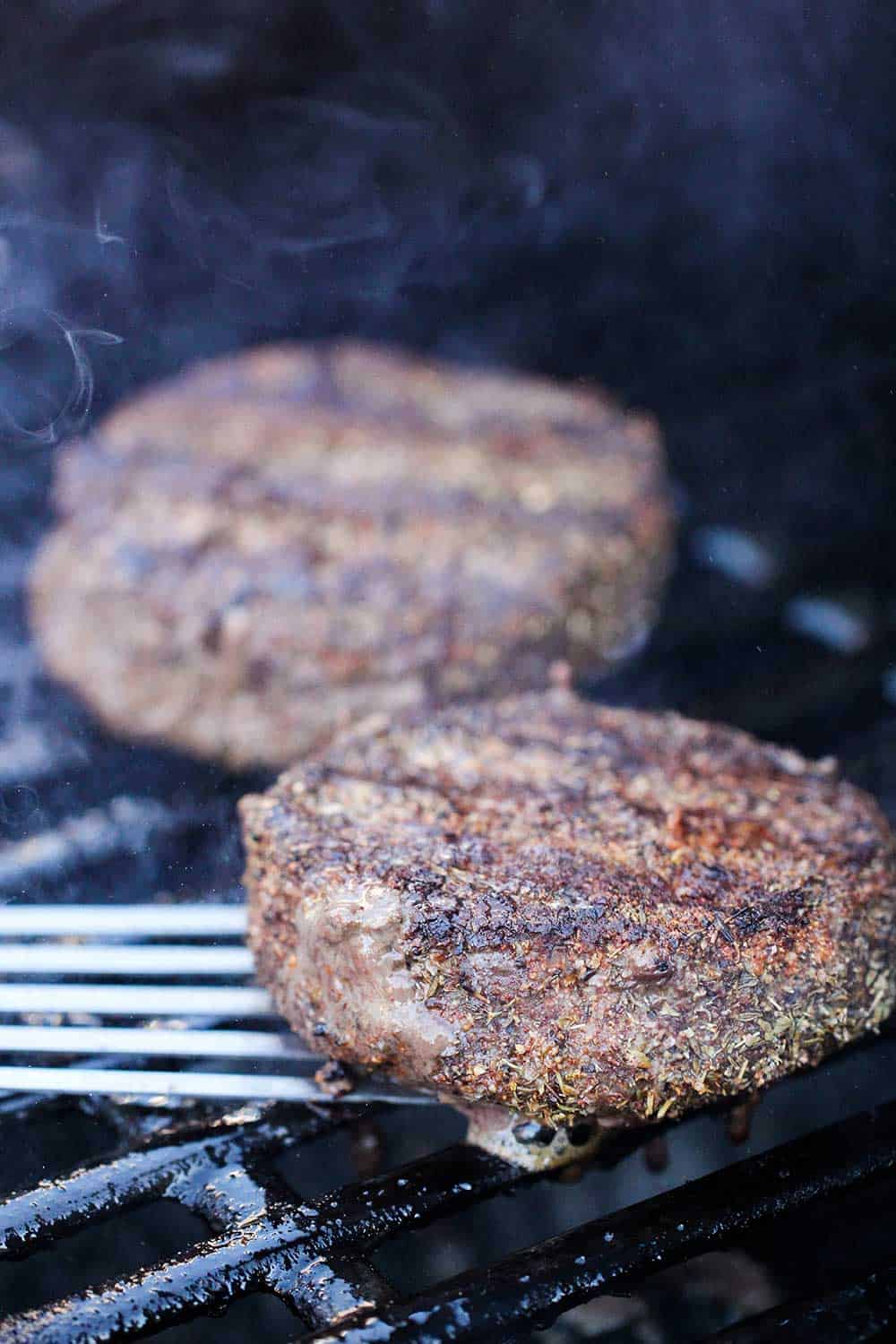 Be sure to toast your buns, preferably on the hot grill.
We add a nice pile of blue cheese to the top of each burger, and then place them under the broiler for just a minute or two, until the cheese melts.
Add the Cajun mayo and all the fixings, and you've got a Rockin' Black and Bleu Burger people will be talking about for a long time!
We love to serve these amazing burgers with Perfect Homemade French Fries and a Blue Lagoon Cocktail!
Looking for more amazing burger recipes? These are to die for:
Burgundy-Reduced Mushrooms, Caramelized Onions and Swiss Burger
Avocado and Chipotle-Mayo Burger
In the meantime, go ahead and make this amazing Rockin' Black and Bleu Burger!
Rockin' Black and Blue Burger
This Rockin' Black and Bleu Burger brings all the right flavors together for a HUGE taste sensation with every bite. A little kick, a little tang, and a whole lot of flavor. Woo hoo!
Print
Pin
Rate
Servings: 4 people
Calories: 415kcal
Ingredients
FOR THE BLACKENED SPICE MIX
2 tsp dried oregano
2 tsp dried thyme seeds
1 & 12 tbsp smoked paprika
1 tsp cayenne pepper
1 tsp black pepper
1 tbsp Kosher salt
1 & 1/2 tbsp tablespoons garlic powder
1 tbsp onion powder
FOR THE CAJUN MAYO
3/4 cup mayonnaise homemade or good quality jarred
1 tbsp fresh lemon juice
1 tsp Cajun seasoning
1/4 tsp hot pepper sauce
FOR THE BURGERS
2 lbs ground beef 80% or 85% is good
2 cups good-quality blue cheese crumbled
Green leaf lettuce cut into pieces
Fresh tomatoes sliced
Red onion sliced
Bread and butter pickles
4 - 5 Kaiser rolls halved
1 tbsp unsalted butter melted
Cooking spray for grill and burgers
Instructions
MAKE THE RUB
Mix together all the rub ingredients in a small bowl
MAKE THE CAJUN MAYO
Mix together all the mayo ingredients in a small bowl, cover with plastic wrap and place in fridge until ready to use.
MAKE THE ROCKIN' BURGERS
Prepare your grill to medium-high heat, for direct heat cooking.

Form about 4 - 5 patties out of the beef (about 1/3 to 1/2 lb each).

Dredge the patties in the rub until completely covered, set aside.

Grill the burgers over direct heat until your liking...about 145° F. for medium

Meanwhile, brush the buns with a good helping of the melted butter.

When burgers are almost done, place about 1/4 cup of cheese on top (or more or less, whatever you like). Close the grill lid to allow the cheese to melt. Or, once the burgers are cooked to your liking, place the bleu cheese on top of the patties and place under a broiler for about 1 minute, or until melted and slightly browned.

Place the buns on the grill, and cook them until they are toasted on the bottom sides (about 1 to 2 minutes).
ASSEMBLE THE BURGERS
Slather a good helping of the Cajun mayo on the bottom bun.

Place the burger on top of the mayo.

Now, top with the tomato, lettuce, onion and pickles (optional).

Top with toasted bun.
Nutrition
Calories: 415kcal