We know it's a pretty bold (and somewhat overly confident) statement to call our veggie burger the World's Best Veggie Burger recipe…but…
Have you tried it yet?
I mean, just look at it…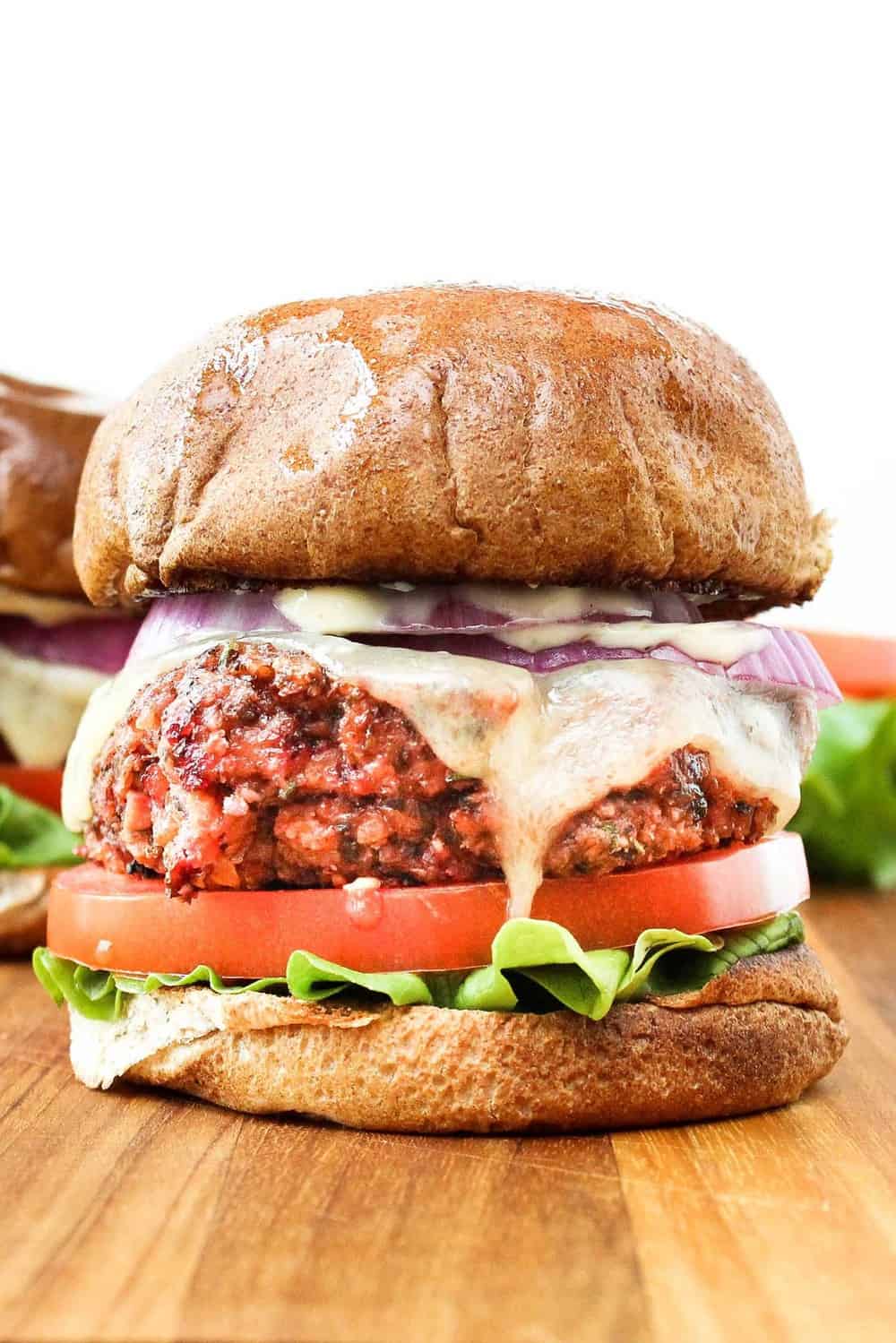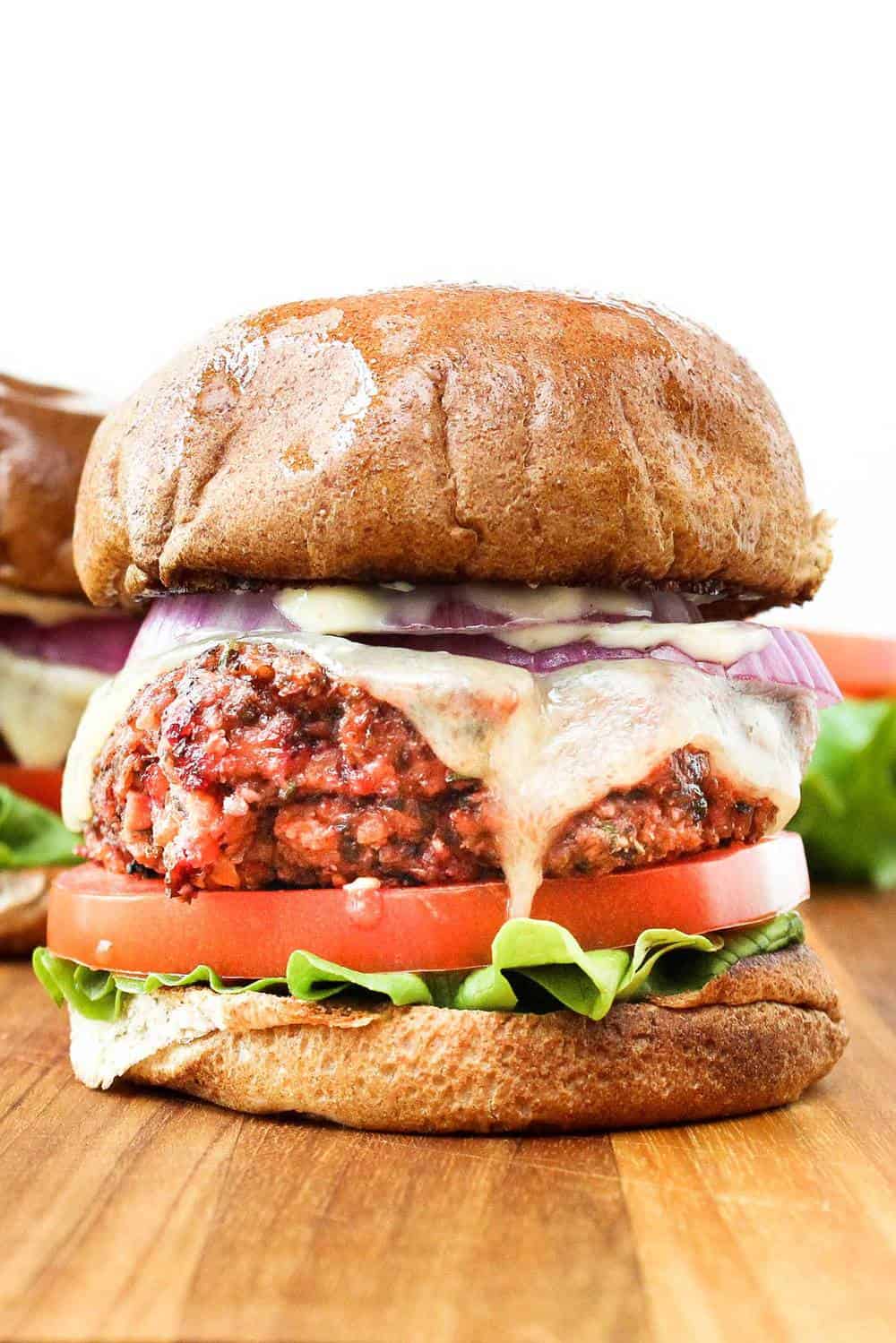 HOW TO MAKE THE WORLD'S BEST VEGGIE BURGER
It does take a little planning, and you may need to make a quick trip to a health food market, but honestly, we find everything we need at Whole Foods.
Watch us show you how to make this incredible burger at home!
I have been playing around with this recipe for quite a while…and all the work finally paid off. There is no one ingredient that overpowers. The potato and bulgar serve as the perfect binder.
The pulverized nuts also act as a binder and give such a depth of flavor and texture, too.
The flavor is honestly spot on and it has wonderful depth of taste.
The roasted kidney beans and beets are secret ingredients that help bring it all together.
But why stop there?
Roasted mushrooms with a little layer of balsamic vinegar adds so much flavor.
You won't believe how delicious this burger is!
Many people have problems when they bring a veggie burger to the grill..it just falls apart. We do not have that problem with ours. Of course, you can easily cook these up in a nice hot skillet, too. And they freeze beautifully. I make a batch, and then we enjoy them for weeks to come.
Blending all the ingredients is fun and the smell is just amazing.
We love using our awesome hamburger press for making the perfectly sized patty!
There is no replacement for an authentic juicy hamburger, let's be clear about that.
But, trust me, this is the best veggie burger you'll ever try. And the flavor is unmatched.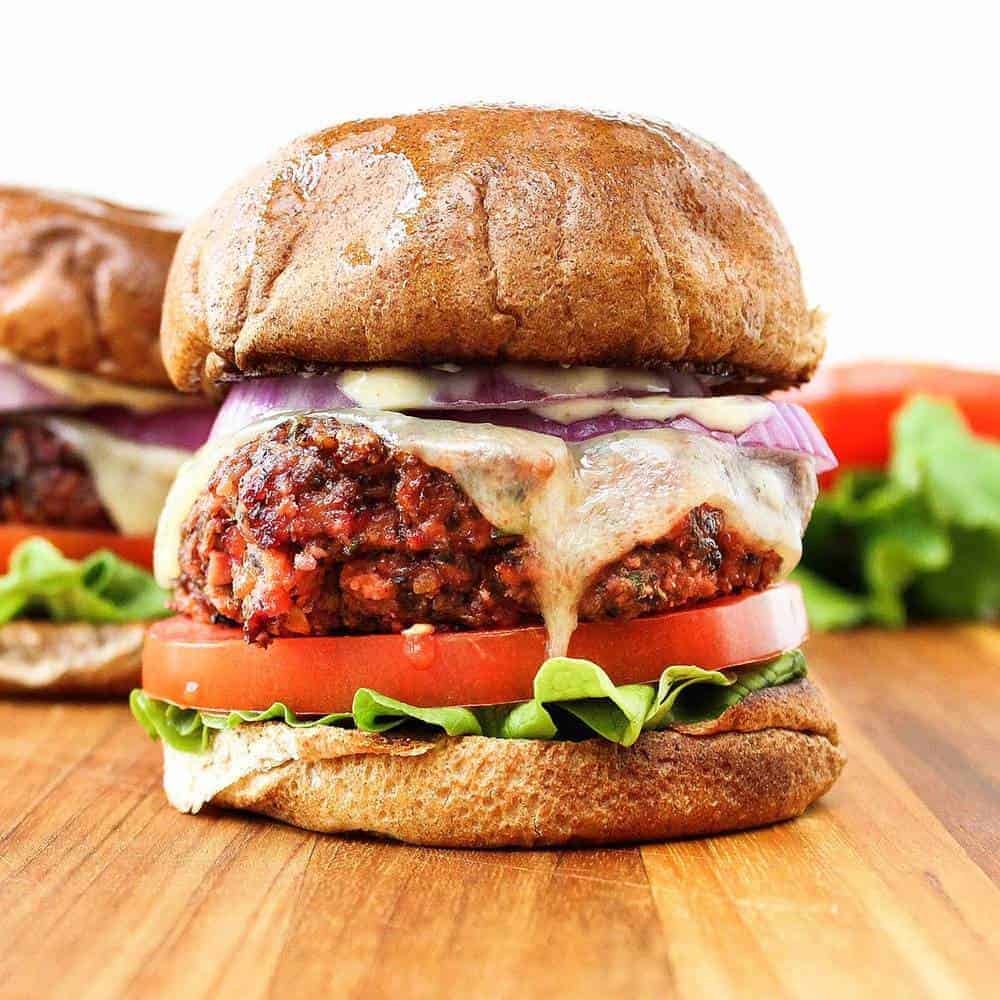 And go with the chimichuri mayonnaise as the perfect flavor-punch condiment; but to keep it really healthy, substitute Greek yogurt for the mayo…it's through-the-roof YUM!!! 150% Loon Approved!
Now, make this amazing World's Best Veggie Burger recipe!
World's Best Veggie Burger
I can honestly say this is the World's Best Veggie Burger! I wouldn't say it if it wasn't true! It takes a little effort, but most really good things do. But you'll have enough to freeze and enjoy for weeks. Amazing!
Print
Pin
Rate
Servings: 6 people
Calories: 279kcal
Equipment
Grill or Cast Iron Skillet
Ingredients
2 small potatoes yellow, peeled
1 medium beet about the size of an egg, peeled and shredded (a box grater works well)
1 15 oz. can red kidney beans drained
8 oz. cremini mushrooms sliced
8 oz. shiitake mushrooms sliced
1 tbsp fresh thyme chopped (or 1 teaspoon dried)
3 tbsp extra-virgin olive oil or, as needed
2 tbsp balsamic vinegar
Kosher salt and freshly ground black pepper
1 cup bulgur cooked
1 cup tamari almonds or cashews*
2 large eggs
2 tbsp Greek yogurt or mayonnaise
3/4 cup Panko bread crumbs
2 scallions sliced
4 garlic cloves minced
1 tsp smoked paprika
1/2 tsp liquid smoke
Swiss cheese sliced
Whole wheat buns toasted
Sliced tomatoes lettuce and red onion, for garnish
Chimichurri Mayonnaise you can substitute Greek yogurt for the mayo, if you prefer
*Available at many super markets at specialty stores (ie, Whole Foods) and health food stores
Instructions
Boil, steam, or microwave the potatoes until cooked, then roughly chop, and set aside.

Pre-heat oven to 400 F.

Line 2 baking sheets with foil and lightly spray with cooking oil. On the first sheet, add the beets on one side, and the beans on the other. Toss them with a little of the EVOO and salt and pepper.

Place mushrooms on the 2nd baking sheet. Toss with the EVOO, thyme and salt and pepper.

Place both baking sheets in the oven. Remove the beets/beans after 15 minutes and the mushrooms after 25 minutes.

Pour the balsamic vinegar over the mushrooms and gently mix with a wooden spoon.

Meanwhile, cook the bulgar. Follow package instructions. You'll need 1 cup. Set aside.

Using a large food processor, pulse the nuts until finely chopped.

Add in the cooked potato and pulse until well incorporated into the nuts.

Add the beets, beans, mushrooms, bulgar, eggs, yogurt, bread crumbs, scallions, garlic, paprika, liquid smoke, 1/2 teaspoon salt and pepper, to taste.

Pulse until mostly smooth, but still a few mushroom pieces are visible.

Place in a bowl, cover with plastic wrap, and put in fridge for an hour to firm up.

Remove from fridge and form patties.

Cook on a hot grill, or in a medium-high hot skillet, until slightly browned (about 4 to 6 minutes per side, depending on size of patties)

Top with Swiss cheese until just melted.

Toast the buns and serve garnished with tomatoes, lettuce, red onion and

Chimichurri Mayo.
Notes
Although these veggie burgers resemble real hamburgers, the texture is slightly different. The burgers are 'wetter' than meat burgers. Therefore, we find that cooking them on the grill in a gill pan, or a cast iron skillet will ensure they stay together in a patty shape. They also will firm up as they cook.
Nutrition
Calories: 279kcal | Carbohydrates: 40g | Protein: 11g | Fat: 10g | Saturated Fat: 2g | Cholesterol: 71mg | Sodium: 125mg | Potassium: 794mg | Fiber: 8g | Sugar: 5g | Vitamin A: 371IU | Vitamin C: 11mg | Calcium: 78mg | Iron: 4mg