Perfect Homemade French Fries are not as challenging to make as you might think!
There are just a few simple, but important, steps and techniques to follow when you are ready to make restaurant-quality French fries from scratch! And after soaking, they are ready to eat in minutes! We also love our Garlic Parmesan Steakhouse Fries, Steakhouse Onion Rings, Asparagus Fries and Cross Hatch Sweet Potato Chips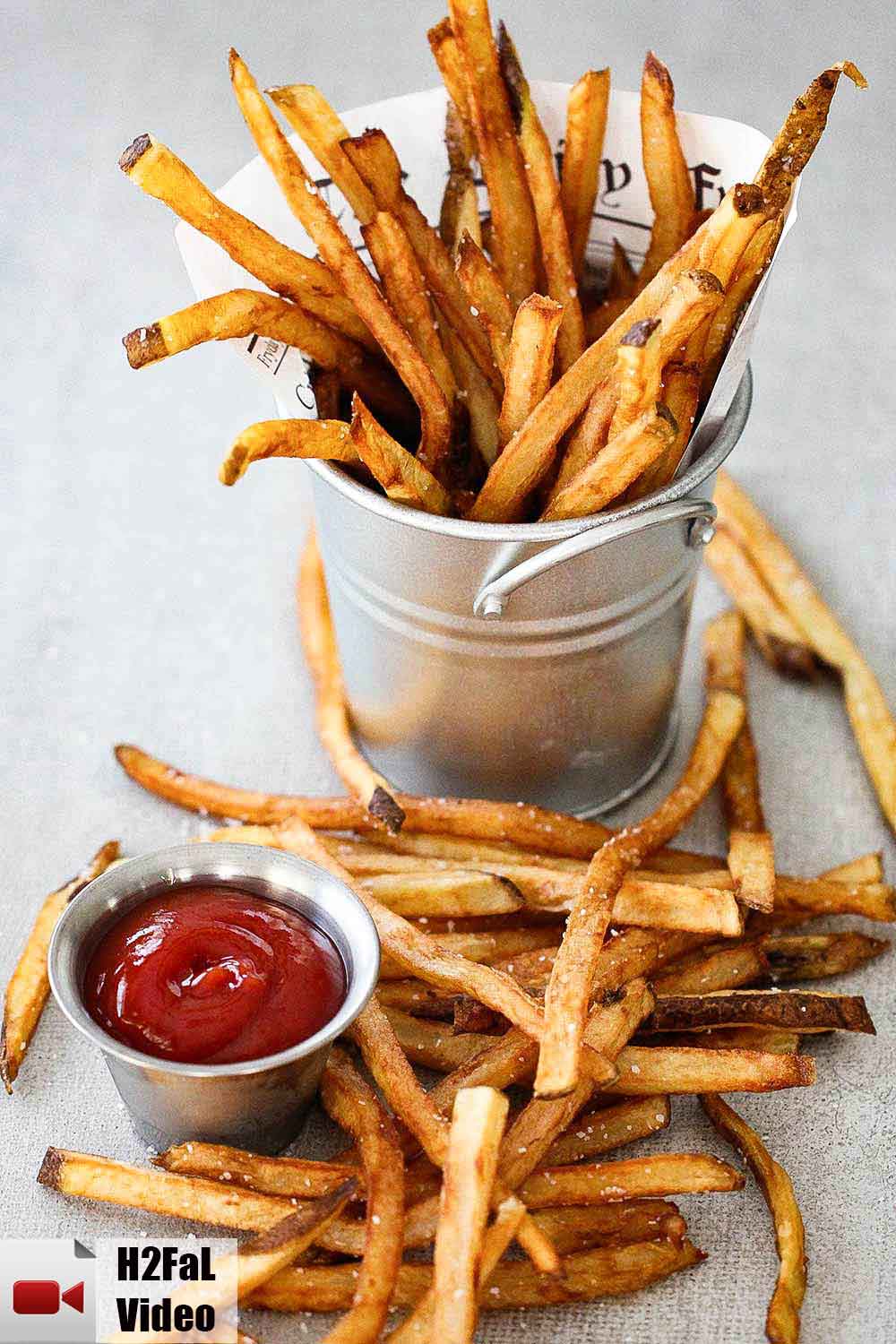 HOW TO MAKE PERFECT HOMEMADE FRENCH FRIES
The key to perfect French fries is what is referred to as the 2-fry method.
This can be achieved in a temperature-controlled deep fryer, or on the stove with a high-temperature thermometer.
Watch us show you how easy it is to make homemade French fries!
HOW TO CUT THE POTATOES
Before we cut the potatoes, let's talk about the best potato to use for homemade French fries. Well, that's easy: Russet (Idaho) is the way to go. They are ideal because they contain less moisture, which ultimately produces a French fry that's not soggy in the middle.
We love big ole French fries, so we seek out the large Russet potatoes, but smaller ones will work just fine, too.
EXPERT TIP: To cut potatoes, we use our trusty mandolin, set on the 'julienne' setting at 3/8." No mandolin? Not to worry. Using a large, sharp knife, simply turn the potato on it's side, and cut about approximately 3/8″ slices. Next, turn the slices so they are flat, and cut them into strips. Easy peasy.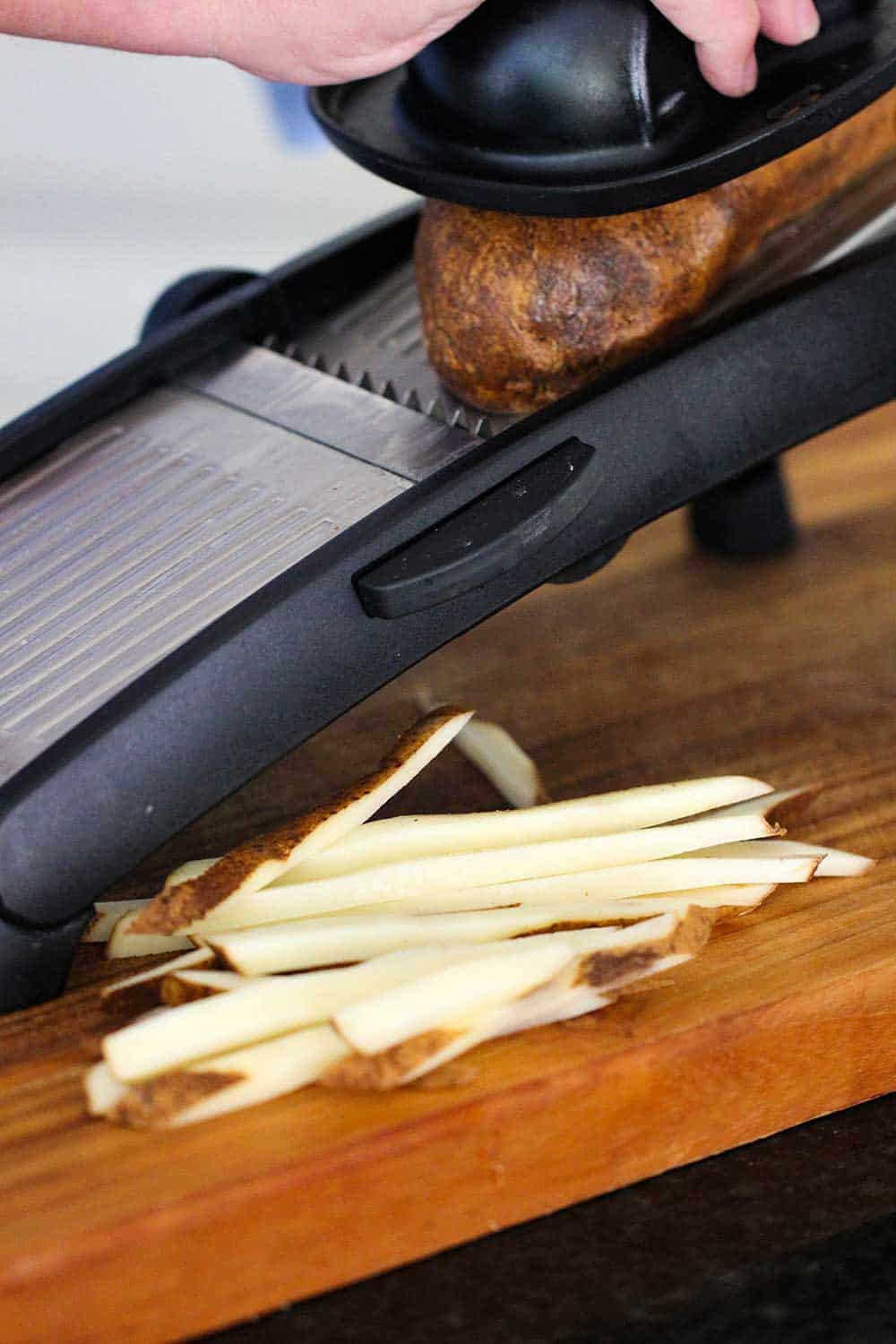 THE SECRET TO CRISPY FRIES
There are several factors to ensure your homemade French fries are crispy on the outside and soft on the inside.
In addition to choosing the right potato (Russet, please!), you'll want to soak the cut potatoes in cold water for about 30 minutes.
EXPERT TIP: The chilled exterior of the cut spuds keeps the outside from browing too quickly. Swish the potatoes around, this helps to remove starch, which also helps to make a crispier fry.
You can leave the potatoes in the water for more than 30 minutes, but if you do, we recommend placing the bowl in the refrigerator to keep them chilled.
Once you are ready to fry, then it's time to thoroughly dry the cut potatoes.
We take a clean, dry kitchen towel and dry the potatoes in batches and then place on a large dish. You don't want excess water on the potatoes when they hit the oil.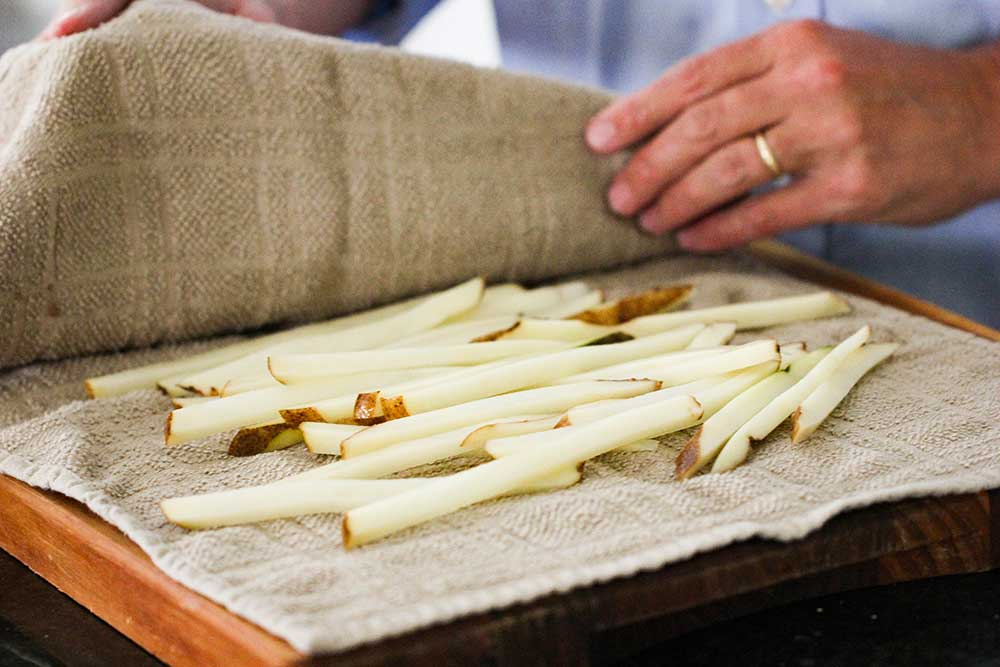 FRY THE POTATOES IN TWO STAGES
Probably the most important step in producing perfect homemade French fries is to fry the potatoes in two stages. A quick 2-minute fry at 330°F starts the cooking process and produces a soft fry. You'll most likely need to fry the potatoes in batches.
Next, after increasing the temperature of the oil to 365°F, you'll fry the partially cooked fries again. Cook until nicely browned and crisp. Typically between 3 and 4 minutes.
EXPERT TIP: The first stage can be done in advance of serving. Place partially cooked potatoes on a platter lined with paper towels up to several hours in advance. Do the 2nd fry just before serving.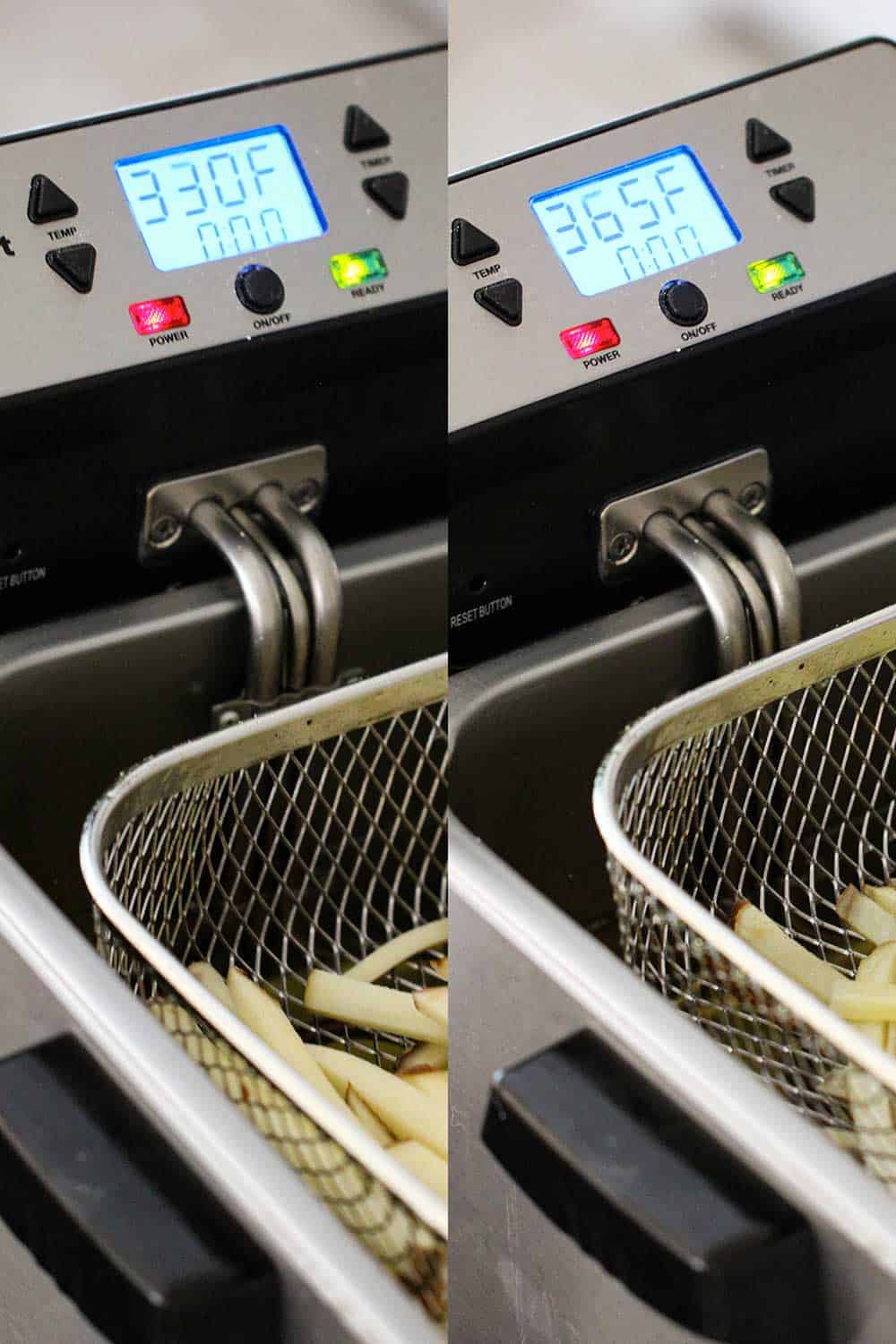 PERFECT HOMEMADE FRENCH FRIES FAQs
What is the best oil to use? Peanut oil is a vegetable oil with a mild taste and high smoke point, which makes it a great choice for frying French fries. You can also use regular vegetable oil or canola oil. Olive oil is NOT recommended.
How long do you soak the potatoes before frying: At least 30 minutes, in cold (with ice) water. We have let the potatoes soak for several hours, and still had perfect fries when we cooked them. Just be sure to keep them cold (in the refrigerator) if soaking for more than 30 minutes.
Can French fries be made in advance? These fries are best when they are fresh out of the frier. They are still delicious later on for munching, but they eventually will lose their crispiness. You can do the 1st round of frying several hours in advance and then finish them off with the 2nd fry just before serving.
When do you know the French fries ready? The fries will turn a brownish color and have a "crispy" look to them. The first fry is for 2 minutes, and the second fry is usually around 4 minutes.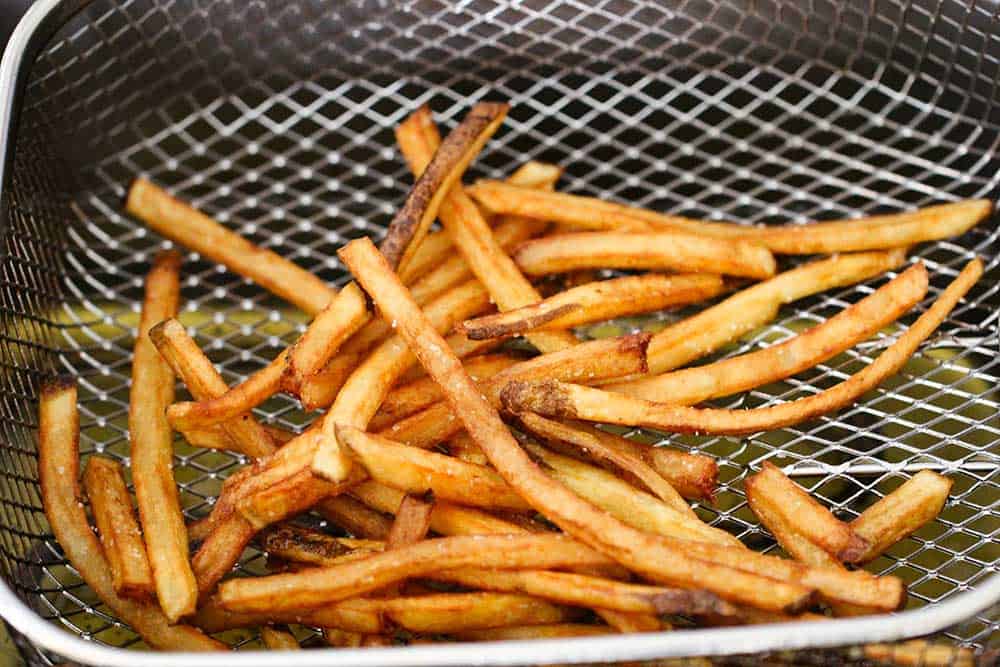 We love serving these amazing Perfect Homemade French Fries along side our:
Or, by themselves, with good ole' ketchup!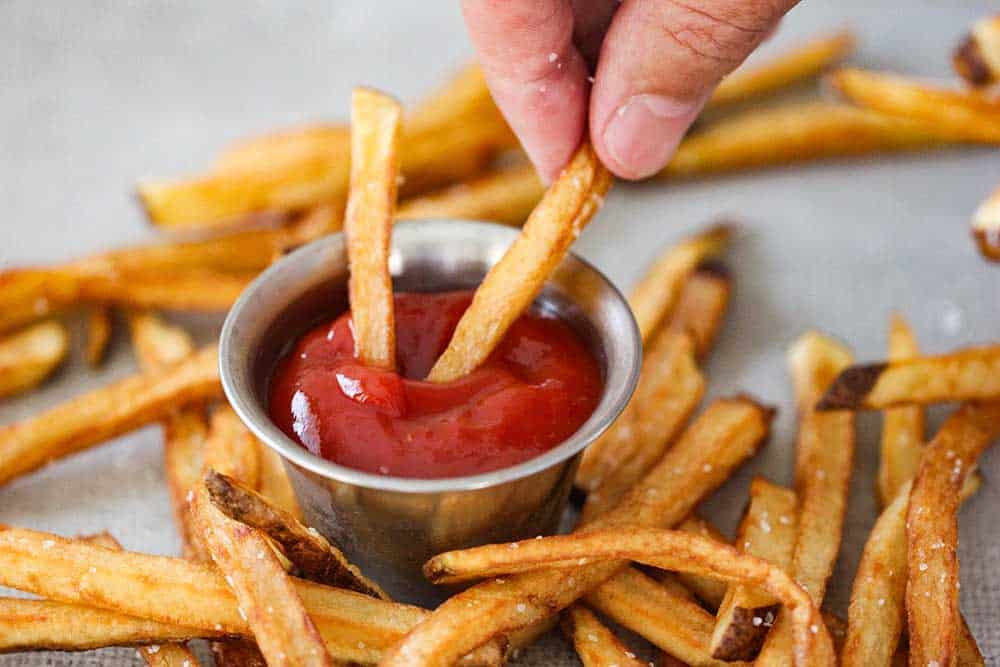 Ready to make the most amazing, restaurant-quality French fries at home? You now know the secrets to perfect fries every time! Go for it!
And when you make them, take a picture, post it to Instagram and tag @howtofeedaloon and #howtofeedaloon!
Perfect Homemade French Fries
Now you can make restaurant-quality french fries in your very own kitchen! If you don't have deep-fryer, simply get a large sturdy pot (a Dutch oven works well) and add a couple inches of oil and use a candy thermometer to maintain the correct temperatue. And then fry in 2 stages!
Print
Pin
Rate
Servings: 6 people
Calories: 363kcal
Equipment
Deep fryer, or heavy pot (ie, Dutch oven) with high-temperature thermometer
Ingredients
4 large potatoes large or medium sized
Peanut oil or vegetable or canola, enough to fill 3-inches of vessel
Kosher salt
Instructions
Wash and dry the potatoes and then using a mandolin, or a large knife, cut (julienne) into 3/8-inch strips.

Place the cut potatoes into a bowl of ice water for 30 minutes.

Remove the potatoes and dry completely with a towel.

Heat the oil to 330°F.

Using a fry basket, or a metal spatula, carefully lower the cut potatoes into the oil and fry for 2 minutes. You will probably need to do this in batches.

Increase the oil temperature to 365°F. Fry the partially cooked potatoes again until browned and crisp, 3 to 4 minutes. Carefully remove the fries with a fry basket or spatula and shake off excess oil, turn the fries onto a plate lined with paper towels. Fry the remaining fries following the same process.

Sprinkle with salt and serve at once.
Notes
If you do not have a deep fryer, heat the oil in a large Dutch oven (or heavy pot) using a candy thermometer to maintain the correct temperature. The first round of frying of the potatoes can be done up to several hours before serving. You will want to serve the fries after the 2nd fry immediately. You can use vegetable oil, shortening, or canola oil in place of peanut oil. Although, we recommend peanut oil for best results. Do NOT use olive oil. Soak the uncooked potatoes for 30 minutes in an ice bath. They can soak longer, but you'll need to keep them in the fridge while they soak. Don't soak for longer than 3 hours.
Nutrition
Calories: 363kcal | Carbohydrates: 31g | Protein: 6g | Fat: 8g | Saturated Fat: 2g | Sodium: 25mg | Potassium: 1016mg | Fiber: 6g | Vitamin C: 28mg | Calcium: 74mg | Iron: 8mg