Mussels with Garlic and Wine has been a favorite dish of both the Loon and me for many, many years.
The mussels add an incredible briny flavor to the pancetta, garlic, herbs, and wine sauce…with a bit of cream and butter to add some luxuriousness.
This is a dish that is both elegant and comfortable all at the same time. Just amazing. And only takes about 30 minutes to make!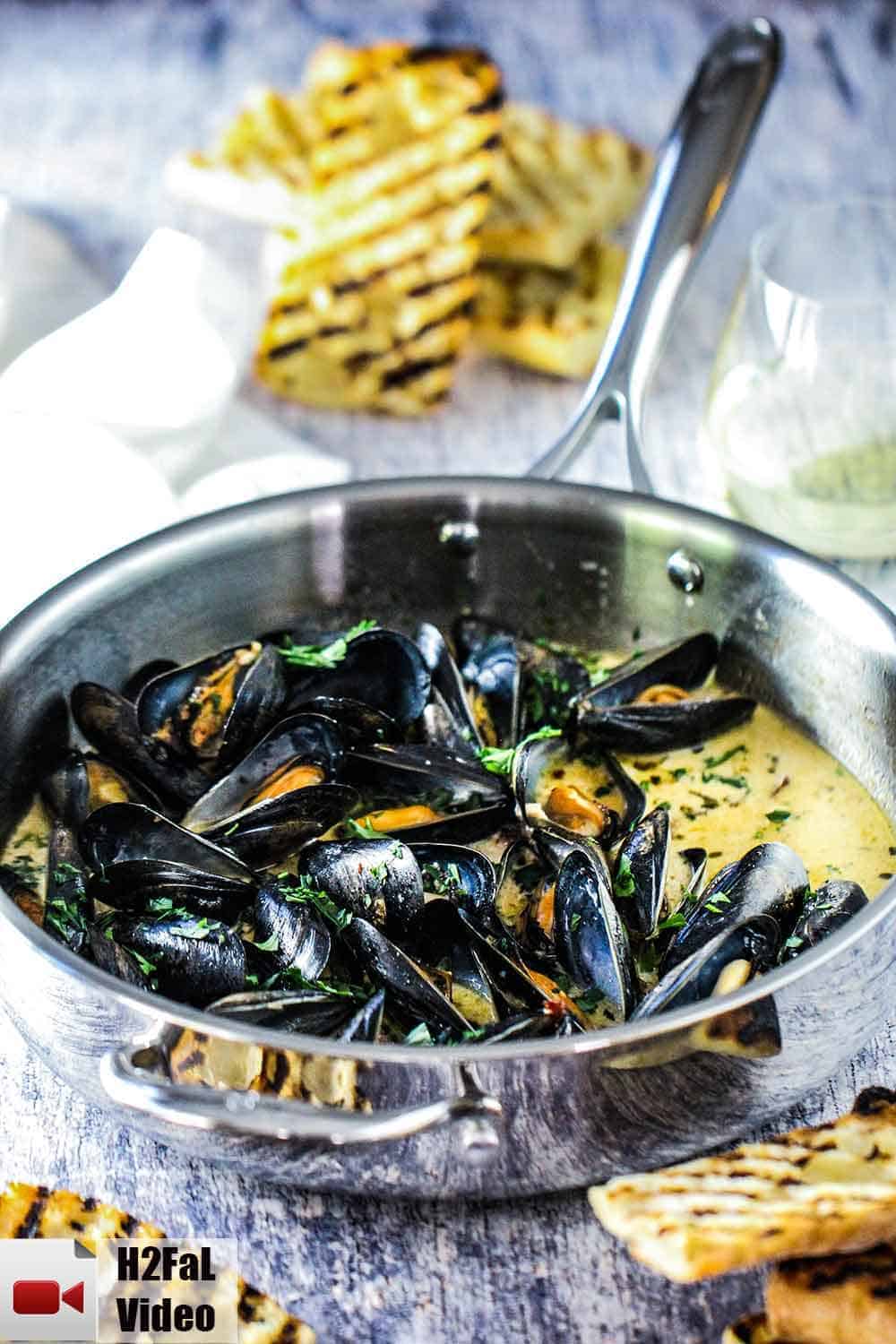 MUSSELS WITH GARLIC AND WINE IS EASY TO PREPARE
Like most seafood dishes, these mussels do not take long at all to make at home.
Get your bread nice and toasty, and then quickly steam the mussels in the wine, and you've got one of the most delicious appetizers (or entrees) in the world on your hands!
Watch us show you how easy it is to make Mussels with Garlic and Wine!
WHAT YOU NEED TO PREPARE MUSSELS WITH GARLIC AND WINE
This dish is best because of the simple ingredients. Go with quality and freshness, and you will not be disappointed.
What you need:
Mussels
Garlic
Pancetta
White Wine
Fresh Herbs
Lemon
Cream and Butter
GRILLED BREAD IS A MUST
The sauce is almost as delicious as the steamed mussels.
Therefore, it's essential that you have something to soak up all the deliciousness. Sliced French bread is perfect.
EXPERT TIP:Get a medium-sized loaf of bread, and slice length-wise, down the middle. Then either toast the bread on your gas or charcoal grill. Or, grill on a stovetop grill pan. Or, place in 450° F oven for about 6 minutes, until golden brown and toasted.
OTHER AMAZING SEAFOOD DISHES
For our Mussels with Garlic and Wine, we begin building the flavor with crispy pancetta.
USE A QUALITY SAUCEPAN
We feel that this dish is best when not only using top-notch ingredients, but also using high-quality cookware.
We absolutely love our saucepan from Sardel.
All of Sardel cookware is made in Italy and is of the highest quality. Truly something special and perfect for serving these mussels.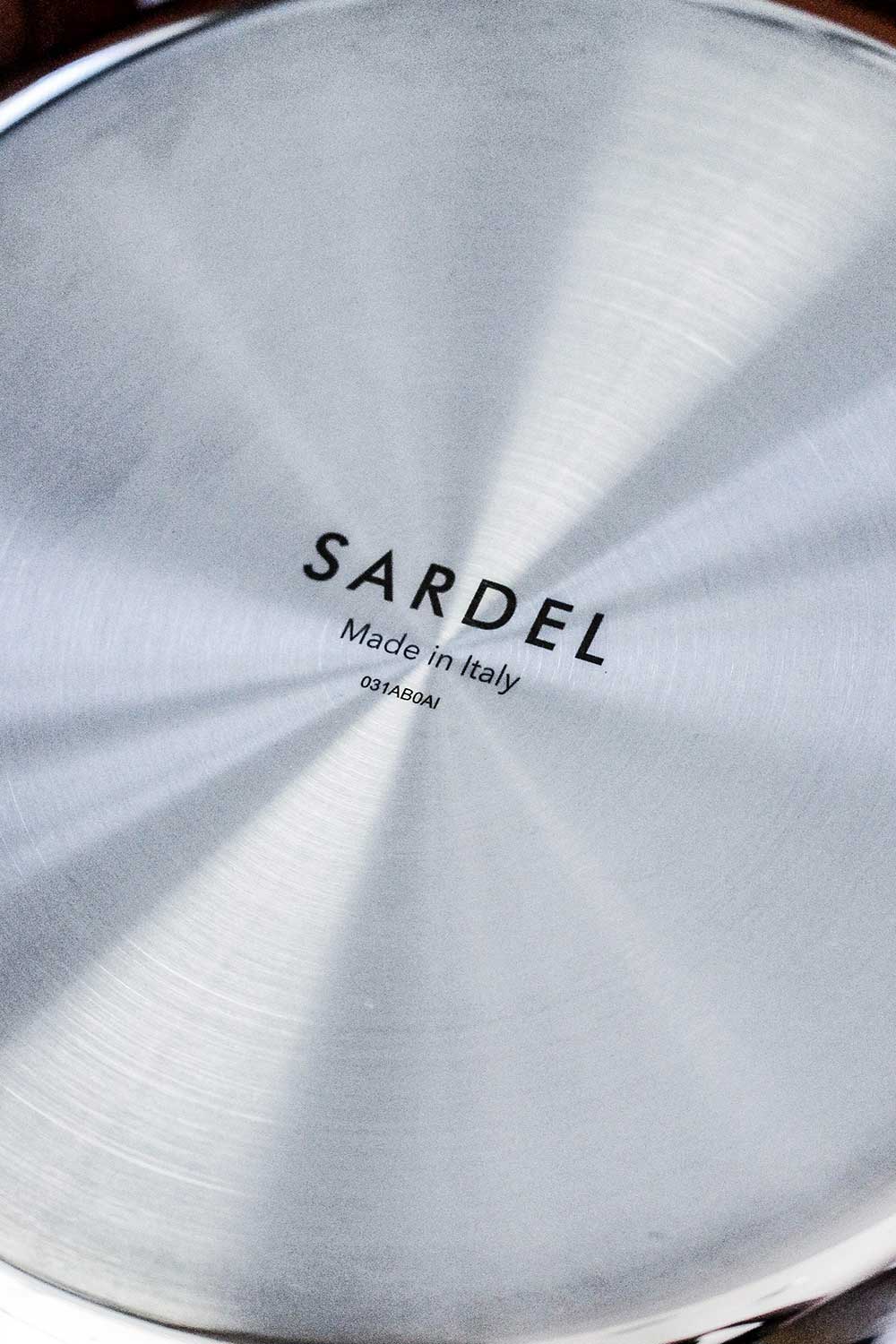 MUSSELS WITH GARLIC AND WINE ARE FRENCH
We prepare these mussels following the traditional French recipe.
The only difference is in France, they are typically served with fries (frites).
Although we do love frites, we just can't get enough of that sauce with the grilled bread for soaking.
MUSSELS WITH GARLIC AND WINE FAQs
What type of mussels are best? We think the most delicious mussels in the world are PEI (Prince Edward Island) that come from an island in eastern Canada. However, if these aren't available, any type you get from you fish monger will work.
How do I prepare the mussels? Make sure you rinse them thoroughly to remove any sand or grit. Also brush them with strong bristle pad to remove the beard on the side of the mussel. You may not see any sand or beard, but it's always good to rinse and brush anyway. Remember to discard any mussel that didn't open during the steaming process.
What is the best wine to use? A good dry white wine is best. We love a nice Sauvignon Blanc. Remember the rule of thumb, if you wouldn't drink the wine, then don't cook with it either.
Can the dish be made ahead of time? This is one of those dishes that we feel is best served immediately after preparation. The sauce loses some of its luxurious texture and the mussels tend to dry out a bit. The good thing is the dish only takes about 20 minutes to prepare!
We love to finish the dish off with freshly chopped flat-leaf parsley: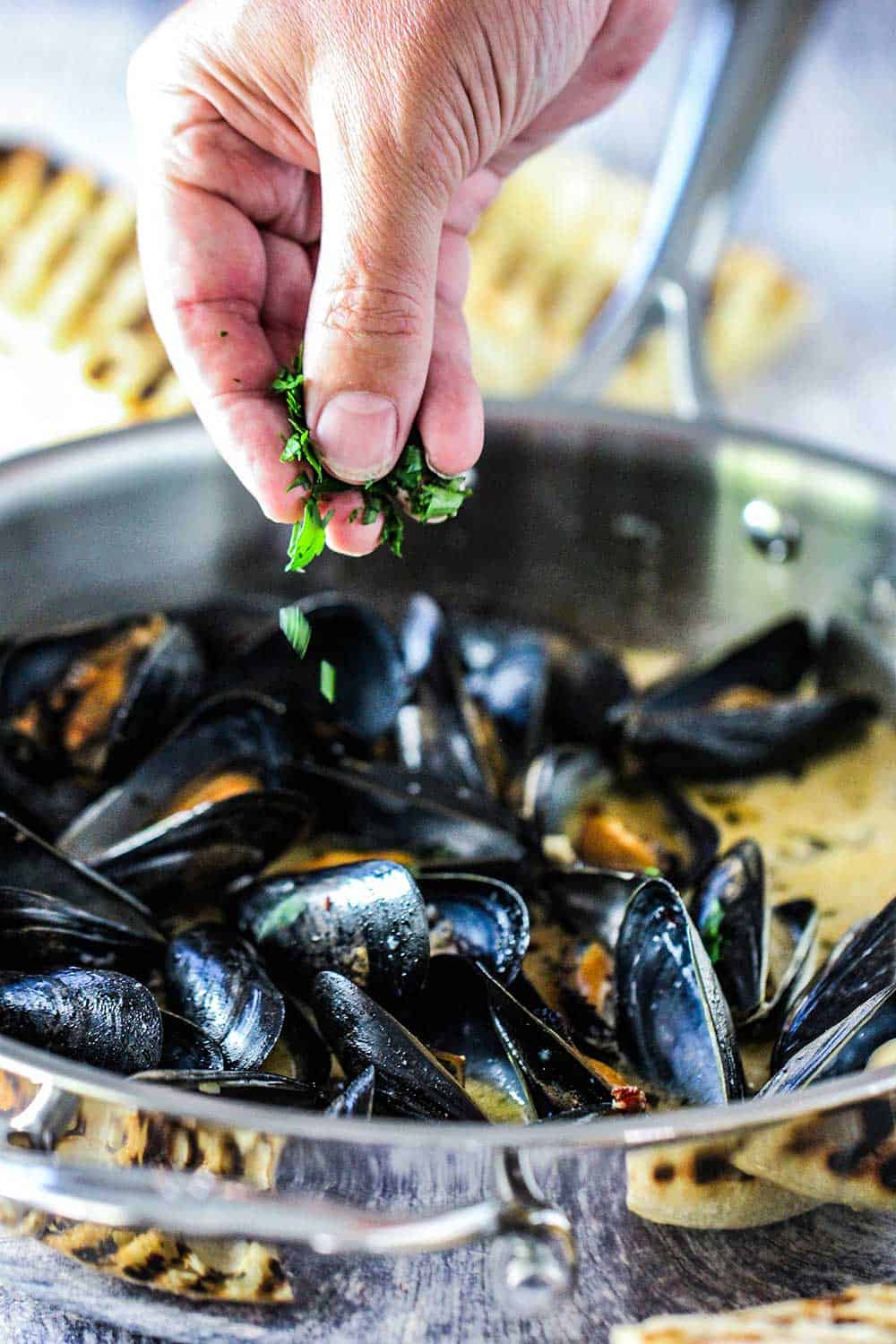 SERVE MUSSELS AS AN APPETIZER OR ENTREE
This is one dish that every time we serve it we are asked for the recipe.
The sauce alone is to die for. Don't forget the grilled bread.
Make this dish for a special occasion and you will not be disappointed, we promise you that.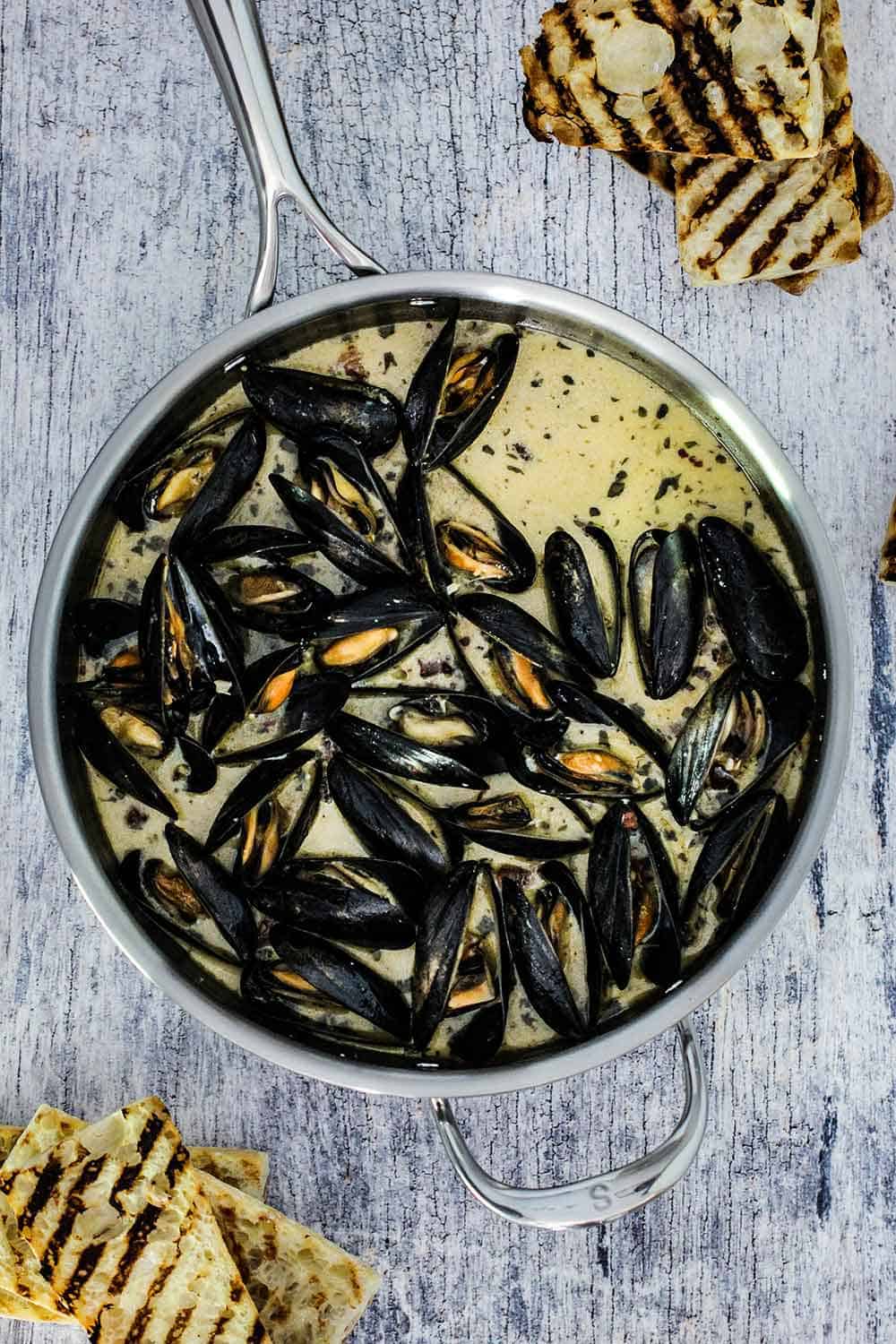 Ready to impress…in only about 20 minutes?
Make these incredible mussels. And don't forget to take a picture, post to Instagram, and tag @howtofeedaloon and #howtofeedaloon!
Mussels with Garlic and Wine
It doesn't get much better or more comforting than a big bowl of steamed mussels with garlic and wine. Add some Pancetta, garlic, herbs, with a bit of cream and butter...and you'll be in heaven. PEI mussels are best. Give them a quick scrub and make sure the beards are removed (the dark fuzzy stuff on the edge of the mussel). Any mussels that are opened before cooking, discard. Any mussel that doesn't open after steaming, discard. Serve with toasted slices of thick bread for amazing dipping. Enjoy!
Print
Pin
Rate
Servings: 6 people
Calories: 410kcal
Ingredients
8 - 10 slices bread sliced 1/2" thick
2 tbsp extra virgin olive oil
1 oz pancetta chopped
4 cloves garlic minced
1 tbsp fresh thyme chopped
1 tbsp fresh oregano chopped
1 lb mussels scrubbed and beards removed
1/2 cup dry white wine such as Sauvignon Blanc or Pinot Grigio
1/4 cup heavy cream
2 tbsp unsalted butter
Juice whole lemon about 1 tablespoon
Salt and pepper to taste healthy pinch of both
Pinch red pepper flakes
1 tbsp parsley chopped
Instructions
Turn grill on medium-high, or pre-heat oven for 450°F.

Brush one side of each bread slice with olive oil.

Grill, or bake, until toasted. Set aside.

In a large saucepan, heat 1 tablespoon of the olive oil.

Add pancetta and cook until crispy, about 5 - 8 minutes.

Add another dash of olive oil to the pan. Add garlic and herbs and saute for about 1 minute.

Add mussels and white wine, cover the pan, and steam until the mussels open, about 7 minutes.

Carefully remove the lid, and add heavy cream, butter, lemon, salt and pepper, and red pepper flakes - stir with a wooden spoon to incorporate.

Place mussels and sauce into serving dish. Discard any mussels that did not open during the steaming process.

Garnish with parsley, plus another small pinch of salt, pepper and red pepper flakes.

Serve with toasted bread.
Notes
Remember to rinse and scrub the mussels before steaming. Use a good dry white wine. We prefer a quality Sauvignon Blanc. Serve immediately after preparing with grilled or toasted bread on the side.
Nutrition
Calories: 410kcal | Carbohydrates: 45g | Protein: 14g | Fat: 18g | Saturated Fat: 7g | Cholesterol: 38mg | Sodium: 584mg | Potassium: 322mg | Fiber: 4g | Sugar: 5g | Vitamin A: 435IU | Vitamin C: 7mg | Calcium: 143mg | Iron: 5mg
UPDATE NOTE: This recipe was originally posted in April, 2015, but was updated with new images, video and slight tweaks to the recipe in August, 2019.