Mediterranean Tuna Steaks are so delicious and happen to be good for you, too!
The Tuscan-influenced sauce marries perfectly with the Mediterranean flavors of tomatoes, olives, olive oil, capers, and basil. And the perfect side-dish is our incredible Sautéed White Beans with Garlic, Beans and Sage! And it all comes together in less than 40 minutes!
Mediterranean Tuna Steaks are Easy to Prepare
Fresh tuna is one of our favorites. It is so flavorful, healthy, and bursting with flavor. And comes together so fast!
Watch us show you how simple (and fun) it is to make this amazing dish!
Besides being delicious, tuna is good for you, too. It's great for your heart, blood pressure, and helping you lost weight!
Read more about the benefits here.
All you need is a nice pinch of salt and pepper to season the tuna steaks.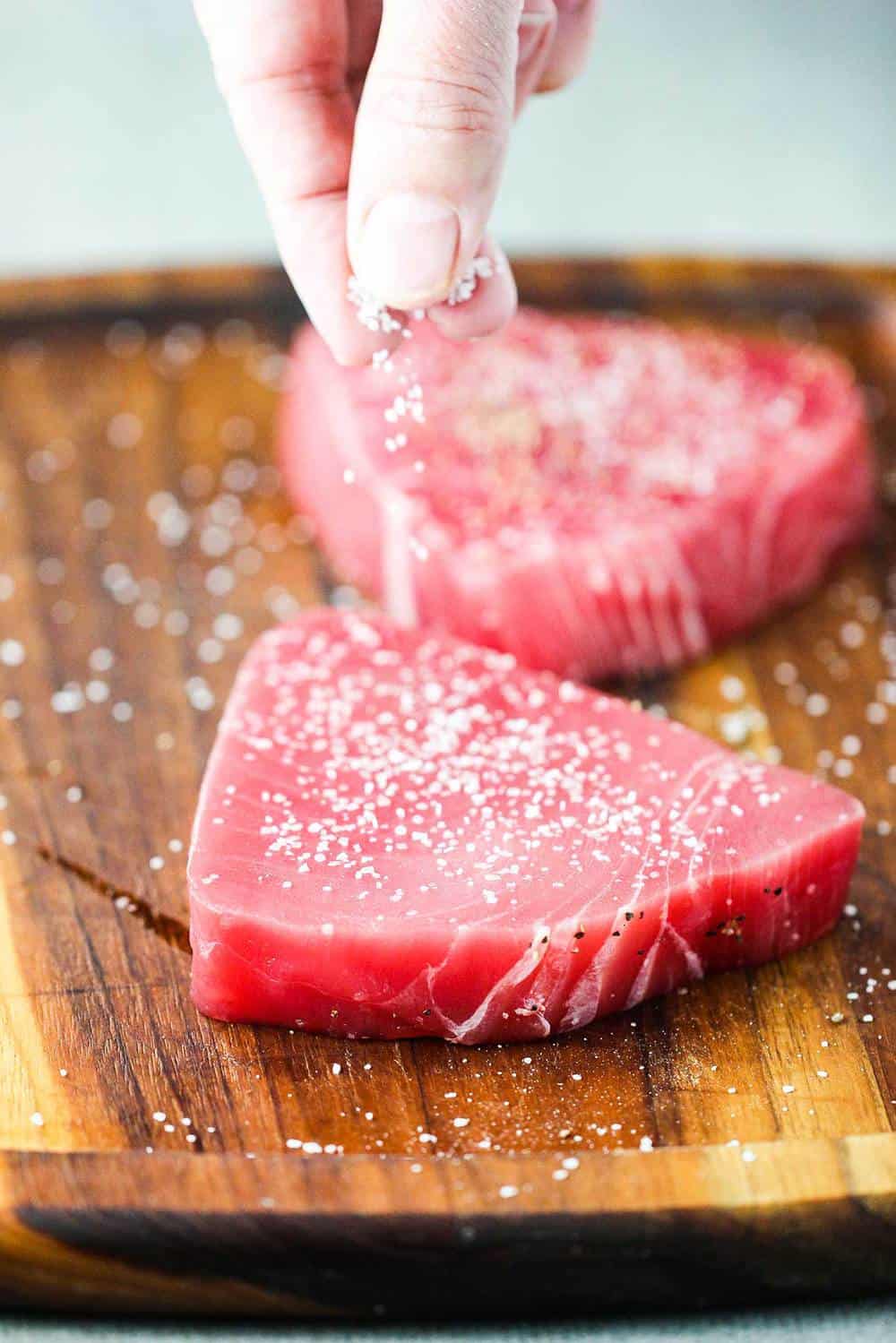 Fresh Tuna Recipes are Healthy
We love the Italian and Greek influences in Mediterranean cuisine.
And, just like tuna, the primary ingredients are all good for you, too. Tomatoes, olives, capers, and garlic? Yes, please!
Just look at this amazing sauce for tuna steak!
How to Cook Tuna Steak
After you finish the sauce, you'll need another skillet to sear the tuna steaks in. We think seared tuna steak is just amazing. It's quick and easy, and locks in the flavor, keeping the inside flakey and delicious.
As mentioned, the steaks cook very quickly, only about 4 minutes per side.
Tuna should be cooked to approximately 115°F.
Finishing the Dish
After you have seared the tuna steaks, just add them into the sauce to heat through.
The flavors of the sauce match perfectly with the flaky, yet the meaty texture of the tuna.
We love black olives so much and are so wonderful with the stewed tomatoes and the briny capers. And of course the sautéed garlic.
This is such a delicious meal and you can feel good about eating it all up because, as we keep saying, it's so healthy!
This tuna steak recipe is perfect for a weeknight meal, but elegant enough for a dinner party.
Oh, that's good stuff.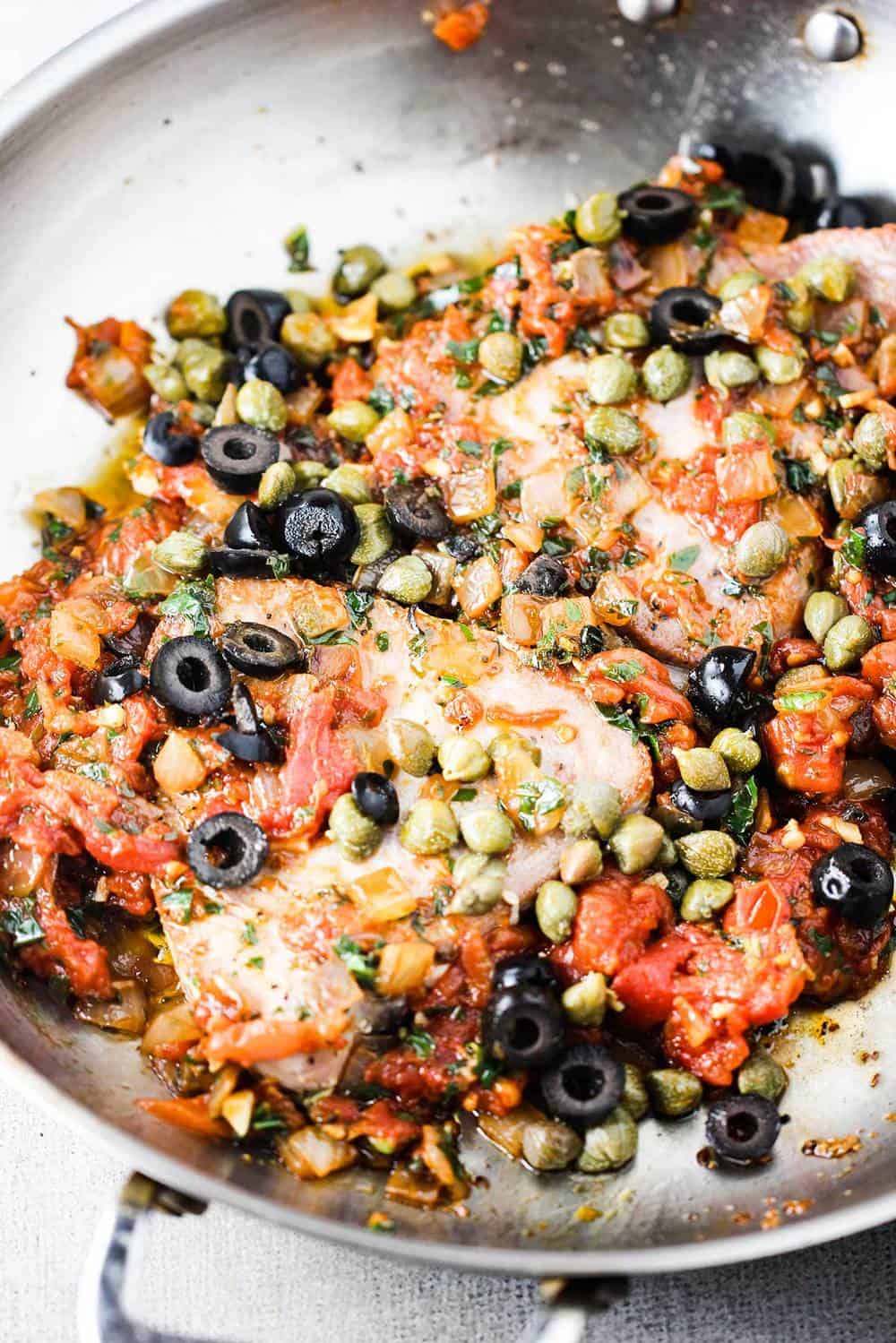 The time has come for you to run, not walk, to your nearest fish market (or seafood department of your supermarket), and pick up some beautiful tuna steaks.
Even if you're not a big seafood fan, these Mediterranean Tuna Steaks will make a believer out of you. And, what's even better, it's such an easy tuna steak recipe!
And amazingly delicious!
Ready to make the best tuna steak recipe in town? Go for it!
And when you do, be sure to take a photo of it, post it on Instagram, and tag @HowToFeedaLoon and hashtag #HowToFeedaLoon!
Mediterranean Tuna Steaks
Mediterranean Tuna Steaks marry the tuna steaks with a Tuscan tomato and basil sauce with olives, capers and garlic. Easy and absolutely wonderful.
Print
Pin
Rate
Servings: 4 people
Calories: 428kcal
Ingredients
6 tbsp olive oil
1 large yellow onion chopped
3 cloves garlic 2 minced and 1 crushed
1 cup whole tomatoes We love San Marzano, drained and chopped
8 basil leaves fresh, roughly chopped
2 tbsp flat-leaf parsley fresh, chopped, plus more for garnish
4 tuna steaks each about 1/2 lb
Kosher or Sea salt and freshly ground pepper
1 cup black olives pitted, left whole, or, sliced/chopped
4 tsp capers rinsed
Instructions
In a large skillet over medium heat, warm 3 tablespoons of the olive oil.

Add the onion and saute until it begins to soften, about 3 minutes.

Add the minced garlic and saute until golden, about 2 minutes longer.

Stir in the tomatoes, basil and 2 tablespoons of the parsley and cook, uncovered, stirring occasionally, until slightly thickened, about 15 minutes.

Remove from heat and set aside.

Lightly season the tuna steaks on both sides with salt and pepper.

In another skillet, large enough to hold the fish in a single layer, warm the remaining 3 tablespoons olive oil over medium heat.

Add the crushed garlic and cook, stirring often, until golden, about 2 minutes. Remove and discard the garlic.

Add the tuna steaks to the skillet, raise the heat to medium-high, and cook, turning once, until lightly browned on both sides, about 2 - 3 minutes per side.

Pour the reserved sauce directly over the fish, reduce the heat to low, and add the olives and capers, and cook for another 5 minutes (sauce will thicken a little more).

Transfer tuna steaks and sauce to plates and garnish with parsley.
Nutrition
Calories: 428kcal | Carbohydrates: 7g | Protein: 41g | Fat: 10g | Saturated Fat: 4g | Cholesterol: 65mg | Sodium: 652mg | Potassium: 605mg | Fiber: 2g | Sugar: 3g | Vitamin A: 4356IU | Vitamin C: 11mg | Calcium: 50mg | Iron: 2mg