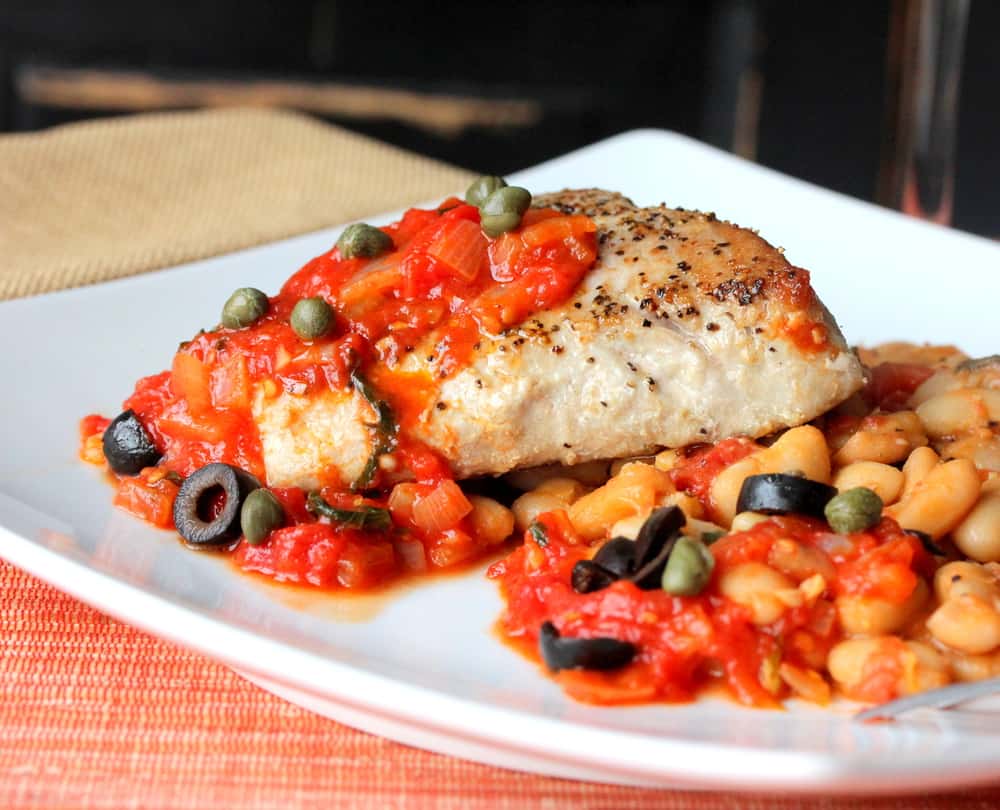 These Mediterranean Tuna Steaks are loaded with flavor.  The Tuscan influenced sauce marries perfectly with the Mediterranean flavors of tomatoes, olives, olive oil, capers and basil.  Fresh tuna is one of our favorites.  It is so flavorful, healthy, and bursting with flavor.  And comes together so fast!  Enjoy!!
Mediterranean Tuna Steaks
Mediterranean Tuna Steaks marry the tuna steaks with a Tuscan tomato and basil sauce with olives, capers and garlic. Easy and absolutely wonderful.
Author: Kris Longwell
Recipe type: Entree / Seafood
Cuisine: Mediterranean
Serves: 4
Ingredients
6 tablespoon of good-quality olive oil
1 large yellow onion, chopped
3 cloves garlic, 2 minced and 1 crushed
1 cup of Roma tomatoes (I love San Marzano), drained and chopped
8 fresh basil leaves, roughly chopped
2 tablespoons fresh flat-leaf parsley, chopped, plus more for garnish
4 tuna steaks, each about ½ lb
Kosher (or Sea) salt and freshly ground pepper
1 cup pitted black olives, left whole, or, sliced/chopped
4 teaspoons capers, rinsed
Instructions
In a large skillet over medium heat, warm 3 tablespoons of the olive oil.
Add the onion and saute until it begins to soften, about 3 minutes.
Add the minced garlic and saute until golden, about 2 minutes longer.
Stir in the tomatoes, basil and 2 tablespoons of the parsley and cook, uncovered, stirring occasionally, until slightly thickened, about 15 minutes.
Remove from heat and set aside.
Lightly season the tuna steaks on both sides with salt and pepper.
In another skillet, large enough to hold the fish in a single layer, warm the remaining 3 tablespoons olive oil over medium heat.
Add the crushed garlic and cook, stirring often, until golden, about 2 minutes. Remove and discard the garlic.
Add the tuna steaks to the skillet, raise the heat to medium-high, and cook, turning once, until lightly browned on both sides, about 2 - 3 minutes per side.
Pour the reserved sauce directly over the fish, reduce the heat to low, and add the olives and capers, and cook for another 5 minutes (sauce will thicken a little more).
Transfer tuna steaks and sauce to plates and garnish with parsley.
Serve at once. Enjoy!