This truly is such a spectacular dish. Loaded with flavor and so much fun to make and eat!
There are so many aspects of this iconic Korean comfort food dish that make it as delicious to eat as it is to look at! Plenty of flavors and nutritious veggies to enjoy here. This is one big bowl of pure yumminess!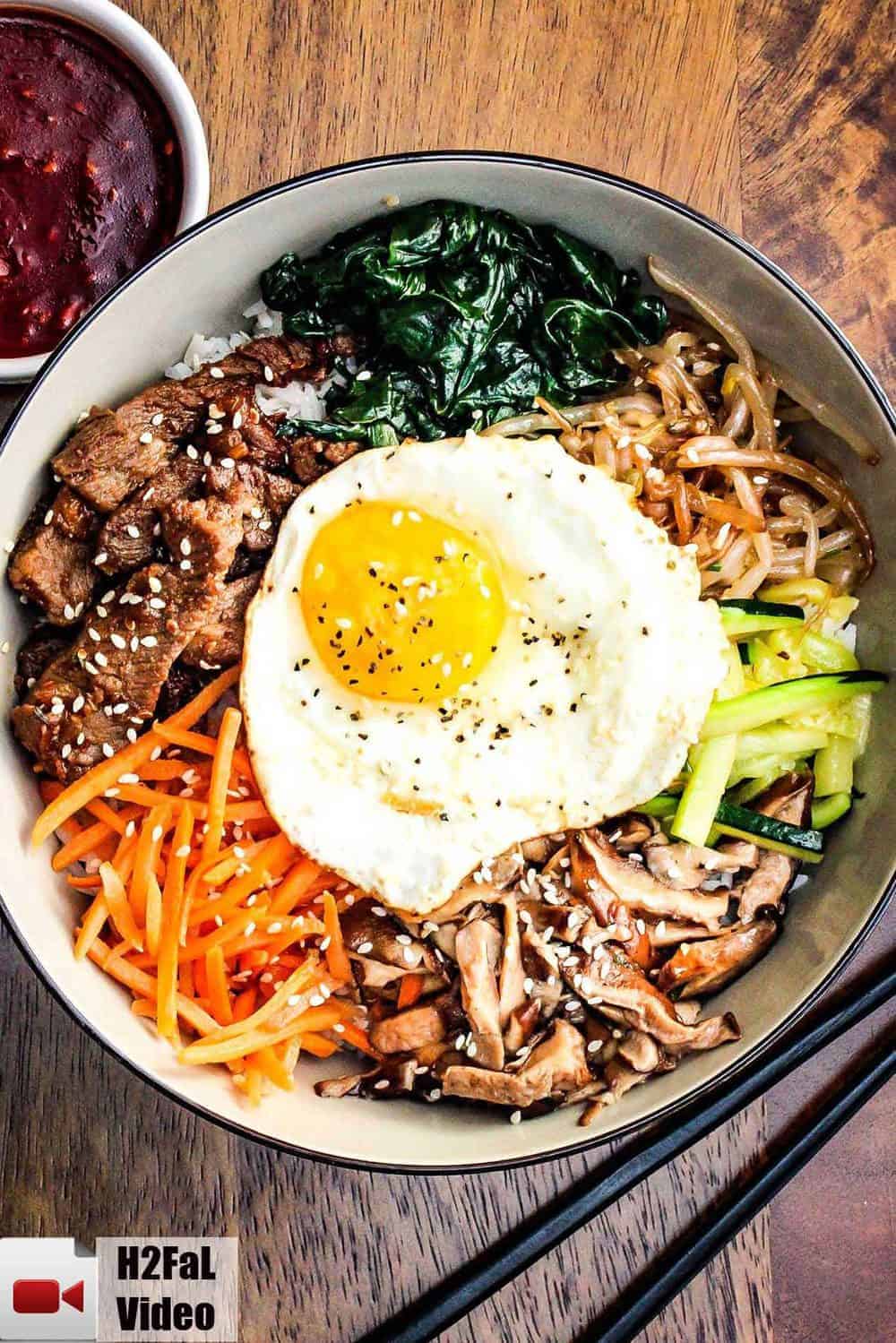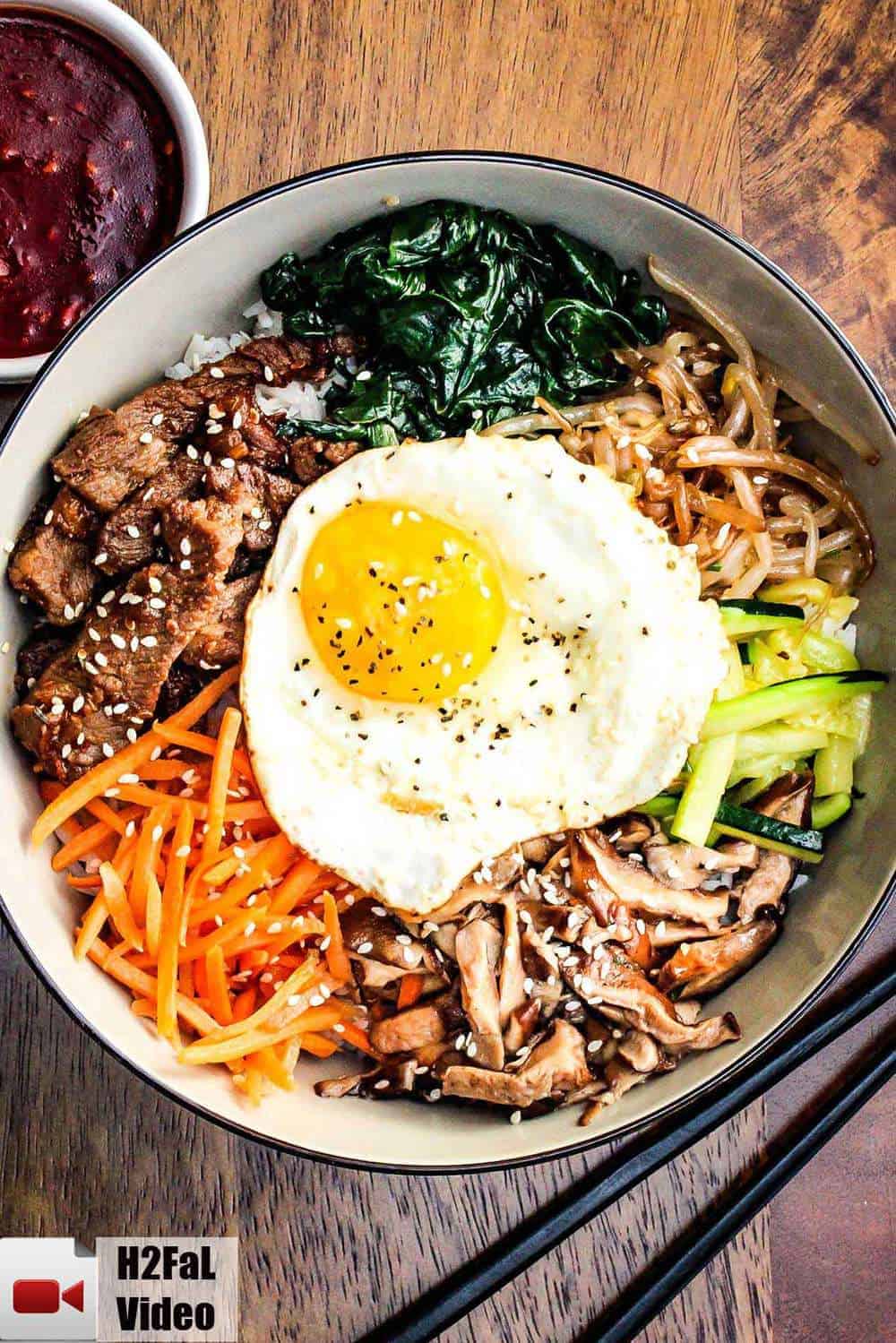 A Classic Bibimbap Recipe
There is a reason this dish (pronounced: BEE – beem – bap) is one of the most popular dishes served in Korean restaurants all over the world…it's amazing! Learn more about the history of this incredible dish here.
Watch us show you how easy (and fun) it is to prepare!
How to Stir-Fry
We love pulling out our beloved seasoned wok and cranking up the heat to full-throttle on the stove to get the wok scorching hot. But if you don't have a wok, no worries, you can use a cast-iron skillet, Dutch oven, or any sturdy saucepan.
When working with a wok, it is important to use a wok ring to make sure the wok stays in place on your stove.
Quickly stir-frying the veggies and steak makes the dish come together very quickly. We love stir-fried carrots!
After you have stir-fried each component of the dish, place in a bowl, wipe out your wok and quickly stir fry the ingredient.
Zucchini is also a traditional ingredient and is the perfect match for the carrots and other vegetables and protein.
So good!
Fresh spinach is another staple in Korean bibimbap.
Within a few minutes, it wilts and is so delicious.
A touch of garlic, soy sauce, and sesame seed oil is the perfect addition.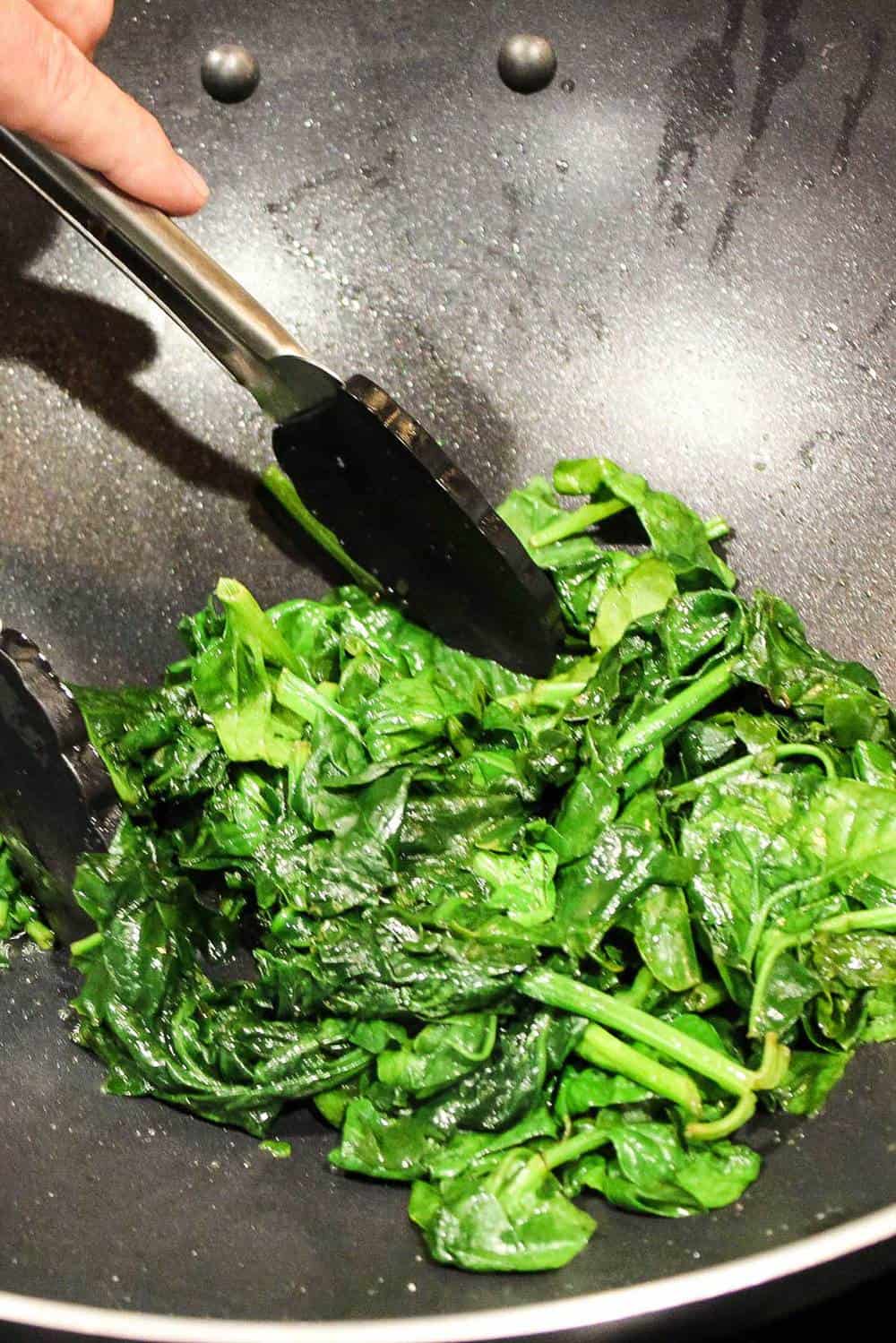 Bulgogi Bibimbap Is Deeply Flavorful
And of course, there is the incredible steak, called bulgogi.
You can easily prepare the marinade for the bulgogi beef ahead of time, or you, if you're pressed for time, you can simply stir fry the steak with soy sauce and sesame seed oil.
We love using ribeye steak for the bulgogi. To slice the meat thinly, freeze the steak for about 20 to 30 minutes, then use a sharp nice to cut thin slices. This is the traditional method for preparing Korean bulgogi.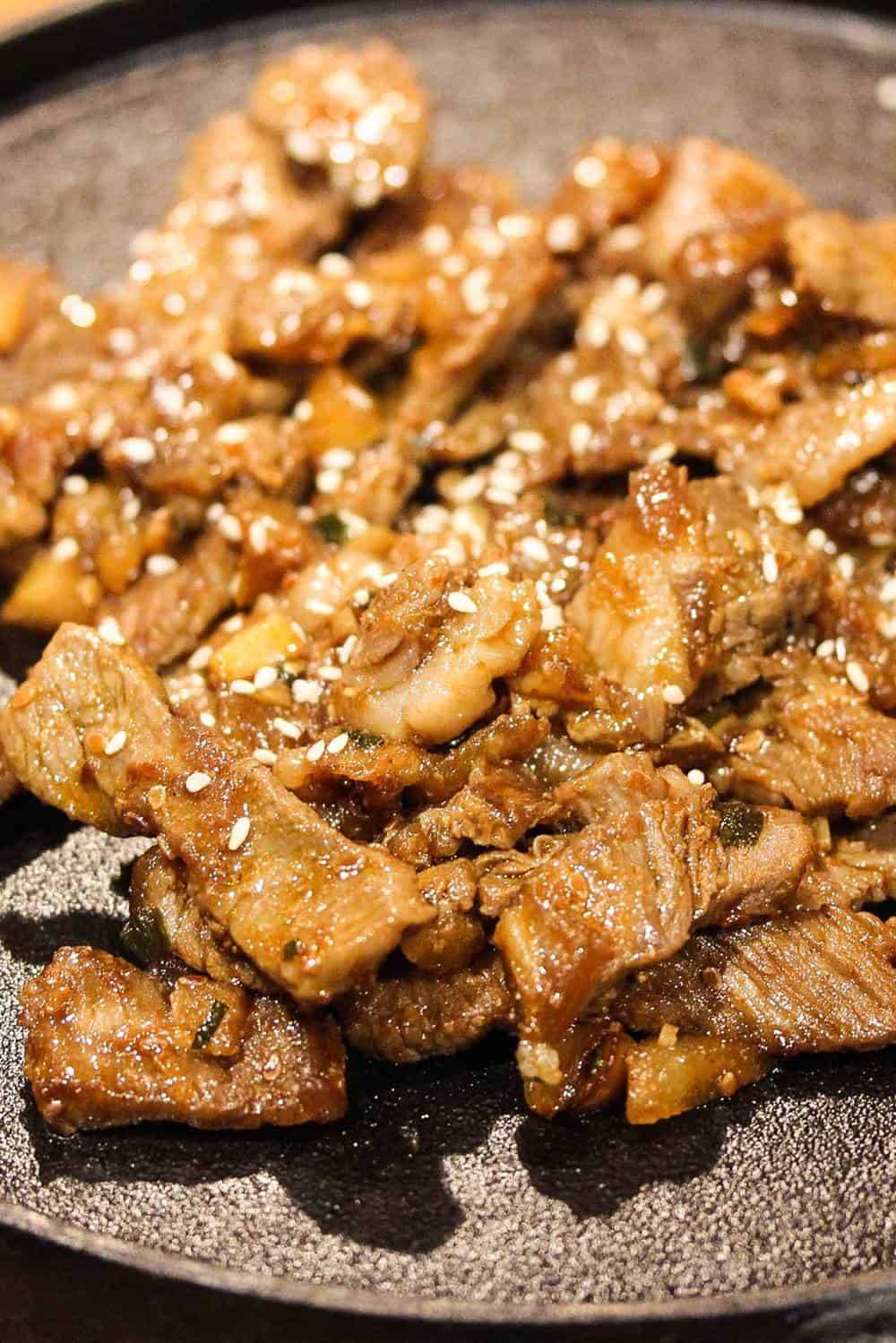 These amazing ingredients, plus a perfectly fried egg, sunny side up, are what comprise this incredible dish.
They are delicious, and good for you, too!
Mmmmm…so wonderful!
How to Serve
Steamed rice, served with a bounty of lightly seasoned veggies, and incredible Korean Bulgogi beef (go without the beef for a completely vegetarian dish), topped with a sunny side up egg and finished off with a kick from the homemade Korean BBQ sauce.
It may look daunting to make, but all the ingredients you can make ahead of time, and then just assemble on a bed of steamed rice, and you'll have one of the satisfying bowls of food you've ever encountered.
Traditionally, these are served in heated stone bowls, it really makes the experience that much better. The vessel continues to cook the rice, and even crisp it up. But, though you can order them online, they are a bit tough to find. A nice large, wide bowl works just fine. Any way you do it, you'll love it!!
Ready to make the best bowl of Korean comfort food in town? Go for it!
And when you do, be sure to take a photo and post it on Instagram and tag @HowToFeedaLoon and #HowToFeedaLoon!
Authentic Bibimbap
This Authentic Bibimbap is incredible. It's no wonder it's one of the most popular Korean dishes all over the world. Seasoned veggies, Korean beef (bulgogi), egg, Korean sauce, all on top of perfectly steamed rice. Make all the toppings first (can be done ahead of time, and just re-heated), then the rice...and serve with the homemade sauce. Wow, just wow. So good.
Print
Pin
Rate
Servings: 4 people
Calories: 274kcal
Equipment
Wok (with wok ring), or cast-iron skillet, Dutch oven, or sturdy saucepan
Ingredients
THE TOPPINGS
1 lb prepared bulgoli or cooked, seasoned ribeye, sirloin, or skirt, thinly sliced
Stir-fry oil or vegetable oil...for stir-frying all the ingredients as you go.
4 garlic cloves minced
2 cups bean sprouts
4 tbsp soy sauce divided
2 tbsp sesame oil divided
1 cup julienne carrot or shredded
1 zucchini seeded, cut into 1-inch sticks
12 oz spinach fresh
8 oz shiitake mushrooms sliced
4 eggs
2 tbsp sesame seeds toasted
THE RICE
2 cups short-grain white rice
2 cups water
2 tsp rice vinegar
1 tsp salt
THE KOREAN SAUCE
2 tbsp gochujang
1 tbsp sesame oil
1 tsp sugar
1 tbsp water
1 tsp apple cider vinegar
1 tsp garlic minced
Instructions
MAKE THE TOPPINGS
Prepare the bulgogi, or stir-fry beef with salt, pepper, and 1 tbsp each soy sauce and sesame oil. Set aside.

Cook the bean sprouts in boiling water for 5 minutes. Drain, Place in a separate bowl and add 1 teaspoon garlic, 1 tablespoon each of soy sauce and sesame oil. Mix. Set aside.

Stir-fry the carrots in a little oil for about 4 minutes. Set aside. Lightly salt.

Stir-fry the zucchini in a little oil for about 4 minutes. Set aside. Lightly salt.

Stir-fry the spinach with a teaspoon of water until wilted and water has evaporated, about 4 minutes. Place in a separate bowl. Add 1 teaspoon garlic, 1 tablespoon each soy sauce and sesame oil. Mix. Set aside.

Stir-fry the mushrooms with 1 tablespoon of soy sauce, until reduced and lightly browned, about 6 - 8 minutes.

Cook 4 eggs, sunnyside up, add salt and pepper, set aside.
PREPARE THE RICE
Bring rice, water, vinegar, and salt to boil in a medium saucepan over high heat.

Cover, reduce heat to low and cook until liquid has been absorbed, 7 - 9 minutes.

Remove rice from heat and let sit, covered, until tender, about 15 minutes.

(Cook time will be longer, approx. 25 minutes, if using long grain rice).
PREPARE THE KOREAN SAUCE
Mix all the ingredients together and set aside.
ASSEMBLE THE DISH
Portion out rice into 4 bowls.

Arrange toppings in a circular fashion.

Top each with egg and then toasted sesame seeds.

Garnish with sauce.
Notes
All the vegetables, mushrooms, and steak can be prepared up to 1 day in advance. Re-heat each component in the wok, or skillet, before serving. Gochujang can be found in the Asian section of most well-stocked supermarkets, or at Asian food markets, or online. Long-grain rice, or Jasmine rice, or good substitutes for the traditional short-grain rice. You'll need to adjust the cooking time according to package directions, typically about 25 minutes for long-grain, and about 10 minutes for Jasmine.
Nutrition
Calories: 274kcal | Carbohydrates: 19g | Protein: 15g | Fat: 14g | Saturated Fat: 3g | Cholesterol: 164mg | Sodium: 1738mg | Potassium: 1014mg | Fiber: 5g | Sugar: 7g | Vitamin A: 8327IU | Vitamin C: 42mg | Calcium: 180mg | Iron: 5mg