This Almond Crusted Cod with Orange Sauce recipe and Spinach Salad with Orange Vinaigrette recipe is sponsored by Nielsen-Massey Vanillas, but, of course, the words, opinions, images and recipes are 100% mine and Wesley's.
Wesley and I are huge fans of seafood. We love it grilled, roasted, smoked, seared…you name it, we just love it. And as I have spent years working with recipes, either my own or from other cooks or chefs, I find the ones that are most satisfying are usually the simpler ones.
SEEK INGREDIENTS THAT ENHANCE THE DISH'S FLAVOR PROFILE, NOT DISTRACT FROM IT.
That's why we couldn't be more thrilled to be partnering with Nielsen-Massey in bringing you this Almond Crusted Cod with Orange Sauce recipe, as well as a lovely Spinach Salad with Orange Vinaigrette recipe.
We love the balance of tastes from the light almond-panko-Parmesan breading to the vibrant orange sauce. It just works. Combine it with this simple Spinach Salad with Orange Vinaigrette and a chilled glass of pinot grigio and you've got a sophisticated, yet very approachable dish that is sure to impress.
WHY WE LOVE NIELSEN-MASSEY VANILLAS AND FLAVORS
There is a lot to love about this family-run company that has been a leader in the industry since 1907. I first discovered them while shopping at an amazing French-inspired food market in Princeton, NJ, aptly named: Bon Appetit. Wesley and I were filming a segment for an upcoming "How to Feed a Loon" TV segment and as I perused the aisles between takes, I found their amazing collection of vanillas and flavorings. I spotted their Rose Water and immediately knew I had to get a bottle. I was developing a recipe for lavender ice cream and had a feeling rose water would be the perfect addition. I'm not always right in my hunches, but I was spot on with this one.
As I grew to learn more about the brand, and why their products were so superior, I discovered that they use as few ingredients as possible to create the highest-quality extracts and flavors. Love it. And all of their products are all-natural, GMO-free, certified gluten-free, certified Kosher, and allergen-free.
And they have an unwavering commitment to sustainability and have taken a leadership role in improving the overall health of the vanilla industry, with a particular emphasis on improving economic prospects for the farmers who make the industry possible.
I could go on, but I think you get the point. Nielsen-Massey is top notch.
WHEN TO USE EXTRACTS VS. FRESH INGREDIENTS
So, you've heard me say many times to always go with fresh ingredients when possible. Fresh ingredients are always better than anything processed, or imitation. They give the dish a deeper flavor and are usually more nutritious. But there are some dishes when a little more intensity is required. And when an extract is produced in the manner that Nielsen-Massey develops their products, you can rest assured that they are using the freshest, best products on the planet.
I use their Organic Pure Orange Extract in both the sauce, as well as the vinaigrette for the salad. Orange juice is fine, but I needed a little more punch of orange in the two dishes, and this extract delivered perfectly. This Almond Crusted Cod with Orange Sauce recipe and the Spinach Salad Recipe with Orange Vinaigrette recipe are perfect for this amazing extract.
This organic orange extract is made with rich and juicy oranges from Florida, and balanced with notes from sweet West Indies Orange Oil. And as if that isn't enough, Nielsen-Massy utilizes a proprietary process to gently extract the delicate flavor without losing any of the sweetness or richness of the original and delicious orange. It's the perfect complement to my orange-infused beurre blanc sauce for the fish and a bright orange vinaigrette for the salad.
HOW TO USE FLAVOR EXTRACTS IN ALMOND CRUSTED COD WITH ORANGE SAUCE
We've said it so many times, a dish is really only as good as the ingredients that you work with. And this Almond Crusted Cod with Orange Sauce is no exception. Let's first talk about the fish. Cod is such a nice flaky fish and doesn't have a 'fishy' taste to it.
Grind your almonds in a food processor, and then combine with the panko bread crumbs and Parmesan cheese for the perfect breading.
But what really makes this dish sing is a simple beurre blanc recipe that consists of shallots, white wine and Champagne vinegar that has been reduced and then combined with butter and Nielsen-Massey Organic Pure Orange Extract. Divine.
The orange vinaigrette is so lovely in its simplicity. Go with quality olive oil, balsamic vinegar, and honey, and then let the organic orange extract bring the dressing to life.
The Almond Crusted Cod with Orange Sauce marries beautifully with the vibrant Spinach Salad with Orange Vinaigrette.
Nielsen-Massey's product line includes five different varieties of vanilla, ranging from all-purpose to specific origin, as well as whole vanilla beans, pastes, powders, and sugars. In addition to their vanillas, Nielsen-Massey produces eight premium flavors and extracts. As mentioned, I absolutely love their Rose Water, but their Organic Fairtrade Madagascar Bourbon Pure Vanilla Extract is something to behold. Oh, it's all just so good.
To learn more about Nielsen-Massey's premium extracts and flavors, follow them on social media (Facebook, Twitter, Instagram), and be sure to visit their website at www.nielsenmassey.com for lots more recipes and inspiration!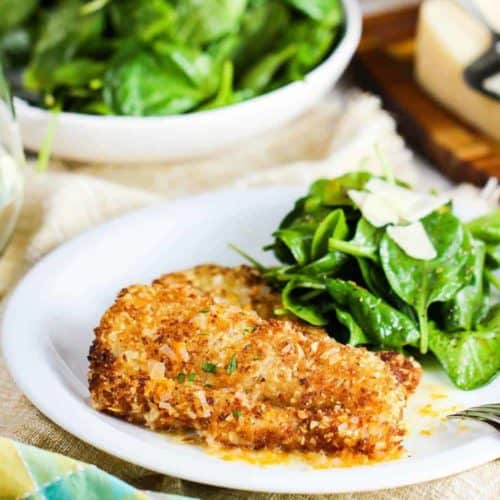 Almond Crusted Cod with Orange Sauce
This Almond Crusted Cod with Orange Sauce recipe and this Spinach Salad with Orange Vinaigrette pair beautifully together. The vibrant taste of orange brings the salad and fish together in one harmonious taste sensation. This is such an elegant, yet comforting dish. And comes together in about 30 minutes!
Print
Pin
Rate
Servings: 4 people
Calories: 280kcal
Ingredients
SPINACH SALAD WITH ORAGNE VINAIGRETTE
10 oz / 283.5 g. baby spinach washed and dried
2 tbsp balsamic vinegar
2 tbsp honey
1 garlic clove minced
1/2 tsp Kosher salt
1/2 tsp freshly ground black pepper
3/4 cup extra-virgin olive oil
Fresh parmesan shaved
ALMOND CRUSTED COD
2 lbs. / .91 kg. fresh cod cut into four 1/2-inch thick fillets
Kosher salt and freshly ground black pepper
1/2 cup all-purpose flour
2 eggs
1 cup almonds sliced and processed in a food processor (should still have almond bits, don't pulverize)
1 cup panko breadcrumbs
1/4 cup Parmesan cheese
1/4 cup olive oil
THE SAUCE
1 tbs olive oil
1 shallot finely chopped
Zest of one orange optional
1/2 cup white wine
2 tsp Champagne vinegar could also use white wine vinegar
4 tsp unsalted butter
Instructions
ORANGE VINAIGRETTE
In a jar with a tight-fitting lid, add the orange extract, balsamic vinegar, honey, garlic, salt and pepper and mix with a small whisk or fork.

Add the extra-virgin olive oil, attach the lid to the bottle, and shake vigorously for about 2 minutes, or until the dressing has emulsified. Set aside.
ALMOND CRUSTED COD
Lightly season the cod fillets with salt and pepper.

Set up a dredging station by adding the flour in one medium-size bowl, the eggs with 1 tablespoon of water, lightly blended, in another medium bowl, and then the almonds, breadcrumbs, Parmesan and a pinch of salt and pepper in a third medium bowl.

Coat each fillet first with the flour, shaking off excess, and then dipping into the egg bath, shaking off excess, and then coating with the almond mixture. Let fillets rest for about 5 minutes while you heat the oil.

In a large skillet, heat the olive oil over medium-high heat until just starting to smoke.

Add the fillets and cook until golden brown on each side, about 2 minutes per side, or until fish is flaky. Carefully remove from skillet.
ORANGE SAUCE
Meanwhile, in a medium-size sauce pan, heat 1 tablespoon olive oil over medium-high heat.

Add the shallots and zest (if using) and cook until soft, about 3 minutes.

Add the wine, vinegar and healthy pinch of salt and pepper. Cook until reduced to about half, approximately 4 to 5 minutes.

Remove from heat and stir in the butter and orange extract. Stir until butter has melted and is incorporated.
PLATING THE DISH
Toss the spinach with the dressing and place servings onto individual plates. Top with shaved Parmesan cheese.

Place a cooked fillet on each plate and spoon a couple tablespoon over the top.

Serve passing extra sauce on the side.
Nutrition
Calories: 280kcal