There are very few dishes that are this easy to prepare but still taste as if you ordered it at a fine-dining restaurant.
This dish checks off so many amazing boxes: Healthy ✓. Easy ✓. Family-friendly ✓. Super quick to prepare ✓. Through-the-roof delicious ✓✓✓. Serve this roasted asparagus, or with our Roasted Broccoli and Balsamic Potatoes for a meal that is truly astounding on so many levels.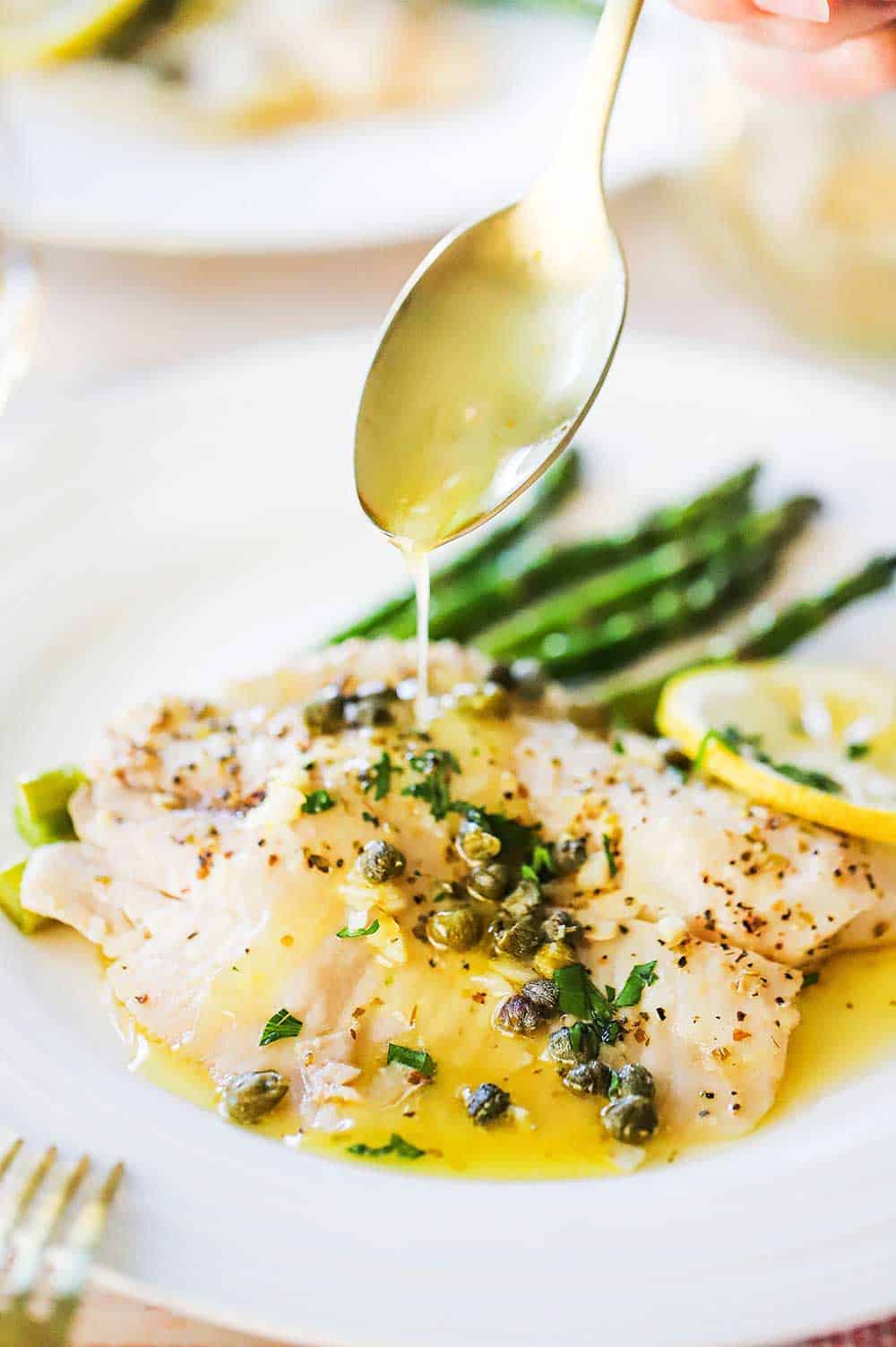 How To Make Baked Tilapia with Lemon Garlic Sauce
We love this dish for a variety of reasons. First, and foremost, it's so delicious. And healthy. And easy.
But, it's also so adaptable to your own tastes.
We'll give you tips along the way to adapt the recipe to feed your tastes, needs, and desires.
NOTE: If you liked this video, please subscribe to our YouTube channel. Remember to click the 'bell' icon so you'll never miss a new video!
How To Cook Tilapia
Tilapia is wonderful fish to cook with. It's not fishy tasting and can be prepared in numerous ways:
Pan-Frying: Season the fish all over with salt, pepper, and your favorite seasonings. Heat a couple of tablespoons of oil and butter in a large (preferably non-stick skillet), and cook for about 3 minutes per side.
Grilling: Crank your grill to medium-high. Rub a little oil all over the fillets, and season with salt, pepper, and your favorite seasonings. Place directly on the grill grates, or preferably on a grill pan, and cook for about 3 to 4 minutes per side.
Air-Fry: Coat the fillets all over with a little oil. Season with salt, pepper, and your favorite seasonings. Set the air fryer to 400°F. Spray the basket with cooking oil. Air fry for 10 – 12 minutes, flipping halfway through.
Baking: Our favorite method: See recipe below!
First…we love to season the fillets with Kosher salt, freshly ground black pepper, and dried oregano.
Is Tilapia Good For You?
The short answer here is "Yes!" Seafood is always a healthy option when planning a meal.
Tilapia is almost always farm-raised. Because is tilapia is inexpensive, and quite tasty, it is a very popular fish around the world.
Unhealthy farming practices have been revealed, especially in China.
Bottom line: Make sure you know where your tilapia comes from before you purchase it. We buy ours from Whole Foods. They come from reputable fisheries in the United States.
A simple sauce of a little melted butter, extra-virgin olive oil, lemon juice, and white wine is the perfect complement to the flakey white fish. Simply pour it right over the fillets!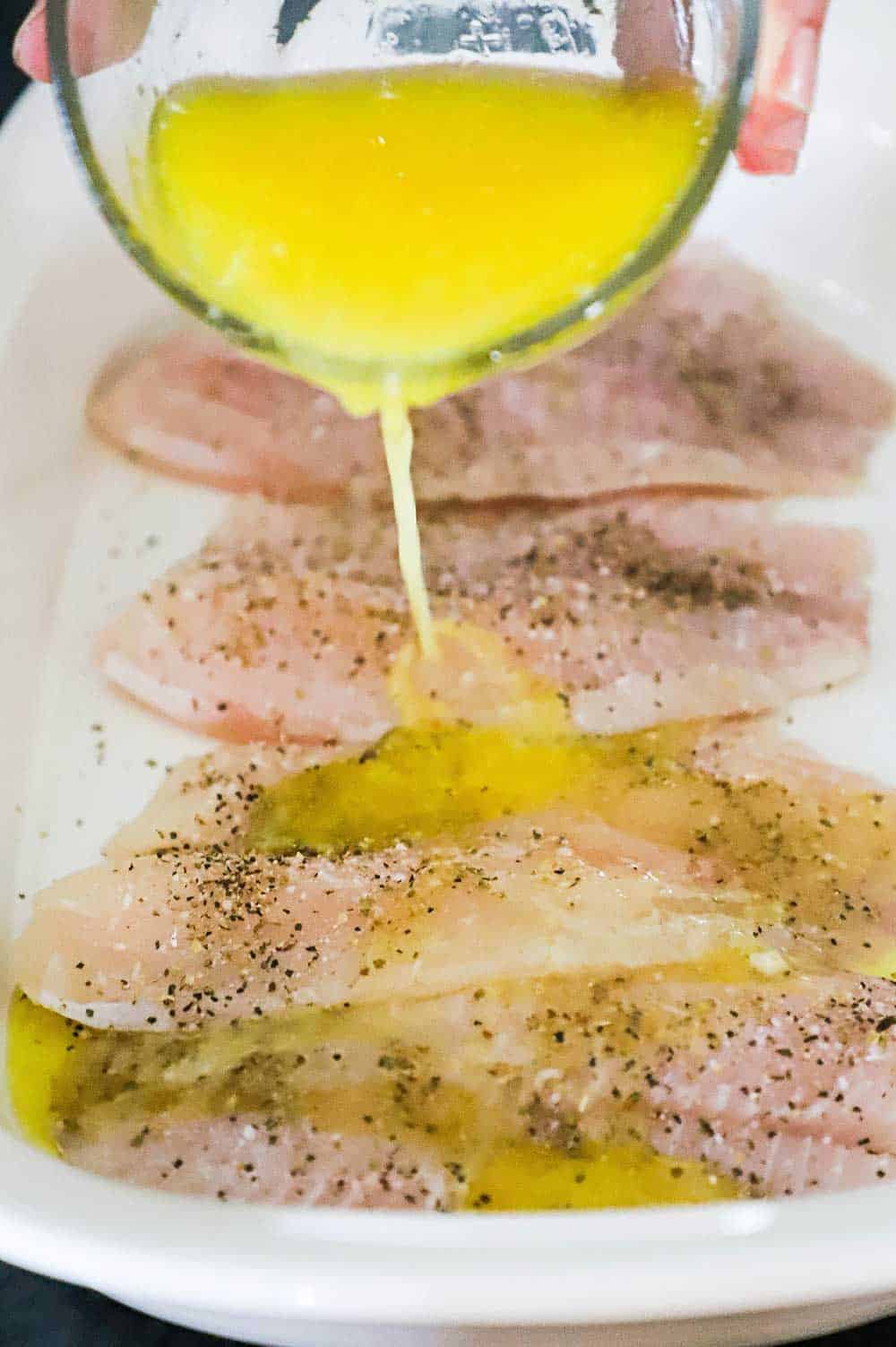 For an even bigger boost of flavor, we add capers on top of the fillets before baking.
The flavors are bright and work beautifully with the baked tilapia.
EXPERT TIP: You'll want a total of 5 tbsp of liquid for the sauce. If you want to eliminate the butter completely, no problem! Increase the lemon juice by a couple of tablespoons. If you don't have white wine on hand, no problem! Increase the butter and/or EVOO to a total of 5 tbsp. We think the combination of EVOO, lemon juice, and white wine is great, but any of these will still produce a delicious dish, although, we wouldn't recommend eliminating the lemon juice completely.
What to Serve with Baked Tilapia
This dish creates a delectable sauce that should be poured over the fish but is also delicious over steamed rice or a nice rice pilaf.
Round out the meal with roasted broccoli, balsamic potatoes, or glazed carrots.
Other favorite seafood dishes that you'll want to try are:
Baked Red Snapper with Olives, Basil, and Pine Nuts
Poached Salmon with No-Fuss Hollandaise Sauce
Seared Mediterranean Tuna Steaks
Sautéed Wild Striped Bass
Southern-Style Crab Cakes
In the meantime, just check out this incredible baked tilapia with lemon garlic sauce.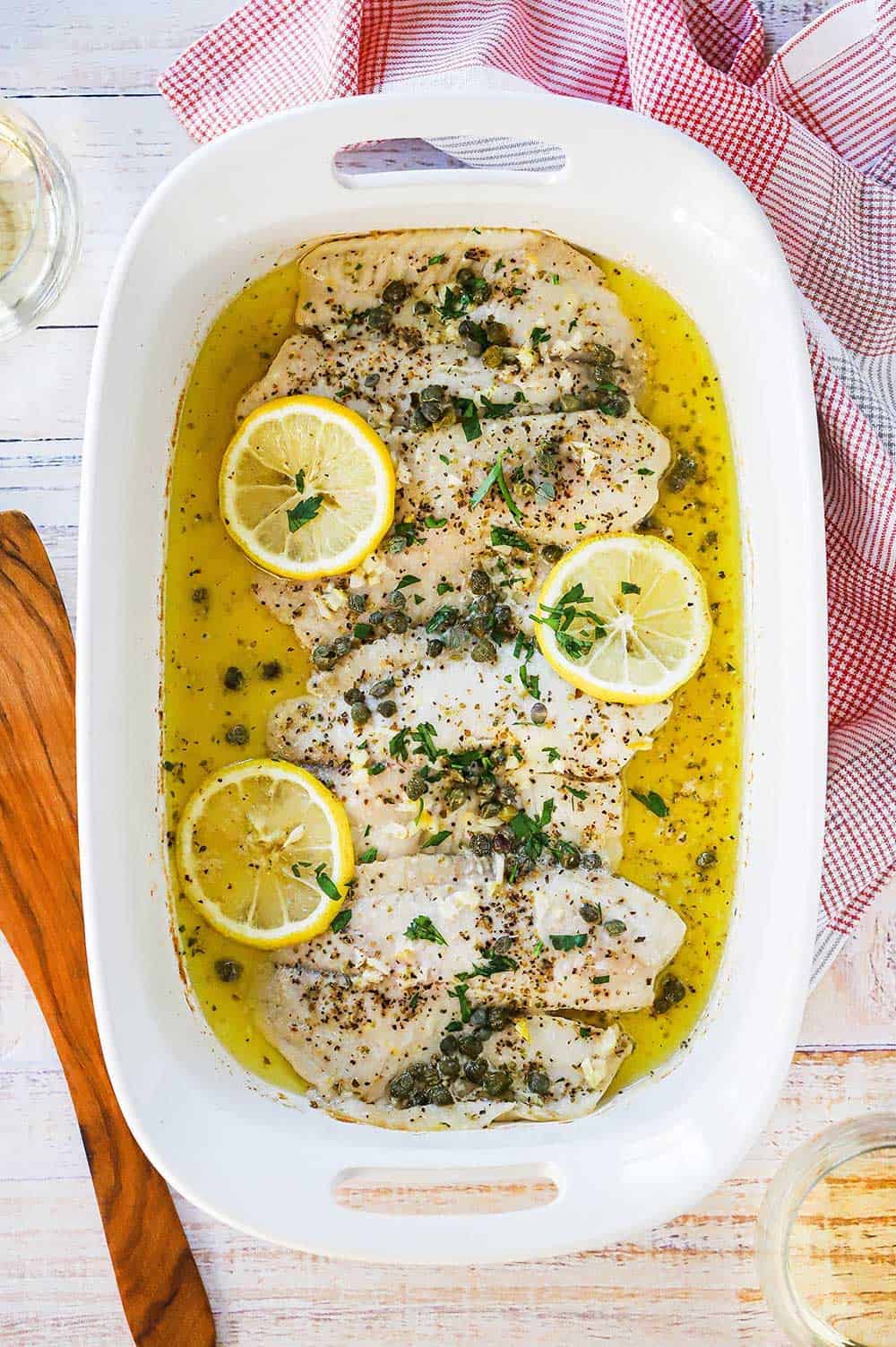 As mentioned, this dish checks off so many important yummy dinner boxes.
It could not be easier to prepare. It is healthy and contributes to weight loss and good health. It's family-friendly.
But more than anything, it is incredibly delicious. Perfect for a busy weeknight dinner, but also ideal for a lovely dinner party with guests.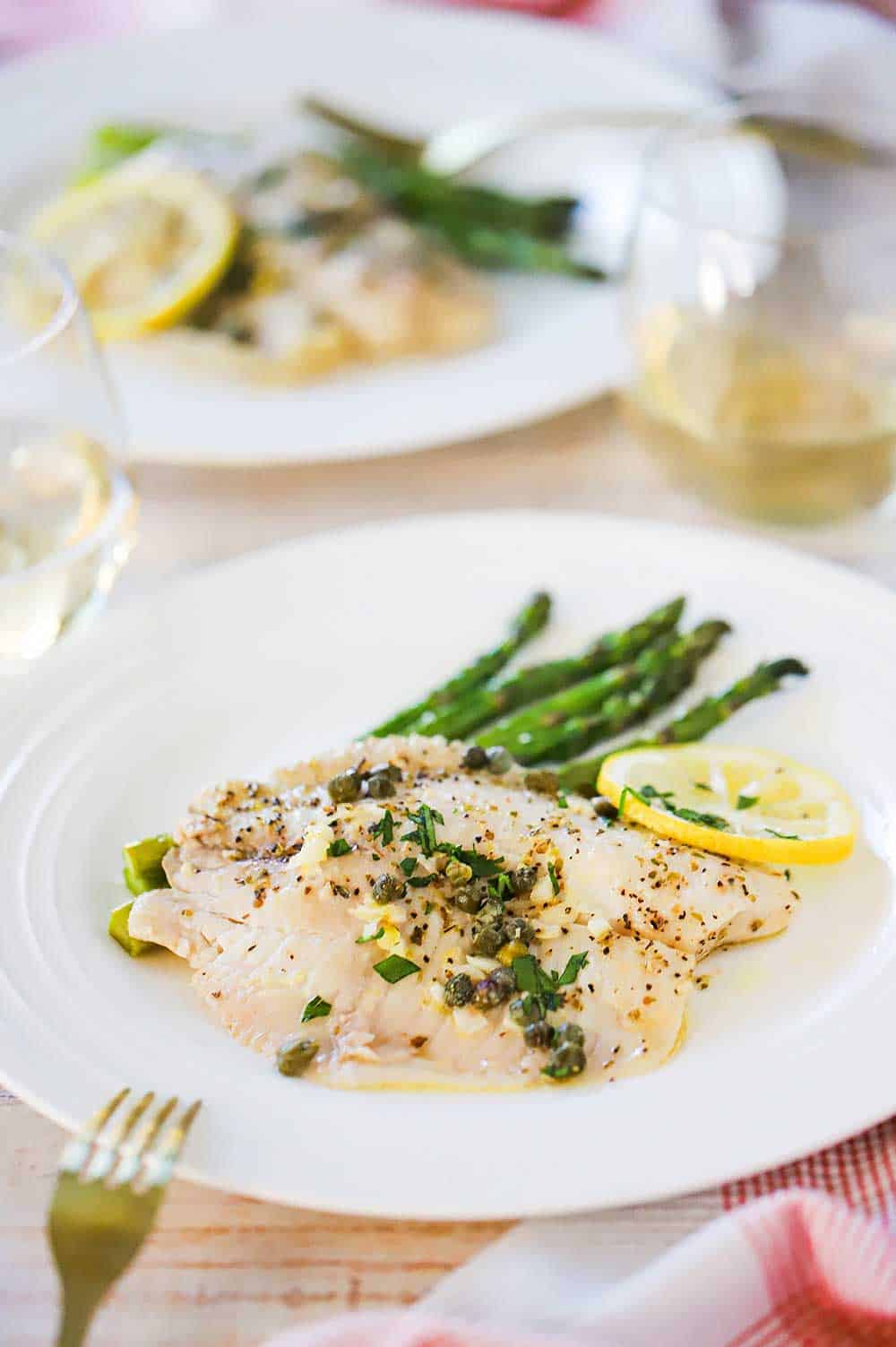 Ready to make the easiest restaurant-quality meal for your hungry family…in about 20 minutes? Go for it!
And when you do, be sure to take a photo of it, post it on Instagram, and tag @HowToFeedaLoon and hashtag #HowToFeedaLoon!
Baked Tilapia with Lemon Garlic Sauce
Baked Tilapia with Lemon Garlic Sauce is a true weeknight winner meal. It comes together in about 20 minutes. It's adaptable to your tastes and what you have on hand. It's not-fishy tasting, so kids often love it. And it's through-the-roof delicious!
Print
Pin
Rate
Servings: 4
Calories: 178kcal
Equipment
1 baking dish 9"x13" works well
Ingredients
Cooking spray
4 6 oz tilapia fillets
salt and pepper
1 tbsp oregano dried
2 tbsp unsalted butter melted
1 tbsp extra-virgin olive oil
1 tbsp white wine
1 tbsp lemon juice from half of one lemon
1 tsp lemon zest from half of one lemon
3 cloves garlic minced
¼ cup capers drained, or more, if desired
3 lemon wedges cut from other half of lemon
2 tbsp parsley chopped, for garnish (optional)
Instructions
Preheat oven to 425°F.

Lightly oil the baking dish with the cooking spray.

Arrange the tilapia in the dish. (It's okay if the edges overlap a little).

Liberally sprinkle salt all over the tops and bottoms of the fillets. Lightly sprinkle with pepper and oregano all over the fillets.

In a small bowl, mix together the melted butter, extra-virgin olive oil, white wine, lemon juice, lemon zest, and garlic. Carefully pour the liquid all over the fish in the dish. Top with the capers.

Bake, uncovered, for 12 to 14 minutes, or until the fish flakes easily with a fork and an internal temperature of 145°F is reached. Remove and serve at once, drizzling the sauce over the fillets. Garnish with chopped parsley, if desired.
Notes
See the video near the top of the blog post for visual guidance. If you like the video, please subscribe to our YouTube channel.
Other types of fish that work wonderfully in this recipe include cod, snapper, halibut, grouper, and even salmon. Depending on the size of the fillet, you may need to bake the fish longer. The internal temperature should reach 145°F.
You can easily leave out any of the sauce ingredients if you desire. We recommend having a total of 5 tbsp. If you omit the wine, then increase the lemon juice. We don't recommend omitting the lemon juice.
1 tbsp of garlic powder can be substituted for the fresh garlic.
Because the dish comes together so quickly, we don't recommend preparing it in advance. You can do the small amount of prep (chopping garlic) ahead of time. But it's best when prepared fresh and then served immediately.
Leftover cooked tilapia will keep for about 24 hours in the fridge. We don't recommend freezing leftovers.
Nutrition
Calories: 178kcal | Carbohydrates: 4g | Protein: 1g | Fat: 9g | Saturated Fat: 4g | Polyunsaturated Fat: 1g | Monounsaturated Fat: 4g | Trans Fat: 1g | Cholesterol: 16mg | Sodium: 307mg | Potassium: 71mg | Fiber: 1g | Sugar: 1g | Vitamin A: 383IU | Vitamin C: 13mg | Calcium: 38mg | Iron: 1mg