When you're in the mood for great seafood at home, folks, it doesn't get much better than this.
This dish is so deep in flavor and we love going with red snapper, although any flaky white fish will work just fine. And because it's fish, it's ready in less than 30 minutes. And on top of all that, it's super nutritious and good for your well-being. What could be better than that? And did we mention it's off-the-charts delicious?
How To Make Mediterranean-Style Baked Red Snapper
When you compare how simple this dish is to prepare against how incredible it tastes, it's almost unbelievable.
It's honestly so easy, it's perfect for a weeknight meal, but it's so elegant and delicious, it's perfect for entertaining, too!
The Nutritional Value of Seafood
You may be wondering: "What are the health benefits of seafood?" Well, there are many! It's one of the most nutritious foods you can eat. Fish is a high-protein, low-fat food that provides a wide range of health benefits. But that's just the beginning. Learn more about the benefits of eating fish here.
What does red snapper taste like? Well, first things first: It is not an overly fishy tasting fish at all. Seriously, not at all. The flesh is moist, flaky, slightly sweet, and melts like butter in your mouth.
Red snapper is a little more costly than some other flaky white fish, but we think the taste is wonderful. Other options for red snapper substitutes include cod, halibut, tilapia, sea bass, and even swordfish.
EXPERT TIP: You can find red snapper in the seafood department of most well-stocked markets. In the U.S., we get ours at Whole Foods. Typically, the filets are sold with the skin on. The skin is completely edible and loaded with nutrients. And once baked, you won't even notice it's there. Place the fillets in a baking dish, skin-side down, and then season with salt and pepper. Pour a combination of white wine and extra-virgin olive oil over the tops of the filets.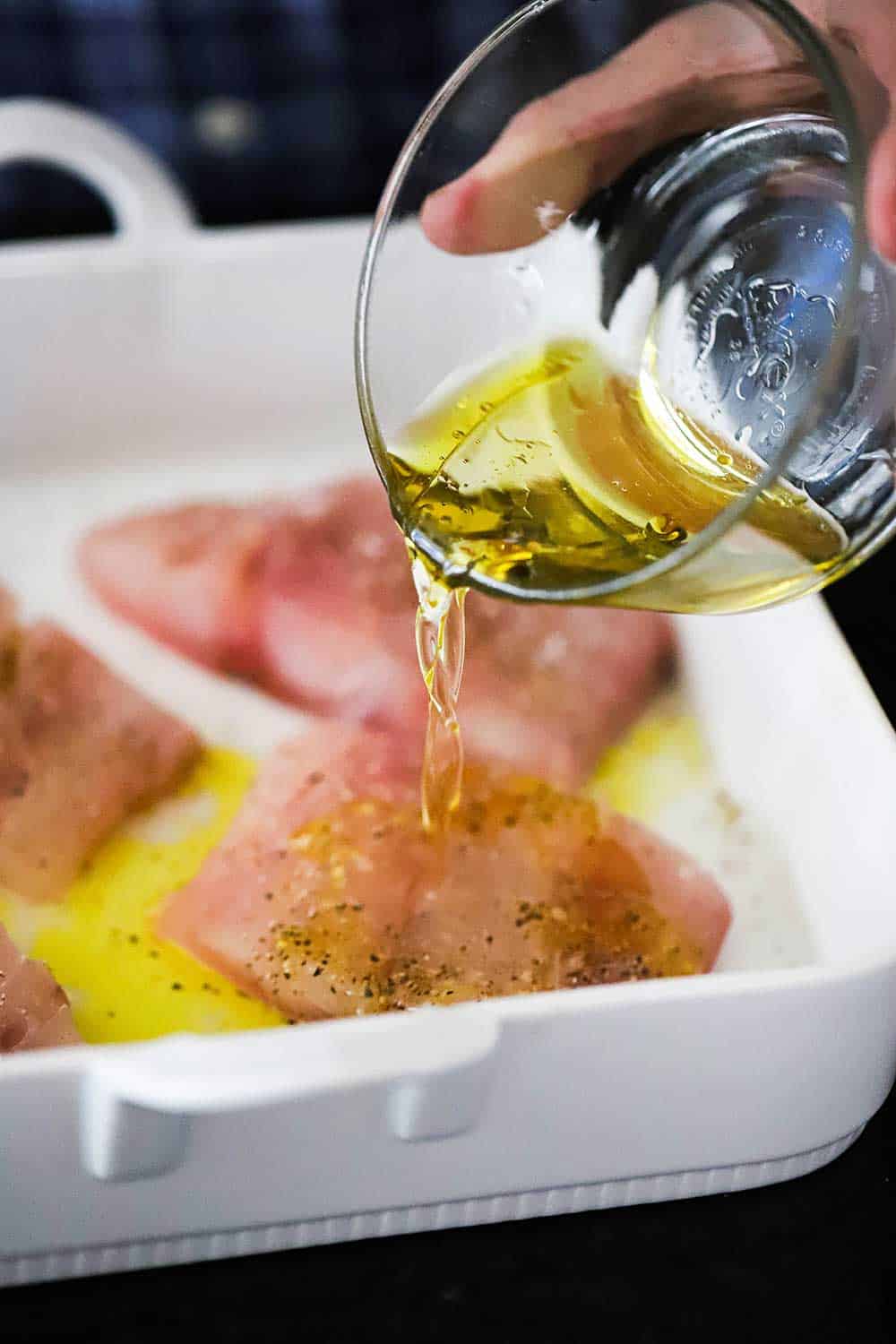 Now, it's time to add some of our most favorite Mediterranean ingredients: Fresh garlic, fresh basil, Italian olives (Castelvetrano), and Greek olives (Kalamata).
You'll use some more of the garlic and basil for the sauce that goes on top of the baked fish. But more on than in a bit.
EXPERT TIP: We recommend going with pitted olives for this red snapper recipe, however, some folks love the freshness of olives that have not had the pits removed. That's great! Just remember, if serving to guests, alert them that the pits are in the olives. You don't want anyone accidentally chipping a tooth as they eagerly bite into a delicious olive!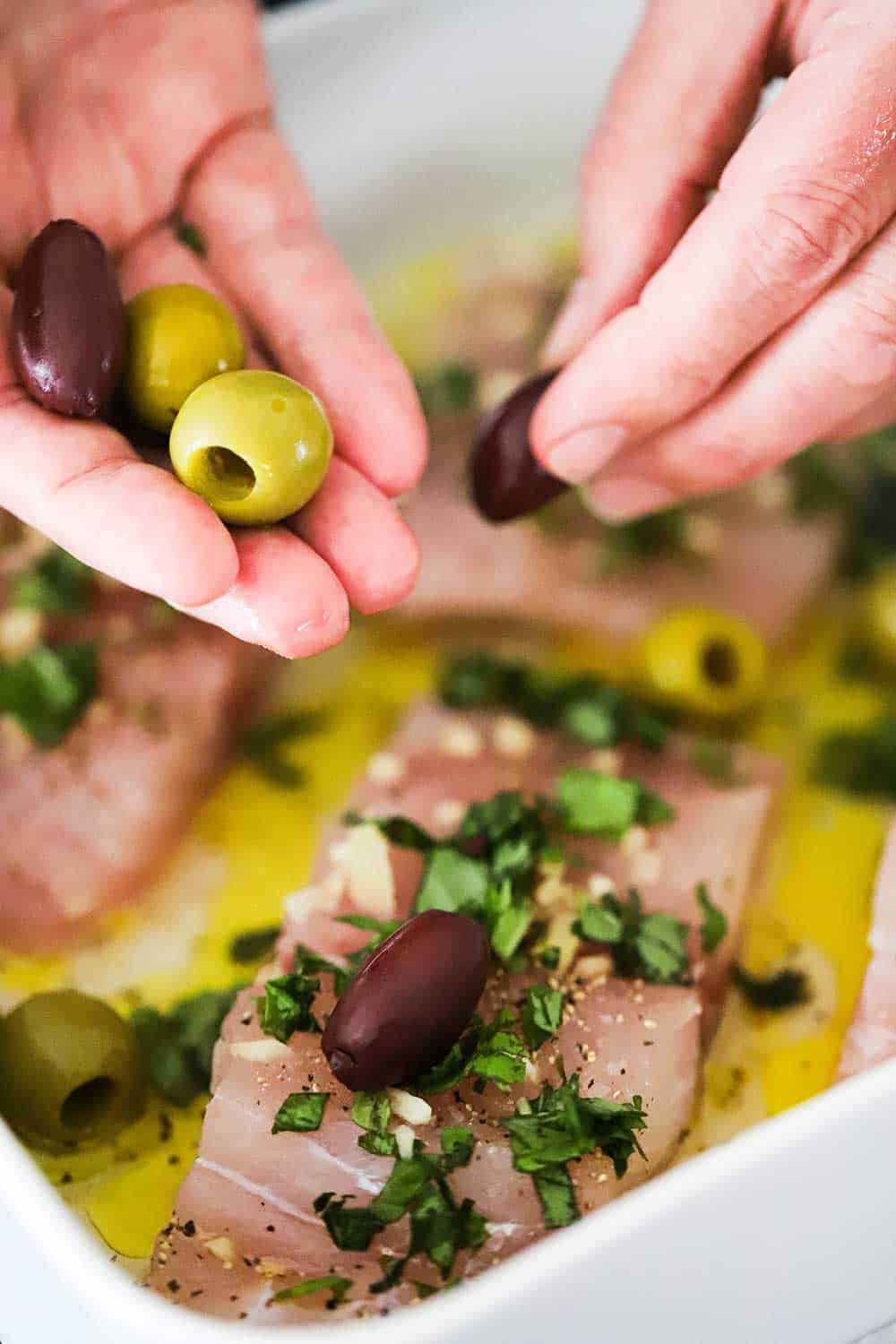 How To Cook Red Snapper
There are numerous techniques for cooking fish, but we thinking baking (or roasting) is easy and produces the flakiest and most buttery fillets possible.
Simply cover the baking dish with foil, preheat your oven to 350°F, and bake until cooked through. The foil allows the fish to essentially be steamed and cooked to perfection.
EXPERT TIP: Cooking times will vary slightly depending on the thickness of your fillets. For a typical red snapper fillet, you'll need to bake them for 20 minutes. If you're going with a thinner fillet, such as tilapia, it will only take about 10 to 15 minutes. When cooked properly, the fillets will be very white in appearance. If they still look pale, they most likely need to bake a little longer. Cover back up with foil and bake for another 5 to 10 minutes.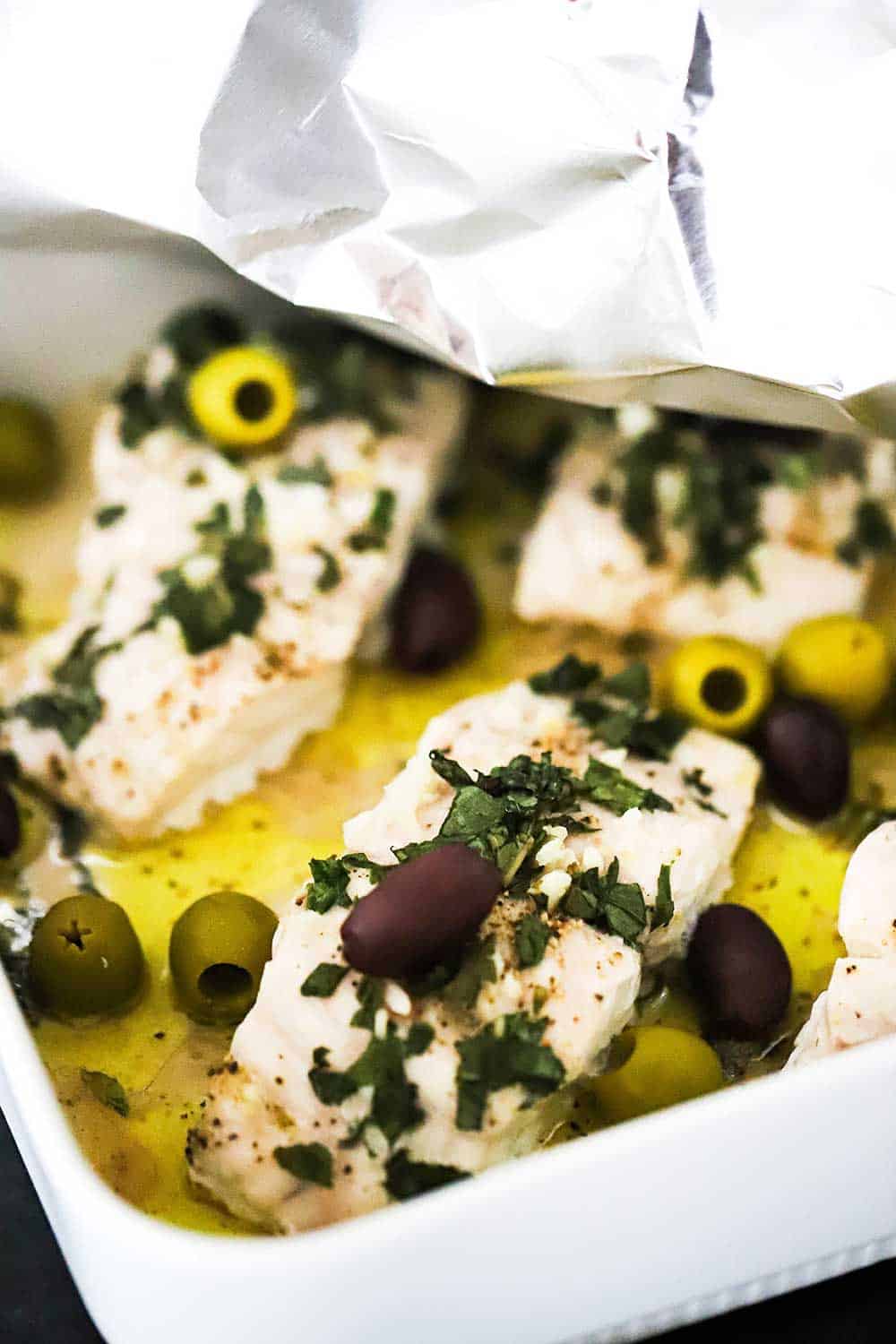 The Perfect Sauce
Now, it's time to make an easy but delicious sauce for the fish.
Use a spatula to carefully remove the cooked fillets from the baking dish. Pour the sauce, including the olives, into a small saucepan. Add the remaining garlic and basil (2 tbsps each) and a ¼ cup of toasted pine nuts and heat over medium-high heat until fragrant, about 2 minutes.
EXPERT TIP: Toasting the pine nuts (also called pignoli nuts) brings out a delicious nutty taste in the nuts. Place them on a baking sheet and roast (or toast in a toaster oven) on medium heat (375°F) for just a couple of minutes, until they start to darken in color. Keep an eye on them! They will burn very quickly if you forget about them!
The addition of another 1 tbsp of extra-virgin olive oil to the sauce deepens the flavor even more.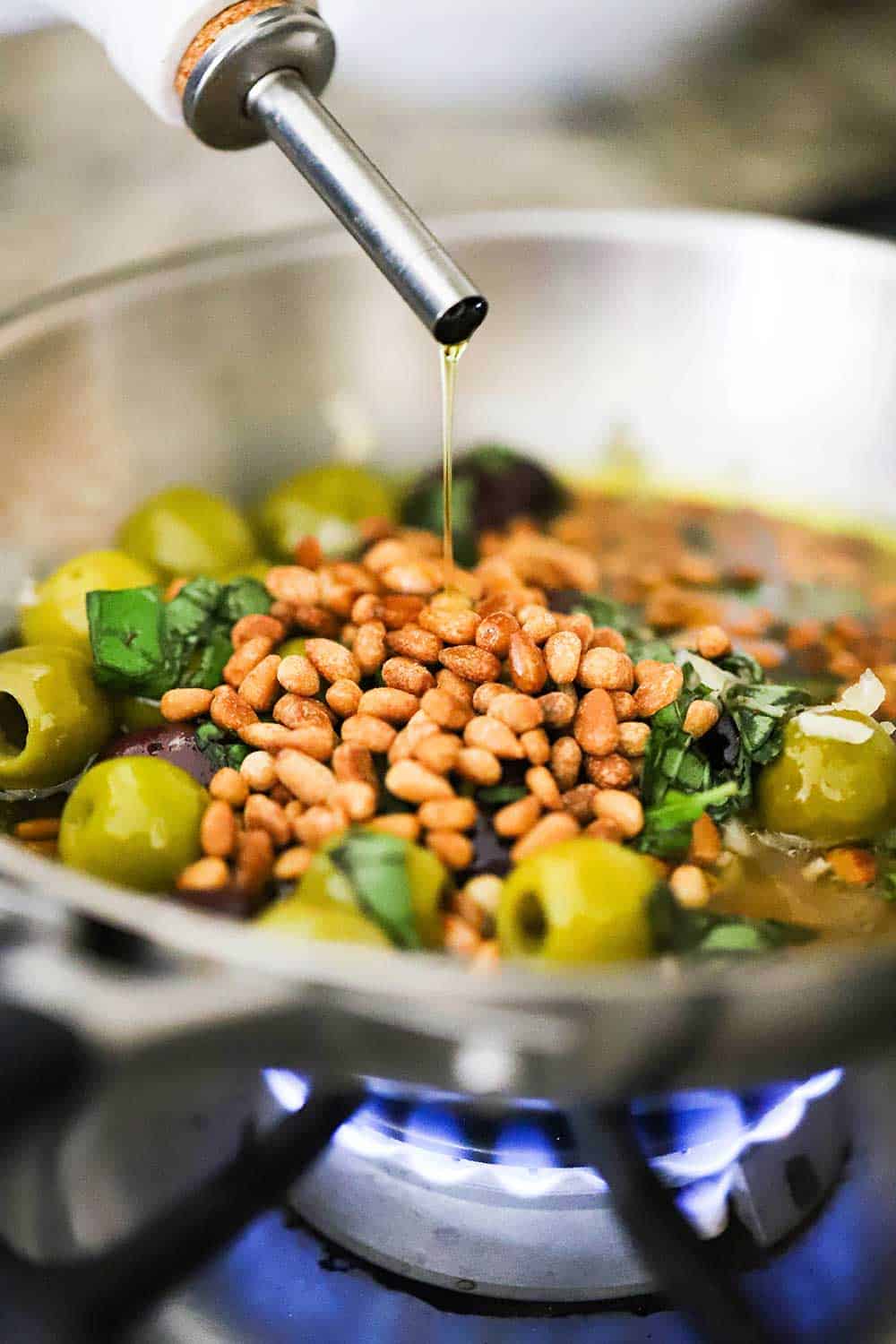 As mentioned, this dish is highly nutritious.
And as you can see, it is also gorgeous when plated.
But, first and foremost, the taste is like none other. It feels like a dish you would order from a high-end seafood restaurant. It's really that good.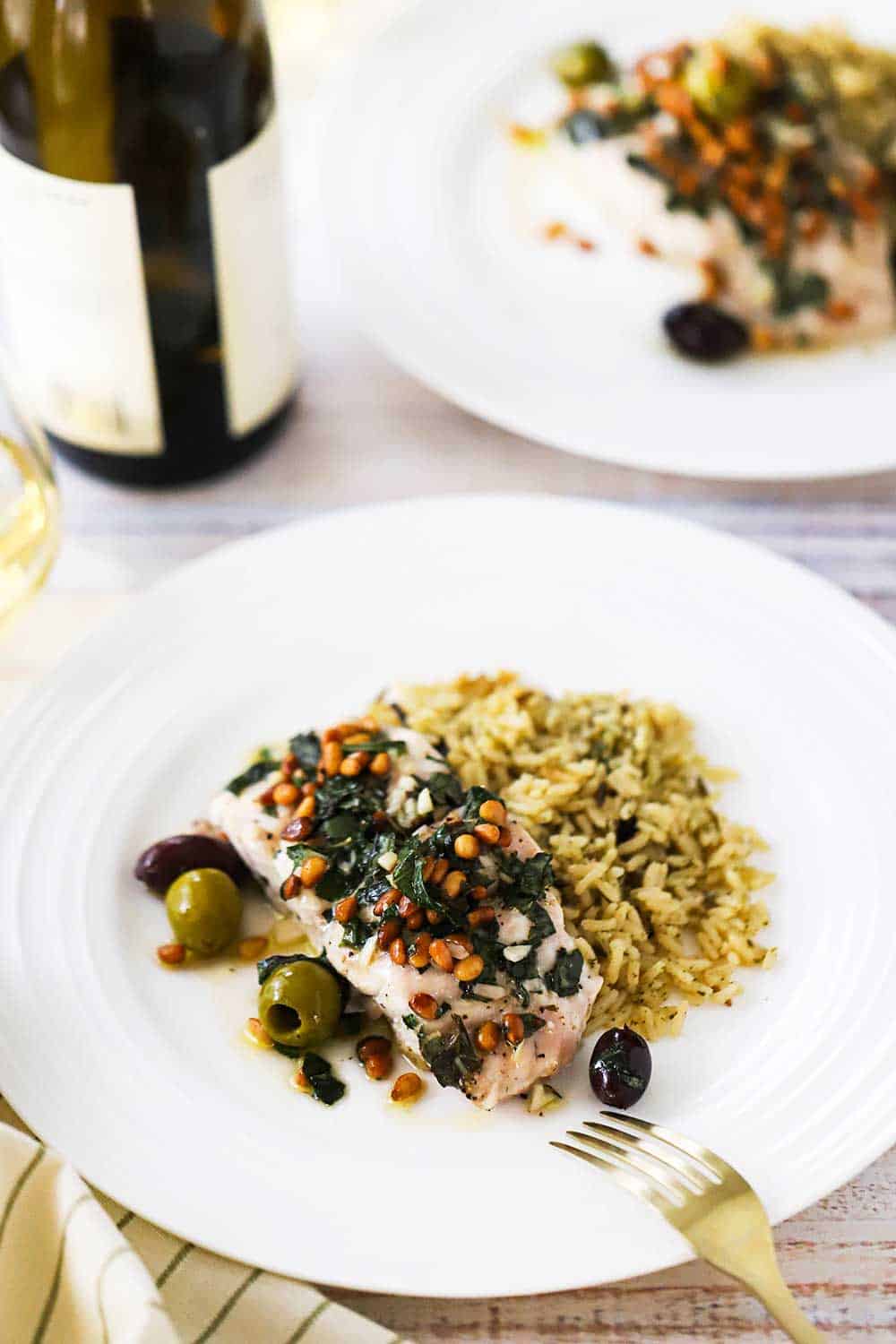 What to Serve with Mediterranean-Style Baked Red Snapper
We love serving this dish with a side of flavorful seasoned wild rice.
It's also heavenly over a bed of sautéd kale or spinach.
EXPERT TIP: For wine, we recommend pairing the red snapper with a wonderful dry white wine such as Sauvignon blanc or a Pino Grigio. A lovely Chardonnay is a wonderful pairing, as well. Whatever you choose is also the wine you should use when adding to the dish for baking the fish in.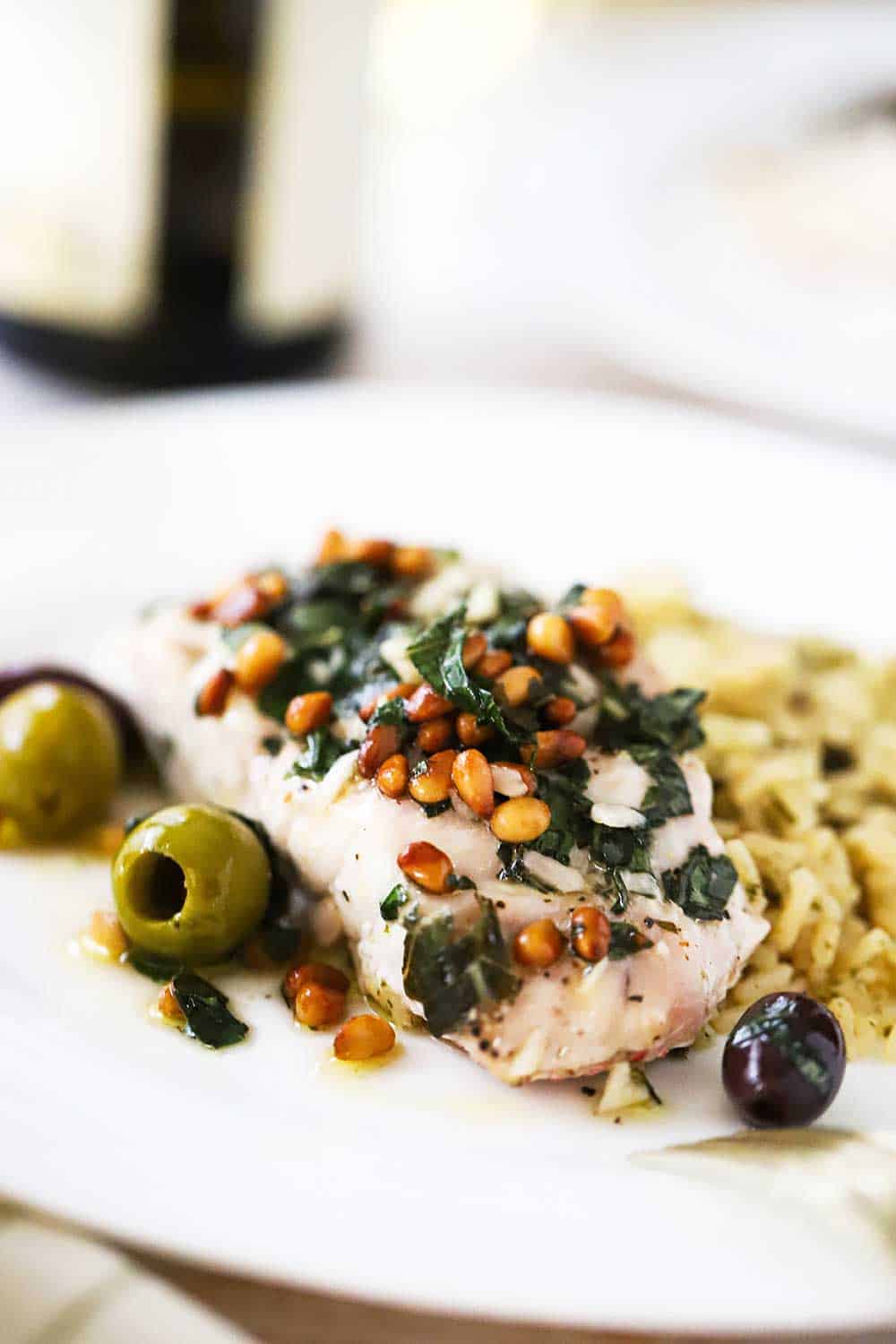 We just love cooking with good-quality seafood. Some of our other favorite seafood dishes include:
But in the meantime, you've just got to make this amazing red snapper dish. With just one bite, you'll be sold hook, line, and sinker!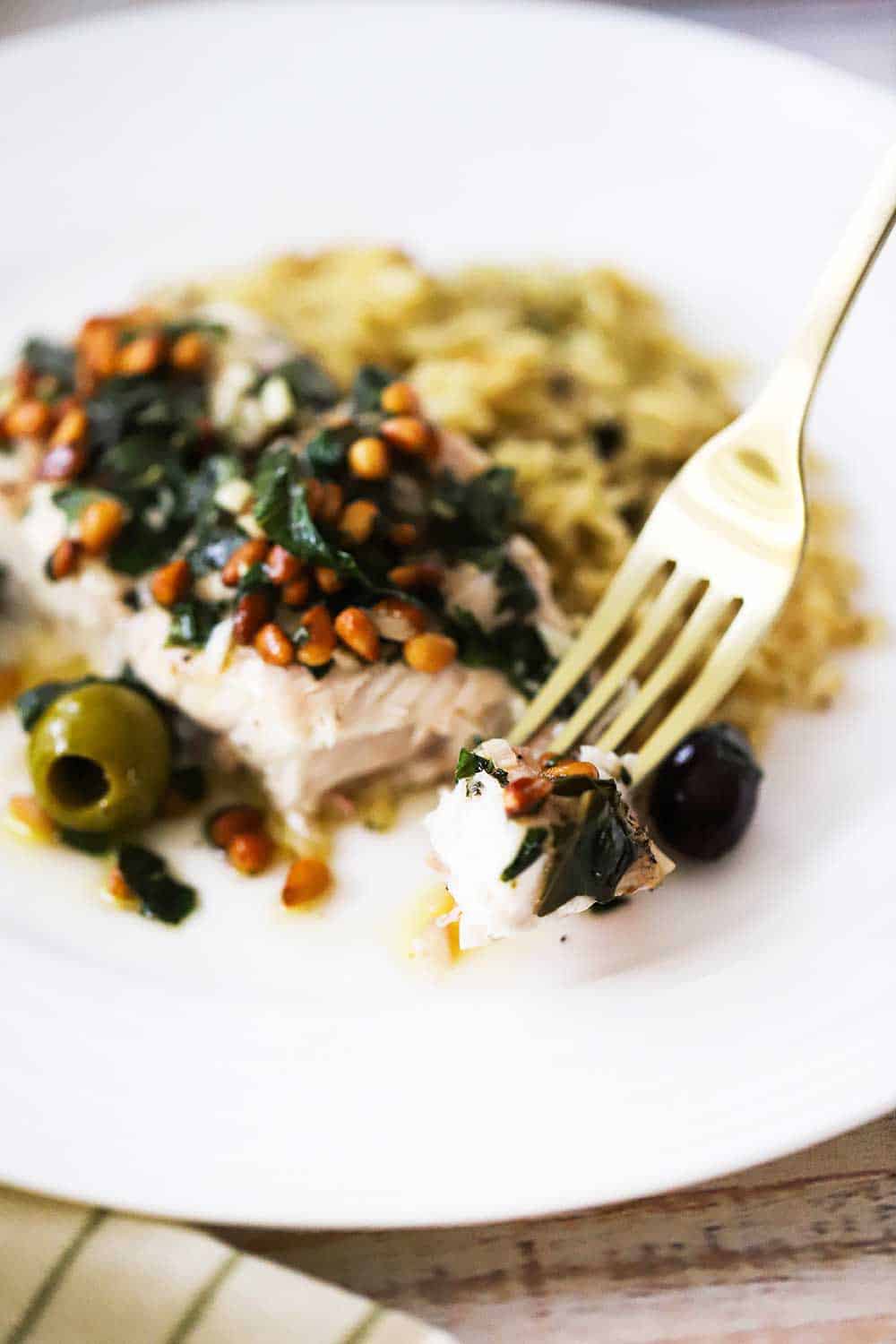 Ready to make the most delicious, healthy, and gorgeous seafood dish this side of Naples, Italy? Go for it!
And when you do, be sure to take a photo of it, post it on Instagram, and tag @HowToFeedaLoon and hashtag #HowToFeedaLoon!

Mediterranean-Style Baked Red Snapper
This dish is many things, including super health and a gorgeous presentation, but more than anything, it's exploding with amazing taste. Red snapper is not fishy tasting at all and bakes in a short amount of time. See NOTES for red snapper substitutes.
Print
Pin
Rate
Servings: 4
Calories: 219kcal
Equipment
Baking dish, such as a 9"x13"
Ingredients
4 6 oz red snapper fillets
Kosher salt and black pepper
3 tbsp extra-virgin olive oil divided
¼ cup dry white wine
6 cloves garlic minced, divided
½ cup basil fresh, chopped, divided
1 cup olives green and/or black, pitted
¼ cup pine nuts toasted
Instructions
Preheat oven to 350°F.

Place the fillets, skin side down, in a baking dish. Season the tops of each fillet with a sprinkling of salt and pepper.

In a small bowl or measuring cup, stir together 2 tbsp of the oil with the white wine. Pour all over the tops of the fish in the dish.

Add half of the chopped garlic and basil over the tops of the fillets. Sprinkle the olives around the fish. Cover tightly with foil and bake for 20 minutes.

Remove the foil and use a spatula to transfer the fillets to either a plate or your serving platter. Pour the sauce, with olives, into a small saucepan. Add the remaining garlic and basil and all of the toasted pine nuts and bring to a simmer over medium heat. Cook for about 1 to 2 minutes, until aromatic.

Pour the sauce over the fillets and serve at once.
Notes
In the United States, we find good-quality red snapper at Whole Foods. Other excellent substitutes for cod are cod, halibut, tilapia, sea bass, and swordfish. The size of the fillet may require the cooking time to be increased or decreased. For ½-inch to 1-inch fillets, 20 minutes will cook them perfectly. A thicker fillet, such as swordfish, for example, might require more time. A thinner fillet, such as tilapia, will require less time, around 10 to 15 minutes. If you remove the foil, and the fillets are still pale in color, they need to go back into the oven. Re-cover with foil and bake for another 5 to 10 minutes. We love using a combination of Italian olives (Castelvetrano) and Greek olives (Kalamata), but go with whatever your favorite olives are. We do recommend using pitted olives. Cooked wild rice is a great side for this dish. The fillets are also wonderful over a bed of sautéd kale or spinach with the sauce poured all over the top. The cooked fish will keep in an air-tight container in the fridge for up to 2 days. It will freeze just fine, but the texture will not be as flaky once thaw and reheated.
Nutrition
Calories: 219kcal | Carbohydrates: 4g | Protein: 2g | Fat: 16g | Saturated Fat: 2g | Cholesterol: 1mg | Sodium: 528mg | Potassium: 102mg | Fiber: 2g | Sugar: 1g | Vitamin A: 291IU | Vitamin C: 2mg | Calcium: 31mg | Iron: 1mg
This recipe is adapted from Williams-Sonoma.