Poached Salmon with Capers and Hollandaise Sauce is such an amazing dish. It is so simple and literally bursting with bright, vibrant taste.
This dish comes together in about 20 minutes.
It's perfect for a quick weeknight meal, or an elegant dinner party entree.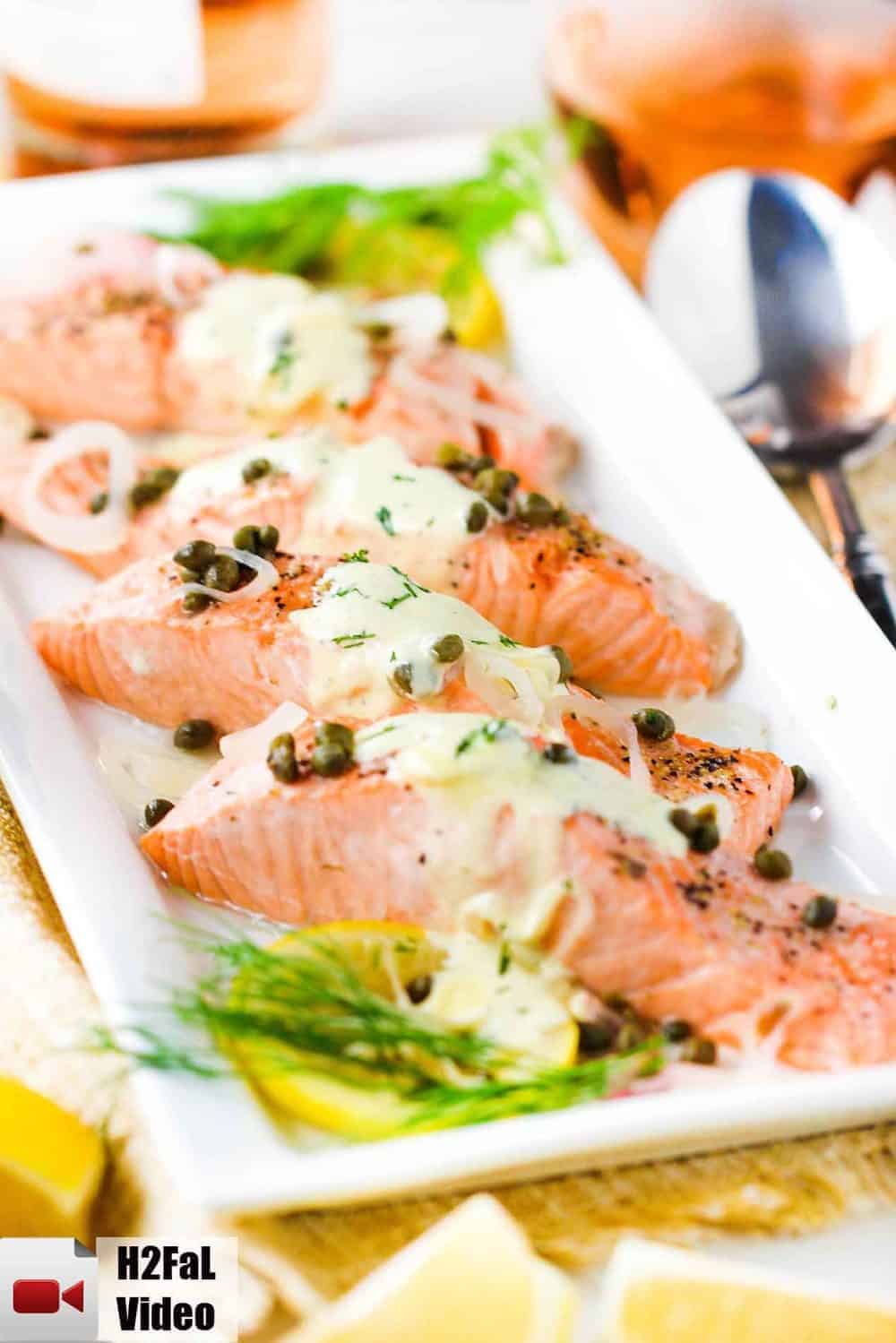 POACHED SALMON IS SIMPLE TO MAKE AT HOME
We can honestly say that this Poached Salmon with Capers and Hollandaise Sauce is one of the easiest dishes we've ever prepared in the H2FaL kitchen. And, by the way, it's one of the most delicious, too.
Watch us show you how easy it is to make this incredible poached salmon dish!
Salmon is healthy and beautiful to prepare. We just love it in so many forms.
You can leave the skin in tact, or you can remove it. The skin is edible, so it's just a matter of preference.
2 lbs of fresh salmon will easily feed a party of four.
POACHING IS A NUTRITIOUS WAY TO PREPARE SALMON
To poach the salmon, start with a large skillet (with a tight fitting lid) and add 1/2 cup of white wine and a 1/2 cup of water.
Then come the beautiful aromatics.
Fresh lemon, dill and shallots impart a subtle, but delicious flavor to the salmon as it cooks. The capers add texture and taste to the final dish.
The salmon only takes about 8 minutes to cook in the simmering liquid.
Poached salmon should be cooked to an internal temperature of 115°F, but you'll know…the color will be slightly pink, and starting to flake.
Go ahead and add the cooked lemon, shallots and capers directly onto the poached salmon.
HOLLANDAISE IS A DELICOUS SAUCE FOR POACHED SALMON
Now, we're not going to kid you by saying Hollandaise sauce is low-cal…it's not.
But, a little is all you need to give this already flavorful salmon an even deeper flavor profile.
And you will not believe how simple our version of No-Fuss Hollandaise Sauce is. It comes together in about 4 minutes…how simple is that?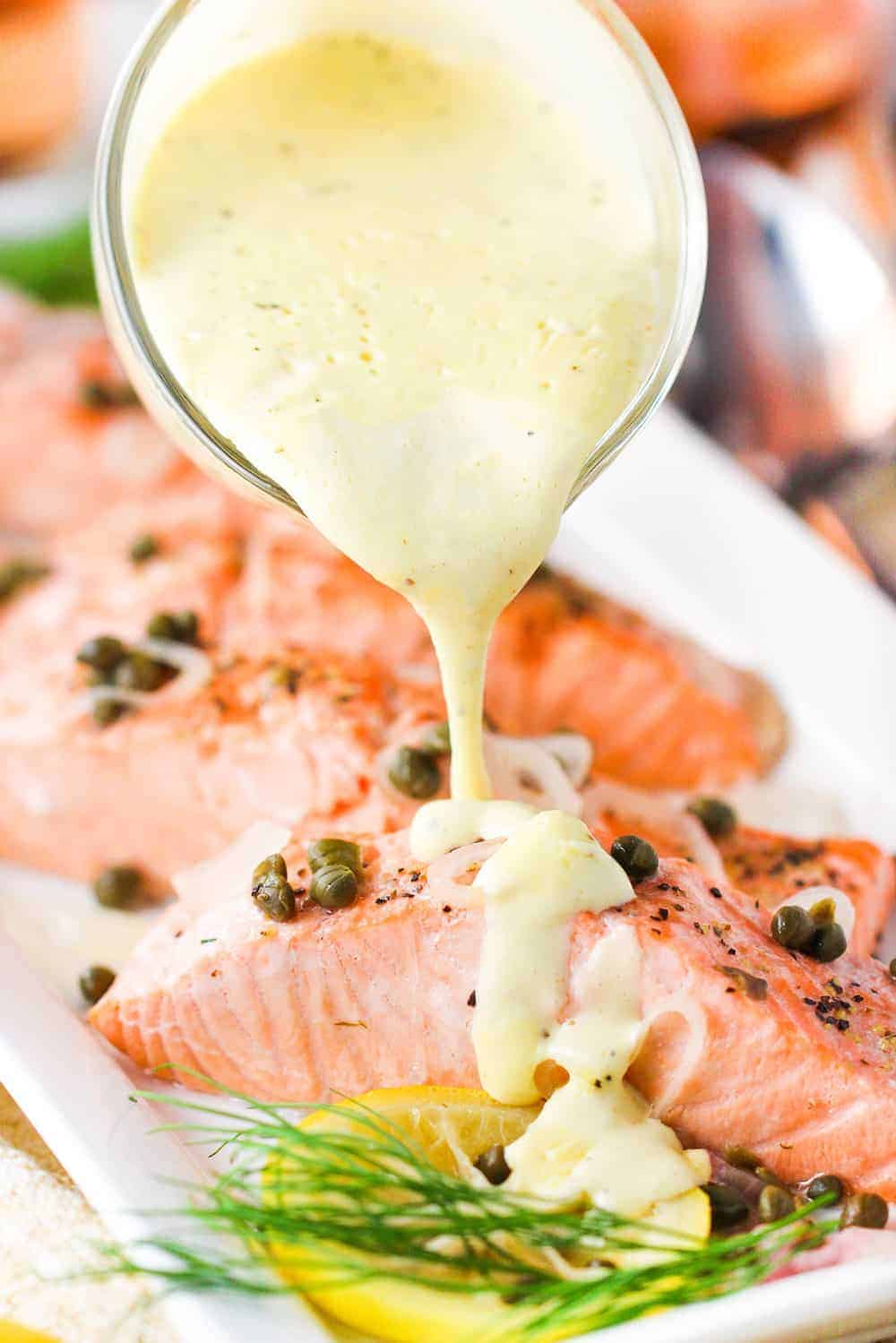 So, eating healthier should not mean you have to sacrifice taste.
This dish is super healthy and over-the-top delicious.
OTHER SALMON DISHES TO TRY
Best Salmon Burgers
Grilled Salmon with Roasted Poblano Butter
Poached Salmon with Classic Bearnaise Sauce
Instant Pot Salmon with Teriyaki Sauce
Another amazing seafood dish is our Mediterranean_Style Baked Red Snapper and our Baked Tilapia with Lemon Garic Sauce!
But in the meantime, look at this dish…pretty amazing, right?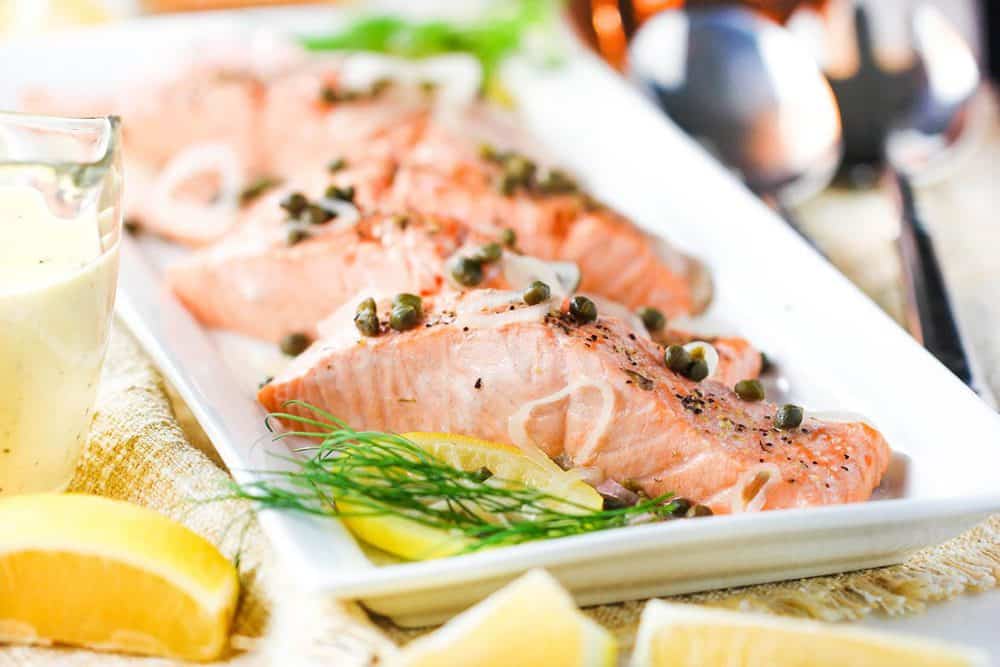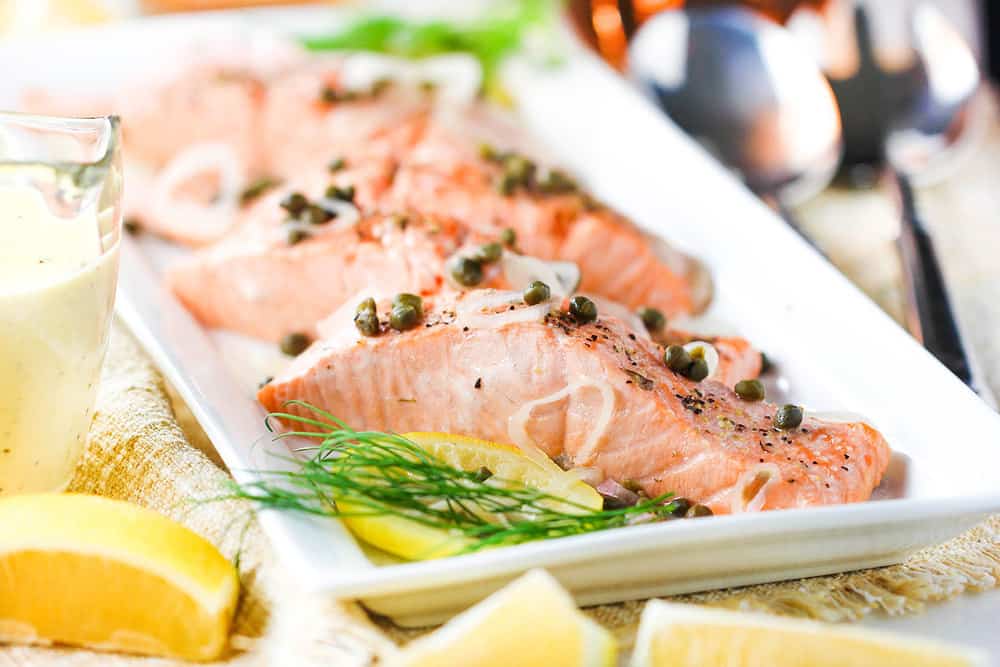 A BEAUTIFUL DISH
We prepare this dish at least once a month, every month.
It's so good, and is really a show-stopper in presentation, too.
Serve with a nice rice pilaf and leafy green salad, and you've got a 5-star meal right at home!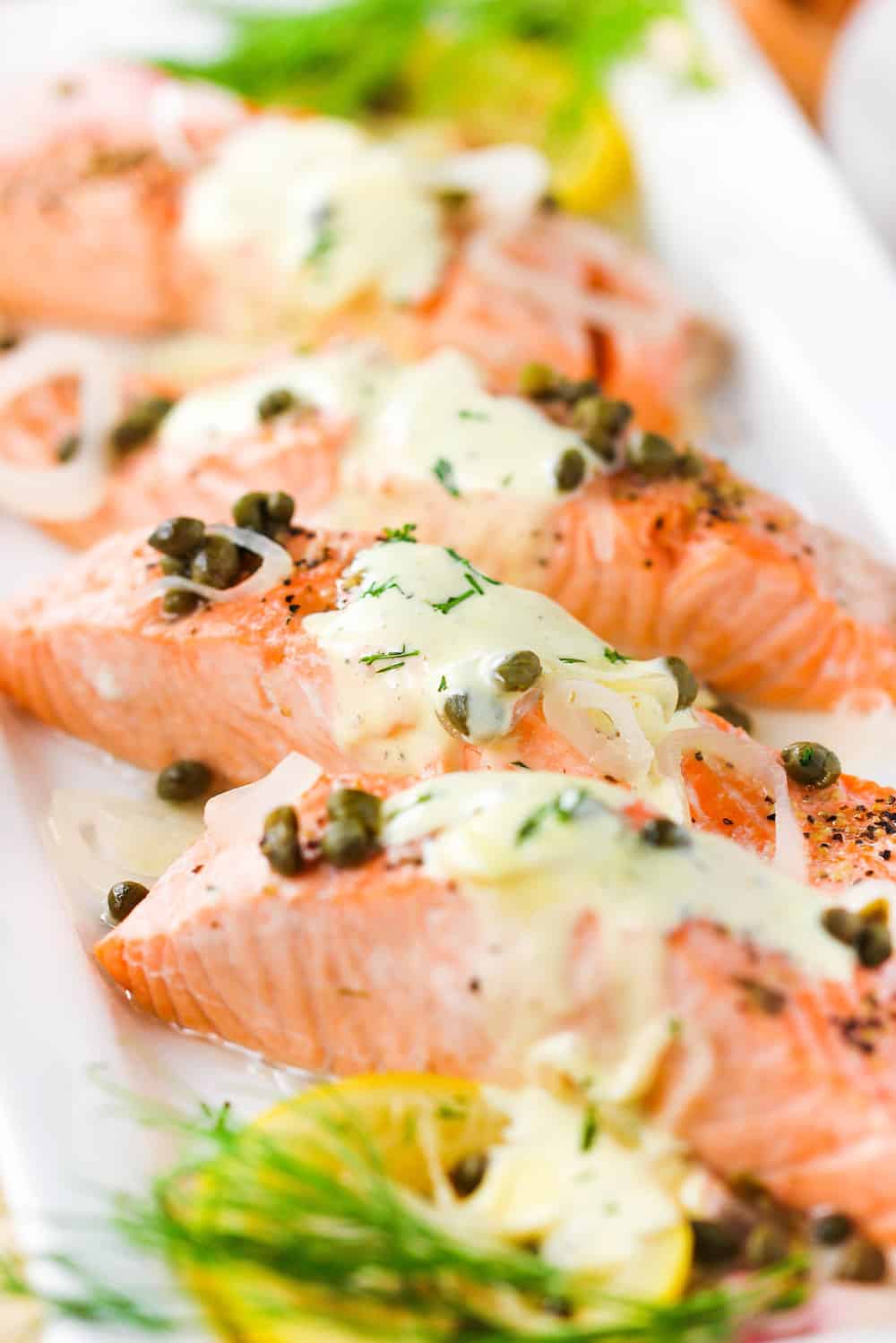 Poached Salmon with Capers and Hollandaise Sauce
This poached salmon with capers and hollandaise sauce is healthy and unbelievably delicious, too. The salmon is perfectly poached within minutes and the super easy No Fuss Hollandaise Sauce comes together in about 4 minutes, too.
Print
Pin
Rate
Servings: 4 people
Calories: 218kcal
Ingredients
2 lbs fresh salmon skin removed, if desired
Kosher salt and freshly ground black pepper
1/2 cup dry white wine
1/2 cup water
1 large lemon sliced
1 shallot peeled and sliced
4 sprigs fresh dill plus extra, chopped, for garnish
1/2 cup non-pareil capers drained
1 cup No Fuss Hollandaise Sauce click for recipe
Instructions
Cut salmon into fillets, approx. 1 to 2 inches wide and liberally salt and peppers. Set aside.

Heat wine and water in a large skillet over medium-heat. Once simmering, add the lemon, shallots, dill, and capers. Then top with the salmon fillets.

Once the liquid starts to boil, cover, and reduce heat to medium. Simmer, covered, for about 8 to 10 minutes, until salmon is cooked and flaky.

Add salmon to serving platter, or plates, and top with cooked aromatics.

Pour prepared

hollandaise sauce

over the top, and add more capers and chopped dill. Serve at once!
Nutrition
Calories: 218kcal