Easy Hollandaise Sauce is just that…easy.
But just because it's easy do not mean it sacrifices one bit on taste or texture.
You won't believe how fast this comes together and how absolutely delicious it is.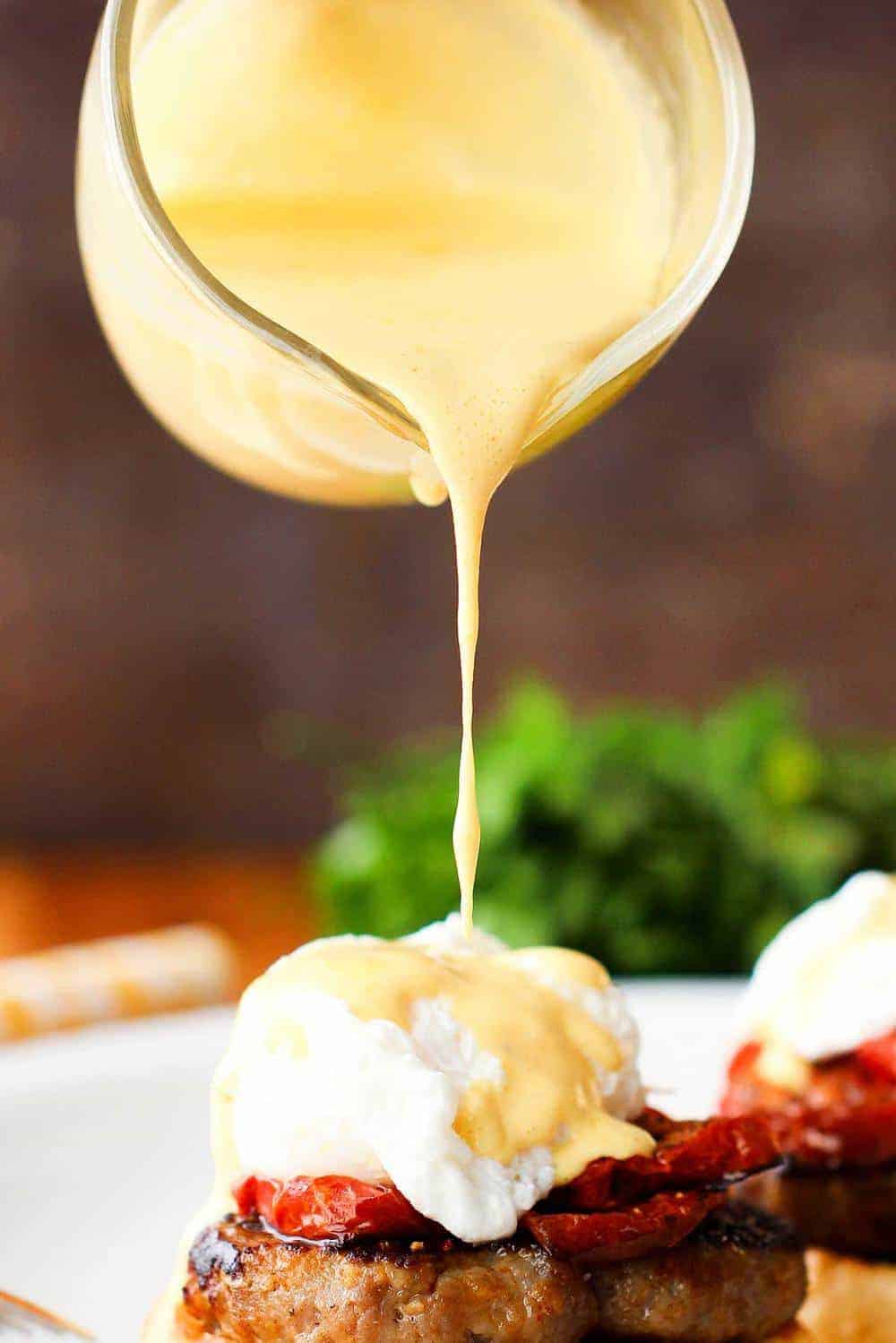 EASY HOLLANDAISE SAUCE COMES TOGETHER IN 5 MINUTES
Did we mention how fast this incredible easy hollandaise sauce comes together?
Not sure? Well, watch us show you how simple it is to make Easy Hollandaise Sauce!
You don't need to worry about pulling out that double-boiler…this recipe gives you the trick.
Just add the ingredients (except the melted butter) into the blender.
(Add a little more cayenne if you like a little heat to your Easy Hollandaise Sauce)
After blending, all that's needed is to carefully add the melted butter, while motoring is running.
So easy!
And so delicious!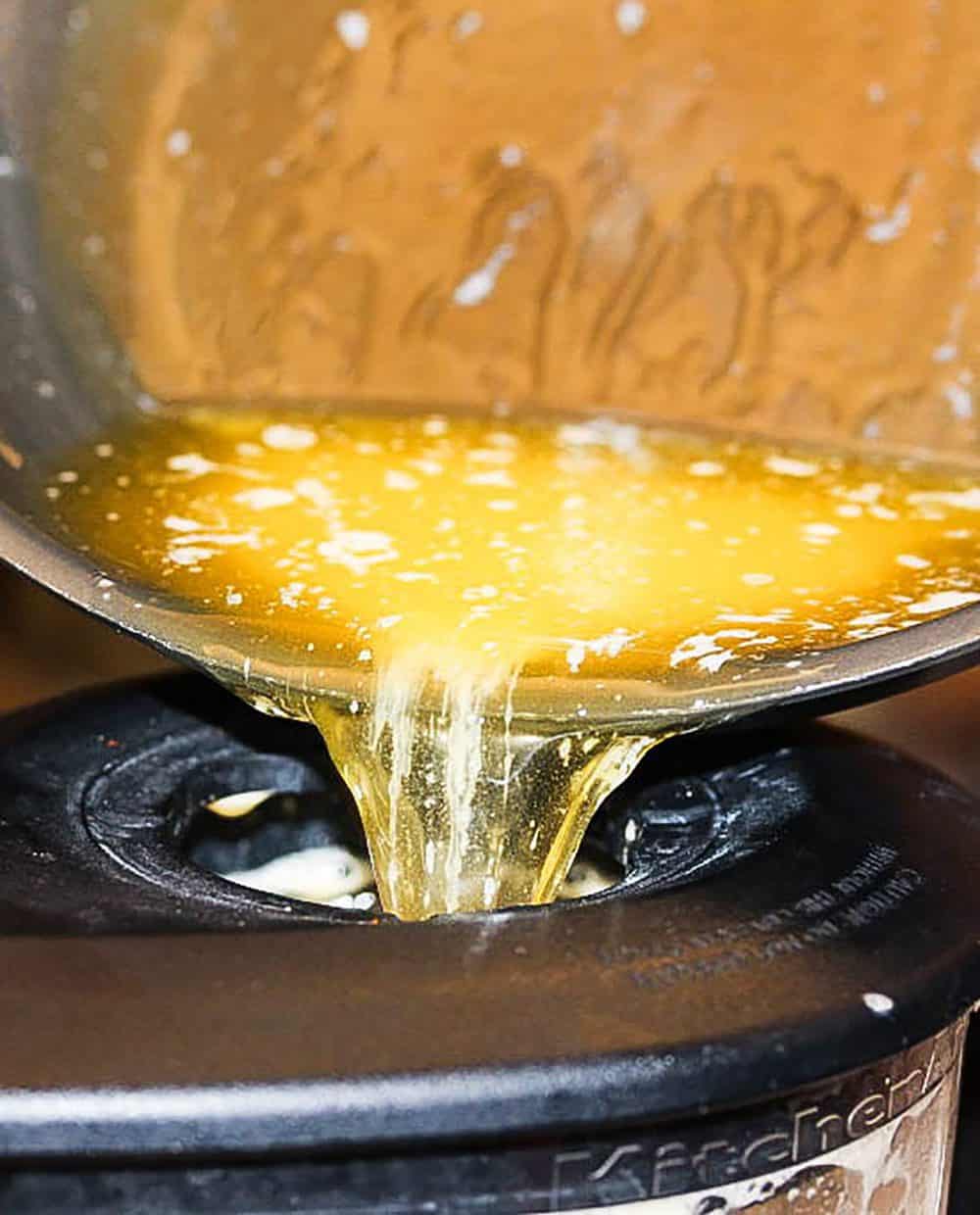 EASY HOLLANDAISE SAUCE ONLY USES 6 INGREDIENTS
Lickety split, you have delicious hollandaise sauce!!
This is perfect on Eggs Blackstone, Classic Eggs Benedict, and Poached Salmon with Hollandaise Sauce!
Or another favorite is our incredible Poached Salmon with Capers and Hollandaise Sauce
So incredibly delicious…and easy to prepare!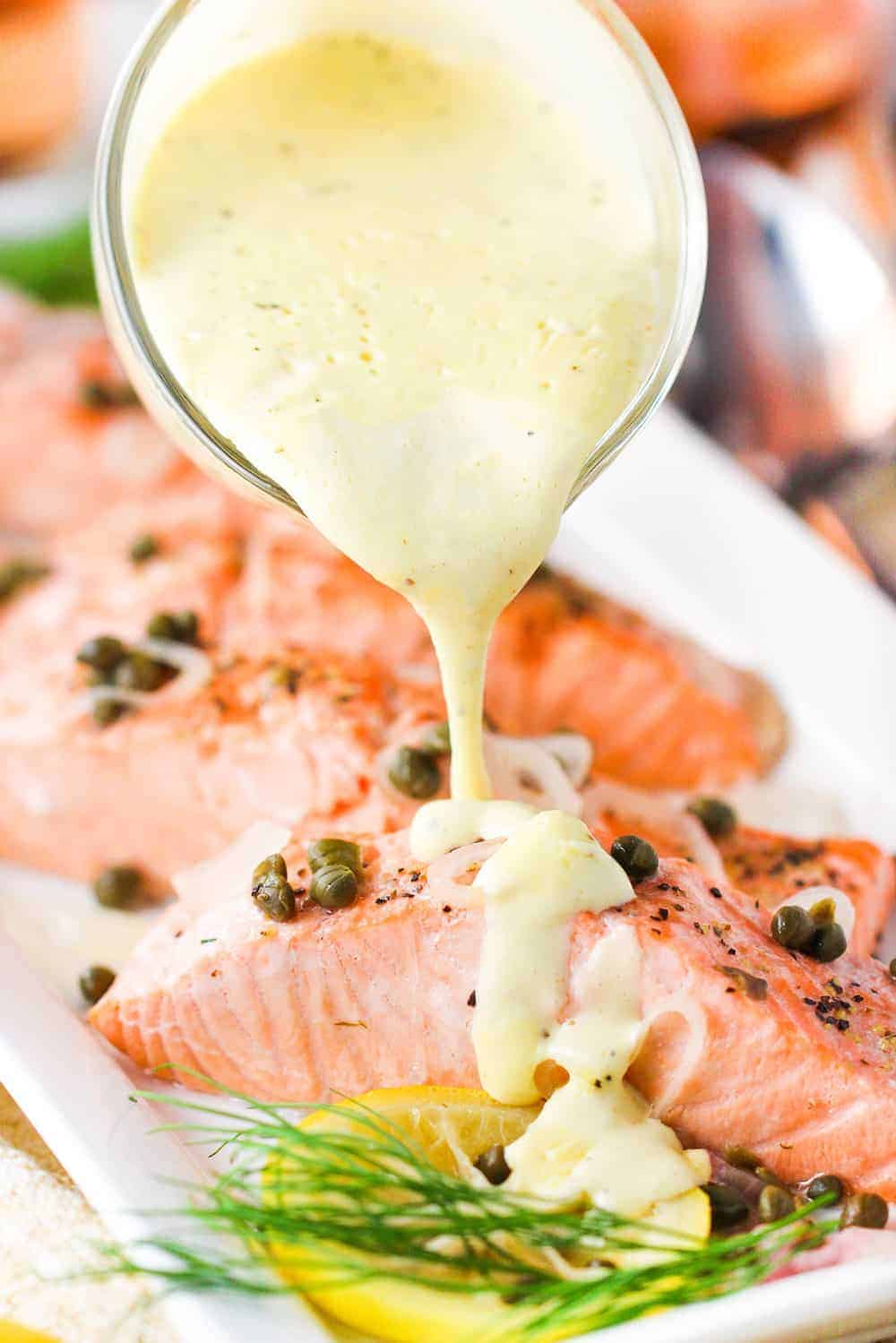 No Fuss Hollandaise Sauce
This no fuss hollandaise sauce takes the classic mother sauce and makes it super simple. All you need is a good blender and you're good to go. All the flavor, and no worries with a double broiler. Use this no fuss hollandaise sauce on roasted veggies, eggs benedict, or poached salmon.
Print
Pin
Rate
Prep Time: 3 minutes
Cook Time: 2 minutes
Total Time: 5 minutes
Servings: 6 people
Calories: 316kcal
Ingredients
12 tbsp unsalted butter 1 & 1/2 sticks
4 egg yolks room temp
3 tbsp freshly squeezed lemon juice
1 & 1/2 tsp Kosher salt
3/4 tsp freshly ground black pepper
1 pinch cayenne pepper or more, to taste
Instructions
Place butter in small sauce pan, and melt over medium-low heat.

In a blender, add the egg yolks, lemon juice, salt, pepper and cayenne and blend for about 10 to 15 seconds.

Remove vent from the lid of the blender. Carefully turn back on the blender.

Slowly pour in the warm melted butter. Blend until sauce is thick and smooth.

Taste, and adjust seasonings, if necessary. (If too thick, add a little warm water).

Serve within 1 hour. If you are making ahead of time, add 1 tablespoon of hot tap water and blend before serving. But really, it's so easy, you can make this an hour before you need it, with no problem.
Nutrition
Calories: 316kcal