Classic Eggs Blackstone quickly became a Loon favorite about 10 years ago. Mine, too. I mean, when you take your first bite, you'll understand exactly why.
A variation on Classic Eggs Benedict, but featuring crispy bacon and roasted tomato. And of course, incredible hollandaise sauce. Breakfast perfection on a plate.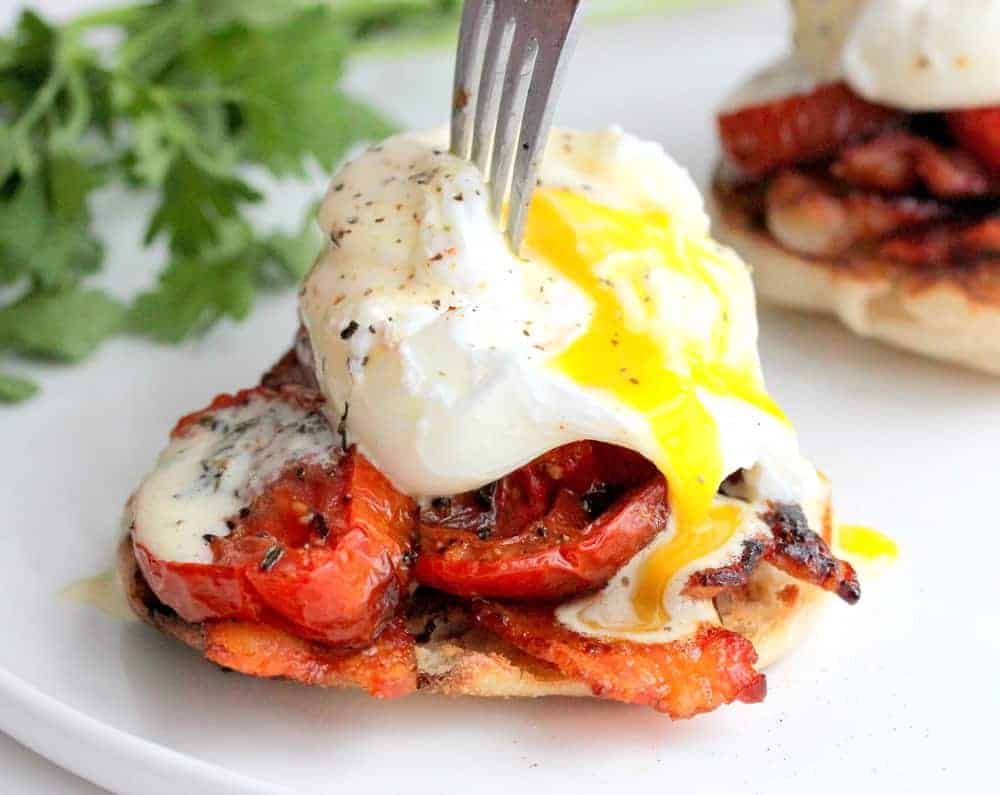 CRISPY BACON IS A MUST
We love to go with a nice thick cut of bacon when building our Classic Eggs Blackstone.
A maple infused bacon is nice, but our favorite is black-pepper smoked bacon.
You can easily cook them until nice and crispy in a large skillet, or lay them flat on a baking sheet and bake in 350°F oven until perfectly cooked.
HOW TO MAKE PERFECTLY POACHED EGGS
To make the perfect poached egg, we use the vortex method.
Start with a pot of salted water and bring it to a boil.
Crack an egg into a vessel just large enough to hold it, a small coffee cup works well, or ramekin.
Use the handle of large wooden or metal spoon and create a vortex in the pot by twirling the water vigorously in a circular motion. Add a dash of distilled white vinegar to the top of the egg, and then lower the egg into the spinning water.
Immediately turn off the heat and let the egg stay in the water for 3 minutes. Gently remove with egg with a slotted spoon.
EXPERT TIP: You can poach 1 to 2 eggs at a time. Have a bowl of warm water nearby. As you remove the eggs, carefully lower them into the warm water. This will keep them warm until ready to serve.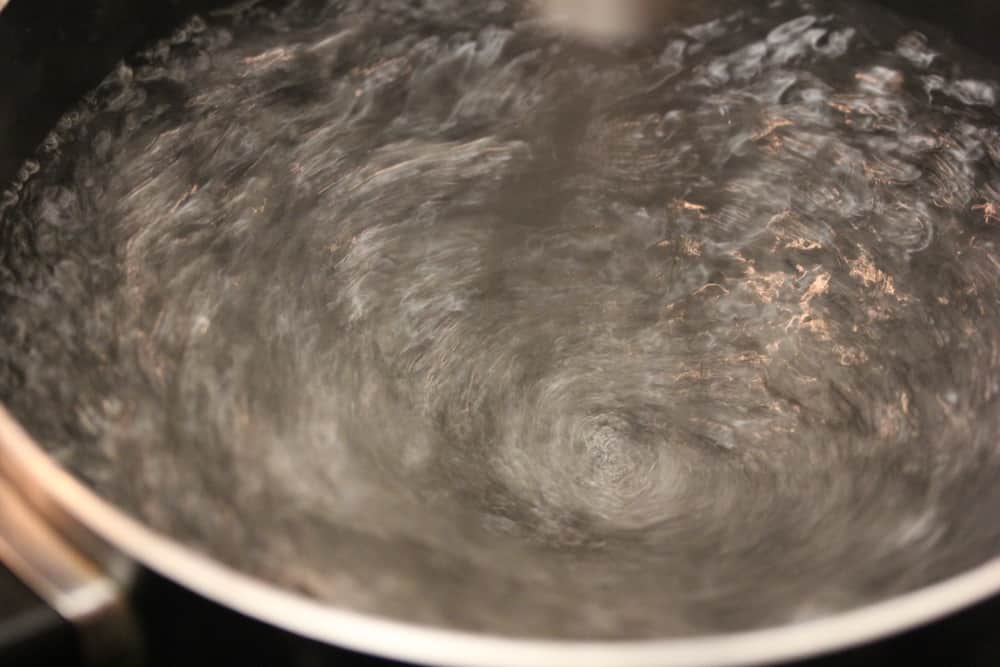 Roasting tomatoes brings out incredible flavor for Classic Eggs Blackstone.
The tomatoes can be roasted in advance. All they need is a little salt, pepper, and fresh thyme.
Be careful when handling them after they have roasted because they will be a bit fragile.
HOW TO MAKE BLENDER HOLLANDAISE SAUCE FOR CLASSIC EGGS BLACKSTONE
This hollandaise sauce is so easy.
All you need is a blender, some melted butter, an egg yolk and some seasoning.
Click here for complete recipe!
Eggs Blackstone follows in the same tradition of Classic Eggs Benedict.
And if you love this recipe, you'll flip for our Kentucky Hot Brown or our Beautiful Baked Eggs with Spinach and Prosciutto!
But in the meantime, make this incredible Classic Eggs Blackstone!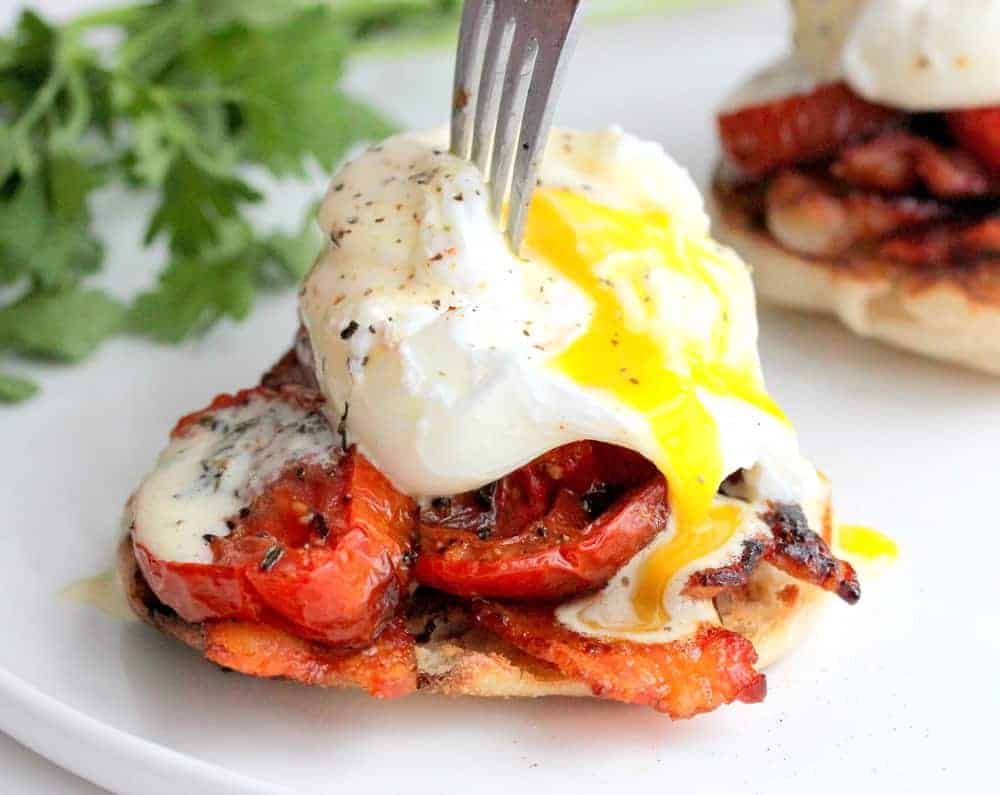 Classic Eggs Blackstone
This Classic Eggs Blackstone is a wonderful twist on Eggs Benedict. I mean, who doesn't love roasted tomatoes and thick slab cooked bacon. Topped with the perfect poached egg and hollandaise sauce? Yum by a 1000 times!!
Print
Pin
Rate
Servings: 4
Calories: 446kcal
Ingredients
4 plum tomatoes cut in half, lengthwise
1 tbsp quality olive oil plus a little more for cooking
1 tsp fresh thyme minced
Kosher salt and freshly ground pepper
8 slices of thick-cut applewood-smoked bacon cut in half (lengthwise)
4 English muffins split crosswise
2 tbsp distilled white vinegar
8 large eggs
Instructions
Pre-heat oven to 400F.

Lightly oil a baking sheet and arrange the tomatoes on the baking sheet.

Drizzle with olive oil, sprinkle with the thyme, 1/2 teaspoon salt, and 1/4 teaspoon of the pepper.

Bake for 30 minutes.

Meanwhile, cook up the bacon and set aside.

Now...place the muffins, cut side up, on a baking sheet and toast in the broiler until lightly crisped, about 1 minute. Remove, and set aside.

Okay...let's make some killer good poached eggs:

In a large pot, bring about 8 cups of water to a boil.

Crack an egg into a small bowl (I use a vintage coffee cup, but any small vessel will do). Add a small dash of white vinegar to the egg.

Set a kitchen timer for 3 minutes.

Use a large metal whisk, and start spinning the boiling water, creating a boiling vortex.

Now, gently hold the vessel with the egg over the water for about 10 seconds, then gently drop the egg into the vortex. You don't need to keep spinning the water at this point.

Quickly turn the timer on. You'll want the egg to cook for exactly 3 minutes.

(You can do 2 eggs at a time). Once eggs are cooked, place in a bowl of warm water. Once ready to serve, you may want to cut away any unsightly eggs curves with a kitchen knife (optional).

To serve: place 2 toasted muffin halves, cut side up, on each plate. Top each half with 2 pieces of bacon and 1 or 2 slices of roasted tomato.

Then, add a poached egg. Then pour a couple tablespoons of the hollandaise sauce over the top.

Add freshly ground pepper to the top.
Nutrition
Calories: 446kcal