Eggs Blackstone quickly became a Loon favorite about 10 years ago.  I was on a business trip in Kentucky, staying at a Bed & Breakfast just outside of Versailles, and they served Eggs Blackstone for breakfast (plus a few other amazing dishes).  Both Wesley and I LOVE eggs benedict…but this dish really spoke to us.  Roasted tomatoes with olive oil and fresh thyme?  Thick cut bacon?  Come on…how can you get any better than that?  Take a look at this recipe…I'll show you how to make those fancy restaurant-style poached eggs…they're really not so hard to make.  Of course, making your own homemade English muffins (recipe to come) just adds to the wonder of this dish…but don't worry…the store bought brand will still be amazing.  This dish is a vacation, just as it is!  Enjoy!!  100% Loon Approved!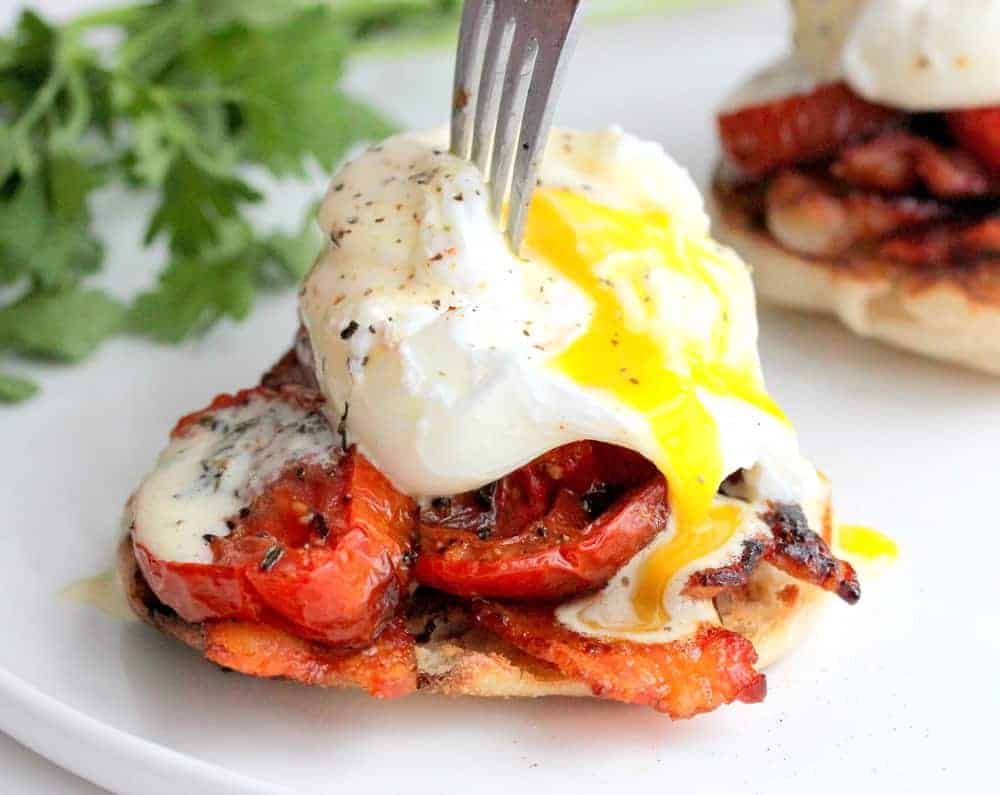 Classic Eggs Blackstone
This Classic Eggs Blackstone is a wonderful twist on Eggs Benedict. I mean, who doesn't love roasted tomatoes and thick slab cooked bacon. Topped with the perfect poached egg and hollandaise sauce? Yum by a 1000 times!!
Print
Pin
Rate
Prep Time: 15 minutes
Cook Time: 20 minutes
Total Time: 35 minutes
Servings: 4
Calories: 446kcal
Ingredients
4 plum tomatoes cut in half, lengthwise
1 tbsp quality olive oil plus a little more for cooking
1 tsp fresh thyme minced
Kosher salt and freshly ground pepper
8 slices of thick-cut applewood-smoked bacon cut in half (lengthwise)
4 English muffins split crosswise
2 tbsp distilled white vinegar
8 large eggs
Instructions
Pre-heat oven to 400F.

Lightly oil a baking sheet and arrange the tomatoes on the baking sheet.

Drizzle with olive oil, sprinkle with the thyme, 1/2 teaspoon salt, and 1/4 teaspoon of the pepper.

Bake for 30 minutes.

Meanwhile, cook up the bacon and set aside.

Now...place the muffins, cut side up, on a baking sheet and toast in the broiler until lightly crisped, about 1 minute. Remove, and set aside.

Okay...let's make some killer good poached eggs:

In a large pot, bring about 8 cups of water to a boil.

Crack an egg into a small bowl (I use a vintage coffee cup, but any small vessel will do). Add a small dash of white vinegar to the egg.

Set a kitchen timer for 3 minutes.

Use a large metal whisk, and start spinning the boiling water, creating a boiling vortex.

Now, gently hold the vessel with the egg over the water for about 10 seconds, then gently drop the egg into the vortex. You don't need to keep spinning the water at this point.

Quickly turn the timer on. You'll want the egg to cook for exactly 3 minutes.

(You can do 2 eggs at a time). Once eggs are cooked, place in a bowl of warm water. Once ready to serve, you may want to cut away any unsightly eggs curves with a kitchen knife (optional).

To serve: place 2 toasted muffin halves, cut side up, on each plate. Top each half with 2 pieces of bacon and 1 or 2 slices of roasted tomato.

Then, add a poached egg. Then pour a couple tablespoons of the hollandaise sauce over the top.

Add freshly ground pepper to the top.
Nutrition
Calories: 446kcal