There are a handful of critical steps for making the fluffiest, most delicious scrambled eggs you will ever prepare, eat, or serve.
If you thought there was no way to elevate scrambled eggs to an unforgettable culinary experience, we're here to show you the way. Serve these alongside homemade Southern buttermilk biscuits and a nice bowl of fruit, and you'll have as good a breakfast as you've ever experienced.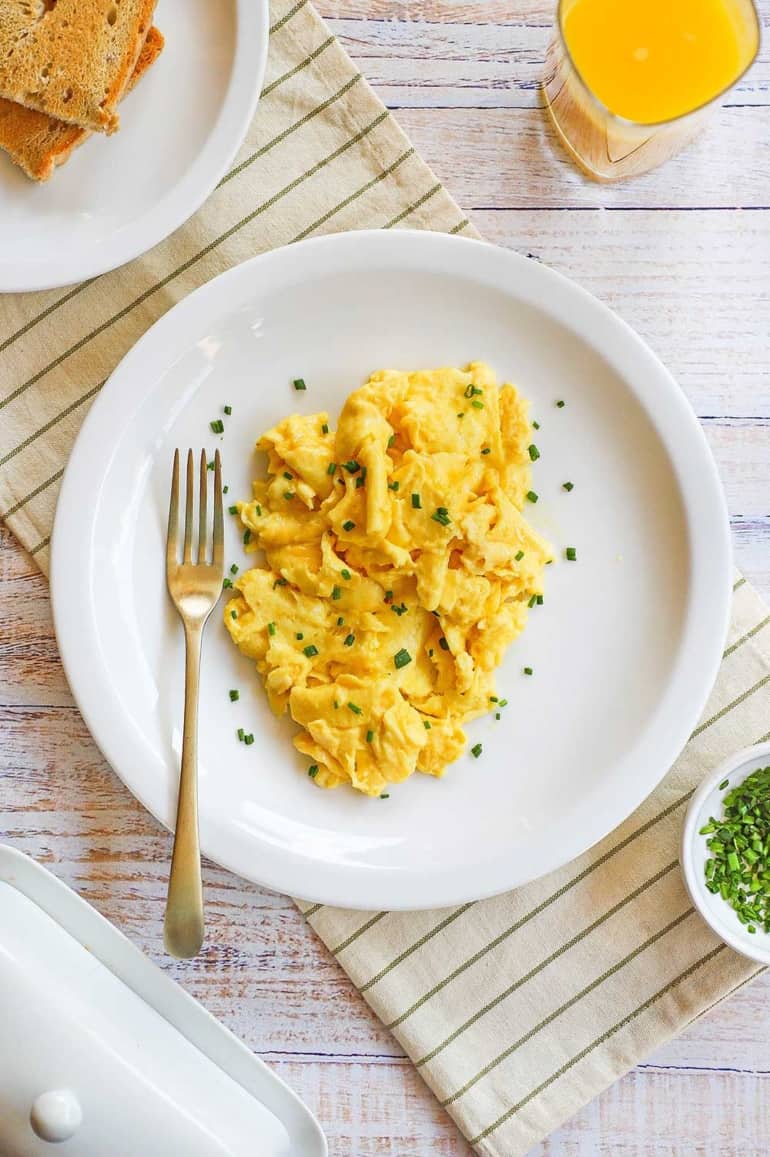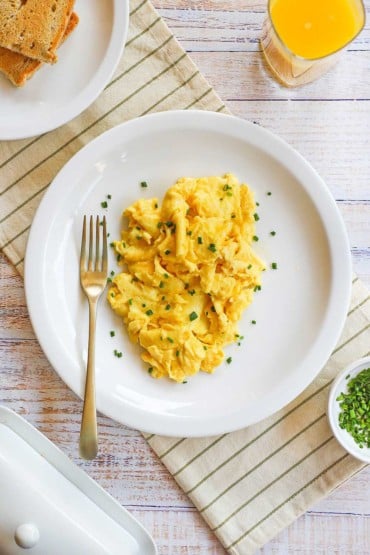 How To Make the Fluffiest Scrambled Eggs
NOTE: If you liked this video, please subscribe to our YouTube channel. Remember to click the little 'bell' icon so you'll never miss a new video. Thank you!
The Ingredients You Will Need
There are only a handful of ingredients required, but the most important, obviously, are the eggs.
Fresh eggs – Seek out farm fresh eggs and you will not be disappointed. If you don't know anyone with chickens, then seek out a farmer's market. If not, go with top-notch organic eggs from a good market.
Butter – Unsalted.
Water – This is the secret to the fluffiest eggs. Cream is a common addition, and is delicious, but won't yield as fluffy eggs as water will. Think "steam."
Seasoning – Kosher salt, and if desired, freshly ground black pepper.
Additional flavor enhancers – Snipped chives are delicious to sprinkle on top. Just as the eggs are almost done, you can stir in some cheese, such as bits of brie, small shreds of fontina, are shavings of Parmesan.
EXPERT TIP: We can't stress enough how using farm fresh eggs make a world of difference. Ask your neighbors if they know where you could find them. Google it. There are lots of folks who have a chicken coup and love to share their eggs.
The Critical Steps for Making the Fluffiest Scrambled Eggs
Use farm-fresh eggs – Fresh eggs have a higher protein content, which helps to create a fluffier texture.
Use a non-stick skillet – A non-stick skillet will prevent the eggs from sticking and make them easier to stir and scramble.
Add water – Adding a small amount of water to the eggs before cooking will create steam, which helps to make them light and fluffy.
Cook on low heat – Cooking the eggs on low heat will prevent them from overcooking and becoming dry and rubbery, while also allowing them to cook evenly and become fluffy.
EXPERT TIP: Another extremely important step is to whisk the eggs vigorously for 1 to 2 minutes in a bowl before adding to the heated butter. This incorporates air into the eggs, which means extra fluffy eggs.
The Essential Tools
Just like there aren't a lot of ingredients in this dish, you don't need a lot of fancy equipment.
But, there are a few important items to remember before you get started.
Here's What You'll Need to Have on Hand
Sturdy, medium-sized bowl – For whisking the eggs.
Metal whisk – Not too large. The smaller kind makes it easier to whisk with lots of elbow grease.
Non-stick skillet – This is critical. If you have a smaller non-stick skillet, you may want to cook the eggs in batches.
Rubber spatula – This is for gently pushing the eggs to the center as they slowly begin to cook.
EXPERT TIP: Melt the butter over low heat and then pour the eggs over the butter. Let them sit for a couple of minutes until they just start to set. Then, use your rubber spatula to push the edges of the eggs toward the center, allowing uncooked eggs to spill into the open spot in the skillet.
Other Classic Breakfast Recipes to Try
Many say that breakfast is your most important meal of the day. If that's true, it should also be one of the most delicious of them, too. Here are some recipes that are so good, they're great any time of day or night!
Eggs Blackstone with Sausage
Best-Ever Eggs Benedict
Italian Skillet Scramble
Incredible Steak and Eggs with Blistered Tomatoes
Chilaquiles (Mexican-style eggs with verde sauce, tortillas, and cheese)
Huevos Rancheros
Croque Madame
Best-Ever Breakfast Quiche
Broccoli and Cheddar Quiche
Shakshuka
These are all amazing, without a doubt. But, this dish right here might possibly be the most perfect breakfast serving of all time. Aren't the eggs calling your name?
You won't believe how the humble egg can be transformed into something so magical and delicious.
Follow the steps outlined in this post and in the recipe, and you will have truly amazing results.
Serve the eggs however you prefer. They are wonderful by themselves, or on top of toasted and buttered toast, such as sourdough.
Ready to make the absolute best eggs of all time? Go for it!
And when you do, be sure to take a photo of them, post it on Instagram, and tag @HowToFeedaLoon and hashtag #HowToFeedaLoon!
The Fluffiest Scrambled Eggs
Follow these steps to a 'T' and you'll be amazed at how delicious simple scrambled eggs can actually be. We encourage you to make the effort to seek out farm-fresh eggs. They make a big difference!
Print
Pin
Rate
Servings: 2
Calories: 101kcal
Equipment
1 metal whisk and bowl for whisking eggs in

1 12" non-stick skillet
Ingredients
4 farm-fresh eggs
2 tbsp unsalted butter
2 tbsp water
1 pinch Kosher salt
Ground black pepper optional
2 tbsp chives finely chopped, optional
Instructions
Crack the eggs into a medium-sized bowl. Use your whisk to vigorously mix the eggs for 1 to 2 minutes. Air bubbles should be visible.

4 farm-fresh eggs

Meanwhile, heat your skillet over low heat. Add the butter and swirl it around until completely melted.

2 tbsp unsalted butter

Add the water to the top of the whisked eggs. Don't stir! Carefully transfer the heavily whisked eggs to the skillet. Don't stir the eggs. Let them rest until just beginning to set in places (usually 2 to 3 minutes).

2 tbsp water

Use your silicone spatula to gently push the eggs (that have begun to set) toward the middle of the skillet, allowing the runny, uncooked eggs to run into the area on the skillet that is open.

Continue this process until the eggs are almost fully scrambled. Remove from heat and keep slowly stirring the eggs and sprinkle in a healthy pinch of salt, and pepper, if using. The heat from the skillet will finish cooking the eggs. Don't overcook!

1 pinch Kosher salt, Ground black pepper

Serve at once, garnishing with snipped chives, if using.

2 tbsp chives
Notes
See the video near the top of the blog post for visual guidance. If you liked the video, please subscribe to our YouTube channel.
Do your best to seek out farm-fresh eggs. The fresher, the better. Ask friends and/or Google "farmer's markets" in your area. If you can't get your hands on any, go with organic eggs from a good market. You'll still get amazing results.
Low heat is important.
The recipe can easily be doubled or even tripled.
Nutrition
Calories: 101kcal | Carbohydrates: 0.1g | Protein: 0.2g | Fat: 11g | Saturated Fat: 7g | Polyunsaturated Fat: 0.4g | Monounsaturated Fat: 3g | Trans Fat: 0.5g | Cholesterol: 30mg | Sodium: 22mg | Potassium: 12mg | Fiber: 0.1g | Sugar: 0.1g | Vitamin A: 480IU | Vitamin C: 2mg | Calcium: 7mg | Iron: 0.1mg